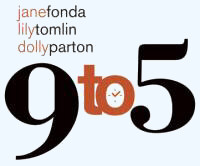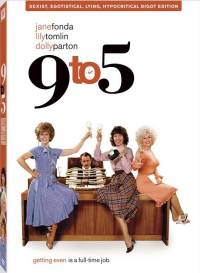 Great Features Add To Film's Enjoyment
By Duane Gordon (March 27, 2006)
Dollymania.net
When it was announced nearly five years ago that Dolly's classic film debut was hitting DVD shelves, fans eagerly awaited word of what special features would be included. Alas, they were disappointed, as the disc had only the original theatrical trailer (which didn't feature any of the stars of the movie) and a still picture gallery.
Well, the wait has finally paid off, as Twentieth Century Fox Home Entertainment has taken the film's 25th anniversary as cause to produce an excellent new DVD version titled the "Sexist, Egotistical, Lying, Hypocritical Bigot Edition" with tons of wonderful additions sure to entice every fan.
Perhaps the most enjoyable of these is the audio commentary for the full film by Dolly, Jane, Lily and producer Bruce Gilbert. Each one sounds to be in a different studio watching the film as they discuss it over a satellite or crystal clear phone connection. Jane moderates, asking questions and prodding stories out of folks, and she and Dolly tend to dominate the conversation, as their personalities dictate. Dolly is as bubbly and funny as ever, Jane somewhat serious, with Lily and Bruce chiming in every once in a while. There are also several mentions of their desire to do a sequel with some hints that this may actually be moving closer toward becoming a reality. While the commentary is much more energetic and engaging than most, which tend to often be quite drab, there are a few places where the stars ramble a little too long on a subject and a good number where they get so caught up in watching the film that they forget to talk about it. But all-in-all, the commentary alone is worth the new DVD.
Next-best would be the "Nine @ 25" featurette on the film itself, which uses 24 minutes of new interviews with Dolly, Jane, Lily, Bruce, Dabney, Patricia Resnick and Elizabeth "Roz" Wilson as they discuss how the film came to be, how it was cast, each of the five main actors and the impact it has had. (Excerpts from this featurette ran as a story on Entertainment Tonight last week.)
The 10 "deleted" scenes are enjoyable, although only half were actually deleted from the film, while the other half were extended scenes (scenes that made it into the movie but in shorter versions that originally filmed and are shown here in their full versions). Dolly is in four of these, although none of the 10 would have added much to the film had they remained in. The most entertaining from the 11-and-a-half minutes of footage is an attempt by the captive Mr. Hart to electrocute Dolly.
Perhaps because it was her first film maybe she goofed up a bit more than the other cast members, but Dolly gets face time in about two-thirds of the 17 outtakes in the five-minute, 45-second "gag" reel, the funniest from which involves her accidentally whacking herself in the head with a phone cord.
The "Singing 9 To 5" karaoke feature is interesting, as it uses clips from the film to give almost a music video appearance and utilizes the closing credits arrangement of the song, which is much different than Dolly's single and album version.
Then Dolly, Jane, Lily and Bruce offer a touching tribute to the film's late director, Colin Higgins, with their remembrances of him. "He was such a tender person," Dolly recalled. "And I really was so sorry when I heard he'd passed on, but I thought, well, he's left so many great things here he'll never be gone." Unfortunately, the four-minute, 40-second featurette focuses almost exclusively on his work in 9 To 5, barely mentioning his writing career (most notably the script for Harold & Maude), his other directing engagements (including The Best Little Whorehouse In Texas with Dolly) or even when or how he died. This section could have been greatly expanded into a much better featurette honoring him.
Finally, the original theatrical trailer is back, but that was included on the first DVD version as well. Without any of the stars appearing in it until their names are called at the very end, the rhyming voice over scenes of hands and feet in an office give it the air of a parody of a '60s educational film.
Overall, this collection is certainly one that any Dolly fan will want to own and any fan of the film will want to see.