---
www.dollymania.net News February 2002
---

Feb. 27:
UPDATE: Grammy Win!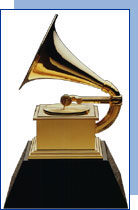 Dolly took home her seventh Grammy Award Wednesday night winning Best Female Country Vocal Performance for "Shine" from Little Sparrow in a category she hasn't won in more than 20 years. However, she lost Best Bluegrass Album for the CD to pal Alison Krauss, who won for New Favorite. Dolly had previously won the Female category in 1978 for "Here You Come Again" and 1981 for "9 to 5." Last year, she had been nominated in the category for "Travelin' Prayer" from The Grass Is Blue, which itself had won Best Bluegrass Album at last year's ceremonies. This marks the first time Dolly has won three consecutive Grammy Awards, having taken home Best Country Collaboration With Vocals two years ago for "After The Goldrush" from the gold Trio II with Linda Ronstadt and Emmylou Harris. In tonight's awards, she had been competing in Best Female Country Vocal Performance with Sheryl Crow's "Long Gone Lonesome Blues," Jamie O'Neal's "There Is No Arizona," Lucinda Williams' "Cold, Cold Heart" and Trisha Yearwood's "I Would've Loved You Anyway." For Best Bluegrass Album, she had faced Krauss, Patty Loveless with Mountain Soul, Ricky Skaggs and Kentucky Thunder for History of The Future and Ralph Stanley and Friends for Clinch Mountain Sweethearts, which includes a Dolly duet. In her career, Dolly has amassed 38 Grammy nominations and seven wins. In related news, USA Today this morning had picked Dolly to win the Best Female award, while today's The Tennessean had its three critics split between Crow, Yearwood and O'Neal, although one said he believed Dolly should win but wouldn't.
And The Winners Are . . .
Winners in other country categories were Country Male: Ralph Stanley, "O Death," from O Brother Where Art Thou; Country Duo or Group: Alison Krauss & Union Station, "The Lucky One," from New Favorite; Country Instrumental: "Foggy Mountain Breakdown," Earl Scruggs, Glen Duncan, Randy Scruggs, Steve Martin, Vince Gill, Marty Stuart, Gary Scruggs, Albert Lee, Paul Shaffer, Jerry Douglas & Leon Russell, from Earl Scruggs And Friends; Country Song: "The Lucky One," written by Robert Lee Castleman; Country Vocal Collaboration, "Man of Constant Sorrow," Dan Tyminski, Harley Allen and Pat Enright (The Soggy Bottom Boys); and Country Album: Timeless - Hank Williams Tribute, various artists. Country-related winners in non-country categories were Traditional Folk Album: Down From The Mountain, various artists; Album Of The Year and Best Soundtrack Album: O Brother, Where Art Thou?, various artists; Contemporary Blues Album: Delbert McClinton, Nothing Personal; and Producer of The Year: T. Bone Burnett, O Brother, Where Art Thou?. The career standings for female country artists is Krauss at first with 12, Emmylou Harris and Linda Ronstadt tied for second with 10 each, Dolly at third with seven, Mary Chapin Carpenter, The Judds, Anne Murray and Olivia Newton-John at fourth with five each, and Shania Twain and The Dixie Chicks at fifth with four each.
'Sparrow' Wins Addy


According to the Nashville Tennessean, the cover art for Dolly's Little Sparrow won a silver medal in this year's Nashville ADDY Awards, a competition honoring the best in advertising and marketing. The CD picked up the award for Collateral CD Package.
Dollywood News
Dollywood on Tuesday announced the schedule for the park's 2002 Showcase of Stars concert series and a new Summer Fun Series. Tickets for both will go on sale to the public on the same day as those for Dolly's December Christmas benefit concerts, April 23. The Showcase series kicks off with teen country sensation Billy Gillman on June 8 and continues with keith urban, June 22; David Ball, June 29; The Charlie Daniels Band, July 6; Sawyer Brown, July 13; Jessica Andrews, July 27; Larry Gatlin and The Gatlin Brothers, August 3; and Joe Diffie, Tracy Lawrence and Mark Chestnut on Aug. 10. Also, the Summer Fun Series will feature the Red White and Bluegrass Blast Weekend June 14-16, Kids' Festival July 19-21 and Days of Praise Aug. 16-17. Playing free shows during the bluegrass festival will be Mountain Heart, The Seldom Scene, Lonesome River Band and Blue Highway, and there will also be the America's Mountain Rhythms Clogging Competition. Tickets will also be sold for two shows by The Del McCoury Band and The Gibson Brothers on June 15. The Kids' Festival will feature Schoolhouse Rock, face painters, jugglers, puppeteers and various street performers as well as Thomas & Friends' "All Aboard" Tour, playing three times daily July 19-21 (separate ticket purchase required for Thomas shows). The Days of Praise will feature free shows by contemporary Christian performers Solomon's Wish, Jump 5, Russ Lee, Joy Williams, Anointed, The Benjamin Gate, Salvador Skillet and Jake Avalon. Ticket purchases will be required for shows by Audio Adrenaline on Aug. 17 and Rebecca St. James on Aug. 18. Gold Season Pass Holders may order tickets now; others must wait until April.
---
Feb. 26:
CMT Predicts No For Dolly
CMT.com's Jay Orr on Monday issued his Grammy predictions, choosing Trishia Yearwood for Best Female Country Vocal Performance and Alison Krauss for Best Bluegrass Album. You may read his full list here.
Handicapping The Awards
I did a little research of my own regarding this year's Grammy nominees, and here are a few notes which may help some in handicapping the awards. For Best Bluegrass Album, Alison Krauss has the most wins of this year's nominees, having taken home the statue in 1990, 1992 and 1997, and she is loved by the Academy, having won a total of 11 Grammy Awards in the past (a record for a female country performer). Ricky Skaggs himself has won it twice, in 1998 and 1999. Dolly, of course, won it last year. When looking at the Best Female Country Vocal Performance category, the awards have often honored newcomers (such as nominee Jamie O'Neal) but usually shy away from people in the category who aren't usually considered performers from that genre (this year being Sheryl Crow and Lucinda Williams), and they also frequently award seasoned performers (Dolly). The remaining nominee, Trisha Yearwood, has won this category only once before (in 1997 for "How Do I Live), but that is her only solo Grammy (her other two awards were for duets, one with Garth Brooks and one with Aaron Neville), and "I Would Have Loved You Anyway," although good, isn't anywhere near her best material. Also, the Grammy Awards typically honor the most critically-acclaimed releases, regardless of sales or airplay. This bodes well for Dolly in both categories, as she had the most rave reviews and greatest number of the year's "Best" lists when compared to the other nominees. So, taking all of this into consideration, I believe the Female Vocal award will come down between Dolly and Jamie, which is too close to call, and the Bluegrass Album gramophone will be fought out among Dolly and Alison (with Ricky as a close third), but I expect Dolly will take it home.
CW: We Were Wrong, A Little Bit
Katie Dodd, who writes the Q&A section for Country Weekly contacted me Monday regarding my assertion that her response to who has the most awards for a female country performer was inaccurate (see Feb. 19 news update). In the magazine's original report, it said Loretta Lynn was first with 21 CMA, ACM and Grammy Awards, and Dolly and Reba were tied for second with 18 each. She conceded that she did, in fact, miscount Dolly's total, apparently leaving out her CMA win with Porter for Vocal Group of the Year in 1968, which brings her total up to 19. As for Loretta having 21, she explained that she included in the total the ACM Artist of the Decade and Pioneer Awards, which I considered not to be "regular" awards and therefore did not include in my total.
---
Feb. 25:
'Sparrow' Down A Couple


Little Sparrow inches down two spots to No. 12 in its 54th week on the British country albums chart released Sunday. The Grammy-nominated CD peaked at No. 1 for eight weeks last year.
CMT Voters: Give Dolly The Grammy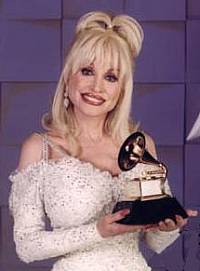 Of course, Dolly is up for two Grammy Awards at Wednesday night's ceremonies (Best Female Country Vocal Performance for "Shine" and Best Bluegrass Album for Little Sparrow, which she won last year for The Grass Is Blue), and CMT.com has for the past few days been conducting polls on who should win the country awards. On Friday and Saturday, Dolly was their readers' pick hands-down. In the last vote I saw for Female Vocalist, Dolly's "Shine" led with nearly 70 percent (Trisha Yearwood's "I Would Have Loved You Anyway" was second with about 20 percent, and Jamie O'Neal's "There Is No Arizona" was third with a little less than 10 percent), and over the weekend her Little Sparrow captured about 50 percent of the vote for Best Bluegrass Album (with Patty Loveless' Mountain Soul at second with about 40 percent and Alison Krauss' New Favorite third with about 10 percent). Perhaps this is a sign of good things to come on Wednesday? Let's hope so!
Speaking Of The Grammy Awards
Dolly also earned a mention in the online Grammy Magazine country field round-up last week. It noted: "Several Nashville legends show their enduring artistry with nominations in key categories. This isn't Dolly Parton's first return to her roots, and last year's The Grass Is Blue garnered her a GRAMMY for Best Bluegrass Album. Little Sparrow is nominated in that category this year, where Parton is joined by country thrush Patty Loveless in her criticially acclaimed roots release, Mountain Soul. Alison Krauss + Union Station is another perennial favorite in the Bluegrass Album category, and the bittersweet New Favorite is nominated this year. Ralph Stanley and Friends' Clinch Mountain Sweethearts is Stanley's second "friends" release, and as such it deftly blended talent from across the pop, country and folk scenes. The Best Bluegrass Album nominee joined such Stanley "friends" as Iris Dement, Maria Muldaur, Jeannie Seely and Sara Evans, proving once again how traditional music can bridge barriers of genre. Rounding out the category are Ricky Skaggs & Kentucky Thunder for History Of The Future, which, like the Stanley release, made traditional bluegrass accessible to today's generation." The article, available here, made no mention of Dolly's nomination for Best Female Country Vocal Performance (or for that matter, that she was also one of Stanley's "friends" on his CD), although it did list the nominations of all four other artists in the female category. (Shame.)
Knoxville Critics' Grammy Fever
Dolly gets a couple of good nods in the Knoxville News-Sentinel 10th annual (Wayne) Bledsoe/(Chuck) Campbell Grammy Predictions. For Best Bluegrass Album, they note: "CHUCK: I'll just blindly go with Dolly Parton. It's the only one I listened to all the way through. (And more than once, at that.)WAYNE: Oh, Chuck. My heart warms. There is a ray of light in that dark, dank pit that where your musical taste is housed! Although Ricky Skaggs delivered the strongest 'bluegrass,' Dolly is my pick, too." For Best Female Country Vocal Performance, they opine: "WAYNE: This is another slap at current commercial country radio. Only two of these tracks landed airplay. The bad thing is that, as much as I like the artists, the nominees are not particularly remarkable. Dolly's is my pick, but expect Trisha Yearwood to take it home.CHUCK: Dolly's my pick, too, even over Sheryl Crow. I'll trust you on the Yearwood prediction." The duo's full list of predictions is here.
Get The New Duet Tuesday
Remember, Irish group Altan's Tuesday release, The Blue Idol, features a Dolly duet with the band's lead singer, Maihread Ni Mhaonigh. Reserve your copy here!
---
Feb. 22:
Answers To Your Questions
I've received several e-mails recently asking some questions about possible upcoming Dolly news, and this week I've spoken with several sources involved with Dolly's career and businesses and can report the following information:
The New Record! Yes, Dolly has been busy recording her new album for Blue Eye Records/Sugar Hill, which I'm told should be in stores by this summer. No news yet on the track listing or a possible title.
A Tour? Yes, Dolly is considering a brief concert tour in late spring or early summer to promote the album, but nothing has been decided as of yet. It is expected that if she decides to go back on the road, she would announce her touring plans at the Dollywood opening weekend April 5-7.
Sept. 11th Benefit Concert Rescheduling: It is also expected that she will announce the re-scheduled date and location for the Red White And Bluegrass benefit show at the grand opening, but apparently no decisions have been made on this matter either yet. As you may recall, and Dollymania was the first media outlet anywhere to report, she had scheduled the show in Nashville for New Year's Eve to raise funds for a scholarship program to benefit the children of those killed or disabled in the terrorist attacks but chose to postpone it because several performers whom she wanted on the bill could not attend. It has been speculated that a bluegrass festival scheduled for later this year at Dollywood would replace the postponed Nashville show, but Dollywood officials tell me that as of now Dolly is not scheduled to attend that event. Thanks to everyone for the information!

Get That Dialing Finger Ready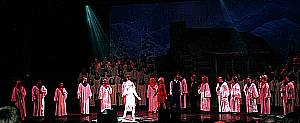 Dollymania is pleased to be the first to announce that tickets to Dolly's annual Christmas concerts to benefit the Dollywood Foundation will go on sale to the general public on April 23. Currently, the tickets are on sale only to Gold Season Pass Holders. If things run as they have in previous years, you will be able to call Dollywood starting at 8 a.m. Eastern to charge tickets by phone. Also, if sales are similar to previous years, the season pass holders will buy up just about all of the $75 and $50 seats, leaving the $35 seats open, which usually sell out themselves in a little more than a week after the public offering. This year's shows will be held at 7 p.m. Friday, Dec. 13, and 2 p.m. and 7 p.m. Saturday, Dec. 14. Last year's shows (of which you may read a re-cap and view photos here and see more exclusive photos here) raised $225,000 for the Foundation's Imagination Library program. Thanks, Pete! (Image ©2001 Duane Gordon/Dollymania.)
'Songcatcher' Gone
The Songcatcher soundtrack, with the Dolly duet "When Love Is New," falls off the Billboard top 75 country albums chart's March 2 edition, down from No. 71, it was announced Thursday. The CD, which logged 28 weeks on the chart, had previously peaked at No. 42.
---
Feb. 21:
'McKlusky' Staying Put, For Now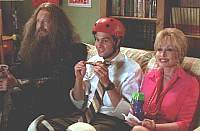 I've received dozens of e-mails in recent days asking if it is true that the comedy Frank McKlusky, C.I., which stars Dolly in one of the film's main supporting roles, will be pushed back to late 2002 or early 2003 as is rumored. Well, as of now, the answer is no. Jennifer Peterson, Buena Vista Pictures Marketing's senior publicist, tells Dollymania that she checked into it and verified that the film is currently still on the schedule to be released nationwide on April 26 but noted that, as with any film, release dates are subject to change. She said that a final release date, which may or may not be April 26, should be known by mid-March. I can report, however, that the film is no longer listed on Buena Vista's publicity department's online schedule of releases for 2002, which suggests the distribution company may be considering a date change. Thanks, Jenn! (See photos from the film and read what information is currently available on Dollymania's "McKlusky Page" here!)
CMT.com Leads With Dolly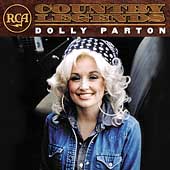 Cmt.com (formerly country.com) led off its new releases of the week on Tuesday night with a photo of Dolly commemorating her RCA Country Legends Series CD, which was released that day. The photo not only was shown at the top of the story, but it was also shown as the lead photo on the CMT.com front page for a while on Tuesday night and Wednesday morning. The Chet Filppo article noted: "Reissues from several prominent country artists, a new Riders in the Sky work, a tribute to Doug Sahm and several alt-country CDs lead new country releases this week. Dolly Parton and the late Jim Reeves are represented in the Country Legends series from RCA Nashville. Many of Parton's hits are included here, among them '9 to 5,' 'I Will Always Love You,' 'Jolene,' and 'Love Is Like a Butterfly.' Reeves' cuts include 'Four Walls,' 'Billy Bayou,' 'He'll Have to Go,' and 'Bimbo.'" Get your copy here!
---
Feb. 19:
'CW' Dolly Error
Reading over the current issue of Country Weekly, I discovered a mistake in the magazine's Q&A section. A reader asked which female country artist held the record for winning the most awards, guessing that it would likely be either Loretta Lynn, Reba McEntire or Dolly. The magazine answered that when total wins for the Grammy Awards, Country Music Association (CMA) Awards and Academy of Country Music (ACM) Awards are counted, Loretta comes in first with 21, while Dolly and Reba are tied for second with 18 each. In my head, I counted it up, and I knew this wasn't right. Dolly had 19 of these awards. So I did a little checking. The correct figures (which I verified via several different databases) are that Dolly and Loretta are tied for first place with 19 each, while Reba is second with 18. Dolly has won six Grammy Awards, eight CMA Awards and five ACM Awards. Loretta has walked home with one Grammy, eight CMAs and 10 ACMs. Reba has earned two Grammy Awards, six CMAs and 10 ACMs. I've e-mailed a Letter To The Editor in the hope that they'll correct their error.
Speaking Of Awards
While researching this topic, I found the archived listing of all ACM nominations on the award show's official site, and I have updated the Dollymania Awards Page to reflect all 34 of her nominations (originally, the page just had her five ACM wins).
No Dolly On Porter CD
Unfortunately, longtime Dolly duet partner Porter Wagoner's installment in the RCA Country Legends series does not contain any songs written by Dolly, Dollymania has confirmed. Although during his career Porter recorded about 40 solo cuts written by Dolly, none appears on the 16-track CD to be released by BMG's Buddha Records on March 5. The track listings is as follows: Company's Comin', A Satisfied Mind, A Good Time Was Had By All, Midnight, Misery Loves Company, Cold Dark Waters, Legend of the Big Steeple, Green Green Grass of Home, Everything She Touches Gets The Blues, The Cold Hard Facts of Life, The Carroll County Accident (written by Bob Ferguson, Dolly covered this one on her In The Good Old Days), Confessions of a Broken Man, Howdy Neighbor Howdy, The Rubber Room, The First Mrs. Jones and The Life of The Party. You can reserve your copy here. (And remember, Dolly's RCA Country Legends CD comes out Feb. 19. Get hers here!)
---
Feb. 18:
Dolly Accepts Galaxy Award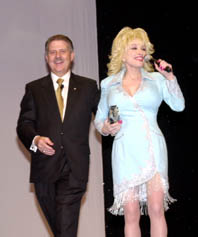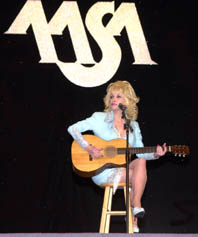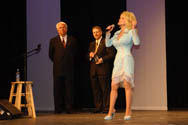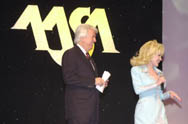 Dolly on Friday accepted the American Association of School Administrators' annual Galaxy Award, with the AASA's official web site on Friday night being the first to publish photos and a story from the event (available here). As you may recall, Dollymania was the first media outlet anywhere to report that Dolly was to receive the award, which has previously gone to Steven Spielberg, Bill Gates and John Glenn. According to the official AASA conference online newsletter, Dolly opened her acceptance singing "9 to 5" and closed it with "I Will Always Love You." In the middle, she gave a speech and accepted questions from the crowd. "My mother only got an 8th-grade education but she could read and write," Dolly explained during her speech. "My father couldn't do either, and I've often wondered how that affected his dreams. I've always been blessed with big dreams. The Imagination Library was one way that I could give back. I could help children chase their dreams." She received a standing ovation from the crowd of educators gathered for the AASA conference in San Diego, according to the report. Dolly was honored for her efforts with The Dollywood Foundation, largely its Imagination Library, which provides a free book each month for children whose parents sign up in participating communities. To date, more than 35 cities in a dozen states participate in the program, resulting in nearly 1 million books mailed to children every month Images above courtesy AASA.
Entering Its Second Year On The Chart


Little Sparrow inches down one spot to No. 10 in its 53rd week on the British country albums chart released Sunday. The Grammy-nominated CD peaked at No. 1 for eight weeks last year.
'Songcatcher' Down
The Songcatcher soundtrack, with the beautiful Dolly duet "When Love Is New," drops six more spots to No. 71 for its 28th chart week on the Feb. 23 edition of the Billboard country albums chart, it was announced Thursday. The CD had previously peaked at No. 42.
Oops!
Kris e-mailed me a notice to be posted on the Collectors' Connection over the weekend, but I accidentally deleted his e-mail address. Please send it again. Thanks!
---
Feb. 14:
'Legends' Cover Art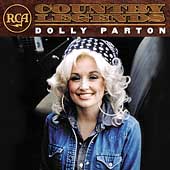 Dollymania, which was the first to bring you news of the RCA Country Legends Series Dolly installment, has the cover art for the album, set for release Feb. 19. To reserve your copy of the 16-track release (which features two songs on CD anywhere for the first time and two on CD in the U.S. for the first time), click on the cover at left or here!
'Jackie's Back!' Again
The 1999 Lifetime mockumentary Jackie's Back!, which features three hilarious Dolly cameos, hits stores March 19 on VHS and DVD. Reserve your copy here! Thanks, Tony!
Photo News
I'm told that the current issue of Entertainment Weekly contains a shot of Dolly and co-stars of the upcoming film Frank McKlusky, C.I. in its spring movie preview section. Thanks, Vince!
---
Feb. 11:
One Year Later, Still In Top 10


Little Sparrow inches down two spots to No. 9 in its 52nd week on the British country albums chart released Sunday. The Grammy-nominated CD peaked at No. 1 for eight weeks last year.
Review: Dolly Duet A Gem
The Tennessean a week or so ago reviewed Everybody's Talkin', the new CD by Paul Brewster, a member of Ricky Skaggs' band, which features a Dolly duet. The reviewer, Craig Havighurst, noted that her appearance marked the CD's finest point, saying: "The knockout of this vocal tour de force is Brewster's duet with the incomparable Dolly on his own 'Slowly I'm Falling to Pieces'. It's a strong, simple song with a soaring chorus that will give your goose bumps goose bumps. It's too bad all those fans of the soft country of Lonestar won't have a chance to hear this on the radio, because Brewster fits in that niche sonically, with the added benefit of music that will sound solid 20 years from now." Although I haven't found any national retailer which stocks the Ceili Music release, it is available through Webster's web site, www.paulbrewster.com.
Monroe Redux
The Grammy-nominated Big Mon: The Songs of Bill Monroe tribute album is being re-issued under a new name. Lyric Street Records will release the disc as Ricky Skaggs and Friends Sing The Songs Of Bill Monroe on Feb. 26. The original Skaggs Family Records CD, which came out in the fall of 2000, has been out of print for about a year, and many retailers don't have any copies left on the shelves. Dolly performs Monroe's "Cry, Cry Darlin'" with Lee Ann Womack on the CD, which also features The Dixie Chicks, Joan Osborne, Mary Chapin Carpenter and more. It was nominated for a Grammy as Best Bluegrass Album but lost out to Dolly's The Grass Is Blue. If you didn't get your copy when it first came out, reserve one here!
Under The Covers
I recently came across a couple of Dolly covers of which I had been unaware. Robbie Fulks tried his hand at the classic Porter & Dolly tearjerker "Jeanie's Afraid of The Dark" on his November disc 13 Hillbilly Giants, and bluegrass group Seldom Scene offers their take on her "When Someone Wants To Leave" (originally from Jolene) as part of a various artist CD, World's Greatest Bluegrass.
Moving In
Wanna live next door to Dolly? Well, if you can afford it, a new gated community is being developed adjoining her Crockett Road estate outside of Nashville, The Tennessean reported. A total of 92 half-acre lots (averaging $175,000 each) are to be included in Hampton Reserve, the new subdivision created by Park Trust Development. Buyers will be required to build minimum 4,000-square-foot homes of brick, stone or stucco. One end of the development features a wooded buffer along Dolly's property line. For information, call Bob Parks Realty at 615-370-8669.
---
Feb. 8:
Christmas Concerts Announced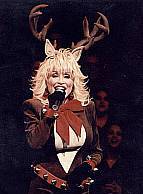 Dolly will for the third year in a row hold her Dollywood Foundation benefit concerts in December, Dollywood announced Thursday and Dollymania is pleased to be the first to report. The concerts will be 7 p.m. Friday, Dec. 13, and 2 p.m. and 7 p.m. Saturday, Dec. 14. Although I haven't confirmed ticket prices, I've been told that they are expected to remain the same ($75, $50 and $25, with $15 of each ticket being a tax-deductible donation to the Foundation). Tickets usually sell out within a few weeks of their public offering. Dollywood Gold Season Passholders will be allowed to purchase tickets early, but a date for sales has not been announced. Likewise, the date for ticket sales to the general public has not been announced, but last year, it was at the end of March. Dollywood also announced on Thursday that the 2001 shows raised $225,000 for the Foundation's Imagination Library program, which provides free books to children from birth to age 5. "It's just such a thrill for me to be able to come back home and perform here at Christmas time, which is my favorite time of year," Dolly said in the announcement. "It's an even bigger thrill to be able to raise so much money to help grow this program and see more and more kids receive books through the Imagination Library. In addition to raising lots of money, we can use these concerts to get more people excited about the program and help us reach our goal of getting books in the hands of every child in the country and beyond." Nearly 30 communities across the country are participating in the program. In 2000, Dolly moved her annual concert from the park's April opening to the holiday season. Over the past 11 years, her concerts have raised nearly $3 million for the Foundation. (Image at left courtesy Chris Dossenbach as published exclusively on Dollymania.)
'Songcatcher' Down A Bit
The Songcatcher soundtrack, with the lovely Dolly duet "When Love Is New," drops three more spots to No. 65 for its 27th chart week on the Feb. 16 edition of the Billboard country albums chart, it was announced Thursday. The CD had previously peaked at No. 42.
Picture Perfect
Dollymania reader Greg came across some great Dolly photos from her 2000 address to the National Press Club and passed them along. You may view them here. Thanks, Greg! (Of course, the entire transcript of Dolly's speech may be read on Dollymania here.)
Get A Job
The annual job fair for Dollywood and Dolly's Splash Country will be held March 1 and 2 at Dollywood, it was announced this week. If you're interested in working at either park, schedule an interview beginning Feb. 18 at 1-865-HAVE-FUN (428-3386). Positions to be filled include food service workers, concession workers, waitpersons, grounds attendants, lifeguards, shop clerks, auditors, ticket attendants, parking attendants and more.
---
Feb. 6:
New Dolly Duet Coming
Dolly lends her vocals to the Irish group Altan's Feb. 26 release, The Blue Idol, Dollymania has confirmed. Although I haven't confirmed on which track she duets with lead singer Maihread Ni Mhaonigh, Chris over at Dolly Parton Central has reported it is the cut "The Pretty Young Girl." Mhaonigh and other members of the group have previously appeared on Dolly's albums Heartsongs and Little Sparrow. Reserve your copy of Altan's CD here!
Add Your Voice
Speaking of Chris, he has started up a petition to send to radio stations in a show of support for Dolly and an attempt to convince them to return her to the airwaves. You may sign the petition here. Thanks, Chris!
Where's Dolly?
Dolly earned a mention in the New York Post Tuesday in music critic Dan Aquilante's review of Totally Country, a country take-off of the Now! That's What I Call Music! series. While he calls the disc "a fast sampler of who is happening in Nashville," he laments: "it would have been better had its producers snagged seminal Nashville artists like George Jones, Dolly Parton or Merle Haggard. That would have given Totally Country the authority and sense of history it lacks." His full review is here.
Grammy Watch
It appears that Dolly's chances of singing for a second consecutive year on the Grammy Awards slimmed on Monday when it was announced that a bluegrass segment dedicated to the hit O Brother, Where Art Thou? soundtrack will be featured with performances from Emmylou Harris, Alison Krauss, Ralph Stanley, Gillian Welch, Dan Tyminski and Pat Enright. Historically, the ceremonies feature only one full-length or two abbreviated (like last year) country performances, and I expect that a full segment on O Brother will mean no room for Dolly. She performed about half of "Train, Train" on last year's telecast, and before the show she picked up her sixth Grammy (Best Bluegrass Album, The Grass Is Blue). This year, as Dollymania was the first Internet site other than the official Grammy site to report, Dolly is up again for Best Bluegrass Album (for Little Sparrow) and Best Female Country Vocal Performance for "Shine," which add to her total to give her 38 career Grammy nominations. Awards will be handed out Feb. 27.
Laughs At Prince's Expense, And Dolly's
British gossip site Anorak on Tuesday took a jab at Prince Charles by relating a story which originally appeared in that nation's tabloid publication The Mirror about the Palace issuing a puff piece about HRH's favorite coat: a 15-year-old tweed overcoat. While the original story said that the Prince's other favorite coats are a camel-colored coat and a more formal black coat, the second article reported in jest that his two other top coats are "a Hummel Spurs bench coat and a black satin bomber jacket with 'Dolly Parton World Tour 1987' on the back."
---
Feb. 4:
No DollyCon 2002, Alternate Set Up
The organizers of the annual fan-operated Dolly Collectors' Convention for Dollywood's opening weekend have confirmed to Dollymania that the convention will not be held this April, but it may return in 2003. However, another fan is organizing an alternate convention, the BlondeButterFly Bash, to be held Friday, April 5, from 8:30 p.m. until 11 p.m. at the Green Valley Motel South Convention Center in Pigeon Forge. If you want to still have a place to talk Dolly, shop Dolly and sell Dolly, attend this party. Call 214-929-4428 for more information, or click on the link here. Thanks, Harrell!
Down A Tad Overseas


Little Sparrow inched down two spots to No. 7 in its 51st week on the British country albums chart released Sunday. The Grammy-nominated CD peaked at No. 1 for eight weeks last year.
Chicago Reading
Dolly earned a couple of mentions in Sunday's Chicago Tribune. In the first article (which you may read here), the paper's rock music critic Greg Kot discussed the popularity of the O Brother, Where Art Thou? soundtrack and the upswing in the roots music of folk and bluegrass. At the end of the story, he listed several of the top roots music albums which have come out recently, including Dolly's Little Sparrow, of which he noted: "She verged on self-parody during her countrypolitan heyday in the '70s, but lately she's returned to her mountain roots with stunning results." Also, Dolly is mentioned in an article about Al Gore's Saturday night speech to Democrats in Nashville, because her sister Stella performed at the event and cheered to the crowd: "Let's re-elect Gore in 2004!" Thanks, Bryan!
More Dolly In Print
Dolly's being awarded the American Association of School Administrators (AASA) Galaxy Award made it into The Mountain Press on Sunday. Read their story here.
---
Feb. 1:
Dolly Earns Education Award
Dollymania is pleased to be the first to inform you that it was announced Thursday that Dolly has been selected by the American Association of School Administrators (AASA) to receive one of their top honors, the Galaxy Award. The organization will present her with the honor when she addresses their national conference in San Diego on Feb. 15. Dolly was chosen for the award because of her educational projects through the Dollywood Foundation, particularly the Imagination Library, which provides one book per month to children from birth until the age of 5. The program is operational in several communities across the country. Dolly reacted happily to the news, saying: ""I'm very proud and honored to receive this award from such a prestigious group of educators. I have to say I was a little surprised when the AASA folks called me. My experience in school was, what you might say, a bit checkered. I checked in so the boys could check me out. But honestly, I do value education because most of my people never had much. Times were tough and I saw first hand all of the their struggles. But I had a loving family and I was blessed with a great big imagination. It's that imagination that got me to where I am today, and it's our goal to get books in the hands of children so they can use their imaginations to take them wherever they want to go." Previous recipients of the award include director Steven Spielberg, Microsoft head and philanthropist Bill Gates and space pioneer Sen. John Glenn. The AASA will also make a donation to the Imagination Library program in Dolly's honor.
New Album Coming, But Likely Months Away
The good folks at Sugar Hill Records confirm that Dolly is preparing to record a new album, the third collection which her Blue Eye Records plans to distribute through Sugar Hill. I'm told that she is currently "writing and arranging" songs for the CD, but recording has yet to begin. The label doesn't yet know if it will be released in late 2002 or if we may have to wait until early 2003 for it to hit stores. Thanks, Kim!
'Songcatcher' Holding In There
The Songcatcher soundtrack, with the lovely Dolly duet "When Love Is New," is still holding on to the lower reaches of the Billboard country album chart. The CD fell two spots to No. 62 for its 26th chart week on the Feb. 9 edition, it was announced Thursday. The CD had previously peaked at No. 42.
---