---
www.dollymania.net News March 2021
---
March 3:
Dolly Gets Covid Vaccine



Dolly on Tuesday visited Vanderbilt Medical Center in Nashville and received her Covid vaccine on camera to encourage others to get theirs. The footage went viral immediately, given that she had a year ago donated $1 million to Vanderbilt, part of which funded initial research at the institution which eventually become the Moderna vaccine, which is the one she received. The vaccine was administered by Dr. Naji Abumrad, her longtime friend who is a physician and researcher at the hospital and whose son made the award-winning Dolly Parton's America podcast. In introducing the video, viewable here or in the media player above, Dolly offered: "I'm old enough to get it and I'm smart enough to get it." Later, she joked: "I want to say to all of you cowards out there, don't be such a chicken squat, get out there and get your shot!" She also sang alternate lyrics to her classic "Jolene" as:
Vaccine, vaccine, vaccine, vaccine.
I'm begging of you please don't hesitate.
Vaccine, vaccine, vaccine, vaccine.
Cause once you're dead then that's a bit too late.
The Covid virus has killed more than 2.5 million people worldwide in just over one year, nearly 530,000 in 11 months in the U.S., the No. 3 cause of death and more than any other cause other than heart disease and cancer in the past year.

U.S. Chart Updates
The March 6 Billboard: charts released Tuesday see Barry Gibb's Greenfields: The Gibbs Brothers Songbook (Vol. 1), with its Dolly collaboration, drop nine places to No. 50 album sales, 12 to No. 34 current albums, and off the Americana/folk albums, down from No. 21. Ultimate Dolly Parton holds steady at No. 47 country albums, while Dolly and Zach Williams' "There Was Jesus" gains 10 to No. 20 Christian streaming songs and six to No. 6 Christian digital song sales thanks to the release of the new piano remix of the song.
---
March 1:
Dolly 'Little Golden Book' Coming In September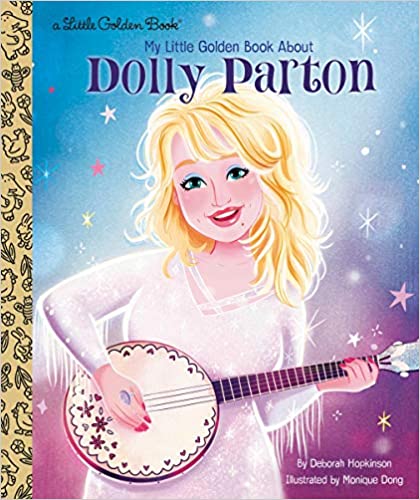 Legendary children's book publisher Little Golden has announced a tome coming out Sept. 21 dedicated to Dolly herself. My Little Golden Book About Dolly Parton joins a series of biographies about famous individuals including Kamala Harris, Martin Luther King Jr., George Washington and Ruth Bader Ginsberg aimed at children ages 2-5. The 24-page children's book traces Dolly's life from her upbringing to her career as a country and pop star as well as businesswoman with her own theme park. It was written by Deborah Hopkinson with large illustrations by Monique Dong covering most of each page. (Disclosure: Your webmaster helped edit and fact check the book and is credited as such on the title page.) There is no word whether the book will be considered for Dolly's Imagination Library early literacy program, now that Little Golden publisher Random House recently merged with Penguin Publishing, which produces all of the program's books. Reserve your copy here!
PBS Offers Special DVD Of Dolly 'Opry' Special
PBS has announced an exclusive U.S. version of the DVD for Dolly Parton & Friends: 50 Years At The Opry, her 2019 television special observing her anniversary as a Grand Ole Opry member. The concert is airing on many PBS stations this week as one of this year's lead pledge week programs, and a special DVD has been produced with unaired bonus footage and is available as a premium for PBS donors. Check your local PBS station for air dates and times, and check its donation section of its website for how to make a pledge and receive the DVD as a thank you gift. (Your webmaster's local PBS station was asking for a $98 donation to receive the DVD.) At present, the only DVD of the program is produced in Australia and does not play on most U.S. DVD players.
Tennessean: ACMs Snubbed Dolly For Entertainer Of The Year
Academy of Country Music (ACM) nominations came out last week, and The Tennessean considered Dolly's absence from the Entertainer of the Year category to be the year's biggest snub, given her No. 1 country chart album with her holiday collection, a Christmas movie on Netflix, a prime-time network music special, and numerous online streaming appearances during a time when the pandemic shut down promotional activities and appearances for almost all other performers in the genre, plus her humanitarian efforts including helping fund a Covid vaccine. Read more from Yahoo here.
Dolly Recording Up For Tenn. State Song
Even though Dolly has asked the Tennessee Legislature to cease consideration of erecting a statue of her on the state Capitol grounds, there is still a bill regarding her making its way through the legislative process: a proposal to add her recording of "Amazing Grace" from her 1999 Dollywood-exclusive CD Precious Memories as one of the official state songs, according to The Tennessee Ledger here.
Former Dolly Home On Market In California
One of Dolly's former West Hollywood homes has hit the market. The Realtor listing the dwelling posted a video of it to Facebook here and photos here. The asking price is $3.795 million. The Realtor said on Facebook that Dolly lived in the home for a couple of months out of the year for three years but wouldn't disclose whether she currently owns the property. Property records show it appears to have been sold most recently for just over $1 million in 2012 The listing states it was completely rebuilt in 2014.
Dolly Has New AirBnB Commercial
AirBnB last week released a new commercial about pet-friendly accommodations featuring Dolly's 1974 original recording of "I Will Always Love You." Watch here.
'9 To 5' Announces U.K. Tour Back On
Producers for Dolly's West End version of 9 To 5: The Musical announced over the weekend that their national UK tour is back on and will kick off this summer after being cancelled last year due to Covid. Learn more here.
New Dolly Mural In Orange County
Gay bar Strut Bar and Club in Orange County, Calif., has painted a huge Dolly mural outside in appreciation for her Covid-19 vaccine donation and in honor of all frontline workers during the pandemic. Check out a story about it from Q Voice News here.
'Holly Dolly Christmas' Gets Amazon Discounts
Now that the holidays have come and gone, Dolly's most recent CD, A Holly Dolly Christmas, has headed to discount, especially for its less-popular special formats released last year. So if you wanted to pick one up, now is the time to do it. The $17 CD is down to $8 on Amazon here, while the $27 Amazon-exclusive cassette with a bonus track is down to $16 here and the $55 Amazon-exclusive 8-track with a different bonus track is only $25 here.
Dollywood Preps For Opening In Two Weeks
Dollywood is readying for its opening with season passholder preview day March 12 and its general public gate opening March 13. The Lightning Rod roller coaster is expected to re-open featuring a hybrid track structure that includes both a wood stack "Topper Track" and a steel "Ibox" track installed by the ride's manufacturer. This year will not feature a Festival of Nations, presumably due to the coronavirus crippling international travel for performers, so the first full festival of the park's 36th season will be the Flower and Food Festival April 23 to June 7, which features a Melodies of Spring concert series of contemporary Christian and Southern Gospel artists such as Matthew West, Big Daddy Weave, I AM THEY, Rebecca St. Jaimes and more. The new Dolly kinfolk show Harmonies of the Heart premieres in March, as does A Brighter Day, an inspirational show at the Back Porch Theater. Popular street singers the Gem Tones will become The Tones and perform in The Village. The Summer Celebration will then take place June 25 to July 31, Harvest Festival Sept. 24 to Oct. 30 featuring the Great Pumpkin LumiNights, and Smoky Mountain Christmas returns Nov. 6 to Jan. 2.  No official announcements have been made regarding Dolly's appearances at the park this year, if any (she did not make any of her usual appearances last year due to the pandemic), but I would doubt she plans any in-person appearances until after the pandemic restrictions have been lessened, which likely won't be until fall.
Chart Updates
Former No. 1 Barry Gibb's Greenfields: The Gibbs Brothers Songbook (Vol. 1), which features his Dolly duet on "Words," plummets 57 places to No. 88 British pop albums in its seventh week, it was revealed Friday, even though it only slips one to No. 8 overall sales and remains steady at No. 7 physical sales, given the tremendous influence online streaming, where the album is weak, has on chart position today. The collection also holds steady at No. 2 U.K. Americana albums and loses 33 to No. 97 downloads. Down Under, the collection drops seven spots to No. 16 on the Australian pop albums chart. Back in the U.K., Very Best Of Dolly Parton Vol. 1 holds steady at No. 3 British country compilation albums, while The Complete Trio Collection Deluxe also remains steady at No. 10, Emmylou Harris's Original Album Series: Volume 1 (with two Dolly covers, one track with Dolly harmony and one track with Trio harmony by Dolly and Linda Ronstadt) rises three to No. 11, The Essential Dolly Parton inches down one to No. 14, and Linda Ronstadt's Original Album Series (featuring one Dolly cover and one track with Dolly harmony) re-enters the top 20 at No. 17. In the U.S., the Feb. 27 Billboard: charts last week saw Gibb's Greenfields: The Gibbs Brothers Songbook (Vol. 1) fall back out of the top 200 pop albums chart, down from No. 195, while it lost 31 to No. 41 album sales, 13 to No. 22 current albums, 16 to No. 21 Americana/folk albums and off the 50-position country albums chart, down from No. 21. Ultimate Dolly Parton held steady at No. 47 country albums, and Dolly and Zach Williams' "There Was Jesus" held steady at No. 20 Christian streaming songs and dipped three to No. 12 Christian digital song sales.
---