---
www.dollymania.net News March 2022
---
March 12:
Dolly Opens Dollywood, Announces CD, Movie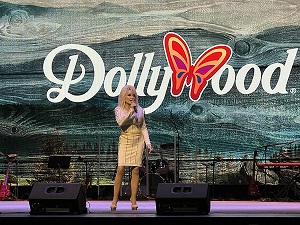 Dolly on Friday officially opened Dollywood for its 37th season after two years of no public appearances at the park due to the pandemic. She started her appearance with another plea for prayers for Ukraine. During the media appearance, for which gold and diamond season passholders had to register in advance online to attend, she announced she plans a Christmas movie this year to be filmed at least partially at the park and to contain a behind-the-scenes component about how movies are made as well as a companion gospel album to go with the film toward the end of the year. She revealed her most recent tour bus is being renovated to be a rentable room at the park's DreamMore Resort, Suite 1986, named after the year the park opened under Dolly's name. And she let a bubble artist place a bubble over her body. She also sang her new album's song "Big Dreams And Faded Jeans" live for the crowd, talked about the previously-announced HeartSongs Resort under construction now, and took questions from the press. (Photo at left copyright 2022 T. Duane Gordon/www.dollymania.net. All rights reserved. Click on it for a larger view.) Watch the park's official feed of the appearance via Facebook here or in the media player above. She also toured the park in her antique open-top car at 4 p.m. Friday.

Coverage included The Knoxville News Sentinel here, WJHL here, WBIR here, WCYB here and WATE here.

Snow is forecast for Friday night and Saturday morning, so the park had already announced Friday that its scheduled 10 a.m. Saturday opening for the general public will be pushed back to noon, if they open at all, as social media should be checked before heading out to the park to confirm it is opening during the inclement weather. Dolly is expected to be on park Saturday if it opens, but her 2 p.m. scheduled park tour is weather-permitting and given the high isn't supposed to pass 30 degrees, I doubt she will subject herself to that cold. Look for more coverage from Friday's appearances throughout the coming week.

'Run, Rose, Run' Top 25 U.K., Top 50 U.S. Albums
Dolly's Run, Rose, Run album made a strong debut overseas Friday but early sales data estimate a slightly lower U.S. debut when American charts are released Tuesday. On the U.K. charts, the new album debuts at No. 23 pop, No. 1 country, No. 1 Americana, No. 4 independent label albums, No. 7 album sales, No. 6 physical sales, and No. 12 downloads. Stateside, the sales projections from Hits Daily Double show it having logged 14,260 American units in its first week (broken down as 13,153 physical sales and full album download sales, 210 album-equivalent sales of individual tracks from the album, and 896 album-equivalent streams from streaming services). For comparison, her last album, A Holly Dolly Christmas, sold about twice as many, being credited with 26,800 units (sales of 26,300 albums and a total of 500 for tracks and streams). While those numbers should make it the second-best-selling album of the week and best-selling country album of the week, today's charts add in streaming credits, as that is the largest segment of music consumption at present, and Dolly's music has very few streams. Consequently, instead of debuting at No. 2 pop as it would have prior to the streaming era, it will likely debut around No. 45 pop, and instead of being No. 1 country, as it would have been previously, it will likely debut around No. 7 country. Elsewhere on the British charts, The Real Dolly Parton slips six spots to No. 30 on the U.K. top sales chart and four places to No. 27 physical sales chart. On the U.K. country compilations albums chart, Very Best Of Dolly Parton Vol. 1 inches down one to No. 8, while The Complete Trio Collection Deluxe gains a dozen to No. 7, Emmylou Harris's Original Album Series: Volume 1 (with two Dolly covers, one track with Dolly harmony and one track with Trio harmony by Dolly and Linda Ronstadt) drops five to No. 19, and The Essential Dolly Parton re-enters at No. 17.

ACM Recap
Of course, Dolly's first plea for prayers for Ukraine was when she opened the Academy of Country Music (ACM) Awards on Monday from Las Vegas. She also dedicated the program to the people of Ukraine and spoke about her decision to do so on BBC's The One Show Tuesday, which Entertainment Tonight Canada picked up on here. Dolly, introduced by James Patterson on the program, also performed "Big Dreams and Faded Jeans" as a duet with Kelsey Ballerini and presented the Entertainer of the Year Award to Miranda Lambert, who was watching from England and accepted via video. Kelly Clarkson, on whose syndicated talk show Dolly is scheduled to appear on Monday (check local listings), paid tribute to her with a rendition of "I Will Always Love You." If you missed the original stream, it remains available on demand from Amazon Prime Video. If you don't have a subscription, you may watch with a free 30-day trial here.

Dolly Expresses Ed Sheeran Duet Desire
In this week's general promotional interviews, Dolly told CMT here that she wants to duet with Ed Sheeran.

Check Out Dolly On 'The Daily Show'
Dolly and her Run, Rose, Run co-author James Patterson appeared Wednesday night on Comedy Central's The Daily Show. Watch the interview here.

'Pam And Tommy' Got Dolly's OK For Song
The Hulu series Pam and Tommy features Dolly's "I Will Always Love You" in the closing scene, something Dolly first rejected and then later approved using, the project's music supervisor told Indie Wire here. After the first no, the filmmakers sent her the final two scenes of the project to watch in context how it would be used, after which she changed her mind.

Gershwin Album With Dolly Released Friday
Dolly told People magazine here that she feared she wouldn't do Gershwin justice appearing on Michael Feinstein's Gershwin Country album that came out Friday. Check out her contribution to the project here or in the media player below, and download the album here.

---
March 7:
Dolly, James Start ACM, Book, Album Push



We're in the middle of a multi-week media run for Dolly, so she's a bit everywhere right now! With release of her album Run, Rose, Run, hosting Monday's Academy of Country Music Awards on Amazon Prime from Las Vegas (get a 30-day free trial of Amazon Prime to watch here!), release of the book Run, Rose, Run with James Patterson Monday, the season passholder/media day at Dollywood on Friday, the park's public opening day on Saturday, her virtual book tour in between, and her first appearance at South by Southwest the following weekend, she's busy!

The PR push will include appearances on ABC's Good Morning America Monday and the syndicated Bobby Bones Show on radio at 8:20 a.m. Eastern Monday and a spot that aired Sunday on CBS Sunday Morning available here and in the media player below. The authors were on the cover of the newspaper insert magazine Parade over the weekend, and Dolly was spotted on Entertainment Tonight and other interviews.

She told Access Hollywood here she plans five wardrobe changes on the ACMs Monday night and said she's now serious about possibly recording a hard rock album following her nomination in the Rock & Roll Hall of Fame. Her co-author Patterson has been announced as a presenter at the ACMs, and the awards revealed Kelly Clarkson's tribute to Dolly will involve her singing "I Will Always Love You;"

The host of Ted Talks interviewed Dolly on Clubhouse here and The Tennessean talked to her here. She also has taken over Pandora's Women in Country station in Pop Up Move here in honor of International Women's Day and debuted three special Dolly arrangements from 1-800-FLOWERS available for ordering online through Thursday to celebrate the holiday.

The new album was topping several online retail charts over the weekend and garnering positive reviews, with both NME and Rolling Stone giving it three out of five stars here and here. She even had her image on a NASCAR vehicle for the second time ever, this time Ross Chastain's No. 1 car, to promote the ACMs at Sunday's Pennzoil 400.

Imagination Caught Up In Book Banning Movement
The anti-critical race crowd finally came for Dolly's early childhood literacy charity, Imagination Library, last week with Kentucky Republican State Senator Stephen Meredith questioning the appropriateness of the program as the state works to take it statewide with public matching funds. Just a couple of weeks after he helped lead a Senate vote along party lines to restrict how teachers in public school classrooms teach U.S. history due to the mischaracterization of honest history as the graduate level legal course critical race theory, he suggested the state should likewise insert vague language in the funding bill to require the books meet an undefined "age appropriateness" test, something other communities are using as a tactic to ban age-appropriate books that address issues of diversity, race, and sexuality by incorrectly claiming they aren't in their personal opinion age-appropriate. When pressed that this program is from Dolly Parton, for Pete's sake, and she would never do anything that would hurt children, he responded that he wasn't worried about her but that after her death future staff members may try to send age-inappropriate material to children to indoctrinate them in woke culture. (Fortunately, he apparently hasn't read the program's book list because the child development and literacy experts who select the book intentionally look for titles that present diversity, equality, and tolerance with special attention paid to including titles by African-American, Native American, Pacific American, and Latinx authors to reflect their experiences, share their culture with children who look different from the authors, and to provide representation for children who look like the authors. They even chose a book that was delivered to three-year-olds a few months ago that featured a subtle depiction of a same-sex parents family, so the books do contain significant amount of subject matter that literature and child development experts agree are age-appropriate but that conservative activists would find objectionable.) Following a news report on the committee hearing, where Meredith eventually gave in and voted for the bill, Dolly's sister Stella Parton Tweeted a take-down of Meredith, later adding: "When you stoop so low as to question the honorable intentions of someone as well intentioned as my big sister Dolly, then you are stopping low." Several fans weighed in defending Dolly, which generated additional coverage of the controversy such as News Channel 5's report here.

Dolly Vocal Competition Returns In May
After a pandemic hiatus, the world's only vocal competition focused on Dolly the songwriter will return this summer, organizers announced. The Mountain Soul Vocal Competition in Sevierville, Tenn., concludes during the Bloomin' BBQ Music & Food Festival on May 21 with the final competition. Contestants must perform a song Dolly wrote (check the list here to confirm her authorship) but in their own vocal style in two divisions: 13-and-up and 12-and-under. "The Mountain Soul Vocal Competition does a great job showcasing new talent while also proving that Dolly's songwriting is incredibly versatile and can easily cross musical genres," says Sevierville Chamber of Commerce Director of Marketing and Communications Amanda Marr. "Since Dolly Parton is Sevierville's hometown girl, holding a competition that honors her songwriting ability was a natural fit for us. We are honored that Dollywood assists us with the Mountain Soul Vocal Competition each year." Entries ($10 older division, $5 younger) must be submitted for the preliminary round by April 15 online at BloominBBQ.com. A total of 30 finalists will be invited to the in-person concert in May to compete for cash and prizes including a Nashville recording session and a guitar autographed by Dolly.   

Dolly Doc Coming To AXS
AXS network is including Dolly in its Women's History Month tributes with an airing at 7 p.m. March 12 of the 2020 documentary ?The Dolly Parton Story: From Rags To Rhinestones.

U.K. Chart Updates
Overseas, The Real Dolly Parton shoots up 45 places to No. 24 on the U.K. top sales chart and 35 spots to No. 23 physical sales chart. On the U.K. country compilations albums chart, Very Best Of Dolly Parton Vol. 1 climbs 13 at No. 7, while The Complete Trio Collection Deluxe rises three to No. 19 and Emmylou Harris's Original Album Series: Volume 1 (with two Dolly covers, one track with Dolly harmony and one track with Trio harmony by Dolly and Linda Ronstadt) slips two to No. 14.
---
March 2:
Welcome To The Dollyverse
With Dolly's Run, Rose, Run album dropping Friday and the book Run, Rose, Run on Monday, the promotional rounds continue. Dolly will talk to Ted Talk's Adam Grant Thursday on Clubhouse here. And she and co-author James Patterson will be interviewed by Connie Britton at South by Southwest March 18, after which she will perform a concert. To promote the SXSW appearance, she has teamed with Fox Entertainment to create a virtual world called the Dollyverse that will sell blockchain NFTs of the CD and Dolly-inspired art and stream the interview and concert free live here.
Register For Dolly Appearance At Dollywood
Dollywood this week officially revealed what was first reported here a few days earlier that Dolly will be making her first appearances at the park in three years for opening weekend, adding instructions that to see her in the media event in Celebrity Theater on Friday, you must pre-register for limited Golden Event seating here and then check in at the main gate early the morning of March 11 and show gold or diamond passes for each member of their party. Learn more here.
Kenny Rogers Concert Heading To PBS
Various PBS stations nationwide undertaking pledge week have a new special this year: Kenny Rogers: All In For The Gambler. This hour and a half version of his retirement concert featuring Dolly and other artists appears to include additional performances not included in the CBS version that has already aired. In addition, the PBS version of the special will be available as a CD/DVD combo for PBS donors to choose as a thank you gift for shipping May 15. Learn more here. Several stations are also repeating the Dolly television performance compilation that had premiered in the last pledge week drive. Check local listings for both.
Poll: Put Dolly In Rock Hall Of Fame
A new poll of the general public found Dolly the most popular of the 17 nominees for the Rock & Roll Hall of Fame this year, with 33 percent of respondents saying she should be inducted. She was the No. 1 choice overall and top pick for two age groups: 26-41 and 58-76, Study Finds reported here. Those 18-25 chose Eminem as No. 1, while those 42-57 and older than 77 listed Lionel Richie at the top. Inductees will be announced later this year, and don't forget that fans' collective votes will be used as one ballot out of the approximately 1,000 ballots being cast for the Hall and you may vote once per day here.
U.S., U.K. Chart Updates
Ultimate Dolly Parton and her 16 Biggest Hits kind of switched places, as the former falls off the March 5 Billboard country albums chart, down from No. 44, and the latter re-entering the chart at No. 43. Overseas, Very Best Of Dolly Parton Vol. 1 falls back out of the British top 100 streaming albums from No. 100 and re-enters the country compilations albums list at No. 20, while The Real Dolly Parton re-enters the top sales chart at No. 69 and physical sales chart at No. 58. On the U.K. country compilations albums chart, The Complete Trio Collection Deluxe falls 12 to No. 19, Emmylou Harris's Original Album Series: Volume 1 (with two Dolly covers, one track with Dolly harmony and one track with Trio harmony by Dolly and Linda Ronstadt) gains three to No. 12 and Harris' Original Album Series: Volume 2 (featuring one track with Dolly harmony and two tracks with Trio harmony by Dolly and Linda Ronstadt) falls out of the top 20, down from No. 19.
---