---
www.dollymania.net News May 2002
---

May 31:
Tribute Falls From Chart
Ricky Skaggs and Friends Sing The Songs of Bill Monroe falls out of the top 75 country albums in the June 8 Billboard chart released Thursday, down from No. 71 after a dozen weeks on the chart. The CD, which features the Dolly cut "Cry, Cry Darlin'," originally made it to No. 42 with nine weeks on the chart when released on Skaggs Family Records two years ago, and the re-issue peaked at No. 36.
---
May 30:
Dolly On Pam's Tribute To Dad
CMT.com reported on Wednesday that Dolly is among the artists who have recorded vocals with Pam Tillis on a tribute to her father, Mel, titled It's All Relative. The CD, which will be released by Sony Nashville on Aug. 27, includes Dolly, Emmylou Harris, Trisha Yearwood, Marty Stuart, Delbert McClinton, the Jordanaires and Rhonda Vincent, the story noted.
'Shattered' Song Preview Up


Sugar Hill Records on Wednesday morning posted the third installment in its weekly preview of Dolly's July 9 release Halos & Horns, giving a sneak peek at her new version of "Shattered image," which originally appeared on her 1976 LP All I Can Do. The label had previously provided clips of title song and "I'm Gone," which is scheduled to be the first single. To take a listen, click here! Reserve your copy of the CD here. And read the label's story on the album here and Dolly's own cut-by-cut commentary here!
More 'Stairway' Press
MTV.com's Headlines page gave Dolly a mention in Tuesday's edition with the following note: "Mainstream country music legend Dolly Parton knows all that glitters is gold, and now she's buying the 'Stairway to Heaven.' Parton covered the Led Zeppelin classic for her upcoming record, Halos & Horns, receiving both Jimmy Page's and Robert Plant's blessings (though she took some liberties with the lyrics)."
---
May 27:
'Sparrow' Down Two


Dolly's Little Sparrow inches down two places on the British country albums chart released Sunday, coming in at No. 10 in its 65th week. The Grammy-winning CD peaked at No. 1 for eight weeks last year and reached gold status overseas.
Poll: Dolly For 'Divas'
CMT.com voters say Dolly should be the next legend to appear on VH1's Divas series. The annual concert special has featured country stars such as Shania Twain, Faith Hill and the Dixie Chicks, but never Dolly. In early voting on their site by mid-day Saturday, Dolly held a sizeable lead with nearly 70 percent of the vote; next-closest was Martina McBride with just 14 percent. By late Saturday night, Dolly had slipped to 56 percent, and Martina had moved up to 18. At the time of this update on Sunday evening, Dolly remained with a good lead at about 50 percent and Martina was still second with 20 percent. Rounding out the five choices were Reba at 13 percent, Trisha Yearwood with 10 and Lee Ann Womack with 7. Maybe this will lead to Dolly appearing on the show, as CMT and VH1 are both owned by MTV Networks? If the poll is still up when you read this, cast your vote for Dolly here!
Columnist: Dolly For Broadway
Cincinnati Enquirer columnist Jackie Demaline on Sunday suggested Dolly as one way Broadway could infuse itself with new popularity. In an article offering changes which could revitalize The Great White Way, she said Dolly would be a natural fit after Reba's raved performance in Annie Get Your Gun "cleared the way for women of country on Broadway." She added that the genre "could use a feisty good ole gal or two," namely Dolly. As you may recall, Dolly was producers' first choice to take over Bernadette Peters' role in Annie Get Your Gun, and they turned to Reba only after Dolly declined to do the show. Her full article is here.
Flameworthy Special This Week


CMT will on Wednesday feature the nominees for Flameworthy Female Video Of The Year in a half-hour special. Of course, Dolly's "Shine" is up for the award against Sara Evans' "Saints and Angels," Faith Hill's "There You'll Be," Martina McBride's "Blessed" and Jo Dee Messina's "Bring On The Rain." "Shine" won the Best Female Country Vocal Performance Grammy this year and was lauded by critics as one of last year's best recordings, even if it received almost no radio airplay. The video peaked on CMT's weekly countdown at No. 4 and spent 13 weeks on their chart. Vote here or by clicking on the icon at left. The special airs at 8 p.m. Eastern on Wednesday, and the winners will be announced June 12.
Dolly Sends Condolences
The music world is sending its sympathies to Joseph Shabalala, lead singer in the Grammy-wining group Ladysmith Black Mambazo, following the death of his wife, Nelli, who was shot and killed outside of their home in South Africa last week, according to an article in Johannesburg's Saturday Star this weekend. The article noted that both Dolly and Paul Simon sent written condolences and their regrets that they were unable to attend Saturday's funeral. The band performed on Simon's Graceland album and backed Dolly on her cover of "Peace Train" for her Treasures CD. She also gave her lead vocals to their cover of "Knockin' On Heaven's Door" for the group's CD Heavenly. The full article is available here.
More 'Stairway' Press
Launch.com had a brief story on Friday based on the press release which Sugar Hill Records issued on Tuesday in which Dolly related the praise that Led Zeppelin members Robert Plant and Jimmy Page offered her for her version of their classic "Stairway To Heaven." Read their article here.
In The Pages
I'm told that Dolly appears twice in the June 11 issue of Country Weekly magazine: once in an article about this year's opening at Dollywood and a second time in a photo with Kenny Rogers. Thanks, Patric!
---
May 24:
Monroe Tribute Still On Chart
Ricky Skaggs and Friends Sing The Songs of Bill Monroe falls three spots in the June 1 Billboard country albums chart released Thursday, coming in at No. 71 in its 12th week. The CD, which features the Dolly cut "Cry, Cry Darlin'," originally made it to No. 42 with nine weeks on the chart when released on Skaggs Family Records two years ago, and the re-issue peaked at No. 36.
Ticket Troubles
I'm told that some fans have experienced difficulties with purchasing tickets for Dolly's Las Vegas show online at Ticketmaster after they went on sale Thursday due to computer errors. Apparently, the entire floor section is general admission (not broken into reserved sections as was shown on their site) and ticket prices didn't match the appropriate sections of the theater. I've been told that it is much easier to order tickets directly from the House of Blues venue by calling 702-632-7600, although they were reportedly "going fast." Thanks!
---
May 23:
Vegas Tickets On Sale
Ticketmaster at 10 a.m. Thursday, May 23, will start selling tickets to Dolly's Aug. 10 concert at the House of Blues in Las Vegas. This is the only show for which ticket information has been released. Tickets, $30-$50 each, may be purchased online here or by phone at 702-474-4000. Doors will open at 7 p.m. for thw 8 p.m. show, and all attendees must be 21 or older and bring ID.
---
May 22:
Label: European Tour Coming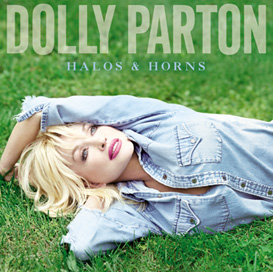 Sugar Hill Records on Tuesday released a story on Dolly and her upcoming CD Halos & Horns, complete with the beautiful cover art at left by photographer Annie Leibowitz, and a track-by-track commentary from Dolly herself on the album's songs. Among the items covered:

After her U.S. tour in July and August, Dolly will perform concerts in England and Ireland this fall.

Robert Plant and Jimmy Page, the members of Led Zeppelin who wrote their classic "Stairway To Heaven," told Dolly that they both "love" the acoustic version she recorded for Halos, complete with a choir. In fact, she said, Plant told her he had always considered it a spiritual song and was "thrilled" by the use of the choir, as he had thought of recording it that way himself.

"In The Meantime," a Dolly original which was at first slated to be included in the album, has been shelved.

"John Daniel" is another song written 30 or 35 years ago which Dolly has brought out for this CD. As was previously reported here, "Not For Me," which is included on the collection, was written in the mid-60s but had never recorded.

The title song was based on the title of a television program she had unsuccessfully pitched to FOX two years ago.

"If Only" was originally written for the Mae West bio-pic she is doing for ABC, but the producers decided against using the song because they felt it was too sad.

"These Old Bones" not only features Dolly imitating her mother's voice, as previously reported, but she also sings a "duet" with herself in that voice as well.
To read Bob Oermann's full story on Dolly and the CD, click here. To read Dolly's track-by-track history of the album, click here. (And to reserve your copy of the album, click here!)

P.S. The label on Wednesday confirmed that Dolly's July 10 New York concert has been moved from the Hammerstein Ballroom to Irving Plaza.

Review: 'McKlusky' OK
A pal recently came across a fairly favorable review of Dolly's film Frank McKlusky, C.I., which is reportedly heading to video after a disappointing test release in Florida last month. The review, on a "cheesy" film tribute site titled Cheesy Movie A Go-Go, called the movie a "mixed bag" but said it has some hilarious parts and a few lines of amusing dialogue. Dolly is only mentioned in a couple of places, but the full review (which gave the film a score of three out of five cheese slices) is available here. Thanks, Manuel!

Get Him On The Bus
What's out actor Rupert Everett's goal in life? According to New York Post gossip columnist Cindy Adams' column Tuesday, when asked about his "future aspirations," Madonna pal and co-star of The Next Best Thing replied, "Actually, I'd really like to go on Dolly Parton's tour bus."

The Perfect Storm?
Dolly will likely have a tropical storm or hurricane named after her this year, as "Dolly" has been selected as the name for the fourth Atlantic storm of the season, it was announced this week. Thanks, Mike!
---
May 21:
California, Here I Come
The Dollywood Foundation's Imagination Library has traveled across the continent to California, it was reported Monday. The program has come to Stanislaus County, Calif., the first community in the state to participate, according to a story in the Modesto Bee. Karen Garham, a reading specialist in the Ceres Unified School District, first suggested the program in a paper while in college two years ago, and she recently presented it to the Stanislaus County Children and Families Commission, which provided a $50,000 grant to start it up. A local hospital will present the first book to all newborns. It is hoped that 1,200 children will sign up in its first year and that the program will expand to nearby larger population centers. The Imagination Library provides one free book per month from birth to age 5 to promote literacy. Dolly has taken the program nationwide, and it is currently sending books to more than 50,000 children across the country. Read the full article here.
Dolly On-Line: 'I'm Gone' First Single
Chris over at Dolly On-Line reported Monday that he attended Dolly's press conference in Minnesota last week at which she announced that the first single from Halos & Horns will be the song "I'm Gone" and that she will film a video for the single in June. Sugar Hill late Monday posted part of the song as the second in its weekly preview of cuts from the album (listen here), due in stores July 9.
---
May 20:
'Sparrow' Still In Top 10


Dolly's Little Sparrow inches down two places on the British country albums chart released Sunday, coming in at No. 8 for a 64th week. The Grammy-winning CD peaked at No. 1 for eight weeks last year and reached gold status overseas.
Reserve 'Halos & Horns' Now
Even though it doesn't drop until July 9, you can reserve your copy of Dolly's upcoming bluegrass/folk album Halos & Horns now. Simply click here!
Next Song Sample
Sugar Hill Records should soon post the second cut in its web-based preview of Halos & Horns, although it wasn't up yet as of the time of this update on Sunday evening. Last week's preview (which was posted last Sunday night) was of the title song. To take a listen, click here!
Minneapolis Show 'Wonderful'
A couple of Wisconsin Dolly fans forwarded me a note about Dolly's Friday performance in Minneapolis as part of a fundraiser to benefit a scholarship program for the children of Sept. 11th victims. Dan and Julie said they thoroughly enjoyed Dolly's nine-song set, which included her new cover of Bread's "If" from her upcoming album. He said she sounded as great as ever and that her new band, the Blue-Niques, were also spectacular. Performing in front of a large American flag, she wore a short, red dress with white sequins. Thanks!
'Sassy' Dolly
Dolly got a general news brief over the weekend in The Oklahoman discussing her sass, style, marriage and body. Read it here.
FAQ Page Added
I usually receive two or three e-mails a day asking something about Dolly, and since many people ask the same questions, I've compiled them into a FAQ (frequently asked questions) page. All of the questions listed are ones I have been asked in the past, so if you're wondering about something, you might find it here! (Since first posting it Sunday night, I have made a couple of minor clarifications and added a question or two.)
---
May 17:
First Concerts Confirmed
Sugar Hill Records on Friday confirmed a handful of the tentative concert dates for Dolly's first national tour in a decade, Dollymania is pleased to be the first to report. I'm told that the dates are fairly firm, but some may change. Also, dates for ticket purchases have not been finalized, and additional cities and dates will be added. The currently scheduled concerts, being organized by the House of Blues' production arm, are as follows:

Wednesday, July 10 -- Irving Plaza (New York City; moved from Hammerstein Ballroom)

Sunday, July 15 -- 9:30 Club (Washington, DC)

Sunday, July 21 -- Ryman Auditorium (Nashville)

Thursday, July 25 -- Earthlink Live (Atlanta)

Monday, July 29 -- House of Blues (New Orleans)

Sunday, Aug. 3 -- Granada Theatre (Dallas)

Wednesday, Aug. 7 -- House of Blues (Los Angeles)

Saturday, Aug. 10 -- House of Blues (Las Vegas).
Also, the label confirmed the following promotional appearances:
Friday, July 5 -- Today Show Summer Concert (NBC, she will perform four songs)

Monday, July 8 -- The Late Show With David Letterman (CBS)

Tuesday, July 9 -- Live With Regis & Kelly (syndicated; check local listings)

in-store appearance in New York City, date and store yet to be finalized.
Dolly's next Blue Eye/Sugar Hill release, Halos & Horns, will hit stores July 9.Thanks, Rob!

'Halos' Samples Posted
The Minneapolis-St. Paul Star Tribune has posted four amazing samples from Dolly's upcoming release Halos & Horns in an article published earlier in the week to promote her mini-concert (which will last about 30 minutes, according to the article) to serve as the finale for tonight's Sept. 11th benefit Families of Freedom rally in Minneapolis. On the right-hand side of the article (available here) are links to slightly-less-than-one-minute clips from four of the album's songs: "Stairway To Heaven" (which is absolutely gorgeous, featuring fiddle, steel guitar, mandolin and other instruments arranged to sound like an old English ballad), "Not For Me" (a song she wrote before coming to Nashville and recently rediscovered in the Dollywood archives), "Hello God" (questioning God's existence and asking for His guidance - written in response to Sept. 11th) and "Raven Dove" (a gospel-sounding number also written in response to the terrorist attacks offering the hope that the "raven of darkness turns into a white dove of peace"). In the article, she comments on the reaction to recording the Led Zeppelin classic, saying: "People said, 'You can't do "Stairway to Heaven." That's like walking on sacred ground. You'll get crucified for doing it.' I think a good song is a good song. And this bluegrass stuff has given me an outlet to do it." Other items of note in the article: an assertion that her New Year's Eve benefit concert for the Sept. 11th scholarship fund was cancelled due to a bomb threat, a discussion of her upcoming ABC bio-pic of Mae West ("It'll be the first time I was ever willing to go outside myself and do something with a different accent. I really didn't follow her. It was only when this came up and I got to reading and got some of her movies."), a mention of Frank McKlusky, C.I. (that she did the film just so Hollywood would know "I would still do a movie"), and more. Read the full piece here. Thanks, Christopher! NOTE: AS OF MAY 30, THE CLIPS ON THEIR SITE HAVE BEEN REMOVED.

Splash Country Opens Saturday
After opening for a brief two-day sneak-peak last weekend, Dolly's Splash Country water park adjacent to Dollywood will open Saturday for its regular season. The park will be open daily through Sept. 2. In a press release issued Friday, Dolly noted: "I can't believe it's been a year since we first opened back in May of 2001. Folks had a great time making waves and taking plunges on all the rides last year, and we're expecting even more families to come out and enjoy our Smoky Mountain water adventures in 2002." She also congratulated the park's lifeguards for winning the southern regional lifeguard championship and reminded parents of the park's new remote safety system to let them electronically find their children anywhere in the facility. "We also added more shade corners for land lovers like me," she said. "And two new restaurants - also for folks like me."

Dolly Scholarship Awarded
The Dollywood Foundation on Friday announced the awarding of the second Dolly Parton Scholarship to a graduating senior at Dolly's alma mater, Sevier County High School in east Tennessee. Kristy Pope of Kodak received the $15,000 award, given to the student who embodies the spirit and strength of the school's most famous alumnus. The school's alumni association raised more than $100,000 for the scholarship, which was matched by an equal gift from The Dollywood Foundation two years ago.

Monroe Up A Couple
Ricky Skaggs and Friends Sing The Songs of Bill Monroe moves up two spots in the May 25 Billboard country albums chart released Thursday, coming in at No. 68 in its 11th week. The CD, which features the Dolly cut "Cry, Cry Darlin'," originally made it to No. 42 with nine weeks on the chart when released on Skaggs Family Records two years ago, and the re-issue peaked at No. 36.

More Dolly/Dottie Coverage
The UPI news service on Wednesday moved another brief about the Dolly duet with Dottie Rambo, and it appeared in the Birmingham Post Herald on Friday.

Dolly Pic Among Hall Of Fame Display
CMT.com reported on Wednesday that the Country Music Hall of Fame will begin a show of Kenny Rogers' photographs of country legends on June 11. The pictures, which will be on display through December, come from his most recent book of photography, This Is My Country, and features legends such as Dolly, Tammy Wynette, Minnie Pearl and Bill Monroe as well as recent stars including Alan Jackson, Tim McGraw and Faith Hill. Kenny, who views his photography as his second career, has published several portraits of Dolly over the years in many of his picture books.
---
May 15:
CW Responds, Dollymania Offers Commentary
Country Weekly responded Tuesday to my letter noting their error in reporting that Dolly has sold only 9 million albums, according to RIAA-certified figures, but they claimed no error was made. Magazine staffer Kristin Russell replied: "Country Weekly has a policy that we use only RIAA certification to verify total albums sold. RIAA is the only organization that supplies reliable album sales information. This should clear up any further questions concerning this issue." Well, unfortunately it doesn't. I responded to her that, first, the 9 million figure published doesn't follow the policy, because Dolly's RIAA-certified total sales are 15 million (9 million solo, 4 million duo and 2 million trio). Furthermore, I again noted, the policy itself is fatally flawed. It is the equivalent of counting how much money you have in the bank by adding up only deposits in excess of $10,000. The RIAA only certifies albums which sell more than half a million copies. Therefore, if an album sells 499,999 copies, Country Weekly under this policy would consider that it has sold zero because it didn't reach the certification minimum. When this is stretched out over a long period, such as Dolly's 35-year professional career, it produces a shortfall of tens of millions of albums when actual record sales are compared to the RIAA numbers. Only 14 of her 69 albums have reached the magic gold mark. Dozens of Dolly's non-RIAA-certified albums sold between 200,000 and 450,000 copies, which translates into the 50 million total cited in her autobiography in 1995, and according to Soundscan, she has sold more than 2 million new albums since then. The RIAA's own statistics state that of the nearly 40,000 audio products released each year, fewer than 400 sell the half-million required copies to be certified gold. In addition, RIAA certifications are known to be notoriously inaccurate because record companies have no incentive to pay the fees and research costs to certify recordings by artists who are no longer with their label. A classic example is John Denver. RCA submitted the label's final certification of his original recordings in 1981 yet continued to re-issue his albums for the next 20 years. After his death, RCA re-certified his recordings, admitting that 19 million copies of his albums had been sold by the label during that period which were not added to his official RIAA total until last year. (Dolly's last certification of solo recordings for RCA was also in the 1980s.) Relying on RIAA figures alone with no supplemental research resources is inappropriate and misleading at best, and at worst extremely disrespectful of the artists who have dedicated their lives to produce the music which the magazine claims to promote but apparently refuses to acknowledge was ever sold. I doubt they'll publish such critical comments, but I've submitted them as a letter to the editor anyway.
Dolly Is 'Flameworthy'


CMT on Tuesday announced the final nominees in its first annual Flameworthy Video Awards, and Dolly's "Shine" from Little Sparrow made the cut! She's up for Flameworthy Female Video Of The Year with Sara Evans' "Saints and Angels," Faith Hill's "There You'll Be," Martina McBride's "Blessed" and Jo Dee Messina's "Bring On The Rain." "Shine," which garnered enough of the 1.4 million preliminary ballots cast to make the top five in its category in CMT's competition, won the Best Female Country Vocal Performance Grammy this year and was lauded by critics as one of last year's best recordings, even if it received almost no radio airplay. The video peaked on CMT's weekly countdown at No. 4 and spent 13 weeks on their chart. Vote here or by clicking on the icon at left (and you can even watch a 30-second clip of the video)!
'TV Guide' Salutes Dolly, Sort Of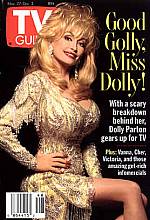 TV Guide presented its top 50 shows of all time in a prime-time special on Monday night, and while no Dolly show made the cut, she was involved with several that did. She had guest starred on No. 42 Laugh In and No. 8 The Simpsons, which were both included, and one of her production companies, Sanddollar, produces another selection, No. 41 Buffy The Vampire Slayer. Finally, when the show honored No. 12 The Tonight Show Starring Johnny Carson, the clip they selected to play the longest to represent the series was one of Dolly's earliest appearances in the late '70s, when she discussed how people always ask whether her breasts are real. She said they are hers, and Johnny, while noting that he would never stoop so low on his show as to ask that question, volunteered that he would give a good year's salary to take a peak under her blouse. P.S. If you go to TV Guide Online, they now have all of the magazine's covers from the past 50 years available, including the three featuring Dolly from 1987, 1990 and 1993 (shown at left)!
Get Dolly And Johnny For Yourself
Speaking of The Tonight Show, have you ever wished you had a tape of any certain Dolly appearance with Dolly? Well, you can now have it. Carson's website, johnnycarson.com, now has available for sale almost every episode ever taped (unfortunately, some episodes have been lost forever) for sale on video. They have 15 of Dolly's appearances available, but they're a bit pricey ($99 for the first episode and $79 for each one after that plus shipping).
CMT/Billboard Dote On Dolly-Dottie Duet
Following the posting of a press release on PR Newswire's service Tuesday morning, Dolly and Dottie's recording of the duet "Stand By The River" and its video on made the CMT.com news page and Billboard Online's Daily Music News (with a photo on the latter)!
---
May 14:
Movie Site: 'McKlusky' Going To Video
Upcomingmovies.com published on Sunday night a report that Disney has decided to release Dolly's film Frank McKlusky, C.I. directly to video after a poor showing in its Florida test release the past two weeks. It doesn't give a release date but says it should be sometime this year or in 2003. Dollymania has received no official word yet from the studio. Upcomingmovies.com's page on the film is located here.
Another 'Country Weekly' Error Found
Country Weekly Q&A columnist Katie Dodd published another Dolly error in the issue of the magazines hitting newsstands this week, Dollymania has learned. As you may recall, it was noted here in February that Dodd had miscounted Dolly's total number of ACM, CMA and Grammy wins, tying her with Reba at 18 for second place to Loretta Lynn's 21 in first place (in actuality, because Dodd overlooked one award and her reference book omitted a second one, Dolly was at that time in second place with 20, and her Grammy win this year ties her with Loretta for first place at 21).
This time, the mistake concerns the number of records which Dolly has sold during her 35-year professional recording career. A reader noted that Dolly was not on the magazine's recent list of the top country sellers of all time and wanted to know how many albums she has sold. Dodd responded that she has sold just 9 million according to the Recording Industry Association of America (RIAA), which certifies album sales in the U.S. She offered no further explaination, which makes it appear Dolly has only sold 9 million records over the past three and a half decades.
Actually, the total which Todd gave covers just 10 of her 69 original albums and two of her more than 100 singles. Dodd's figures are for gold and platinum solo album and single releases by Dolly, which total 9 million. Once her duo recordings with Kenny Rogers and Trio projects (with Linda and Emmylou and with Loretta and Tammy) are added in, the gold and platinum albums and singles total is 15 million.
Some of the problems with using those figures, however, include:
About 55 of her original albums, more than 100 "budget" compilations and about 100 singles are not included in these numbers because each sold fewer than 500,000 copies (1 million for gold singles before 1989).
The sales cut off at the 500,000 and 1 million mark for gold and platinum albums, meaning that her albums that sold 900,000 copies are shown at just the gold 500,000 mark and albums -- like Trio -- that sold 1.9 million copies are shown at the 1 million platinum mark instead of 2 million double-platinum mark.
Labels have to pay a great expense to gather documentation of units sold and then an additional fee to the RIAA to certify those totals, and they have no incentive to do this for artists who are no longer recording for them. This leaves them very unlikely to update totals for former label roster members until the artist dies -- as was the case with RCA and John Denver. This means that copies of her albums re-issued time and time again since she left RCA in 1985 have not been added to any of the RIAA totals.
The only published figure I've ever seen for her actual album sales, which did not include any singles, was 50 million in 1995. Since then, she has released eight additional albums which have collectively sold about 2 million copies, plus dozens of compilation CDs. If these recordings and the sales of singles are added to the mix, the total would certainly be above 75 million., and I wouldn't be surprised if a thorough counting of the multiple re-releases from the labels she has recorded at in the past would push the total above 100 million. Thanks, Mark, for pointing the article out!

Minneapolis Show Just Days Away
Organizers of Friday's "Families of Freedom, Families of Promise Rally" in Minneapolis on Monday issued another press release on the benefit for a scholarship program for the children of Sept. 11 victims, indicating that tickets are still available. As has been extensively reported here and elsewhere, Dolly will headline the concert and take the opportunity to preview her upcoming CD, Halos & Horns, to be released July 9. The event begins with a 5:30 p.m. press conference, followed by hors d'oeuvres and bar at 6:30, with the show kicking off at 7 p.m. To order tickets ($75 each or $140 for a Family Pack of four), visit TicketWeb at www.ticketweb.com or call 1-866-468-3401. And as I cannot make it to the show, if anyone out there would like to file a report for the site via e-mail and maybe send a few pictures, I'd greatly appreciate it!
---
May 13:
'Sparrow' Keeps Climbing


Dolly's Little Sparrow could be heading back toward the top of the British country albums charts, as it inches up one more place on the tally released Sunday, coming in at No. 6 for a 63rd week. The Grammy-winning CD peaked at No. 1 for eight weeks last year and reached gold status overseas. Also across the pond, Rik Waller's cover of Dolly's "I Will Always Love You" falls back off the UK 75-position pop singles chart, down from No. 52. With eight weeks on the chart, it had peaked at No. 6.
'Halo' Sneak Peak
Sugar Hill Records is promoting Dolly's upcoming Halos & Horns CD by posting a brief clip of a song from the CD every week, starting this weekend with the title song. To get a taste, click here!
Duet Coverage
News of Dolly's duet with Dottie Rambo on the gospel legend's upcoming album made Brad Schmidt's column in The Tennessean on Friday!
---
May 10:
Bye, Frank
The Florida test release appears to be all but over for Dolly's new comedy, Frank McKlusky, C.I.. It opened two weeks ago in several dozen cinemas in about 10 major market areas of the state, still playing in most of them through Thursday of this week. However, as of Friday, I could only find one cinema in the state scheduled to show the film: a United Artists location in Lauderhill (near Ft. Lauderdale and Miami). There might be one or two others still showing it, but I checked a large majority of the ones that had shown it originally, and this is the only one I found. No word yet on whether the studio intends to release it nationally or send it straight to video, but my guess would be it will likely be the latter, given the dismal attendance reported to me by the handful of Florida residents who contacted me after viewing it and the very bad reviews it earned in the local papers there.
Monroe Tribute Stays In Place
Ricky Skaggs and Friends Sing The Songs of Bill Monroe remains steady in the May 18 Billboard country albums chart released Thursday, staying at No. 70 in its 10th week. The CD, which features the Dolly cut "Cry, Cry Darlin'," originally made it to No. 42 with nine weeks on the chart when released on Skaggs Family Records two years ago, and the re-issue peaked at No. 36.
Dolly And Dottie Finish In Studio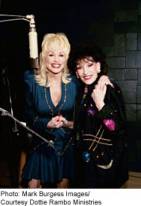 Dolly and gospel legend Dottie Rambo finally got their schedules worked out and made it into the studios in Nashville recently to record their duet, news of which was originally reported here more than two months ago. According to a press release issued late Wednesday (Thanks, Larry!), the song, an up-tempo Dottie original "Stand By The River," will appear on Dottie's new yet-to-be-titled album later this year. In the release, Dolly said of her friend of more than 30 years: "Dottie Rambo is a special and precious person. I have always loved her and her writing. I think she is one of the most incredible writers of our time...or anybody's time." Dolly also filmed an interview for a documentary on Dottie which will air on PAX later this year. Dottie, herself a Grammy winner and member of the Southern Gospel Hall of Fame at Dollywood, said: "Dolly and I go back to her early days in Nashville and being with her was just like old times for me. We plan to write a song together and hope to do more recordings together in the future. I'm just proud to call her my friend." While in the studio, the pair also filmed a video for the song, set to premiere as part of a PAX network television special More Than The Music Live: An All Star Tribute To Dottie Rambo. The special, hosted by Barbara Mandrell, will be filmed July 31 in the Ryman Auditorium. According to Stephen Yake Productions, More Than The Music Live will be released as a 2-CD set and home video, as will the documentary about Dottie's life. The documentary will be released around September and More Than Music before Christmas. They add that while Dolly is not scheduled to participate in the concert, her sister Stella Parton is slated to perform. Also, according to Rhonda Vincent's website, the accomplished bluegrass performer and frequent Dolly harmony singer will also participate.
Classic Dolly On DVD


More classic Dolly makes its way to DVD on May 28 with the release of The Nashville Sound, a film originally released in theaters in 1972 which chronicled Fan Fair 1969. Sometimes called country music's version of the Woodstock movie, it has been available on VHS for about two years now. Dolly makes her appearance early, as just the third performer, singing "My Blue Ridge Mountain Boy." She and Porter are also seen near the end of the 90-minute film performing a verse of "Just Someone I Used To Know" with Dolly in her wonderfully gaudiest of outfits! Also featured are many legends of country music including Loretta Lynn, Johnny Cash, Lester Flatt, Charlie Pride and Roy Acuff. Reserve your copy here!
More Dolly Mixing
Dolly's classic "9 to 5" is included on a new mix CD from Belgian artists 2 Many DJs. The CD takes several dozen songs and mixes them together with a dance track to form one very long (more than an hour!) song. Dolly appears mixed with Destiny Child's "Independent Women Part 1" and a song called "Eple" by European group Royksopp. While the CD was legally produced with licensing rights secured for all of the included songs, U.S. record labels are only allowing its release in Belgium, Luxembourg and Holland, but several pirated copies are floating around the states, according to news reports, and I have seen a handful of the original CDs being sold as imports on several auction sites. About Dolly's inclusion, the mixers noted that she is "theoretically not the most logical choice to mix into a destiny's child track but this runs surprisingly smoothly, honest!"
Where Beauty Lies In Memory
The entertainment industry this week is mourning the loss of famed make-up artist Kevyn Aucoin, 40, who died Tuesday from complications of a metabolic disorder caused by a pituitary brain tumor, according to published reports. Aucoin, a Louisiana native, worked with many top stars, including Janet Jackson, Madonna, Julia Roberts, Gwyneth Paltrow, and, of course, Dolly. He even included Dolly among the supermodels and screen legends photographed in one of his three books on the art of make-up. Thanks, Christopher!
---
May 8:
More 'McKlusky' Reviews: Bad News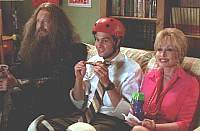 I hate to report this, but two local reviewers down in Florida, where Dolly's new comedy Frank McKlusky, C.I. is still playing in a limited test release, slammed the film in recent reviews. Bob Ross of Tampa Bay Online (partner site with the Tampa Tribune) said the movie is possibly the worst one scheduled for release in 2002, while Jan Findley's review in the Charlotte Sun-Herald argues that the film will appeal to no one. Ross called the picture a "timid, tepid, all-but-unendurable scrap of flotsam," comparing it to Joe Dirt and Corky Romano. The only mention of Dolly in the review is that she plays the lead character's mother and that her "looks and acting style haven't changed in 20 years" (which, in my opinion, could be taken both as good or bad). His review is available here. Thanks, Christopher! Findley offered similar feelings, saying: "I'm not sure why they (the movie studio) thought testing would tell them anything they didn't already know. This movie barks." However, she doesn't say it's all bad, mentioning that she felt the same way about Jim Carrey's first couple of movies and noting that this film "vaguely resembles" Carrey's early work. She says "probably no one that you or I are likely to know" will enjoy the film. She mentions the character Dolly plays but makes no comment on her performance. Her review is available here. See the Dollymania McKlusky Page here!
Another HOF Pic
The Tennessean on Monday posted a brief story and great photo of Dolly and pals at the Country Music Hall of Fame event held over the weekend. See it here!
Gilman Show Canceled
Those hoping to see little Billy Gilman as the first act in Dollywood's annual Showcase of Stars summer concert series will get to hear Tanya Tucker, herself once a child star, instead, Dollywood announced in a press release Tuesday. Gilman has canceled his June 8 show at the park due to illness (he is recovering from a bout with pneumonia). Tickets for the concerts, held at 5 p.m. and 8 p.m., are $24.99 each. Those who purchased Gilman tickets and have not been contacted by the park for a refund or exchange by May 20 may call the park's concert line at 865-428-9620 for information after that date.
---
May 7:
Dolly Participates In HOF Ceremony


Dolly, accompanied by producer Steve Buckingham, participated in a ceremony at the Country Music Hall of Fame on Sunday to welcome the Hall's newest members, who were inducted in October. CMT.com reported Monday that Dolly, Eddy Arnold, Brenda Lee, Little Jimmy Dickens and Emmylou Harris were among those leading the salute as some of last year's honorees, who included Bill Anderson, Charlie Louvin, the Jordanaires and Sam Phillips, accepted their medallions for Hall of Fame membership. According to the report Dolly, the current youngest living member of the Hall of Fame (inducted in 1999), "stopped traffic from the moment she entered the building." On stage, Brenda Lee said that Dolly approached her prior to the ceremonies and showed that she had her Hall of Fame medallion on, to which the diminutive singer replied, "Yeah, and yours shows up better than anybody else's!" Dolly congratulated bluegrass pioneer Louvin, after which the report said he mentioned her recent bluegrass albums (the Grammy-winning CDs Little Sparrow and The Grass Is Blue). Dolly replied with a laugh: "I wish bluegrass paid more money, don't you?" After the presentations were over, everyone gathered on stage to perform "Will the Circle Be Unbroken." As the song ended, Dolly shouted "Let's go eat!" Read the full story at CMT.com.
---
May 6:
'Sparrow' Climbing Again


Dolly's Little Sparrow jumps up three more places on the British country albums chart released Sunday, coming in at No. 7 for a 62nd week. The Grammy-winning CD peaked at No. 1 for eight weeks last year and reached gold status overseas. Also across the pond, Rik Waller's cover of Dolly's "I Will Always Love You" moves up 15 spots to No. 52 in its eighth week on the UK 75-position pop singles chart. It had peaked at No. 6.
Altan Coverage
Dolly got a mention in a story from Friday's Orange County Register about Irish group Altan. Discussing the band's new album The Blue Idol, writer Shawn Price noted: "The most notable outsider on Blue Idol is Dolly Parton for the song 'The Pretty Little Girl.' Parton asked (Altan lead singer Mairaid) Ni Mhaonaigh to sing on her acclaimed album Little Sparrow last year and it was time to reciprocate. 'Dolly was returning the favor. She mentioned a few times, if we ever came across a song she would like, to not hesitate, and we didn't.'" Read the full story here.
---
May 3:
'Monroe' Moves Back Up A Tad
Ricky Skaggs and Friends Sing The Songs of Bill Monroe inches back up three places in the May 11 Billboard country albums chart released Thursday, moving up to No. 70 in its ninth week. The CD, which features the Dolly cut "Cry, Cry Darlin'," originally made it to No. 42 with nine weeks on the chart when released on Skaggs Family Records two years ago, and the re-issue peaked at No. 36.
---
May 1:
Dolly Item Auctioned For Charity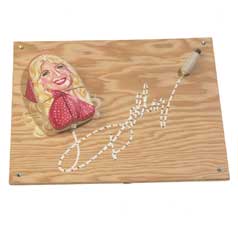 Jim Winters, an artist described as a "huge Dolly fan" is among the several hundred who have donated decorated computer mice for the annual Tails of the City auction to benefit the Destination Foundation, a San Francisco-based charity which provides dream trips to those in the area living with life-threatening diseases such as AIDS or cancer. Winters' submission (shown at left) is a mouse dressed like Dolly, complete with her trademark signature. The online auction (click here) for the mice continues through May 15. Each item will then be auctioned off live at a May 16 event. Through the 15th, the mice are on display at Yerba Buena Center for the Arts, Landmark Building One Market, Macy's at Union Square, and Gallery FLUX. Thanks, Pete!
Cast Your Ballot For Dolly


The folks over at CMT asked me to remind you that there's less than two weeks remaining in preliminary voting for the network's first annual Flameworthy Video Awards. As was previously reported here, Dolly is among the nine initial nominees for Flameworthy Female Video of The Year for "Shine" from Little Sparrow. Votes will be taken (one ballot per registered CMT user) through May 12, and final nominees will be announced May 14 with the awards presented June 12. Of course, Dolly's "Shine" won the Best Female Country Vocal Performance Grammy this year and was lauded by critics as one of last year's best recordings, even if it received almost no radio airplay. The video peaked on CMT's weekly countdown at No. 4 and spent 13 weeks on their chart. Cast your vote for Dolly here or by clicking on the image at left!
---