---
www.dollymania.net News May 2003
---

May 31:
Get Your '9 To 5' Reunion Tickets Now
Organizers for the 9 to 5 Retro Premiere and cast reunion next month in Atlanta tell me ticket sales have been brisk, but plenty of good seats remain available. With the event just a little more than a week away, about half of the venue's 1,500 tickets have been sold. An increase in sales is likely in coming days with a full-page ad set to appear in the Atlanta Constitution-Journal over the weekend. Tickets remain available at both the $500 reserved seating price and $150 general admission price, although it was suggested that those seeking reserved seats call as soon as possible to order, as organizers plan to finalize all seating assignments by next Wednesday at the latest. A majority of each ticket price is tax-deductible ($425 for the $500 ones and $100 of the $150 ones). For tickets, call 404-475-6046 or visit here for a form to be faxed in. The June 9 event is the annual fundraiser for the Georgia Campaign for Adolescent Pregnancy Prevention (G-CAPP), a charity started by Atlanta transplant Jane Fonda. It will feature a party, a live auction and a showing of the film at the Atlanta Symphony Hall in the Woodruff Arts Center. Scheduled to appear at the gala along with Fonda are Dolly and co-stars Lily Tomlin and Dabney Coleman. Over the past eight years, Fonda's annual Retro Premiere galas have raised nearly $3 million for youth pregnancy prevention programs and education. Thanks, Linda!
Last Chance To See 'Would'
Even though Saturday night is the final scheduled run for the Dolly musical revue Dolly Would in Chicago, a reader thought he'd send in a brief review of the show. Mark Bonham writes: "While I've been to Chicago countless times, I'd never been to Davenport's before. It was a swanky little cabaret club. They had the main room then the Cabaret room where the show happened. Stephen (Rader) has an amazing sense of humor. He has a great voice. However, he soared when it he just sat and sang. Sometimes, he was trying to be dramatic, it doesn't come across quite right. However, I think I finally found someone as obsessed with Dolly as I seem to be. He did a broad range of material from Monument to Sugar Hill. Not in Chronological order, the set list: The Pain of Loving You/I'm Gone, Something Fishy, Coat of Many Colors, I Will Always Love You, I Hope You're Never Happy, Endless Stream of Tears, My Blue Tears, Sugar Hill, Shattered Image. The finally was Dolly the Broadway Musical Act 1: Joshua, Jolene, I Don't Wanna Through Rocks, He's Gonna Marry Me. The encore was an amazing version of The Grass is Blue." The show, which has garnered several rave reviews from the Chicago press, concludes its nearly two-month run at Davenport's at 10:30 p.m. this Saturday. Thanks, Mark!
Interesting Note
Could a special Dolly project be brewing? Well, a hint appeared in an article published Friday in several San Francisco-area newspapers. In a story on a new play which opened in that area about the life of the Wicked Witch of the West from Wizard Of Oz pre-Dorothy, it was noted that Kristin Chenoweth, a Tony Award winner who plays Gilda the Good Witch, is a major Dolly fan. She said her dream would be to play Dolly in a television special, movie, theatrical musical or album and that she will "likely be meeting" Dolly later this year but refused to give any details. I wonder what's up . . . Read the full story here.
Dolly On Another CMT Special
CMT.com's news page reported Friday that Dolly is among those interviewed in a new Inside Fame dedicated to pal Marty Stuart set to premiere July 12. Read more here.
'9 to 5' Observation
I had meant to make a note of this earlier but neglected to, but the version of "9 To 5" included in the new Ultimate Dolly Parton compilation to be released Tuesday is different than the original. At the end, the instrumentation is similar to the more Dixieland version played at the closing credits of the film, and Dolly sings the final repeat of the chorus in a slightly different melody and rhythm. It is also about 20 seconds longer than on the original. Reserve your copy here. And remember, Saturday night is the deadline to enter to win one of three free copies from Dollymania and BMH Heritage. And even if you don't know the answers to the trivia questions asked in the contest, you can still win one! Click here for full contest details, rules and how to enter. Winners will be announced Sunday evening.
---
May 30:

Up One On The Chart


Dolly's Halos & Horns inches up one spot on the June 7 bluegrass albums chart to No. 12 in its 45th chart week, Billboard announced Thursday. The Sweet Home Alabama soundtrack, featuring Dolly's "Marry Me," drops one notch on the soundtrack albums chart to come in at No. 18 in its 33rd chart week. Jo Dee Messina's Greatest Hits debuts at No. 1 country, No. 14 pop, while Toby Keith's Unleashed falls one on the country chart to No. 2 but gains one on the pop side to No. 26 in its 44th week.
'Star' Details
Dolly taped her MWL Star episode on Thursday for CMT in Nashville. A reader who attended the taping said she announced that she expects to release a new CD this fall titled For God And Country containing inspirational and patriotic tunes, one of which she performed during the show. The song, titled "I'm Gonna Miss You," told the story of a woman who lost her man in war. She also performed "9 to 5" and premiered the video for "I'm Gone." The show is scheduled to be broadcast at 8 p.m. Eastern next Tuesday on CMT, to be immediately followed by a repeat of Dolly's Best Of Showcase episode and a repeat of the MWL Star interview. Thanks, Jen!
Giving A 'Git-ar'
Dolly's charitable efforts got another mention on Wednesday, this time in Japan. The Japanese newspaper Daily Yomiuri reported on jazz guitarist Martin Taylor and included a note on his work in his home in Kirkmichael, Scotland, specifically its "Guitar Village," which brings a Guitars For Schools program into the classrooms where students receive guitars donated by instrument manufacturers and individuals. The story said that some who have contributed their old guitars include Dolly, Bill Wyman and Brian May. Read the full story here.
Get Those Entries In
Everyone still has a few days to submit their entries for the Dollymania contest to give away free copies of BMG's June 3 release Ultimate Dolly Parton. Entries have been slow to come in, which I think is because some readers are intimidated by the 15 trivia questions required to be answered. But don't be afraid! Even if you get all of them wrong, you still have a chance to win. One winner will be the person who submitted all correct answers first, another winner will be randomly selected from those who send in all correct answers, and a third will be randomly selected from all entries. Click here for full contest details, rules and how to enter. Entries will be accepted through May 31, and the winners will be announced here on the news page Sunday evening. Best of luck!
---
May 28:
Win The 'Ultimate' CD!


Wanna win a copy of Dolly's June 3 release, Ultimate Dolly Parton? Well, the Dollymania contest has arrived! Click here for rules and to learn how to enter. The remastered tracks sound great, and the CD also features extensive liner notes by Holly George-Warren and nine great new photos of Dolly taken in March by Kristin Barlowe plus a collage of 25 album covers. On the back cover, Dolly says: "I'm as proud of this as anything in my whole career. In fact, it's like having my whole career summed up and wrapped in a neat little package. I hope you enjoy the joy and tears, the miles and trials that I've put into it. Thank you for a wonderful life." Thanks, Angi!
Dolly And Alison 'In Style'
According to the news page on Alison Krauss' official Web site here, she and Dolly were recently photographed at the Ryman Auditorium in Nashville for the annual music issue of In Style magazine. The magazine will feature several artists (in this article, Alison) and their "inspirations" (for Alison, that's Dolly) and why and how that person inspired them and their music so. The issue is scheduled to hit newsstands in July.
Willie Note
And, as predicted here, Dolly's appearance Monday night on USA's Willie Nelson And Friends concert tribute for Willie's 70th birthday was via videotape. Dolly sang "Happy Birthday," ending with a chorus of "I Will Always Love You." The special repeats at 2 a.m. Saturday.
---
May 26:
IMAX Film To Premiere In Nashville
Our Country, the long-anticipated IMAX film by Gaylord Entertainment chronicling the history of country music and featuring an appearance by Dolly, is finally set to premiere next month. Release of the film was delayed for a year due to a legal battle between producers and Gaylord over expenses. It is now scheduled to premiere June 2 at the Regal IMAX Theater in Nashville. Thanks, Tony!
Paper: Dolly On Willie Special
Dolly will appear tonight on the USA's Willie Nelson birthday tribute, according to a report published Monday by the Louisville Courier-Journal. The story stated that she sings "Happy Birthday" to longtime pal Nelson. To my knowledge, she did not participate in the concert filmed in New York a few weeks ago, and USA's official page on the special does not list her as a guest, so my assumption is that if she does, in fact, appear on the special, it would be a videotaped message. The two-hour concert special premieres on the USA Network at 9 p.m. Eastern tonight and repeats at 11 p.m., with another repeat scheduled for 2 a.m. Saturday.
Magazine: 'My Peoples' Title Changed
According to a Newsweek story on Sunday, Dolly's character in an upcoming Disney animated film will be that of a rag doll. Previous reports said she would be voicing an angel. The article further stated that the title of the film, which had been My Peoples, is now Elgin's People. The film is reportedly set for a 2005 release and will also feature the voices of Lily Tomlin, Travis Tritt and James Carville as well as a bluegrass soundtrack produced by Ricky Skaggs. Previous reports have said the animated tale, set in Appalachia, will feature "living" shirt buttons, plates, pens, thimbles, threads and a broom. It was scripted by Mulan writer Barry Cook. Read the Newsweek story, which focuses on the media giant's financial problems, on MSNBC here.
Larkins Date Released
According to Audium Records, The Larkins' debut album as a duo is set to hit stores July 8. Previous reports here and elsewhere just had a release date of July. Their CD, which is currently self-titled, features a cover of Dolly's "Steady As The Rain," complete with Dolly providing harmony. (I heard an advance copy of the recording a few months ago, and I can tell you that it sounds amazing, and the much-slowed tempo used in this version fits well with the song's emotional tone.) Sisters Kristina and Shaunna Larkin have performed with their parents for several years across the country, including many concerts at Dollywood. Shaunna is engaged to Randy Kohrs, who led Dolly's Blueniques band on tour last year and is expected to release a new CD later this year featuring a duet with Dolly. The two will wed at Nashville's Ryman Auditorium this fall.
Rambo Duet News
Dottie Rambo appeared last week on cable's Total Living Network, which showed the video for her duet with Dolly, "Stand By The River." A videotape, titled We Shall Behold Him: A Tribute To Dottie Rambo, which will include the song's music video, is set for a Sept. 9 release. TLN's president, Jerry Rose, bragged on the show that the song was one of his favorite new tunes and that he loved the energy which Dolly and Dottie shared in it and their personalities, adding that he enjoyed the song so much that we watched the video six times in a row before the show aired because he couldn't get enough of it.
---
May 23:
Losing Chart Ground


Dolly's Halos & Horns loses four spots on the May 31 bluegrass albums chart to reach No. 13 in its 44th chart week, Billboard announced Thursday. The Sweet Home Alabama soundtrack, featuring Dolly's "Marry Me," loses four notches on the soundtrack albums chart to come in at No. 17 in its 32nd chart week. Toby Keith's Unleashed inches up one on the country chart to come in at No. 1 and two on the pop side to reach No. 27 in its 43rd week. Darryl Worley's Have You Forgotten? slips one to No. 2 country in its fifth week after four weeks at No. 1 and drops 15 spots to No. 37 pop.
Dolly To Sing On 'Star,' Air Time Released
CMT has announced that Dolly's is expected to perform two songs during her episode of MWL Star in addition to premiering the video for her next single, "I'm Gone" from Halos & Horns. The one-hour interview show is scheduled to be taped with host Katie Cook next week. Dollymania on Wednesday night was the first Dolly site to report its confirmed air date of Tuesday, June 3, and now we can tell you the broadcast time: 8 p.m. Eastern. Remember you can send in questions for them to consider asking Dolly on the show here.
Dolly Glasses For Charity Auction Opens
Dolly's autographed photos and pair of glasses to benefit The Discovery Fund For Eye Research went on the auction block at ebay on Thursday, and within just the first few hours of bidding, the price already topped $100. The auction ends June 1. To see photos of the items or to place your own bid, click here.
More On 'Dolly Would'
The cabaret show Dolly Would, comprised of songs from Dolly's career, is continuing to get good reviews. The Chicago Sun Times weighed in on Thursday, saying the performance showcases Dolly's "terrific" songwriting ability, which includes her "shrewd sense of comic timing and the ability to paint a scene with only a handful of well-chosen words." While the reviewer does take exception to a couple of her lyrics and criticizes the show's final 20-minute segment as not having a cohesive theme, the story says the show is worth seeing. Stephen Rader's show, which has been presented at 10:30 p.m. each Saturday since early April at Davenport's in Chicago, ends its run May 31. Read the review here.
---
May 22:
CMT 'Star' Air Date Announced
CMT on Wednesday confirmed that Dolly's episode of MWL Star, an hour-long interview show on the cable network, will air on Tuesday, June 3. As Dollymania was the first to report Monday night, Dolly is scheduled to film the special next week, and its broadcast will include her new video for "I'm Gone." Fans may visit CMT's page for the show here to send in possible questions for Dolly to answer in the interview.
Top 500 Note On CNN
CNN on Wednesday ran a feature on David Cantwell and Bill Friskics-Warren's book Heartaches By The Number: Country Music's 500 Greatest Singles, which was published earlier this year. The story included a mention of Dolly's "Coat Of Many Colors" being No. 8 on the authors' list. (This is not the top 100 which will be profiled on CMT next month; see reminder below.) Read CNN's story here, and for the full list of all 10 Dolly songs in their top 500, read the report on the March 12 news update in that month's archive here. Thanks, Brandon!
Top 100 Reminder
CMT asked me to remind readers that their five-hour special counting down the 100 Greatest Songs Of Country Music will premiere at 4 p.m. Eastern and Pacific June 8. The top 88 songs will be profiled, then the top 12 will be performed by various artists in a live concert. As was previously reported here, both "Coat Of Many Colors" and "I Will Always Love You" by Dolly are in the network's countdown, although their positions on the list won't be revealed beforehand. Through June 8, you may click here to enter a sweepstakes for a 400-disc CD changer and collection of 100 CDs containing all songs from the countdown. For more information on the special, click here. Thanks, Hal!
Another Gospel Chart Update
The European Christian Country Chart is out for June, and Dolly's duet with Dottie Rambo, "Stand By The River," moves up 14 spots to No. 12 in its fifth month on the chart overseas.
Adieu , Slayer
The modern cult classic television series Buffy The Vampire Slayer, produced by Dolly's Sandollar Productions, bit the dust on the UPN network Tuesday night, ending its seven year run. The Bogalusa Daily News in Louisiana on Monday had an interesting story on a local actor who appeared on the series several times thanks to his connection to Dolly, as they became friends when her ABC series filmed an episode in New Orleans and his family appeared as extras. Read it here.
---
May 20:
CMT, 'Gone,' Tribute Updates
Sugar Hill Records tells me that Dolly is scheduled to tape her appearance on CMT's Most Wanted Live Star show next week (scroll down to May 19 news for details). Although no premiere date has been announced yet, the show will include the new video for "I'm Gone" from Halos & Horns when it is broadcast. The video was directed by Sophie Mueller, whose previous credits include work for No Doubt, Pink, Annie Lennox and Nickel Creek (whom I saw, by the way, perform at Jubilee Jam in Jackson, Miss., over the weekend, and they were awesome!) In addition, the label confirms that the release date for Dolly's tribute CD, Just Because I'm A Woman: Celebrating The Songs Of Dolly Parton, has been pushed back from its original Sept. 9 tentative release date, which Dollymania was the first to report back in April. The star-studded CD is now expected to drop in October. Thanks, Rob!
Two 'Ultimate' CDs Planned
BMG confirmed on Monday that there will, in fact, be two versions of the new CD Ultimate Dolly Parton released June 3. The one available at any record store will contain 20 songs on one disc, while Music Space will be the exclusive distributor of the two-disc, 36-cut version. The artwork and liner notes will be the same in both editions. To order the 20-song one, click here, and for the 36-song one, click here. (And remember that some copies of the CD will be available through a new Dollymania trivia contest soon. Keep watching for details!) Thanks, Angi!
No Dolly At Fan Fair
Contrary to a report on Tanya Tucker's official Web site, Dolly is not currently scheduled to appear at Fan Fair this year, Dollymania has confirmed. A listing on Tucker's site said she was to appear with Dolly and Ray Price on June 8 at River Front Park shows for Fan Fair in Nashville. However, the official Fan Fair site doesn't have Dolly or Price listed as performers, and Sugar Hill Records confirmed they do not have her scheduled to appear either. Thanks, Ryan and Rob!
Donor Dolly
The Discovery Fund For Eye Research asked me to pass along that Dolly has contributed a pair of her glasses and two autographed photo for the organization's third annual charity auction. Sales proceeds benefit the group's medical research and patient education programs for eye disorders. Dolly has participated in the auction for each of the past three years. More information is available here, and photos of Dolly's donation and those of several other celebrities are here. The auction begins May 22 and ends June 1. Thanks, Deanna!
Fire Closes Part Of Park
A small fire at Dollywood Friday night has resulted in the closure of a portion of Dreamland Forest and The Mountain Slidewider ride, the park announced on Monday. The fire was discovered by staff at about 11:30 p.m. and was contained by the park's security team until the fire department arrived and extinguished the fire, the cause of which is unknown. "The vigilance of the Dollywood crew and the hard work of the Pigeon Forge Fire Department quickly contained the fire and prevented it from spreading," said Robbie Fox, Dollywood Director of Safety and Security.
---
May 19:
Dolly On CMT Soon
CMT.com announced on Saturday that Dolly has agreed to appear at a yet-to-be-determined date on the network's MWL Star interview series hosted by Katie Cook. You may visit their page here to send in possible questions for them to ask Dolly. Although an air date for the show has yet to be announced, the network promises the show will be broadcast "very soon."
Site: 'Ultimate' Adds Tracks


The Ultimate Dolly Parton CD may have more songs than originally announced. Phil at Voice Of An Angel reported Saturday that commercials for the album say it will be a 36-cut, two-disc collection, rather than the 20-song, one-disc CD first announced. Music Space.com has the two-disc, 36-song track listing with its page selling the album here with the same cover art for $25, while all other stores I found online show the one-disc, 20-song version first announced at prices between $13 and $15. I'm told by some who saw the commercial this weekend that it states that the CD will not be available in stores, which would suggest that the Music Space version may be different from the ones sold at other music stores. I have left word with my contacts at the record label (BMG) and its public relations firm to confirm whether this is a second version issued exclusively through Music Space, whether that store's information is incorrect, or whether all editions being released June 3 will have the additional tracks included. More will be reported as information becomes available. The Music Space version shows the 20 tracks first reported here last month (see news dated April 21 in the archives here) plus the 16 following cuts, which include one Monument recording as well as one additional Columbia recording:
Dumb Blonde (1967, Monument Records, No. 24)
Just Because I'm A Woman (1968, RCA, No. 17)
My Blue Ridge Mountain Boy (1969, RCA, No. 45)
Mule Skinner Blues (Blue Yodel No. 8) (1970, RCA, No. 3)
Touch Your Woman (1972, RCA, No. 6)
My Tennessee Mountain Home (1973, RCA, No. 15)
The Seeker (1975, RCA, No. 2)
We Used To (1975, RCA, No. 9)
All I Can Do (1976, RCA, No. 3)
Light Of A Clear Blue Morning (1977, RCA, No. 11 country, No. 87 pop)
Two Doors Down (1978, RCA, No. 19 pop, No. 12 adult contemporary)
Single Women (1982, RCA, No. 8)
Heartbreak Express (1982, RCA, No. 7)
Save The Last Dance For Me (1984, RCA, No. 3 country, No. 45 pop, No. 12 adult contemporary)
God Won't Get You (1984, RCA, No. 10)
Rockin' Years with Ricky Van Shelton (1991, Columbia, No. 1)
FYI: The four of Dolly's record 24 country No. 1 singles not included in this collection according to this track listing are "Real Love," "Think About Love" and the second version of "I Will Always Love You" on RCA and "Yellow Roses" on Columbia.
A Hospitable Star
A story in The Tennessean on Sunday focused on star home tours, featuring several mentions of Dolly and how friendly she is, including that she sometimes steps outside to wave to the fans in tour buses driving by her home. Read the full story here.
---
May 17:
Suit Makes TV, Another Paper
The Kingsport lawsuit against Dollywood over the name of next month's children's festival continues to get coverage. I'm told the syndicated television program Celebrity Justice featured a segment on it this week, and The Mountain Press ran a story Friday here. Dollywood spokesman Pete Owens told the Press: "The Kingsport Chamber of Commerce contacted Dollywood in February in regard to the park's use of a name they felt was trademarked for the chamber's use alone. Despite a trademark search by Dollywood revealing multiple uses of the words 'Fun Fest,' Dollywood offered to voluntarily stop using the name and chose to rename its children's festival Dollywood KidsFest. A new logo was created and the production of collateral and product for sale during the Dollywood summer festival was revised to reflect the new name." Read the Dollymania news item dated May 14 below for more details.
Could He Court Her To The Great White Way?
One of New York's current top musical producers says he wants Dolly. Randal Myler, whose hits include Love, Janis about Janis Joplin, Hand Williams about the legendary country star and Dream A Little Dream about the Mamas and the Papas, says one of his top dreams is to land Dolly in the lead role for a yet-to-be-written musical based on the life of comedienne and Dolly friend Minnie Pearl. Read the Philadelphia Inquirer story here. Dolly has previously said she'd like to do a show on Broadway someday, most likely based on her own life, but has been hesitant to accept offers. She reportedly declined an invitation to take over Annie Get Your Gun, with the role instead going to Reba, who won rave reviews and used it to land her successful sitcom on the WB network.
An Inspiration
Did you know that Dolly inspired the fashion industry's AIDS memorial at the Fashion Institute of Technology in New York? A profile of fashion designer John Russell in the Dallas Voice on Friday noted that he launched the memorial to those in his industry who died of AIDS. "It was called the Coat of Many Colors, which is inspired by the Dolly Parton song and The AIDS Quilt. I invited designers all around the world to submit swatches of their current collection. All these swatches came in: La Croix, Chanel, Oscar de la Renta. I'm really proud of that one," he said. Read the story here.
---
May 16:
U.S. Chart Updates


Dolly's Halos & Horns remains steady at No. 9 on the May 24 bluegrass albums chart in its 43rd chart week, Billboard announced Thursday. The Sweet Home Alabama soundtrack, featuring Dolly's "Marry Me," gains one notch on the soundtrack albums chart to come in at No. 13 in its 31st chart week. Darryl Worley's Have You Forgotten? remains at No. 1 country for a fourth week but drops two spots to No. 22 pop. Toby Keith's Unleashed moves up one on the country chart to come in at No. 2 and six on the pop side to reach No. 29 in its 42nd week, while The Dixie Chicks' Home slips one to No. 3 country in its 36th chart week, falling three places on the pop side to come in at No. 31.
More Lawsuit Press
The Associated Press on Tuesday picked up the story of the Kingsport Area Chamber of Commerce lawsuit against Dollywood claiming trademark infringement in the name of the park's "KidsFest" celebration next month, and it ran in a few papers on Wednesday and Thursday. The suit alleges the festival's original name, "Kidz FunFest," was too similar to the city's own "Fun Fest." Park spokesman Pete Owens told the AP that Dollywood voluntarily changed the event's name in February when contacted by the Chamber about the concern. Read the AP story from the Canton, Ohio, Repository here, and read the Dollymania news item dated May 14 below for more details.
Water Park Opening Successful
On a much happier note, officials said that last weekend's season opening for Dolly's Splash Country adjacent to Dollywood in Pigeon Forge, Tenn., was a great success. Owens told The Mountain Press in a story published Wednesday, "The new area was very well received." The water park opened for its third season on Saturday, premiering a new $1.5 million, two-acre area known as Raintree Hollow. The park's general manager, Gene Scherrer, said, "We believe the new attractions combined with the natural beauty of the landscape will make the entire Raintree Hollow area extremely popular with all of our guests." The water park remains open through Sept. 7. Read the Press story here.
---
May 14:
'Fun Fest' Sues Dollywood Over 'KidsFest'
The Kingsport, Tenn., Area Chamber of Commerce has filed a lawsuit in federal court against Dollywood claiming trademark infringement and unfair competition alleging the park's "KidsFest" celebration next month stole its name from that town's annual "Fun Fest." That festival has been held every July for the past 22 years in Kingsport, located about 170 miles northeast of Dollywood. Stories in Tuesday's Johnson City Press here and Bristol Herald Courier here detailed the suit, filed Monday in U.S. District Court in Greeneville, Tenn. The lawsuit, which represents one side of a legal argument, alleges that the Chamber learned in January of the park's "Kidz FunFest" event and demanded that Dollywood cease use of the name. It further alleges that park officials said in February that they would comply but instead have continued to promote the June event as "Kidz FunFest" to this day. The suit seeks an unspecified amount in a monetary compensation for alleged lost profit at the festival, punitive damages, attorneys' fees and court costs. Pete Owens, Dollywood's public relations director, told the Courier that the park's new marketing director decided to rename the Dollywood event "KidsFest" several months ago and that he had never heard of the Kingsport festival. In a press release, the Chamber said its Board voted in April to file the lawsuit after Dollywood refused to stop using the name "Kidz FunFest." (Supporting Owens' argument and in contradiction to the claim made by the Chamber, while the event was initially announced as "Kidz FunFest," promotional materials received by Dollymania as early as mid-February listed the event under the new name of "KidsFest," and nothing received after that date referred to it as "Kidz FunFest.") The page for Dollywood's festival, showing the name and logo "KidsFest," is available here. The page for Kingsport's festival is here. Entertainers at the Kingsport festival, to be held July 18-26, include Alison Krauss and Union Station, Foreigner, Steve Azar, Chris Cagle and Daryl Worley. Dollywood's festival, running June 20 through Aug. 10, features the Purina Dog Chow Incredible Dog Team, VeggieTales, Garfield and extreme sports. As an interesting side note which may help indicate the likelihood that the suit will fail, a quick Internet search returns 13,000 references to "Fun Fest" in various documents online, almost all of which refer to festivals held outside of Kingsport, several in existence long before Kingsport's. Examples range from the International Fan Club Organization's annual Fun Fest concert, which has been held in Nashville during Fan Fair for the past 36 years, to annual Fun Fest celebrations hosted by several dozen colleges and universities across the country. There is even a Fall Fun Fest held in Cookeville, Tenn., only 50 miles further to the west of Dollywood than Kingsport is to the north, and it's also the name of a chain of bowling alleys in Virginia.
---
May 13:
Tribute Mention
Joan Osborne's appearance on Dolly's upcoming tribute album is getting noticed. The Louisville Courier-Journal on Monday said her live performance of "Do I Ever Cross Your Mind," which she did as part of a taping in town Friday night for the radio show etown, was "purely gorgeous." Read the full review here.
Collaboration Blurb
Dolly got a blurb in the online version of Rolling Stone on Monday, with the magazine noting her appearance on the debut album of Ray Benson, the lead singer of Asleep At The Wheel. His CD, Beyond Time, hits stores June 24. Other guests include Jimmy Vaughan and Delbert McClinton. On the Web site for Ray's label (here), he notes about Dolly's appearance on the song "Leave That Cowboy Alone": "Dolly and I wrote this song for the TV movie we did called Wild Texas Wind. I had been working on it and gave my ideas to Dolly. A couple of weeks later, she came back with the finished tune. I loved it and we performed it in the movie. We were doing my TV special last year called Stars Over Texas and Dolly suggested we do this tune! It went over so well I asked her to do it with me on this CD! I think y'all will agree any cowboy would love to be 'roped' by Dolly Parton." Reserve your copy here!
Inspiring Tidbit
The creator of a new radio program focusing on classic country music named Porter and Dolly as great influences. An article in Monday's The Tennessean discussed the program, Classic Country Gold. Creator Kyle Cantrell noted his excitement at seeing Dolly team up with former duet partner Porter Wagoner at the recent Country Music Hall of Fame medallion ceremony in Nashville, saying he wants the show to give listeners a similar experience. "''That brought back emotions from my childhood — how much I have loved them individually and as a duo. I'll do anything I can to keep these memories alive and bring those feelings to a younger audience that might not have had a chance to experience it for themselves," he said. Read the full story here.
New Pics
Another kind fan sent in some more photos of Dolly from Dollywood's events last month. View them in Gallery 11 on the Dollywood opening weekend section here. Thanks, Christopher!
---
May 12:
Dolly To Address National PTA
Dolly has been announced as the keynote speaker for the main meeting of the National Parent Teacher Association (PTA) at the Westin Hotel in Charlotte, N.C., next month. Dolly will address the crowd at the largest meeting of the four-day event, during which annual awards will be presented and next year's officers will be installed. According to the PTA Web site, Dolly will deliver the keynote address and perform during the 1:30 p.m.-4 p.m. meeting on Sunday, June 22. The deadline for all advance registrations has passed, but PTA members may register on-site beginning the first day of the conference (June 19) for $90 per person for one day or for $200 per person for the entire conference. Students may register on-site for $50 each, and non-members may purchase a three-day pass for $300.
U.K. Special Airs In Canada
Paul at Yahoo's Dolly Parton World informs me that the British country music documentary The Lost Highway premiered on CMT Canada on Friday and is expected to air sometime in the near future on the the American version of the cable network. The four-part documentary is currently showing at 9 p.m. each Friday on CMT Canada. Dolly appears in the final of the four hour-long episodes, which would air May 30, focusing on the women of country music. That episode features an interview with Dolly, interviews about her music with several of her friends, clips of her performing and photos of her throughout the years. Thanks, Paul!
---
May 9:
U.S Chart Update


Dolly's Halos & Horns inches down one to No. 9 on the May 17 bluegrass albums chart in its 42nd chart week, Billboard announced Thursday. The Sweet Home Alabama soundtrack, featuring Dolly's "Marry Me," loses one notch on the soundtrack albums chart to come in at No. 14 in its 30th chart week. Darryl Worley's Have You Forgotten? remains at No. 1 country for a third week but drops nine spots to No. 20 pop. The Dixie Chicks' Home remains at No. 2 country in its 35th chart week; and falls five places on the pop side to come in at No. 28.
Dolly On Top 100 Twice
Two Dolly songs, "Coat Of Many Colors" and "I Will Always Love You," have made CMT's experts' list of the 100 Greatest Songs Of Country Music. The top 100 in alphabetical order was released this week. The songs, in order of ranking, will be featured in a six-hour special on the cable network June 8 starting at 4 p.m. Eastern and Pacific. The 12 top songs will be performed by various artists live in concert to end the countdown. Click here for more information. (By the way, at the end of 1999 as part of the millennium lists, CMT's biggest competitor, Great American Country or GAC, ranked "I Will Always Love You" as the No. 1 country song of all time, so maybe she'll top this list, too!)
---
May 8:
Another Tribute Tidbit
The Dolly tribute album got a mention on CMT.com Wednesday. A story on Joan Osborne, who is performing as The Dixie Chicks' opening act on their tour, mentioned that she had been listening to a lot of Dolly and sings an acoustic version of "Do I Ever Cross Your Mind" on the tribute album. "I don't think you can find anyone who doesn't love Dolly Parton for one reason or another," she said. Read the full story here.
Library Meeting
A regional forum to discuss Dolly's Imagination Library will be held at 11 a.m. Thursday at Connersville First Presbyterian Church in Connersville, Ind. About 750 children have signed up for the program there, roughly half of those eligible, the Palladium Item reported Thursday. Foundation Executive Director David Dotson will attend. Read the story here.
---
May 7:
Dollywood Food A Crowd Pleaser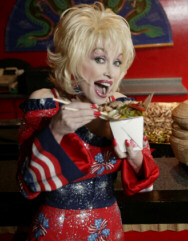 Dollywood said Tuesday that the new International Food Faire at this year's Festival of Nations is a huge hit with visitors to the park,. In a press release, Dolly said: "Folks are sampling everything from alligator to kangaroo. In other countries that's like chicken and beef - real down home international food." It's often standing-room-only, officials said of the 7,000-square-foot facility that offers dishes from several nations, including China, Mexico, Russia and Australia, plus several different styles of ribs from around Tennessee. It also includes a bazaar with items from various countries and a stage where the international performers at the park for the Festival entertain the crowd. Visitors who wish to get a sample of the food better hurry, as the pavilion closes at the end of the third annual Festival of Nations on Sunday. Image at left courtesy Dollywood.
Commercial Coming
I've had a few people ask about the "As Seen On TV" logo on the banner posted here for Ultimate Dolly Parton, to be released June 3 by BMG Heritage. Well, here's your answer: The label confirms they will be promoting the CD with a commercial set to start airing next week in all major television markets. Unfortunately, it will not contain any new Dolly appearances, just stock footage. Thanks, Angi!
A Comparison
Although it may not necessarily be a good thing in the current political climate, critics are comparing The Dixie Chicks' performance on their current tour to Dolly. In a review on Monday from The Hollywood Reporter and Reuters News Service, it was noted: "With their banjos, guitars, fiddles, snazzy outfits and humorous patter, these women bring a level of substance and flair to the country stage matched only by Dolly Parton. Like Parton, they are stellar instrumentalists and clever songwriters, skills that ought to keep them around just as long." Read the full review here. CMT.com's Edward Morris, in defending the Chicks on Monday, compared them to country music's other "conspicuously strong and determined women": Dolly, Kitty Wells, Loretta Lynn, Tammy Wynette, Reba and K.T. Oslin here.
Old News Archives Re-done
With more than four-and-a-half years of old news stories in the site's unorganized archives, they were becoming way too hard to browse, so debuting today is the revised archives section, where all of the news stories are separated by month. If you wish to peruse what's been reported here in the past about Dolly, click here!
---
May 6:

Dolly At Hall Of Fame Ceremony
For the third year in a row, Dolly stole the show at Sunday's annual ceremony to bestow commemorative medallions on last year's newcomers to the Country Music Hall of Fame. Dolly was there three years ago to receive her own medal and honored the 2001 inductees at last year's festivities. This year, she was on hand to recognize her mentor and former duet partner, Porter Wagoner, whom Dolly herself inducted into the Hall of Fame at last year's Country Music Association Awards. CMT.com's report on Monday started out with the phrase "Dolly Parton could upstage a train wreck," commenting on her remarks when Porter left for the restroom just before he was to be called on stage. Dolly performed what CMT.com called a "spellbinding" version of her classic "I Will Always Love You" after telling the story of how she wrote the song for Porter when she left their musical partnership. After he joined her on stage, Porter and Dolly sang their hit "Just Someone I Used To Know." The program ended with Dolly, Porter and the others involved singing "Will The Circle Be Unbroken." Read the CMT story here and see a brief and photo from Monday's The Tennessean here. An Associated Press photo is here.
Losing Some 'Power' On The Charts
Dolly's songs are losing some steam on the PowerSource official monthly charts for May. In the Christian country chart, "Hello God" from Halos & Horns drops 13 places to No. 15, down from April's peak at No. 2. On the same chart, her duet of "Stand By The River" with Dottie Rambo falls 28 spots to No. 62, down from No. 34 last month. The single reached No. 1 in December. On the magazine's Southern Gospel chart, "Stand By The River" inches down eight notches to No. 58 and falls off the 35-position bluegrass singles chart, down from No. 33 the previous month. Also on the bluegrass chart, two other songs from Halos are falling. "I'm Gone" is down three to No. 16, while the CD's title track drops five to No. 26. The songs peaked at No. 10 and No. 15, respectively, in March.
In Tribute
In another example of the power of Dolly's music, the family of a soldier who lost his life in the line of duty in Iraq chose her "Coat Of Many Colors" to play at his funeral on Monday, the Associated Press reported. Army Sgt. Troy Jenkins, 25, was remembered as a hero as his body was laid to rest in a Yucca Valley, Calif., cemetery. He died April 23 of wounds inflicted by an explosion in Baghdad which remains under investigation. Read the full story in the San Jose Mercury News here.
New Contest Coming


Wanna free copy of Ultimate Dolly Parton before it hits stores? Well, BMH Heritage, the label releasing the Dolly anthology on June 3, has offered to provide several copies which will be given away to Dollymania readers. Look for contest details in coming weeks, but if you don't want to leave it up to luck, you may reserve your copy of the 20-track CD, which features 17 RCA No. 1 hits as well as a No. 1 song from each Warner Brothers and Columbia Records, here.
---
May 5:
Gospel Chart Updates
"Hello God" from Dolly's Halos & Horns falls off the 20-position PowerSource unofficial weekly Christian country singles countdown, down from No. 20 in its 15th chart week. The song had previously spent three weeks at No. 1. Also, the song loses 19 places on the God's Country international country gospel chart for May, reaching No. 31. It had peaked at No. 12 in April.
Another Tribute Mention
Dolly's Sugar Hill tribute CD got another mention in the press, this time in the Raleigh, N.C., News Observer. In a story on Friday, the paper re-reported news of the CD, a couple of its contributors and Sinead O'Connor's retirement. Read it here.
Get 'Straight Talk'


Don't forget that Dolly's 1992 comedy Straight Talk hits store shelves in DVD format for the first time ever on Tuesday. Get your copy here!
---
May 2:
Steady On Bluegrass Chart


Dolly's Halos & Horns remains steady at No. 8 on the May 10 bluegrass albums chart in its 41st chart week, Billboard announced Thursday. The Sweet Home Alabama soundtrack, featuring Dolly's "Marry Me," loses three notches on the soundtrack albums chart to come in at No. 13 in its 29th chart week and falls off the 200-position pop albums chart, down from No. 153. Darryl Worley's Have You Forgotten? remains at No. 1 country for a second week but falls seven spots to No. 11 pop. And following their network interview, The Dixie Chicks' Home inches up one spot to No. 2 country in its 34th chart week; and gains 10 places on the pop side to come in at No. 23. Toby Keith's Unleashed falls one to No. 3 country and six places to No. 36 pop.
Dollywood Announcements
Dollywood on Thursday announced a special line-up of 10 dogs and their trainers who will perform as part of the Purina Dog Chow Incredible Dog Team during the park's first KidsFest, which Dolly will kick-off June 20. The dogs, which will be at the park's Celebration Hall all summer, will perform tricks with Frisbees, aerial acrobatics, jumping, running and more. The festival runs June 20 through Aug. 10 and will also feature VeggieTales, Garfield and extreme sports athletes. Also on Thursday, the park announced the addition of Paul Couch as head of Dollywood's entertainment division. Couch is the former manager of the Ryman Auditorium in Nashville and Lucas Theatre in Savannah, Ga.
Don't Forget Stella
And although Dolly is always in the press for her charitable efforts, her sister Stella is getting some ink as well for her good works in Appalachia. Read a story from Thursday's Pittsburgh Tribune-Review here.
---
May 1:
Wynette Show Comment
Dolly's appearance on the Tammy Wynette installment of CMT's Inside Fame May 10 got a mention in the Knight Ridder/Tribune News Service entertainment column in several papers across the country on Wednesday. The brief quoted Dolly as saying: "She'd just stand there and sing. And you'd just think, `My God, is she singing that? She's not even moving.' It always amazed me how she could just get all that out and you'd never even know there was any effort put into it, it was just so natural for her." Read the full column here.
Tribute Note
And Launch on Wednesday posted a story on the much-anticipated Dolly tribute album, expected for release on Sugar Hill Records Sept. 9, although it didn't contain any new information. Read it here.
---