---
www.dollymania.net News May 2011
---
May 31:
More Dollywood Images Posted
The reader-submitted images of Dolly at Dollywood from earlier in May continue tonight with several galleries from Chris Goff. Check them out in that section of the site here. Thanks!
---
May 30:
New Photos Available
Tonight's reader-submitted images from Dolly's Dollywood appearances earlier this month come from superfan David Schmidli. See them in that section of the site here. Thanks!
---
May 28:
Dolly Sings, Declines To Dance On 'Ellen'



Dolly talked make up, wigs, Carl Dean, look-a-like contests and more on Friday's broadcast of The Ellen DeGeneres Show, which concluded with her TV debut of "Together You And I," the lead single off this summer's Better Day CD. Watch the performance in the media player above and check out a complete recap of the appearance courtesy AOL's The Boot country music blog here. The single shipped to radio on Friday, so call and request it! Download it from iTunes here, and check out streaming audio of it on Australian newspaper The Star Observer's website here.

Publicist: October Tour Still Planned
Dolly's publicist on Thursday confirmed to Dollymania.net that plans are still on for her to have a second American leg of the Better Day World Tour in October prior to heading Down Under to Australia. As was previously reported, some concern was shown that the October concerts might not occur when the press release announcing her new album's release date only promoted the summer U.S. portion of the tour, noting it would be followed by Europe and Australia without mentioning the return to the States that Dolly had revealed in interviews earlier in the month, but her publicist now says details on those concerts will be released as soon as her management confirms the dates. Thanks!

Get Personalized Autographed Guitar
Dolly is donating a personalized autographed guitar for Musicians On Call, a charity that brings volunteer musicians into health care facilities to perform and lift the spirits of patients, families and caregivers. The guitar will be auctioned off via CharityBuzz.com here, and the winning bidder will receive the instrument with a personalized autograph from Dolly. Bids may be placed through June 15. As of press time, three bids had been placed putting the item at $650.

Next Galleries Of Photos Posted
We also feature tonight our second set of reader-submitted shots from Dolly's most recent stop at Dollywood, this time from a photographer who wishes to be known as "Mr. Dwd." Check them out in that section of the site here. Thanks!

Latest '9 To 5' Chatter
Another Diana DeGarmo interview to promote Dolly's 9 To 5: The Musical is out this week, this time from The Pittsburgh Tribune in advance of the show's arrival in that city on Tuesday through next Sunday. Read it here. The touring show wraps up its two-week Dallas run this Sunday.

U.S. Chart Updates Available
The Grascals' Country Classics With A Bluegrass Spin, with Dolly on three tracks, manages to stick around another week, its 19th, on the bluegrass albums tally, this week's Billboard revealed Thursday in the June 4 numbers. The disc rises one to No. 13. The bluegrass list also sees the re-entry of a CD with another Dolly guest appearance, Rhonda Vincent's Taken, which snags a 28th week coming in at No. 15 on the 15-position chart. Jason Aldean's My Kind of Party remains steady at No. 1 country and gains six to No. 4 pop in its 29th week, while Taylor Swift's Speak Now holds at No. 2 country and slips four spots to No. 30 pop in its 30th week.
---
May 26:
More Dollywood Shots Available
Now that your webmaster's pictures are all posted, it's time to begin the reader-submitted shots from Dolly's most recent Dollywood appearances. The first gallery has been posted to that section of the website here. Thanks!
More On '9 To 5' From Dallas
The Dallas Observer didn't think too much of Dolly's 9 To 5: The Musical, which is in the city through Sunday. A lackluster review from the paper is available here.
Mountain Soul Winner Profiled
Kelle Jolly, this year's winner of the annual Dolly-written song performance contest in her hometown, Sevierville's Mountain Soul Vocal Competition which was held last week, is interviewed by Knoxville's Metro Pulse here this week.
---
May 25:
Dolly's Single Hits iTunes Tuesday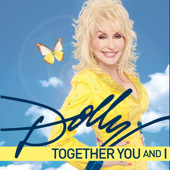 "Together You and I," Dolly's first single from the forthcoming Better Day CD, was released Tuesday via iTunes for downloading without any advance announcement. As was previously reported, she will perform the song on Friday's episode of The Ellen DeGeneres Show, and it will be shipped to radio on Friday as well. A music video is expected in a few weeks. A review of the song made Taste Of Country here on Tuesday. Download the single here or by clicking on the cover art at left! Reserve your copy of the full CD, hitting stores June 28, here.
Latifah Shares Dolly Admiration
A Queen Latifah interview centering on her recent work with Dolly on the film Joyful Noise, expected to hit theatres in January, made USA Today on Tuesday. The writer focused on her admission that Dolly was a role model for her as a big-breasted teen growing up. Read more here.
Dolly Featured In Q Magazine
British music magazine Q is celebrating its 300th issue in style, bragging about the big name stars it captured for the anniversary edition, which features a cover story interview with sensation Adele in addition to interviews with Paul McCartney, Keith Richards, Liam Gallagher, John Lydon and Dolly, according to CMU here. Snippets from Dolly's interview have surfaced in a few recap stories online, including one from Yahoo's OMG blog noting her wig disasters (and revealing she's again working on launching a wig, cosmetics and perfume line) here and two from New Zealand website Stuff, which notes speculation of Reese Witherspoon possibly playing her in a film of her life story (with an additional note denying the false story often reported in the mainstream media but which started in one of the tabloids claiming she had insured her breasts, although she admits they were expensive) here and discusses her outfits here.
---
May 24:
Be In Dolly's Next Video



If you didn't make it to Music City last week for the filming of Dolly's video for "Together You & I," there's still a chance to get in it. To symbolize the song's message of unity, fans are asked to film themselves in human chains holding hands, preferably in front of recognizable landmarks. Those who submit clips that are chosen to appear in the official video will win a Better Day CD, fan laminate, hatch print poster and autographed vinyl release of the album. Videos must be submitted here before midnight Central time June 15. (Enter your e-mail address, subject: Video Contest, click "browse," find your video on your computer, click "send it.") Videos must be shot in high-definition, be less than five minutes long, be in color and not have any special effects. Watch Dolly's video message about the contest in the media player above or by visiting YouTube here.

October Tour Missing From Press Release
Dolly's PR firm on Monday issued a press release formally announcing the June 28 release date for her Better Day CD, following reporting of the date here Thursday night. The release also confirms the Dolly Records project will, as was speculated here, be distributed through Warner Music Nashville. However, the release called into question Dolly's previous statements in interviews that she would be doing a second American leg of the tour in October before heading Down Under. The release notes that the Better Day World Tour would start in America "and then onto the U.K. and Europe in August and September, then Australia in November" with no mention of additional U.S. dates in October. A request e-mailed to her publicist for clarification of whether the second American leg of the tour will still take place was not responded to by press time Monday night. The press release garnered briefs about the CD on CMT.com here, Pollstar here and AOL's country music blog The Boot here.

Dolly Honors Reba At Hall Ceremony
Coverage continued Monday of Dolly's appearance Sunday at the Country Music Hall of Fame ceremony so she could formally induct Reba McEntire into the institution. According to reports, Dolly's participation was a surprise for McEntire, who was serenaded during the ceremony by Trisha Yearwood and Suzie McEntire with "How Blue," Vince Gill with "Somebody Should Leave," Garth Brooks with "Whoever's In New England" and Martina McBride and Kelly Clarkson with "Does He Love You." When Dolly took to the lectern to honor the redhead, she noted: "People ask me who my friends are in the business, and I have to say Reba. I feel like we are sisters, we have so much in common. Both of us have had enough hair to stuff a mattress! Both of us were on Broadway. Both of us had a TV show ... yours was a hit, mine was not." She added: "I've never heard anyone put more feeling into a song." When placing the Hall of Fame medallion around her neck, Dolly joked: "I'm glad you don't have the big hair on!" McEntire told the audience of her famous story of her Grand Ole Opry debut in 1977 being cut short due to Dolly making a surprise appearance, noting "She was the most angelic thing I ever saw." A photo gallery is available from Access Atlanta here, a video story (alas, no Dolly in it) from News Channel 5 here and stories from CMT.com here, The Associated Press (via Forbes) here and AOL's The Boot here.

More Pictures Added
New galleries of Dolly's recent Dollywood appearances have been added to that section of the website here.
---
May 23:
New Dollywood Shots Available
Your next set of photo galleries from Dolly's appearances at Dollywood earlier this month are now posted to that section of the website here.
Dolly Helps Induct Hall Of Fame Class
Dolly was among those scheduled to be on hand in Nashville Sunday night to formally induct the next class into the Country Music Hall of Fame. Receiving their Hall medallions in the ceremony were Reba McEntire, Jean Shepard and "He Stopped Loving Her Today" songwriter Bobby Braddock. Music City TV station WKRN reported here that Dolly, Bill Anderson and George Jones were to participate in the ceremony.
Library Adds New Jersey To List
Now only three states don't participate in Dolly's Imagination Library early childhood literacy program: Delaware, Nevada and Rhode Island. The Daily Record in New Jersey reported here Sunday that the community of Wharton has become the first in The Garden State to sign up for the effort to send one free, expert-selected, age-appropriate book every month from birth to age 5 for every child in the community.
Paul Mitchell Nets $150K Gift
In related news, it has been announced that the recent nationwide fund-raising efforts of Paul Mitchell Schools collected $1.7 million, of which $150,000 goes to Dolly's project. This year's primary recipient was the Andrew Gomez Dream Foundation, which receives more than $821,000. The Osmonds' Children's Miracle Network Hospitals receive the next-greatest amount, $200,000, followed by Betty White's Morris Animal Foundation and Dolly's Imagination Library at $150,000 each. Receiving lesser amounts were the Leeza Gibbons Memory Foundation and Food 4 Africa at $100,000 each, Cancer Schmancer $50,000, Franciscan Haircuts from the Heart $35,000 and NCA Disaster Relief Fund $15,000. At the recent ceremony to announce the total in California, Dolly led the crowd in an a capella version of "9 To 5" and commented: "Tonight, that room was full of love. Faith and love can move mountains and it is pretty clear to me the Paul Mitchell family will continue to move a bunch of mountains." Read more in a press release from the Huntsville affiliate of Paul Mitchell Schools here.
---
May 20:
'Better Day' Date, Cover Released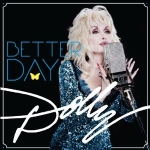 Dolly's new album, Better Day, will hit stores on June 28 with the cover art at left (click on it for a larger view), it was revealed on Thursday. Advance orders for the collection may be placed via Amazon.com here, which lists its release label as Warner Brothers (no word on whether that's just an error on the site's part of it WB is going to distribute it for Dolly Records, since her label does not have its own distribution arm). As was previously reported, the disc features a dozen songs, mostly new recordings of previously released tracks: first single "Together You & I" is a re-recording of a 1974 Porter & Dolly duet, "Holding Everything" was previously recorded by Randy Owen, "Missing You" is believed to be a track she had recorded for the First Dog film and "I Just Might," "Get Out," "Shine Like The Sun" and "Let Love Grow" were all from her Tony-nominated Broadway score, leaving just five completely new songs on the collection ("In The Meantime," "Just Leaving," "Country Is," "The Sacrifice" and the title track).
Dolly Gives Message To Alaska Library
Thanks to Jason for passing along a YouTube posting of Dolly's recent video address to her Imagination Library affiliates in Alaska. Watch it here.
U.S. Chart Update
 The Grascals' Country Classics With A Bluegrass Spin, featuring Dolly on three tracks, may be nearing the end of its run on the bluegrass albums chart, the May 28 Billboard numbers released Thursday indicated. The collection drops five to No. 14 on the 15-position tally in its 18th chart week. On the overall charts, Jason Aldean's My Kind of Party remains steady at No. 1 country and gains two to No. 10 pop in its 28th week, while Taylor Swift's Speak Now rises three places to No. 2 country and two spots to No. 26 pop in its 29th week.
---
May 19:
New Pictures Available
Additional galleries from Dolly's most recent stop at Dollywood have been added to that section of the website here. Still more to come! In related news, Canadian fan Brittany Dickson had the opportunity to meet Dolly while she was at the park this month and has posted an amazing video of the encounter on YouTube. Watch it here or in the media player below.

'9 To 5' Hits The Big D
Dolly's 9 To 5: The Musical opened Tuesday night in Dallas, where it has a nearly two-week engagemet on its national tour. Check out an interview with star Diana DeGarmo from The Dallas Observer here.
Cobain, Love Were Dolly Fans
Who knew the front man of Nirvana and his punk rocker wife used to sing Dolly songs together around the house? That's what Kurt Cobain widow Courtney Love told the crowd this week at a fund-raiser where she donated six albums once owned by her late husband, according to MTV here.
---
May 18:
Hundred Fans Line Up At Video Shoot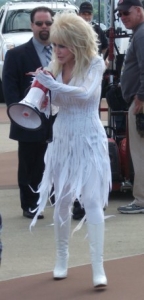 I'm told Dolly was radiant and friendly at her video shoot in Music City Tuesday morning. The experience also confirmed what had been suspected, that "Together You & I," her first single from this summer's Better Day CD, is a re-recording of her 1973 Porter Wagoner duet of the same name, although I'm told it's been modernized and "revamped" to sound current. The video, filmed with her singing to about 100 fan extras lined up on the pedestrian bridge to downtown Nashville by LP Field, is directed by Trey Fanjoy, who also directed Dolly in "Backwoods Barbie," Mindy Smith's "Jolene" cover, Rhonda Vincent's "Heartbreaker's Alibi" and "Welcome Home." Thanks to James Burns for passing along a photo of Dolly from the video shoot at right.
Chenoweth Covers Dolly On Upcoming CD
It was previously reported here that Kristen Chenoweth had included a new original song called "What Would Dolly Do?" for this fall's new CD, Some Lessons Learned, coming out Sept 13 from Sony Masterworks. The official album announcement released Tuesday also revealed that the country-pop collection will also include her cover of Dolly's song "Change." Read the press release here and a story from CNN here in which she advocates for a Dolly episode of Glee and explains how she came to write the "WW Double D" song.
Tillis Joins Dolly On Dottie Tribute
Pam Tillis last week on The Grand Ole Opry let it slip she had been in the studio with Dolly working on the upcoming Dottie Rambo tribute album currently in production. Asked about Tillis' disclosure, album producer Larry Ferguson this week confirmed Tillis' involvement singing harmony on Dolly's contribution to the project, adding Tillis "did an amazing job and is a perfectionist in the studio and that I know it's going to be a really special final mix". 
Dolly Talks About Herself In Print
Dolly has a great little article she wrote for Black Book Mag about her outlook on her life and career in which she repeats some of her greatest lines but adds a few new ones, such as "Before Gaga, I was Ga-udy. I was being outrageous even before Madonna." Read the piece here.
---
May 17:
Be In Dolly's Next Video
Just before midnight Monday night, Dolly Records issued an e-mail blast to fans seeking them to show up to be extras seven hours later for Dolly's next music video. For those seeing this update early enough, call time is 7 a.m. Tuesday at Nashville's LP Field, Lot R (close to the pedestrian bridge to downtown). Check in with Anneke. Those interested in appearing as extras in "Together You and I" should wear casual/plain attire, but no bright colors, no white, no logos, no jackets (once shooting starts) and no busy patterns. Those under 18 should have a parent attend with them to co-sign release forms. The shoot will last at least until 11 a.m. and possibly longer, according to the e-mail.
Dolly Kingdom Heirs Shots Available
New Dollywood photos from Dolly's most recent stop at the park have been posted in that area of the website here. Still more to come!
---
May 16:
'Ellen' Broadcast Moved One Day
Dolly's upcoming guest spot on The Ellen DeGeneres Show will air on Friday, May 27, not the day before, as her management had previously announced, it was revealed over the weekend by the show's producers. (I believe, though, that her show is taped the previous broadcast day, meaning it will likely still be filmed on May 26). Dolly is expected to premiere her new song, "Together You & I," the first single off of this summer's Better Day CD on the show. The program is syndicated, so check local listings for times and channels.
Another British Interivew Released
One late-arrival in the recent British publicity train for Dolly's upcoming world tour is an interview with News Of The World published here over the weekend. The interview, conducted during her promotional stop in London a few weeks ago, features details about how she's lost count of her cosmetic surgery procedures, her marriage to the elusive Carl Dean, her career and more. (You must register for their site to view the story.)
Another Dolly-Gaga Connection Noted
U.K. blog Sabotage Times over the weekend noted the influence Dolly appears to have had on the style and career of Lady Gaga, not the first music observer to make such a connection. Read the analysis here.
---
May 14:
More Dollywood Shots Available
The next group of galleries from your Dollymania.net coverage of last week's Dolly appearances at Dollywood are now available in that section of the website here. And we're not finished yet!
---
May 13:
Dolly Talks Of Oprah Relationship



Knoxville TV station WATE this week used a Dolly interview about her friend Oprah Winfrey as a segment in its review of the talk show queen's career and local connections. She recalls their being acquaintances early on in Nashville and working together on each others' shows. Check out the video in the media player above or by clicking here. In related news, Knoxville News Sentinel reporter Terry Morrow notes she says she was once offered her own cable network years ago but turned it down and wouldn't do it now because she'd be accused of just copying Oprah today. Read that column here.

Next Set Of Images Dollywood Posted
More Dollymania.net galleries from last week's Dollywood appearances have been added tonight to that section of the website here. These are the first images to be released from her VIP photo session before the start of the parade. Stay tuned for more coverage!

'9 To 5' Still Wowing On The Road
The California stop on the national tour of Dolly's 9 To 5: The Musical continued Thursday to get noticed, with a mostly positive review from The Orange County Register here, which noted the touring version "seems more efficient and cut-to-the-chase than" the previous incarnation. Similarly, Broadway World's Los Angeles bureau calls it a "zippier, more compact—and arguably better—reincarnation" of the show in a review here. Social Thrills gave a glowing review here. And The Dallas Voice interviewed director/choreographer Jeff Calhoun here in advance of its visit to that city next week.

U.S. Chart Updates
The Grascals' Cracker Barrel exclusive disc with Dolly on three tracks, Country Classics With A Bluegrass Spin, dips one this week No. 9 in its 17th week on the bluegrass albums chart, Billboard's May 21 charts released Thursday revealed. On the overall charts, Jason Aldean's My Kind of Party remains steady at No. 1 country and slips one to No. 12 pop in its 27th week, while Allison Krauss and Union Station's Paper Airplane remains at to No. 2 country and falls four to No. 16 pop in its fourth week.

Dolly Doc Premieres In New York
Swedish documentary I'm My Own Dolly Parton, previously noted here as following several vocalists inspired by Dolly, had its American premiere this week as part of the Nordic Music Documentary Festival at the Tribeca Grant in New York City, Daily Roxette reported here.
---
May 12:
New Dollywood Shots Available
Your official Dollymania.net coverage of Dolly's most recent Dollywood appearances continues tonight with photos from the park posted to that section of the website here. Much more is on the way!
Dolly's MySpace Page Possibly Hacked
The U.K. was a buzz on Wednesday with news Dolly had been tapped to play a sold out popular music festival when she visits the country on tour this fall, but it turned out the report was based on a false posting to her official MySpace page, which may have been hacked. Based on the posting, several British media outlets noted she would be performing Aug. 20 at the V festival, which is being headlined by The Arctic Monkeys and rapper Eminem with additional performances by Rihanna, Primal Scream and Bruno Mars, among others. Digital Spy said here that the show listing – which is the same date she will be performing her first of two consecutive nights in Glasgow, Scotland – was "accidental," but The Sun noted here that her MySpace page had been hacked. (That comment was just a minor note at the end of that newspaper's story about her meeting rapper Tinie Tempah's mother while on a promotional visit to the country a few weeks ago.)
Another Mixed '9 To 5' Review
The Los Angeles Times says Dolly's re-tooled 9 To 5: The Musical is good but "not stellar" in a mixed review posted to the newspaper's blog here on Wednesday.
Rappers Have Dolly Nickname
Check out an Associated Press story here on the Beastie Boys to learn how and why they refer to Dolly (whom they admire) as "Dolly Partner."
---
May 11:
Dollywood Visit's Audio Posted
Tonight the audio files from Dolly's most recent Dollywood appearances have been added to that section of the website here in your continuing official Dollymania.net coverage. Much more to come!
Radio Station: Sydney On Tour In Nov.
The dates for the Australian leg of Dolly's Better Day World Tour have yet to be announced, but Down Under radio station 104.9 Triple M says here that she'll be in Sydney in November. Her July-August first U.S. leg and her August-September European leg have been announced, with a second U.S. leg to be announced sometime in the near future for October and Australia for November.
Dolly Wishes Oprah Well
I'm told a clip of Dolly congratulating Oprah Winfrey on the conclusion of her long-running talk show aired on Monday, with her saying how everyone feels like they own a little piece of Oprah. She ended her tribute with an excerpt of her "I Will Always Love You" lyrics. Thanks, Terry!
Dolly's Dixie Stampede Gets Painted Pony
The Painted Ponies have come to Dolly's Dixie Stampede. The Pigeon Forge and Branson locations of her dinner theatre now have their very own Painted Pony, "American Spirit." Learn more here. Thanks, Solomon!
'9 To 5' Back In California
Another Diana DeGarmo interview about her role in Dolly's 9 To 5: The Musical made Broadway World, this time the Los Angeles section here. The national tour opened Tuesday night in Costa Mesa, Calif.
British Library Seeing Results
Dolly's Imagination Library is having a dramatic impact with the 300,000 books it has delivered in the U.K., a new study has found. Check out a press release about the results here.
---
May 10:
Dollywood Video Posted
To kick off the comprehensive coverage of Dolly's weekend appearances at Dollywood, a Dollymania News Video of the 2011 Homecoming starts that new section of the website here. Still to come are photo galleries and audio files!
Win Tickets To See Dolly In Concert
Dollywood on Monday announced a new contest to see Dolly kick off her Better Day World Tour in Knoxville on July 17. Upload to the park's Facebook page a 10-second video of your best effort to impersonate Dolly's signature giggle, and the best laugh (as judged by the park's entertainment department) will win two tickets to the concert. Entries must be posted by 10 a.m. May 18.
Dolly Makes CMT Game
Dolly will be featured as a character in CMT's new social networking game Platinum Life: Country, her official record label website, DollyPartonMusic.net, revealed Monday. Sign up to possibly test the game here.
Grascals Sit Down With Tennessean
The Grascals chatted with The Tennessean this week about the band's relationship with Dolly, among other topics. Check out the interview here.
---
May 9:
Dollywood Celebrates Award, Manager, Ride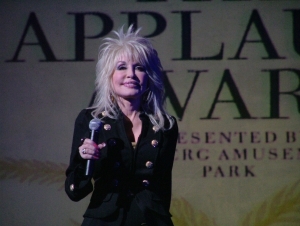 The park's silver anniversary season is over, so "Celebrate The Dreamer In You" is no longer its theme, but that didn't stop Dolly from celebrating all over the place this past weekend for her annual "homecoming" appearances at Dollywood. Things started Thursday when she was on the grounds for photos with park employees. On Friday, the public appearances began that morning in DP's Celebrity Theatre, where tourism officials, VIPs from hotels and restaurants in the Pigeon Forge area and fans gathered for Dolly to thank them for their contributions to the local tourism industry that helped the park earn recognition last year from the theme park industry with the Applause Award, becoming just the 15th institution in history to receive the honor for being one of the best theme parks in the world.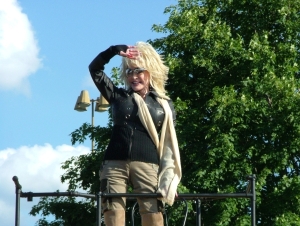 The event began with the showing of the actual award announcement in Orlando, Fla., back in October, complete with Dolly's acceptance speech. She then took to the stage wearing the same outfit from that ceremony to address the crowd and celebrate the honor. State Tourism Commissioner Susan Whitaker presented a proclamation from the governor naming it Dollywood Applause Award Day throughout the state. While on stage, Dolly also took the opportunity to celebrate longtime park general manager Barbara Joines, who retires at the end of this season. Paying tribute to her dedication and friendship as images of the two over the years were shown on a large screen behind them, Dolly surprised Joines by bringing her family on stage to be with her, brought her to tears as she sang a chorus of "I Will Always Love You" to her a capella and led the audience in a second chorus in her honor, and further surprised her by announcing she was giving her and her husband the gift of being her guests with a vacation to London when she plays there on tour this summer.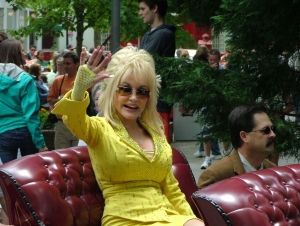 She concluded the festivities by calling the entire group of Dollywood entertainment performers on stage to premiere her solo version of "Shine Like The Sun" (which had previously been recorded by the cast of 9 To 5: The Musical and will appear on this summer's CD Better Day) and also offering "Hallelujah Holiday" from the Cracker Barrel version of Backwoods Barbie. She also popped out at the end of an afternoon performance of Dreamland Drive-In for another "Hallelujah Holiday" before her park tour. She then changed into her pilot's outfit to sit atop a crop duster on her float in the 26th Annual Dolly Parade in Pigeon Forge celebrating the park's new Barnstormer ride. Some fans that evening enjoyed a dinner together at Golden Corral, and others made their way to the unofficial "Night Of 1,000 Dollys" evening at Club XYZ in Knoxville (thanks, Christopher, for the shout-out at the end of the drag show!). On Saturday, Dolly made a stop in at the conclusion of the Kingdom Heirs' morning show for a live rendition of "The Seeker" before another afternoon park tour. She is next slated to visit the park to kick off KidsFest in June. Look for more Dollymania.net coverage over the next several days. Additional coverage is available from WBIR (in the media player above or by clicking here), The Asheville Citizen-Times here and Knoxville News-Sentinel here. Photographs are copyright © 2011 T. Duane Gordon/Dollymania.net and may not be reproduced without prior written permission. Click on them for larger views.

Dolly To Headline Stuart's CMA Fest Kick-Off
Although she's not scheduled to perform during this year's actual CMA Music Festival, the Nashville event formerly known as Fan Fair, Dolly has been tapped to headline the unofficial kick-off of the annual event, Mary Stuart's Late Night Jam. Now in its 10th year, the concert at Music City's historic Ryman Auditorium has in recent years hosted artusts such as Keith Urban, Vince Gill and Charlie Daniels. This year's event takes place at 10 p.m. June 8. Tickets and more information are available from Stuart's official website here. In addition to Dolly, this year's show will feature Mel Tillis, Connie Smith, the Quebe Sisters Band and Doug Kershaw in addition to "surprise" guests who will not be named in advance. Check out coverage of the news from Friday courtesy AOL's country music blog, The Boot here and Examiner.com here.

CMT Voters Put Dolly Sixth
CMT premiered its fan-voted What's Your 20? 20 Greatest Women, 20 Years Friday night, counting down the 20 female artists that viewers felt had the largest impacts on country music over the past two decades. Reba McEntire took the top spot, while Dolly came in at No. 6. Between them were Carrie Underwood in second place, followed by Shania Twain, Taylor Swift and Martina McBride. The complete list is available on the network's website here.

Chenoweth Asks 'WWDD?'
Tony winner and recurring Glee performer Kristen Chenoweth, who has said her life's goal is to play Dolly (and whom Dolly has identified as one of the actresses she'd like to play her in the stage musical and film she's writing of her life story), will this fall release a country-pop CD which is slated to include a song she wrote that was inspired by Dolly herself: "What Would Dolly Do?" or "WW Double D," Playbill reported here Friday. The album will be out Sept. 13 from Sony Masterworks.
---
May 6:
Dolly Van Gets Facelift
Greetings from Pigeon Forge; ready to see Dolly on Friday! A reader of the site on the park grounds Thursday when she took photos with the staff at Dollywood snapped a pic of her tranportation around the park. The van that shuttles her on the park's backroads has gotten a paint job to match her former tour bus that's open for tours outside of her museum. Check it out here. Thanks!
U.S. Chart Updates
(Greetings from Pigeon Forge, ready to see Dolly on Friday!) The Grascals' Country Classics With A Bluegrass Spin, the band's Cracker Barrel-exclusive disc, gains one this week No. 8 in its 16th week on the bluegrass albums chart, Billboard's May 14 charts released Thursday showed. On the overall charts, Jason Aldean's My Kind of Party rises one to No. 1 country and two to No. 11 pop in its 26th week, while Allison Krauss and Union Station's Paper Airplane slips one to No. 2 country and nine to No. 12 pop in its third week.
'9 To 5' Continues Rolling Along
The national tour of Dolly's 9 To 5: The Musical will wrap up its Denver stop on Sunday and then move to Costa Mesa, Calif., where the local Daily Pilot on Thursday spoke with star Mamie Parris. The interview, in which she calls Dolly the show's "fairy godmother," is available here.
---
May 5:
Dolly Eyes England, Japan, Down Under For '9 To 5'



Although press reports have mentioned the possibility that Dolly's 9 To 5: The Musical could head to London at some point in the future, she confirmed that plan in recent interviews overseas to promote the European leg of her upcoming world tour. The Birmingham Mail News on Wednesday posted the interview video to YouTube here (or in the media player above), although most of the clip had appeared in other media outlets' feeds, the one answer I don't believe I had seen from the interview was the first answer when she was asked about the show. She noted its current American tour and added that she "understands" it is headed to England sometime after that ends in July and after that is "possibly" also going to Japan and Australia.

Paul Mitchell Posts Dolly Interview
Although I haven't seen any coverage from last weekend's dinner in California to celebrate the end of Paul Mitchell Schools' fund-raising campaign for its chosen charities, including Dolly's Imagination Library, other than a video on their website here of Donnie Osmond singing "Puppy Love" to Betty White, thanks to Francis for alerting me to a 10-minute audio interview with Dolly about the program which is also available on their site here. In addition to talking about her literacy program, she notes that nieces Hannah and Heidi are both Paul Mitchell graduates.

Fans Are Dollywood Bound
Thousands of Dolly fans from around the country are in transit to Tennessee to see their idol in the flesh for her "homecoming" appearances. She'll be at Dollywood on both Friday and Saturday, as was previously reported here, in addition to her annual Dolly Parade through Pigeon Forge at 6 p.m. Friday. Fans will also be able to partake of the unofficial "Night of 1,000 Dollys" party at Knoxville's Club XYZ Friday night which, as was also previously reported here, will feature Dolly-themed drag shows at 11:30 p.m. and 1 a.m. in addition to Dolly-related contests. Your webmaster will be on his way to the Smokies on Thursday, so apologies for any delays in coverage over the next few days. (I'm supposed to have Internet service while there, so I intend to update regularly, but you never know!) See y'all! Come up and say hi if you see me!
---
May 3:
More Photos From Dollywood Appearances
With mere days before Dolly begins making Dollywood appearances once more, we're back to covering her most recent stop by the park. Check out some galleries from her media event to launch the Barnstormer ride courtesy correspondent Jason Worley in that section of the site here. Thanks!
---