---
www.dollymania.net News June 2004
---

June 30:
More Thanks For Dolly's Program
Dolly's Imagination Library program got additional praise, and quite a few statistics to back it up, in a letter to the editor in Tuesday's Columbus, Ga., Ledger-Enquirer. Read it here.
---
June 29:
Paper: Dolly Does 'Something Truly Wonderful'
An editorial Monday in the Wheeling, W.V., Wheeling News-Register took the time to praise Dolly very highly for her Imagination Library literacy program, which provides one free book per month from birth to age 5 for every child in nearly 300 communities across 36 states whose parents sign up. The newspaper noted she has for years quietly played the role of major philanthropist when it came to education in her home area of East Tennessee and in recent years has worked on a national level with the expansion of her program. In lauding the literacy project, the editorial staff said: "Parton has done something truly wonderful. We hope the idea spreads - and we hope one of the entertainment world's real stars is recognized for her work." Read the full article here. (On a related note, your webmaster had a letter to the editor about the project in Saturday's The Clarion-Ledger, Mississippi's statewide daily newspaper. Read it here.)
Smith Falling On Americana Chart
Mindy Smith's One Moment More, featuring Dolly on her cover of "Jolene," slips three more spaces to No. 36 on the Americana Music Association's weekly radio airplay chart released Monday with 179 spins at reporting stations nationwide, down from 202 the previous week.
---
June 28:
Jones Up Overseas
Norah Jones' Feels Like Home, featuring Dolly on the track "Creepin' In," gains three spots to No. 24 in its 20th week on the U.K. pop albums chart, it was announced Sunday. It jumps up eight notches to No. 16 pop in Australia and moves up three places to No. 12 in Germany.
Using Dolly For Politics
According to an article in Sunday's Houston Chronicle, a Dolly song was used in an interesting manner to send a political message at the Texas city's annual gay pride parade on Saturday. A group of drag queens expressed their dislike for President Bush by holding an effigy of Bush as Dolly's gospel track "Go To Hell" from For God And Country blasted through loudspeakers. Read the full story here.
Library News
Thanks to funding from the Oak Ridge Associated Universities and Tennessee Gov. Phil Bredesen's matching funds, all children in Anderson County, Tenn., are now eligible for books from Dolly's Imagination Library literacy program, the Knoxville News-Sentinel reported here Saturday. Previously, the towns of Andersonville, Briceville, Lake City and Oak Ridge in the county had participated in the program to give one free book per month from birth to age 5 to any child whose parents sign up, but the additional funding will make it available to children in the county who live outside of those four towns. Anderson was one of the counties the governor announced at Dollywood earlier this month would be joining the program (see photos, story and transcript from that event here).
---
June 26:
Full Dolly Transcript Posted
The complete transcript from Dolly's appearance at Dollywood last week to kick off the second annual KidsFest is now available for your reading on Dollymania. It is a verbatim transcription, meaning any repeated phrases, "um"s or other stammers are included to give you a more accurate depiction of how the words were actually said. Read it in the KidsFest section (and look through the 11 exclusive photo galleries there) here. KidsFest continues at the park through Aug. 8.
Dolly CMT Performance To Repeat
CMT has announced its second Most Wanted Live: The Greatest Hits installment will premiere at 9 p.m. Eastern July 17. Among the live performances from the show to be featured in the new episode is Dolly's "9 To 5," which she sang on the program's MWL Star show last year. Clips of other artists from previous programs which hosts Cledus T. Judd and Katie Cook will introduce include "I Melt" by Rascal Flatts, "Somebody Like You" by Keith Urban and "Redneck Woman" by Gretchen Wilson.
---
June 25:
'Ultimate' Returns To Chart


Ultimate Dolly Parton re-enters the country albums chart at No. 74 for a 41st week, according to the July 3 numbers released by Billboard on Thursday. Norah Jones' Feels Like Home, featuring Dolly on the single, "Creepin' In," remains steady at No. 19 pop and comprehensive in its 19th chart week but slips one to No. 7 in Internet sales. Mindy Smith's One Moment More, with Dolly on "Jolene," gains three notches to No. 14 in its 21st week on the independent labels albums chart. Kenny Rogers' 42 Ultimate Hits, which includes "Islands In The Stream" with Dolly, falls two places to No. 14 country and 13 spots to No. 89 pop in its third chart week. Gretchen Wilson's Here For The Party remains steady at No. 1 on the country albums chart for a sixth week and also remains at No. 4 pop. American Idol finalist Josh Gracin's debut collection, Josh Gracin, debuts at No. 2 country, No. 11 pop with 57,000 copies sold in its first week.
Steady Up North
Jones' Feels Like Home remains steady at No. 15 in its 19th week on the Canadian pop albums chart, it was announced Thursday.
New Pics Posted!
Special thanks to readers Jason and Jonathan, who sent in additional photos of Dolly from the KidsFest kick-off at Dollywood last weekend. Check out their shots in new galleries added to that section of the site here.
Ohio Library News
Putnam County, Ohio, is the most recent community to join Dolly's Imagination Library literacy program, it was announced Wednesday at the county fair, the Toledo Blade reported here Thursday. The program there is sponsored by the local United Way, whose director pointed out that income is not a factor in whether or not a child may enroll in the program, saying: "We don't even ask the question. We take the attitude Dolly Parton had when she created this program. She said she wanted every child treated equally. She didn't want the needy children singled out in any way." The program, active in nearly 300 communities across 36 states, distributes one free book per month to any child birth to age 5 whose parents sign up in a participating community. It will disburse more than 1.2 million books to children nationwide this year.
'Harping' On An Auction
If you'd like to buy a Salvi 47-string semi-grand petal harp given by Dolly to her former manager Sandy Gallin as a Christmas present one year (and pictured with both of them in a 1996 issue of Vanity Fair magazine), it's up for auction on ebay with a starting bid of $9,800. Check it out here.
---
June 24:
Bison Sale Rattles Penn. Activists
Some animal rights activists in Pennsylvania are upset with their local government's sale of a herd of bison to the Dixie Stampede dinner theatre in Pigeon Forge, Tenn., according to reports from the The Express Times here and The Morning Call here on Wednesday. Five residents associated with Friends of the Game Preserve held a news conference this week in Allentown, Penn., to charge that it was "reprehensible" that buffalo raised at the Trexler Game Preserve were sold to be forced to stampede around Dollywood, whipped by riders on horseback and exhibited for the public in small pens at Dolly's theme park. They demanded the animals' immediate return. County officials were quick to call the charges groundless, noting they are at Dollywood's nearby Dixie Stampede, not Dollywood; that whips are cracked in the air only, not on the bison themselves; and that the sale was part of the Lehigh County-owned facility's regular thinning of its herd, with 13 bison remaining in the preserve. In a statement, the Stampede noted it is regularly inspected by local agencies and has never been cited for any alleged animal violations at any of its four locations across the country. Dollywood spokesman Pete Owens told one paper that the animals "are treated as cast members; they're pampered, just like our human cast members." As an interesting side note, Dolly recently showed her support for the People for the Ethical Treatment of Animals (PETA) by giving them her song "Will He Be Waiting" for use in a television commercial.
More Parade Pics Posted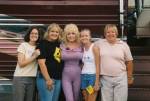 Reader Kendra sent in a great set of photos from Dolly's parade through the grounds of Dollywood last weekend to kick-off KidsFest, including one (thumbnail shown at left) of her and three friends with Dolly, whom they were lucky enough to meet following the parade. Visit her gallery in that section of the site here! And if you'd like to send in your pics, please e-mail them here. Thanks!
'Guideposts' Cover Girl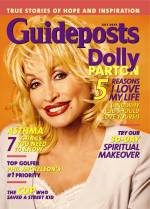 Dolly graces the cover of the July issue of Guideposts magazine on newsstands now, with a photo-filled, five-page essay by Dolly herself titled "Five Reasons I Love My Life (And Why You Should Love Yours!)." Saying her greatest blessing is simply being a happy person and that a positive attitude and sense of humor "go together like biscuits and gravy," Dolly chronicles what she believes are the key characteristics to happiness: friends and family, work, laughter, prayer and love. An online version of the story is available here. Thanks, April! (Image courtesy Guideposts. Used with permission.)
'CW' In Bookstores
The issue of Country Weekly magazine featuring the article on Dolly and her literacy program linked from the news coverage posted here a few days ago is on newsstands this week. In addition to the story and photo available in the online version (here), the print edition also features a full-page shot of Dolly as Cleopatra from Dollywood's season opening in April and a photo of her with her two nieces who are performing at the park this season.
Library News In Ky.
Dolly's Imagination Library literacy program is coming to Fayette County, Ky., it has been announced in the Lexington Herald-Leader, with plans to deliver books to 1,600 preschoolers. Dolly's program, which distributes more than 1 million volumes annually in nearly 300 communities across 36 states, mails one book per month free of charge to any child birth to age 5 in a participating community whose parents sign up. Read the full story here.
---
June 23:
Kenny: Dolly Duet Didn't 'Work'
Could the legendary duet partnership of Kenny Rogers and Dolly be over? Well, to hear Kenny tell it, it just might be. In an interview published Tuesday on CMT.com, Rogers said their collaborations no longer work. Asked whether he plans to record any more with Dolly or other singers, he replied that he was very excited to sing a duet with her on "Undercover" from last year's Back To The Well, but no one else seemed to care and the pairing lacked "electricity." The song had originally been slated to be the album's second single in late 2003, then its third single in early 2004. But it was never shipped to radio, and now a single off his new greatest hits package is being promoted instead. He commented, in part: "Everything like that has its time, and Dolly and I had our time before, and I just don't think it means anything anymore. . . . I certainly don't blame her. Like I said, things have their moment . . . You have to find new partners to create new electricity." Read his full comments about Dolly and the rest of the interview here.
Throughout the mid-to-late-1980s, Kenny & Dolly were country and pop music's sweethearts. Their single "Islands In The Stream" topped both the country and pop charts in 1983, was the only song that year to sell more than 2 million copies and won several major awards. The album which contained it, his Eyes That See In The Dark, also sold more than 2 million copies. In 1984, they released a Christmas duet album and promoted it with a prime-time television special. That collection passed the million mark in a matter of days and exceeded 2 million in five years. They spent the mid-'80s selling out venues around the world in a double-billed concert tour. In 1985, they charted their second No. 1 country duet with "Real Love" from Dolly's album of the same name, and they starred in a successful HBO concert special. In 1989, the pair teamed up with Willie Nelson for a prime-time network concert special, Something Inside So Strong, before recording a cover of the classic duet "Love Is Strange," which they took to No. 21 in 1990. They did not record together again for more than a decade, taping "Undercover" in 2003.
More KidsFest Pics Up
Three more galleries of Dolly photos from KidsFest at Dollywood this weekend have been added to that section of the site. Visit it here!
Dolly On AFI List
The American Film Institute named two Dolly songs in its 100 greatest songs from film announced on Tuesday night. Her "9 To 5" from the hit 1980 film of the same name came in at No. 78, while Whitney Houston's cover of "I Will Always Love You" from 1992's The Bodyguard (which Dolly also performed in 1982's The Best Little Whorehouse In Texas), came in at No. 65. Discussing "9 To 5," Bette Midler commented how it had the hidden message that women were "mad as hell and were not going to take it anymore" and added, "It was a song that absolutely captured its time." Michael Feinstein said that the song was perfect because it completely captured the plot of the film and was simply a great "country story song." In coverage for "I Will Always Love You," Dolly's composing the song and having originally performed it were not mentioned, but she did get credit when Nos. 61-70 were recapped because each one had sheet music shown to represent it, and it showed that she had written it.
---
June 22:
More From KidsFest
Three new photo galleries from the KidsFest kick-off at Dollywood have been posted to that section of the site here. Look for more in coming days. Coverage of Dolly's Imagination Library event at on Friday continued elsewhere this week as well. Nashville's The Tennessean on Monday ran the Associated Press story here, and The Jackson Sun in Jackson, Tenn., ran an editorial on Monday lauding the program for filling a major need in the state but questioning why it took a private citizen (Dolly) to come up with such a creative solution for education problems that should have been addressed years before by public officials. Read it here. And although it wasn't a result of the program last week, Country Weekly on Monday posted an online story about the literacy effort and an interview on that subject with Dolly from opening weekend at Dollywood earlier this year. Read it here.
Americana Update
Mindy Smith's One Moment More, with Dolly guest vocals on "Jolene," moves down five spaces to No. 33 on the Americana Music Association's weekly radio airplay chart released Monday with 202 spins at reporting stations nationwide, down from 243 the previous week.
---
June 21:
Dolly Wows Crowd At Kids Fest, Sept. Concert Possible
Dolly mixed fun, fantasy and a little formality at Friday's ceremony to kick off Dollywood's second annual Kids Fest, which continues through Aug. 8 at the park. Dolly recognized this year's Dolly Parton Scholarship winners, the Chasing Rainbows teacher of the year recipient and announced several additions to the Imagination Library literacy program around the state with Gov. Phil Bredesen. She sang with Barney the Dinosaur and welcomed several special performers for the children's festival. In addition, she said she might perform a concert at the park's fall festival in September. Start the Dollymania recap here! And look for more to be posted in coming days!
Additional coverage of the event over the weekend included the following: