---
www.dollymania.net News June 2022
---
June 27:
Dolly Comes Home To Dollywood



Dolly made a return visit over the weekend to Dollywood to promote the park's next resort hotel currently under construction, her former tour bus hotel room at the current resort, and the park's summer festival. She made a media-only appearance at the new HeartSong resort construction site where she performed her song "Heartsong" and accepted an award on behalf of her late Uncle Bill Owens from the American Chestnut Foundation. She completed park tours on Friday and Saturday and popped in for a performance of her family's show at the park. Coverage included a Conde Nast Traveler story about the tour bus hotel room (which will go for $10,000 for a two-night stay with a portion of the rent going to her Imagination Library charity) here, The Knoxville News-Sentinel with a story here and photo gallery here, WATE here, WBIR here, WVLT here, Times News Online here and in the media player above (plus additional footage here), WCYB here and WJHL here and in the media player below.


AXS To Show Dolly On Independence Day
Music network AXS has announced a schedule of programming on musical legenda for Independence Day Weekend, and Dolly kicks off the July 4 shows at 8 a.m. Eastern with a broadcast of her 50 Years at the Opry special from 2019.

'Run, Rose, Run' Chart Updates
Dolly and James Patterson's novel Run, Rose, Run slips one to No. 8 on the New York Times hardcover fiction Best Seller List in its 15th week, it was announced Friday, and the companion album gains four to No. 25 U.K. Americana albums and dips one to No. 5 U.K. country albums, while the British country compilations albums chart sees The Complete Trio Collection Deluxe holds steady at No. 10, Emmylou Harris's Original Album Series: Volume 1 falls nine to No. 15, Harris' Original Album Series: Volume 2 (featuring one track with Dolly harmony and two tracks with Trio harmony by Dolly and Linda Ronstadt) inches up one to No. 17 and Very Best Of Dolly Parton Vol. 1 rises four to No. 8.

Dolly Teaching Award Given
The Dollywood Foundation recently announced the recipient of this year's Dolly Parton's Chasing Rainbows Award for teachers is the first recipient from Sevier County, Tenn., with New Center Elementary School teacher Christy Maples, The Mountain Press reported here.

Dolly Kicks Off Nashville NASCAR
Dolly helped welcome NASCAR to Nashville this weekend with a promotional video for NBC in advance of the Ally 400 on Sunday. Watch it here or in the media player below.

---
June 22:
'Islands' Lands Double-Platinum In U.K.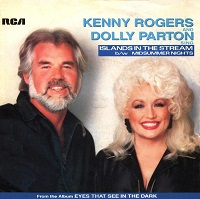 Kenny Rogers and Dolly's 1983 classic duet "Islands In The Stream" was announced this month as Dolly's newest multi-platinum single in the U.K. The BPI issued a double-platinum certification for the track on June 10 recognizing 1.2 million units sold. It had reached platinum status in 2019. This marks her second double-platinum single award from BPI, which certified her 1980 hit "9 To 5" at that level a year ago this month.




RuPaul Celebrates Dolly Drag



After years of fans begging for it, RuPaul's Drag Race All Stars last week provided a Dolly-themed category for the runway, with "Night Of 1,000 Dolly Partons." Each contestant had to identify a Dolly costume she has been photographed wearing and replicate that look for the runway. Most opted for recent Dolly appearances in the last two decades, although Jinx Monsoon went back to the "Dolly in London" era early-1980s beaded tour dress Dolly for her look. The top two queens then lip-synched it out to "Why'd Ya Come In Here Lookin' Like That?" Watch the runway walks here or in the media player above.

Dolly Gives Another $1 Million For Health Research
Dolly stepped up her philanthropy again last week with an additional $1 million donation to Vanderbilt University Medical Center in Nashville, this time to support pediatric infectious disease research, including ways to fight COVID-19 in kids. She had previously given the institution $1 million near the start of the pandemic for COVID research which resulted in development of the Moderna vaccine as well as $1 million in 2017 to support its Children's Hospital, where one of her nieces had been treated for leukemia as a child. "We are deeply honored by Dolly's contribution to our research mission," Mark Denison, a professor of pediatrics and director of Vanderbilt's division of pediatric infectious diseases, said of the gift, adding it will "accelerate" the work already being done and "support new ideas." The Hill broke the story here.

'There Was Jesus' Wins BMI Song Of The Year
Songwriters' royalty group BMI last week held its annual Christian Awards and "There Was Jesus," as recorded as a duet by Dolly and contemporary Christian artist Zach Williams, was named Song of the Year as the past year's most-broadcasted song in the genre. The song's composers (Williams along with Casey Beathard and Jonathan Smith) received the award. The recording had previously won last year's Grammy for Best Contemporary Christian Music Performance/Song, Dolly's second consecutive win in that category.

Dancers: Audition For Dolly's Holiday Movie
Professional dancers interested in appearing in Dolly's upcoming NBC holiday film to be shot at Dollywood have a chance to audition for the project this coming Friday at 8 a.m. at The Ridge Outdoor Resort Event Center at 1250 Middle Creek Road in Sevierville, Tenn. Rehearsals are expected to last July 25 to Aug. 7 with filming Aug. 7-Sept. 1. Vaccination required and masks must be worn for the audition. Questions may be addressed to auditions@dollywood.com.

Dollywood Wins Nation's Best Theme Park
TripAdvisor last week named Dollywood the nation's best theme park based on reviewers' opinions recoded over the past 12 months and the eighth best theme park in the world. Dolly's wonderland bested favorites such as Cedar Park, Disneyland, Disney World, and others for the honor to take home the Travelers' Choice Best of the Best Award in its category. In a press release, Dolly responded: "I'm so proud of the work my people do to make Dollywood such a great place for families. When I started dreaming up Dollywood all those years ago, I hoped it would be somewhere folks were excited to come visit and enjoy time together. To hear that they are leaving so many positive comments about their time here really shows what we're doing is working. In the current world, I want Dollywood to be a place where the light shines every day."

Bill Anderson Dolly Duets Released
In publicizing his just-released greatest hits collection, As Far As I Can See: The Best Of Bill Anderson, which features both a new duet with Dolly on "Someday It'll All Make Sense" as well as a 1964 demo with her on his track "If It's All The Same To You" (which had previously been released solely on an expensive boxed set of his music by Bear Family Records a decade ago), Anderson recounted that he first met Dolly at that demo session and his wife sat with her between takes talking and afterward told him that girl knew more dirty jokes than anyone she'd ever met in her life! Read the story from Taste of Country here, and buy the album here!

'Skeeter Sings Dolly' Released Digitally
Thanks Ashley for alerting me that RCA has finally released Skeeter Davis' 1972 tribute album Skeeter Sings Dolly digitally for the first time ever. Download it here!

'Run, Rose, Run' Gets Sony Distribution, Chart Updates
Earlier this month, Sony Pictures announced they will distribute Dolly's upcoming theatrical film adaptation of her and James Patterson's novel Run, Rose, Run in which she will co-star as one of the two female leads. It had previously been announced that the project had been sold to Reese Witherspoon's production company to film. Meanwhile, the book is currently at No. 7 on the New York Times hardcover fiction Best Seller List in its 14th week, and the companion album remains steady at No. 2 bluegrass albums on the June 25 Billboard chart in its 14th week of release. Overseas, the album slips eight to No. 29 U.K. Americana albums and two to No. 4 U.K. country albums, while the British country compilations albums chart sees The Complete Trio Collection Deluxe fall two to No. 10, Emmylou Harris's Original Album Series: Volume 1 dip three No. 6, Harris' Original Album Series: Volume 2 (featuring one track with Dolly harmony and two tracks with Trio harmony by Dolly and Linda Ronstadt) tumble eight to No. 18 and Very Best Of Dolly Parton Vol. 1 gain eight to No. 12.

Webmaster Returns From Brief Hiatus
Apologies for the lack of news page updates the past two weeks. Between catching up at a very busy day job as CEO of the greater Cincinnati area's federation of social justice charities following the hosting of our major annual fundraising event earlier this month, and rehearsing and performing a play with a local theatre in observance of Pride month, family responsibilities with the kids, and losing power for several days following a bad storm, I haven't had the time or energy to update since then. Hopefully I'll get back to the regular updates now. Thank you, readers, for your understanding.
---
June 6:
Dolly Salutes The Queen
Dolly helped kick off a special event for the Platinum Jubilee celebrating Queen Elizabeth II's 70th year as monarch. Her videotaped remarks started a special concert honoring the Queen. Dolly said: "I want to congratulate you on your Platinum Jubilee and your 70th year as monarch. I just wanted to say thank you for being wonderful, you are more than pearls and you are more than platinum. You have been a shining diamond in this world for so long and everybody loves you. And I will always love you too." She was followed by Barry Gibb, Michael Buble, and Geri Horner and then a live performance from Queen with Adam Lambert. Although not present, the Queen participated herself in a pretaped skit with a CGI Paddington Bear. Read more from The Daily Express here.
U.S., U.K., 'New York Times' Chart Updates
The book Run, Rose, Run by Dolly and James Patterson inches down one spot to No. 7 on Friday's New York Times Bestseller List for hardcover fiction in its 12th week of release. The audio play reading of the book falls seven to No. 9 audio fiction in its third month. Dolly's Run, Rose, Run album drops off the June 4 Billboard top 100 current albums chart, down from No. 77. It retains its No. 1 spot on the bluegrass albums chart for an 11th nonconsecutive week. Overseas, Run, Rose, Run gains 14 places to No. 10 Americana albums and four places to No. 2 British country albums. On British country compilations, The Complete Trio Collection Deluxe falls two to No. 7, Emmylou Harris's Original Album Series: Volume 1 dips one No. 2, and Harris' Original Album Series: Volume 2 (featuring one track with Dolly harmony and two tracks with Trio harmony by Dolly and Linda Ronstadt) gains one to No. 3.
Church Explores God Through Dolly Songs
Chicago's Church of the Three Crosses, a joint United Methodist and United Church of Christ congregation, recently completed a five-part sermon series on "The Gospel According To Dolly," using one of her songs each week to tie to a Biblical lesson and scripture. Songs used were "9 To 5," "Jolene," "My Tennessee Mountain Home," "The 19th Amendment" (a last-minute change from "Coat Of Many Colors" to recognize the Supreme Court leak), and "I Will Always Love You" (a song of forgiveness). Read more here.
Dolly's America In AARP
Dolly is among several country artists expressing their American pride in a new issue of AARP's national magazine. Check out Dolly's essay, "We Are Blessed, here.
---