---
www.dollymania.net News July 2000
---

July 31: Duane and Dollymania get a mention in Billboard Online's weekly charts column this week, acknowledging the first female artist with three consecutive multi-week No. 1 hits controversy. Read it here.

* My copy of the Steel Magnolias special edition DVD arrived last week, and it includes nine brief deleted scenes, two of which center on Dolly! If you don't have your copy (which also includes an interview with the screenwriter, director and Shirley McClaine on the making of the film; cast bios, director's commentary and more), get it here!
* An Associated Press story last week about Porter's new album said the first person he asked for an opinion on it was Dolly, who wrote him that it was the best he'd ever done; so he used a very similar phrase as its title. Read it here.
* Another AP story last week discussed several interesting college classes, including the course "Singing Psych" at Wartburg College in Waverly, Iowa, which uses music to explain psychological theory, including Kenny & Dolly's "Islands in The Stream" to explain Eric Erickson's intimacy-vs.-isolation stage of development.
* * * * *
July 25: The New York Post reported Monday that Dolly is among the confirmed guests for Bette Midler's new CBS sitcom this fall. Dolly will play herself, the newspaper reported, as will several other "major stars" the show is luring (all of Bette's friends in show business, basically). The only other name to be confirmed for the show's first season guest stars, the story continued, is Danny Devito.
* Today's the big day! The long-awaited Steel Magnolias DVD special edition comes out with deleted scenes, cast interviews and more goodies! Order yours today here!
* * * * *
July 24: I've brought this up both when it was said on the CMA Awards last year and when Dolly repeated it on the ACM Awards earlier this year, but when the statement appeared in an article in Billboard last week, I contacted the magazine to inquire: Wasn't it Dolly, not Jo Dee Messina, who was the first female artist to have three consecutive multi-week No. 1 country hits ("Here You Come Again," "It's All Wrong, But It's All Right," "Heartbreaker")? And I was right, I am told. Wade Jensen, who manages the country charts for Billboard, informs me that Dolly was the first to do so. Each time it is said that Jo Dee did it first, the statement should include the disclaimer that the record she holds is for the first time in the technology-based ("SoundScan-era") charts, which started in January 1990. (Before then, the way the charts were compiled was much less scientific. This is the same way Lonestar sometimes is said to be the first country act to have a pop No. 1; if you notice whenever this has been printed, it has a little asterisk noting that they are the first of the SoundScan-era.) So, thanks Wade, for letting everyone know Dolly actually holds the record! He says he'll remind the magazine's Nashville editorial team that the disclaimer must be used.
* * * * *
July 19: According to TNN's web site, Dolly is one of several guests scheduled for a Sept. 5 special airing at 8 p.m. Eastern that night paying tribute to guitar legend and former RCA head Chet Atkins. The show, called Chet Atkins: A Life In Music, A TNN Special, also includes such notables as Peter Frampton, Jerry Lee Lewis, June Carter Cash, Vince Gill, Willie Nelson and Mark Knopfler, among many others.
* Dollymania late Monday night passed 60,000 visitors! Thanks to all who've stopped by and keep coming back!
* You may notice the following links on various pages now at Dollymania. One is for The Hunger Site and another for The Rainforest Site. By visiting these sites, you can simply click on a button and make food available for a hungry child or save a portion of rainforest. And it's free! Advertising sponsors have pledged a certain amount of money each time a person click on the logo on their sites, and that money goes to the charity. You can click on them once a day, so do your part now!


* * * * *
July 17: Steve at Sugar Hill Records says The Grass is Blue recently sold its 100,000th copy! SoundScan, which tracks sales at retail outlets, says it's just shy of 100,000, but that doesn't include sales from stores like Amazon.com, where the CD has sold several thousand copies. It should "officially" break the 100,000 mark in the next few weeks, he says.
* Sunday's Orange County Register offered a few memories of former staff members at Disneyland in recognition of the park's 45th anniversary on Monday. One of the events recounted was this: "Dan Thome, Jungle Cruise captain, 1980-82; '87 – In 1982, I had just completed a trip around the Jungle Cruise when the crew held my boat up for a VIP group. Entering the boat was Dolly Parton. Nervous? Yes! And she made it worse by scratching my back with every punch line. Needless to say, the rest of the (Jungle Cruise) staff gave me a ribbing, saying, 'We know it won't be the cushions you'll be reaching for if your ship goes down.'"
* * * * *
July 14: Dolly announced Thursday plans for "bringing the world to the Smokies" in 2001 with a month-long international festival at Dollywood! The Festival of Nations will run April 7 through May 6 and feature more than 400 entertainers from across the world performing in the park. Also, the park's grand opening will move up two weeks earlier than its normal date, and dates of operation in April will expand from weekends only to five days a week! As part of the festivities, "Dolly's World Celebration" will include authentic entertainment, food and culture from 15 countries. In a press release, Dolly said: "I've been fortunate to be able to travel all over the world, and wherever I go I always take my Smoky Mountain heritage with me. Now I'm thrilled to be able to bring the world here to the Smoky Mountains." Dollywood's Grand Opening Weekend is scheduled for April 7-8, with Dolly's annual parade through Pigeon Forge to be held on Friday, April 6. The park will operate 9 a.m. to 6 p.m. Mondays, Wednesdays and Fridays and 9 a.m. to 8 p.m. Saturdays and Sundays in April. (Closed Tuesdays and Thursdays in April as well as Easter Sunday, and Tuesdays in May). Daily operation begins May 30 and will continue through mid-August. In addition to the new water park expected to open in May, Dollywood will also bring back its popular Harvest Celebration and Smoky Mountain Christmas festivals for the 2001 season.(There are also rumors a stand-up roller coaster will be coming next season as well!) The full press release is available here, and a Knoxville News Sentinel article on it appears here.
* Chris over at Chris' Dolly Pages (now known as Dolly Parton Central) found a neat site called CheckOut, which includes little streaming video trailers for several of Dolly's films. (Trailers for the videos which would be included on other video tapes, not actual theatrical trailers from the cinema.) But the interesting thing is the one for The Best Little Whorehouse in Texas features Dolly singing one of the "lost" songs recorded for the film but left on the cutting room floor: "The Chicken Ranch." To see and hear, click here!
* * * * *
July 13: The Tennessean on Wednesday reported that Dolly, Vince Gill and Amy Grant have lended their vocals to a "We Are The World"-type song called "Wave To The World" to raise funds for the international paraplegic games. No date has been announced for the song's release. For the article, click here.
* And after a few months' absence, The Grass is Blue reappeared Wednesday on CDNow's top country sales charts at No. 14!
* * * * *
July 12: The music site Sonicnet (you know, the people behind those musical "ME!" commercials on TV) posted a Chet Flippo article Tuesday with many new Dolly announcements. Among them: Dolly is planning to set up her first solo national tour in nearly two decades to be held likely next year as she has a newfound popularity from the successes of the critically-acclaimed The Grass is Blue and the Grammy-winning Trio II, she is currently recording an album she considers a "bridge" between her bluegrass CD and an all-folk record she is planning (the CD is tentatively titled either Little Sparrow or Mountain Angel, after two original songs she plans to include on it; other cuts will likely include "I Don't Believe You've Met My Baby," which she and Porter Wagoner had recorded about 30 years ago, and the classic "Seven Bridges Road"), and she announced she has agreed to return next year as host of the Academy of Country Music Awards after the huge ratings her hosting duty brought this year! For the full article, click here.
* The new issue of Oxford American is out with Dolly on the cover, and it also includes a column by author Hal Crowther about a lunch he and his wife recently had with Dolly. He concludes the column with: "One of my litmus tests for Southern authenticity would be the ability to appreciate the paradox of Dolly Parton: Beneath a blinding surface of deliberate, exaggerated, self-satirizing artifice lurks one of the most engagingly authentic individuals in the Nashville pantheon. Restoring her parents' old home place in the Smoky Mountains, Dolly designed the new toilets as a faux outhouse – an irony she understands on the same level Robert Penn Warren would have understood it. She just gets a much bigger kick out of doing it."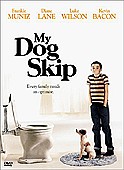 * And on a personal note, the film My Dog Skip was released on video and DVD Tuesday. If you haven't seen this remarkable film, get it today! This is a great family movie about an amazing dog and a great kid (played by Frankie Muniz of Malcolm in the Middle). It's a true story written by the author Willie Morris, whom I had the pleasure of befriending shortly before his death, and was filmed literally down the street from my house. This is one movie which everyone can love, but bring the tissues, because its emotion factor is Steel Magnolias times two! Buy it today here. (And while you're at it, order the DVD special edition of Steel Magnolias here for its July 25 release!)
* * * * *
July 10: Although it's still more than a month away, you can reserve your copy today of Big Mon: The Songs of Bill Monroe, which features Dolly's recording of Monroe's "Cry, Cry Darlin'." The CD, produced by Ricky Skaggs to be released on Skaggs Family Records Aug. 29, is available here!
* The Knoxville News-Sentinel had a neat little article Sunday about Russian exchange students working at Dollywood this summer. To read it, click here.
* The Tennessean had an interesting article Sunday on former Dolly duet partner Porter Wagoner's new album, including several mentions of Dolly. You can read it here.
* * * * *
July 8: Get your copy of the Australian import Legendary. This three-CD collection includes 50 great Dolly songs at the price of a regular one-CD collection, but its most amazing factor is it features the original version of "Two Doors Down," its first time to be released on CD! (The one which has always been included before is the 1978 version from the Here You Come Again re-pressings, not the 1977 version from the Here You Come Again original pressing. The original version has an extra verse and different accompaniment.) Order your copy of this CD here! And while you're there, order your new DVD Steel Magnolias here!
* * * * *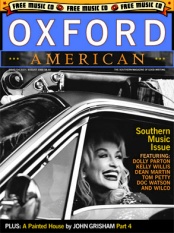 July 7: Dolly graces the cover of this month's Oxford American with its annual Southern Music Special issue. The magazine, a collection of Southern literature and photography started by author John Grisham and operated out of Oxford, Miss., includes a special CD sampler which features Dolly's "Silver Dagger" from The Grass is Blue Thanks to Steve at Sugar Hill Records for this note!
* And Dolly got a nod on Thursday's Jeopardy, I'm told. The answer was: "This is what Dolly Parton would call apple brandy." The correct question: "What is 'Applejack'?" Thanks, Brenda!
* * * * *
July 5: TV Guide knows good television, and they note the repeat of Dolly's Bravo Profiles as one of the top music television programs of the week in next week's issue. The special, which TV Guide called "colorful," repeated over the July 4th weekend and will be shown again on Sunday.
* And everyone log onto CMT to cast a vote for Dolly in the CMT Labor Day Top 100 Videos of All Time. Voting continues through July 20 here.
* * * * *
July 3: Dolly is featured this month in the Artist Profiled at the web site Country Music For The Fans. Last month, they gave this honor to newcomer Lee Ann Womack. You can check out what they say about Dolly here. Thanks, Justin!
* The Knoxville News-Sentinel gave a thumbs-up to Dolly in its weekly "Grins and Grimaces" editorial column, saying "Hooray!" in Saturday's edition for her new water park currently under construction in Pigeon Forge. (Dolly's contest to name the park and win lots of prizes continues. Make an entry here!)
* * * * *
July 1: I've just added a new page to the Dolly Glamour Girl Galleries titled "Dolly Shots." It's a collection of miniature versions of all of her original album covers plus the cover shots for a few compilation albums. View it here! (I would have put larger versions, but there are so many it would take up too much space. Even so, it's very graphics-heavy, so please be patient as it loads.)
* * * * *