---
www.dollymania.net News July 2017
---
July 19:
Kenny & Dolly Announce Final Concert Appearance Oct. 25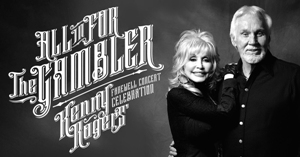 Kenny Rogers on Tuesday announced a star-studded concert Oct. 25 at Nashville's Bridgestone Arena would be his final public performance with longtime duet partner Dolly. "All In For The Gambler: Kenny Rogers' Farewell Concert Celebration" will be taped for television broadcast and CD release, although details of airings or release information have not been announced. Tickets are available at Ticketmaster.com (using presale code GAMBLER through 10 p.m. Central Thursday; public tickets go on sale 10 a.m. Central Friday). Other artists scheduled to perform cover songs of Rogers' biggest hits include Little Big Town, Alison Krauss, The Flaming Lips, Idina Menzel, Jamey Johnson, Elle King and more.
In a press release, Rogers explained: "As I'm bringing this chapter of my career to a close, this will be an unforgettable way to celebrate with my talented friends, who I'm so grateful to have crossed paths with. It means so much that they would feel compelled to do this for me. Of course, the night would not be the same without Dolly Parton being part of it. We've enjoyed a special friendship for decades, and I'll forever look back fondly on the many collaborations, performances, and laughs we've shared as some of the most extraordinary moments of my career. I know it will be a moving experience for us standing on that stage together for one last time."
In a statement, Dolly added: "Kenny is like a family member to me. We have been friends for over 30 years and made musical magic together. Since 1983, when we released 'Islands In The Stream,' everyone has had an expectation to see Kenny everywhere I go and me with him wherever he goes. Well, I guess for many of those fans that wanted to see us together, this will be that night. Performing with Kenny for the last time ever on October 25th is going to be emotional for both of us, but it's also going to be very special. Even though Kenny may be retiring, as he fades from the stage, our love for each other will never fade away."
Although the pair first performed together on Dolly's syndicated 1976-77 variety show, it wasn't until Barry Gibb brought Dolly in halfway through producing "Islands In The Stream" that they recorded together. The song was the year's biggest-selling single and topped the pop and country charts. Its success spawned a Christmas album and television special, an HBO concert special, an NBC concert special, a string of duets on each others' albums over the years and a handful of concert tours together. In addition, Dolly covered his composition "Sweet Music Man" and he covered her song "The Stranger." Their collaborations are: