Ft. Worth, July 26-31

In Memoriam: Bill Phillips
Bill Phillips, one of the people most directly responsible for launching Dolly's music career, passed away Monday at age 72, it was announced Tuesday. In June 1965, Monument Records was still unsuccessfully promoting Dolly as a bubblegum pop singer when Phillips recorded a couple of songs she had written with her uncle, Bill Owens. He liked the "girl singer" who had performed the demo recordings and asked that she join him on uncredited harmony. Their first collaboration, "Friends Tell Friends," was released later that year and failed to chart, but the follow-up duet, "Put It Off Until Tomorrow," resulted in the biggest hit of Phillips' career and the first of his four top 10 singles. It reached No. 6 on the country charts and snagged a 1966 BMI Country Award for being one of the genre's most-played singles of the year, Dolly's first industry award. Phillips followed it up a few months later with "The Company You Keep," his third recorded Dolly and Bill composition, although this time without Dolly vocals, and that became the second-biggest hit of his career, reaching No. 8. Put It Off Until Tomorrow in 1967 would be the title track to his sole top 20 country album, which reached No. 11, while both "The Company You Keep" and "Friends Tell Friends" would appear on his 1967 album Style, his only other chart album, reaching No. 43. He later released another Dolly and Bill-written single, "I Only Regret," which made it to No. 54 in 1969. But it was the phenomenal success of "Put It Off Until Tomorrow," and a national radio campaign of call-ins asking who was singing harmony on the track, that convinced Monument's head, Fred Foster, to allow Dolly to begin cutting country songs in late 1966. Services for Phillips are scheduled Friday at Hermitage Funeral Home and Memorial Gardens in Old Hickory, Tenn. Read more about him from The Tennessean here and CMT here.

Library Celebrates Nissan
Nissan North America was recognized Tuesday for cumulative gifts to Dolly's Imagination Library literacy program's Tennessee chapters in excess of $500,000 over the past five years. Read more from Rutherford County's Daily News Journal here.
---
Aug. 24:
Dolly 'Happy, Happy, Happy' About Film
Dolly will write original songs for her upcoming film with Queen Latifah, Joyful Noise, she noted in a statement released Monday, which could open up the possibility of a third Oscar nomination for Best Song, so let's hope the third time is a charm!
"I'm writing a few songs for the movie, and I'm real happy about that," she said in her statement. "I'm really happy to be doing a movie with Queen Latifah. I really like her and have often thought we would be fun together. Even though we play rivals in the movie, I'm sure we'll have our fun behind the scenes. I'm so happy to be doing a movie about music--especially happy because it's Gospel music which I grew up singing and loving.  I think we need something uplifting in this day in time! So yep, happy, happy, happy--that's me."
Continuing coverage of the film popped up all over again on Monday, with some items of note appearing in Billboard here, CNN here, AOL's "The Boot" country music blog here, USA Today here and CMT here, which erroneously reported that no production or release dates have been revelaed – it has previously been announced that filming on the gospel choir musical will begin in January with an anticipated 2012 release.
NBC Moves Story Again
Although it had been scheduled to run on Monday night's NBC Nightly News, the story on the 25 millionth book in Dolly's Imagination Library once again got bumped from the program. No word on when it may be rescheduled.
---
Aug. 23:
Couple New Film Details Found
Friday's word that Dolly and Queen Latifah would start production in January for the gospel choir film Joyful Noise caught the attention of many media outlets over the weekend, with just a couple of new details emerging. Knoxville News Sentinel columnist Terry Morrow scooped here that the filming will take place in Atlanta. And Ace Showbiz reported here that the picture is tentatively scheduled for a 2012 release. Just a sampling of others who summarized the earlier stories from Variety and The Hollywood Reporter included Pop Eater here, MTV News here, Perez Hilton here and TheatreMania here.
British, Aussie Chart Updates
After being gone from the charts for a couple of months, Sony U.K.'s three-CD "Original Album Classics" reissue of Dolly's Eagle When She Flies, Slow Dancing With The Moon and White Limozeen re-enters the British top 20 country albums chart this week at No. 13, marking a new peak in its fourth chart week. On the opposite side of the globe, The Very Best Of Dolly Parton, Vol. 1, the label's 2007 overseas compilation disc, holds steady at No. 12 on the Australian top 20 country list in its 69th week Down Under, it was announced Sunday.
TV Reminder
Don't forget to tune into Monday night's NBC Nightly News broadcast to hopefully see a story on the 25 millionth book from Dolly's Imagination Library air. It was bumped from a Today show segment in July with no reason given and then again last week from an NBC Nightly News segment due to breaking news.
Help The Smokies
Wanna help Dolly's beloved Great Smoky Mountains? Coca Cola is taking votes through month's end of which national park should receive a $100,000 contribution from the company. Cast your ballot here. Thanks, David!
---
Aug. 21:
Dolly, Latifah To Star In New Picture
Dolly had treased a few weeks ago that she might be back on the big screen sometime soon, and the announcement came late Friday from Warner Brothers that she will star opposite Queen Latifah in an Odd Couple-style picture where they have to save a small town gospel choir when budget cuts threaten to shut it down. Joyful Noise, which will begin filming in January, is written and directed by Bandslam and Camp writer/director Todd Graff through Warner Brothers' Alcon Entertainment imprint. When Dolly's husband, the Pacashau Gospel Choir director, dies unexpectedly, she assumes she will take his place, but the choir instead brings in Latifah, a "no-nonsense mother" with two teens and a husband deployed in the military, to ready them for a national competition, forcing the two "strong-minded women" to work together to accomplish their goals. Dolly's most recent theatrical film role was in the 2002 comedy Frank McKlusky, C.I., but it tested so poorly with audiences in an early release throughout Florida that the studio chose to send it straight-to-DVD instead of releasing it nationwide. She had a cameo in 2005's Miss Congeniality 2: Armed & Fabulous and 1993's The Beverly Hillbillies. Although she continued to make made-for-TV films through 1999, her most recent major role in a national theatrical release was 1992's Straight Talk. As an actress, she has earned two Best Actress nominations from the Golden Globes (9 To 5 and The Best Little Whorehouse In Texas, also earning a Best New Film Star nomination for the former), and as a songwriter she has two additional Golden Globe nominations and two Oscar nominations ("9 To 5" and "Travelin' Thru" from 2006's TransAmerica). Latifah was a 2003 Best Supporting Actress Oscar and Golden Globe nominee for Chicago, winning a Golden Globe for Best Actress in a Mini-Series or Motion Picture Made for Television for 2007's Life Support on HBO. Read more from Variety here and The Hollywood Reporter here.
---
Aug. 20:
Jones Duets Disc To Have Dolly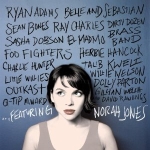 Grammy darling Norah Jones will collect 18 of her collaborations with other artists, including Dolly, for . . . Featuring, a compilation coming out on Blue Note Records Nov. 2, it was announced Thursday. "Creepin' In," a country-flavored track with guest vocals from Dolly that appeared on Jones' 2004 album Feels Like Home and again with her on the singer's concert DVD Norah Jones and The Handsome Band: Live in 2004, will be one of the recordings on the upcoming CD. Other songs will include her duets with Willie Nelson, Ray Chares, Herbie Hancock and more. Check out a story from Billboard here and reserve the CD here or get it on vinyl here!
NBC News To Plug Library
A story on Dolly presenting the 25 millionth book in her Imagination Library literacy program this past June was scheduled Thursday for NBC Nightly News but was bumped from the program. Presumably, this story was salvaged from the footage shot when Jenna Bush visited the park that month to work on a piece for the network's Today show that ended up being scrapped. Word is the segment has been tentatively rescheduled for Monday night's news program, so tune in then.
Chart Updates
The self-titled debut from Billy Ray Cyrus' new rock band, Brother Clyde, didn't sell enough copies in its first week to land on any of the regular Billboard charts, but it did come in at No. 40 on the Heatseeker's Chart of albums that just missed the top 200 this week. The album contains a duet with Dolly. In other chart news, Steve Martin's The Crow - New Songs for the 5-String Banjo, with its own Dolly duet, loses one to No. 6 bluegrass albums in its 77th chart week, the Aug. 28 tallies showed. On the overall charts, the Blake Shelton EP All About Tonight debuts at No. 1 country, No. 6 pop, pushing Lady Antebellum's Need You Now out of the top spot for just the second of its 29 chart weeks, dipping one to No. 2 country and four to No. 12 pop.
---
Aug. 19:
Tabby & Sabrina Pay $90K At Auction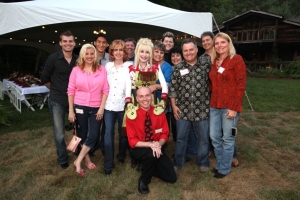 I guess the second time's a charm. Uber Dolly fans Sabrina Taylor and Tabitha Hall were once again the winning bidders for Dolly's Tennessee Mountain Home get-a-way package at this weekend's Evening of Elegance fund-raiser for the Dr. Robert F. Thomas Foundation charity auction, it was announced Wednesday. The Gatlinburg pair topped their winning bid of $75,000 last year by putting up $90,000 this year. "My first response was 'Are you kidding me?,'" Dolly said in a press release. "When the shock wore off, I was absolutely thrilled to know that some really special folks are coming to see me again at my Tennessee Mountain Home. And, together, we are able to support the Dr. Robert F. Thomas Foundation and all the good work they do. Now for $90,000, I better dust off the good china!" As they did last year, the two will get to enjoy an evening in Dolly's guest cottage at her mountain retreat and wake in the morning to have breakfast cooked by, served by and eaten with Dolly herself. The night kicks off with a private tour of the home and barbeque dinner hosted by Dolly for the ladies and 10 of their friends. "Tabitha, Sabrina and their friends are such generous supporters of the Dr. Robert F. Thomas Foundation," said Debbie Dowling, the foundation's executive director. "We are so very grateful that Dolly offers the foundation this exclusive auction item, and to know that these folks get to spend such a special and intimate evening with an entertainment legend at her home is just beyond all of wildest dreams! We are thankful beyond measure to each and every one of them." The Foundation, for which Dolly serves as honorary chairperson, is named after the missionary doctor who delivered Dolly and several of her siblings. It supports health care in Sevier County, Tenn. Photo of last year's auction winners and their guests is by Curtis Hilbun and provided by the Dr. Robert F. Thomas Foundation.
CMT Promotes Dolly 'Minute'
Thanks to Steve for alerting me that Dolly's recent "CMT Minute" clip, which has been available online for a few months, is being heavily promoted this week on the channel's mobile phone application. Watch it here!
Imagination Library News
Check out stories on Dolly's Imagination Library literacy program in Rotherham, England, from The Star here and SouthShore, Fla., from The Tampa Bay Tribune here.
Kids' Auditions Announced
Dollywood has announced its children's entertainment auditions will take place 9 a.m. until 11 a.m. Sept. 11 in the Connor-Short Center at Walters State Community College's Sevierville, Tenn., campus. Performers are being sought for the Smoky Mountain Christmas festival as well as the 2011 season. Boys and girls who can sing, act and move well but who also appear to be between eight and 12 years of age are sought. For specific requirements, visit the park's website here.
---
Aug. 16:
Slipping A Little Down Under
The Very Best Of Dolly Parton, Vol. 1, her 2007 overseas compilation disc, slips five places this week to No. 12 on the Australian top 20 country tally in its 68th week Down Under, it was announced Sunday.
Classic Albums Reissue Reminder
Don't forget that Tuesday brings the first-ever CD pressing for two revered classic Dolly albums. Australian label Omni Recording Corporation releases a double-CD containing Fairest Of Them All and Sings My Favorite Songwriter: Porter Wagoner with the bonus tracks "Everything's Beautiful (In Its Own Way)" and "Just As Good As Gone." Get yours here! In addition, as was previously reported, the label on the same day releases the double Porter Wagoner CD What Ain't To Be, Just Might Happen and Sings His Own, featuring two Dolly-written songs on the first album plus six bonus tracks, three of which also written by Dolly.
---
Aug. 14:
Dollywood Trip Gets Kids In Trouble
A story of some traveling youngsters snagged a lot of coverage in the media Friday. Turns out a 15-year-old from Florida took money she earned babysitting and treated herself, a 13-year-old friend and her 11-year-old brother to a plane ride to Nashville. Their intended destination: Dollywood, which they didn't realize is on the east end of the state, not the center of the state as Music City is. Scared, they called their parents, who had no idea they had flown the coop, to come collect them. Read more from USA Today here. In related news, CMT noted the park's anniversary season with a piece here Friday on the channel's website front page.
U.K. Library Passes 200,000 Units Mailed
The British chapter of Dolly's Imagination Library literacy program has passed the milestone of having sent 200,000 books to children in England, Wales and Scotland, according to a press release available here. Launched in the U.K. in December 2007, it took the program there 21 months to distribute its first 100,000th title in September of last year and just 11 months for the second 100,000. In related news, The Ashe Mountain Times in Boone, N.C., profiled a class of the program's graduates there in the paper here Friday.
'9 To 5' Site Adds Tour Dates
After several months of Dollymania being the only resource to list all of the announced cities on the national tour of Dolly's 9 To 5: The Musical, the show's official website has finally posted the tour dates. All of them have previously been reported here. In related news, The Tennessean on Friday noted two of the lead cast members have ties to Music City here.
Glastonbury Rumors Start
Each year, the media fuels rumors that British mega-festival Glastonbury will feature Dolly headlining that year, and organizers have said getting her there eventually is one of their top goals. So it comes as no surprise that the rumor mill has ramped up again for the 2011 event. Check out a note about it here.
'Glee' Star Loves Dolly
What does Glee star Jayma Mays ("Emma Pillsbury") need if stranded on a deserted island? Her husband, her cats, a Sister Wendy art book and a Dolly CD. Check out video of her answer via Zap2It here.
---
Aug. 13:
Canadian Contest To Meet Dolly Launched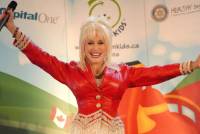 Attention Canadian residents: Want to meet Dolly? You may get your chance if you support the Canadian version of her Imagination Library literacy project! Now through Sept. 14, her Canadian charitable partners, Invest In Kids, are accepting entries in a very special "Say Hello Dolly" contest. Each donor to the program who gives $1,000 Canadian or more is automatically entered in the random drawing, which will take place Sept. 21 and have two lucky grand prize winners. Each winner and his or her guest will fly free from Canada to Tennessee for one of Dolly's appearances at Dollywood sometime between March 1 and June 30 of next year. There, they are expected to have an opportunity to meet Dolly in person while enjoying three nights' of free accommodations in a Dollywood Vacations luxury cabin, free ground transportation, free meals and autographed memorabilia. Only legal Canadian adults may enter. Image of Dolly from the Canadian launch of her Imagination Library expansion in November 2006 is courtesy Guntar Kravis and is used with permission.
Ed. Note: This contest has been withdrawn.
Tickets For Gospel Awards On Sale
 If you want to see Dolly accept her James D. Vaughan Impact Award from the Southern Gospel Music Association (SGMA) in person on Sept. 29, tickets for the awards show are for sale to the general public. Admission to the SGMA Hall of Fame Induction Ceremony/Singing News Fan Awards in DP's Celebrity Theatre at Dollywood is $70 per person, including reserved seating, parking, lunch and entrance to the park. Tickets, which must be ordered in advance, are available via phone from the SGMA office at 865-908-4040.
Food Network Taping Goes Well
Gary and Larry Lane tell me they had a blast taping a Dolly-themed Celebrity Chefs of Beverly Hills Tuesday for The Food Network. They have been told the show, which featured recipes from the fund-raising cookbook Dolly's Dixie Fixin's, is slated to air Nov. 8. "It was a great night," the Twins said, "and, man, the Dolly food was good!!!!!!" In addition to previously-announced guests for the taping (actor Chad Allen along with Sordid Lives creator Del Shores and show cast members Ann Walker and Beth Grant), Oscar winner Dan Jinks from American Beauty also participated. Check out some pictures from the evening here. Thanks, guys!
'9 To 5' Tickets On Sale
It was announced last year that the world premiere of the touring version of Dolly's 9 To 5: The Musical opens in Nashville Sept. 21-26, and while tickets have been on sale as part of the season subscriber package at the Tennessee Performing Arts Center for several months, individual seats go on sale to the general public starting 10 a.m. Friday here.
Chart Updates
Steve Martin's The Crow - New Songs for the 5-String Banjo, featuring a Dolly duet, inches up one to No. 5 bluegrass albums in its 76th chart week, the Aug. 21 Billboard charts noted Thursday. On the overall charts, Lady Antebellum's Need You Now holds steady at No. 1 country and falls two to No. 9 pop in its 28th week, while The Zac Brown Band's The Foundation holds on at No. 2 country and dips four to No. 15 pop in its 90th week.
Filmmaker: Dolly's Music Was Too Expensive
The filmmakers behind the gay adoption movie Patrik, Age 1.5 wanted to use all Dolly recordings in the picture, but they tell The San Francisco Bay Times that her music was too expensive, so they had to settle for Tanya Tucker instead, although they did throw in a cover version of "Here You Come Again." They noted here that since she didn't write it, it was cheaper for them to get the rights to it.
---
Aug. 11:
Dolly To Get Gospel Honor
When Dolly returns to Dollywood next month, she'll be collecting a new piece for her museum. It was announced this week that she will receive this year's James D. Vaughan Impact Award from the Southern Gospel Music Association (SGMA) when its Hall of Fame induction is held at the park Sept. 29 in conjunction with the Singing News Fan Awards. SGMA's Hall of Fame is housed at the park. The organization's executive director, Charlie Waller, noted: "Dolly Parton is the most honored female country performer of all time. Her efforts on behalf of our music at Dollywood have been instrumental in the establishment of our museum and hall of fame as well as providing a home for many of our artists to share their talents on the stages at Dollywood in front of millions of people." Read more from Country Standard Time here.
Dolly Tribute Show Coming To L.A.
Los Angeles-area fans should be in for a treat with a show of multiple performers paying tribute to Dolly at Theatricum on Sept. 4. Check out a note about the show from NBC Los Angeles here and from the theatre here.
Cast Your Ballot For Dolly At 'CW'
Vote for Dolly in Steel Magnolias as your favorite country star movie role in a new Country Weekly online poll here. Thanks, Maggie!
---
Aug. 9:
Gaining Ground Down Under
The Very Best Of Dolly Parton, Vol. 1, her 2007 overseas compilation disc, gains one spot this week to No. 7 on the Australian top 20 country tally in its 67th week Down Under, it was announced Sunday.
Pre-Order Vincent, Remember Clyde Release
Amazon.com over the weekend added a pre-order page for Rhonda Vincent's upcoming self-released CD, Taken, which it was previously repoted here will hit stores Sept. 21 and feature a Dolly guest vocal appearance on the track "In The Garden By The Fountain." Reserve your copy here! Also, don't forget that , the self-titled debut album from Billy Ray Cyrus' new band, Brother Clyde, comes out Tuesday, featuring a duet where Dolly "rocks out" on the song "Right Time." Get that release here!
'Hollywood' Poster Revealed
Thanks to the Lane Twins, Gary and Larry, for sending me an early copy of the poster for their documentary, From Hollywood To Dollywood, which details their RV travel across the country to meet Dolly. Artist Paul Richmond adapted his "Dollypop Guild" painting for the poster, adding three munchkins of actors Chad Allen, Beth Grant and Leslie Jordan, each of whom appears in the "Hollywood" portion of the film. Check it out here! In related news, Knoxville News Sentinel writer Terry Morrow noted in the paper here Friday about the guys' Food Network filming of a cooking show. As was reported here, the episode will feature recipes from Dolly's cookbook.
---
Aug. 6:
U.S. Chart Update
Steve Martin's The Crow - New Songs for the 5-String Banjo, with its Dolly appearance, rises three to No. 6 bluegrass albums in its 75th chart week, the Aug. 14 Billboard charts confirmed Thursday. On the overall charts, Lady Antebellum's Need You Now holds steady at No. 1 country and gains two to No. 7 pop in its 27th week, while The Zac Brown Band's The Foundation holds on at No. 2 country and climbs three to No. 11 pop in its 89th week.
More On Kylie
You've already heard about her Dolly test for songs on her new CD and that she dressed up in Dolly drag for recording sessions, now Kylie Minogue tells Logo's New Now Next music series that she's "obsessed" with Dolly. Watch the footage on YouTube here. Thanks, Jason! Also, check out her Dolly-styled version of the album's first single, sung in Melbourne with the Scissor Sisters, also on YouTube here. Thanks, Lance!
---
Aug. 4:
New Ride Video Posted
Dollywood on Tuesday posted a teaser video promoting next year's new ride addition, Barnstormer, which is viewable here. Also, check out a brief story on the ride from Knoxville TV station WATE here. And thanks to several readers who pointed out the ride will be a replica of the Giant Barn Swing that is located at its sister park, Silver Dollar City in Branson, Mo.
'Letterman' Appearance Coming Again
CBS has announced that Dolly's appearance from June on The Late Show With David Letterman will repeat when the program goes on re-runs next week. The episode will air next Friday, Aug. 13.
---
Aug. 3:
'Ask Dolly' Second Segment Posted



The second installment of the "Ask Dolly" segments of her video diary hit YouTube on Monday. Check out the fan-submitted questions and Dolly's answers by watching it in the media player above or by clicking here.

Dolly Scholar Recognized
The Seymour Herald on Monday recognized Haley Mynatt, this year's Seymour High School recipient of the Dolly Parton Scholarship. Check out her photo with Dolly here.

Barnstormer Press Release Out
Dollywood on Monday officially announced its Barnstormer attraction for 2011 which was previously revealed by The Mountain Press in a story linked here Sunday night. Check out the full press release here.
---
Aug. 2:
Paper Releases Ride Details
I heard through the grapevine this announcement was supposed to come Monday, but The Mountain Press got word out on Sunday: Dollywood's Dreamland Forest will be gone next year, replaced with a new barnyard-themed area featuring several children's attractions plus a giant swing ride meant to replicate the stunt pilots who flew crop dusters in the 1920s. According to the newspaper here, the $5.5 million Barnstormer ride will feature two pendulum arms with seating for 32 riders seated back-to-back. Each swing will bring them higher and faster until they reach a peak speed of 45 miles per hour 81 feet in the air. The artist's rendering of the ride shows it will apparently be themed to look like it has exploded out of the barn, suggesting a crop duster, or "barnstormer," struck the barn and is flying away with the riders. Thanks, Chris!
Slipping A Tad Down Under
The Very Best Of Dolly Parton, Vol. 1, Sony's foreign greatest hits collection from three years ago, slides two places this week to No. 8 on the Australian top 20 country tally in its 66th week Down Under, it was revealed Sunday.
'9 To 5' Heading To Spokane
Thanks to Aimee for finding yet another stop on the first national tour of Dolly's 9 To 5: The Musical: March 24-27 in Spokane, Wash., at its INB Performing Arts Center.
Kristen Still Loves Dolly
She's still lobbying for the role in Dolly's life story: Tony and Emmy winner Kristen Chenoweth told Autostraddle last week that her dream role is to play Dolly. Read the full interview here.
---