---
www.dollymania.net News September 2000
---

Sept. 28: Dolly's The Grass is Blue is up for Best Bluegrass/Old Time Music Album at the Nashville Music Awards, according to a story in The Tennessean on Wednesday. It faces Larry Cordle and Lonesome Standard Time's Murder on Music Row (Shell Point); Steve Earle and the Del McCoury Band's The Mountain (E Squared); John Hartford and the Hartford Stringband's Good Old Boys (Rounder Select) and Ricky Skaggs' Ancient Tones (Skaggs Family). The CD, which earned Dolly the British County Music Association's Top International Independent Label Artist, beat The Mountain earlier this year for Best Bluegrass Album at the Association for Independent Music Awards and is up against Murder on Music Row and three other CDs for Album of The Year at the Oct. 19 International Bluegrass Music Association Awards, where Dolly is also up for Female Vocalist of The Year. Although lack of volunteers has forced the Nashville Music Awards to abandon plans to present an actual awards show, winners should be announced in November, according to the article. Dolly is also up for another honor in one way, as Vestal Goodman's Vestal & Friends, which features Dolly dueting on "Satisfied," is up for Best Traditional Gospel Album. Thanks, Justin! (And Dolly's nomination also gets a mention in Country Weekly this week. Thanks, Sheena!)
* According to Audiences Unlimited, a site where one can get tickets to television show tapings, Dolly's filming of a guest role for Bette Midler's new CBS sitcom is scheduled for Friday, Sept. 29, at The Culver Studios in Culver City, Calif. Although the site says there are no tickets available, anyone able to get there on that evening may have a chance to get on the waiting list in the case of no-shows and cancellations. Thanks, Manuel!
* * * * *
Sept. 27: Although it's been reported here several times, TNT finally made the formal announcement of Dolly's upcoming filming of a remake of Solid Gold Cadillac, a 1956 film starring Judy Holliday as an idealistic woman who holds a small amount of stock in a company whose board of directors she discovers is corrupt, leading her on a crusade against them. An article appeared in Monday's Hollywood Reporter about the film, which Dolly will also executive produce. On Tuesday, it was picked up by several other media outlets. You may read a version from JAM here.
* AMC's look at the history of 20th Century Fox which aired Tuesday night gave Dolly her due. During a montage of clips shown both at the beginning and end with orchestral arrangements of hit songs from FOX films, "9 to 5" was played, and the film garnered one of the longer segments showing how it told the story of working women and how Dolly's theme song became a hit and an anthem.
* And according to Entertainment Tonight, Dolly's appearance on Bette Midler's new CBS series will be the Halloween episode. Given that the show is scheduled for 8 p.m. Eastern on Wednesdays, that would likely be the Oct. 25 airing. Thanks, Bob!
* And Dolly's guest shot as herself on The Divine Miss M's show gets her a brief mention in next week's TV Guide, which highlights all of the season's new shows. A picture of her from the Treasures photo shoot also appears to note her co-hosting of November's CBS special honoring the Grand Ole Opry's 75th birthday.
* * * * *
Sept. 25: Get the bags packed and get ready, Dollywood's annual Harvest Celebration starts Friday. The annual fest, which runs through Oct. 29, is chock full of arts and crafts and celebration. It is part of Pigeon Forge's overall Harvest Fest, which is ranked a Top 20 event in the Southeast by the national tourism association. So celebrate autumn with Dollywood!
* And remember, it's only two weeks until Sonya Isaacs' debut album with Dolly harmony on "Healing Hands." Advance order your copy here.
* * * * *
Sept. 22: According to a report in Reuters on Thursday, Regis Philbin's first week of the new season – with Dolly co-hosting three of the five days that week – brought some of his highest ratings ever. The week averaged a 3.9 rating, which was 22 percent higher than the previous week and 30 percent higher than the same period in 1999 when Kathie Lee Gifford was his co-host. The ratings placed him No. 2 for the week in talk shows, behind only Miss Oprah.
* Nashville Update earlier this week noted some stars' favorite CMA memories as the Oct. 4 show approaches, and Faith Hill said: "I'll tell you, one of my favorite CMA moments is when Dolly Parton, Tammy Wynette and Loretta Lynn came out and sang together.It was just ... I mean it's like, wow! These women are so amazing and have contributed so much to this industry and to see them all together on the same stage at one time was almost more than I can handle. It was great." Thanks, Justin!
* * * * *
Sept. 18: According to the Modesto Bee on Friday, Dolly is among a slew of country legends participating in a tribute album to late gospel songwriter Albert Brumley. The CD, which is being produced by his son Al Jr., also features Johnny Cash, Merle Haggard and George Jones, among others, the newspaper reported. Brumley was the composer of such standards as "I'll Fly Away" and "Turn Your Radio On."
* According to Country.com's Music News section on Saturday, Dolly is participating in Ralph Stanley's upcoming CD, Clinch Mountain Sweethearts, which will be released in mid-2001 on Rebel Records. According to the site, Dolly will sing "Loving You Too Well." Other vocalists for the album include Lucinda Williams and Chely Wright.
* The Tennessean on Sunday reported that Dolly is one of the stars in an upcoming IMAX film on the history of country music. In one portion, Dolly is one of several stars who take turns singing verses of "Turn, Turn, Turn" to show the different styles of country. Marty Stuart, who sings with Dolly in her section of the film, also interviewed her for a companion videotape to the film, according to the article. For the full story and a photo, click here. Thanks, Justin!
* USA Today on Friday released its list of the 10 best vacation spots in the U.S. to visit with man's best friend, and Dollywood made the list. The article noted that while most parks – including those owned by Disney, Six Flags, Busch Gardens and Universal Studios – do not allow dogs on the premises (except for aid dogs for the disabled), Dollywood allows four-legged friends to travel through the park (on a leash) with their owners, enter the theaters to enjoy musical shows and even ride the train around the park. They are not, however, allowed on most rides or in restaurants, it noted.
* My friend Sean informed me he recently again wrote Buddha Records to implore them to release more Dolly material and received this response: "Buddha Records is not planning on reissuing any more Dolly Parton titles within the next year. After that, anything is possible!" Buddha, a BMG company, is re-releasing many titles from the vast RCA/Victor catalog, which includes Dolly's 1967-1985 albums. So far, the titles they've re-issued are Jolene, Heartbreaker, Coat of Many Colors and 9 to 5 and Odd Jobs, all last year. Let Buddha know you want more Dolly! E-mail them here. Thanks, Sean!
* And this note from Steven, the recently issued Greatest Hits CD on Laserlight, he reports, is simply just a repackaging of Just The Way I Am and The Winning Hand. I've had about two dozen e-mails asking if I knew anything about the CD, which I didn't until now. Thanks, Steven!
* Finally, I'm told that Dolly appears several times in this week's Country Weekly: the star Q&A section, several mentions and pics in a review of the past three decades at the CMA Awards and a mention in the tour section of her October Stars Over Mississippi performance! Thanks, Trishia
* * * * *
Sept. 14: Dolly finally got her due on VH1's The List Wednesday! In recognition of VH1's scheduled airing of the country-themed independent film Dill Scallion Thursday, they had the cast of the film on the show Wednesday with the category of Best Country Crossover Artist (Kathy Griffin hosted). The 11 nominated by the cast were: Dixie Chicks, Dolly, Faith, Johnny Cash, Willie Nelson, Garth Brooks, Lynard Skynard, LeAnn Rimes, Hank Williams Jr., Patsy Cline and Shania Twain. Jordan Brady's No.1 pick was Dolly, and they played a clip of "The Salt in My Tears." The studio audience chose the Top 3, which were: 3. Willie Nelson, 2. Faith Hill, 1......DOLLY PARTON!!!! The episode repeats at 7:30 p.m. Thursday. (And although the audience made her No. 1, the online poll at VH1.com doesn't even have her in the Top 3.) Thanks, Justin!
* According to Billboard, Loretta Lynn's debut of "Country In My Genes" at No. 72 on the country singles chart this week marks her first solo trip to the charts in a dozen years. Her last visit there as a group was with Dolly and Tammy as the Honky Tonk Angels, when "Silver Threads and Golden Needles" made it to No. 68 in 1993.
* Also debuting in Billboard this week is Big Mon: The Songs of Bill Monroe, which comes in at No. 52 on the country albums chart The magazine notes that its first-week sales of nearly 3,000 units would be disastrous for a major label, but for Ricky Skaggs' Skaggs Family Records, costs are so small that selling at that level for a few months will turn a sizeable profit. Dolly sings "Cry, Cry Darlin'" on the album.
* * * * *
Sept. 11: A friend passed along a press release over the weekend that Dolly has been named as one of the acts to perform at Doc Watson's 14th annual MerleFest, which is held each April in Wilkesboro, N.C. According to the release, Dolly, Earl Scruggs, David Grisman, Mary Chapin Carpenter, Sam Bush, Ricky Scaggs, Rhonda Vincent, Nickel Creek and Bela Fleck were among the artists announced on Friday. The concert series is named after Watson's late son, Merle, with whom he recorded 20 albums and won two Grammy Awards in the 1970s. The festival runs April 26-29, with Dolly scheduled for Saturday, April 28. Tickets for the festival, which benefits local Wilkes Community College, will go on sale Nov. 14 and will be available at www.merlefest.org. Thanks, Justin!
* Advance order Sonya Isaacs' self-titled debut, which will be released Oct. 10 and feature Dolly singing harmony on the song "Healing Hands." To reserve your copy, click here. (The CD was originally to have been issued in May, but the date got pushed back.)
* Have a question for Dolly's plastic surgeon? Dr. John Grossman, who has worked on celebrities including Dolly and Cher, will participate in an online chat Tuesday at WebMD.com. I'm told it is scheduled to start around 5 p.m. Eastern.
* On Saturday, Dollymania passed 70,000 visitors since its inception in October 1998. Thanks to all who've stopped by and to all who return! (And contrary to how some other sites count visitors, each person is counted only once. I've seen other pages which appear to have very high numbers count each visit to each page as a different person. That is, one person visits the main page, the news page, the gallery and the links page and is added to the counter as four visits. Here, only visits to the main page -- www.dollymania.net -- are counted.)
* * * * *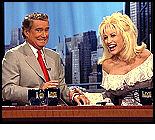 Sept. 8: Dolly was her usual effervescent, and slightly risque, self during her three-day stint co-hosting Live! With Regis. Although she didn't perform, she joked all up and down the set. On the first day, Regis asked her if she would consider taking the permanent co-host position, and she said no, but he told her she was everyone's favorite co-host on the show. Later, however, as she would trade barbs with the Rege, he kept noting that she definitely wasn't trying out for the permanent job! On Tuesday, she joked that she and Regis should mudwrestle. On Wednesday, it was that Regis could take her measurements (but she quickly changed her tune and nearly jumped off her seat when he got out a tape measure; she shot back that if he measured her, she would get to measure "him." Regis threw that tape measure away.) Always known for her unique style, she made several jokes at her own expense when discussing the Glamour magazine's fashion dos and don'ts which were featured on the show. On Wednesday, she even remarked that when she leaves the house in the morning she asks herself, "Would I stand out in a gay pride parade?" On her final day Thursday, she even walked out herself on the runway to show off as an example of a fashion don't.
* Also on Dolly's final day, she plugged Dollywood's upcoming water park, her Christmas concerts at Dollywood and her Oct. 7 concert for Stars Over Mississippi. The good people with Stars Over Mississippi tell me tickets for the Oct. 6 gala dinner with the stars have all sold out and that reserved seating tickets for the concert (which will be hosted by Brooke Shields and Kathie Lee Gifford and feature about a dozen acts, but Dolly will headline and perform for about an hour and a half) are almost gone. If you haven't gotten your $25 reserved seats, call 1-877-677-8279 immediately. For more information, please click on the banner at the top of this page.
* On Regis Thursday, Dolly also announced she will be co-hosting next month's Grand Old Opry 75th birthday bash with Vince Gill and that the television special to be taped during the three-day festival will air on Thanksgiving Day!
* And while still on Regis, the New York Daily News on Wednesday had a great article touting Dolly's success at co-hosting and some audience members' wish that she stay on permanently. Read it here.
* Dolly also noted on Thursday's show that People magazine has just released its annual Best Dressed and Worst Dressed List, complete with their all-time choices, and Dolly proudly ranked in the Worst Dressed of All Time category.
* Dolly was featured heavily throughout TNN's special honoring Chet Atkins which aired Tuesday. In addition to interview clips about guitar legend and former RCA Records president Chet, they aired a clip of her performing on The Porter Wagoner Show in 1967 (even if the song she sang was released on another label before Chet reluctantly signed her to RCA) and played audio of her duet of "Do I Ever Cross Your Mind" with Chet in the background as she and several other stars shared their memories of working with him. The show repeats Sept.16.
* The Knoxville News-Sentinel published a great story Tuesday about the calendar Dolly participated in to raise money for Down's Syndrome, including a real cute story about Dolly's photo shoot with the kids for the calendar. Read it here.
* * * * *
Sept. 4: Remember Dolly is co-hosting Live! With Regis Tuesday through Thursday! Be sure and watch!
* Also, remember she will appear on the TNN tribute to Chet Atkins Tuesday night. In TV Guide this week, she noted that he "helped out a lot of younger artists and spread a lot of gold dust around the world."
* And if you missed NBC's re-airing a few months back of Dolly's late-'80s episode hosting and serving as musical guest for Saturday Night Live, the shorter version of the show is scheduled to air on Comedy Central on Sept. 25. On that network, they edit the shows down from their original 90 minutes to a one-hour version.
* * * * *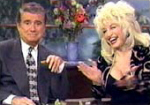 Sept. 1: According to Click TV, Dolly is scheduled to return to Live! With Regis to serve as guest co-host next week for three episodes: Tuesday, Wednesday and Thursday! Although she has said she doesn't want the job full-time, she has been touted by fans as one of their favorite choices to replace Kathie Lee Gifford, who exited the show earlier this year.
* Dolly is still on the Bluegrass Unlimited album charts, falling one spot to No. 5 for September with the critically-acclaimed and multiple-award-winning The Grass is Blue. Rhonda Vincent's Back Home Again, which includes a bluegrass cover of Dolly's "Jolene," is No. 1.
* And speaking of bluegrass, Big Mon: The Songs of Bill Monroe, released Tuesday, is already a hit, staying in the Top 10 on Amazon.com since its release. On the multi-star CD, Dolly performs "Cry, Cry, Darling" with LeeAnn Womack singing harmony.
* * * * *