---
www.dollymania.net News October 2022
---
Oct. 31:
'Faith' Goes Digital Gold
Dolly last week earned her 45th gold or platinum award from the RIAA as her single "Faith" with electronic duo Galantis featuring Mr. Probz was certified as a digital gold single for sales of 500,000 or more paid downloads or streams of 75 million (or some combination of the two exceeding that minimum). The song was effective Wednesday and announced by the RIAA over the weekend. It came less than a week after "Hard Candy Christmas" received the same honor with its gold digital single award.
Dolly Honors Loretta One Last Time
Dolly appeared Sunday night at the Grand Ole Opry House to say goodbye to her close longtime friend Loretta Lynn in CMT's live broadcast of the memorial service Coal Miner's Daughter: A Celebration of the Life & Music of Loretta Lynn. She addressed their friendship and love for each other in a videotaped message to the crowd gathered to say goodbye to the Queen of Country Music. Little Big Town performed the Dolly-composed "Let Her Fly" from their trio project with Tammy Wynette, Honky Tonk Angels. The special is slated to repeat on CMT commercial-free at 8 p.m. Eastern Wednesday and 11 a.m. Eastern next Sunday.
Cleveland Loves Dolly And Rock HOF
Cleveland.com recently defended the Rock & Roll Hall Of Fame's decision to induct Dolly in this year's class with an article celebrating her "unparalleled resume" for induction. Read it here.
---
Oct. 29:
Christmas Movie Images Released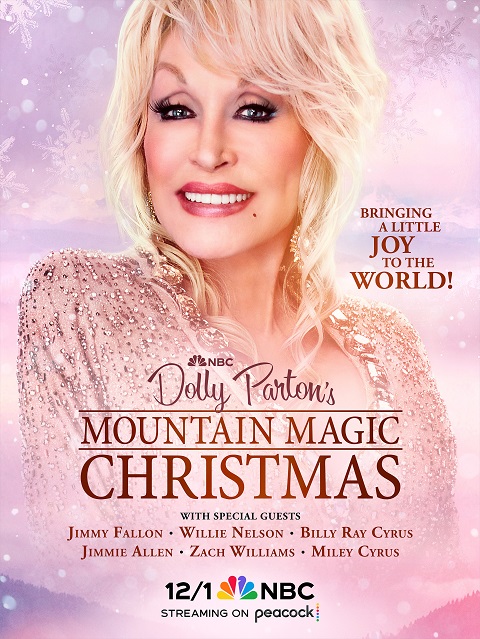 NBC on Friday issued the official announcement of the holiday film Dolly Parton's Mountain Magic Christmas. As was previously known, the film will premiere at 8 p.m. Eastern Thusday, Dec. 1. Also as was previously known, it features musical guests Jimmy Fallon, Willie Nelson, Billy Ray Cyrus, Jimmie Allen, Zach Williams and Miley Cyrus and stars Dolly, Tom Everett Scott, Angel Parker and Ana Gasteyer. The only new information, other than the promotional image above and still from the film at bottom, both courtesy NBC, was the release of the supporting cast (. Mary Lane Haskell, Bryan Batt, Brendan Bradley, John Newberg, Rachel Parton George, Cassie Parton Griffith, Rhoda Griffis, Liam Rauhoff and Steve Summers) and that the film includes "9 to 5," "I Will Always Love You" and a new holiday medley in addition to other songs "that capture the spirit of Christmas and the importance of gathering with families during the holidays." The official description is as follows: "A modern-day movie musical about the making of a network TV special, "Dolly Parton's Mountain Magic Christmas" is the frenetic backstage story and delightful on-camera results of Dolly's desire to uplift an exhausted world's spirits by sharing the unique mountain magic she has always found in and around Dollywood at Christmas. Throughout the movie's production numbers and rehearsal chaos, Dolly finds herself taking a private journey into her past, guided by the mysterious appearances of her personal Three Wise Mountain Men. When it's time for her big special to air, a renewed and inspired Dolly goes rogue and shows the world that the real magic of Christmas lies in the hearts of the children we all once were, the realization that Christmas is about the people we share it with, and how her faith remains the common thread between Christmases past, present, and future."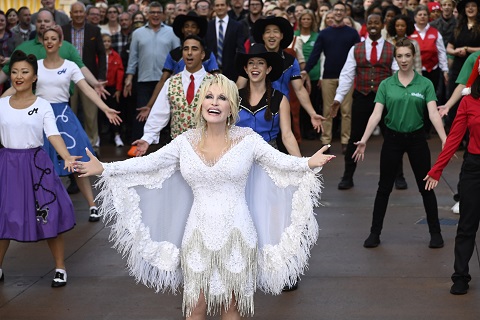 'Pollstar' Releases Interview, Others Report Retirement
The rest of the world on Thursday and Friday focused on the news that Dollymania readers knew Monday night that Dolly has retired from touring. On Monday night, Dollymania published a story summarizing that item and information about her rock album from an interview with Pollstar of which the website obtained an early print copy. For a couple of days, responses circulated on social media among fans, but on Thursday afternoon the magazine released the story publicly on its website here, leading to several stories in other online outlets likewise highlighting those two news items from the same interview. On Thursday, those included pretty much only music-related sites such as Music Mayhem here and Billboard here. On Friday, the news spread through more mainstream general news outlets such as NBC News here and E! Online here.
U.K. Chart Update
Overseas, Run, Rose, Run slips one to No. 17 on the British country albums chart, while the U.K. country compilations albums chart sees Very Best Of Dolly Parton Vol. 1 gain four to No. 6, The Complete Trio Collection Deluxe rise two to No. 4, and Emmylou Harris's Original Album Series: Volume 1 (with two Dolly covers, one track with Dolly harmony and one track with Trio harmony by Dolly and Linda Ronstadt) dip one to No. 10.
---
Oct. 26:
It's A Gold 'Candy Christmas' This Year
Just 10 days after the 40th anniversary of its release as a single, Dolly's solo version of "Hard Candy Christmas" from The Best Little Whorehouse In Texas film soundtrack on Friday was awarded a digital gold single award for 500,000 or more paid downloads or 75 million streams, the RIAA announced on Tuesday.
'Holly Dolly' Deluxe Debuts On Charts
Sales due to the re-issue of 2020's A Holly, Dolly Christmas Ultimate Deluxe Edition with several bonus tracks push the album back onto the charts, the Oct. 29 Billboard tallies released Tuesday confirmed. The album re-enters the overall all-genre album sales chart for the week at No. 32 to log a 23rd week on that list and it shoots up 34 places to No. 4 in its 29th week on the top holiday albums chart. Meanwhile, 1990's her Home For Christmas falls back off the top holiday albums chart after one week at No. 12 due first-week sales of its vinyl re-issue, and Run, Rose, Run loses two to No. 6 bluegrass albums in its 33rd chart.
---
Oct. 25:
Dolly Retires From Touring, Is Doing Rock CD: Pollstar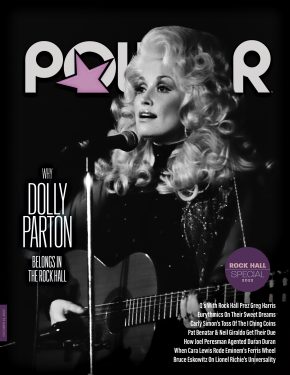 In a new cover interview for the Rock Hall of Fame special edition of music touring magazine Pollstar, Dolly explicitly confirms what she has hinted in other interviews at in the past couple of years and that fans have openly speculated: she has retired from full-scale touring and does not anticipate performing more than a handful of special concerts in future years. In addition, she confirms that she is, in fact, planning a hard rock album and will record it as soon as she "levels out" from filming the movie adaptation of her and James Patterson's novel, Run, Rose, Run.
In response to a question about future tour plans, she responds: "I do not think I will ever tour again, but I do know I'll do special shows here and there, now and then. Maybe a long weekend of shows or just a few shows at a festival. But I have no intention of going on a full-blown tour anymore. I've done that my whole life, and it takes so much time and energy."
She explained that given she and her husband's advancing age, she'd rather stay close to home than being gone weeks or months at a time on a traditional tour.
On the rock album, she noted the song she wrote for the Rock & Roll Hall of Fame induction ceremony is called "Rockin'" and will likely be recorded for the CD. She also intends to re-record Led Zeppelin's "Stairway To Heaven" but in its original rock format instead of the bluegrass arrangement she previously used and will even invite Robert Plant and Jimmy Paige to sing on it with her. She also intends to invite Ed Sheeran, Heart, Stevie Nicks, Miley Cyrus and other rock artists to appear on the project with her.
In Memoriam: Actor, Dolly Fanatic Leslie Jordan
Emmy-winning comedic actor Leslie Jordan died unexpectedly Monday after a car accident reportedly caused by a medical emergency while he was behind the wheel. He was 67. A lifelong Dolly fan, the openly gay small-statured performer from Chattanooga said he attended the A Real Live Dolly concert recording in Sevierville as a young teenager. In the mid-1990s, he was cast as Dolly's brother in her Disney-produced ABC series Heaven's To Betsy, but the network decided not to pick up the show before it ever aired and it ceased production before getting to his first episode as a recurring character, so he didn't get to meet her, and that became his lifelong dream. He appeared with his friends Gary and Larry Lane in their documentary Hollywood To Dollywood and traveled to the park with them to promote the film's release, but Dolly couldn't make it herself so he didn't meet her then. His dream finally came true during the pandemic when they met at her Nashville office complex to ask her to appear on a gospel album he was planning. From that meeting, he also was able to host an online concert she gave. Afterward, he said in interviews that after having met her and recorded with her he could die and go to Gay Heaven. He continued to move in country music circles after releasing his gospel album, Company's Comin', including appearances on The Grand Ole Opry. Although he was most famous for his Emmy-winning role of Beverly Leslie on Will & Grace, he found renewed fame during the pandemic for his humorous Instagram observations. At the time of his passing, he was also a regular cast member on the sitcom Call Me Kate. In a statement, Dolly reacted: "Well I am as hurt and shocked as if I have lost a family member. Leslie and I had a special bond. I think the world felt they had a special bond with him. I know people always say, "Oh, they will be missed," but in this case that could not be more true. He will be missed by everyone who knew him personally and by everyone who was entertained by him. Rest in peace, lil' brother."
Dolly Inspired Drag Queen's Children's Book
RuPaul's Drag Race star Nina West is releasing a new children's book Tuesday called The You Kind Of Kind and told Pop Culture here that the concept of kindness and acceptance was inspired by Dolly, who also wrote a blurb for the book cover. Get your copy here.
'9 To 5' Doc Wins Award, Nominated For More
Gary and Larry Lane's new documentary Still Working 9 To 5 featuring all of the original cast is becoming a favorite on the film festival circuit this year, and earlier this month it won the top prize, Audience Award, from the Nashville Film Festival, where Dolly even taped a brief introduction to be shown at the screenings there. Watch it here or in the media player below. Also, the project has been nominated for Best Historical Documentary in this year's Critics Choice Documentary Awards, with winners to be announced Nov. 13.

---
Oct. 24:
New Duet Coming On Friday With Becky Isaacs



Becky Isaacs Bowman, a member of the family gospel group The Isaacs, will on Friday release her CD Songs That Pulled Me Through The Tough Times, which features a new duet of Dolly's "Early Morning Breeze" with Dolly herself. Check out a preview from Facebook here or in the media player above and preorder the album here.

Dolly Wins Second Dove Award
Dolly won her second Dove Award with "In The Sweet By and By" featuring Larry Cordle, Carl Jackson, Jerry Salley, and Bradley Walker taking home Bluegrass, Country, Roots Recorded Song of the Year at the ceremony that took place Oct. 18 and aired Friday on TBN. Winners were embargoed until the broadcast. This marked Dolly's sixth nomination for the Doves, as she was nominated last year for Pop Contemporary Song of the Year with Zach Williams for "There Was Jesus" and won in 2020 for Short Form Video of the Year with For King & Country for "God Only Knows."

Dollywood Announces 'IWALY' Festival
Although the Harvest Festival is still continuing and the Smoky Mountain Christmas is a couple of weeks away from starting, Dollywood is prepping for the 2023 season. It was announced Monday that the park will observe the 50th anniversary of Dolly's signature song with the I Will Always Love You Celebration March 11-April 8, recognizing the art of songwriting and stories behind songs. In addition to an overview of Dolly's iconic catalog as a composer and lyricist, the festival will feature headlining performances from numerous yet-to-be-announced legendary singer-songwriters as well as a Songwriters' Showcase for up-and-coming performers. The previously-announced $25 million Big Bear Mountain roller coaster will expand Wildwood Grove, and the park's operating calendar has been expanded by 15 additional days, extending its season through the first week of January instead of the first day of the new year and another week of dates added throughout the year. The Flower & Food Festival runs April 21-June 4, Sweet Summer Nights with the return of the drone and fireworks show as well as "Gazillion Bubble Show Aurora" June 17-Aug. 6, Harvest Fest Sept. 22-Nov. 4 with its Great Pumpkin LumiNights, and Smoky Mountain Christmas Nov. 11-Jan. 6. Season passholders' preview day will be March 10, followed by the park opening to the public March 11. Season passes went on presale Oct. 17 and conclude Oct. 30 before they go on sale to the public on Halloween. Several fans complained about the new pass structure, where the basic level passes, silver, have blackout dates for the final six weeks of the season this year for new silver passes and final seven weeks of the season next year (or all dates following the first 20 percent of the Smoky Mountain Christmas Fest – renewed silver passes do get the final weeks of this year in their passes, while first-time buyers do not), although on Saturday the park revised the rules to remove blackout dates for child silver passes (ages 9 and under). The new structure, however, appears to be the new direction of the theme park industry rather than a unilateral move by Dollywood, as Disney parks have offered many lower-cost season passes with extensive blackout dates, and close competitor Cedar Fair Parks in 2023 is introducing a basic level pass that expires around Labor Day, eliminating entirely access to their fall and winter festivals at their parks.

Latest From Rock & Roll Hall Of Fame
The Rock & Roll Hall of Fame has announced its 2022 induction ceremony, including Dolly, in Los Angeles Nov. 5 will be broadcast on HBO at 8 p.m. Nov. 19. In addition, an exhibit featuring items from each of this year's inductees will open at the Hall of Fame in Cleveland, Ohio, Nov. 2 and will include a Gibson Blueshawk guitar Dolly played on her 2008 Backwoods Barbie Tour as well as Carly Simon's handwritten lyrics to "You're So Vain," the costume Eminem wore on the Super Bowl LVI Halftime Show, and others. Also, music touring magazine Pollstar has revealed its special Rock Hall of Fame issue, which features Dolly on its cover and a cover story on why she deserves to be inducted. Order a copy here.

Dolly Records 'Freebird' For Skynryd Tribute
It's cliché to call out at a concert for the band to play the Lynryd Skynryd classic "Freebird," but if you do it at a Dolly concert in the future she just might perform the track, as she has recorded it for a Skynryd tribute album the band's drummer Artimus Pyle has been organizing for release early next year, he revealed in an interview with Forbes here.

Smooth Names Dolly Best Country Artist Ever
UK music service Smooth Country Radio conducted its third Icons survey of listeners, and for the second time, they selected Dolly as the greatest country artist of all time. She had topped the first poll in 2020 but fell to No. 2 last year when Taylor Swift took the top position. Swift falls this year to No. 10, while those immediately behind Dolly were Luke Combs, Carrie Underwood, Kenny Rogers, and Shania Twain.

Doggy Parton Christmas Items Debut
Dolly's Doggy Parton line of pet products last week introduced its holiday collection. Check them out here.

New Interviews From Carnegie Ceremony
Coverage continued last week of Dolly's Carnegie Medal of Philanthropy ceremony with articles from Vogue here and People here.

U.S., U.K. Chart Updates
Dolly's Run, Rose, Run CD holds steady at No. 4 bluegrass albums in its 32nd chart week in the Oct. 22 Billboard charts released Tuesday. The holiday albums chart returns with the vinyl release of her Home For Christmas from 1990 returning it to the list at No. 12, a new peak position for the album in its fifth chart week there, as A Holly Dolly Christmas moves up 11 places to No. 38 in its 28th chart week. Overseas, Run, Rose, Run gains one to No. 16 on the British country albums chart, while the U.K. country compilations albums chart sees Very Best Of Dolly Parton Vol. 1 at No. 10, The Complete Trio Collection Deluxe at No. 6, and Emmylou Harris's Original Album Series: Volume 1 (with two Dolly covers, one track with Dolly harmony and one track with Trio harmony by Dolly and Linda Ronstadt) at No. 9.

Dolly Items Sell Well At Kenny Auction
Kenny Rogers' family over the weekend auctioned off more than 1,000 lots from his personal belongings and career, and the 22 Dolly-related lots raised just under $100,000 and included six of the 15 highest-selling objects. A "We Are The World" soloist leadsheet signed by the performers was the auction's highest-ticket item, selling at $156,000, followed by a Chinese statue at $125,000 and an American Music Award with Dolly for "Islands In The Stream" at No. 3 for over $25,000. The Dolly items in order of sale price were:
$25,600 American Music Award for "Islands In The Stream"
$10,240 Academy of Country Music Award for "Islands In The Stream"
$10,240 Dolly-autographed portrait taken by Kenny in 1999
$8,960 RIAA gold digital single award for "Islands In The Stream"
$8,960 Dolly-autographed portrait taken by Kenny in 1987
$7,680 white jacket stage worn by Kenny with Dolly in Kenny & Dolly: Real Love special
$4,480 Signed letter from Dolly following their final performance together
$3,520 Australian gold single award for "Islands In The Stream"
$3,200 Signed letter from Dolly following Kenny's appearance at Dollywood
$3,200 Signed group photo of performers from Kenny Rogers First 50 Years Celebration including Dolly
$2,560 American Country Countdown award for "Islands In The Stream" hitting No. 1
$1,600 Grammy nomination certificate for "Islands In The Stream"
$1,152 various Kenny & Dolly photograph prints
$1,152 Unofficial RCA Records plaque for two million units sold of Once Upon A Christmas
$1,152 assorted LPs from Kenny's personal collection including several with Dolly connections (two on which he covered Dolly-written songs and at least two on which Dolly performs)
$1,152 Kennedy Center Honors photo of honorees including Dolly in appreciation for Kenny's participation in her award ceremony
$1,024 set of Kenny & Dolly photo proofs
$640 Dolly and Dollywood press set
$512 Kenny & Dolly Christmas photo prints
$320 Kenny & Dolly portrait mock-up prints
$256 Kenny & Dolly in concert mock-up prints
$125 Kenny & Dolly mock-up prints
---
Oct. 17:
Dolly Receives Carnegie Medal of Philanthropy



Dolly's charitable acts were honored Friday with the Carnegie Medal of Philanthropy. Watch her acceptance speech here or in the media player above. In an Associated Press interview here, she noted politics can get in the way of good works. "That's what we should do as human beings," she said. "I never quite understood why we have to let religion and politics and things like that stand in the way of just being good human beings. I think it's important from that standpoint just to feel like you're doing your part, doing something decent and good and right." She also noted in the interview she has written a new song for her induction ceremony next month in Los Angeles for the Rock & Roll Hall of Fame. Watch the video summarizing some of her philanthropy here or in the media player below.


Dollywood 2023 Pass Prices Revealed
Dollywood on Sunday released details for the 2023 season passes, which went on presale Monday for renewals and new passes for those who registered for the presale. The silver pass, currently $159, is being reduced $10 to $149 in exchange for expiring on Thanksgiving next year instead of the end of the season in January ($204 with the water park, giving them access to 10 of the 49 operating days for the Christmas festival and July 3-9 water park blackout). Gold passes remain at $214 ($269 with water park no blackouts), and Diamond at $314 for both parks. Silver gets two bring a friend passes with blackout dates, Gold gets two without blackout dates, and Diamond gets four without blackout dates, and the BAFs will be good at the water park if the passholder has a two-park pass. The Pre-K Imagination Pass will return for 2023, but details for the free pre-schoolers pass are not yet available. The presale concludes Oct. 31, when passes go on sale to the general public.

Expanded Holiday Album Hits Shelves
The expanded re-issue A Holly, Dolly Christmas Ultimate Deluxe Edition on CD and vinyl hit stores Friday. Dolly celebrated with a social media video here.


Dolly Celebrates UT Win
University of Tennessee students lobbied for Dolly to appear on ESPN's College GameDay for the game this week, even painting their plea on a huge rock on campus, according to WBIR here. UT won 52-49 over Alabama, sending East Tennessee into hysteria. Dolly answered on social media: "I said it's great to be a Tennessee Vol! What a win last night. If I wasn't out of town it would have been a treat to have been there, and I heard there were some rumors that I would be. Nobody was more disappointed than me to not be there. GBO! ??"

See Dolly Shots In Austin Exhibit
An exhibit is open through the end of the month in Austin at Modern Rocks Gallery which is the first solo showing of photos by Ed Caraeff, who was responsible for Dolly's iconic pop album covers of the late 1970s and early 1980s. it includes a lifesize stand of Dolly from Here You Come Again for fans to shoot selfies with. Learn more from Yahoo here.

Dolly Makes Another 'Forbes' List
Forbes named Dolly to its "50 Over 50" list of "mature women who are shattering box office records, designing fashion fortunes, or changing the way we eat and drink." Read the list here.

U.S., U.K. Chart Updates
Dolly's Run, Rose, Run CD holds steady at No. 4 bluegrass albums in its 31st chart week in the Oct. 15 Billboard charts released Tuesday. Overseas, the album re-enters the British country albums top 20 at No. 17.
---
Oct. 10:
Dolly Calls Loretta 'Sister' In Death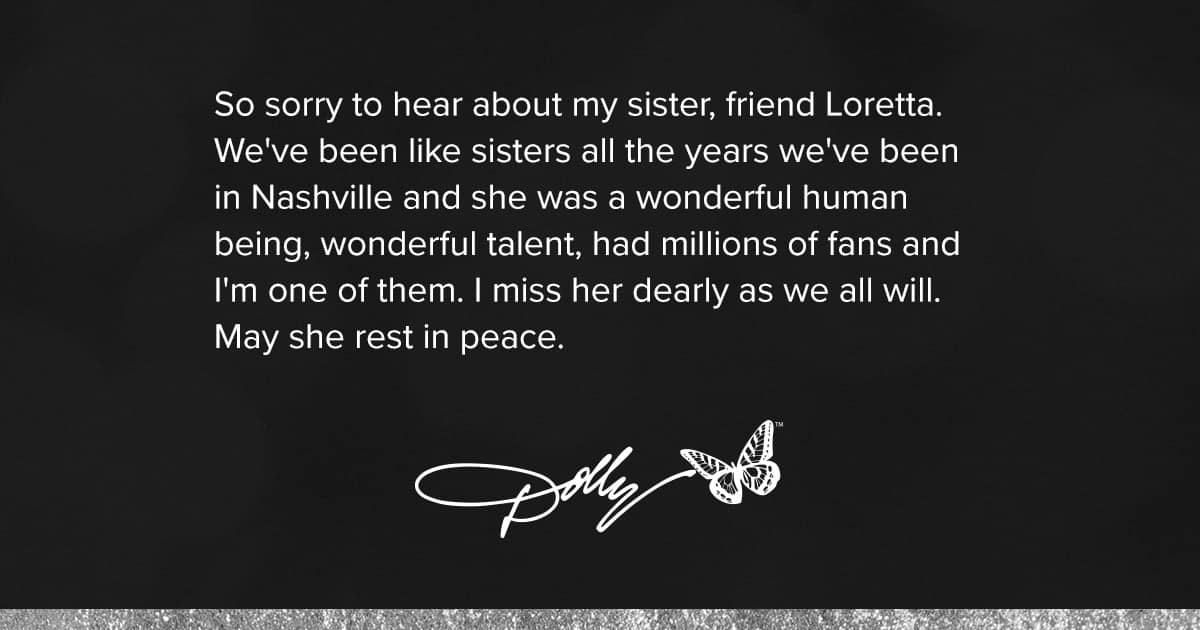 Dolly's close friend and collaborator Loretta Lynn passed away Oct. 4 at the age of 90. About the Coalminer's Daughter, she said: "So sorry to hear about my sister, friend Loretta. We've been like sisters all the years we've been in Nashville and she was a wonderful human being, wonderful talent, had millions of fans and I'm one of them. I miss her dearly as we all will. May she rest in peace."

Christmas Time's A Comin'
The vinyl reissue of Dolly's1990 Home For Christmas hit stores on Friday, just one week before the reissue of 2020's A Holly, Dolly Christmas Ultimate Deluxe Edition with extra songs on CD and vinyl.

U.S., U.K. Chart Updates
Dolly's Run, Rose, Run CD holds steady at No. 4 bluegrass albums in its 30th chart week in the Oct. 8 Billboard charts released Tuesday. Overseas, on the British country compilations chart, Very Best Of Dolly Parton Vol. 1 holds steady at No. 7 and The Complete Trio Collection Deluxe dips three to No. 12.

Rock Hall Of Fame Issues Video
The Rock & Roll Hall of Fame last week released more legacy videos of this year's inductees including Dolly. Watch hers here or in the media player below.

---
Oct. 3:
'Heartstrings' Heading To DVD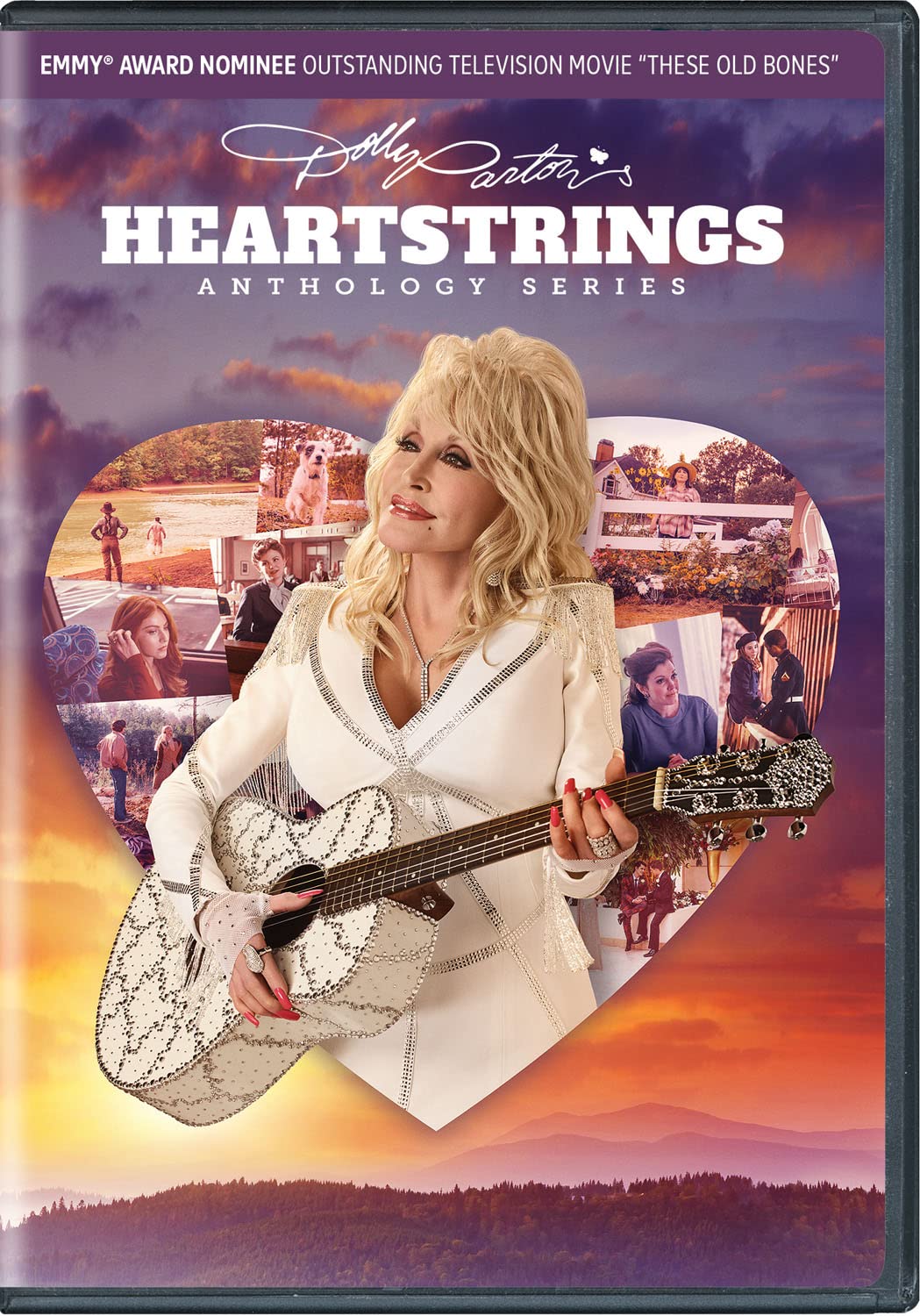 Dolly's 2019 Netflix anthology Heartstrings will get a long-awaited DVD release next month, Warner Brothers has announced. The two-disc set will be released Nov. 29. Get your copy here! The series appealed to individuals on all sides of the spectrum, winning the Faith and Freedom Award from the conservative Christian Movieguide Awards for "These Old Bones" (which was also nominated for an Emmy for Made for Television Movie) and Best Individual Television Episode on the GLAAD Media Awards for LGBTQ representation in "Two Doors Down." The series also had episodes based on Dolly songs "Sugar Hill," "Cracker Jack," "Down from Dover," "If I Had Wings," "Jolene," and "J.J. Sneed." The news follows shortly after it was announced her Netflix holiday film Dolly Parton's Christmas On The Square will be released on DVD Nov. 1.
California Taking Dolly's Library Statewide
Dolly's Imagination Library early childhood education program is getting its biggest boost yet with the nation's largest state becoming the 15th to take the program statewide. California Gov. Gavin Newsome on Friday signed a bill making the program available to all of the state's 2.4 million children under 5 in summer of next year, up from about 25,000 children enrolled today in the state, and more than the 2.1 children currently enrolled worldwide in the project, which has distributed 190 million books since inception. The state budget allocates $68.2 million in one-time funding to launch the initiative. About one in eight children in the U.S. live in California. In a statement, Dolly said: "I'm so thrilled at the overwhelming support to make my Imagination Library available to every child in California! I want to thank Senator Shannon Grove and Senator Toni Atkins for inspiring tremendous support from California legislators and Governor Gavin Newsom for enthusiastically signing this bill. Today is an amazing milestone for children and families across the state! We still have a lot of work to do, but together we can inspire a love of reading in children across California that will last a lifetime."
Dolly Wins Two IBMA Awards
Dolly last week picked up her fourth and fifth International Bluegrass Music Association Awards, with "In The Sweet By and By" with Carl Jackson, Larry Cordle, Bradley Walker, and Jerry Salley taking both Gospel Recording of the Year and Collaborative Recording of the Year.
Sinatra Says Give Dolly Freedom Medal
Singer Nancy Sinatra has called on the President to give Dolly the Medal of Freedom, tweeting last week: "Dear President Biden, @POTUS Many of us out here on Twitter would like to nominate Dolly Parton for the Medal of Freedom. Nobody is more deserving of thie [sic] great honor. @dollyslibrary." Dolly twice turned down the medal when offered by Donald Trump. Barak Obama has joked not giving her the Medal of Freedom during his term was the biggest regret of his presidency.
U.S., U.K. Chart Updates
Dolly's Run, Rose, Run CD holds steady at No. 4 bluegrass albums in its 29th chart week in the Oct. 2 Billboard charts released Tuesday. Ultimate Dolly Parton falls off the top 50 country albums list, down from No. 49 in its 97th week, and her "9 To 5" duet with Kelly Clarkson falls off the country digital song sales chart, down from No. 6, and overall digital song sales chart, down from No. 15. Overseas, Run falls out of the top 20 British country albums chart, down from No. 15 in its 29th chart week in the U.K.
---