A Tasty Red, White & Bluegrass Weekend
Unless otherwise noted, images on this page are copyright © 2007 T. Duane Gordon/Dollymania and may not be reproduced without prior written consent.

By Duane Gordon
Dollymania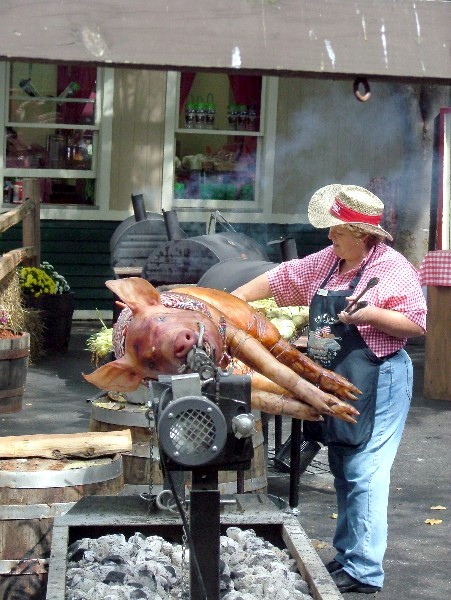 A pig gets a slow roast over some hot coals at Dollywood as part of its second annual Barbeque & Bluegrass Fest, which continues at the park through Sept. 30 with loads of food and music. See more photos here!
There were mouths a'waterin' and toes a'tappin' all over the place this weekend with the opening of the second annual Barbeque & Bluegrass Fest at Dolly's Dollywood theme park in Pigeon Forge, Tenn. And the lady of the park was on the grounds herself to celebrate.
Friday brought the official opening of the festival with bluegrass king Ricky Skaggs and his Kentucky Thunder band. At a noon concert, they brought the house down with their picking on several numbers before recognizing the press in the audience and taking a question about what it means to him as the figurehead of bluegrass to have someone like Dolly and a facility such as the park take up the genre and devote an entire festival to it.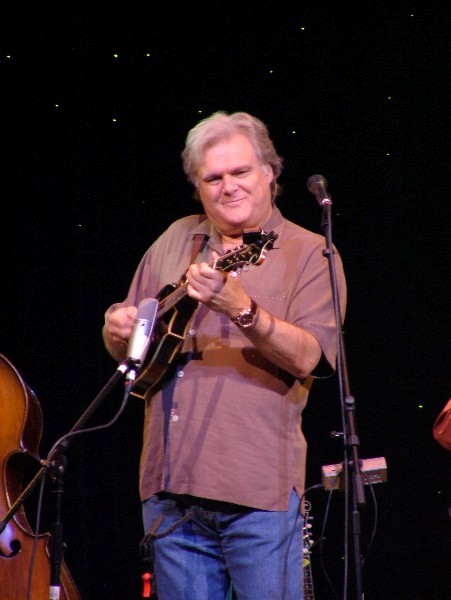 Ricky Skaggs
"Well Dolly, has always to me, always been about roots, you know," Skaggs told the crowd. "It doesn't matter what she does, what she records, where she goes to record. Dolly has done all kinds of music. She's had, you know, hits on the pop charts, hundreds of hits in the country charts, but her heart has always been for the mountains and for the people in the mountains, I think. When I think about Dolly, I think about her heart for the mountains."
His speech was interrupted by rowdy applause and cheers as Dolly herself walked on stage.
"You was talkin' about my heart bein' in the mountains, so get out here and talk to the mountains," she joked before asking if anyone in the press would like to ask them both a question together.
Your webmaster obliged, inquiring whether they have considered collaborating again as it has been so many years since he produced her White Limozeen album.
"We've always hoped that someday that we could get to do a bluegrass album or something 'cause we sing so good together like a brother and a sister," Dolly answered.
"We sure do," Skaggs interjected. "I always love singing with you."
"Would you like to do something with me?" Dolly asked him.
"I'd love to do something with you," he replied.
"Would you like to sing with me, too?" she giggled, bringing laughter from the audience. After a second, Skaggs got the joke as well and his face flushed.
"After all these years, I can still make him blush," she beamed.
J.J. Kindred from the local Mountain Press asked how they keep themselves motivated in the music business, to which Skaggs replied simply: "I got kids in college." He explained, though, that this is his job and he is very fortunate to have a job that he loves to do.
"All of the popular music today is, is 180 degrees from what this music is," he added. "This music comes from a pure stream and a pure heart, and so that motivates me."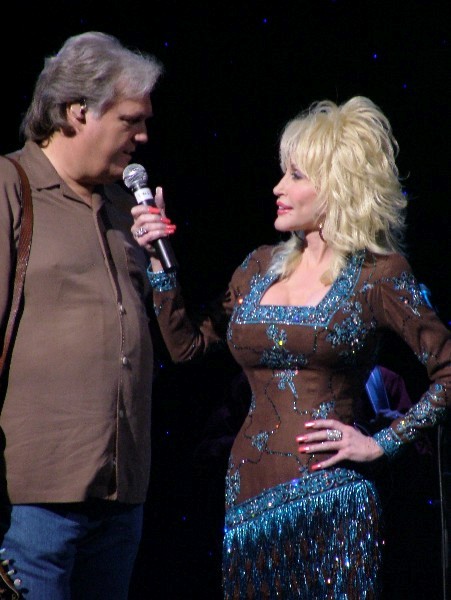 Dolly and Ricky
Dolly praised his music and attributed the resurgence of bluegrass in popular culture to his musicianship, and he returned the favor with kudos for her forays into the genre. The pair then went into the Bill Monroe classic "Uncle Pen," with Dolly joining in with harmony on the chorus. Dolly commented that a wonderful aspect of bluegrass is there are so many songs which any singer knows and can just jump in to perform without rehearsing.
Afterward, she glowed over the park's recent hosting of the international Golden Ticket Awards for amusement and theme parks. (The park was honored with the Publisher's Pick Award for Park Of The Year, and Mystery Mine received second place for Best New Ride. Thunderhead took second place for Best Wooden Rollercoaster after two consecutive years at first place, and Dollywood showed at second place for Friendliest Park, third place for Best Food and a very close second place for Best Shows, among other honors.)
She plugged next year's new ride addition, River Battle, and the connection of Timber Canyon to Craftsman's Valley in the park. She also promoted February's upcoming release of her next CD, Backwoods Barbie, and its current single, "Better Get To Livin'," noting that it is already available for downloading from iTunes and that she'll perform it on Dancing With The Stars Sept. 26.
She noted that they had not had a chance to rehearse the song, as they would have performed it together had they been able to try it out first, so instead they closed with a bluegrass-tinged "I Will Always Love You."
After ending the song, she exclaimed: "How pretty was that! I enjoyed that!"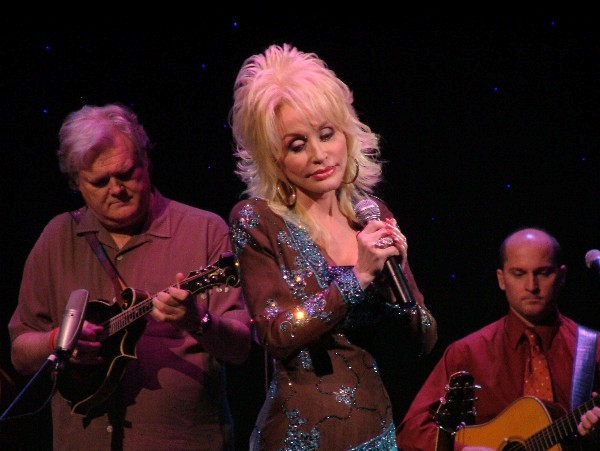 Performing "I Will Always Love You."
Unfortunately, rain from the remnants of Hurricane Humberto forced the postponement of her parade through the park grounds late Friday afternoon, but it was rescheduled for just after noon on Saturday.
Also on Saturday, she made a surprise stop in for the morning show of the Kingdom Heirs, the park's resident gospel quartet. She performed "The Seeker" and "Peace In The Valley" with the gentlemen, offering a bit of her outlook on life as well.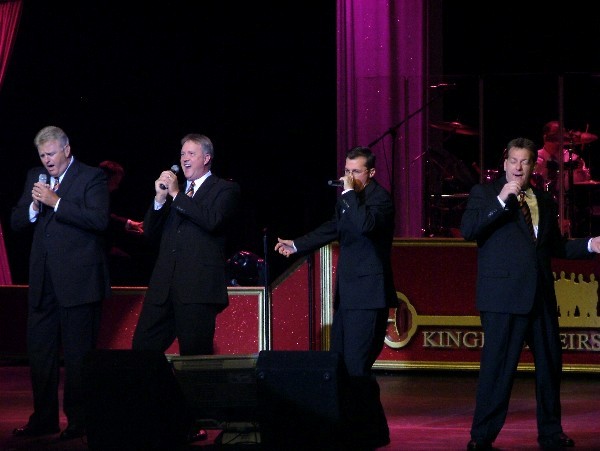 The Kingdom Heirs
"I think all good things come from God," she explained. "So I don't do a thing in this world without a'prayin' about it. All the good stuff comes from God. Me and the devil do the rest by ourselves."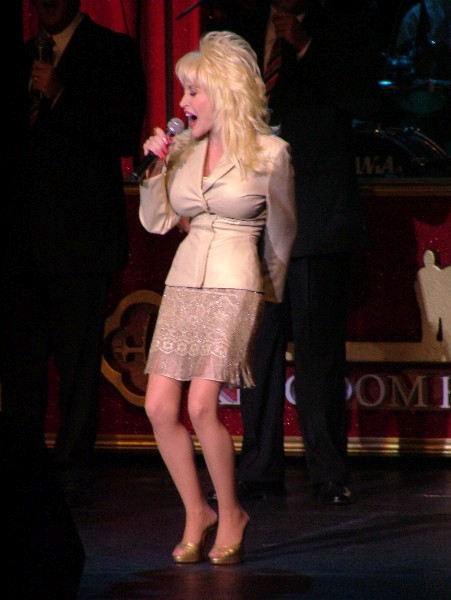 Belting out "The Seeker."
Attempting to read her remarks brought some laughs as she tried to recognize the Southern Gospel Music Association and Museum, which are housed at Dollywood, and the park's National Gospel & Harvest Celebration starting Oct. 5, joking about the difficulties she has reading from a teleprompter.
"Steve said be sure and say all of that, but I just don't do good when I'm trying to read stuff," she explained. "I'd just rather talk to ya!"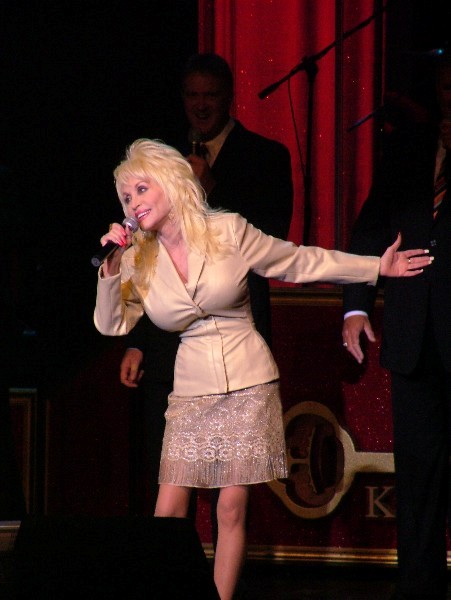 Enjoying the song.
As she was preparing to leave, the band offered the music of "9 To 5" for her exit, so she decided to lead the audience in a chorus, although it appeared to not be planned.
After singing the line "that man is out to get me," she added: "And he will be out to get me if I don't get off of here! Thank you!"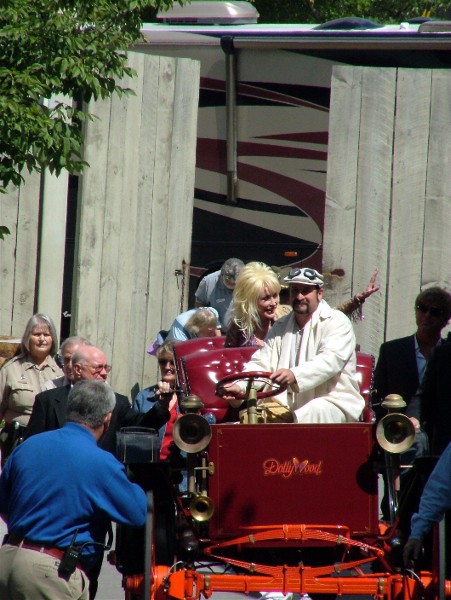 Saturday's parade
In related events, Dolly's Dixie Stampede dinner theatre had a full house with a sell-out crowd Thursday night for a benefit show to help with medical costs for Pigeon Forge police officer Steve Helton, who was severely injured in a motorcycle accident last month. On Saturday morning, the venue also held a well-attended stick horse "Whoadeo" for the young'uns, which I'm told was a blast.
I'd like to offer special notes of appreciation to Dolly, Ricky, Pete, Trish, Pat, and all of the personnel in the Dollywood media relations office. Thank you!
See additional photos here.
Bonus Material
Listen to Dolly's complete remarks at Friday's media event with Ricky Skaggs and her comments at Saturday's Kingdom Heirs show in streaming audio below (sorry, the songs they performed are not included). In addition, there is a brief clip in streaming video to show how much fun she was having. Enjoy!
Friday remarks part one

Friday remarks part two
Saturday remarks
Friday video clip