'Those Were The Days' CD Signing
Text and images on this page are copyright © 2005 Paul Richmond and are used with permission.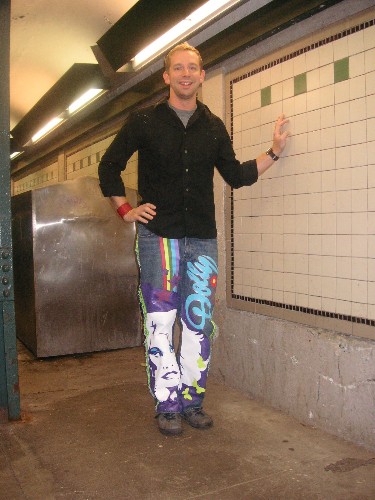 Paul and his pants.
We got there about 6:00 and since the line consisted of two people, decided to head into the coffee shop across the street rather than join them in discussing Dolly's many fine attributes while shivering. We got in line around 7 and I don't know if my friends would agree, but there was something about standing in front of Best Buy in Manhattan for four hours that was kind of fun. Never mind that it was freezing cold and an endless parade of sneering businessmen mocked our efforts. We were dedicated!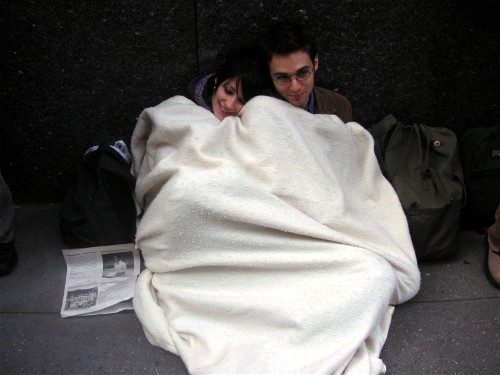 Folks in line.
Around 10:30, we were led into the store (just as it was starting to warm up a little outside) and found a perfect spot amongst countless others adorned in their finest Dolly regalia. My hand-painted Dolly Pants were a hit. I was even interviewed and photographed by several press people, probably because I looked the most insane. We were gathered around a staircase waiting for Dolly to arrive, and I could barely contain my excitement.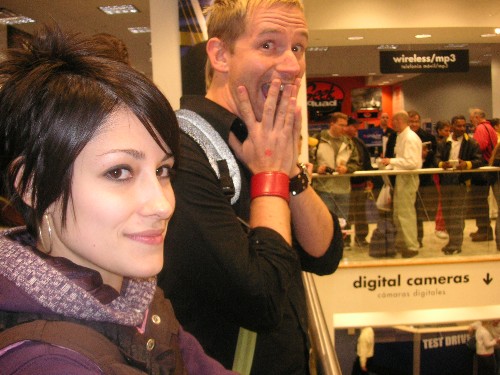 Paul getting very excited.
It was the most suspenseful few minutes in the world, because we kept hearing her giggle downstairs and would occasionally see just a flash of blonde hair or sparkling sequins whirl past. Then she finally appeared (I say finally, but she was actually almost a half hour early), ascending the staircase in full-blown Dolly glory. I can't even describe it. You could not possibly take your eyes off of this woman.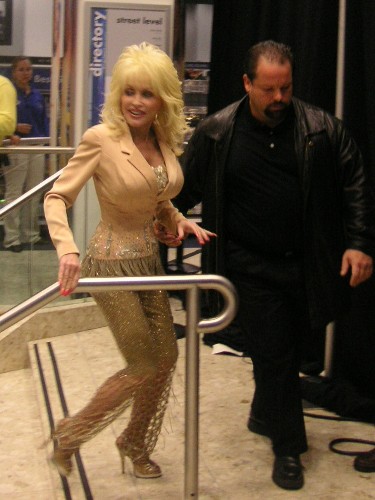 Dolly's arrival.
She lingered at the top of the stairs for a while, and the guys standing next to me truly epitomized just how wonderful Dolly Parton fans are. They were screaming her name (as was everyone else), but trying to direct her attention to MY pants! I couldn't believe how unselfish they were to take that one opportunity of seeing their favorite diva and trying to make her notice ME! There was a man who had flown all the way from LA by himself just for this event, and he was the loudest of them all. "Dolly, look at HIS PANTS!!!!!!" As soon as she heard them, she looked my way and came marching over so that only a handrail separated us.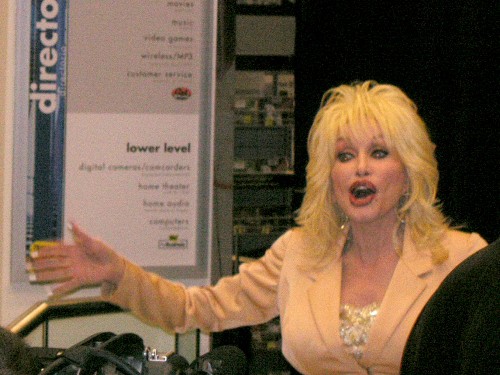 She said, "Where did you get those pants?" and I told her I had painted them. "Well turn around and let me get a good look at those," she instructed. And I obeyed. I did a little twirl and struck a pose, while she looked on admiringly and then said, "Well look at you. You just modeled for Dolly!" Everyone standing around me was losing it. It was awesome.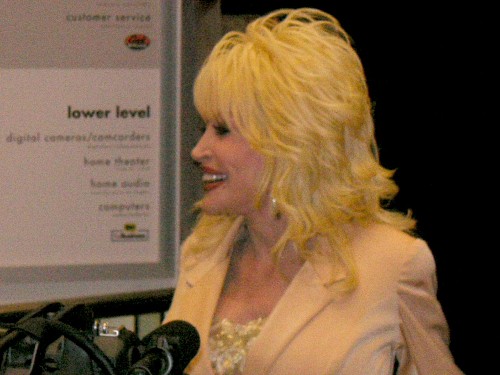 So then we were filed through one at a time to have her autograph something. There wasn't time for individual photos with Dolly, but I did have her sign my pants (against the wishes of the Best Buy personnel). She seemed to get a kick out of them, and she was also especially impressed by the card my friend Andy presented her which showed photos of the dress/sculpture he and I designed earlier this year in her honor. It's pretty crazy, complete with her eyes painted on the breasts with reflections of the Smoky Mountains! :)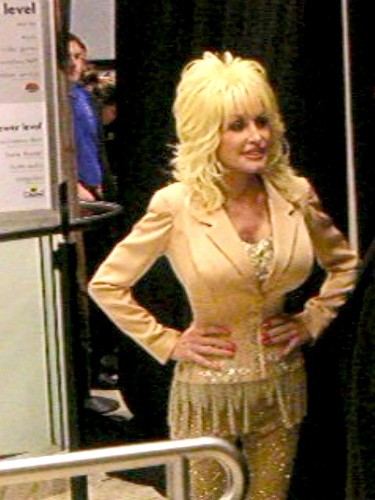 She was really gracious and sweet to everyone, with super-charged southern charm and an infectious little girl giggle. It was a really awesome experience, and such a thrill to meet someone I've admired my whole life. Thank God for Dolly, or maybe Dolly really IS God. Hmmmmm..... How else could a 60 year old look like that?????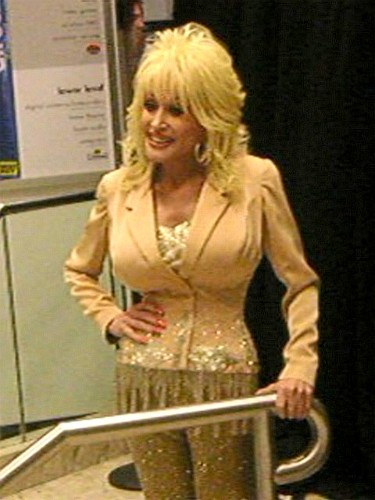 I also want to contact another fan who was standing next to me during Dolly's arrival. I was actually able to film her conversation with him, which includes her complimenting his shirt and making some jokes about it. I know he would love to have it...it's in perfect quality and you can hear her really well. He was a very cute African American man in his mid to late twenties with a sparkling Dolly World Tour 1982 shirt and a scarf. If anyone knows him or of a way to find him, I'd love to share that video with him. E-mail me here.

Maybe it's a "sisterhood of the travelin' man pants"?