D.C. Dolly
These items were originally published on the Dollymania.net News Page.
Feb. 11:
Your First Look: Dolly Wows Gaylord Crowd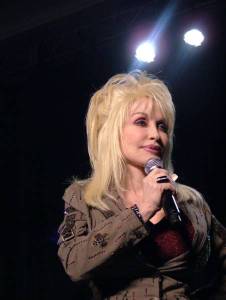 Promoting her home – the Great Smoky Mountains of East Tennessee – brought Dolly to the nation's capital region on Tuesday, and her appearance left those gathered at the Gaylord National Resort outside of Washington ready to head down for some Southern hospitality. She was there as part of the state tourism department's Tennessee Sampler 2009 trade show aimed primarily at tour organizers and travel writers.
Following remarks by Tourism Commissioner Susan Whitaker and Great Smoky Mountains National Park Superintendent Dale Ditmanson, Dolly came on stage to capture the audience's attention in her version of a park ranger uniform.
"I'm very honored to be the international ambassador for the 75th anniversary of the Smoky Mountains National Park," she said.
She took questions from the crowd, including telling your webmaster that she plans to visit Dollywood during KidsFest this summer and "as many of the things we can do we will" (in addition to her previously announced March and May appearances at the park) but there are no benefit concerts planned at the park for 2009. She also addressed why she created Dollywood (to honor her people and provide jobs for the area), favorite memories growing up (the beautiful environment in the Smokies that surrounded them), her Imagination Library, what she thinks about Elvis (loves him), how she came to write the music for Sha-Kon-O-Hey! (the director, Paul Crouch, told her what types of songs he wanted and she sat down over the course of a few days and wrote them) and how she maintains her privacy ("Well, I already told everything! I've been around so long I can't image anything people don't know.").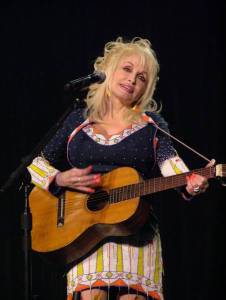 After giving attendees an opportunity to sample the food and drink and visit the booths for various Tennessee tourism venues present, Whitaker and Ditmanson again made remarks before Dolly returned in a different outfit to sing.
Her mini-concert set, which she jokingly referred to as "Smoky Mountain karaoke" for singing to instrumental tracks instead of having a live band with her, featured "9 To 5," "My Tennessee Mountain Home" and "Smoky Mountain Memories" before she brought out some singers from Dollywood's Sha-Kon-O-Hey! Land Of Blue Smoke cast to join her in one of the songs from the new show, "My Mountains, My Home." She left the cast members on their own to do "Hey Howdy Hey" and "Sha-Kon-O-Hey!" (complete with a couple of acrobatic dancers, a tumbler and a dancer on pogo stilts). Dolly returned to lead them in "Heart Of The Smokies," another track from the musical, which opens at the park in May.
Check out much more coverage from Dollymania over the next several days! (Due to travel on Wednesday, I'm not sure if your next update will be on Wednesday night or Thursday.) Click on the thumbnails for a larger view. Images are copyright © 2009 T. Duane Gordon/Dollymania.net. May not be reproduced without prior written consent.
NPC Appearance Goes Well, Too
Earlier in the day, Dolly addressed the National Press Club in D.C., which I'm told began with a brief speech, followed by an extensive question and answer session with the audience that even featured a couple of a capella songs. The Washington Times focused its coverage here on her comments about the Imagination Library literacy program, noting that proceeds from this summer's children's book she has written, I Am A Rainbow, will benefit the program. CNN pulled her jokes from the appearance about there having been too many boobs in the White House for her to run (noting that she hopes President Obama "ain't gonna be one of them") and women serving as president in a brief here. And Gannett News Service posted a piece available from The Tennessean here. CSPAN taped the presentation, although its air date has not been announced (after broadcast, it should be available for online viewing here), and the National Press Club should soon have video posted on its website for viewing as well. Both should also be selling DVDs and transcripts of her remarks. (A couple of readers who were in attendance promise photos, so check those out soon! Thanks, guys!)
Feb. 10:
'Sha-Kon-O-Hey!' Offers Fun, Memories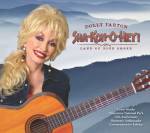 Greetings from Washington! Your webmaster just finished listening to Dolly's new Sha-Kon-O-Hey! Land Of Blue Smoke album and can tell you that the project, consisting of eight songs performed by Dolly and released on her Dolly Records, harkens back to her 1973 concept album My Tennessee Mountain Home. Given the subject matter – the history of the Great Smoky Mountains in honor of the National Park's 75th anniversary – the themes and imagery very much mirror those from her autobiographical album. Even many of the melodies seem faintly similar to tracks from that seminal work, with the most notable example being the opening number "My Mountains, My Home." You'll also love the mountain call Dolly does at the beginning of "Hey Howdy Hey," and you'll enjoy "Good Time," a rollicking good time of its own about that famous "mountain dew," moonshine. "Time Flies," with its rapid-pace lyrics about franticly working, would have fit in well on 9 To 5: The Musical. The full track listing is:

My Mountains, My Home

Hey Howdy Hey

Working On A Dream

Time Flies

Heart of the Smokies

Good Time

Sha-Kon-O-Hey!

Forever Home
As was previously reported, the songs make up the score for her new musical, Sha-Kon-O-Hey!, which will open May 9 at Dollywood. (Although she'll be present for the show's opening at the park, she won't be a regular cast member for future performances in the run.) For the period of one year, she is donating all proceeds from the CD sales to the Friends of the Smokies. The disc is available from the Dollywood Emporium, Dixie Stampede and online from the Great Smoky Mountain Association website here. Dolly is expected to perform the tracks in a preview of the musical at the invitation-only Tennessee Sampler tourism trade show outside of D.C. Tuesday evening.

See photos here.