Click below for other individual galleries.
With Dolly I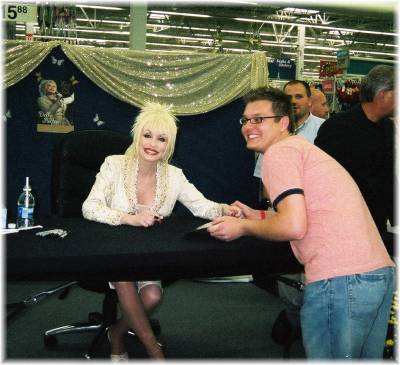 Joey Wiles says he was so excited to meet Dolly at her Evansville, Ind., CD signing in September 2004 that he couldn't even find who had his camera.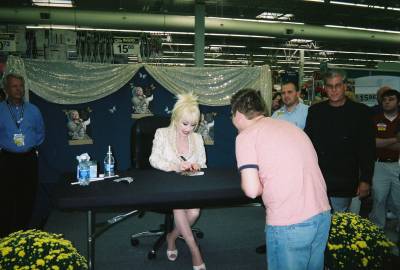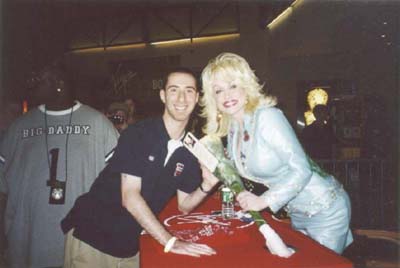 Greg met Dolly at her 2002 CD signing in New York.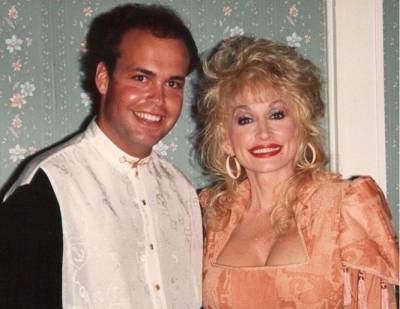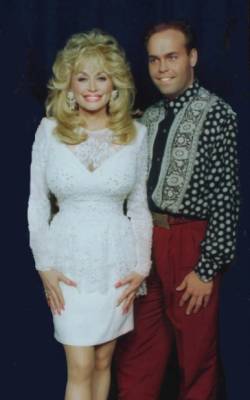 Fan Terje Roed-Hansen met Dolly several times from 1989 through 1996. He says that while a loyal fan for many years, living in Norway doesn't make it easy to see her often or to get all of her material that is released in America but not Europe.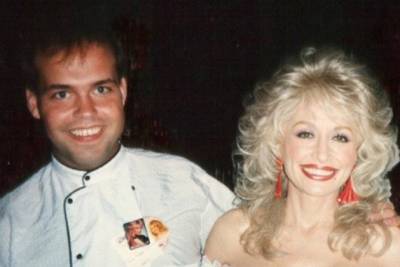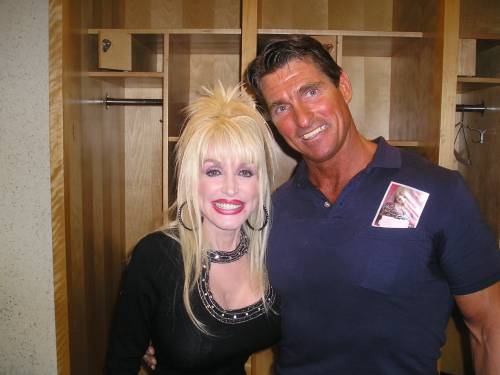 Brandon Miller of Los Angeles met Dolly backstage at her 2004 concert in Anaheim, Calif. He also got to see her tape Reba in early 2005.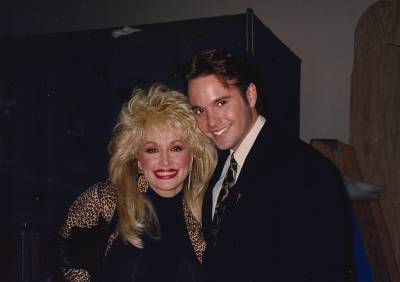 John Russell Berry has been a Dolly fan since he was about 7 years old. He got to meet her on the set of Wild Texas Wind in 1992, backstage at The Tonight Show in 1994 (above) and at her Little Sparrow CD signing in 2001 (below).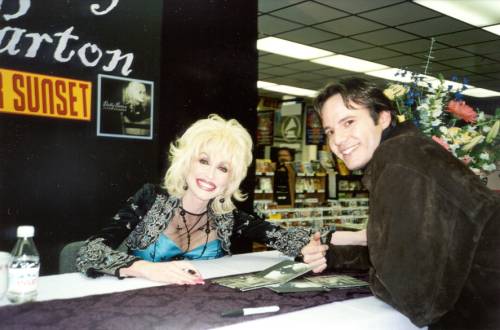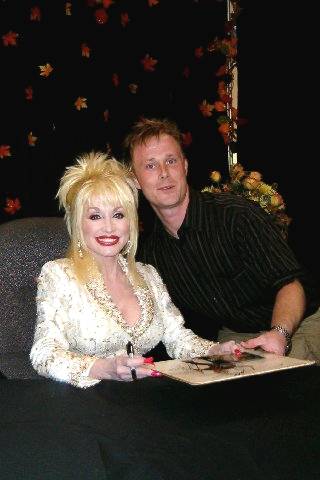 Chad Hunter met Dolly at her CD signing in Huntsville, Ala., in September 2004.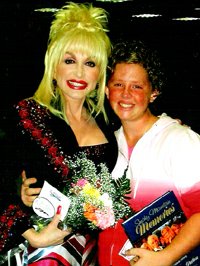 Elizabeth Jones met Dolly on Nov. 6. 2004, in Norfolk, Va.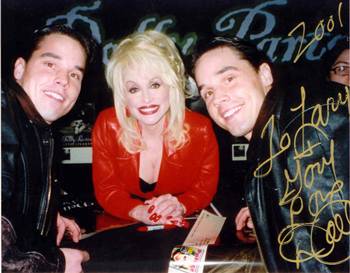 Twin brothers Gary and Larry Lane met Dolly at a CD signing in New York.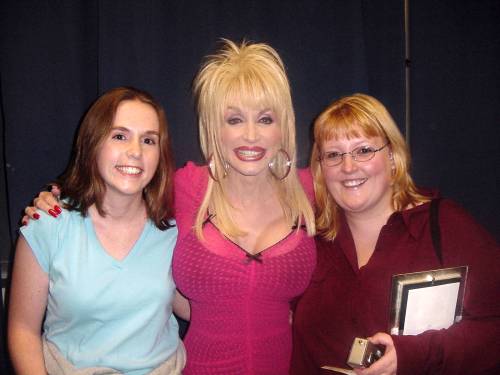 From left: Joy Lee, Dolly and Jennifer Bailey met Sunday, Nov. 21, 2004, at Dolly's concert in State College, Penn.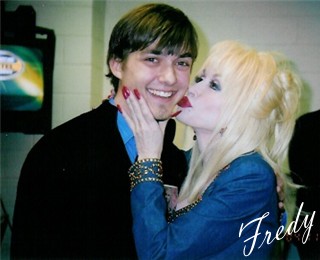 Fredy met Dolly backstage at her November 2004 Winston-Salem show.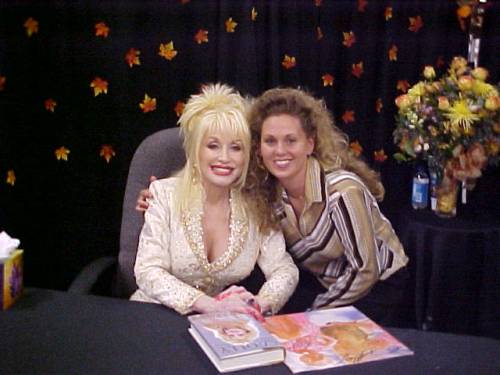 Jasalyn with Dolly at her Live And Well CD signing in Huntsville, Ala., on Sept. 17, 2004.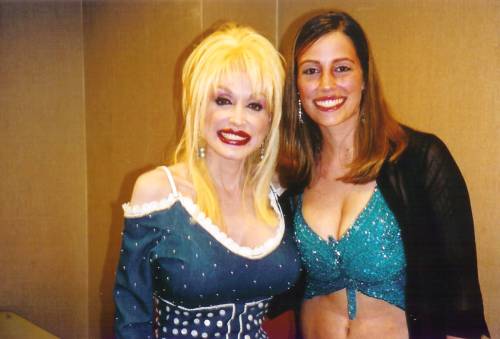 Melissa Preusser won a radio contest to meet Dolly at her October 2004 "Hello I'm Dolly" Tour concert in St. Louis, Mo.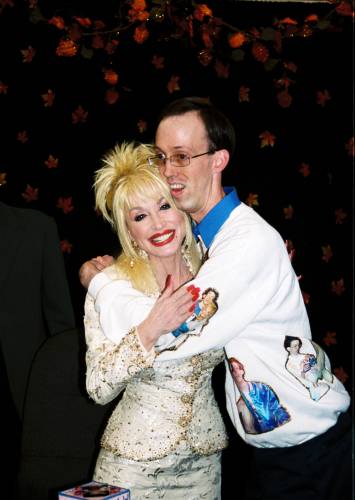 Dolly with one of her biggest fans, David Schmidli.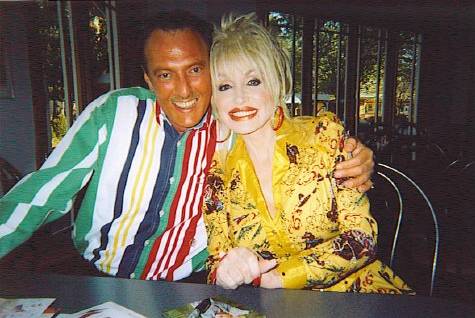 Lennox Matthews with Dolly in Dollywood in April 2004.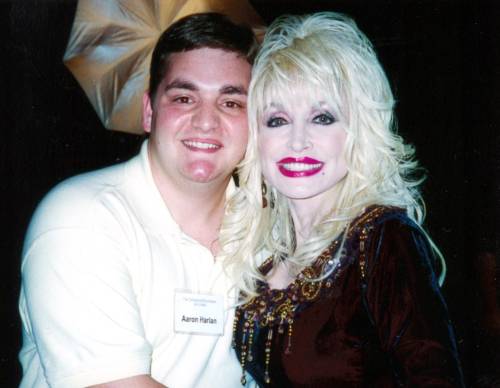 Aaron J. Harlan met Dolly at Dollywood in September 2004.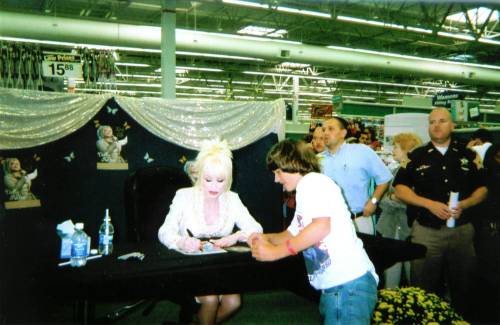 Justin Davis met Dolly at her Evansville signing in September 2004.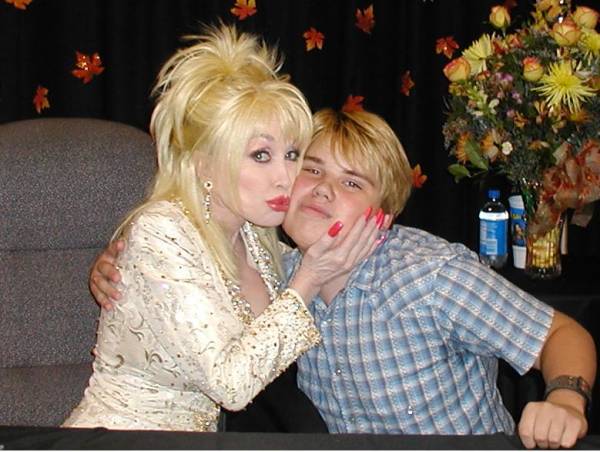 Justin Bing met Dolly at her Huntsville signing in September 2004.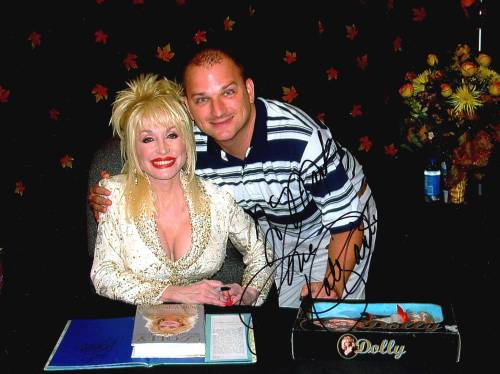 Longtime fan Mark met Dolly for the first time in Huntsville. © 2004 Mark Higgins. (Please do not copy photo.) At the event, Dolly autographed Mark's Dolly doll he had clothed in her famous reindeer outfit (see her expression upon seeing the doll) and his Dolly wig. (Items photographed below.) Anyone who has photos of Mark and Dolly from the event, please contact him here regarding purchase of copies. Thanks!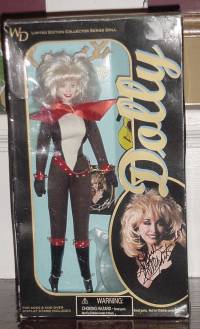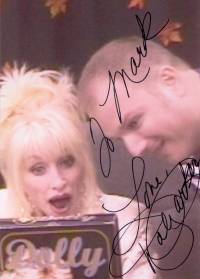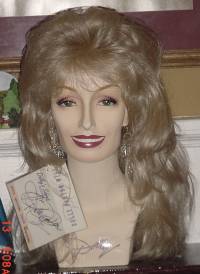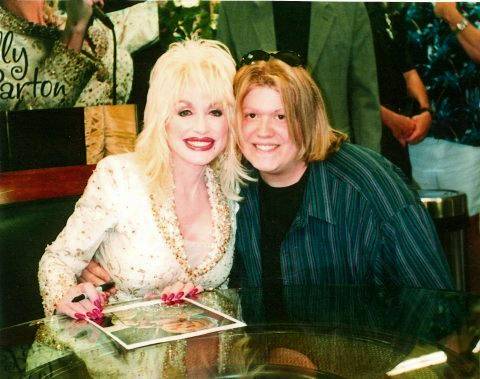 Scott McClelland met Dolly at a Franklin, Tenn., CD signing in September 2004.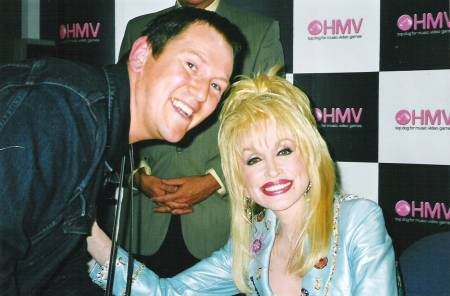 Mark met Dolly in October 2002 at a CD signing in London, England.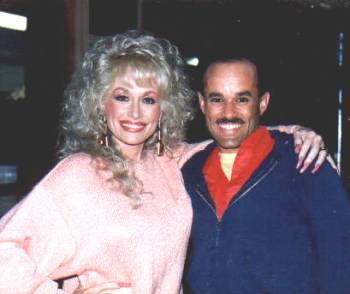 Keith Pelitire got his picture taken with Dolly several years ago when she was down in New Orleans.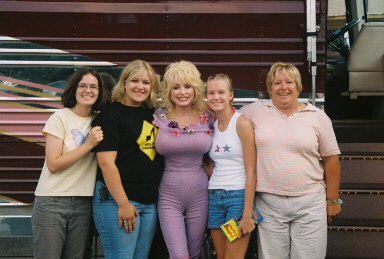 Meeting Dolly after her parade at Dollywood's KidsFest 2004 opening are, from left, Keri, Kendra, Amy, and Debbie.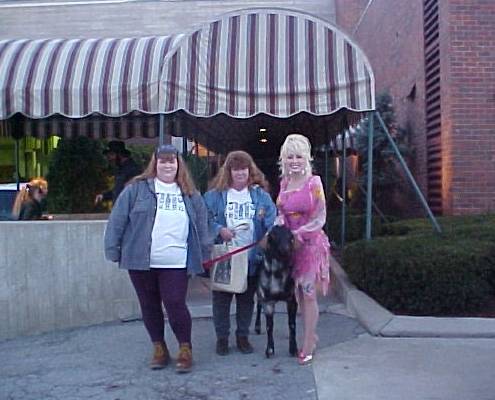 Joann, her mother Ann, and Dolly stand with M&M, a Nubian goat herd sire used in a 2004 commercial for Dolly's hosting of the 2004 CMT Flame Worthy Video Music Awards.


David Wayne Tinch of Goodlettsville, Tenn., met Dolly around 1999 when a friend at a radio station got him admission to a BMI event promoting a recent album.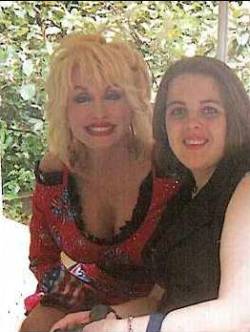 Emily from Virginia got to meet Dolly and spend more than an hour with her when she visited the National Zoo in Washington, D.C., in July 2003.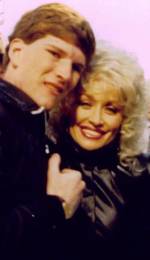 Gary McArdle and Dolly.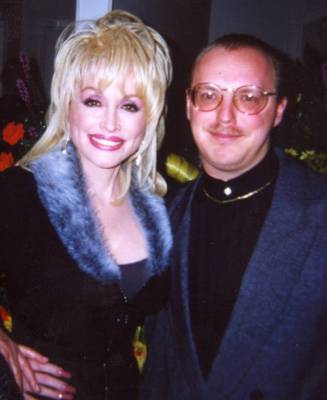 My pal Jamie Howard is shown here with his favorite cousin, Dolly.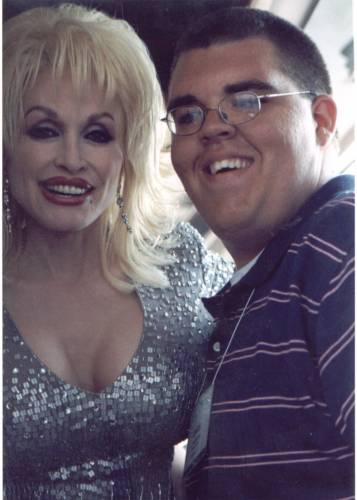 Chris Dossenbach got his picture made with Dolly on her tour bus while she was in Charlotte to keynote the 2003 National PTA Convention.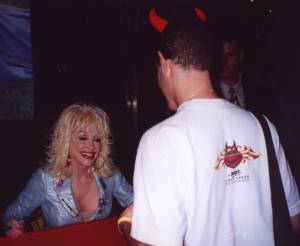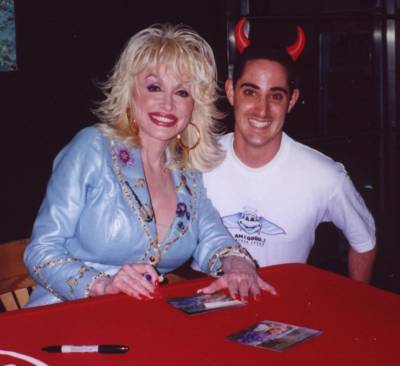 Adam got to meet Dolly at her CD signing in New York on July 9, 2002. He wore a special Senior Frog shirt with an angel on the front and devil on the back to coincide with the release of Halos & Horns that day.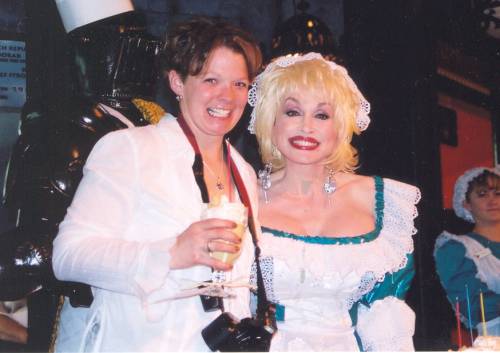 Kelly got to meet Dolly at Dollywood's opening weekend in April 2003.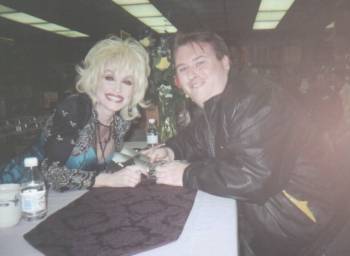 Brian got to meet Dolly in Hollywood during her CD signing for Little Sparrow in 2001.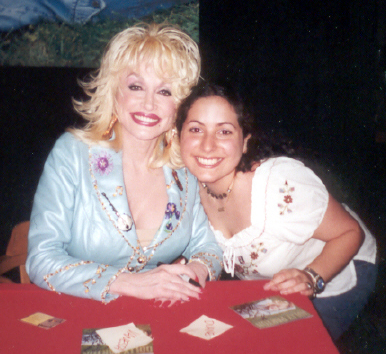 Vanessa met Dolly at her New York CD signing and got her to sign a copy of her new album for herself and one for your Dollymania webmaster. Thanks!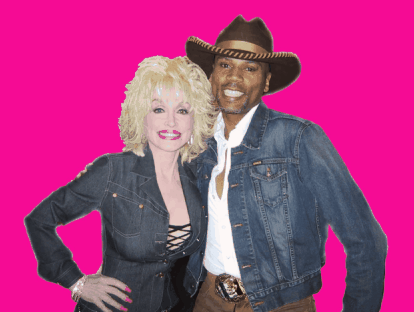 Drag artist-turned-singer-turned-actor RuPaul fulfilled a dream of a lifetime when he met Dolly during her Halos & Horns tour.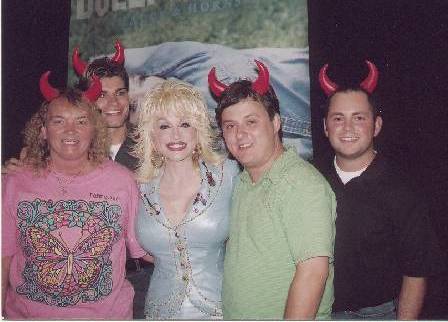 The original group of "horny fans," as Dolly called them, wore horns to her New York stops to kick off her Halos & Horns tour.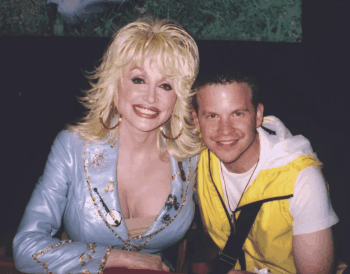 John J. Osborn with Dolly.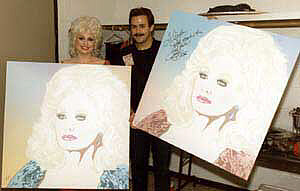 Artist Clayton LeFevre is shown with Dolly several years ago and a pair of paintings he created of the diva.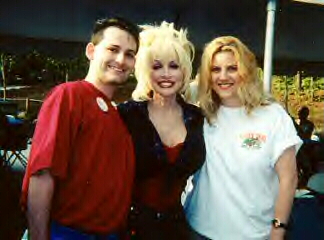 Larry and Tabby got a shot with Dolly at the recent opening of her water park, Dolly's Splash Country, in Pigeon Forge, Tenn.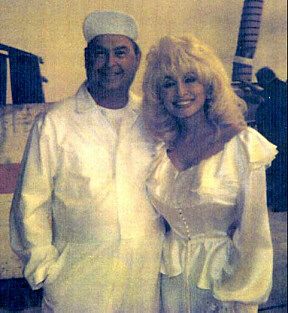 Tucson, Ariz., actor Bill Kapfer says he was thrilled to have a few minutes on screen as an extra with Dolly in Unlikely Angel. Upon learning it was his birthday on the morning of filming, she had the assistant director take a shot of them, which she gave him autographed as a gift. He said she was wonderful to work with and "very gracious and down to earth."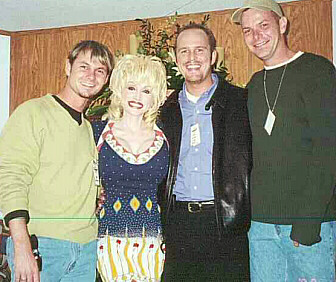 Jackson, Miss., fans (from left) James, Hartman and William got a chance to meet Dolly at her Stars Over Mississippi appearance in October 2000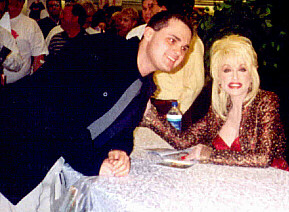 Jonathan got to meet Dolly at her CD signing in Tennessee for The Grass is Blue.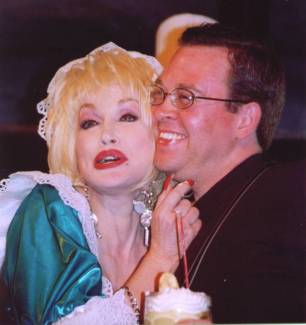 Your webmaster Duane and Dolly.