Harvest Celebration 2004
Images on this page are copyright © 2004 Duane Gordon/Dollymania and may not be reproduced without prior written consent.

By Duane Gordon
Dollymania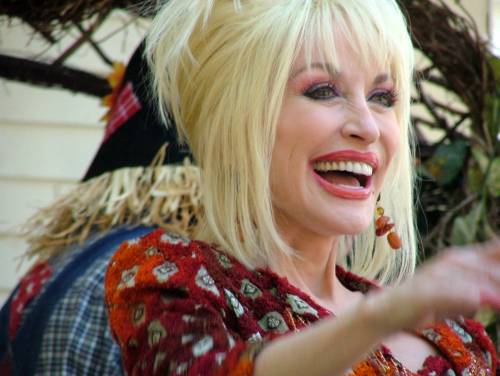 Dolly greets fans on Friday. See more pictures here!
Pumpkins came out in full force, accompanied by plenty of scarecrows, corn stalks, 500 bales of straw and Dolly Parton herself for the kick-off of Dollywood's annual Harvest Celebration this weekend.
Dolly started things off Friday with a quick parade through the park grounds on her way to a 2 p.m. public appearance at the Heartsong Theatre, where she welcomed the gathered crowd and listed the weekend's special guests before helping the executive chef from Mrs. Smith's pies create the celebration's signature dessert, strawberry shortcake over sweet cornbread.
"It don't sound good, does it?" Dolly joked. "Strawberries over cornbread? I never heard of it!"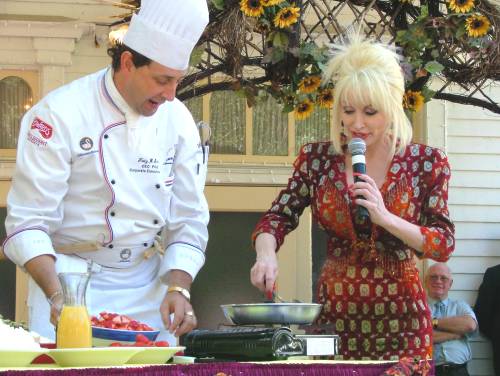 Dolly held the microphone and stirred the skillet as the chef slapped in some butter, brown sugar, orange juice and diced strawberries before dousing it with dark rum to light it on fire, although the flames couldn't be seen in the bright sun.
"What you call this, strawberry flambé?" she said. "Well we call that strawberries on f're here!"
She moved over to talk with a representative of Columbus Washboard Co., the last manufacturer of washboards (or as Dolly called them, "rubboards") in the U.S. She recalled using them as she grew up in the Smokies before rubbing out a rhythm on one and singing a verse of "9 To 5."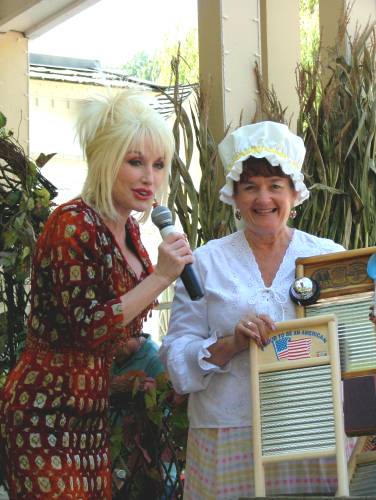 In a question and answer with members of the press, Dolly touched on maintaining her weight, the fact that park officials plan to meet soon to finalize next year's park expansions, her film roles, her upcoming tour and the Imagination Library, among other topics.
When asked if she'd ever consider a reality program, she hollered, "Lord, no! I would be so embarrassed for somebody to see how I really look and how I really live!"
Asked by Dollymania for her feelings on the park's upcoming 20th season, Dolly said there are plans for some "big celebrations" to mark the milestone anniversary. "I cannot believe we've been open 20 years in the spring," Dolly said. "It just seems like actually not more than seven or eight years ago."
And when queried about her feelings on the festival, she said she loves it because autumn is her favorite season. "It's the most beautiful part when all the humidity and stuff's kinda gettin' out of the air and the weather turns and the leaves turn."
But Dolly wasn't the only attraction at the park. Food from around the country debuted at the new Taste of America section. Artisans from across the nation exhibited crafts such as beekeeping, weaving and carving, and a pioneer family showed what life was like a couple of centuries ago. But the highlight, of course, was music.
The weekend marked the start of the five-week-long Southern Gospel Jubilee, with different performers through Oct. 30. Getting things kicked off over the weekend were Dottie Rambo, the Wilburns and Safe Harbor.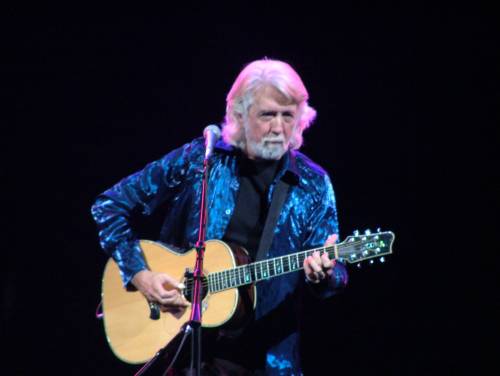 McEuen
Also, the week-long Red, White & Bluegrass festival returned, with headliners Ricky Skaggs and Kentucky Thunder on Friday (featuring a hilarious opening set by Nitty Gritty Dirt Band member John McEuen), the Del McCoury Band on Saturday and Sunday and Ralph Stanley and the Clinch Mountain Boys with Jim Lauderdale on Sunday.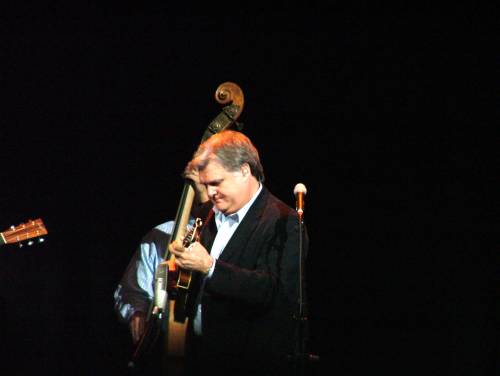 Skaggs
And Dolly offered her four sold-out benefit concerts for the Dollywood Foundation's programs. Her new band, The Grascals, kicked things off with an energetic five-song set before Foundation Executive Director David Dotson took the stage to thank the audience members for their support and to introduce Dolly.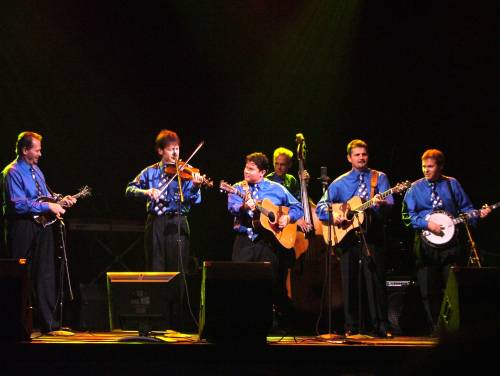 The Grascals
Wearing the same pink embroidered dress she donned at the Dallas, Texas, stop on her "Halos & Horns" tour, she brought the crowd to its feet at the first concert Saturday afternoon with the opening number of "Red, White And Bluegrass," immediately after which her microphone stopped working.
"My microphone went dead!" she shouted. "As big as my mouth is you can still hear me, can't ya!"
Quickly repaired, Dolly used the mike to transport the audience to another time with a rendition of her father's favorite song, "Life Is Like A Mountain Railroad," and her own "My Tennessee Mountain Home," before revving things back up with "Rocky Top."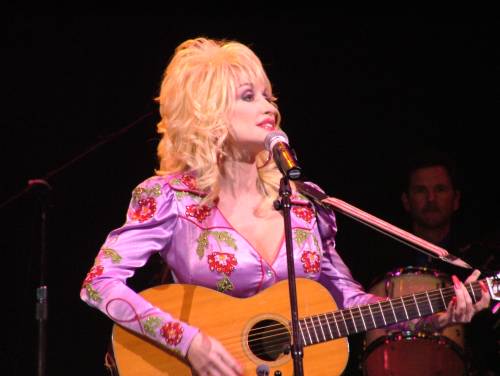 Giving the audience a treat, she offered a gorgeous version of "Put It Off Until Tomorrow," including a tightly-harmonized a cappella opening and the lengthy story of how the song launched her career as a country star.
Recent bluegrass numbers were delivered with intensity before previewing her upcoming album by playing its title track, the lovely "Blue Smoke," filled with imagery of rolling trains and rolling mountains (since "Blue Smoke" is the name of the train the character takes to leave her lover).
Themed to fit with the weekend's bluegrass and gospel events, she added in "Hold Fast To The Right" and "Daddy Was An Old Time Preacherman" to the set alongside "Applejack" and "Coat Of Many Colors" (which brought out memories of her recently-passed mother -- Dolly said she's been working on a song called "My Mama Made Over" about seeing her mother in herself but that it was still too sensitive a subject for her to finish).
Leaving the stage after "Preacherman," she returned with encores of "This Little Light Of Mine" and "I Will Always Love You."
She performed additional concerts Saturday night and Sunday afternoon and evening and offered fans another look at her with quick parades through the park grounds on Saturday and Sunday as well.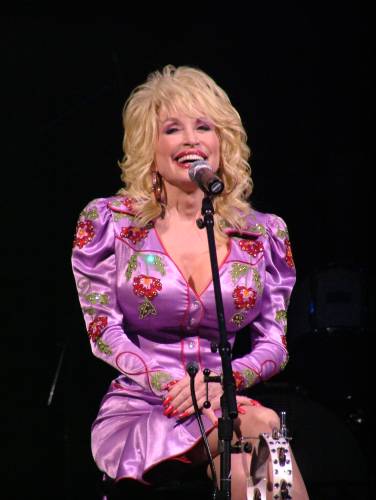 Dolly even cracked herself up with her between-song banter.
Set List
THE GRASCALS
Roll On Muddy River
Leaving's Heavy On My Mind
Me And John And Paul
Sally Goodin'
Pretty Little Mourning Dove

DOLLY
Red White & Bluegrass
Life Is Like A Mountain Railroad
My Tennessee Mountain Home
Rocky Top
Put It Off Until Tomorrow
I'm Gone
The Grass Is Blue
Little Sparrow
Blue Smoke
Hold Fast To The Right
Coat Of Many Colors
Applejack
Daddy Was An Old Time Preacherman
This Little Light Of Mine
I Will Always Love You

Also of note, legendary country music columnist Hazel Smith was on hand to watch the festivities of the weekend. I had the pleasure of visiting with her briefly, and she said that while her "Hot Dish" column this week (Sept. 27) on CMT.com here will focus mainly on her appearance on The Ellen Degeneres Show last week, she plans for next week's column (Oct. 4) to look mostly at Dolly and Dollywood.

Look for many more photos of Dolly in coming days as well as a complete transcript from Friday's event!

Finally, I'd like to offer special notes of appreciation to Dolly, Pete Owens, Trish McGee, Amy Owensby and all of the personnel in the Dollywood media relations office. Thank you!