After three weeks off the road to recover from laryngitis, Dolly was rearing to go this weekend as she made appearances at Dollywood in recognition of the opening of the park's annual fall festival, which this year expanded its music offerings to become the National Music And Harvest Celebration.
The park will add two new major shows next year.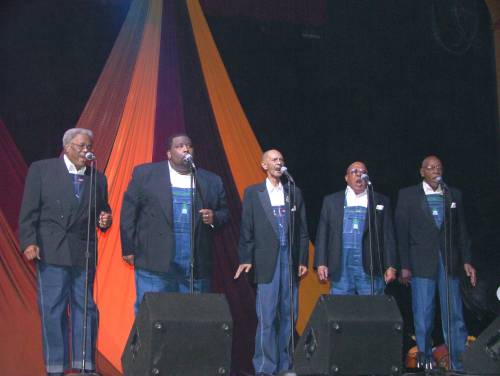 The Fairfield Four (yes, there are actually five of them)
Dolly's first stop was a media event Friday in DP's Celebrity Theatre, which was open to the public. Legendary gospel group The Fairfield Four welcomed the crowd with a tune, after which Dolly took to the stage for an abbreviated performance of "Those Were The Days" backed by Rhonda Vincent and The Rage.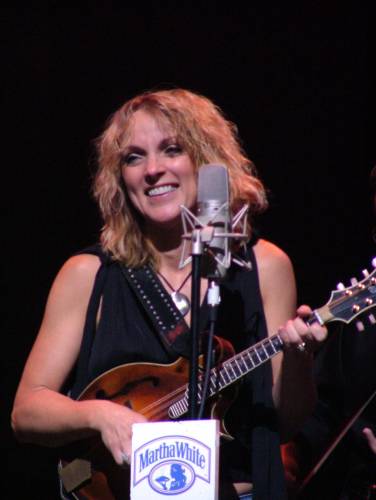 Rhonda Vincent
Noting that Vincent had previously covered "Jolene" a couple of times, Dolly asked her to perform the song and said she'd jump in here and there. Vincent said it was "a lot of pressure" for Dolly to ask her to perform it.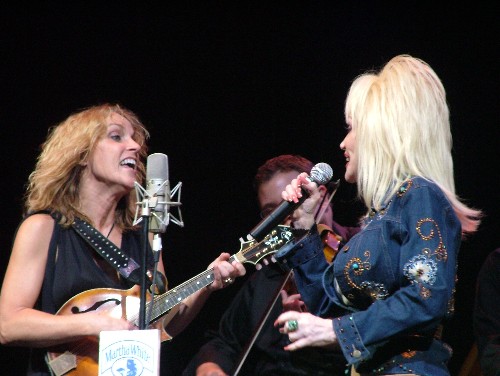 Vincent and Dolly.
Dolly announced that 2006 will feature two new shows at the park: "Dreamland Drive-In," a show to premiere next summer highlighting music from the 1950s and 1960s, and "Babes In Toyland," debuting in winter of next year and based on the popular children's story.
"Now, guys, it's not that -- it's real children!" Dolly joked.
She mentioned the previously-announced addition of the $6.5 million Timber Tower for next year, explaining that she understands there is only one other ride like it in the world.
"And we try to make Dollywood, as I said, bigger and better every year, and so far we've done pretty good, and we appreciate your support over the last 20 years," she added to thunderous applause.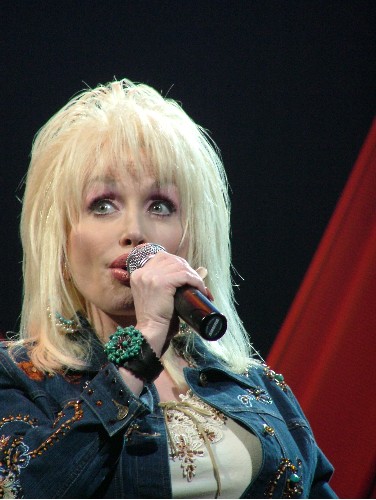 In a Q&A with the media, Dolly reflected on her childhood memories of fall in the Smoky Mountains, her favorite duet partners (Porter Wagoner, Kenny Rogers, and from the new CD, Keith Urban and Joe Nichols -- adding "Stallone was the worst singer, but he had the prettiest body!"), movie projects (none coming up because she hasn't been offered any good roles, although she mentioned composing the score for the upcoming Broadway adaptation of 9 To 5), her brother's musical theater project to be constructed in North Carolina, which songs the audiences are responding the most to from the upcoming album (especially "Imagine," but also most others she is performing in the show: "They seem to like 'em all, and they get to sing along. I always love it when people sing, don't you?"), the Imagination Library and the tabloids (noting that the often-recycled story that she and husband Carl Dean are divorcing is not true, adding: "We've been together for 42 years, and Lord, I ain't breakin' in another one!").
There was even a humorous exchange with this site's Webmaster.
Q. Hi, Dolly. Duane from Dollymania.net.
A. What?
Q. Duane from Dollymania.net.
A. OK! I knew what you said, I just wanted you to repeat it (audience laughter). That's my Web site! He knows all about me. He knows stuff about me before I know it (laughter). And that's no joke. I've been meaning to ask you how in the world you know so much about me.
Q. (pause) Your friends tell me.
A. They do? Yeah, some friends! (more laughter, followed by the actual question)
She ended the event with a finale of "I'll Fly Away" with Vincent and her band along with The Fairfield Four.
Friday night featured a private event for the park's management to celebrate its 20th anniversary.
On Saturday and Sunday afternoons, she toured the park grounds in her standard parade from one end of Dollywood to the other, and her four benefit concerts for the Imagination Library were sold out both days.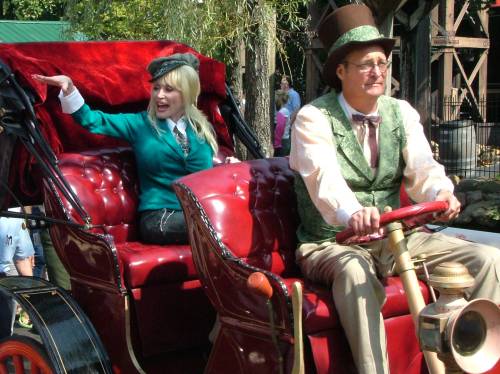 Dolly in Saturday's parade.
As with other shows on the tour, her concerts began with a lone fiddler on stage in front of the curtain playing a verse of "Those Were The Days" before the curtain drops, the crowd screams and Dolly enters in one of her hippie costume variations (or, as she called them, "gyppie -- half gypsy, half hippie") to perform the song.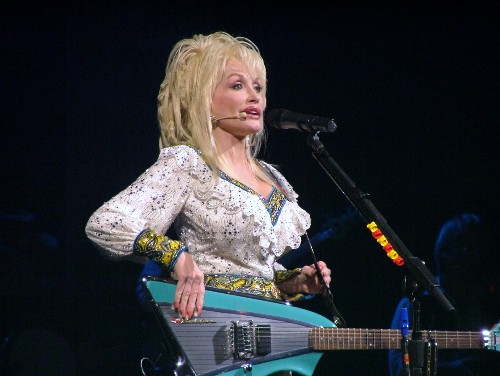 The concert.
Grabbing a scarf from the microphone stand, she motioned for the audience to sing along on the "lie, lie, lie, lie, lie" section of the tune. Jamming on a fiddle for a few seconds, she then took the fiddle bow and again led the audience in singing along.
She merged effortlessly into crowd pleasers "9 To 5" and "Jolene." She pulled out an electric guitar for "Crimson And Clover" (joking that the choppy, altered voices at the end came from a trick she learned from Kenny Rogers, known for his choppy vibrato) and acoustic guitar for a rousing rendition of "Me And Bobby McGee." And all of the old age jokes she's been using on the road were there, too ("it's the dawning of the age spots of Aquarius," etc.).
Sitting on the side of the stage, she strummed the dulcimer and autoharp for some of her older songs about home, including "My Tennessee Mountain Home" and "Coat Of Many Colors," also throwing in "These Old Bones," which drove the crowd wild. She explained she added that song to the set list mainly for her family members who were in the crowd, since the old woman's voice was modeled after her late mother's, but she said several in the audience were serious fans who followed the tour since it started, so her first performance of it in this show was a special surprise for them as well.
At the request of Dollywood business partner Jack Herschend, she also entertained with the story of offering to buy her mother a mink coat with the first royalty check for "Coat Of Many Colors," to which her mom retorted, "Where am I gonna wear a mink coat? To a rooster fight? You just give me that money!"
"Smoky Mountain Memories" was as moving as always, and the rousing "Marry Me" paired with "Applejack" got the hands clapping. Back-up singer Richard Dennison stepped in for Joe Nichols on "If I Were A Carpenter," and her female back-up singers took Norah Jones's and Lee Ann Womack's parts on "Where Have All The Flowers Gone."
The two ladies moved to the front of the stage to dance and sing with her on the novelty number "PMS Blues."
Next came "Here You Come Again" and "Two Doors Down," followed by her signature song, the tender "I Will Always Love You."
After leaving the stage to a standing ovation, she returned and explained she and the band had debated doing an abbreviated show since she was recovering from her illness, but with an audience as good as the ones at Dollywood, she needed to perform a few more, launching into a three-song encore.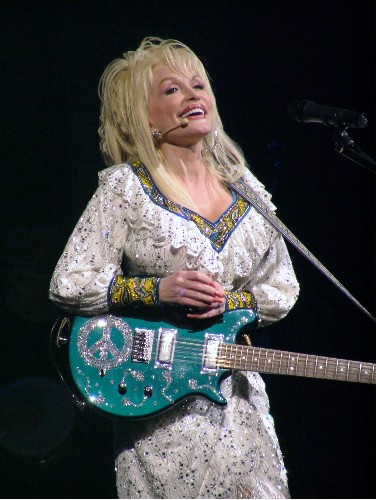 With her guitar bearing a peace sign.
She spoke more about the '60s revivals, noting that there was a new version of the musical "Hair." She said someone had asked her if she'd seen it and she replied that if she wants to see people naked, drunk and smoking dope she'll get on Willie Nelson's tour bus. Obviously proud of the audience's response to that line, she squealed: "I just made that up!"
She turned reflective for the end of the show, playing a guitar which bore a dazzling peace sign as she sang "Turn, Turn, Turn," even turning around and around herself as the song ended. She noted how Hurricanes Katrina and Rita show us "life is small" compared to nature, and these songs remind us of life.
But, as is always the case with Dolly, the jokes weren't far behind. With her gorgeous rendition of "Blowin' In The Wind," she offered that she had asked Bob Dylan to sing his song with her on the upcoming CD, but he declined, to which she joshed that she told him it was originally going to be an entire album of "Dolly Does Dylan" but not anymore.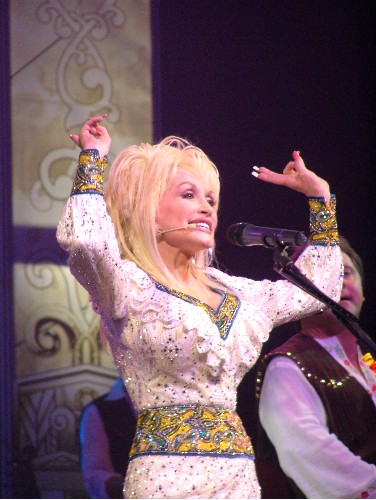 Flashing a peace sign with each hand as she ends "Imagine."
To introduce "Imagine," she spoke of the song's message of hope for a just world, adding simply: "If we can't have peace and we can't have love, at least we have an imagination and can imagine what it should be like."
As she entered the final chorus of the powerful song, audience members began to stand, slowly at first, but soon the entire house was on its feet well before the song ended, and they remained standing through her goodbyes, an additional chorus, and long after she left the stage.
If only for the 90 minutes or so of the show, the audience lived in that world of imagination with her.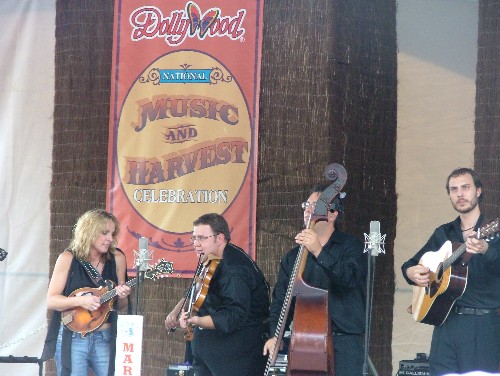 Rhonda Vincent And The Rage at their concert later Saturday. Dozens of artists will perform through October as part of the festival.
Look for many more photos from the festivities in coming days!
I'd like to offer special notes of appreciation to Dolly, Pete Owens, Corrin Paradice, and all of the personnel in the Dollywood media relations office, Aletha Soldan, and Denise Kirkwood. Thank you!
See additional photos here.