Advance order your copy of The Grass is Blue by clicking on the cover art below!

A 'slice of heaven' from Dolly
By Justin Frazier
Throughout the years, Dolly Parton has longed to record a bluegrass album, and in August of 1999, the dream came true for Parton and millions of loyal fans. The Grass Is Blue will be released Oct. 26 by world-renowned label Sugar Hill Records and Parton's own Blue Eye Records. The finished result is a slice of heaven.
The song selection on this album in phenomenal. The album's opener, Billy Joel's "Travelin' Prayer," is a fast-paced journey down a road that you can't turn back on. "Travelin' Prayer" also features Alison Krauss and Union Station's Dan Tyminski on harmony vocals.
"Cash On The Barrelhead" is a really cool tune that was originally recorded as a man's song, but by turning the "that'll be cash on the barrelhead, son" to "that'll be cash on the barrelhead, hun," it was perfect for Parton and the album.
My personal favorites from the album are, in my opinion, extraordinary songs. "Train, Train" was recorded by the rock band Blackfoot and turned into a perfect bluegrass song. "Silver Dagger" is a haunting tale that is made by Parton's Appalachian twirl and some excellent banjo playing. "I Am Ready," "Steady As The Rain" and the title track are also favorites.
There is not a bad song on the entire CD. The first single from the album is Hazel Dickens' "A Few Old Memories." The song is beautiful and features Patty Loveless and Rhonda Vincent on harmony vocals. It will ship to country radio, and hopefully be exposed to a broader audience.
Parton's latest solo effort, "Hungry Again," received excellent reviews from the critics, but the radio play wasn't there. "Blue Valley Songbird," a song from the album, will be turned into a TV movie and air Nov. 1 on Lifetime. Parton was inducted into the Country Music Hall of Fame in September.
Parton's band consisted of Nashville's finest. Jerry Douglas, Sam Bush, Stuart Duncan and Barry Bales are some of the extraordinary players on the album.
Parton said, "I was moved each time I heard them playing through my headphones. The band was the very best of the best. This was a charmed and blessed project almost like a spiritual experience."
Parton also calls the band "God's Bluegrass Band." I totally agree. I have followed Parton's music for many years. As a huge fan, I have grown to recognize her better works. The Grass Is Blue ranks in my favorites list which includes her 1999 Trio II collaboration with Emmylou Harris and Linda Ronstadt, Heartsongs: Live From Home, and her 1998 Hungry Again CD.
This CD is truly a heavenly masterpiece from the Dolly Parton the world has grown to love.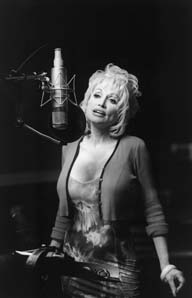 Above: Dolly Parton records for her Grass Is Blue CD to be released Oct. 26. Thanks to Kim Fowler and Sugar Hill Records for the photos and promotional items.
Dolly Parton The Grass Is Blue, Sugar Hill/Blue Eye Records, Oct. 26

Produced by: Steve Buckingham

Reviewed by: Justin Frazier

Complete Track List: Travelin' Prayer, Cash On The Barrelhead, A Few Old Memories, I'm Gonna Sleep With One Eye Open, Endless Stream of Tears, Steady As The Rain, I Still Miss Someone, Silver Dagger, Train Train, I Wonder Where You Are Tonight, Will He Be Waiting For Me, The Grass Is Blue, I Am Ready