Dolly Honors, Joins Girl Scouts
Images on this page are copyright © 2007 T. Duane Gordon/Dollymania and may not be reproduced without prior written consent.

By Duane Gordon
Dollymania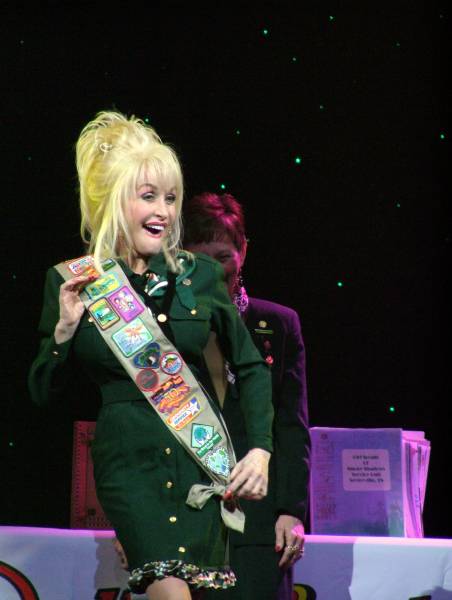 Dolly shows off her Girl Scout sash and merit badges. See more pictures here!
Have you ever heard the sound of more than 1,000 energized, excited, exuberant Girl Scouts contained in one room? The concentrated scream is powerful, full of life and genuinely like nothing you have ever heard before, but the sound filled DP's Celebrity Theatre at Dollywood on Friday numerous times as East Tennessee's Girl Scouts of Tanasi Council made Dolly one of their more than 10,000 members.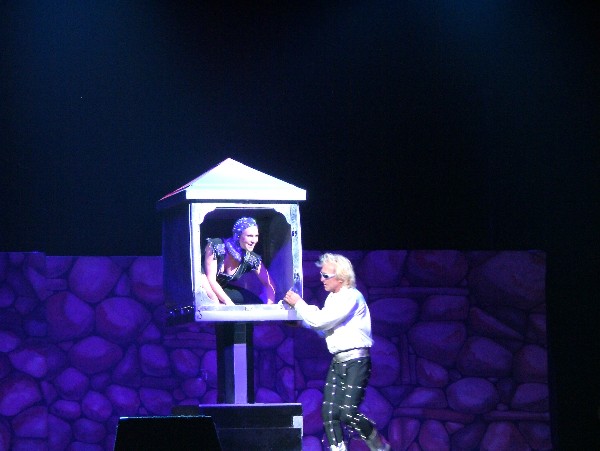 One of the Fercos Brothers is about to turn his assistant into a small dog.
The event opened with an abbreviated version of the park's KidsFest headliners, "Untamed Illusions Staring The Fercos Brothers," featuring feats of magic, trained dogs and exotic large cats. Those surprises got some screams from the girls, but their biggest cheers came later when one of their favorite role models took to the stage.
Council Chair Glenda McCarter-Johnson, a childhood friend of Dolly's from school, asked Brownie Scout Jennie Miller to lead the girls in singing "Make New Friends," telling them if they sang loudly and clearly enough, a special new friend would join them. After one verse, Dolly walked on stage in a Dollied-up green Girl Scout dress to the cheerful screams and even joined in to sing the final few words.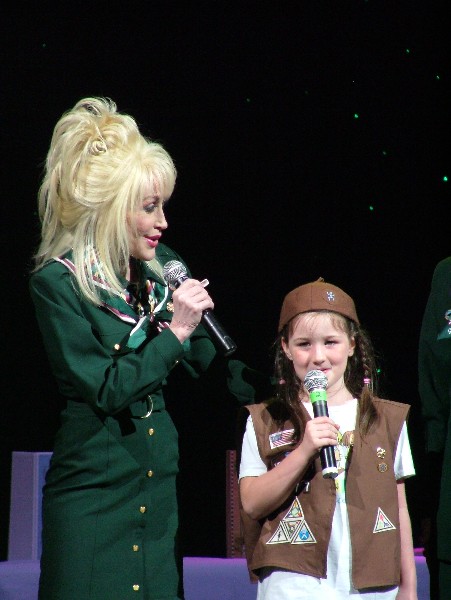 Dolly and Miller.
"First of all I just wanted to say how excited I am to be here with all the Girl Scouts of America, and of course I always wanted to be a Girl Scout myself," she told the crowd. "I wanted to wear the uniform, go on special trips, wear all the badges. And how do you like my outfit? . . . I tell you there's a lot of strain on this outfit!"
When McCarter-Johnson told her they had a surprise for her, Dolly said it wasn't really a surprise because she already knew about it, bringing laughs from the crowd.
Dolly told how she "dreamed big" as a child in the mountains surrounding the park and was living proof that dreams do come true if you stick to them.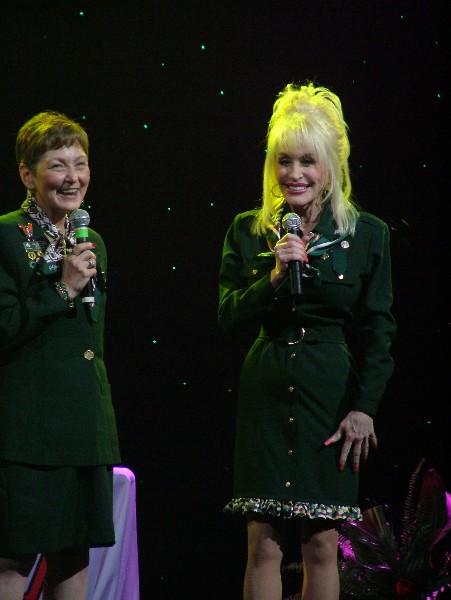 Dolly and McCarter-Johnson.
"If you do the things you do best," she explained, with her comments interrupted many times with applause from the crowd of Girl Scouts and their chaperones. "And that is having faith in yourself, having faith in God and having faith in what your talent really is. I don't believe there's a thing in this world that you can't do if you put your mind to it. . . . It doesn't matter what your dreams are. Everybody doesn't want to be a singer. Everybody doesn't want to be a star, but you do want to star in your own dream, whatever that is."
She added that McCarter-Johnson asked her to tell the story of how her mother made a coat for her from scraps and told her the story of Joseph from the Bible to help her not be ashamed of the jacket. Of course, the children at school teased her and hurt her feelings.
"It was only years later that I wrote the song and got a chance to share that and realize that a lot of people have been hurt by people making fun of them, looking down on 'em," she told the girls. "And that's something we should learn early on, never to do that, because everybody's little heart is just as tender as yours. Everybody's feelings get hurt. And it was only after I wrote this song and got that hurt off of me that I realized how important that kind of attitude is."
Accompanied only by her bedazzled acoustic guitar, she performed her classic "Coat Of Many Colors," explaining afterward that it is her favorite of all the thousands of songs she has written in her career.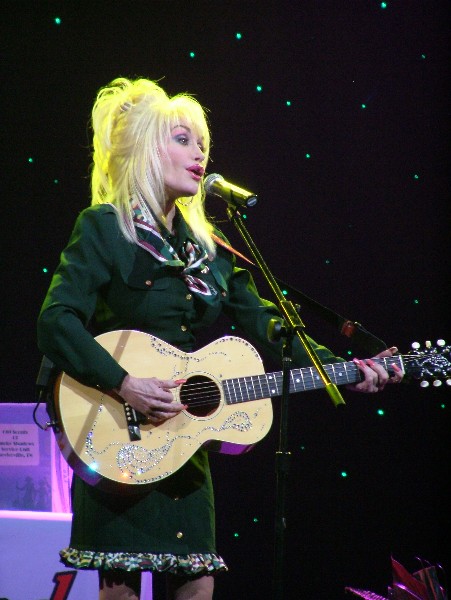 "Coat Of Many Colors."
Dolly and McCarter-Johnson then presented certificates signed by Dolly to this year's Gold Award honorees, posing for photos with each. Scouting's highest award, the honor is given to girls who have spent more than 100 hours on a community service project.
"This'll be nice when it's framed, won't it?" she asked one girl. "We should have got you a frame. We're too cheap for that!"
"Oh, Lord, look at the stuff you got on you!" she said to another with a gaggle of merit badges covering her vest. "You've worked hard!"
When another came by with a sash covered in badges, she commented to the crowd's laughter: "Look at that. That's what I want now that I'm a Girl Scout. How hard do I have to work?"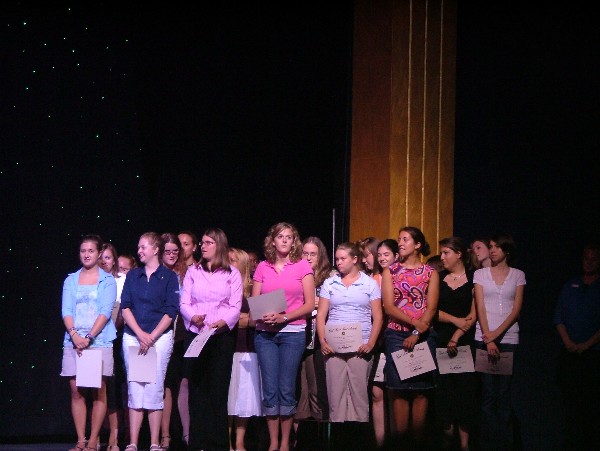 The Gold Award recipients.
After honoring them, it was Dolly's turn to be honored. McCarter-Johnson first presented her with three scrapbooks prepared by the girls of Sevier County about why she is always at or near the top of the list of women whom East Tennessee Girl Scouts admire as their role models. She thanked them for the books and said she would read them on her bus when she heads up to New York after leaving Pigeon Forge.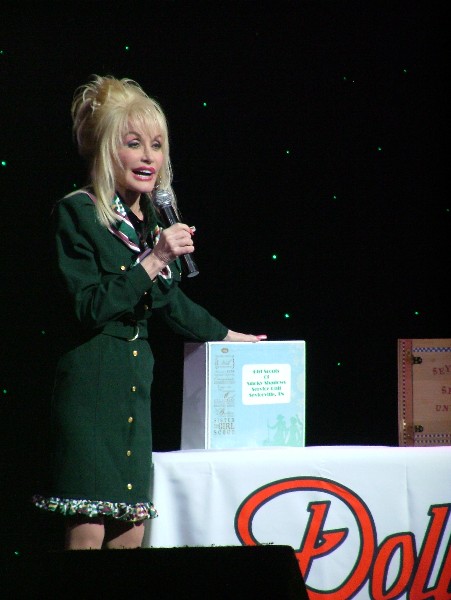 Dolly and her scrapbooks.
"We heard that Dolly always dreamed about being a Girl Scout," McCarter-Johnson explained as she welcomed Dolly as a lifetime member of Girl Scouts. "And we thought about what we could do to return to her an honor because of all the things she's done for young women, not only in Sevier County, or not only in the Girl Scouts of Tanasi Council but in the whole state of Tennessee, in the whole USA and around the world. She is admired everywhere she goes as a very strong woman of character, confidence and courage."
"I'm gonna be proud of this. I really am. I'm gonna honor this," Dolly replied. "Because I think it's a great, wonderful thing. Thank you! Thank you!"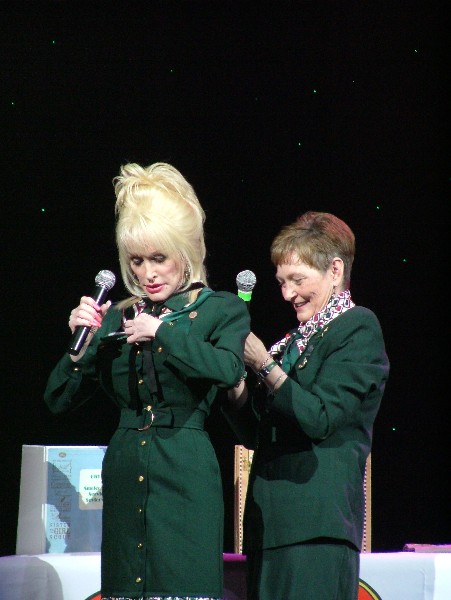 McCarter-Johnson pins a ribbon and medallion around Dolly's neck welcoming her to the Girl Scouts.
McCarter-Johnson said a certificate recognizing her membership will be sent in coming weeks, and Dolly said she would exhibit it in the Chasing Rainbows Museum at the park.
She then squealed with joy when McCarter-Johnson presented her with a sash, noting that she had told one of the girls earlier that she wanted one of her own.
"I want to tell you about this sash that we are presenting to you," McCarter-Johnson said. "It symbolizes all of the types of awards that you would have received as a young woman in Girl Scouting. It's based on things that you have done throughout your career. So you have definitely earned this sash."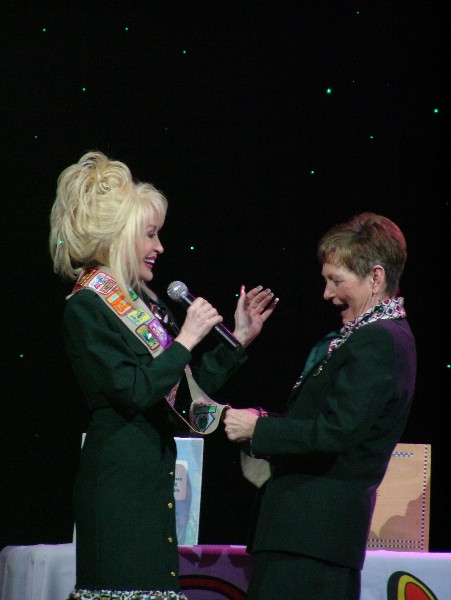 McCarter-Johnson ties Dolly's sash.
"I'd rather have this than an award!" Dolly exclaimed, immediately joking that McCarter-Johnson didn't seem to know how to put the sash on properly. (Later, a Girl Scout corrected it for her.)
The Gold Award recipients then led her in reciting "The Girl Scouting Promise" to conclude the ceremony.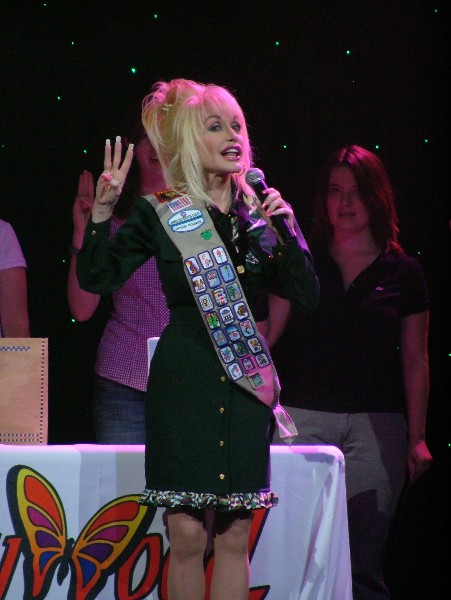 Dolly repeats the Promise.
Before she left the stage, Dolly said she planned to wear her uniform home and wouldn't even say hello to her husband, instead she'd give him a Girl Scout salute.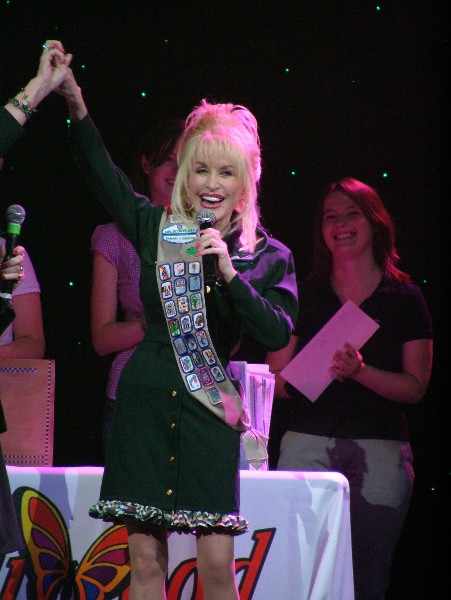 See additional photos here.