Dolly Comes Home For Library
Images on this page are copyright © 2007 T. Duane Gordon/Dollymania and may not be reproduced without prior written consent.

By Duane Gordon
Dollymania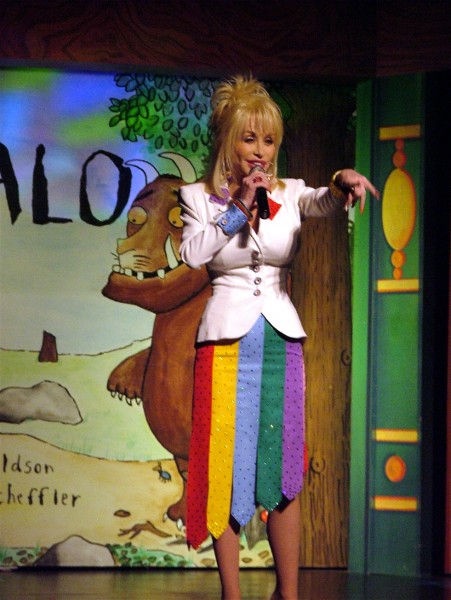 Dolly in her rainbow skirt. See more pictures here!
Dolly wasn't afraid of the Gruffalo when she took to the stage Friday morning in Dollywood's Heartsongs Theatre to close out the annual Imagination Library "Homecomin'" conference and honor some special folks.
In years past, she has always made her appearance at the end of the premiere of the Imagination Playhouse musical (she composes songs for the 20-minute stage musicals based on books from the Library which run each year at the park's KidsFest), but this time she took to the stage prior to the show's start, donning a skirt made out of bright ties arranged in the colors of a rainbow, apparently to represent "I Am A Rainbow," a new children's book she has written and which she said will be released next year. She entertained the crowd by singing a song of the same name which she wrote for the book.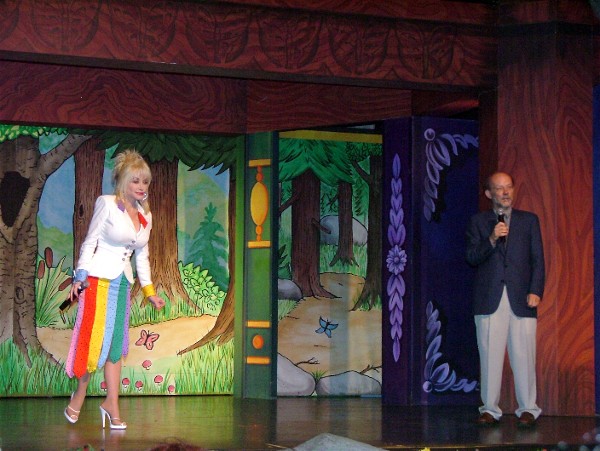 Dolly and Dollywood Foundation Executive Director David Dotson.
In addition, she announced that the Library will soon send out its 10 millionth book, just four years after mailing its 1 millionth.
"We're very excited about that, and no matter what the Post Office tries to do to us we're gonna send out 10 million more," she said to great applause, referring to the recent postal rate hike on nonprofit postage for books which is expected to double postage costs for the program. (The Library was one of many charities nationwide which publicly opposed the rate increase, details of which were announced very shortly before they were to go into effect, and petitioned unsuccessfully for it to be delayed so their mailings could be altered to lessen the impact of the increase.). "I guess they have to do what they have to do but so do we. We're working on them."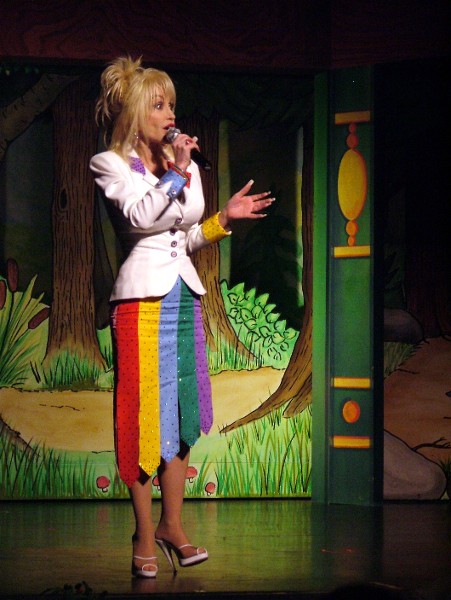 After welcoming everyone and thanking them for their work on her Library she was ready to introduce the play, "The Gruffalo."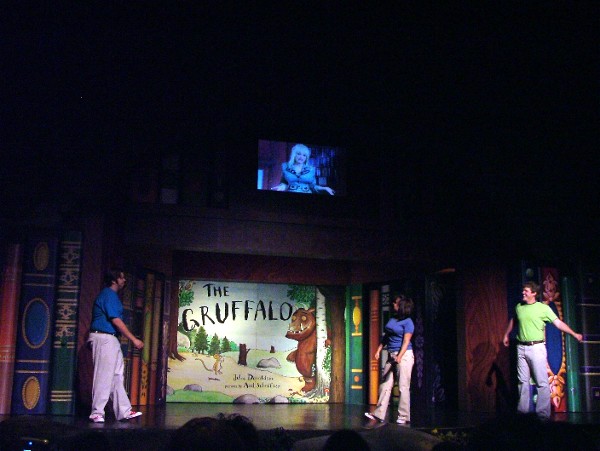 The singers start the show performing with Dolly above the stage.
"So if you don't mind, ladies and gentlemen, I'd like to introduce you to . . . ME!" She took her seat on the front row as the audience erupted in laughter and her pre-recorded introduction to the Imagination Playhouse shows began to play on the television screen above the stage.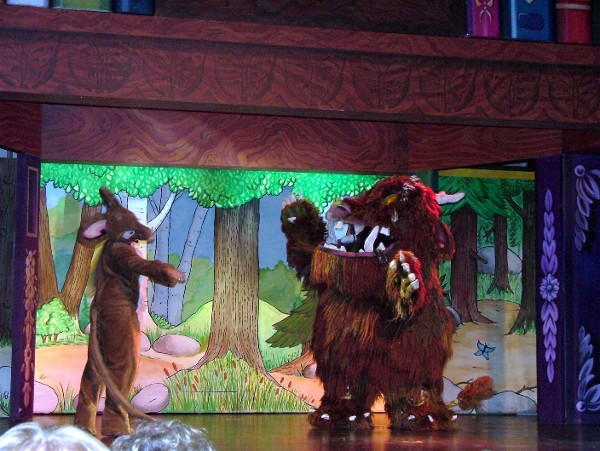 The mouse and the Gruffalo.
Afterward, she was ready to take questions (after recognizing her visiting friends from Hawaii who are so close to her she calls them her Hawaiian family). The night before, a drawing was held with conference participants, 10 of whom were chosen to come on stage and ask Dolly whatever they want.
"Well, I'll try answers to anybody's question," she warned. "And if I don't like what somebody asks me I'll just make it up and tell ya what I want you to hear!"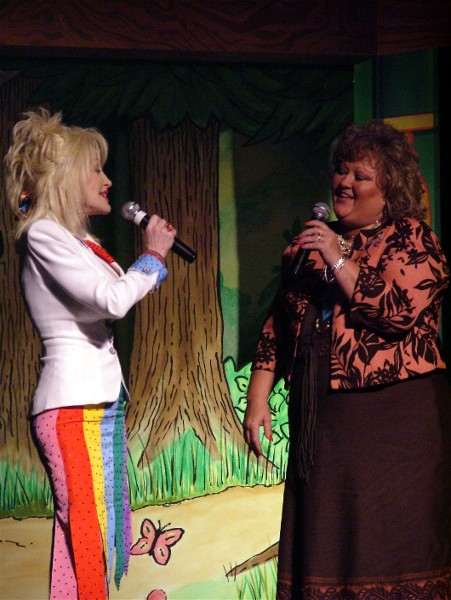 Dolly sings with one of the question asking winners.
They were (if you are one of the 10 and your name is misspelled, please let me know here):

Pat Logan of Memphis asked for her most cherished childhood memory, to which she replied that being one of 12 children, one of her favorite things was to play with her siblings, but in reality there were so many wonderful memories that she couldn't pick just one. However, she added, she has many fond memories of her parents, both of whom passed away in recent years.

Jim Butler of Connersville, Ind., inquired as to what person or event helped most in her breaking into the music industry and what advice she would give to a young person entering show business. She replied that many of her earliest heroes were relatives on her mother's side of the family who were very musical, especially her Uncle Bill Owens, who supported her musical talent as a child and got her a job singing on the local Cas Walker Show on television. Later, it was Porter Wagoner and The Grand Ole Opry that helped propel her career. As for advice, she noted: "I guess that I've worked myself into the ground all my life, still doing it as you can see, so any advice I have to anybody in any business is to believe in what you're doing, believe in your talent, and keep working."

Kay Schrope of Latford County, Ind., asked for her most memorable moment with children and books. She said one would be when she was to read to some children and the first child to call her "The Book Lady" screamed it out in front of her father, who was very proud of the nickname. Another was when she and Gov. Phil Bredesen were taking photos with children to promote the program and the baby he was holding "pooted" on him. She said he tried his best not to laugh to hard in the picture, which she signed and sent to him calling him "the big winner of the baby pootin' contest."

Liz Wuzey of Nashville said her question came to her in her dream because she couldn't think of what to ask before then: If you could be a gemstone, which one would it be and why? "Well I would be a diamond. I've lived my life as a rhinestone but I hope I shine like one."

Pamela Morris of Franklin County, Tenn., said she uses music to revive her spirit when she's exhausted her energy and wanted to know what was Dolly's favorite song to rejuvenate her and if she would sing a little of it. "I can tell she's wantin' to sing," Dolly laughed. "I'm gonna let you lead me in whatever my favorite song is!" She said she has several favorites, especially "I Believe" and "If We Never Meet Again," but she asked Morris for her favorite and offered to sing it with her. She replied "Victory In Jesus," which Dolly said she used to sing as a child in her grandfather's Pentecostal church and started them singing. At the end of the verse, Dolly harmonized and the crowd erupted in thunderous applause. "I'm surprised I remembered that after all these years," she said, and when the next person walked up for her question, she joshed: "She probably wants to sing 'Mule Skinner Blues.'"

Beth Howard from Cornwall wanted to know if she were granted one wish what it would be. Dolly seemed caught off guard for the first time in the day and paused for a moment. "Well, that I could live forever and do great things like this," she said, later expanding with: "I've had so many wishes come true and so many dreams come true that it would be a selfish thing for me to probably say but I've actually, I guess that I could live a long, long time and continue to do good."

Mary Ann Nemoto from Honolulu asked if she would be doing another Trio recording with Linda Ronstadt and Emmylou Harris. She said: "Well, I'd like to. I'd like to say yes to that. Maybe when we're all older and slowed down a little bit more we might do that. We'd love to do it because we love to sing together and I think we have a really beautiful blend. But we've done two albums and it took us 30 years to get those two done . . . Hopefully we will one day get to do that . . . I'm not sure that that will happen but I'd like it to." She added that she does get to sing with Harris a good bit, including having her recently record a song for her next CD (although she didn't elaborate as to when it will come out, her most recent comments came in April that she was planning a September release with a fall/winter tour to promote it, but no new details have been announced on that timetable since then).

Brenda (no last name given) from North Carolina said she was getting married in October and wanted Dolly's secret to a long marriage since she's "been married forever," which brought laughs from Dolly and the audience (Dolly quickly pointed out "It's true," adding she and Carl Dean celebrated their 41st anniversary on May 30 and started dating 43 years ago). "I'd say stay gone!" she replied. "Stay out of each other's face as much as you can." Brenda offered: "Well, my fiancé isn't here with me. Is that a good start?" Dolly continued: "That's a good start. Yeah, actually I think being best friends with the person that you marry is a good start. Course we are good buddies. My husband is not in the music business at all. He loves music, and he loves to hear about it, but he buys his own records. He don't even come to Dollywood unless he goes and buys a ticket and comes separate from me so people don't know it's him. He's funny like that. Anyway, I think just getting along, trying not to argue. I learned early on there'd be no way to win an argument with Carl, so we never started to argue. So that always helped. But he's a good guy."

A gentleman from Florida (name unintelligible) asked if the Library had fulfilled all of her visions for it. "Well, so far it has," she said. "Of course we have new dreams every day . . . We hope to one day be all over the world." She added that it has expanded to Canada and that discussions are ongoing to bring it to England.

Scott Peterson of the U.S. Department of Justice in Washington, D.C. (sponsors of the program there and in Alaska), asked when her musical adaptation of 9 To 5 would be on Broadway. Dolly answered: "Well, actually it's going to be about a year from now. Could be a little more 'cause it takes forever to do a Broadway musical . . . We're in rehearsals now. We've cast the whole thing, and it just takes a long time to get it all organized, but hopefully it will come out sometime next year." He also thanked Dollywood Foundation Executive Director David Dotson for his excellent work, to which Dolly added: "I can never say enough about David," before asking Dotson if he had paid Peterson to offer the compliment.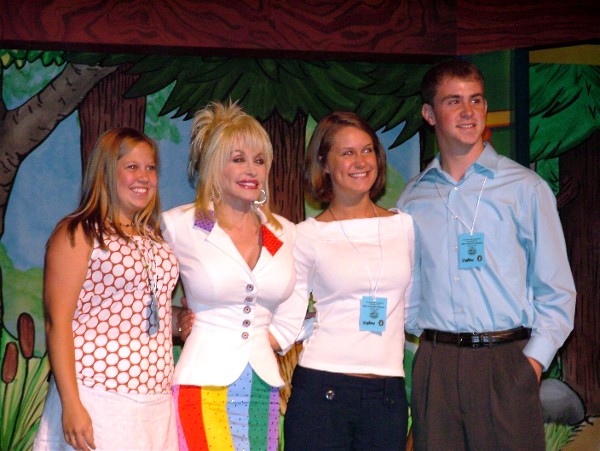 Dolly and the scholarship recipients.
The event ended with her recognizing the recipients of this year's Dolly Parton Scholarship: Katie Thomas of Seymour High School, Kurt Thomas of Sevier County High School and Amanda Husket of Pigeon Forge High School. (Stephanie Carr of Gatlinburg-Pittman High School was unable to attend.) The $15,000-per-student scholarships are sponsored by Dixie Stampede, Sevier County High School Alumni Association, Citizens National Bank and Tennessee State Bank.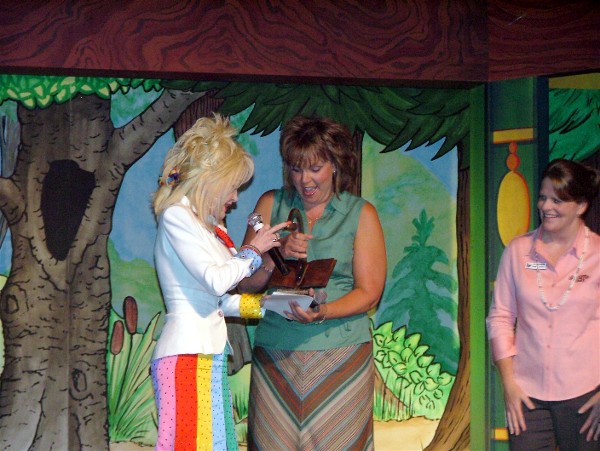 Dolly presents Lora O'Brien with the Chasing Rainbows Award.
Dolly also presented this year's Dolly Parton Chasing Rainbows Award from the National State Teachers of the Year Organization to Lora O'Brien of Pennsylvania. The award is given to a former state Teacher of the Year who has overcome obstacles to reach success in the classroom and impact the lives of children. Dotson explained she was described by one of her nominators as having "an ability to unleash the irrepressible spirit of all children." She lost her right leg to cancer at a teen-ager, a story she shares with her 3rd grade class at the start of each school year to allow them to ask whatever they want to get the uneasiness out of the way and help teach them that everyone has something to make him or her different.
O'Brien explained: "I am so proud to represent other teachers who, on a daily basis, affect children's lives. . . . From the earliest time I can remember I wanted to be a teacher and I loved everything about school. I have two sisters. We would go to the store. They would head for the toy isle and I would head directly to the school supply section and I would come out with notebooks and pens and markers and things like that."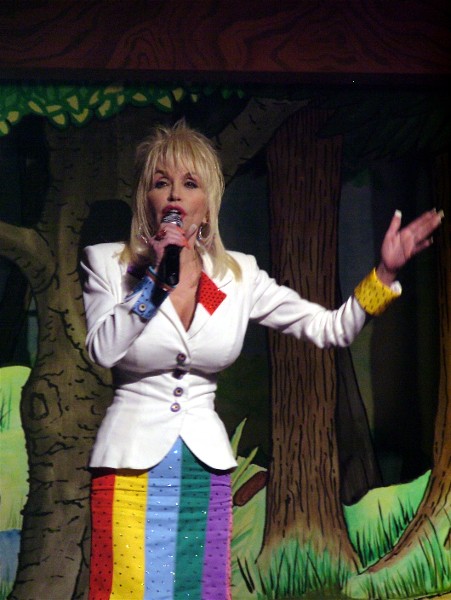 See additional photos here.