Dolly Rocks Richmond Crowd
Images on this page are copyright © 2008 T. Duane Gordon/Dollymania.net and may not be reproduced without prior written consent.

By Duane Gordon
Dollymania
Chants of "Dol-ly! Dol-ly! Dol-ly!" echoed through the Brock Auditorium Saturday night on the campus of Eastern Kentucky University as 1,600 guests from several states and a few foreign countries sat in their seats awaiting the entertainer to take the stage at the Evening Among Friends Encore performance in Richmond.
St. Mark Roman Catholic Church's Father Jim Sichko had just revved up the crowd with a stirring introduction for Dolly Parton, getting them on their feet and shouting – a performance which would lead Dolly herself to comment later in the evening she understands that he acts a lot more like one of her mountain Pentecostal preachers than a typical Catholic priest.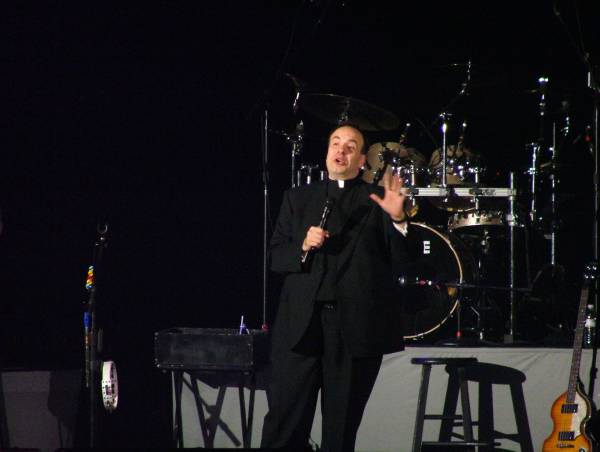 Father Jim gets the audience ready.
The evening was a fund-raiser, with VIP tickets going for $175 each on the floor, meet-and-greet packages for $700 and front-of-stage pink rocking chair seats at $1,000 each, but organizers managed to raise a little more money with auctions before the show. An autographed banjo went for $4,000, autographed pink acoustic guitar for $1,700 and autographed pink electric bass $4,000.
Cheers erupted to the opening strains of "Two Doors Down," mixed in with a little "Hello Dolly" for good measure. And the crowd took to its feet again to welcome the Smoky Mountain songbird to the stage.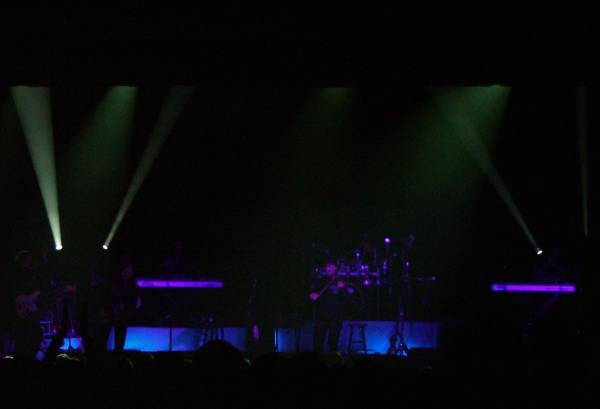 The music starts.
She commented how long she had waited to come join the folks there and was so pleased to be a part of the good cause (money from the evening supported the Breast Cancer Prevention Institute and St. Anne House for Mentally Challenged Women).
Her spot-on performance echoed the set list performed at most of her recent concerts, except there was no intermission, no "Baby I'm Burning" and no "The Grass Is Blue" (which I suspect was due to the smaller stage size, which would have made rolling out her grand piano for that number somewhat difficult if not impossible). She also cut the reprise of "Do I Ever Cross Your Mind" in its "gospel style" after the song's first performance.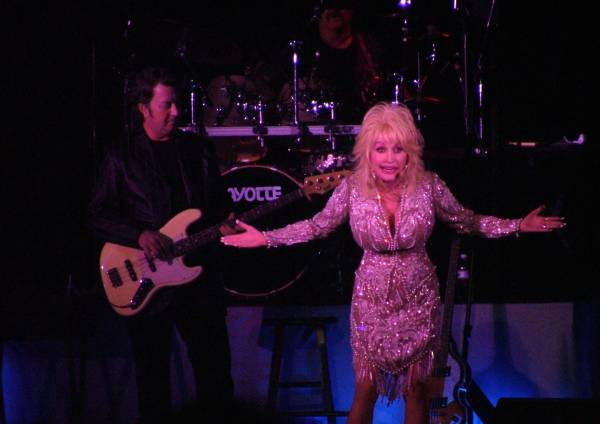 As she has done on her past few shows, she moved "Jesus & Gravity" to immediately after "Better Get To Livin'" (although she did mistakenly identify it as her current CD's first single instead of second, and called "Livin'" its second single instead of first) and used "I Will Always Love You" as her encore.
Dedicated to Father Jim's mother and the bishop's mother, both of whom she said she had met that day, in addition to her usual dedication to all of the good mothers in the audience, "Coat Of Many Colors" brought a standing ovation, as did "Jesus & Gravity" a little while later, but those weren't the only times that audience members got out of their seats. As she started her gospel medley, a group of about a dozen very exuberant fans in the middle of the floor seats stood together and began clapping, which prompted the other audience members to slowly rise to join them. Soon enough, everyone was standing and clapping to "that good gospel beat" as she sang. They stood and clapped to the beat again on "Islands In The Stream," but that was at the request of backup singer Richard Dennison, as usually takes place in that part of the show. They continued standing through the next song, "9 To 5," until she left and returned to the stage, and the final standing ovation of the night began when she entered the final chorus of her encore, "I Will Always Love You."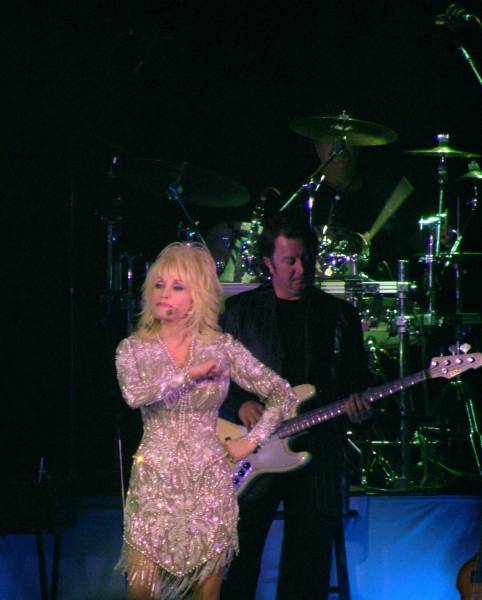 Of course, no Dolly concert would be complete without the jokes and jabs and nostalgic tales between each musical number. Of course the story of the town tramp on whom she based her appearance made its appearance before "Backwoods Barbie," and her husband's preference for rock-n-roll brought on "Drives Me Crazy." Stories of mom and home introduced "Coat Of Many Colors" and experiences with the tabloids brought on "Shattered Image."
Introducing that song, though, she also said she'll be very glad when the presidential election is over so the negative campaign ads stop airing. She said she doesn't care at this point which one wins but just wishes it would be over because "I want 'em to hush talkin' about each other!" She said with all of the negative comments on both sides, she expects both Obama and McCain would sing "Shattered Image" if they could.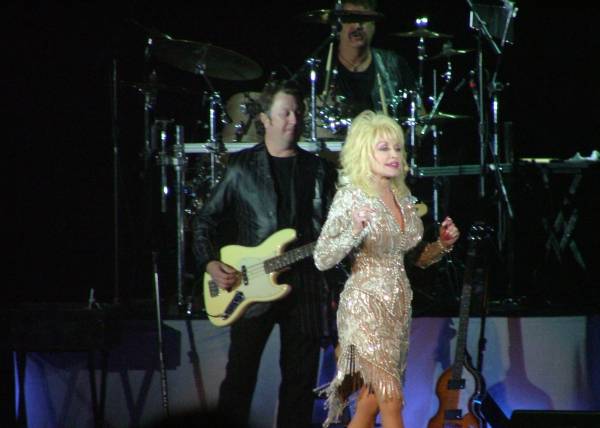 Absent from the evening's humor were her recent Sarah Palin jokes, but she framed her few political jokes in the context of having performed for several political figures at the Tennessee Governor's Mansion just prior to the Nashville's presidential debate a few weeks back. These included rephrasing two standbys on this tour: saying folks at the table asked her about global warming and she replied that when her globes got too warm she'd take off her sweater, and about foreign affairs, to which she said she'd had a few but preferred American men. To the latter joke, she added "At my age, if I have an affair, I'll have it catered!"
When she spoke of her large family of 12 children, she told the joke about her family being asked if they were Catholic, to which she said no they're just "very fertile hillbillies." (Presumably, she didn't want to use her usual "horny hillbillies" line at a church-sponsored concert.)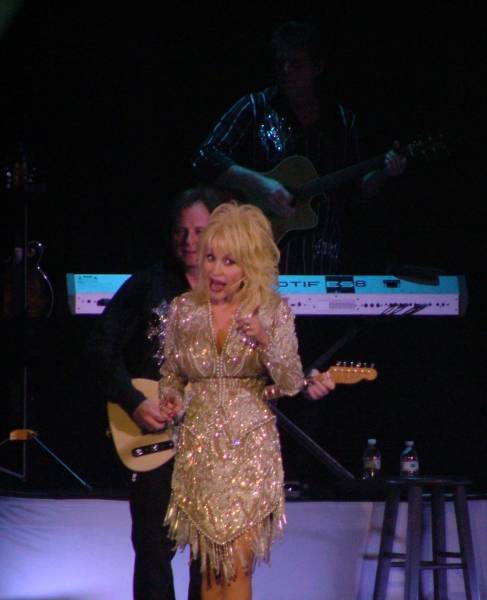 She even got a laugh before "Shinola" saying it wasn't nearly as spiritual as the gospel medley she had just finished "but us sinners gotta do what we gotta do!"
A few other unique notes from the evening included her call out of "You go girl!" during "Here You Come Again" to one very excited fan in the rocking chair seats at the foot of the stage who stood and danced to several numbers. (I won't call you out by name, but you know who you are! LOL!) And Dolly also noted they were performing at backup singer Vicki Hampton's alma mater, to which she said she it felt good to be back on campus.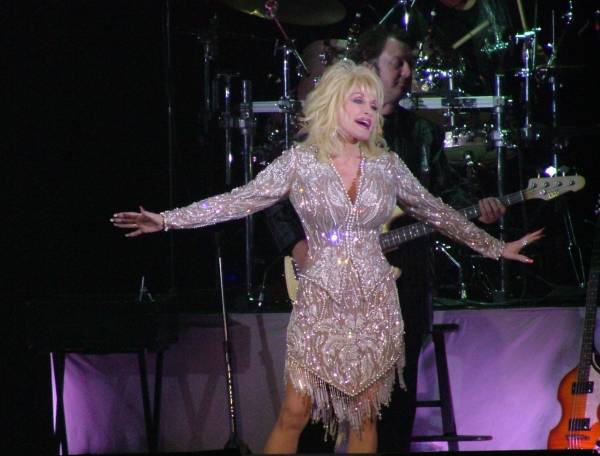 Before her encore, Father Jim came on stage to bestowing upon her the state's highest honor, being named a Kentucky Colonel, as well as present a piece of framed art which it has become traditional to give to each artist who participates in the church's concert series.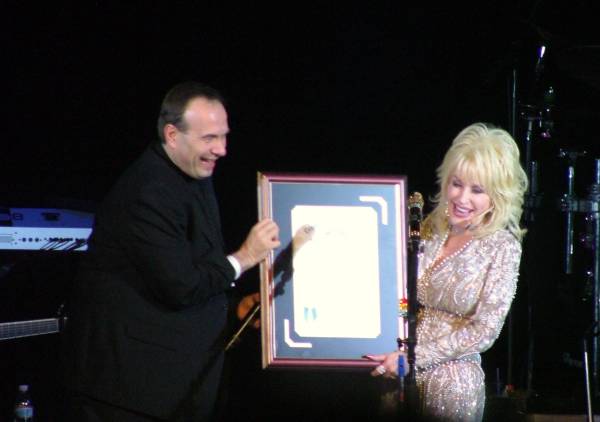 Dolly accepts her Kentucky Colonel order from Father Jim.
After Dolly's final stage exit, with the crowd slowly filtering out of the hall after Father Jim announced next year's Patti Labelle concert and beckoned the VIP ticket holders to come by the church's post-concert reception for them, he beamed: "Thank God for Dolly Parton!" Strong praise indeed from a priest.
Full set list:

Two Doors Down

Why'd You Come In Here Lookin' Like That?

Jolene

Thank God I'm A Country Girl

Backwoods Barbie

Drive Me Crazy

Shattered Image

Coat Of Many Colors

Only Dreaming

Gospel medley

Shinola

Better Get To Livin'

Jesus & Gravity

Do I Ever Cross Your Mind

Little Sparrow

Here You Come Again

Islands In The Stream

9 To 5

Gift presentations
I Will Always Love You (encore)

I'd like to offer a special note of appreciation to Father Jim for arranging your exclusive Dollymania coverage of the event. Thank you!

See all photos from the evening here.