Previous Letters To The Webmaster
May 31, 2005
Hi, I just wanted to write and inform you if you didn't know that there is a travel documentary on Dollywood that will be shown on the Travel Channel tonight and will probably be shown throughout the summer. You just have to keep an eye out for it. And I was wondering if you have any idea if Dolly will do any kind of Christmas show this year. I know she has in the past and I was just wondering if she will this year. Thanks for all of your hard work on this site. Keep up the good work.
Jeremy
Marion, N.C.
Thanks for alerting me to the showing of the special. Actually, it was filmed three years ago at the park and has aired off and on for the past two years, but I was unaware that it had repeated this weekend. It will air again on June 6. As for the Christmas shows, no, there are not any planned this year, as her concerts are being held in the fall instead. For nearly two decades now, Dolly has performed annual charity concerts at Dollywood to benefit the Dollywood Foundation, traditionally at the park's opening in April. However, starting in 2000, the concerts moved to December as part of the park's Smoky Mountain Christmas festival. Last year, the concerts moved again -- to September as part of the park's Harvest Celebration. This year, they have been scheduled to be held again in September instead of December, and a few tickets remain available at 1-800-Dollywood. The park will still have many other holiday-themed shows during the winter, but Dolly's concerts will not be among them.

-------------------------------------------
May 26, 2005
Hi Duane!! I read with interest, a post from a fan wondering about Dolly's "real" hair. I could almost swear she had her real hair showing in the old Vanity Fair mag with the Persian Gulf soldiers on the cover?? I know that on the cover she was wearing a wig, but there is an inside picture of her "riding" on the men's arms in a white "before show" type of outfit? What do you think? She looked a lot like Stella in that one picture I thought. Also any agreement that Dolly and Susan Lucci have similar facial features? I saw Susan on an infomercial the other night and when she smiles I saw "that" Dolly glow!!! Thanks for all your hard work :-)
Mike Tomek
Rapid City, S.D.
I know the photo to which you're referring, Mike, but that's not her natural hair. Those images were taken by Annie Liebovitz, the same photographer mentioned in my response to the previous letter, and when Dolly allowed her to see her without her wig back in 2002 for the Halos & Horns cover shoot it was the first time she had seen her sans the coif, and that took a lot of pleading but not enough for Dolly to allow her to take a picture. Although I thought she kinda looked more like a glammed up Madonna than Stella in the Vanity Fair shots. Finally, I hadn't noticed the similarity between Dolly and Susan Lucci. Looking at Susan, I do see a resemblance, although I have to admit I think she looks more like Stella than Dolly.

-------------------------------------------
May 26, 2005
Hi Duane, I just want to thank you for such a fantastic Dolly site. I come here for all the "goss" and latest info on Dolly. I also find it a great site to meet pen pals of my own age etc, as it's not always easy to find teenage Dolly fans here in the UK! So thanks again for a wonderful site and for keeping us all up-to-date!
Suzi
London, England
Thanks, Suzi! I'm glad you're enjoying the site!

-------------------------------------------
May 26, 2005
Hi Duane, I just read the letter from Manny in California about Dolly's cabin and just wanted to say that I found it many years ago before she bought it back for her retreat. I'll have to say that the replica at Dollywood is a lot nicer than the original cabin when I found it. The surroundings around the farm are absolutely beautiful though and you can tell where she gets her inspiration and love for the place. I always loved that song about it and wanted to find it for myself and didn't go back for years until my husband wanted to see where she grew up, but all he got to see was a big fence! He got to see how far back in the mountains they lived though. The area is so beautiful in fact that we bought some property not far from there to hopefully build our own little retreat for weekend getaways and retirement. The place is very hard to find if you don't know where it is and I don't think I should reveal that here as it may not be appreciated, but I can assure you that it does still exist. The roads are definitely better than they were when I found it . I wouldn't even call them roads then. They were more like ruts! You can even rent a cabin not far from it. Keep up the great work Duane! Thanks,
Diane
Riceville, Tenn.
Thanks, Diane, for sharing your experience.

-------------------------------------------
May 26, 2005
When is gay day in the park at Dollywood and how many gay folks are expected. What type of security will be at the event.
Britt
Nashville, Tenn.
As was reported on the news page a little over a month ago, the event (called "OUT At The Park 2005" this year) is planned for this weekend, Saturday at Dollywood and Sunday at Dollywood's Splash Country. "Gay Day" events are unofficial gatherings of primarily gay, lesbian, bisexual and transgender patrons at amusement parks around the country, usually where all participants are encouraged to wear the same color clothing. These occurrences are neither sanctioned nor organized by the parks themselves, contrary to what many observers believe. The most famous of these is held at Walt Disney World in Orlando, Fla., each summer. This will be the third such gathering which includes a visit to Dolly's park. Organizers estimated about 1,300 participants in 2003 with little fanfare and more than 3,000 in 2004. Last year's event brought controversy, first because of press coverage resulting from the park's request that organizers stop using its logo and other registered trademarks without permission in advertising the event and secondly because of a small Ku Klux Klan protest held the morning of the event outside the Dollywood property. I would expect since there was very little publicity in the mainstream media in advance of this year's event that attendance would likely be somewhere between 2,000 and 3,000. As far as I know, security isn't handled any differently on this day than others at the park.

-------------------------------------------
May 25, 2005
Hi Duane, I just got back from a great weekend at Dollywood. I had a great time. I had a question about Dolly's now famous shack from her childhood which was immortalized on the cover of her My Tennessee Mountain Home album. Whereabouts is the shack located? I know it's not possible to find it exactly but do you happen to know the estimated location? By Pigeon Forge? Sevierville? And did Dolly buy the exact home and renovated it? I was just curious. It seems like the same home but it could also have been a recreation of the house. Thanks so much!
Manny
Burlingame, Calif.
Glad you had such fun, Manny. As for the house, I've never personally felt a desire to try and find it myself, so I've not bothered with trying to learn exactly where it is, but I understand it is somewhat difficult to locate. The Parton family moved several times when Dolly was very small, but her parents bought a farm between Locust Ridge and Webb Mountain, Tenn., by the time she was about 5 years old, and this was her "Tennessee Mountain Home" of lore. The area is apparently located about 25 or 30 miles east of Pigeon Forge in rural Sevier County. Dolly did buy the old homestead and renovated it several years ago into a mountain retreat for herself and her family, and that's where she wrote the songs for her album Hungry Again.

-------------------------------------------
May 24, 2005
What happened to your message boards? Last time I checked, they were OK, but now I notice that all of the topics that were once there are gone! What happened? Just curious,
Michelle Ivey
Benton, Ark.
I must offer my apologies, Michelle. I don't know how it happened, but I had logged on to remove an offensive post someone made on the Forum, and it ended up somehow deleting all of them instead. My bad!

-------------------------------------------
May 24, 2005
Hi! I really, really love me ole Dolly! She is one of the best singers I've ever heard. I'm 18 now and I've been singing her songs since I was 4. I love the ones "I Really Got the Feeling" and "Divorce." I hope you bring some more songs out! xxx
Leanne Faulkner
London, England
Thanks for writing, Leanne!

-------------------------------------------
May 23, 2005
Duane. Thanks so much for keep us so updated on Dolly. I was listening to Trio 2 just the other day. It is truly an amazing album. I find Dolly's harmonies on the songs mesmerizing. I especially enjoyed "Lover's Return" and "When Were Long Gone." Maybe if you could spotlight an older Dolly album each week or month we could really educate new Dolly fans to some great music. Thanks so much,
Billy Christian
Barboursville, W.V.
Thanks, Billy, for your note. It's an interesting suggestion, although I'd suspect most of the site's readers are the "major" fans who already have all of Dolly's old recordings and listen to them frequently. When that is combined with the fact that the vast majority of her career catalogue is out of print and no longer available, I'm not sure it would serve much of a purpose.

-------------------------------------------
May 21, 2005
Hi. Just wanted to thank you for this web site. It has such great information. I just wish I found it a few years back when Dolly had the CD signing and concerts. I am hoping she will be touring again sometime soon. If not, I will have to head back to Dollywood. Thanks again,
Karen Cooper
Manassas, Va.
Why, thank you, Karen! I appreciate it. I wish you had found us a while back, too :) But please visit the news page frequently to keep up with the latest Dolly information, and if she schedules any concerts or CD signings whenever her next album comes out, you'll be sure to know about them. While there currently are no plans for another tour yet, she will be making several appearances in coming months which you might wish to attend, including performing at the CMT "100 Greatest Duets" top 12 countdown concert in Nashville on June 8, a CMA Music Festival concert in Nashville on June 9 (tickets for both of which are available via Ticketmaster) and four benefit concerts at Dollywood Sept. 24 and 25 for her foundation (tickets for which are available at 1-800-Dollywood).

-------------------------------------------
May 21, 2005
Hi Duane, my friend Tammie and I have read with envy all about Dolly on tour, the opening of Dollywood and all the other things she does in the U.S. that we can not get to. So we are really glad we have your site to look at as it is so informative. We have decided to try and see if we can get to an opening of Dollywood as this seems like good fun. Can you help with some advice, i.e. when is the best time purchase the tickets for the opening, hotels, etc. and any other tips on the subject. Thank you,
Sylvia Smith
England
Thanks, Sylvia. It's unfortunate Dolly doesn't get to your side of "the pond" more often, as I know she has many, many fans in the British Isles who adore her. And I've met several of them who make the trip overseas to visit Dollywood each year at its season opening. It's a great experience, so I encourage you to come if you can afford it. You don't have to worry about buying tickets in advance, as they sell them at the park entrance all day, but if you want to cut a few minutes off of that wait, admissions are sold in advance on the Dollywood Web site. The opening festivities -- which usually feature a Dolly parade through town, a parade through the park grounds and several appearances in the park by Dolly for one or two days throughout the opening day celebration -- result in tens of thousands of people converging on Pigeon Forge, Tenn., each year for the first weekend in April, but the city has plenty of hotels, so there are usually at least a few rooms available even for those who didn't make reservations. But to get the best rooms, I'd recommend making reservations at least a month in advance. I typically use a travel Web site such as Expedia or Hotwire for the best rates, but you can also contact the Pigeon Forge Department of Tourism for assistance. I'm not sure what airfare will run you, but you would be flying into Knoxville, Tenn., (McGhee Tyson Airport) and then you would need to rent a car and drive the 30 miles to Pigeon Forge. You'll want to arrive at least the day before the opening festivities to be sure you don't miss anything (possibly a couple of days in advance if you want to rest up due to the time difference).

-------------------------------------------
May 20, 2005
Hello! I was wondering if you knew which of Dolly's albums (CDs) are still in print? I was maybe planning on trying to find any that ARE in print (NOT including Greatest hits types though) at various music stores, but I'm not sure which ones still are. (except the obvious ones such as "Live and Well" and other very recent releases of course.) Thank you!! As always, your website is amazing!!
Jamie
Anaheim, Calif.
Thanks, Jamie. The only ones that are technically "in print" (meaning they are still in active production and being shipped to record stores) are the most recent ones. However, there are several that were released or re-issued over the past five or six years that haven't sold most of the copies that were shipped to music stores. Consequently, while they are technically "out of print" since they're not being made any longer, you can usually find new copies in many larger music stores or online stores. These include recent "budget" re-issues of many of her Columbia Records albums (Heartsongs, Slow Dancing With The Moon, Eagle When She Flies, and White Limozeen) a re-issue of the Trio album prior to the release of Trio II in 1999, annual holiday re-issues of her solo and duet Christmas albums, 2003's re-issue of Just Because I'm A Woman and late '90s re-issues including Heartbreaker, 9 To 5 And Odd Jobs, Coat Of Many Colors and Jolene. So out of the more than 70 albums she's recorded in her career and hundreds of compilations that have been released over the years, that's a very, very small percentage which is still available, unfortunately.

-------------------------------------------
May 20, 2005
Hi Duane!! I have a question for you yet again...LOL...I just recently saw Dolly's video "Silver and Gold" on GAC and I was wondering if that was her real hair in the video? If not, is there a picture or video that you know of that shows her real hair? Thanks!
Casey Robinson
Brandon, Miss.
No, Casey, that's not her "real" hair. She's worn wigs since her late teens, and she never allows herself to be photographed or filmed without her trademark head accessories (which are reported to cost upwards of $3,000 or more each and are made of the highest-quality natural human hair). Even famed photographer Annie Leibovitz, who shot her Halos & Horns cover a couple of years ago, tells that she prodded and nudged Dolly to try and get her to allow her to take the pictures without a wig, and while she convinced her to at least meet with her in her "real" hair (which is very fine, albeit bleached blonde, and she wore a baseball cap over it), she refused to be photographed "au natural."

-------------------------------------------
Ed. Note: Quite a few fans wrote in Sunday night and Monday morning with reactions to the E! True Hollywood Story episode on Dolly. Below are two letters representative of those who enjoyed the program and those who didn't.
May 17, 2005
Hey there, I just wanted to say I loved the E True Hollywood Story last night. A lot of it I had known about from being a fan for over 20 years but there were a few things that I learned last night. I have ALWAYS known what a class act Dolly was and last night it just proved it to me again. I knew somewhat about Dolly buying Porter's songs to get him out of trouble, but what I didn't know was that years later, Dolly heard that he wanted to buy them back for the same amount that she bought them for, so she wrote him a letter and said "how about I just give them back to you?" WOW!!
Brian
Riverside, Calif.

* * * * *
May 17, 2005
Hi Duane - just a quick note to ask what other Dolly fans thought of the E! True Hollywood Story of Dolly. Honestly, I was a little disappointed. A documentary of Dolly could have EASILY been two hours. It covered her childhood and early Nashville years OK, and a good chunk of time was spent on 9 to 5, but then it totally skimmed through Best Little Whorehouse, Rhinestone, and Steel Magnolias. Completely skipped were: (this is a long list!) her 80's variety show, Straight Talk, Wild Texas Wind, Smoky Mountain Christmas, Unlikely Angel, appearances in Beverly Hillbillies, Miss Congeniality 2, Frank McKlusky and virtually no mention of Dolly's albums through the years. I wonder if E! is too cheap to buy clips from a variety of sources. The documentary spent about 15 seconds on Dollywood and did not mention the Library program. The ONLY surprise: Porter Wagoner owing the IRS a million bucks and how Dolly bought a large portion of his song catalog to help him out. THEN out of Dolly's genuine kindness, she gave the songs back to him last year. What are your thoughts??
Clint
Des Moines, Iowa

* * * * *
Ed. Commentary: Well, I liked the show myself. It certainly was the least sensationalized edition in the series I think I've ever seen. Yes, there was a bit of candid talk about Dolly's life, such as her mother's depression, her decision to have tubal ligation and her gifting Porter back his song catalogue. And, yes, they did seem to skim over quite a few periods, dwelling mostly on her upbringing, early career in TV and early years in movies. Also, it appeared the program didn't want to pay for the rights to air many song samples, instead showing the visuals of her performing while playing stock music in the background with no connection to Dolly and only offering snippets of three of four of her songs during the hour. However, given the length and diversity of her career, it would be very difficult to fully cover it even if they had devoted two hours to her life, and I'm sure many fans would have still wanted more even if they extended that to three or four hours. As rarely as she allows such in-depth profiles of herself, the show was a treat. In my opinion it ranked about average for its effort and could have been better, but it was still enjoyable.

-------------------------------------------
May 16, 2005
Duane, I didn't get to see Dolly on GAC, so I'm not following. Some people thought DOLLY was distasteful in her introduction of Rumsfeld? What did she say or do that is meeting with criticism? Thanks.
Lory
Austin, Texas
No, Lory, I don't think anyone thought Dolly's introduction of Secretary of Defense Donald Rumsfeld on The Grand Ole Opry was distasteful. However, she has a very diverse fan base, some members of which strongly support the war in Iraq led by Rumsfeld and some members of which strongly oppose the war, just as the general population of the country is greatly divided on this subject. Consequently, a handful of those opposed to the war who have ill feelings about Rumsfeld had expressed their displeasure at Dolly introducing and standing next to a man they strongly dislike. But, as I said, I think most fans saw it not as Dolly taking a stand on the war itself or Secretary Rumsfeld but her simply taking the opportunity to support the troops themselves -- nothing more and nothing less.

-------------------------------------------
May 14, 2005
I watched the Dolly Parton hosting appearance on the Grand Ole Opry on GAC with Donald Rumsfeld. Did you notice on the show when Dolly took his hand he pulled away and placed his hands behind his back???? What does that say about him??? What do you think about his body language? Dolly is great. Just pissed me off to see that!!!
Ashley
Rome, N.Y.
From what I've seen of the Secretary of Defense on television, I think that was more just his personal, natural body language than anything directed at Dolly herself. In fact, CMT.com columnist Hazel Smith reported that he agreed to visit the Opry only after learning that Dolly would be performing, so he is apparently a big fan. As for your opinion of his appearance, of course given the current culture in our country, he, like the president, is one of the most divisive figures in America today, and yours is not the only note I received from fans expressing distaste at Dolly's introduction of him. However, Dolly has always remained a very big supporter of the men and women in uniform, as are almost all Americans regardless of whether we support the war or oppose it, so of course she would take the opportunity which this show provided to thank them for their service, and I think most of her fans saw it that way.
NOTE: The author of this letter wrote back a week later to express her displeasure at the response I had published. My sincere apologies if the meaning of my words was unclear, because she thought I was saying she disliked Dolly and the way she introduced Secretary Rumsfeld. Instead, I was attempting in the most polite manner possible to say that I understood why she apparently did not like Rumsfeld and that a few other readers had written me to say they didn't like him and had wished Dolly didn't have to be seen next to someone they despise without making any judgment call on her type of introduction or on her for introducing him. As was pointed out in the very next letter published two days later, it was explained that I did not believe anyone thought that her introduction was in poor taste, only that some people didn't like to see their favorite star associated with someone they don't like. Again, my apologies if the comments were unclear and easily misconstrued.

-------------------------------------------
May 13, 2005
Hi, as always you have a great website. I have checked it out for a few years now. Ok I have a serious question. Do you think Dolly is healthy, or she may be hiding something? I know she announced she was getting reduction surgery, and it looks as she may have recently. But when I look at recent photos of her, she is so thin. She is almost as thin as she was in the 1987 Dolly show scenes they cut out, because she was too thin. (One with Dolph Lundgren comes to mind, I have the tabloid somewhere.) I think she is still beautiful as always, but in close ups, her skin looks rough around her jawline, almost pocky. I have seen her up close in person and she has flawless skin. Please don't take this the wrong way, because I love her as much as you all do, but I am just concerned. I know she is almost 60, but I think she doesn't look healthy. I have been a fan since the Porter Wagner and boxes of BREEZE soap days. (They should have put that ? in the E On Line quiz. What came free in a box of Breeze that Dolly used to advertise?) Maybe I am crazy. Have you heard anything? Concerned in Iowa
Doug Davidson
Cedar Rapids, Iowa
I'm sure Dolly appreciates your concern, Doug, but as far as I know, she is absolutely fine health-wise. It seems there are always rumors or tabloid reports saying she's ill, but they've almost always been completely false. For instance, the tabloids put out the story that she was having breast reduction surgery, and she said that wasn't true at all. If you've seen her at her most recent appearances, she hasn't looked THAT skinny. She did look very skinny on her appearance on Reba McEntire's sitcom which recently aired, but you must remember that she was just getting over a serious bout with the flu at that time -- and that usually means one cannot eat much food at all for several days, which results in weight loss.

-------------------------------------------
May 12, 2005
Duane, this was a question and answer from the E! quiz: 9. After spending years climbing through the ranks as a country musician, Parton gave up for a while. Why? Answer: She wasn't making enough money. She has since returned to the music that made her a legend. What period are they talking about? Or are they talking about her whole pop-crossover?
Franky
Ottawa, Canada
Yes, Franky, the question was referring to her transition to pop superstar in the late 1970s. She has always said that a big part of the reason for her crossover attempt was the fact that she was barely making enough money singing traditional country music to live on and pay her band and crew for concerts. When she returned to traditional country music and bluegrass in the late 1990s, she explained that she had to get rich to sing like she was poor now that she doesn't need the money. Read about Dolly's E! True Hollywood Story episode here and take the quiz!

-------------------------------------------
May 10, 2005
Hello there, Ok I have two questions for you. I'm really into candles and I have a "Dolly" room with all my Dolly stuff and I would like to know if you know if she has a favorite candle. There are so many out there and so many that I like but I would like to get one she likes for the Dolly room. Second I would like to know if you know where I can get my hands on the Dolly Parton rose bush? I have been looking at Home Depot, Lowe's, Armstrong, Ace, Wal-Mart, Target, and I can keep going -- LOL. Most people just look at me like I'm dumb. I was in Arkansas visiting family and bought a house for my mom and I wanted to get her a yellow rose bush for the yard and I noticed it was a Henry Fonda rose so I went crazy looking for the red rose that has Dolly's name and still no luck, PLEASE help me :) I love your site keep up the good work.
Brian Wolf
Riverside, Calif.
Thanks, Brian. I don't recall Dolly ever having said she has a favorite candle, so I'm afraid I can't help there. As for the rose bush, it's more of a specialty species, so you're not likely to find it at a local mass market store. You might get lucky and find it at a large "warehouse" greenhouse if there's one in your area, but your best bet is to order the plant online. There are several retailers with online outlets that stock the rose. Just go to Google or Alta Vista and enter "Dolly Parton Rose" as your search term and the results should bring up several dozen from which you may choose.

-------------------------------------------
May 9, 2005
Hey I wanted to let you and everyone else know that I have a Website here dedicated to Dolly. It has a biography, a chat room, and a place where I have set up a script that I am writing especially for Dolly, where she is a superhero. I would really appreciate it if anybody could check it out, and they could see what everything is like and give me a few pointers on what I could do to make the site even better! Thanks!
Michelle Ivey
Benton, Ark.
Thanks, Michelle. Glad to pass it along!

-------------------------------------------
May 9, 2005
Hi Duane : ) As usual, the site is fantastic. My question is if the Dolly "Coat of Many Colors" featured at Dollywood is the actual coat her momma made for her, or a replica? I like to study ALL of her clothes and shoes when I get to get back to Dollywood. I know many of the "artifacts" (no disrespect to Dolly lol) on display at the "home" she grew up in that are on display at Dollywood, are actual Parton family items -- but I would like to see an entire large, fixed structure with a walk thru at Dollywood. It would be really special if she narrated different areas and memories of that home -- maybe even an outside type landscape similar dedicated to her "memories." I think a lot of fans want to get as "close" to Dolly and her childhood as possible. Well enough rambling on --- any fellow fans agree? Thanks Duane!!
Mike Tomek
Rapid City, S.D.
Thanks, Mike, for your compliment. As I understand it, the coat in the museum is a replica. As for your idea on a larger Dolly childhood museum at the park, it is intriguing.

-------------------------------------------
May 9, 2005
Have you heard any news of a release date for Dolly's "Blue Smoke" Cd?
R. McGuire
Las Vegas, Nev.
No, there have been no indications yet of when Dolly intends to complete recording the album and prepare its release other than to say "soon," which could mean in a few months or could mean sometime next year. No one knows yet.

-------------------------------------------
May 6, 2005
Hi, I was wondering on what album or albums of Dolly's can I find her cover of Emmylou Harris' "Boulder to Birmingham?"
Candice
Temecula, Calif.
Dolly's gorgeous rendition of the song appeared on her 1976 album All I Can Do. Unfortunately, that release has been out of print for many, many years, and I don't believe that Dolly's recording of the song has ever been included on a compilation. So your best bet is to find the original vinyl LP at your local collectors' record store, on eBay or at one of the music sale listing services such as www.gemm.com or www.promusicfind.com. And for others wondering about a particular Dolly song, every one she has ever released is listed here alphabetically and here chronologically.

-------------------------------------------
May 5, 2005
Hello. Is there any news on a British tour for Dolly yet? I would love to see her live. It would make me the happiest person in the world.
Debbie
Edinburgh, Scotland
Unfortunately, Debbie, there have been no plans announced for a new Dolly tour anywhere, in the U.S. or overseas, so you'll have to wait a while longer.

-------------------------------------------
May 2, 2005
Hello Duane. Thanks again for your site. I was at the Opry for the first time & it was awesome. And not only that, it also had my favorite singer there, too ~Dolly~. I was able to see both shows (which was great) & I was wondering if you or anyone could tell me what was on the back of Dolly's outfit? It looked really nice what little I saw it. Thanks again....A dolly fan for life…
Susan Blatzer
Martinsburg, W.V.
Thanks, Susan. I took a look through my photos, although I didn't really have any clear ones of the back of her outfit -- I doubt many folks take pictures of her backside! But from what I could see it appeared the design on the rear was a mountain landscape with green trees at the bottom, mountains at the middle and a setting or rising sun with clouds on the top. But, as I said, there weren't any clear ones, so I may be mistaken :)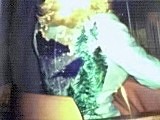 NOTE: In response, reader Greg wrote in to say: Hi Susan, I saw your letter posted on Dollymania regarding the back of Dolly's jacket. In 2002 I had the wonderful fortune of meeting Dolly in NYC for her Halos and Horns CD signing. She wore the same jacket that she wore on the Opry last weekend. I was able to take a photograph of the back of it at the time :) I don't have a scanner or digital camera, but here is a photo I took of the original photo with my camera phone. You'll notice white puffy clouds at the top, purple mountains with orange sunlight on the ridges, purply/white fog at the bottom of the mountains and green pine trees on the back. (the green pine trees were several different shades of green with some green sparkles in them). When I saw her in concert in Atlanta that summer she wore the same jacket and said she loved her "coat" (like coat of many colors, rather than jacket) bearing the smoky mountains on them; saying she takes the smoky mountains with her wherever she goes. ;) Hope this helps, Greg (Thanks, Greg!)

-------------------------------------------
April 29, 2005
Hi Duane. Just wanted to ask a quick question, I was wondering if Dolly wrote the song "He's Alive" or did somebody else write it and she just sang it? Thanks,
Oscar
Auburn, Calif.
Dolly did not write the song telling the story of the Resurrection through the eyes of the Apostle Peter. It was written, and originally recorded in 1977, by Don Francisco. Although it's been recorded by several singers since then, Dolly's version gained the greatest degree of popularity.

-------------------------------------------
April 29, 2005
Hey Duane. It hasn't been really long since my last message, but I wanted to tell you thanks for all of your work on the Opry galleries. They are really great. I watched the show on television; it was really a great show. I was wondering if you know if she is going to be in any more Opry shows this year? I also want to say thanks again for such great work on the website.
Jeremy
Marion, N.C.
Thanks, Jeremy. I'm glad you're enjoying the galleries. As for future Opry performances, I doubt there will be any for a while. Although Opry members are supposed to make multiple appearances during the year, most big-name stars such as Dolly usually go two or three years between booking time on the Opry stage. Dolly's most recent appearance before last weekend was three years ago, and I doubt she'd be able to do another for at least a year or two.

-------------------------------------------
April 26, 2005
Duane. Thanks so much for sharing your Opry journal and pics. You made me feel like I was right there. I applaud you for the great work you do in support of Dolly. I look forward to logging on everyday just to see your site. I am so hoping that you have a release date soon for Blue Smoke. I can not wait for that CD. Thanks so much. I appreciate your true dedication and efforts.
Billy Christian
Barboursville, W.V.
Thank you, Billy. I'm glad you're enjoying the site. I'm posting some more shots from the Opry show here tonight, and additional ones will be coming throughout the week. As for "Blue Smoke," I also hope she completes the album soon and gets it out because the songs I've heard her perform live from it so far are amazing!

-------------------------------------------
April 26, 2005
I did watch Dolly on Saturday. Awesome, of course!!!! I watched and taped from 8 to 10. But did not see the Porter section. Was that part televised or was it only a treat for those in attendance? Thank you for all you do!!
Kim Boyle
Elkridge, Md.
Thanks, Kim. No, that part was not televised. The Opry is a five-hour show (plus a 30-minute break between the two two-and-a-half-hour segments), but only one hour is broadcast on television. Dolly's second appearance (which included the duet with Porter) was in the 11 p.m. to 11:30 p.m. Eastern time period, which does not air on television but was broadcast on WSM radio.

-------------------------------------------
April 26, 2005
Hello. I just wanted to say Happy Birthday to a Dolly-fan: Cowboy Larry! (I don't know how to reach him.. so I figured he might see it here. And Duane.. keep up the great work!! I LOVE this site :)
Arelis Dania
Aruba
Thanks, Arelis. Hope Larry sees his birthday greetings here!

-------------------------------------------
April 25, 2005
Hi. Just got back to the hotel from the televised show at the Opry. As you know, Secretary Of Defense Donald Rumsfield was the unexpected guest of honor. Dolly seemed to make a last minute song change on stage during the break and performed "Coat Of Many Colors", but she chatted with The Grascals for a moment and it seemed that she may not have planned to originally perform that. Her show was awesome. After the live portion, in the last hour, there was a new artist...a young girl from Australia, who performed "Little Sparrow" in honor of Dolly. I don't have her name handy but she was excellent. In the last half hour, Dr. Ralph Stanley's grandson dedicated an instrumental tune to Dolly. Just listening to WSM and the late show now...she did a duet with Porter Wagoner, "Coat Of Many Colors", and is performing "Viva Las Vegas" with The Grascals as I type this. 2 awesome shows at the Opry. Look for pics from the early show coming your way by Monday.
David and Larry
Springfield, Ill.
Thanks for your observations, guys, and I can't wait to see your photos!. I had a great time at the show myself, and the site's coverage of it begins here.

-------------------------------------------
April 23, 2005
I am looking for the CD album Precious Memories released in April 1999. I heard that we can not buy it anywhere else than through the Dolly foundation but, the phone number that I have is not good anymore. My husband is a huge fan of Dolly's music. He has all of her CDs except that one. Please let me know how I can get this album for him.
Thank you,
Francine Lyrette
Ottawa, Ont., Canada
Sure, Francine. The CD is still for sale exclusively at Dollywood as a fund-raiser for her Dollywood Foundation. I'd suggest calling Dollywood's general information number at 1-865-428-9488 and asking if they would take an order and mail the CD to you.

-------------------------------------------
April 23, 2005
Hi Duane. I wanted to report to report that Jane Fonda spoke before a book signing in Minneapolis this past Wednesday evening. I was lucky enough to be able to attend and have a book signed by Ms. Fonda. While signing her book for me, I asked her if she was planning to reunite with Dolly and Lily for a "9 To 5" sequel. In response she said, "We still haven't found the right script." I told her that I sure hope they find a script as many fans of the movie would be thrilled for a sequel. I wanted to share this as you had recently shared in the news that Lily Tomlin had stated in a recent interview that a sequel to the hit moved was not out of the question. Ms. Fonda was warm and personal at her signing--I really enjoyed being able to hear her speak and to ask her this question personally. And, I can't wait to see her upcoming movie with Jennifer Lopez, "Monster In-Law."
Kevin
Minneapolis, Minn.
Thanks for sharing your story, Kevin. Maybe we'll be lucky in coming years! Dolly has joked a few times since they reunited for a fund-raiser a few years back that she hopes they can get together and do a sequel before they get so old that it's "the good, the bad, and the ugly." And, of course, Lily said in that recent interview she wouldn't rule out a sequel. So perhaps they'll get together with a good script and do one. We can hope!

-------------------------------------------
April 23, 2005
Hi Duane, I just wanted to know if you know when Dolly will be interviewed by Larry King since the last date was cancelled?
Oscar
Auburn, Calif.
The interview has yet to be rescheduled. If it is, the new date and time will be noted on the site's news page as soon as it is known.

-------------------------------------------
April 21, 2005
Hey Duane. What's up? Kind of boring here. I was just wondering if you know if that was Dolly running in the Miss Congeniality 2 movie? To me it didn't look like she was running and not to be disrespectful to her or any one else but it looked like the Chucky doll from the movie, who ever was running. But her cameo was really cute. I was worried and laughing at the same time cause it was funny but I thought she was gonna get messed up laying on the floor. I also loved the Reba and Dolly show. I taped it..LOL. It was so funny and I loved what Van and Barbara Jean did when they got that card from her;) I was also curious to know how many times you've met Dolly, how close are you to her, and how many of her relatives you've met (like nieces, nephews, Carl, ect.) Well, bye, for now. Love,
Haley
Newville, Ala.
No, I don't think that was Dolly running through the hotel in the film. It appeared to be Dolly at the very beginning and it was Dolly on the ground at the end, but in the middle it looked to be a body double because the body looked just a little different from hers. Her shape is so unique that whenever she uses a body double you can usually tell. As for how many times I've met Dolly, I've had personal interaction with her (a brief meeting or the chance to ask her a question or two at a press conference, things like that) probably eight or nine times over the years. We're certainly not close friends or anything like that, but she is certainly aware of the site, who I am, what I do, and I think appreciates it. I've not met many of her relatives because that's not something that I actively try to do. I know many, many fans attempt to befriend her family, most likely in an effort to get close to Dolly, but I have no desire to bother them. I am friends with one of her cousins (of which I'm sure she has hundreds), but that's because we had a couple of mutual friends to begin with and became friends from both of us being around our existing friends at the same time. A couple of her other relatives have contacted me in the past to discuss things that are on the site, but they got in touch with me; I didn't seek them out.

-------------------------------------------
April 20, 2005
Hi Duane, I have a question for you. On the show Dolly did "Live In London," she sings a song about the church revivals and that that she went to as a child. I think it may be called something like "Brotherly Love" or something like that I'm not certain. I was just wondering if she put that out on any CDs because I like that song a lot! Thank you for your help. Take care!
Amanda Amon
Kent, Ohio
The song she performed was Neil Diamond's "Brother Love's Traveling Salvation Show" along with a brief medley of several other religious tunes, including "When The Saints Go Marching In" and "I'll Fly Away." While Dolly had previously performed the song on her mid-70s television show, she never recorded it on an album, so her version is not available anywhere on CD. Diamond's original recording, however, appears on several CDs, if you'd like to hear his version.

-------------------------------------------
April 20, 2005
Hi Duane. I thought I would drop in and let you know what I think of Ms. Dolly's "Reba" act. It was truly hilarious and down right interesting. I wish Dolly would start her own show again. I was wondering do you know where I can get the old Dolly shows. Thanks.
Scott Davis
Newport, N.C.
I just loved the show myself, even if it didn't give Reba a big ratings boost (I think most Dolly fans are Reba fans and vice-versa, so it didn't surprise me that much that it didn't attract a larger audience than a usual episode of the show). As for her old programs, neither her 1970s nor 1980s variety shows have been released on videotape or DVD, so they are not commercially available anywhere. This, however, leads to a thriving fan trade of illegally pirated copies of the shows, which, sadly, is the only way to obtain them.

-------------------------------------------
April 19, 2005
I watched the episode with Dolly on Reba the other night, which was the first time watching the show for me. I found it so funny that I'll probably see her show again. I was gonna comment on Dolly's character. I just think they did a great job. I mean, she plays this well known, successful woman, that started her own business from nothing, in her garage, and turned it into this huge empire. Sound familiar? I think no matter what Dolly had done in life (even if she wasn't a singer) she'd still be the very best of the best at whatever it is she's doing. And like a fan I met once said, "everything the woman touches turns to gold". -
Robin
St. Louis, Mo.
Thanks, Robin, for your comments. I saw the episode and thought it was hilarious myself! Plus, it was a welcome change to see Dolly play a character who has a bit of an underhanded side, since she always plays such good, kind characters.

-------------------------------------------
April 16,2005
Dear Duane, We love your site! It is great that you update it every day and please know how much we appreciate your hard work. The other night, we wore our Dolly t-shirts and sat down to watch Rhinestone for the first time - wow what a movie. Anyway, we had a few questions for you - did Dolly release the songs from Rhinestone on any albums - we know in her biography she mentions that those were some of the best country songs that nobody ever heard - and she's right - we never heard any of them! (Especially the duets!) Also, did Dolly choose the name of the Tennessee town to be Leibicks Fork because it sounded like Pigeon Forge? And finally, could you believe how many references there were to balls? (HOG BALLS!) We recommend that every Dolly fan see Rhinestone and request that their local video store order the DVD. And here's to watching Reba tonight!!!!! Thanks again, Yale Dolly Parton Fan Club
Sandra
New Haven, Conn.
Thanks, Sandra! I hope your "fan club" has lots of members :) I don't know if Dolly came up with the town's name or not, but I can tell you that, yes, a soundtrack to the film was released. However, unfortunately, it has been out of print for quite some time now. Every once in a while, a CD or LP of it shows up on eBay (and you might be able to find the original vinyl in your local collectors' record store), but it's otherwise no longer commercially available. The album's two singles were hits, with "Tennessee Homesick Blues" going to No. 1 and "God Won't Get You" to No. 10, so they show up on a few of the hundreds of Dolly compilation CDs from her years at RCA Records, and she has recorded two later versions of the song "What A Heartache" from the film (in 1991 on Eagle When She Flies and in 2002 on Halos & Horns, both of which are still available at most stores).

-------------------------------------------
April 16, 2005
Hi Duane! I just have a quick question for you. I am going to see Dolly next week on April 23rd at the Grand Ole Opry but I was wondering if you knew exactly what all was going to take place? I have read that she is going to perfrom some and then I read somewhere that she is just going to host. I am assuming that she will do both, but I knew that if anyone knew it would be you! Once again, thanks for all you do and hope to see you there!!
Casey Robinson
Brandon, Miss.
As I understand it, yes, Dolly is to host the show. Traditionally, the host performs one or two songs on his or her own, and I've heard Dolly is supposed to do two. And, yes, I will be there -- on the second row in the section just to the right of the center section -- so keep an eye out for me :)

-------------------------------------------
April 15, 2005
Hey Duane! It's me again. Just going to tell you I got my tickets to the benefit concerts, so I can quit worrying about my mail now! I sure wish we could have been there opening weekend, but my husband and I always have to work that weekend. We're up there at least ten times a year though. I was reading the transcript from the opening about her saying she wasn't Oprah, and speaking of Oprah, I think it would be great if she did a show from Dollywood! I know she's done shows from "on location" before, and as well as they seem to like each other, I think it would be special for her twenty year anniversary. I've e-mailed Oprah's show before about it, but who knows if they'll get it? Just a thought anyway. I know they would have a great time though! Anyway, thanks again for such a great site and keeping us all informed of everything.
Diane Blount
Riceville, Tenn.
Thanks, Diane. Mine arrived yesterday as well, so they're on their way for everyone who ordered them! The Oprah idea is good. You know, Dolly is one of her all-time favorite guests. Perhaps she'll take you up on the suggestion :)

-------------------------------------------
April 8, 2005
Hi Duane, Love your pictures of opening weekend! We went on Monday and the Moscow Circus was great! I'm glad you had a picture of the little dog. He stole the show!! I have a question about the tickets to her benefit concerts this fall. I ordered mine some time ago and haven't received them yet. Do you know if they have sent any out yet? We have been going to them for several years now and it seems like it's taken longer this year. We have had trouble with some of our mail recently, so I was just wondering. Thanks,
Diane Blount
Riceville, Tenn.
Thanks so much, Diane. Wasn't that dog just the cutest little thing. I had some additional photos of his trainer rolling around on the ground and the dog running over his body, but I didn't post them because you couldn't really tell what was going on :) Guess you had to be there to get the full effect! As for the tickets, no one to my knowledge has received them yet, meaning that they have not been mailed at this time, so there's no need to worry about them having gotten lost in the mail or anything.

-------------------------------------------
April 8, 2005
Hello, I see you also made your trip this past week to Tennessee (Dollywood). We got there Tuesday. On Wednesday, we went to Dollywood so my daughter could see the new rides, and guess who was there: Mrs. Dolly herself. She was there also on Thursday shooting more commercials, that I guess she hadn't finished on Wednesday. Then on Friday we were a few of the lucky ones who got to see her and get that great 20-year present. Now we don't have to buy season passes. What a great gift. We heard you were there on Friday, but I wasn't sure which press person you were. We also got to see her leave Saturday. We were just checking out the new highway (in the back of the park). There she was in a Jeep with her tour bus behind her. She was very nice and gave us a big hello as they were waiting for the light to turn green. What a great weekend. I hope you guys had a great one also. I heard from a park employee she was going to be at the park a lot this season. Not for sure if its true or not. We are there a week every month so we hope to see her a lot more.
Harold G.
Hillsboro, Ohio
Thanks, Harold, for sharing your story. Yes, it was a fabulous weekend and I had a blast. Wasn't the gift of 20-year platinum season passes such a wonderful, unexpected, generous treat! Everyone I spoke to was just shocked and at a loss for words after receiving theirs. I know many were expecting her to say "April Fools!" or something, since it was on April 1, but the gift was for real and shows how appreciative Dolly and other park officials are for the patrons who keep it growing and thriving.

-------------------------------------------
April 7, 2005
Hi Duane, love your site and Miss Dolly. Question--I read two different dates for Dolly's birthday, Jan. 19, 1946 and Jan. 19, 1947. I always thought Dolly was born in 1946, and that date is what is listed in "My Live and Other Unfinished Business" by Dolly. But like I said above, I also see 1947 listed in other sites, and also sometimes in the news they will refer to Dolly being 58. That would put the date as 1947. Do you know what the real date is ?
Mike Wargo
Lehighton, Pa.
I don't know where anyone got 1947, as Dolly was born in 1946 and turned 59 in January. According to Porter Wagoner's biography A Satisfied Mind, there was some discrepancy in state records as to whether the date was actually Jan. 9 or Jan. 19 and whether her name at birth was spelled "Dollie" or "Dolly," but it was definitely 1946.

-------------------------------------------
April 7, 2005
Hello there! This Dollymania is the BEST Dolly Parton site I have ever seen. It's up-to-date, quicker then any other Dolly fan site that I have seen. Also this site seems the most original and outstanding with the simple fact it helps and will allow people to get in touch with other Dolly Parton fans, so they can share and talk about the greatest person to ever be. This site is defiantly a must for every single Dolly Parton fan on the globe to look at, and read often, because new info comes on every day. This is truly and honestly the best site there is and so befitting for the person I LOVE MOST, Dolly Parton! And I truly cant wait to meet and talk and email some of these wonderful fans on here that love her as much as I do.
Andy Farley
Princeton, W.V.
Well, thank you, Andy, for your glowing praise. I do appreciate it. I always say that I really love hearing from other Dolly fans who like the site because it is done for you, and your enjoyment of it makes the work that goes into it worthwhile.

-------------------------------------------
April 7, 2005
Hey, I really like your website. I am only 15 years old but I am one of the biggest Dolly fans. Between the music, the movies, and well just Dolly, I wouldn't be able to choose which is my favorite. I just want to say thanks for keeping this website up to date and factual.
Jeremy
Marion, N.C.
Why, thank you, Jeremy, for such kind words!

-------------------------------------------
April 6, 2005
Duane, I was wondering if you know or have heard Dolly mention why she doesn't wear her wedding ring. She used to years ago, but I never see it on her hand anymore. I know she's still happily married, but I was wondering if you've heard her say a reason. I was just curious.
Lory
Austin, Texas
No, I don't believe she has addressed any specific reason behind her habit of lately not wearing her ring, although she and the elusive Carl Dean are still happily married (and will celebrate their 39th wedding anniversary next month). However, if you look closely at her photographs over the past few years, it appears she has been selecting only rings that are coordinated with the outfit she has on at the time, so I suspect that is the likely reason.

-------------------------------------------
April 5, 2005
Hey Duane. It's me again. I just wanted to know what you meant by Dolly signing her name three or four different ways depending on how much time she has? I thought she signed it the same way every time. I don't really know though because I have never met her and have never gotten an autograph before. Thanks for all the help you give to us fans. Your site is so cool I love it! Thanks again
Love,
Haley( hopefully a future famous person:)
Newville, Ala.
Thanks, Haley, and I hope you do get famous someday :) To answer your question, I'd like to suggest that you do a little test on yourself. Get a pen and paper and first sign your name slowly and neatly, say in 10 seconds. Then time yourself to do it in five seconds, then in three seconds, then try to scribble it out in one second. Look at the four signatures, and you'll see they all differ in appearance depending on how long you had available to sign them.

-------------------------------------------
April 5, 2005
Hi Duane. I just wanted to ask a quick question, with all the news of the pope dying it got me to wondering if Dolly had ever met the pope? Do you know if she has? I know of other stars that have. I guess it's probably a dumb question but I just wanna know. And also I wanted to let you know that your doing great with the site, one of the first things I do in the morning is click onto Dollymania to see what's new keep up the great work.
Oscar
Auburn, Calif.
Thanks, Oscar. Glad to be part of your morning routine. I don't recall having seen any photos or coverage of Dolly having met the Pope, but it wouldn't surprise me if she had!

-------------------------------------------
March 31, 2005
Just wanted to say what is up out there and also post that my boyfriend and I went and saw Miss Congeniality 2. It was so hard for me to wait until Saturday night to see it but since he is working a late night shift now and I attend JWU in the am its hard to see a movie during the week. We both enjoyed it and were like cracking up as Dolly (the stunt double) was running and then Sandra knocking her to the floor. We enjoyed it and in my opinion it was the best movie I had seen in a while that I didn't feel cheated as I left the theater. Anyways just wanted to give my opinion on MC2. Also, one other thing that may not be relevant but I was reading through Johnson and Wales Magazine and they interviewed a guy who was a graduate and he owns a restaurant in Nashville and they listed that he has done private things for different country singers and DP was listed. Good job on keeping the site up. We check it all the time just to read anything new or old.
Jonathan
Norfolk, Va.
Thanks, Jonathan. I loved the film myself.

-------------------------------------------
March 31, 2005
I was just thinking of Dolly. Nothing in particular, but thought I would send this email anyways. I truly do love Dolly. She is just so sweet and wonderful in every way. I am really looking forward to her new CD "Blue Smoke". She sang some of the songs from that CD at the concert I'd seen her at. Dolly was absolutely awesome at that concert. I have seen Dolly 3 times in concert, and one thing I can say with all honesty is that I never left any of her concerts with disappointment. Our Miss Dolly is simply the very best there is. People who don't know Dolly can say all they want to, but us fans do know her better. I thought I would mention too, that I have on several occasions worn some of my Dolly T-shirts to church and other places, and people have said some really nice things about her. Most of them have told me that they LOVE Dolly! My question is, how could we NOT love Dolly Parton? She is just a truly wonderful, loving person. Dolly may even say things about herself that we would never even dream of saying, but we still love her anyways. God bless Dolly always and forever!!
Scott Nasssans
San Francisco, Calif.
Thanks, Scott. I always find people of all makes and models just love Dolly!

-------------------------------------------
March 31, 2005
Hello Webmaster, I LOVE your site and check it daily for my dose of Dolly. I was wondering if you can put up a section on the site of what actual, authentic Dolly Parton autographs look like. Now I know that the ones that are sent from her in the mail are very different from the ones I have gotten in person, (I am not going to dwell on that, I think we know what's going on there) but it makes me sick when I go on eBay and see soooooo many forgeries, with bids on them. What are your thoughts? All the best,
John
Beverly Hills, Calif
John, thanks for your suggestion. It might be a good idea, as I know Dolly signs her name three or four different ways, depending on how much time she has to do it :) I'll have to put it in my "get to it when I can get to it" file, unfortunately.

-------------------------------------------
March 31, 2005
Hey Duane, I was just wondering if you could answer a question of mine. Well on the site Voice of an Angel, there is a clip of Dolly singing "Cowgirl and the Dandy," and I have just about fell in love with that song, lol. I was wondering if you know, what concert that was or whatever, because I would love to be able to track down a copy of it. I know that it wasn't made into a video or anything, but if you know someone who as a copy of it or anything. And your sites great, I look up the news every day! If it weren't for your site I wouldn't be able to know half the stuff that I do, lol. Well thanks and write back soon,
Rachel
Strabane, County Tyrone, N. Ireland
Thanks, Rachel. Unfortunately, that concert is not available commercially, but the original studio recording of the song by Dolly appears on her 1977 album Here You Come Again, so if you don't have that CD, you might want to see if it's for sale there.

-------------------------------------------
March 29, 2005
In answer to the Lucy photo, yes, Dolly and her sister Rachel and Lucy had their picture taken, all three together, years ago. It was in a old Dolly Fan Club Journal that I have since sold on eBay. It was taken at the Carousel Ball.
Doug Coleman
Findlay, Ohio
Thanks, Doug, for shining some light on that question asked by another reader. In the back of my mind, I thought Dolly and Lucy had met at some point, but I didn't recall whether there was a photo of it that had been released or not.

-------------------------------------------
March 28, 2005
Hi I love Dollymania I check it everyday!! I have been a fan of Dolly's since I was about 10 years old and have collected every album I have seen her only twice live and would love to see her many more times! I saw the Hello I'm Dolly tour in Atlanta, Ga., back in Oct 2004. I have heard the tour is going to continue in 2005. Do you know when and where???? Thanks for any info!!!
Brian K. Matthews
Endicott, N.Y.
Thanks, Brian. Yes, before the tour began last year, Dolly said she expected to extend it into 2005 and perform even more dates this year. However, no announcement of the tour picking back up has come yet. She is not touring this spring, although that doesn't rule out a tour later in the year if she decides to do it. As I understand it, she has put everything on hold until she finishes composing the music for the Broadway adaptation of 9 To 5, so I would not really expect to hear anything on it until then.

-------------------------------------------
March 28, 2005
Hey there, I just got back from seeing "Miss Congeniality 2" and I thought it was great. I am a big Sandra Bullock fan and just seeing Sandra on the screen again was worth $7.50 to me. Dolly being in the movie was just icing on the cake. I can't wait for Sandra's next movie, "Crash." Saw the previews to it before the movie. There are 4 people that if they have ANYTHING to do with something I see it, buy it, and love it. That would be Dolly, Julia Roberts, Sally Fields and Sandra Bullock. I love them all.
Brian Wolf
Riverside, Calif.
I went to see the film last week myself and thoroughly enjoyed it.

-------------------------------------------
March 28, 2005
Hello Duane! As a huge Dolly Parton fan for nearly four decades (possibly likely yourself and your other readers), perhaps you can answer a couple of odd questions that I have: 1) To your knowledge, did Dolly ever meet and pose for a photograph with Lucille Ball? and 2) What has ever become of Sandy Gallin, who, arguably was quite instrumental in Dolly's rise to super-stardom, some twenty-five years ago? I enjoy and appreciate your site, and look forward to checking it out early EVERY morning! You have been able to keep the die-hard Dolly FANatics like me, connected, informed, entertained, and educated. Best of luck for continued success. (In my heart of hearts, I believe that Dolly would NOT enjoy the levels of popularity and consistent success that she does today, were it not for your talents and devotion to her, with your website, as well as with the 'mighty fine' successful efforts of a couple other Dolly Parton Fan websites.) Thank you, very, VERY much!
Dennis
Atlanta, Ga.
Thanks, Dennis, for your kind words, although I doubt my little site has THAT much of an impact on Dolly's popularity :) As for your questions, I don't recall offhand having ever seen a photograph of Dolly and Lucy together, although I would suspect they may have met at least briefly at some point in the past. As for Sandy, he had retired from star management back in 1998 to take over as entertainment director at the Mirage casino properties in Las Vegas. He left that post after about a year and since then has continued his hobby of buying multi-million dollar estates, renovating them, and selling them for an even higher price in addition to his role as producer of television shows (he was one of the guys behind the series Firefly) and Broadway shows (including a 2002 revival of Man of La Mancha and The Shape Of Things, both of which were nominated for Tony Awards).

-------------------------------------------
Ed. Note: The site received many, many messages (all very supportive) from readers on Wednesday in response to Gloria Peterson's letter which was posted Tuesday night (scroll down to letter dated March 23). In accordance with the site's policy on Letters To The Webmaster that went into effect a week and a half ago, only a handful of these are published here tonight because more would be repetitive (and a bit egotistical). If your letter isn't published here, that doesn't say it wasn't good or I didn't like it. I just had too many to try and put them all on here. Even so, I wanted to express my sincere appreciation to the many who took the time to write in to say how much they enjoy the site!
March 24, 2005
RE: Gloria Peterson
After reading her letter, I was so angry that I wanted to write another letter telling HER to get a life! You said it better than anyone else could and you were tactful to boot. I just wanted to let you know, and I'm sure I speak for many other fans out there, we care about EVERYTHING Dolly. Small tidbits and major news items. The real fans will want it all. And Gloria, this IS NOT A STUPID FAN SITE! It is the "Best Darn Dolly Site on the Web"!!! It's people like Gloria who ruin these fan sites for others. Again, Duane, keep up the EXCELLENT work. I don't know what I would do without Dollymania.net to start my day!
James
Edmonton, Alb., Canada

-------------------------------------------
March 24, 2005
I don't know what right Gloria has to criticize ME, you or anyone else who likes this site. In my opinion, she can go to another site. No one is begging her to come here. This is our site: the fans (THE REAL FANS), and it's all about Dolly not some "stupid" people. I love the site and I love what has been done with it. Keep up the good work.
Scott Davis
Newport, N.C.

-------------------------------------------
March 24, 2005
Hi Duane! I'm sorry, but I just read a letter from Gloria, and I usually just try to butt out, but I can't this time. Oh, so Gloria, his news is news, thank you very much, and many fans do read it everyday and actually appreciate what he does for all of us. How is Duane supposed to know when her new album is coming out when Dolly doesn't even know; yeah that makes sense. And you mean why does Duane publish letters from rude people like you? Yeah, I don't know that either. But he publishes those letters because those people like what he does, and it's ok; the truth does hurt because he does have an AMAZING site; the best Dolly site out there. So if you only want "real news" about her album or whatever, why don't you go to some other site where they very rarely update their info, and you will be waiting a long time. And I'm sure he really has to worry about losing his fans, maybe someone like you, and let me tell ya that would probably not be a worry to him! Keep up the great work, Duane!
Jen
Baltimore, Md.

-------------------------------------------
March 23, 2005
You need to get a life. Why do you bother putting so much work into this stupid website? First of all, your "news" is not news. It's stupid little tidbits that nobody in their right mind would care about! Who gives a flying turd about Dolly's Imagination Library expansions?? I want real news, like when her new album is coming out. If you're such an "in-the-know" Dolly fan with some kind of inside connection, as you claim to be, why don't you know when her album is being released? And why do you always publish stupid letters from stupid people telling you what an amazing job you're doing? It's not that hard when you have no life and can devote every waking moment to a stupid fan site. Give us some real news, Duane, or you'll lose all your fans.
Gloria Peterson
West Grove, Pa.
Well, Gloria, first I must say that I take it as a high compliment when I do such a good job on the site that people think it must take up my entire life :) In truth, it only requires about two hours of my day. It's simply my way of winding down after a hard day at work. Some people might have a couple of drinks, some might work in their garden until sunset, and some may read a chapter in a book, but I update the site. And I do, in fact, have very much of a life away from the Web, thank you very much. You really shouldn't spout off about something until you know the facts, ma'am. As for your criticism of the news items on the site, most Dolly fans don't care only about Dolly the singer; they're more well-rounded individuals than that. They also care about Dolly the philanthropist and want to know about and celebrate the amazing successes of her Imagination Library. Most also care about Dolly the businesswoman and want to know what is going on at Dollywood and her other business interests. If they didn't like what was posted here, I doubt the site would record the nearly half a million visitors it currently sees each year. As for the new album, if you had taken the time to read what has been posted on the news page and on this letters page, you would know that no one knows when it will be out, not even the president of her record label or Dolly herself. As has been reported only on this site, Dolly has yet to turn in the final project to the record label, and until it's turned in, the label cannot even begin to set a release date. As soon as one has been set, you will read about it on the news page. And, finally, I don't write the letters published on this page, so I have no control over what readers write. True, many do pay compliments to the site, but they generally do so only to preface a question, which I then do my best to answer. And then, very rarely, a letter will come from someone like you criticizing the site, which is also published. But, truthfully, you're the first person to ever call those who like the site "stupid," which likely says more about your own intelligence level than theirs.

-------------------------------------------
March 23, 2005
Dear Duane. Hello. Thank you so much for having the best Dolly Parton Web site in the world. You keep us fans so well up to date and I wanted to say thank you. I have one question: Can you tell me is Dolly's hair all just one big wig or is it her real hair plus hair pieces? When I went to Evansville to her CD signing, her hair looked like she had more than just a wig on. Please let me know. I think her hair is the Bomb! Keep up the great job on this Web site. I thank you from the bottom of my heart for keeping this 26-year-old Dolly fan up-to-date. Thanks again.
Joey Wiles
Bloomington, Ind.
If I recall correctly, Dolly has said that sometimes (if the wig is the same shade as her hair is dyed at the time) she will have a little of her own hair styled into the wig's appearance, but usually it's all wig -- very, very good and very, very expensive wig!

-------------------------------------------
March 21, 2005
Hello! Been a while since I have had anything to say. Here is my question. If someone had written the perfect script for Dolly to guest star on a TV show, where she was playing herself, and her husband had to be in there, would Carl do it, or do you think they would have to choose someone else to play Carl's part? I would hope that Carl would take the part, even if it is for longer than a few minutes!
Michelle Ivey
Benton, Ark.
No, I'm afraid you'll probably never see Carl with Dolly on TV. Really, his last public appearance with her was back in 1966. After that night at an awards show, he vowed to stay out of show business, and he's remained a very private individual since then, never entering the public eye, so I seriously doubt any such project will ever come along that would get them on television together.

-------------------------------------------
March 19, 2005
Hello Duane, First of all you have a great website and it makes being a Dolly fan a lot of fun. Second, I'm looking for a Dolly T-shirt. I saw one in a magazine, Genre to be exact, sometime last year in 2004. It was a a head shot of Dolly in her early years in the late 70's. A model in the magazine was wearing it. Do you have a website where Dolly t-shirts are sold? Or know where I can purchase something like that. Thanks for you help.
David
San Antonio, Texas
Thanks, David. Most of those shirts that you see with images from that era either come from thrift shops, are made using iron-on patterns which have been salvaged from 1970s overstocks or are newly made by individuals for their personal wearing rather than commercial selling. However, I have seen a few shirts that are being sold commercially via eBay (one new type with a mid-70s image, one new type with a 1980 image, and shirts using original 1978 iron-ons), so that would be where I would suggest looking for them.

-------------------------------------------
March 19, 2005
Dear Duane,
First, thanks for such a great site. Yours is the only Dolly site in my bookmarks. Loved seeing you on "Parking Lot" on Trio. Any inside info on "Blue Smoke"? I saw Dolly in Atlanta this last tour and can't wait for some new stuff! Absolutely loved her cover of "Me and Bobby McGee." I know the album is comprised of mostly cover songs, but aside from "Blue Smoke", what other originals will appear? By the way, your dedication to the Living Legend herself is awesome.
Brandon
St. Petersburg, Fla.
Why, thank you, Brandon! That's so kind. Not many details have come out regarding the upcoming CD, but here's what we know so far. New songs on the disc are to include the title track and "I Dreamed About Elvis," but there will probably be a few more. Covers reportedly include "Imagine," "Me and Bobby McGee," "Blowin' In The Wind" and a Cat Stevens song, although the title of it hasn't been publicly stated yet. Guest artists are supposed to include Keith Urban, Joni Mitchell, Judy Collins, Ronnie McDowell and, at least according to one published report, Yusuf Islam (Cat Stevens).

-------------------------------------------
March 18, 2005
Hi Duane, I just want to say that TJ dude doesn't realize the work you put into this site. Take your time; I'm sure you will make it worth waiting for. I have a few questions. First off, is the mole on Dolly's left side fake or is it real? I was looking on my CD covers last night, and I noticed on some she didn't even have it and then it would be on her right side, and now it is on the left side of her lip. Also I was wondering who all has Dolly sung duets with in the males. I know Porter Wagner is the biggest one, but who else? I want to let you know I love the site. You do a wonderful job. I was wondering what other job do you do besides the Web site? Thanks for devoting your time to Dolly and all her fans. I'M THE BIGGEST!!!!!!!!
Scott Davis
Newport, N.C.
Thanks so much, Scott. The mole is real -- however, it is almost flesh-colored, which requires her to place a dab of mascara on it to turn it into a classic beauty mark. Otherwise, she's said, it looks like a pimple. As for it sometimes appearing on the left and sometimes on the right, that's simply a photography editing trick. Rather than the mole actually being on the other side of her face or missing from it, the photograph itself has been flipped backwards or the mole airbrushed away for aesthetic reasons. As for her duet partners, her most frequent male collaborator besides Porter was Kenny Rogers. Since 1983, they've put out three individual singles and one complete album. In addition, they have held several concert tours together and filmed two television concert specials. There are a handful of other male singers with whom she has done two duets each (such as Mac Davis and Willie Nelson), but really no one who comes close to the amount of material with Porter and, to a lesser extent, Kenny. Finally, to answer your question about my "day job," I hold a journalism degree and started my career as a newspaper reporter and editor, which I did for a few years, but for the past five years I've worked as the media relations officer and grants administrator (and Web designer) for a grant-making charitable foundation in Jackson, Miss. I am currently transitioning into a new position as Director of Finance with the same organization.

-------------------------------------------
March 16, 2005
First I wanted to say that your site is the best! Thanks for taking the time to do this site and to keep everyone informed on Dolly. I have two questions really, first does it seem like the album "Blue Smoke" is taking a bit longer than normal to be released? It seems to me that this album is the one everyone is most excited about , but is taking the longest to release the details and even a release date? And second, since Dolly took "I Will Always Love You" to number one twice, Whitney did it for x-amount of weeks, the duet version was #15, and it's always at or near the top of the charts when they do the best songs of all time, my question is do you think that "I Will Always Love You" is the most successful song of all time? Considering all the chart times and all the profits it has made and all the other recordings by other artists? I just can't think of another song in history that can compare. If this isn't the biggest, then what song is? Thanks so much.
Eric
Higginsport, Ohio
Thanks, Eric! While Blue Smoke appears to be taking longer than usual for a Dolly CD (she usually has them recorded, mixed, and out to fans in a six-to-nine-month period, while the major recording on this one was done seven months ago), it's not very unusual in the music industry in general for it to take as many as two years between the time recording starts for a new CD and when it actually hits the streets, but that's on the major labels (indies are usually shorter). As of a couple of weeks ago, I confirmed that Dolly still had yet to submit the final masters to Sugar Hill or to schedule an anticipated release date, which suggests she might not be finished with it yet, and it probably won't be out until the fall at the earliest. As for "I Will Always Love You," it's certainly No. 1 in my book! However, it's not the most successful song of all time. Sales-wise, the most successful single is Elton John's "Candle In The Wind 1997," which sold 11 million copies in the U.S., compared to 4 million for "I Will Always Love You." For most times played on the radio, the top song is "You've Lost That Lovin' Feeling," which has been broadcast more than 8 million times, compared to "I Will Always Love You" at more than 6 million. Although I would bet that with three No. 1 versions, "I Will Always Love You" is probably the song with the most individual No. 1 recordings.

-------------------------------------------
March 16, 2005
Hey Duane. My goodness TJ has got some nerve! You put so much work into this site, and he goes and calls you a liar! That ticks me off! lol. You take your time with the vault; good things can wait. You dedicate so much of your time its a pity he would say something like that! Anyway...that's my two cents. Duane, your site is my absolute favourite!
Michelle
Ottawa, Ont., Canada
Thanks so much for your kind words, Michelle!

-------------------------------------------
March 16, 2005
Hi there, I picked up "Rhinestone" this morning on DVD. Am I alone in really liking this movie??? I was 12 when it first came out but I didn't get to see it until a few years later on cable. I did however buy the soundtrack when it was released. I loved the album then, and still do now (and yeah, I even love the wickedly funny "The Day My Baby Died", the only non-Dolly song on the album). The movie has always gotten bad reviews, mostly for Sly's singing. Seems to me that most people missed the point of the movie, he isn't supposed to be able to carry a tune!!! As for Dolly, the public bought her a secretary, they bought her as a madam, why wouldn't they buy her as a country singer!? I always felt Dolly did a great job in the movie, she is basically playing herself, so it was no real stretch. It's great to finally have the movie in widescreen. Too bad "Straight Talk" hasn't also been issued in WS, another flop movie that I really like!! Oh well!
Al Chapman
Stafford Springs, Conn.
No, you're not alone! Most Dolly fans I know love the film, too. Yes, I'll admit Stallone's singing is plum awful, and the dialogue often leaves much to be desired, but Dolly's great in the film and Sly and the other actors are good (as long as he's not singing!). The movie was released on DVD for the first time last week. Get it here.

-------------------------------------------
March 15, 2005
Duane: I just wanted to drop you a line and tell you that I think it is a good idea to change the policy of the reader's letters section. People don't seem to understand how dumb they make themselves look (well, maybe some are just exposing the truth, joke, joke) when they write these terrible (in both content and grammar) letters bashing Dolly. I don't understand the reasoning behind it. But then again, I am forgetting who wrote that letter. All I know is that I think Dolly is hotter than a firecracker, and she's nearly 60, and I'm under 20. So, that is all, and, as always, thanks a lot for keeping me up to date with Dolly information. I always know what is going on because of your site. For example, tonight my Dad asked me when Dolly was going to be on the Reba show because I had told him a few weeks ago that she was going to be. I told him that I didn't know but I would know well in advance because I read the Dollymania news just about every day. Thanks again for keeping me up to date on my baby girl.
Michael
Asheville, N.C.
Thanks, Michael. I had to think about it for a while before making the change, but as a site evolves, such changes become necessary, and it was just time to do it. I hope other readers agree it is the right decision.

-------------------------------------------
March 15, 2005
I did love your site, Duane, but you're a liar. You tell people and you tell me you'll have the vault store open all up by this date and that date. Why don't you just get it set up? I doubt I'll be back to your site anytime too soon! Sorry, but you got to do better.
TJ
Nashville, Tenn.
TJ, thanks for your feedback, although I think it is not very logical to boycott a site with more than 600 pages simply because one page you want to see has yet to be completed and posted. And if you read the handful of comments I've made on the site about the Vault section, I never made a promise that it would be posted by a certain date. In the fall, when I first announced plans to do it, I said I "hoped" it would be open by Christmas. While I got some work done to prepare the page, it was nowhere near finished by that time. Just after the holidays, another reader asked when it would be posted, and I said I didn't know but again "hope" to get it done in the next few months. A possible target date for launching it wasn't mentioned again until 13 days ago, when I said I "hoped" to get it done in the next few weeks. Please keep in mind that I maintain the site in my spare time and work full-time at another job. The limited amount of time I have available to work on it, combined with the fact that it takes a very long time to catalogue hundreds of items from a collection, type up the details and format it into html code to post online, has resulted in it not being ready to open yet. Just hang in there. On another note, I must point out that you did not provide a valid e-mail address when sending your letter. As part of the site's new policy, you must type in a valid e-mail address in the letter form for your comments to be considered for publication. The only reason yours were published is that I had not made that part of the new policy public yet. A brief response is sent to all letter writers via e-mail to let you know that your message was received. If you do not supply an e-mail address for this purpose, or if that reply is returned as undeliverable, your letter will not be considered for publication. If you do not wish to have your e-mail address made public, there is a button on the form for you to signify that, but you must provide an e-mail address.

-------------------------------------------
March 14, 2005
Hi Duane :-) First off, I want to thank you for all of the enjoyment your site provides for me. Your so in depth and and very factual with the smallest tid bits of info.
I first knew of Dolly when i was a lil boy--5 yrs to be exact, in 1980. I have always "felt" her heart through her smile, words, songs, and heart. Like alot of people who really love Dolly for her "insides", I have always related to her words she has written. Growing up poorer than alot of kids, dealing w/ my sexuality as a young teen ,and moving away from a small town to join the military were all very rough, trying times in my life. Whenever I struggle I go through her albums. She's the only person who can make me cry, laugh, and love so deeply.
Dolly Parton is an angel without wings. She has helped me be a better person to this world and its people. I don't believe I can ever say in words what my heart feels for Dolly--it is much too deep. Thank you for providing this area for Dolly and the people who care so much about her.
Hugs,
Mike Tomek
Rapid City, S.D.
Thanks for sharing your story, Mike. I never find it surprising how many of Dolly's fans emphasize the way her music has helped them in their lives to find solace when facing a struggle or problem. Humanity's universal language, music can often be a very healing and cathartic power. And on the note of the very few letters that have ever been received here which are critical of Dolly, I should note that due to some special circumstances surrounding a couple of recent letters as well as the volume of letters that this section of the site is now receiving, I have decided to shift it from a publish-them-all-unedited section to one similar to how your local newspaper's Letters To The Editor page operates, where only a percentage of those letters which are received are published, edited for content and grammar, and the ones which are nothing more than baseless personal attacks or questionable in taste are discarded at the editor's discretion. This is not to say that those letters which some may deem controversial in nature or which are critical of this site will not be published, as that will not be taken into consideration when making the decision of whether or not to publish them. This new policy begins immediately.

-------------------------------------------
March 14, 2005
I also herd a while back that they were in talks to do a all black cast of 9 to 5 with Will Smith and Jada Pinket Smith. Is that still going to happen? If so I would love to see who will do the title track. Missi Eliott, Lil Kim, Destonies Child, Janet Jackson, Tina Turner, Patti Label, I could keep goin :) But I wont have a great night and weekend.
Brian Wolf
Riverside, Calif.
Although Will Smith's production company, Overbrook Entertainment, announced in August 2001 that it would shoot the re-make for Fox Searchlight Films, it is still "in development," which in Hollywood terms means nothing has happened since then, so it might end up being shot or it might not. You just never know. So there's really no reason to speculate who might record the title track for the film, although I'd love to hear a rocked-out Tina Turner version of it myself!

-------------------------------------------
March 14, 2005
Do you know if a Dolly Parton collectors convention is scheduled this year?
Jim
Lexington, Ky.
Apparently there won't be. While as late as a couple of weeks ago the organizers showed on their Web site that they planned to host the convention again in 2005 but just hadn't released the time or location, as of Sunday their site shows that they don't plan to have the next convention until April 2006.

-------------------------------------------
March 12, 2005
Just wanted to know if you happend to know why the Dolly Greatest Hits with gate fold, and with out Islands in the Stream is worth so much more than the same LP without the gate fold and with Islands in the Stream on it? I havnt seen a price guide in a few years but there was about a 50.00 difference in the two LPs. So when ever i found the gatefold version at a store or a yard sale I would pick it up. I have a few copies of the gate fold version that I could sale that are in great shape. Do you happen to know how much they are worth now? Thank you and if anyone reading this would like to buy a copie let me know :)
Brian Wolf
Riverside, Calif.
Fewer copies of the version without "Islands In The Stream" were produced when the album was initially released in 1982 than when the song was added to it and other tracks removed a couple of years later in its reissue. Because the one without the song was the original, and there weren't as many copies of it made, it is worth more. Of the two major price guides, one places a near mint copy at $50, while the other puts it at $12 (two dollars more than the more common version). The true value is more likely somewhere between those.

-------------------------------------------
March 12, 2005
Hi Duane. First I wanted to thank you for all the work you do to keep this Dolly site current. It is very much appreciated by all of Dolly's fans who visit. Second, was there a mention of another Dolly tour in the near future if this last one "Hello I'm Dolly" was a success. Or maybe I was just hopefully dreaming ! I was fortunate to see Dolly twice last November. Once in Phila. and again in Reading, Pa.
Mike Wargo
Lehighton, Pa.
Why, thanks, Mike! Yes, before the tour started, Dolly said she hoped to extend it into 2005, but no announcement has come yet of the tour picking back up. As of last I heard, the decision on whether or not to go back on the road later this year had yet to be made, so it is still a possibility.

-------------------------------------------
March 11, 2005
Duane, Does Dolly have a CD of Christian Music? She is the absolute best when she sings Christian. Her "When I Sing for Him" thrills my soul, and "Take You There" is another one. I would love to have all of her Christian recordings, but don't know where to start. Can you help me? Thanks,
Linda Demaree
Ocean Springs, Miss.
Since she was raised in a religious family, the granddaughter of a Pentecostal preacher, Dolly learned to sing in church. So it's no surprise that some of her most emotive and moving singing is done on spiritual numbers. While she usually performs at least one, and sometimes as many as two or three, hymns or contemporary Christian songs on each CD that comes out, she's only done two full-length gospel albums: 1971's Golden Streets Of Glory and 1999's Precious Memories. The former has been re-issued several times over the years by RCA/BMG, including under the title I Believe, so it is still available in many stores. The second one was released as a fundraising CD for the education projects of her Dollywood Foundation and is sold exclusively at Dollywood, where it is still available. While there have been a couple of compilations which featured most of the songs from her first gospel album with three or four other Christian-themed tunes added, there has never been a very comprehensive compilation of her spiritual recordings. Unfortunately, that means the only way to get them is to buy each individual album. Some recent recordings include about half a dozen on her 2003 patriotic and spiritual CD For God And Country, several tracks on 2002's Halos & Horns, "In The Sweet By and By" on Little Sparrow, "I Am Ready" on The Grass Is Blue and "Shine On" and "When Jesus Comes Calling For Me" on Hungry Again.

-------------------------------------------
March 10, 2005
Hey Duanne, I just have on quick question for ya. In my class tonight music as a world phenomenon we were discussing South Africian music and the group Ladysmith Black Mambazo came up and she said that Dolly was one of the major artists that they collaborated with. I was just wondering if that was true and if so when did she do this and is it possible to find the song she did with them? Thanks for the help!
Amanda Amon
Kent, Ohio
Yes, Dolly did collaborate with the legendary band on two tracks. For her 1996 CD Treasures, she wanted a worldly, multi-cultural sound for her cover of Cat Stevens' "Peace Train" and asked her producer to find out who was singing a Life Safers commercial at the time ("Life Saaa-vers, Hummmmmm.") It turned out to be Ladysmith Black Mambazo. She knew of the band and loved their work, so she asked them to sing with her. The band also brought with them a song about a train in South Africa that they thought would blend well with "Peace Train," so they sang their song in their tribal language at the start and end of the track in addition to the background harmonies for Dolly's version of "Peace Train." Then they asked her to return the favor the next year by appearing on their 1997 CD Heavenly for a cover of Bob Dylan's "Knockin' On Heaven's Door." The song is perhaps the only reggae Dolly recording (although her duet with Boy George on "Your Kisses Are Charity" has an almost-reggae sound to it), complete with a bluesy slide guitar in the background played by none other than Bonnie Raitt.

-------------------------------------------
March 10, 2005
Please help me! I am a 40 year old housewife taking some college courses. I thought that my music class would be pretty easy- but it is not! I am doing my project on Dolly, and in particular her song "I will always love you". Could some one please help me figure out the tempo, meter,timbre, rhythm etc? I love Dolly but I had no idea that this project would be so involved! Thanks for any help.
Diane
Belding, Mich.
I checked the sheet music, and the song is in the key of C and 4/4 time with the tempo of "slow." If anyone else has more detail to provide, please feel free to e-mail Diane. Thanks!

-------------------------------------------
March 10, 2005
Duanne, I was wondrein how old is dolly's husband and why don't you ever see him around with dolly. And Has Dolly ever cheated on him and admitted it to public? How much does dollywood bring in a yaer and how much is dolly worth today. Thanks for your help.
Scott Davis
Newport, N.C.
The elusive Carl Dean will turn 63 this summer. You never see him in public because he hates the spotlight. Dolly often tells the story that when she won her first major award, a BMI songwriting award back in 1966, he came to the ceremony with her and had such an awful time that he told her then and there that he would support her career but he never wanted to have to make any other public appearances for her. She agreed, and he hasn't done it since. Next year will be their 40th wedding anniversary, but they were together for two years before that. Dolly has never admitted to any extramarital affairs, saying that if she did it, he wouldn't want to know about it, and if he ever cheated on her, she wouldn't want to know about it, so she will neither confirm nor deny it. Dollywood does not release any figures on its annual revenue, but I have seen some published estimates that its gross revenue (before expenses) is in excess of the $100 million a year range. Finally, Dolly has never revealed her personal net worth, but financial experts agree she is the wealthiest entertainer in the history of country music with a personal fortune well over $100 million, most likely somewhere around $300 million by most accounts, although one Nashville business magazine about seven years ago had estimated it at half a billion dollars.

-------------------------------------------
March 8, 2005
Duanne, thanks for answering my question on the Dolly album Real Love. I am a die-hard Dolly fan at age sixteen and will be, I'm sure forever, and you are the one that helps with everything I need to know, thank you so very much for all your dedication to Dolly and all her fans who love her. So I have a few more questions the I've always wondered. 1) What are the sale numbers on Dolly's albums from The Grass is Blue and up. 2) Do you think that Dolly has grown in the past year in popularity? I feel like she has branched out into a younger audience now, becoming more appriceated by the younger fans of today. Finally, you mentioned Real Love being #35 or #36 when it comes to being a sucessful album. What are the top ten most sucessful? Thanks so much and beleive me, you are completely appreciated by all of us Dolly fans, the old and the new.
Justin
Denton, N.C.
No problem, Justin, and thanks for your kind words. Her major releases for indie label Sugar Hill have sold about 200,000 copies each (The Grass Is Blue, Little Sparrow and Halos & Horns). I haven't seen any sales figures for her other two albums released since then, For God And Country and Live And Well, but I would suspect that the first topped out at less than 50,000 units, while the latter is probably pushing 75,000 now. I would suspect she's a bit more popular than she was a year ago this time, simply because she received many high profile honors and made several high profile appearances which leads to greater exposure to non-fans who have the potential to become fans. I do agree that she is gaining popularity in the "urban hipster" set, the generally tech-savvy, artistic people aged 15-30 in cities (including those who in the 1980s would have been referred to as "punk rockers"). In recent years, these individuals have gravitated toward more of a roots music scene, and the adoration of some of country music's innovators like Dolly, Johnny Cash and Willie Nelson has enjoyed a resurgence as part of that movement. As for her most successful albums, sales-wise, that would be Once Upon A Christmas with Kenny Rogers at more than 2 million copies sold as of 1989 (it's probably at least past 3 or 4 million today, but the record label hasn't chosen to have it re-certified at the higher amounts in more than 15 years), followed by her million-sellers Slow Dancing With The Moon, Eagle When She Flies, Trio, Greatest Hits and Here You Come Again. An additional eight albums have passed the half-million mark: Trio II, Home For Christmas, Honky Tonk Angels, White Limozeen, 9 To 5 And Odd Jobs, Great Balls Of Fire, Heartbreaker and Best Of Dolly Parton. Based on chart performance, her most successful albums are, in order from best: 9 To 5 And Odd Jobs (No. 1 for 10 weeks)