For The Love Of Dolly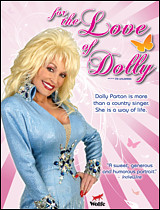 "I wish she knew just what she means to all of us."
-- Jeannette
TV Premiere
March 17, 2007 on LOGO
DVD Release
July 8, 2008 from Wolfe Video
Previous Screenings

World premiere, Miami International Film Festival, Miami, Fla., March 4, 2006, with March 9 repeat

Nashville Film Festival, April 21 with April 24 repeat

USA Film Festival, Dallas, May 1

NewFest: The 18th New York Lesbian, Gay, Bisexual & Transgender Film Festival, June 11

Provincetown (Mass.) International Film Festival, June 15

Frameline30: The San Francisco LGBT International Film Festival, June 17

OutFest: The Los Angeles Gay and Lesbian Film Festival, July 8 with July 12 repeat

Rhode Island International Film Festival (Providence), Aug. 13

Santa Fe Film Festival's Santa Fe Film Center at Cinemacafe film series, Aug. 24

The Best of The NewFest Series, Sept. 8, Brooklyn Academy of Music

26th Atlantic Film Festival, Halifax, Nova Scotia, Sept. 18

Newburyport Film Festival, Newburyport, Mass., Sept. 30

19th Annual Austin (Texas) Gay & Lesbian International Film Festival, Oct. 4

Film Pop, Montreal, Canada, Oct. 8

Chillfest, Jersey City, N.J., Oct. 13

Seattle Lesbian & Gay Film Festival, Oct. 24

Indianapolis LGBT Film Festival, Nov. 11

Rehoboth Beach Independent Film Festival, Delaware, Nov. 11

Bagdad Theatre, Portland, Ore., Nov. 16

Popcorn, Stockholm, Sweden, Dec. 8-10

Mix Brasil in Sao Paulo, Rio de Janerio and Brasilia, Brazil, November and December

Alamo Drafthouse Downtown, Austin, Texas, March 6

Inside Out Toronto Lesbian and Gay Film and Video Festival, May 21

Queer Takes: Standing Out, Walker Art Center, Minneapolis, June 30

Cinema Q, Starz FilmCenter, Denver, multiple showings daily July 13-19

News

July 9, 2008: The long-awaited DVD of the Dolly fan documentary For The Love Of Dolly came out on Tuesday, and several fans will want to snap it up to catch a glimpse of themselves. Although probably a few hundred fans were interviewed at least briefly and several dozen for extended periods of time, the final documentary focused on five of the most dedicated and often over-the-top followers. The DVD gives a little insight into some of the others who participated in the project with a 30-minute featurette including brief snippets from several dozen interviews, a handful of more extended fan profiles (of a drag queen inspired by Dolly, a British Dolly impersonator, a British woman with a Dolly room in her house, an African American singer whose hero is Dolly and a few others), a behind-the-scenes montage featuring the film crew and some of the friends they made during shooting, some extended footage from scenes which are in the documentary and more. (Even your webmaster pops up in the featurette with a brief quote, a couple of photos in the behind-the-scenes montage and footage of Dolly feeding me a finger of banana pudding. ) Get your copy of the DVD here!

April 18, 2008: LGBT distributor Wolfe Video has announced a July 8 release date for the DVD of the fan documentary For The Love Of Dolly. The disc will feature the hour-long documentary which follows the lives of a handful of Dolly's most dedicated fans and their interactions with her in addition to the film's trailer and a featurette titled "Dolly Fans From Around The World," which I presume will include some interview footage they shot for the project with other fans who were not on screen in the final version.

Feb. 14, 2007: The documentary, which made its way around the international film festival circuit last year, has been picked up for distribution, its director says. Director Tai Uhlmann tells Dollymania that the film should be available on DVD sometime this spring and has been scheduled for its television premiere at 9 pm. Eastern March 17 on MTV's LGBT cable/satellite channel LOGO. Thanks!

Oct. 13, 2006: The film just keeps gaining momentum, as it has been added to the Indianapolis LGBT Film Festival next month, with a screening scheduled for 5 p.m. Nov. 11 at the Key Cinemas. Thanks, Matt!

Oct. 12: The film has been added to yet another festival, the Seattle Lesbian & Gay Film Festival, with a screening scheduled for 2:15 p.m. Oct. 24. A preview is available in The Seattle Weekly here.

Oct. 11: The documentary has been added to Chillfest, a film festival happening this weekend in Jersey City, N.J. The movie will screen at 6:30 p.m. Friday at the Jersey City Museum (350 Montgomery Street at Monmouth). Tickets, $7 each, may be purchased at the door or by calling 210-413-0303 x 141 for reservations.

Sept. 23: The North Shore in Beverly, Mass., offered a wonderful and lengthy preview Friday of the fan documentary, which screens at 1 p.m. Sept. 30 at The Screening Room as part of the nearby Newburyport Film Festival. Read the piece here.

Sept. 11: The film has been added to yet another festival. The film will screen at 1 p.m. Sept. 30 at The Screening Room as part of the Newburyport Film Festival in Massachusetts. It will next be shown Sept. 18 at the 26th Atlantic Film Festival in Halifax, Nova Scotia.

Aug. 17: Catch the film at 7:45 p.m. Aug. 24 as part of the Santa Fe Film Festival's year-long film series, Santa Fe Film Center at Cinemacafe, held at the former Cinemacafe in St. Michael's Village West Shopping Mall (1616 St. Michael's Drive) in the New Mexico city, it was announced Wednesday.

Aug. 11: Billy Gilman, the child singing star who is now re-entering the music world as an 18-year-old with a new album next month, will introduce the Dolly fan documentary at the Rhode Island International Film Festival this weekend, according to The Westerly Sun. The block of movies Gilman will host kicks off with a short film previewing his next CD, followed by Rex Trailer's Boomtown about a legendary Boston television host before Gilman introduces the hour-long documentary about several of Dolly's most dedicated fans. The event begins at 12:30 p.m. Sunday at The Columbus Theatre's Upstairs Cinematheque in Providence. Doors open at noon. Read more here.

July 24: Listen for For The Love Of Dolly director Tai Uhlmann to be interviewed Monday nationally on Sirius satellite radio. She is slated to appear as a guest on The Frank DeCaro Show at 1:15 p.m. Eastern Monday on OutQ channel 106 for subscribers to the service. If you're not a subscriber, you may listen online by visiting Sirius and signing up for a free three-day trial membership by clicking on "Start Listening." Don't forget the film's next scheduled screening is as part of the Rhode Island International Film Festival in Providence next month. Thanks!

July 10: I'm told the pic earned a great reception Saturday at OutFest: The Los Angeles Gay and Lesbian Film Festival. About 100 folks turned out for the screening of the documentary, including featured fan Jeannette Williams. My friend Greg, who attended, said he loved the picture, adding: "The film really portrayed everyone in a positive manner and the fans' adoration of dolly in a loving caring way really came across well." The showing was introduced by co-producer Steak House, who also moderated the Q&A afterward with Jeannette, director Tai Uhlmann and producer Val Stadler. See some pictures Greg submitted from the event here. The doc screens again in the festival at 5 p.m. Wednesday at the Village Theater. Thanks!

June 13: Apparently about 40 potential audience members were turned away Sunday at the NewFest Film Festival in New York from a sold-out showing there of the Dolly fan documentary. I'm told those who made it in thoroughly enjoyed the screening, with the audience heard laughing -- and crying -- throughout. However, at least one of those who didn't get in complained that festival organizers seemed disorganized and confused, apparently not anticipating the sell-out crowd and not publicizing enough the ability to buy advance tickets. Thanks!

May 3: The film has earned a quite positive review from entertainment industry standard Variety, which praises here Uhlmann's "tricky balancing act." The reviewer notes: "Without attempting to satirize or romanticize its subjects, docu offers a mostly sympathetic but never condescending view of devoted zealots."

April 29: Read a story here in The Dallas Voice about featured fans Harrell and Patric.

April 27: See a brief news-style film on the Nashville fest posted on My Space here which includes an interview with Uhlmann and most of the cast of the film.

April 24: Dollymania attended the film's Nashville Film Festival screening in Music City. See pics and read a recap of the reactions here.

March 17: Be sure to check out the April/May issue of women's magazine Bust, on newsstands March 28, for a review of the film.

March 11: Read a review from an audience member at the Miami premiere here.

March 3: Review from The Miami Herald here gives the film two-and-a-half out of three stars, saying the profiled fans' behavior is a bit "excessive" to outsiders but that the film argues that Dolly's "influence on these fans has had a positive effect."

The Dollymania Review
By Duane Gordon (Dec. 18, 2005)
Dollymania.net
The upcoming documentary on Dolly fans, For The Love Of Dolly, offers a unique window into the world of Dolly Parton fandom, tracing the lives of three sets of her most dedicated fans: why they love her, what drew them to her and the lengths to which they go to connect with her in person. The 56-minute production successfully weaves their personal histories via interviews and home movies with footage of their pilgrimages to that land of all-things-Dolly, Dollywood, in the Smoky Mountain city of Pigeon Forge, Tenn. Dolly herself makes several appearances throughout.
The filmmakers have put together a revealing look into the lives of these fans: Harrell and Patric, a gay couple from Texas whose home is floor-to-ceiling Dolly memorabilia; Jeannette and Melisa, best friends from California and Nashville, respectively, who don creative Dolly-related costumes to chase Dolly down the parade route each year; and David, whose sister and parents say his adulation of Dolly is the primary reason for his success in leading a fairly normal life even though he is challenged by cerebral palsy.
Several dozen fans were interviewed for the project over the course of more than a year, and I'm sure many of them will be quite disappointed that they don't appear in the finished version, but they will hopefully get over it. The only way to fully develop these characters for the audience to identify with and understand is to limit it to these few people. They could have easily done a full hour on each set of fans used in the film, but devoting nearly 20 minutes to each throughout the project is the absolute minimum for it to work. To add anyone else would have necessitated either turning it into an incoherent mish-mash where no one had adequate time to tell his or her story or expanding it to two or three hours, something not possible for such a small-budget independent documentary.
The result is a compact yet comprehensive look into their lives, examining the neuroses and life situations which drew them to Dolly and the impact she has had on their being, most pointedly explained by Jeannette, who comments: "It's like a drug. You've got to get your Dolly fix."
Stories of heartache from their personal lives contrast with moments of joy involving Dolly, as well as home movies offering endearing personal moments. Also look for one very surreal segment involving Jeannette and Melisa with a former possession of Dolly's best friend, Judy.
Dolly makes several appearances, both in "new" footage shot for this project and also in several home movies provided by the subjects of the documentary.
The film succeeds in pulling back a curtain into the lives of some of Dolly's biggest fans, exposing not only that they are quite fanatical about a celebrity but also attempting to explain to some degree what made them that way -- and perhaps showing how those qualities exist in all of us to some extent. On that level, the documentary should be on its way to acclaim as it makes the national and international film festival circuit rounds over the next year or two.
The only part of the film I felt did not work was its opening, which finds each set of fans lining the Parkway in Pigeon Forge, preparing to see their star in her annual parade. It seemed a little disjointed as it jumped back and forth between characters who had yet to be introduced to the audience, and the tempo tended to drag as a result, making it feel much longer than the two minutes it took to watch. Viewers unfamiliar with the parade will likely spend the entire introduction wondering, "What the hell is going on?" Perhaps this was the filmmakers' intent, but I don't think it really draws the non-Dolly-fan viewer into the film, although the first segment afterward does. The only other change I would have made would have been to play snippets from some of their other fan interviews on the side of the screen during the closing credits instead of the audio from an original (non-Dolly) song -- I've seen this work quite well with other documentaries and feel it would have added another dimension to the project without taking away from its primary focus. Other than those two items, they have put together one stellar piece of filmmaking which should endure as an additional thread in Dolly's legacy.

Disclaimer: Since I am publishing a review on the film, I am ethically obligated to disclose to the reader that I was one of the dozens and dozens of subjects interviewed for the documentary -- although not one of those whose interview was used in the film. However, I am seen in the background of a handful of scenes, and it is your webmaster's voice that can be heard off-camera kind of overpowering the others singing along with "Hello God" at the film's closing. LOL! :)

The Credits
Starring
Harrell Gabehart
Patric Parkey
Jeannette Williams
Melisa Rastellini
David Schmidli
Lisa, Jo-Ann and Heinz Schmidli
Directed by Tai Uhlmann
Produced by Valerie Stadler
Co-produced by Steak House and Lori E. Seid
Associate Producer Caroline Clone
Edited by Malcolm Hearn
Cinematography Trent Ermes
Claire Cario
Ann Rossetti
Louanne Ponder
Original music by Doug Hilsinger
Marisa Anderson
Additional Editing by Bobby Abate
Harry Dodge
Assistant Editor Samantha Feder
Special Thanks
Dolly Parton
Barbara Joines
Pete Owens
The Dollywood Staff
Duane Gordon
All The Dolly Fans Who Shared Their Stories With Us

Photos
All images by Duane Gordon unless otherwise noted.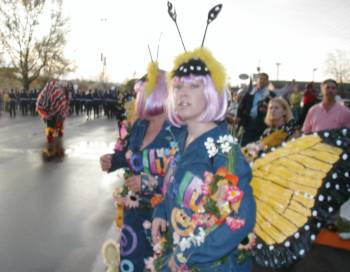 Jeannette and Melisa at the 2003 Dolly parade.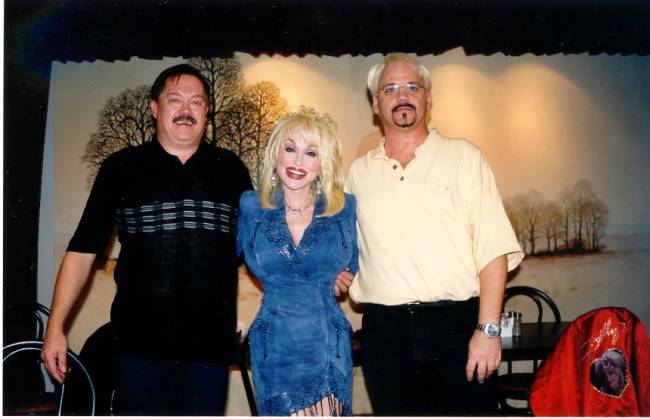 Patric and Harrell with Dolly. Image courtesy HP Designs.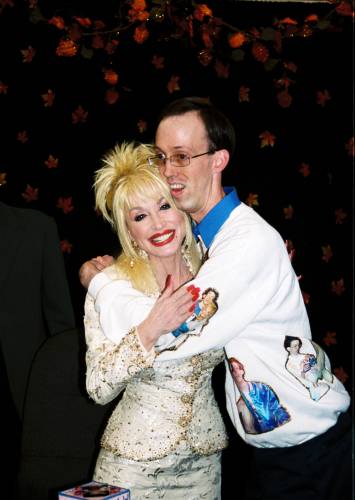 David meeting Dolly at a 2004 CD signing in Huntsville, Ala. Image courtesy Robin Fulford.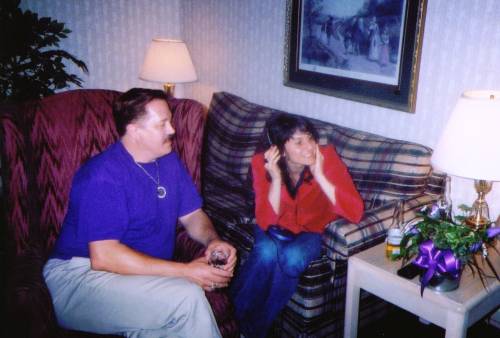 Patric and film director Tai Uhlmann.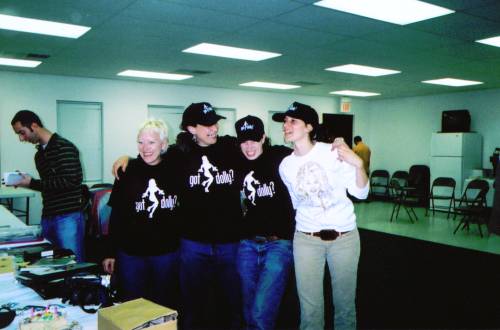 A couple of the film's cinematographers with producer Valerie Stadler and director Tai Uhlmann.