Dolly Opry
Unless otherwise noted, images on this page are copyright © 2005 Duane Gordon/Dollymania and may not be reproduced without prior written consent.

By Duane Gordon
Dollymania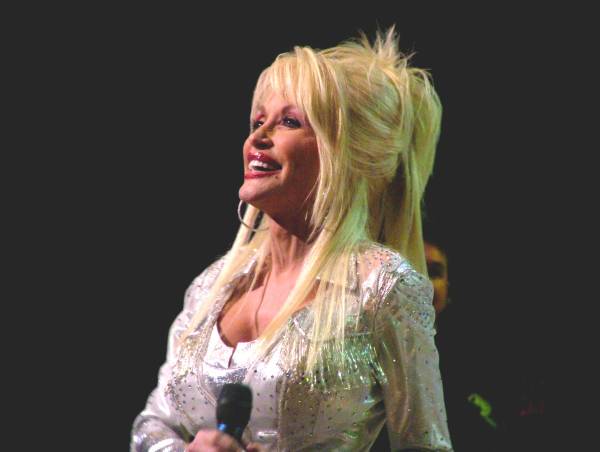 Dolly on the Grand Ole Opry. See more pictures here!
Grand Ole Opry fans got a big dose of Dolly Saturday night, as she made her first return to the country music institution in nearly three years. The capacity crowd at the Grand Ole Opry House in Nashville took to their feet several times to honor Dolly, who received several standing ovations throughout the evening.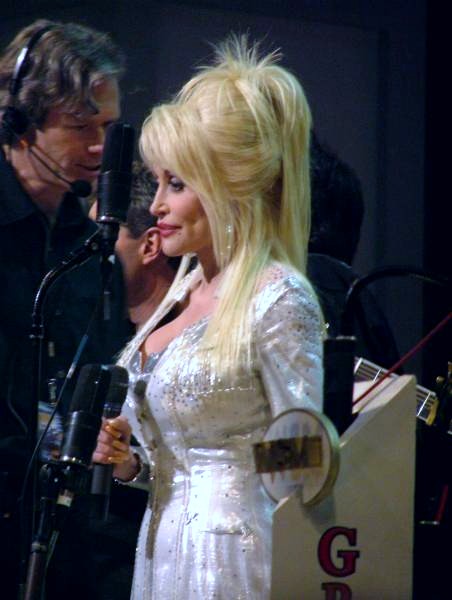 Hostess Dolly talking with a crew member during a commercial break.
Dolly hosted the 7 p.m. Central hour-long segment of the show broadcast live on Great American Country (GAC), which opened with her joining The Grascals for a rousing rendition of their current single, "Viva Las Vegas," before she informed everyone that troops stationed in 177 countries were watching the show via Armed Forces Television and that Secretary of Defense Donald Rumsfield was in the audience.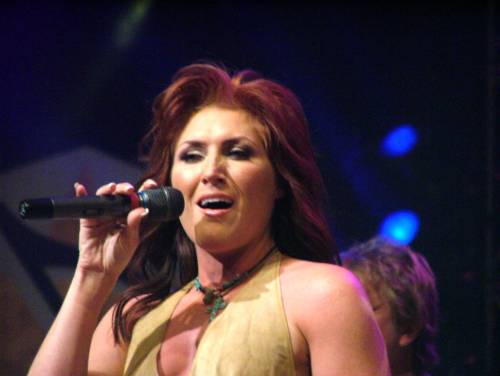 Jo Dee Messina.
She introduced Jo Dee Messina, who provided an energetic performance of her hits "My Give A Damn's Busted" and "Lesson In Leaving," and next brought out newcomers Hanna-McEuen, noting that they should be great since they're the sons of two members of the Nitty Gritty Dirt Band, their mothers are identical twin sisters and they are first cousins. The duo performed "Something Like A Broken Heart" and "Ocean."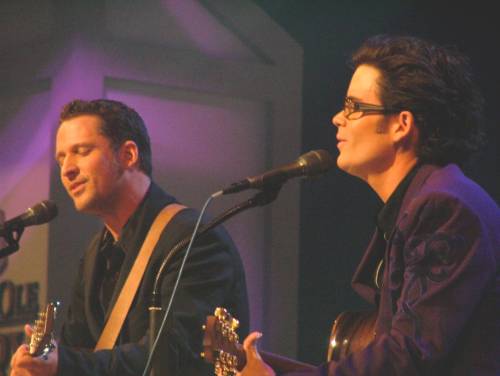 Hanna-McEuen.
Dolly next returned to the stage herself for "Coat Of Many Colors" -- dedicated to all the mothers in the audience -- before bringing Rumsfield to the stage to offer remarks. "You're terrific!" he said to Dolly before thanking her and the rest of the cast for supporting the troops.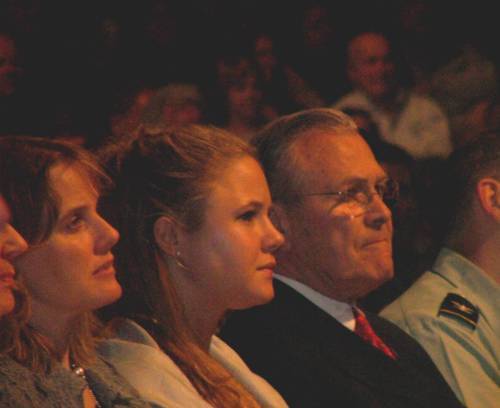 Rumsfield in the audience.
The Grascals returned to do the Wilburn Brothers' classic "Roll Muddy River" before Messina came out again for a moving new song, "It Gets Better," which began with her at the keyboard.
The Grascals next offered "Me And John And Paul" and "White Lightning," both to a warm reception from the crowd, and Dolly joined them with "Rocky Top" to close out that segment of the program.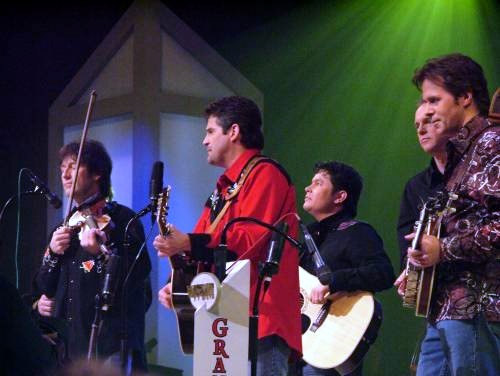 The Grascals.
Dolly returned for the 10 p.m. portion of the show hosted by her former longtime duet partner Porter Wagoner.
Porter introduced her by noting that The Grascals, who were some "real pickers" in his opinion, didn't come alone, having brought someone with them. He then called her to the stage by just her first name: Dolly. When she had made her first appearance of the night, security kept audience members from getting too close to the stage, but for the later show (not on television and without a Cabinet member sitting on the front row), fans were allowed to rush to the foot of the stage for photos and to hand Dolly gifts, which she happily accepted.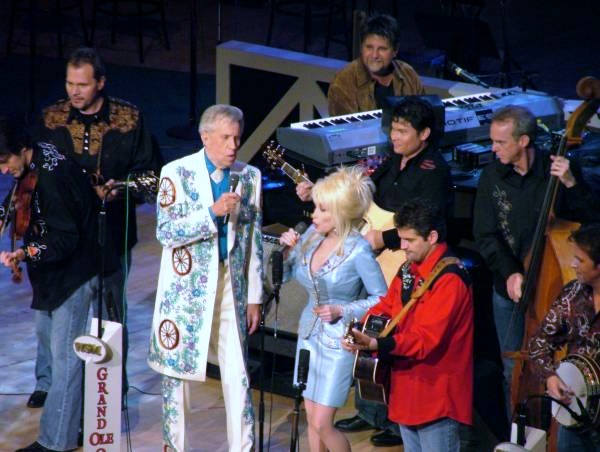 Porter & Dolly.
They always say the Opry is at its best in spontaneous moments, and Saturday night was no different.
Immediately after arriving on stage, Dolly surprised Porter by telling him that she knew he thought she was going to be singing by herself but she had the band work up "The Last Thing On My Mind," and since that was the first duet they did together she wanted him to sing with her. The two kidded each other during the song, with Dolly strutting out in front of Porter at one point and then prodding him to strut out in front of her immediately thereafter.
As the song reached the end -- when the last line is repeated -- Dolly instead launched back into the chorus again as Porter started the final line. They laughed and she suggested they go ahead and sing the chorus again since she'd already "screwed it up," so they did. Afterward, she again performed "Coat Of Many Colors" and "Viva Las Vegas" with The Grascals, adding that they played on her upcoming CD which she hopes to have out "sometime soon." (You may recall reported here previously that she has put on hold recording the final songs for the new album, Blue Smoke, until she completes writing the music for a couple of Broadway projects currently in development.)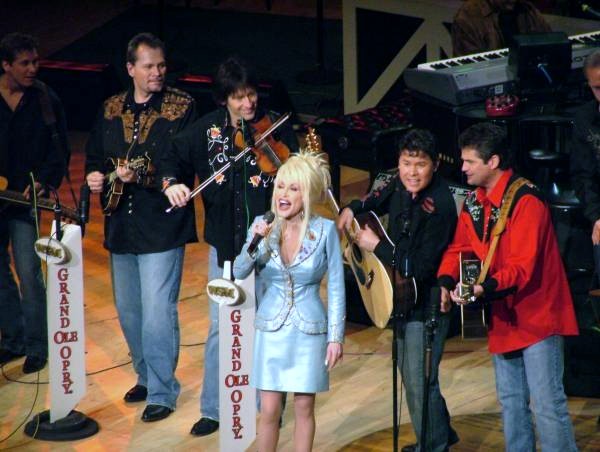 Dolly with The Grascals.
As she began to walk off the stage, Porter had his own surprise for her. He asked her to stay and sing "Rocky Top" again. Traditionally, the segment's host gets the first and last song, but Porter was offering his final song to her. She agreed, to the crowd's delight.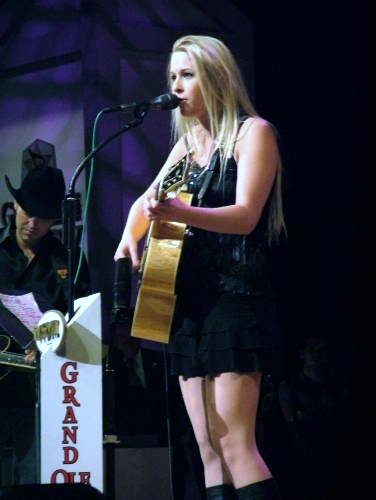 Catherine Britt.
But those weren't the only Dolly-related events of the evening. In the night's very first segment (6:30-7), Jeannie Seely asked Cheryl and Sharon White to join her in a tribute to Dolly's Trio project with Linda Ronstadt and Emmylou Harris by singing one of their first CD's hits, "Those Memories Of You." The fourth segment of the night (8:30-9) brought two additional Dolly moments: newcomer Catherine Britt told the audience that Dolly is "my all-time favorite singer/songwriter in the whole wide world . . . She's the reason I sing country music." The Australian then proceeded to sing a stunning and powerful version of Dolly's "Little Sparrow." Immediately after her performance, Ralph Stanley and his band took the stage. He said his grandson, Nathan, wanted to perform specifically for "his favorite, Dolly," an instrumental number he wrote.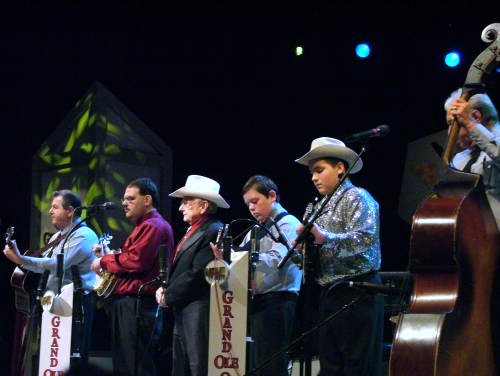 Ralph Stanley, center, and The Clinch Mountain Boys, including his grandson, Nathan, right, in silver shirt and cowboy hat.
Set List For 6:30-9 Show
Part One: Little Jimmy Dickens, host
Dickens: Out Behind The Barn
The Whites: Keep On The Sunny Side
Jeannie Seely with Cheryl and Sharon White: Those Memories Of You
Joe Nichols: What's A Guy Gotta Do/Footlights
Dickens: Mountain Dew
Part Two: Dolly, host
Dolly and The Grascals: Viva Las Vegas
Jo Dee Messina: My Give A Damn's Busted/Lesson In Leaving
Hanna-McEuen: Something Like A Broken Heart/Ocean
Dolly: Coat Of Many Colors
Donald Rumsfield: remarks
Grascals: Roll Muddy River
Messina: It Gets Better
Grascals: Me And John And Paul/White Lightning
Dolly: Rocky Top
Part Three: Porter Wagoner, host
Wagoner: Howdy, Neighbor, Howdy
Jean Shepard: Second Fiddle
George Hamilton IV and V: Abilene
Riders In The Sky: Wahoo
Connie Smith: Run Away Little Tears
Opry Square Dance Band and Dancers
Wagoner: Green, Green Grass Of Home
Part Four: Bill Anderson, host
Anderson: Peel Me A Nanner
Jimmy C. Newman and Cajun Country: Jambalaya (On The Bayou)
Catherine Britt: Little Sparrow
Ralph Stanley and the Clinch Mountain Boys: instrumental/The Room At The Top Of The Stairs
Anderson: That's Just The Way I Feel
Set List For 10-10:30 Portion
(Although the 9:30-midnight half of the show was divided into five parts, the set list is provided only for the segment which featured Dolly; for other segments, only guests are listed)
Part One: Little Jimmy Dickens, The Whites, Osborne Brothers, Jo Dee Messina
Part Two: Porter Wagoner, host
Porter: Happy Faces
Jean Shepard: Second Fiddle
The Grascals: Mourning Dove
Porter & Dolly: The Last Thing On My Mind
Dolly: Coat Of Many Colors
Dolly and The Grascals: Viva Las Vegas
Dolly: Rocky Top
Part Three: Jim Ed Brown w/ Helen Cornelius, Mel McDaniel, Ralph Stanley, Opry Square Dance Band and Dancers
Part Four: Bill Anderson, George Hamilton IV, Connie Smith, Hanna-McEuen
Part Five: Riders In The Sky, Stu Phillips, Jack Greene, Catherine Britt
See additional photos here.