Porter & Dolly Celebrate 50th
Unless otherwise noted, images on this page are copyright © 2007 T. Duane Gordon/Dollymania and may not be reproduced without prior written consent.

By Duane Gordon
Dollymania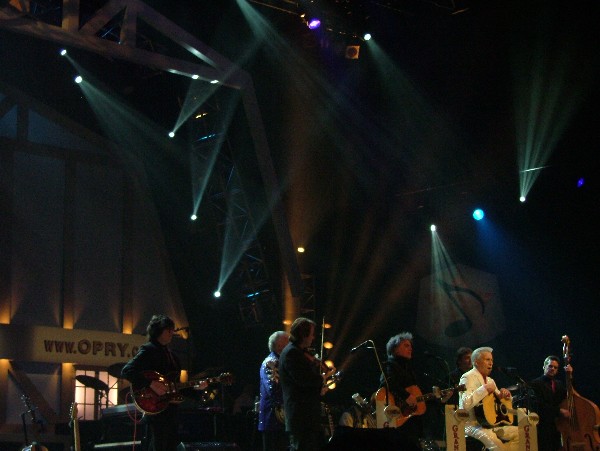 See more pictures here!
Looking frail and weak, the Thin Main from West Plains received the adulation due his legendary status in a special night May 19 at The Grand Ole Opry celebrating his 50th year as a member of the country music institution.
Nearing 80 years old, Dolly's former longtime duet partner Porter Wagoner nearly died last year from an abdominal aneurism. Following his recovery, he recorded his upcoming album Wagonmaster, hitting stores June 5 from hip indie label Anti, most well-known for its punk rock albums. The project, produced by longtime friend Marty Stuart, was heavily promoted during the program.

Marty Stuart
"He is as vital and relevant as ever," gushed Stuart, who hosted the segment honoring his friend, after opening with Wagoner's "Barefoot Nellie." The hour was broadcast live on cable and satellite network Great American Country (GAC), and the full program was repeated live later in the evening.

Patty Loveless
Patty Loveless, who as a teen-ager was mentored by Porter & Dolly, offered her version of "If Teardrops Were Pennies," which she said she recalled seeing Wagoner perform as a solo artist and then later as a duet with Dolly.
She then moved on to a stunning rendition of "The Pain Of Loving You," a B-side single which the duo had written together and which Dolly later re-recorded with Linda Ronstadt and Emmylou Harris. In the second (untelevised) half of the show, Loveless said the song featured "one of the most heartfelt lyrics" ever written.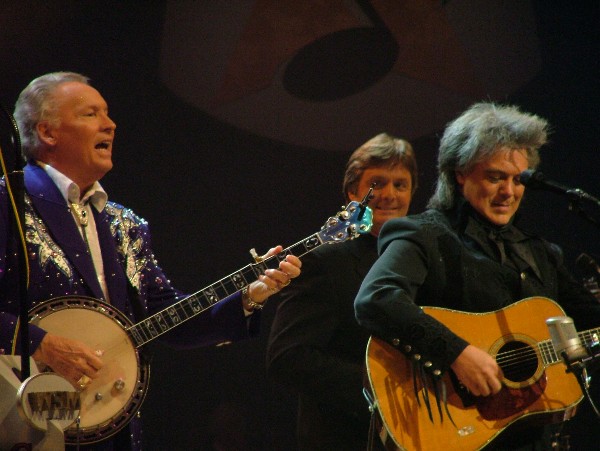 Stuart and Buck Trent
Buck Trent, the electric banjo picker from Wagoner's TV and concert band, The Wagonmasters, was on hand to help out throughout the evening and provided an instrumental of "Stampede" before Wagoner was presented with a 19th century gold watch by Opry general manager Pete Fisher and the first of the new Porter Wagoner Signature Guitars by a representative of Martin Guitars.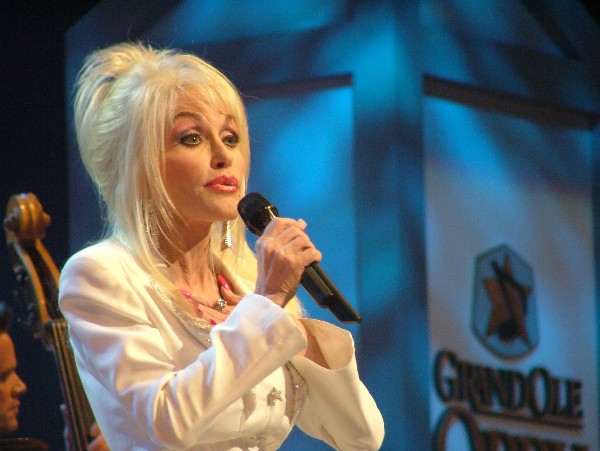 Dolly at the first performance
Dolly was next to take the stage, receiving a standing ovation before she even started singing "Jolene." Afterward, she said she wanted to perform one of Wagoner's favorites of all of her songs, the tune she wrote on his tour bus one day on the back of some tags she took off of the dry cleaning bags for his sparkly suits, "Coat Of Many Colors."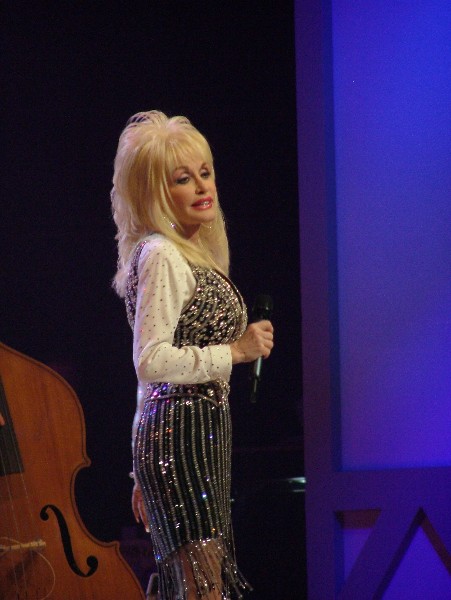 Dolly in the second performance
During a commercial break, she kept the audience engaged with a full version of "9 To 5."

Wagoner
Then it was time for the man himself, who entertained the crowd in a fragile voice with "Eleven Cent Cotton," which appears on the upcoming album, and "I Found A Man," a moving recitation he recently wrote.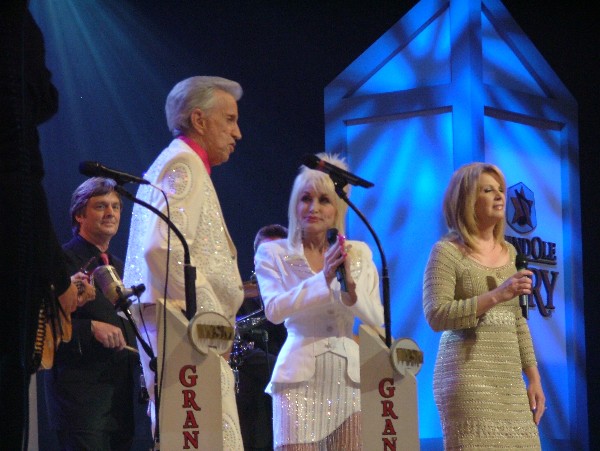 The trio
Dolly and Loveless returned for a lively take on "Just Someone I Used To Know," after which Dolly serenaded him in the night's most moving moment, a very emotional performance of "I Will Always Love You," the song she wrote for him in 1973 as she was breaking up their very successful duet partnership to carve out a solo career.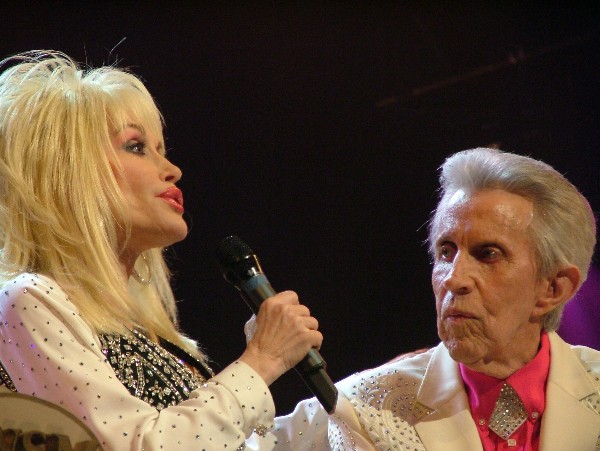 "I Will Always Love You" during the second performance
Set List For 6:30-9 Show
Part One: Little Jimmy Dickens, host
Dickens: Out Behind The Barn
The Whites: Pins and Needles
The Whites: Keep On The Sunny Side
Jeannie Seely: Too Far Gone
Dickens: Mountain Dew
Part Two: Marty Stuart, host
Stuart and his Fabulous Superlatives: Barefoot Nellie
Patty Loveless: If Teardrops Were Pennies
Patty Loveless: The Pain Of Loving You
Buck Trent: Stampede (instrumental)
Dolly: Jolene
Dolly: Coat of Many Colors
Dolly: 9 To 5 (during commercial break)
Porter Wagoner: Eleven Cent Cotton
Porter Wagoner: I Found A Man
Dolly, Wagoner and Loveless: Just Someone I Used To Know
Band: Dooley (instrumental)
Dolly: I Will Always Love You
Part Three: John Conlee, host
Conlee: I'm Only In It For The Love
Jimmy C. Newman: Diggy Diggy Lo
Jimmy C. Newman: Jambalaya
Connie Smith: I've Got My Baby On My Mind
Connie Smith: Darling, Are You Ever Coming Home
Conlee: Miss Emily's Picture
Conlee: Rose Colored Glasses
Part Four: Mike Snyder, host
Snyder: instrumental
Jean Shepard: Tennessee Waltz
Jean Shepard: Second Fiddle
Mel Tillis: Coca Cola Cowboy
Tillis' band: Orange Blossom Special
In the 9:30-midnight portion, most of the same songs were repeated by the same performers, and the hour with Stuart, Wagoner, Loveless and Dolly featured exactly the same set list except the band's instrumental of "Dooley" was cut.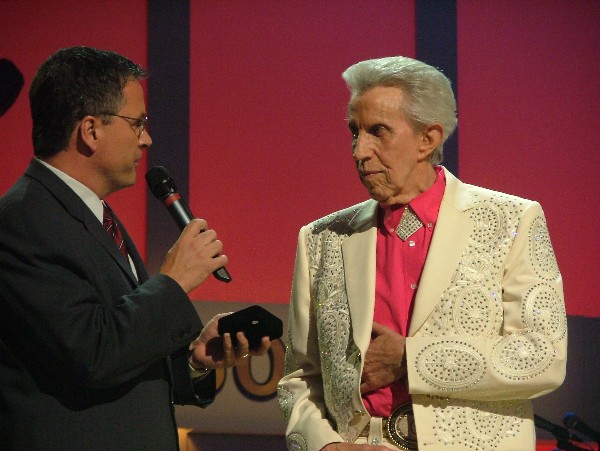 Wagoner accepting his gold watch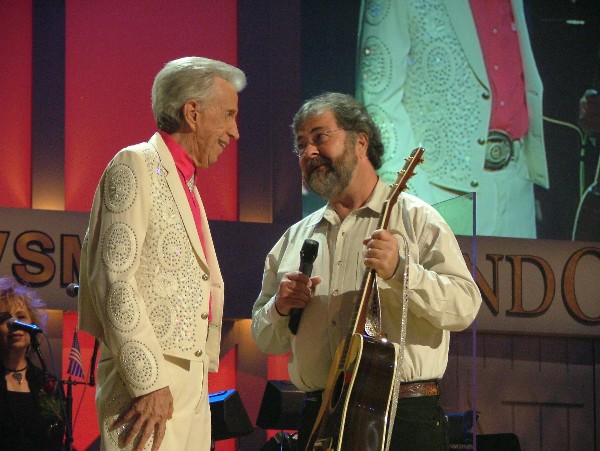 Wagoner accepting his guitar
See additional photos here.