Dolly Raises Money For Local Hospital
Unless otherwise noted, images on this page are copyright © 2007 T. Duane Gordon/Dollymania and may not be reproduced without prior written consent.

By Duane Gordon
Dollymania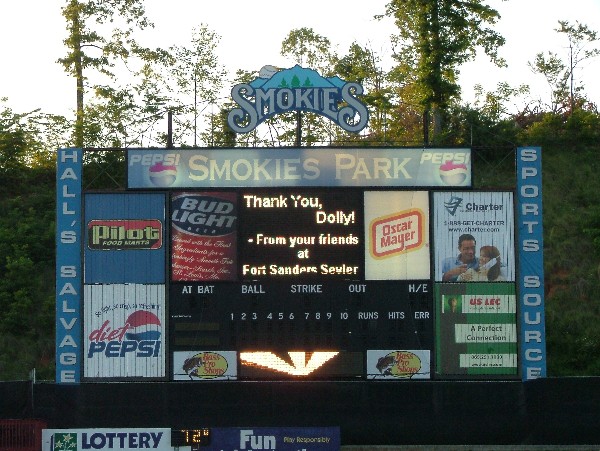 See more pictures here!
Having already committed $500,000 toward the construction of her hometown's new hospital, Dolly Parton gave about 8,000 fans their money's worth last weekend with a concert in Smokies Stadium outside of Sevierville, Tenn., which raised an additional $500,000 toward the project.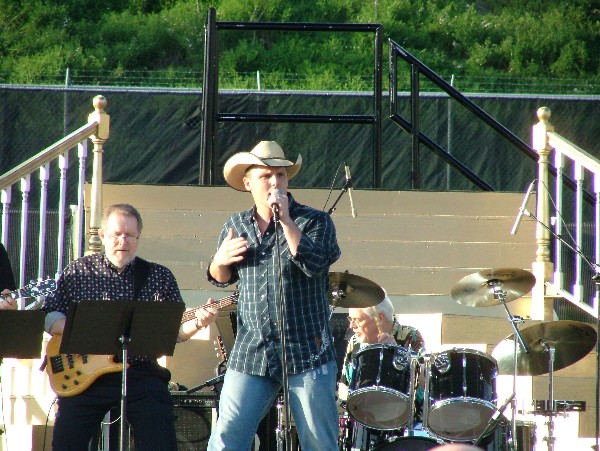 Jay Teter
The night began with Dixie Stampede emcee Jay Teter offering the first song and introducing each of the Dollywood performers who would serve as her opening acts: Ashley Black, Megan Marie Dillon, Brad Gibson, Anthony Manning, Naomi Grace McCandless and Scott Self. Each singer performed a recent hit country song for the crowd.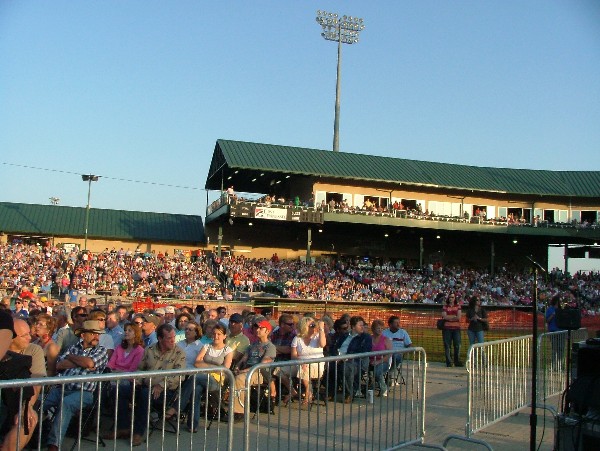 The crowd.
Those in most of the stands could not see the night's first performers because a large tent covered the soundboard in the center of the floor seats, blocking their view. After chants from the crowd of "Lose The Tent! Lose The Tent!" the tent was removed prior to the start of Dolly's set.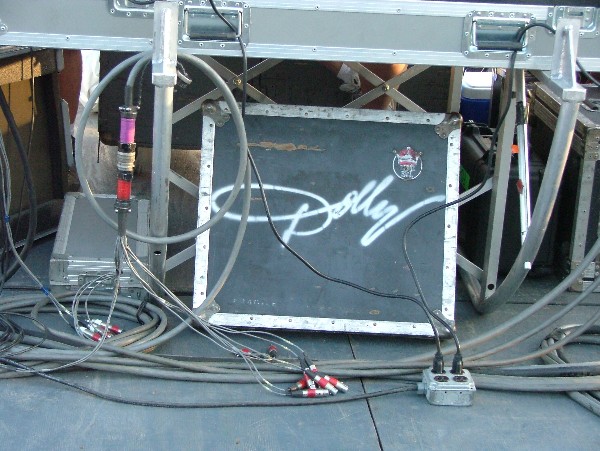 Dolly's sound equipment.
Dolly took to the stage with a standing ovation and her usual energetic welcome from the crowd as she emerged from the top of her set's staircase and made her way down to sing her disco anthem "Baby I'm Burnin'."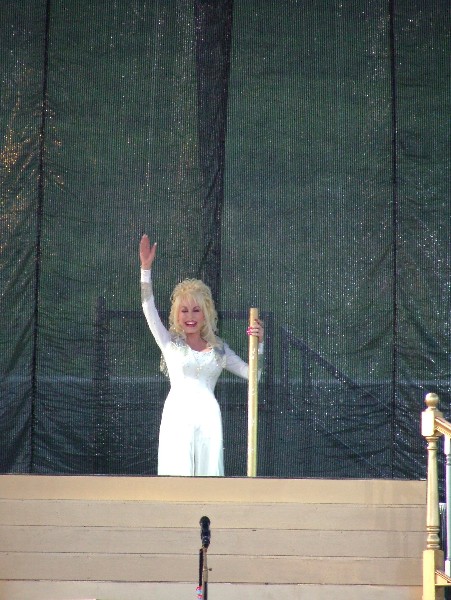 After the first few songs, she explained to the crowd that she didn't realize the sun would still be up for the outdoor concert because she was wearing enough make-up to cover every drag queen in Knoxville and "God's spotlight can be harsh!"
She spoke of her appearance the previous night on The Grand Ole Opry to honor former duet partner Porter Wagoner, saying she was thrilled to have participated but that the evening was bittersweet because Wagoner "is not in good health."
She also thanked everyone for coming to support the evening's cause, building a new Fort Sanders Sevier Medical Center in Sevierville. She recognized the family of Dr. Robert F. Thomas, the country doctor who delivered her and was paid with a sack of cornmeal (leading to her oft-told joke that she's been "raking in the dough ever since"). The hospital's foundation, which was the beneficiary of the concert proceeds, is named in his honor and she serves as the foundation's honorary national chairperson.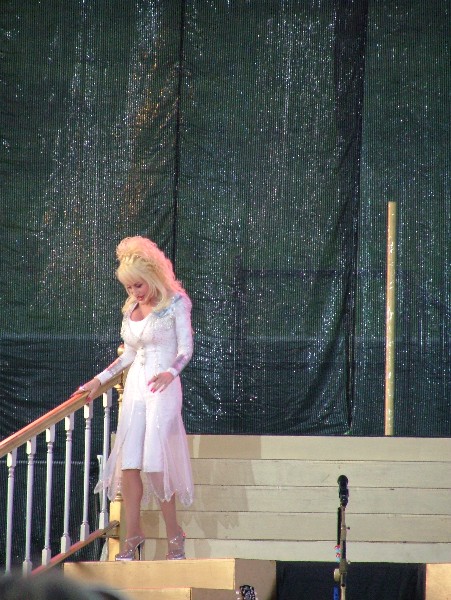 Returning to the music, she brought out a shirtless Steve Summers in overalls to dance as the country boy in answer to her country girl in "Thank God I'm A Country Girl," joshing afterward: "Ain't he cute! I'm sure all of you girls think so. And probably some of you boys!"
The highlight of the evening, as has been the highlight of her concerts for the last few years, was a stunningly beautiful, nearly a capella rendition of "Little Sparrow." The song kicked off her segment of the night dedicated to her home: with her playing the dulcimer to accompany herself on "My Tennessee Mountain Home" and "These Old Bones" (alternating between her own voice and the "old woman's") and the autoharp for "Coat Of Many Colors" (which she dedicated to all the good mama's out there, as usual, but most especially to her Aunt Dorothy Jo and Aunt Dolly who were in the audience that night). She picked up the pennywhistle for "Smoky Mountain Memories" and said she was taking the show to Memphis with "Train, Train."
She noted that most of the time she plays a stadium that size there are large screens to the sides of the stage for those in the back to see her better, but she said they were too expensive to rent for a charity show. (Many of her European tour dates were criticized by fans for their lack of screens.)
"I bet I don't look no bigger than bar of soap!" she exclaimed to those in the cheap seats.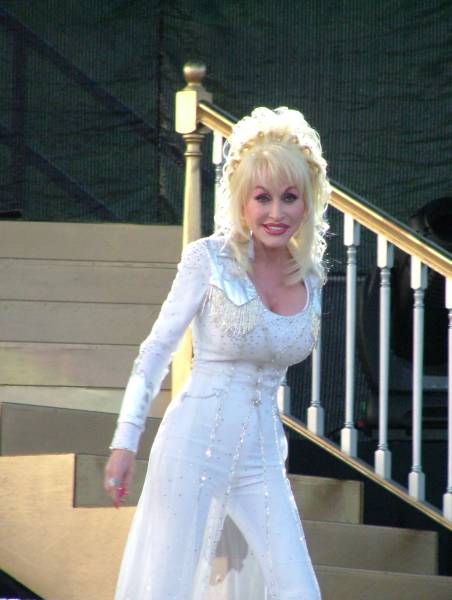 Introducing "Me And Bobby McGee," she said its composer, Kris Kristofferson, had received the Songwriter's Hall of Fame's top honor, the Johnny Mercer Award (which she jokingly referred to as the "Johnny Have Mercy Award"), last year, and since she was receiving it this year she thought it appropriate to sing one of his songs. She featured cousin Richie Owens on harmonica while Dolly herself picked up her acoustic guitar.
Before bringing out Summers in full Elvis garb for "I Dreamed About Elvis," she repeated her now-famous story of how the King almost recorded her classic "I Will Always Love You" but wouldn't because she refused to sign over to Col. Parker the song's publishing rights (although this was the first time I've heard her say just how close the song came to being recorded -- Elvis was in the studio, and it was during the phone call from his management inviting her to come over to hear him tape it that she was told about the Parker's publishing requirement and had to tell them she wouldn't give up her publishing rights). She said she was very glad of the decision when Whitney Houston recorded the song. "I think my people need that money more than Priscilla and Lisa Marie," she said.
As niece Hannah was in the crowd celebrating her 19th birthday, Dolly asked backup singer Richard Dennison, Hannah's father and Dolly's former brother-in-law, to start off a round of "Happy Birthday To You" for his little girl, although afterward Dolly said she wished she had started it because Richard chose a key that it turned out was very difficult for her to sing! She added that she also wanted to send out birthday wishes to lifelong best pal Judy Ogle (hers would be celebrated four days later) and fan Teddy Wayne Smith, who was in the audience that night.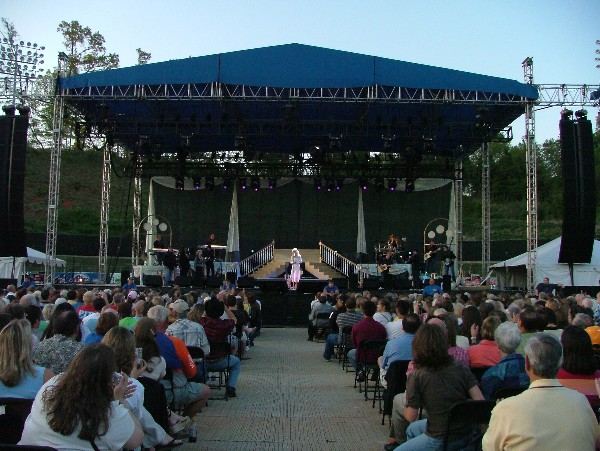 After "Here You Come Again," she was introducing "9 To 5" when she obviously looked surprised as the band played something else. She laughed and said she had forgotten she was doing "Islands In The Stream" with Richard as a gift to Hannah. After the duet, she went into "9 To 5," which ended with a standing ovation.
She then explained that normally she leaves the stage after that song and pretends she's not coming back, even though most folks know she is coming back to perform an encore. However, since the stage at the stadium left nowhere for her to go offstage where the crowd couldn't see her, she didn't see the need to do that, so she told everyone to sit down and she'd go ahead and sing some more. Her signature "I Will Always Love You" and a rousing "He's Alive" capped off her 90-minute set.
Other than the tent problem early on, the only complaints I heard were from fans who were told at the gate to return their cameras to their cars because their removable lenses -- or zoom capabilities in the case of digital cameras -- were too close to professional for them to be allowed, a prohibition which was not disclosed in advance and which to my knowledge has never been enacted previously for a Dolly concert if other cameras were allowed.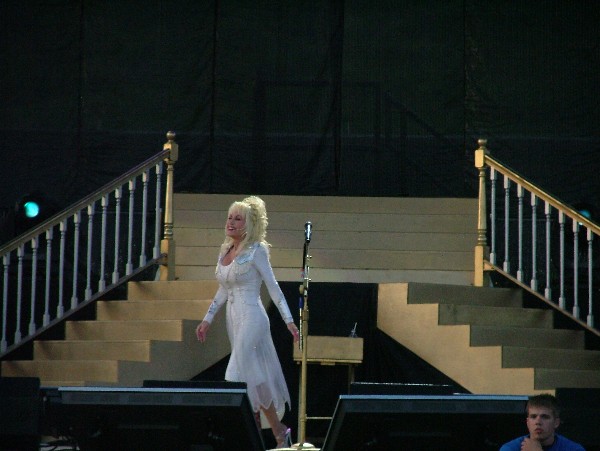 Set List:

Baby I'm Burnin'

Two Doors Down

Jolene

Thank God I'm A Country Girl

Little Sparrow

My Tennessee Mountain Home

These Old Bones

Coat Of Many Colors

Smoky Mountain Memories

Train, Train

Orange Blossom Special (instrumental featuring Jimmy Mattingly)

Me And Bobby McGee

I Dreamed About Elvis

Happy Birthday To You

Here You Come Again

Islands In The Stream

9 To 5

I Will Always Love You

He's Alive

See additional photos here.