A Stampede Of An Anniversary
Unless otherwise noted, images on this page are copyright © 2007 T. Duane Gordon/Dollymania and may not be reproduced without prior written consent.

By Duane Gordon
Dollymania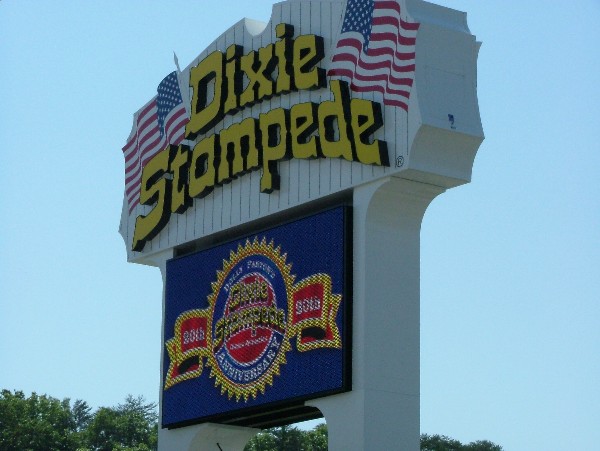 Dolly's dinner theatre celebrates its 20th anniversary in 2007. See more pictures here!
A horse is a horse of course, of course, but one special horse weighs a good bit more than average, seeing that it is made of bronze. Dolly was on hand Monday to present the equestrian sculpture to city leaders to thank them for their support of her Dixie Stampede dinner theatre over the past 20 years.
A crowd of nearly 1,000 invited guests made their way to the dinner theatre chain's flagship Pigeon Forge, Tenn., location to mark the milestone 20th anniversary season with its famous proprietress present for the festivities.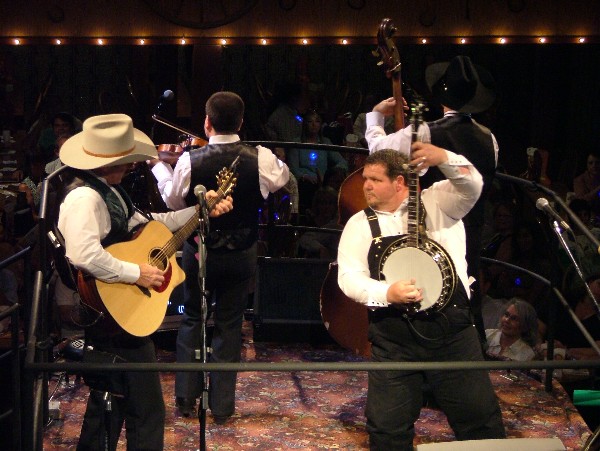 Wild Oats.
At the traditional pre-show in the Carriage Room, house band Wild Oats serenaded the crowd with grassed-up versions of country hits before introducing Dolly herself to the audience. Unfortunately, Dolly was apparently not yet ready to make her entrance, and after improvising over the introduction to "Train, Train" for about two minutes, they decided to play a few other tunes on their own. Eventually, word was sent that she was set to hit her mark and they launched back into "Train, Train." This time, she joined them on stage to perform.
After the song, she thanked everyone for their support in making the restaurant, which features a menagerie of animals but centers mostly on stunning feats by trick riders on horseback, such a success for the past two decades as it celebrates its 20th anniversary season.
"Dollywood and Dixie Stampede just keep getting older and better," she exclaimed, "and I just stay the same!" She laughed, adding that with the help of make-up and the world's greatest doctors, she aimed to stay that way, too!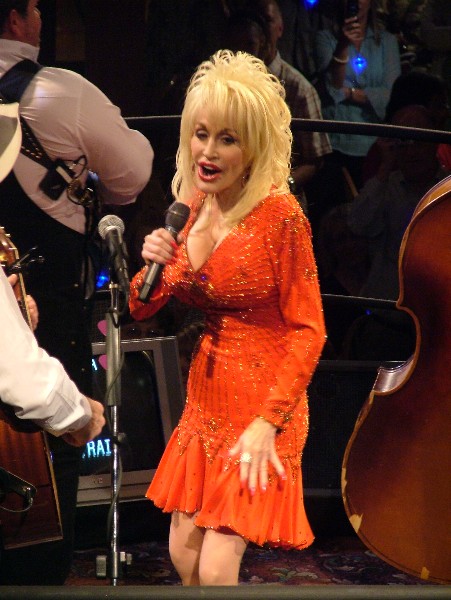 Dolly with Wild Oats.
She welcomed to the stage several city officials, including Mayor Keith Whaley and City Manager Earlene Teaster, both of whom praised the establishment and Dolly for being such positive leaders in the business community.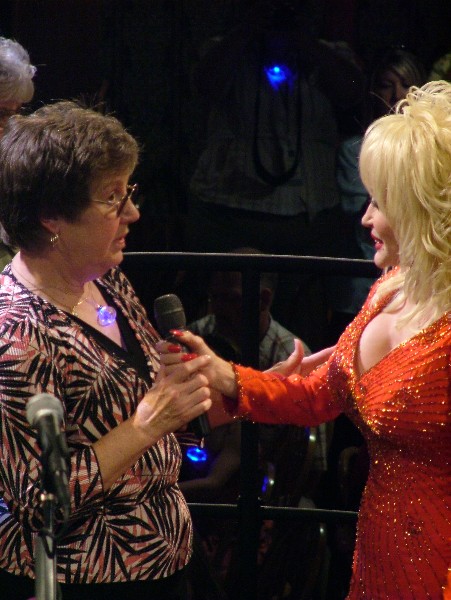 Dolly with City Manager Earlene Teaster.
The mayor, however, managed to embarrass himself. He noted that when most outsiders think about their region they think of the Great Smoky Mountains and/or Dolly Parton and the area was blessed to have two such great attractions. The audience -- and Dolly -- took his comments in a way he didn't intend, prompting much laughter and causing the mayor to turn beet red.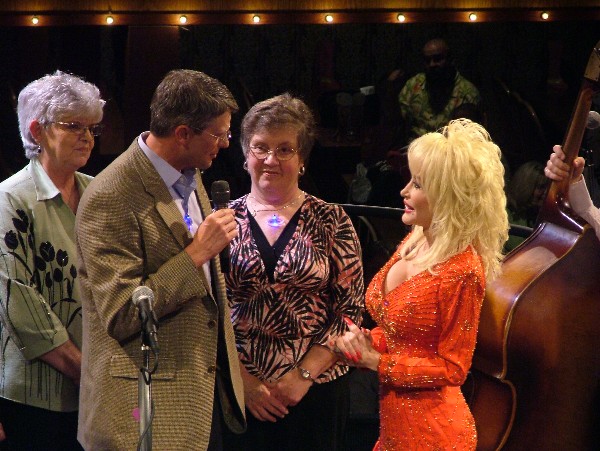 Mayor Keith Whaley speaks.
Dolly joined in and repeated her joke that she's the only girl to have left the Smokies but taken the mountains with her.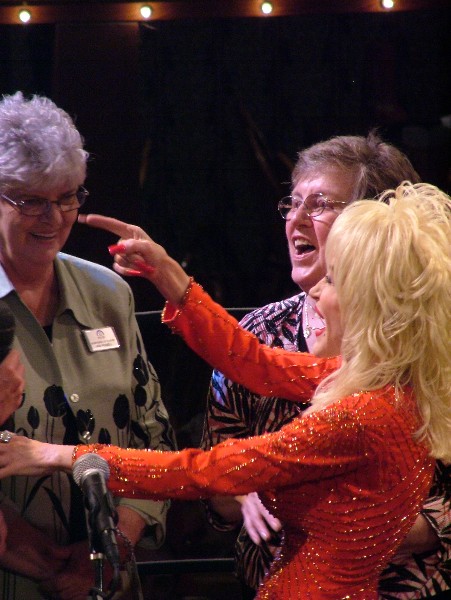 Dolly reacts to the mayor's slip of the tongue.
She also pulled a cord to reveal a nine-foot-tall bronze statue of a horse as a gift to the city. The sculpture will be permanently displayed at the city's official Welcome Center.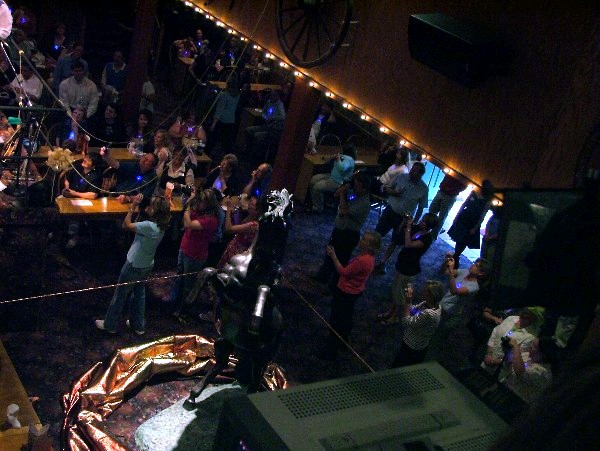 The statue.
Before leaving the stage, she offered her hit "9 To 5."
Patrons then enjoyed the regular show and four-course meal in the Stampede's main arena, which usually closes with a pre-recorded Dolly performing the patriotic finale, "Color Me America," but this time Dolly herself was there to sing it before a huge American flag. She thanked everyone for coming and took a ride around the arena floor in a carriage.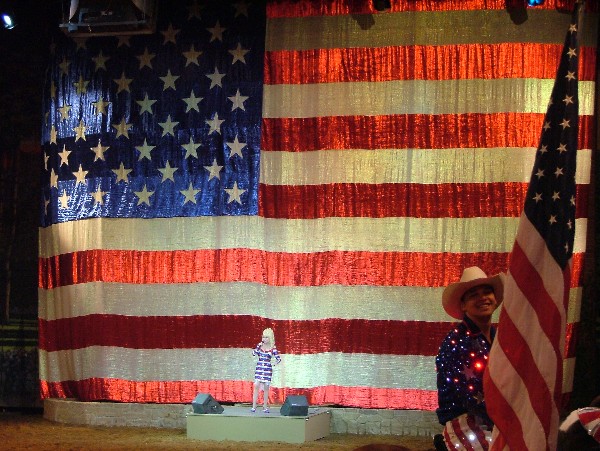 Dolly performs.
The dinner theatre and its cast of singers, riders, horses, pigs, chickens, buffalo, ostriches and more play not only in Pigeon Forge but also in Myrtle Beach, S.C.; Branson, Mo.; and Orlando, Fla.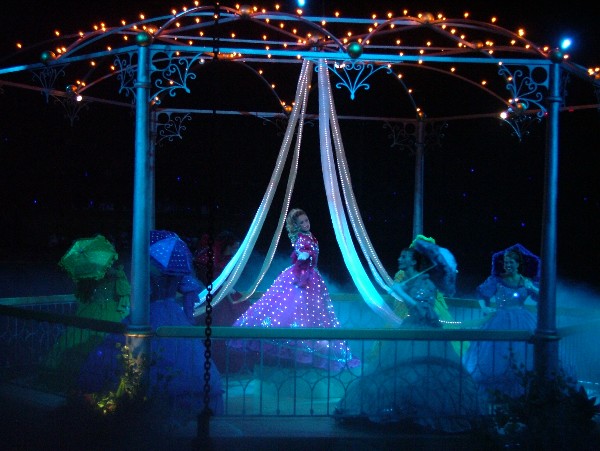 The belles of the ball.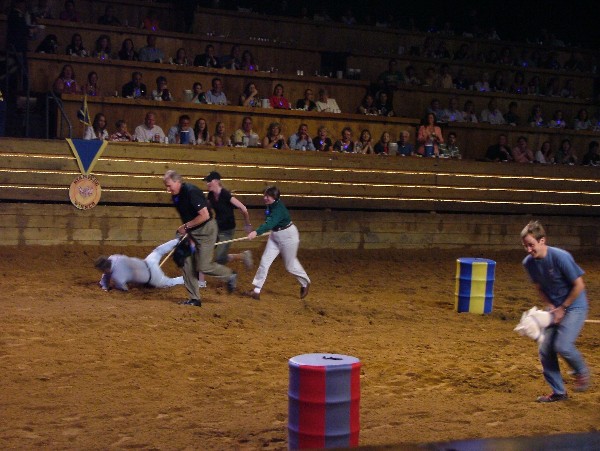 Someone takes a tumble in the stick horse race.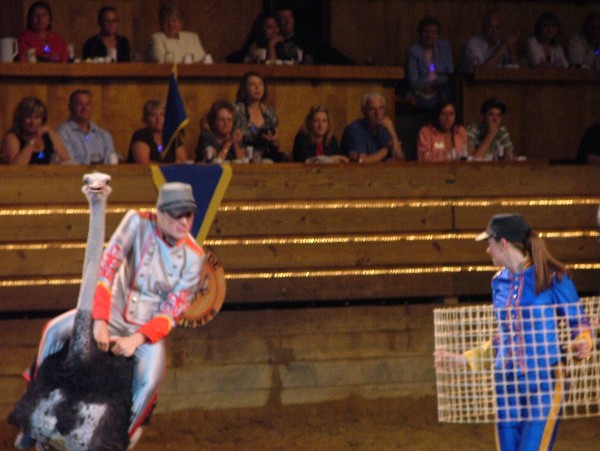 Riding the ostriches.
See additional photos here.