Those Were The Days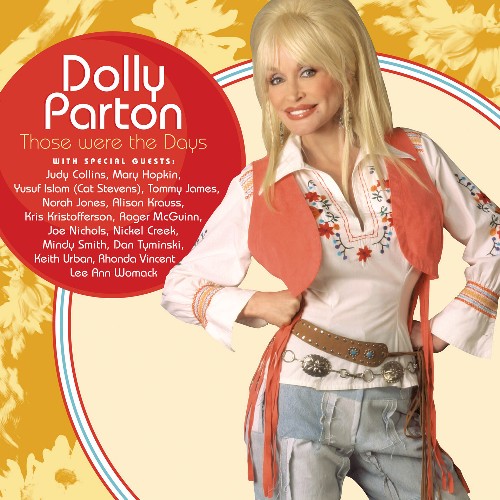 'Days' Brings Smiles, Tears As Dolly Covers Classics

By Duane Gordon
Dollymania
Dolly's done it again! Her upcoming disc of folk-rock covers, Those Were The Days, presents an engaging set of vocal triumphs set against bluegrass-based instrumentation but this time providing a collection which speaks to today's complicated world by reinterpreting songs from one of most turbulent times in our nation's cultural landscape.
The album begins with the fun, frolicking romp of the title track, a Russian folk tune which she had performed at Dollywood's season opening this year with the Moscow Circus. Everyone involved, which includes several members of the Grand Ole Opry on the chorus, sounds as if they're having a royally good time, but the focus is Dolly's very strong vocals and some keen instrumentation. The song can't help but put a smile on your face. You even hear a couple of lines in Russian by the Moscow Circus as the recording fades.
Next is the Bob Dylan classic "Blowin' In The Wind," which opens with a mournful harmonica. Backed by super-talented Nickel Creek, Dolly's emotive voice exudes the lyric's longing for a just world. Similar in sentiments and sound is "Where Have All The Flowers Gone," made most popular by Peter, Paul and Mary. Here, Dolly recreates their lush harmonies with Norah Jones and Lee Ann Womack, although she turns it into a quartet by adding additional harmony vocals of her own.
"Twelfth Of Never" offers a fast-paced, contemporary country sound with Aussie hunk Keith Urban blending well with Dolly on this enduring love song. Interestingly, one of only two songs from the CD from before the folk revival of the 1960s and 1970s, it is among the closest in sound to an old-fashioned country love song. For some reason, the melody and performance remind me very much of "Lost Forever In Your Kiss" with Porter Wagoner (who happens to be featured with Dolly on one line of "Those Were The Days").
Cat Stevens' "Where Do The Children Play" has its songwriter's usual idiosyncratic lyrics carrying a strong message tied to a beautiful and complicated melody which features Dolly reaching a couple of notes about as low as she can go.
One of the album's true highlights is the cover of "Me And Bobby McGee," the Kris Kristofferson tune most associated with Janis Joplin. Mixing her own bluegrass-inspired instrumentation with the soul of Joplin's version, Dolly lets loose, and the results are spectacular. Thankfully, Kristofferson's vocals are limited to just a couple of harmony lines, which would have distracted from the piece if more emphasized.
"Crimson And Clover" assumes a prime spot as another standout. Although her changing "her" to "you" in the first two lines sounds odd and doesn't quite fit (since it "you" doesn't rhyme with "clover"). The song lends itself very well to this mixing an arrangement similar to the original for the main verse and chorus but completely bluegrass for the bridge. She and original singer Tommy James even do a couple of lines of the choppy "crim-son-and-clo-ver-ov-er-and-ov-er" at the end.
The Civil War ballad "The Cruel War" is the CD's only slight misfire. A fine song, and arranged well, Dolly's whispering, breathy speak in a couple of places just doesn't work the way I believe she intended. Otherwise, the cover of the public domain tune, the second in the collection which found its most famous recording being by trio Peter, Paul and Mary, would have fit in nicely among the other folk-rock covers.
Her version of The Byrds' "Turn, Turn, Turn" is of particular interest because she also included the tune on her first covers album, 1984's The Great Pretender. The new recording stands heads and shoulders above her earlier pop-inspired take on the song. Her vocals are stronger and it simply works better with a bluegrass arrangement than '80s synth-pop.
Joe Nichols' distinctive bass provides great contrast with Dolly's soprano on "If I Were A Carpenter," a true surprise on the album. Both singers offer power and passion on this track.
When I first heard a 30-second clip of "Both Sides Now," I thought the tempo was way too fast for the song and didn't quite fit its theme, but upon hearing the song in its entirety, it's easy to hear that it works perfectly, with the fast pace moving the song along quite well. The lines with just Dolly's and Judy Collins' voices are stunning, and the expanded harmonies with Collins, Rhonda Vincent and additional vocals by Dolly are spectacular.
The album's closer is simply gorgeous and heartfelt. "Imagine" is as moving as anything Dolly has ever recorded before. John Lennon's lament for a fantasy utopia with no class distinctions, want or need is as fresh and relevant today as it was in 1971. Appropriately, as the album starts by making the listener smile, the final track will undoubtedly bring a tear to one's eye.
Album standouts: "Imagine," "Me And Bobby McGee," "Crimson And Clover," "Those Were The Days"