Dolly

ood Opening

eekend 2007
Unless otherwise noted, images on this page are copyright © 2007 T. Duane Gordon/Dollymania and may not be reproduced without prior written consent.

By Duane Gordon
Dollymania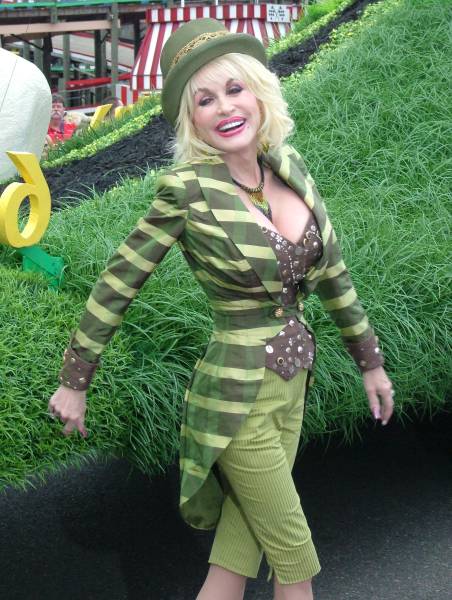 Dolly readying for her Friday afternoon parade. See more pictures here!
From the dark, cold depths of the abandoned mine emerges . . . Dolly! The press was treated to Dolly and her crew of "miners" rising from the mist on a mine car in the new $17.5 million Mystery Mine ride at Dollywood at the park's season opening on Friday.
A section of track containing the car had been lowered and slowly rose with its "riders" on board for Dolly's photo-op.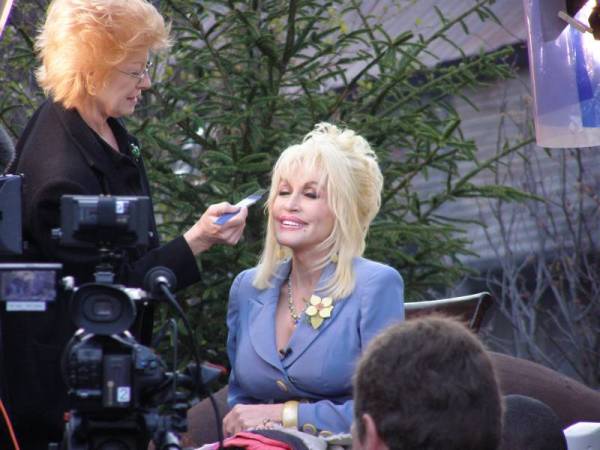 Dolly's first appearance of the day was on "Fox & Friends" via satellite. Here, pal Judy Ogle touches up her make-up during a break in the interview. Photo by Patric Parkey taken exclusively for Dollymania.net. Copyright © 2007 HP Designs.
"When you have as many rhinestones on your clothes as I do you need your own mine," she joked about the park's largest-ever addition as she stood in a black leather outfit with a small light attached to her forehead.
She took a handful of questions from members of the media inside the ride as a crowd of VIPs waited outside. She was asked what her favorite part of Dollywood is (all of it, explaining "Oh, my favorite part of Dollywood is Dollywood!"), if she had ridden the new contraption ("No! I'd like to say yeah, I was pretending that I did, but that's about as close as I'll get. I have too much to lose to get on these rides. Like my hair, my eyelashes, my fingernails, lord only knows what might spill out if I get on one of these things."), when she will next tour the U.S. (fall and winter to promote her next CD which she hopes to be out in September), how her childhood compared to the rides at the park ("I ain't been on this ride, but my childhood has been a ride. My whole life has been a roller coaster.") and how involved she is in the park's development (she comes up with some ideas, but a creative team generates most of them and then she and her partners vote them up or down).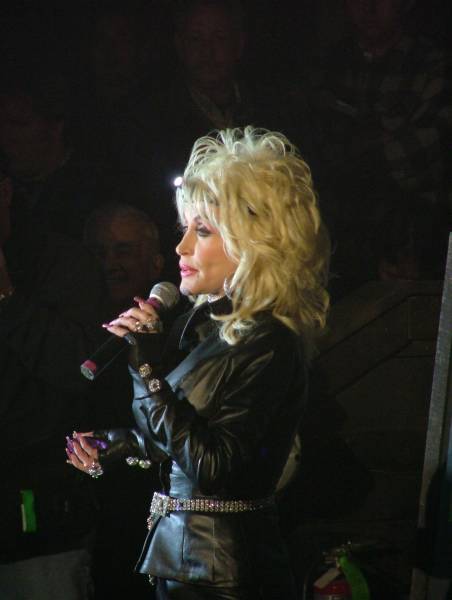 Dolly at the ride with a microphone in one hand and a purple "diamond" from the mine in the other.
Then it was time for her to meet several eBay auction winners. The 56 top bidders each paid $650 to Dolly's Imagination Library (a total of $35,000) for the opportunity to be the first "official" riders on the Mystery Mine after a couple of weeks of periodic test runs. But the biggest draw for he charity auction was that each winner also got to meet Dolly. They were brought up to the ride one at a time for a few seconds with Dolly (usually with a hug) and a quick one-on-one photograph with her before she escorted them to the ride car.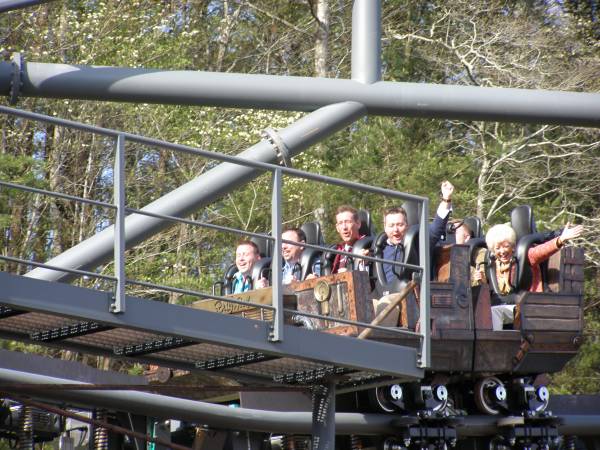 Finishing the first official ride of the Mystery Mine are six of the auction winners and Dolly's partners in Dollywood, Jack and Sherry Herschend. Mrs. Herschend is seen with her arm out of the car on the back row. Photo by Patric Parkey taken exclusively for Dollymania.net. Copyright © 2007 HP Designs.
She next appeared on the ride's balcony to welcome the crowd below and shoot a confetti gun into the air. The coaster is the first American version of the Gerstlauer-built Euro-fighter design. Themed to represent an abandoned, early 20th century coal mine with seven mine carts carrying eight passengers each, the two-and-a-half-minute trek takes riders to speeds of up to 46 miles per hour. Highlights on the 1,811-foot track include an impressive 95-degree, 85-foot vertical drop and several inversions and turns. Both of the steep drops on the ride occur in complete darkness after a hair-raising chain pull directly up (as opposed to the angled rise of most coasters immediately before the big drops) with special effects at each of the two crests. (I'll sum up the experience this way: This reporter does not scream on roller coasters, but I was hoarse when I came off of this one.)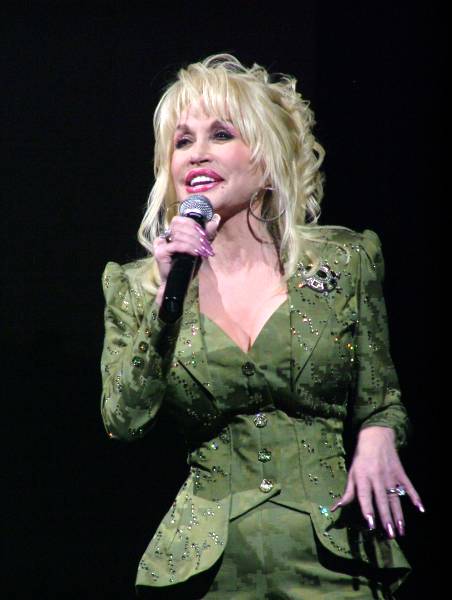 At "Rhythm of the Dance."
With the Festival of Nations offering hundreds of performers from around the world though May 7, her next stop was at DP's Celebrity Theatre for this year's headliners, the National Dance Company of Ireland's "Rhythm of the Dance" show. She came on stage for "When Irish Eyes Are Smiling" before leading the troupe in her own tribute to the Emerald Isle, "We Irish." Although she kept coming in at the wrong place for the chorus of her own song, leading her to exclaim, "Well, I wrote it, I can screw it up if I want to!"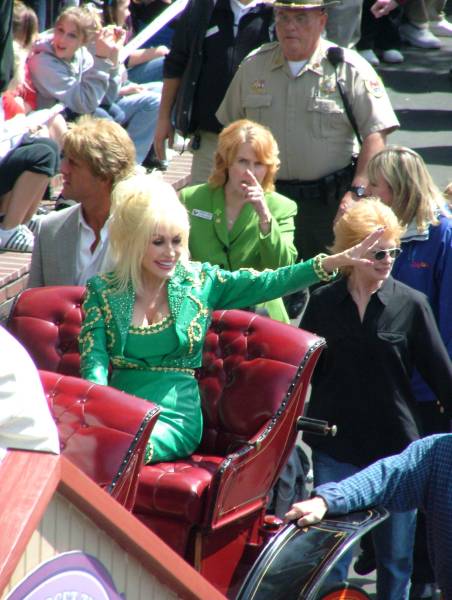 Touring the park.
A tour through the park grounds concluded her day before heading onto the Parkway in Pigeon Forge for the 22nd Annual Dolly Parton Parade, which found her donning a green leprechaun outfit and sitting on a black pot at the end of the rainbow, her head shielded by a giant clover leaf.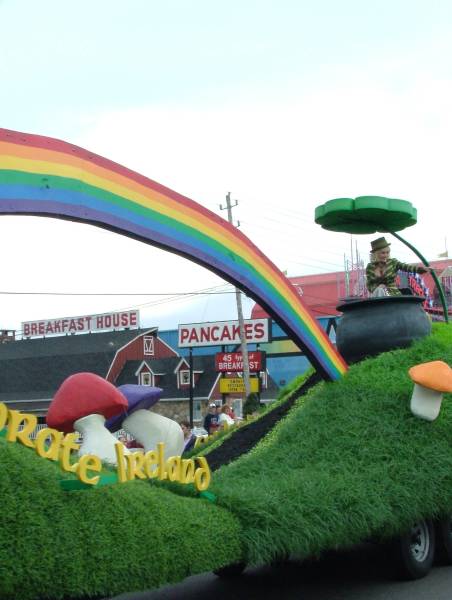 On her float.
On Saturday, she repeated her "Rhythm of the Dance" appearance, albeit in a different green dress. This was followed by a turn at "Rocky Top" with the Russian National Theatre and a walk-on with Swiss group Streichmusik Alder, which included her blowing an Alp horn.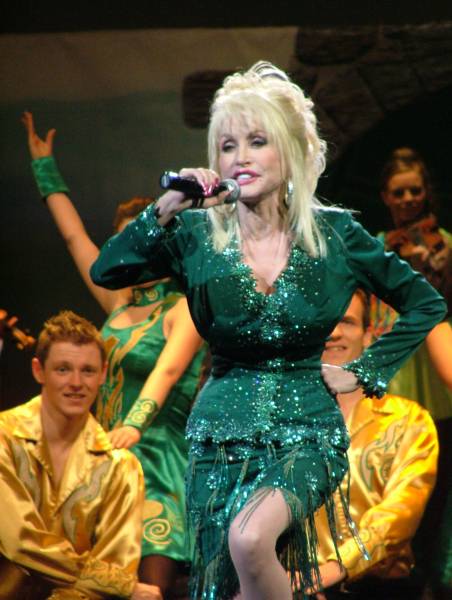 With the Irish show on Saturday.
Unfortunately, storms rolled in by early afternoon, forcing the cancellation of the Parade of Nations that had been scheduled for 4:30. (The parade had last been cancelled due to inclement weather in a cold drizzle during opening weekend two years ago.)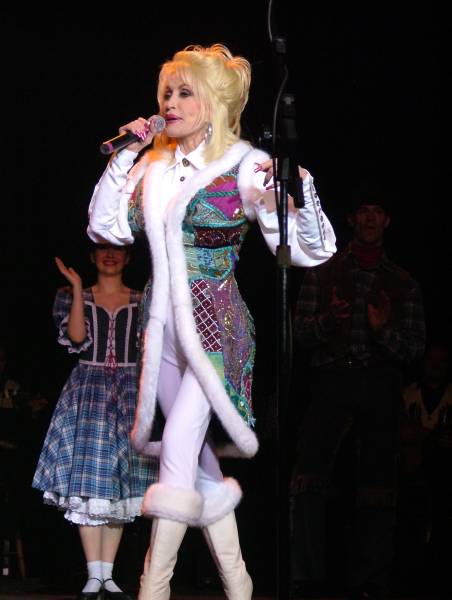 Joining in with the Russians.
Look for many more photos from the festivities in coming days!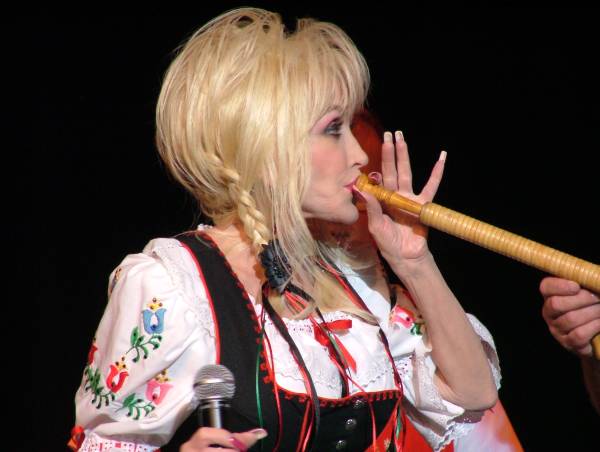 Blowing an Alp horn with the Swiss.
I'd like to offer special notes of appreciation to Dolly, Pete, Corrin, Tish, Pat, and all of the personnel in the Dollywood media relations office. Thank you!
See additional photos here.