Dolly Parton, with several hits and misses at the box office and on the small screen, is a minor power in Hollywood. Known for several key roles in successful films (and a few bombs), she has a star on the Hollywood Walk of Fame and with her manager, Sandy Gallin, runs Sandollar Films, which has produced such films as "Father of the Bride" (I and II), "Buffy the Vampire Slayer," "Shining Through," "IQ," and Dolly's own "Straight Talk" (and all her post-1985 television movies and specials) as well as several short-lilved television shows including FOX's "Babes" and ABC's "All-American Girl." But non-country music fans all know her from her own big and small screen roles. (Click on the graphics to order from Amazon.com!)
Movies

Dolly made her acting debut in the highly successful 9 to 5 (1980, 20th Century Fox). Produced by Jane Fonda's company, the film starred Dolly, Fonda, Lilly Tomlin, and Dabney Coleman in the office comedy. It was the third highest grossing box office successes of the year, topping the $100 million "blockbuster" mark. Dolly got an Oscar nomination for the title song (which won two Grammys), received Golden Globe nominations for the song and her acting (Best Supporting Actress, Best New Film Star), and won the People's Choice Award for Best Song. Critics were very impressed with Dolly's first screen performance, with Newsweek going so far as to proclaim she is "a sweet and easy comic presence, a natural actress."

Next, she took on the role of the madam, Miss Mona, in the film version of the Broadway musical The Best Little Whorehouse in Texas (1982, Universal-RKO) co-starring Burt Reynolds. Two Dolly originals made their way into the picture, including her second version of "I Will Always Love You" 10 years before Whitney Houston's version from the film "The Bodyguard." (A third Dolly original, "Fields Where Stallions Run" performed by Reynolds, was cut from the theatrical release and home video but appears on the television edit version and on Dolly's Burlap and Satin album sung by Dolly with a few lyric changes as "A Cowboy's Ways.") Although not a blockbuster, Whorehouse, for which Dolly was paid $1.5 million plus a percentage of the gross receipts (Reynolds got $3.5 million), became the fourth-highest grossing musical ever at $70 million at the box office.

Then Dolly flopped with "Rhinestone" (1984, 20th Century Fox) co-starring Sylvester Stallone – in his first comedy attempt. This country version of "My Fair Lady" set in New York City and East Tennessee set Stallone up as a Liza Doolittle-type cab driver whom Dolly bets she can turn into a country star. Stallone co-wrote the script, and Dolly supervised the music. Audiences, however, weren't ready to see Rocky be funny, and the film was a disaster. Doly, however, considered it a personal triumph, and it did include a country No. 1 and No. 10 for her.
Dolly's next venture was a made-for-television film, A Smoky Mountain Christmas (1986, ABC), which her company, Sandollar Films, produced and for which she co-wrote the story and wrote several songs. Co-starring Lee Majors, this became the network's highest-rated special in more than two years and is now a staple seasonal rerun on the cable network USA. The story follows a country star dissatisfied with her manager's rock leanings on her career, so she heads off without telling anyone to a friend's cabin in the Smokies for the holidays. There, she stumbles upon a ragtag group of orphans who've run away from the orphanage and are living in the cabin. Throw in a sheriff with the hots for her, a nationwide search since everyone thinks she's been kidnaped, a paparazzi hounding her who changes into a good guy, a witch, and more mayhem, and then the happy ending with Dolly and "Mountain Dan" Lee together and adopting the children, and it's the classic sentimental Christmas film.

Dolly then took a short hiatus from film, following her disastrous ABC variety series, only to return in another blockbuster, Steel Magnolias (1989, Tristar), in which she got second billing behind Sally Field, co-starring Shirley McClaine, Daryl Hannah, Olympia Dukakis, Julia Roberts, and Tom Skerrit. The fact-based film about life in a small Louisiana town focused largely on a beauty shop run by Dolly's character and mixed Southern humor and heartache as it followed Roberts' character's fight with diabetes, giving birth, and then dying a year or two later as a result of the stress on her kidneys from the birth. Dolly got rave reviews from critics for her bubbly performance, and the film won the 1990 People's Choice Award for Best Drama, and Roberts got an Oscar nomination for Best Supporting Actress.
Dolly's next acting project was a CBS television movie Wild Texas Wind (1991, NBC; produced by Sandollar), again with Dolly co-writing the story and writing several songs for the movie. Co-starring Ray Benson of Asleep at the Wheel and Gary Busey, the story centered around a small-time singer who starts dating her new manager (Busey), who abuses her. When he turns up dead after a severe beating, she assumes her best friend (Benson) did it after he confesses, and she covers for him and gets sentenced to 25 years in prison. On his deathbed, the dead man's father confesses that he actually killed him, so Dolly is released. The film is now occasionally rerun on Lifetime (The Network for Women).

Dolly returned to the big screen with Straight Talk (1992, Hollywood Pictures; produced through Sandollar), the first box office release where she received top billing. Co-starring James Woods, the romantic comedy received favorable reviews for Dolly's portrayal of an Arkansas dance instructor who leaves her husband and comes to Chicago only to find herself through a misunderstanding billed as a psychiatrist with a doctorate hosting a radio talk show. Immediately becoming a local star, she also becomes the object of journalist Woods' investigation, during which he falls in love with her and quits his job. She, however, finds out he was investigating her and decides she can't keep living a lie and quits the show on the air at the beginning of her first coast-to-coast broadcast. But all live happily-ever-after because half the city honks their horns at midnight as a sign they want her to stay on the air, and Woods tells her he loves her. The film was written years before for Dolly, but she didn't do it. The option on it went to Bette Midler then to Julia Roberts and then back to Dolly. She wrote several new songs for the picture. The film was mildly successful, being in the Top 5 only a week or two, but the soundtrack produced no hits.

Her next acting outing was again on television with Unlikely Angel (1996, CBS; produced by Sandollar), a retelling of "It's a Wonderful Life" with Dolly as the angel-to-be and Roddy McDowell as St. Peter, her angel guide. A small-time singer, Dolly swerves off the road one night to miss a fawn and ends up crashing her car and dying. Although she led a life devoted only to herself, giving her life for the deer earned her one last chance. To earn her wings, she's sent to a family in turmoil to save it before Christmas; the man doesn't get along with his two children and hasn't dated or celebrated Christmas since the death of his wife. She makes the kids happy, brings the family closer together, unites the man with a co-worker in love with him, and earns her wings. One of CBS' highest rated specials of the year, it also won the ratings war for that night when reran in 1997. Dolly rewrote the lyrics to one of her songs for the title song in the film, and it ends with her joining the angel choir on the "Hallelujah" chorus of Handel's "Messiah."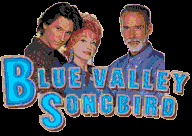 Blue Valley Songbird (1999, Lifetime) was based on the song of the same name Dolly wrote and recorded for Hungry Again. In the film, Dolly played LeAnn Taylor, a struggling singer who has never made it big and constantly reads a magazine called Peoples' Digest. Her manager/boyfriend Hank (John Terry) is holding her back, pushing her into the arms of her guitarist, Bobby (Billy Dean). Meanwhile, her father, who used to mentally abuse her as a child and physically abuse her mother -- prompting her mother to send her away as a teen-ager -- dies, dragging back up the painful memories of her childhood. She must deal with that and break free from her destructive relationships to find success both personally and professionally. Dolly original songs included the title cut, "I Hope You're Never Happy" (orignially from Rhinestone and Real Love), "Wildflowers" (from Trio), "We Might Be in Love" (new duet with Dean), "My Blue Tears" (Coat of Many Colors, Heartsongs, Trio on Linda Ronstadt's Get Closer, Little Sparrow) and "Runaway Feeling" (Eagle When She Flies). Dolly also hummed "Amazing Grace" and performed the traditional "Angel Band."
In 1999, she appeared in a handful of hilarious cameos as herself in Lifetime's "mockumentary" Jackie's Back.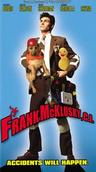 Frank McKlusky, C.I. hit screens in Florida in 2002 in a test release, but low audience attendence resulted in a decision to release it straight to video later in the year. In the comedy by Disney's Buena Vista Pictures, Dolly plays the overly-protective mother of an insurance claims adjustor played by Dave Sheridan. Her protective paranoia is rooted in a stunt-gone-bad by her professional daredevil husband, Randy Quaid, which has left him in a near-coma state for the past 20 years. Former professional wrestler Chyna and boy band Hanson also appear.
Miss Congeniality 2: Armed & Fabulous in 2005 featured a hilarious Dolly cameo as herself which included being tackled by star Sandra Bullock in a scene that is pretty important to the film's plot.
In Development
Dolly has several films in development, which have yet to be made. She has signed to star in a remake of Solid Gold Cadillac for TNT and another original film called Trouble in Jerusalem for Lifetime. She also has been on again and off again for years with CBS for Heaven's To Betsy, a film in which she plays the lead singer in an interracial R&B trio (this one was originally a television sitcom pilot she filmed in which the character was a diner waitress, but it never aired). She has also purchased the film rights to produce (and likely star in) films made of the books The Jew Store and The Wedding Dress as well as a television version of the Broadway play Annie Get Your Gun. These projects are expected to be done through her recently-created production company Southern Light Films.
Other television appearances
Dolly has also had a few other television appearances which required acting skills, including:
The Porter Wagoner Show, 1967-1974
Rowan and Martin Special, 1973
Dolly! syndicated series, 1976-77
Numerous Mac Davis network specials, including in 1977, 1979 (Christmas), and 1980.
A Cher network special with Rod Stewart on ABC in April 1978 (Dolly was nominated for a Best Supporting Actress Emmy Award).
The Midnight Special, host, 1978.
Carol and Dolly in Nashville, a Carol Burnett network special, 1979.
The first episode of Barbara Mandrell and the Mandrell Sisters in 1980.
Best Little Special In Texas (network special promoting Whorehouse), 1982.
Dolly Parton Meets The Kids, HBO, talking with youngsters, 1983.
Captain Kangaroo, as herself, 1985.
Alvin & The Chipmunks, as herself (and animated), 1987.
Dolly ABC series, 1987-88
Host of the 1988 CMA Awards
Bob Hope's 1988 network Christmas special
Once Upon a Christmas with Kenny Rodgers, a highly-rated 1984 network Christmas special based on their hugely successful Christmas album. It still runs each year on The Family Channel, now FOX Family.
Saturday Night Live, NBC, 1989, as both host (appearing in several skits) and musical guest (one of only about a half dozen performers to do both in one episode).
Designing Women, 1990, as Charlene's "guardian movie star."
Home For Christmas, her 1990 ABC Christmas special based on her Christmas album of the same name.
Babes on FOX in 1991, playing herself.
Academy of Country Music Awards, host, 2000.
Bette, CBS, 2000, playing herself.
Graham Goes To Dollywood, BBC holiday special for Graham Norton and Dolly, 2001.
CMT Flame Worthy Music Video Awards, host, 2004.
Reba, Reba McEntire's WB sitcom, in April 2005 featured her playing real estate agent Dolly Majors in an episode written specifically for her guest appearance.
She has appeared as herself in numerous made-for-television biopics, including on Dottie West (1995), The Judds (1995), and Barbara Mandrell (1997). She also appeared as herself in The Beverly Hillbillies (1993, 20th Century Fox), when the Clampetts rent her to sing "Happy Birthday" and "If You Ain't Got Love" (which appears on the soundtrack) for Jed's birthday party.
Plus, she's had several television concert appearances: HBO's 1983 Dolly in London, HBO's 1985 Real Love with Kenny Rodgers, NBC's 1989 Kenny, Dolly, & Willie with Kenny Rodgers and Willie Nelson, CBS' 1996 Treasures special based on her album of the same name, TNN's 1999 special Precious Memories for her gospel album of the same name, PBS' Austin City Limits in 2001, CMT's Stars Over Texas and PBS' A Capitol Fourth, both in 2003, and 2004's U.S. Library of Congress Living Legend Award celebration, broadcast on GAC.
Videos
Videos often require acting ability, and Dolly has done several:

Potential New Boyfriend, 1983 (although all her appearances in the video are taken from her two performances of the song on "Solid Gold.")

Real Love, 1984, with Kenny Rogers (taken from the HBO concert special)

To Know Him Is To Love Him, 1987, with Linda Ronstadt and Emmylou Harris

Those Memories Of You, 1987, with Linda Ronstadt and Emmylou Harris

The River Unbroken, 1987

I Know You By Heart, 1987, with Smokey Robinson

Why'd You Come In Here Lookin' Like That, 1989

He's Alive, 1989 (from her performance on the CMA Awards)

Love Is Strange, 1990, with Kenny Rogers

Rockin' Years, 1991, with Ricky Van Shelton (TNN/MCN Video of the Year)

Silver and Gold, 1991

Eagle When She Flies, 1991

Straight Talk, 1992

Light Of A Clear Blue Morning, 1992

Romeo, 1993, with friends

More Where That Came From, 1993 (this even made it onto MTV's "Beavis and Butthead")

Silver Threads And Golden Needles, 1993, with Tammy Wynette and Loretta Lynn

The Day I Fall In Love, 1994, with James Ingram (theme from film "Beethoven's 2nd")

When You Tell Me That You Love Me, 1995, with Julio Iglesias (video released in Europe only)

Just When I Needed You Most, 1996, with Allison Krauss

Peace Train (techno remix, directed by Madonna's brother), 1997, unreleased

Honky Tonk Songs, 1998

The Salt In My Tears, 1999

After the Goldrush, 1999

Shine, 2001

Dagger Through The Heart, 2002

Stand By The River, 2002, with Dottie Rambo

Hello God, 2002

I'm Gone, 2003

Jolene, 2003, Mindy Smith (Dolly has extended cameo in the video)

Steady As The Rain, 2003, with The Larkins

Color Me America, 2003 (included only in the DVD Behind The Scenes: Dolly Parton)

Welcome Home, 2004

Creepin' In, 2004 (with Norah Jones)

The Blues Man, 2005 (with George Jones)

Imagine, 2005

When I Get Where I'm Going, 2005 (with Brad Paisley -- although Dolly sings harmony throughout the song, she only has a brief cameo in the video)

Heartbreaker's Alibi, 2006 (with Rhonda Vincent)

Better Get To Livin', 2007

Jesus & Gravity, 2008

Shinola, 2008

Backwoods Barbie, 2009

Change It (from Broadway's 9 To 5: The Musical), 2009

Here You Come Again, 2009 (excerpt from Dolly: Live From London)