---
www.dollymania.net News January 2002
---

Jan. 30:
A Guiding Light From Dolly
I'm told that one of Dolly's most popular, and most profound, quotes makes its way into "The Up Side" column in the February issue of Guideposts. Dolly says: "The way I see it, if you want the rainbow, you gotta put up with the rain." Thanks, Robert!
Order Porter
Although I don't have a track listing yet to learn if there are any Dolly-written cuts included, longtime Dolly duet partner Porter Wagoner's March 5 installment in Buddha Records' RCA Country Legends series is now available for pre-ordering. You may reserve your copy here. (And remember, Dolly's edition in the series hits stores Feb. 19. You may order her CD here.)
---
Jan. 28:
'Sparrow' Down One


Little Sparrow inched down one spot to No. 5 in its 50th week on the British country albums chart released Sunday. The Grammy-nominated CD peaked at No. 1 for eight weeks last year.
'Lucky Ones' Gone
"Two Of The Lucky Ones," Dolly's awesome duet with Hal Ketchum from his CD Lucky Man, fell off the Jan. 25 Gavin radio survey data released Saturday. The song, which had spent several weeks in the list of the handful of songs just outside of Gavin's top 50 country singles survey, had the previous week been at No. 53 with 227 spins.
Dolly On CMT
Although none of their press material mentioned that Dolly would be featured, I'm told that CMT's two-hour Bluegrass Sound special last week hosted by Vince Gill showed Dolly's full performance of "Train, Train" from her 1999 induction into the Country Music Hall of Fame. Also, many of the top-notch bluegrass musicians who joined her for Grammy-nominated Little Sparrow and the Grammy-winning The Grass Is Blue were profiled on the program in their own right. Thanks, Greg!
Studio B's Fate Decided
The Tennessean on Thursday reported that Nashville's legendary RCA Studio B, where Dolly recorded most of her 1967 through 1976 hits and which was also the recording home to Elvis Presley, the Everly Brothers, Chet Atkins, Jim Reeves and more, will re-open as an operational and educational studio. In 1977, the studio opened to the public and was operated by the Country Music Hall of Fame. Tours ceased in 1998. The Mike Curb Family Foundation, founded by the head of Curb Records, has purchased the studio for $650,000 and will lease it back to the Hall of Fame for $1 per year. It will be used as a working studio for music students at Belmont University and will also be available for metro Nashville teachers to use for day-long workshops with music industry professionals to teach students about the business. For their full article, click here.
---
Jan. 25:
'Legend' Track Listing Announced
Dollymania is pleased to be the first to bring you the track listing for Dolly's CD in Buddha Records' RCA Country Legends Series, which drops on Feb. 19. While there are no previously unreleased songs, the 16 cuts will all be digitally remastered, a couple on CD for the first time. The tracks are as follows: 1. False Eyelashes (from 1968's Just Because I'm A Woman, first time on CD in U.S. release) 2. Evening Shade (from 1969's My Blue Ridge Mountain Boy, first time on CD) 3. Muleskinner Blues (from 1970's The Best Of Dolly Parton) 4. Joshua 5. Daddy's Moonshine Still (both from 1971's Joshua, track 5 on CD for the first time on a U.S. release) 6. Jolene 7. I Will Always Love You (both from 1974's Jolene) 8. Love Is Like A Butterfly (from 1974 album of same name) 9. Bargain Store, The (from 1975 album of same name) 10. All I Can Do (from 1976 album of same name) 11. Here You Come Again (from 1977 album of same name) 12. Heartbreaker (from 1978 album of same name) 13. Shattered Image (from 1976's All I Can Do, first time on CD) 14. Old Flames Can't Hold A Candle To You (from 1980's Dolly, Dolly, Dolly) 15. 9 To 5 (from 1980's 9 to 5 and Odd Jobs) 16. Tennessee Homesick Blues (from 1984's Rhinestone soundtrack). Reserve your copy here! Porter Wagoner's installment in the series will debut March 5, as was reported here yesterday.
Dollywood In Top 25
The 2002 World Almanac is in bookstores, and it ranks Dollywood as the 25th most popular amusement or theme park in the United States and 48th most popular in the world based on attendance last year of 2.3 million.
Where's The Dolly?
I was perusing the 2002 version of Russell Ash's The Top 10 of Everything (DK Publishing) and discovered a Dolly error. The page dedicated to gold and platinum album awards left Dolly off of its top 10 women with the most gold albums in the U.S. Dolly, who would have ranked fifth at the time of the book's publication, had been listed in previous issues, so there was no explanation as to why she didn't appear on this year's list. The top 10, as published in the book, are: Barbara Striesand, 41; Reba McEntire, 20; Linda Ronstadt, 16; Madonna, 14; Aretha Franklin and Anne Murray, 13 each; Natalie Cole, Tanya Tucker, Amy Grant and Olivia Newton-John, 12 each. As of the book's press time in late 2001, Dolly would have tied with Aretha and Anne for fifth place with 13 gold albums. Since then (in November) Trio II went gold, which ties her with Madonna for third place at 14. The book does, however, note Dolly in a few places -- with "Islands In The Stream" being the biggest-selling single in its year of release and one of the 10 best sellers of the 1980s, her number of CMA Awards and the fact that she wrote "I Will Always Love You," which Whitney Houston made the No. 1 song by a female performer in the history of American music.
'Songcatcher' Moves Up
The Songcatcher soundtrack, with the lovely Dolly duet "When Love Is New," inches up six places to No. 60 for its 25th chart week on the Feb. 2 Billboard country albums chart, it was announced Thursday. The CD had previously peaked at No. 42.
---
Jan. 24:
Dolly All Over 'Country Music'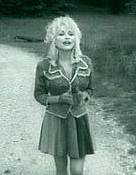 I picked up the February issue of Country Music magazine today, and Dolly is featured in it a lot more than a Dollymania reader first alerted me (and as was first posted here two weeks ago). First, she's mentioned in Hazel Smith's gossip column, with Reba McEntire noting after Hazel compared her to Dolly: "Narvel, did you hear that? Best compliment I ever had. Hazel compared me to Dolly!" Then, the magazine's cover story on Lee Ann Womack compares her to Dolly and Reba, "two other determined performers," and she gets mentions in a couple of other articles. But most importantly, she shows up all over the place in the 2001 critics' poll of the best music of the year. (The poll compiled votes from the nation's premiere music critics, including those with Entertainment Weekly, The Village Voice, The New York Times and Bluegrass Unlimited.) First, on the overall albums of the year, Dolly shows up several times. The Grammy-nominated Little Sparrow ranks at No. 5, with critics noting that the CD marks "her finest effort in any format for 27 years . . . the Appalachian atmosphere reawakened her songwriting genius . . . (with songs of) unflinching honesty and rare sympathy." The Songcatcher soundtrack, featuring the Dolly original "When Love Is New" as a duet with Emmy Rossum, comes in at No. 13, and Ralph Stanley's Clinch Mountain Sweethearts, with the Dolly duet on "Loving You Too Well," makes it at No. 24. Individual critics also praised her work, as Bill Friskics-Warren named her Grammy-nominated cover of "Shine" from Sparrow the sixth best single of the year, Geoffrey Himes rated Sparrow the fourth best album of the year, and Gary Graff chose her as 2001's best "Overall Act." In addition, Emmylou Harris' The Warner/Reprise Years, which features several Trio cuts with Dolly and Linda Ronstadt, was named the third best overall re-issue of the year. Finally, the magazine also includes a review of Hank Locklin's Generations In Song, singling out their "Send Me The Pillow That You Dream On," saying the veteran singer "ambles sweetly" with Dolly.
Porter Gets His Due, Too
Although there is still no word on a track listing for Dolly's installment in Buddha Records' RCA Country Legends Series (due out Feb. 19; get your copy here), I've learned that they will also issue a collection in the series for Dolly's former duet partner Porter Wagoner on March 5. Likewise, no track listing has been issued for his compilation, but he had several minor hits with Dolly originals during their partnership, so we could find a couple of those on CD for the first time!
---
Jan. 23:
'Dolly And Friends' Still On Hold
Film distributor MPI Home Video on Tuesday updated its list of upcoming releases through the end of March, and the much-anticipated three-DVD collection Dolly Parton And Friends remains on the shelf with their "In The Works" category. Still no word on when the collection, originally slated for an October 2001 release, will come out, what it may contain or why it's being held up. (As you may recall, Dollymania was the only site to confirm that MPI holds the rights to episodes of both The Porter Wagoner Show and the 1970s Dolly series, suggesting that clips from either could appear in this collection.)
A Woman's '9 to 5' World
An interesting story was posted Tuesday by the Vancouver Sun reviewing changes in film images of women at work 20 years after Dolly's 9 to 5 was considered "one of the first high-profile movies about female empowerment in the workplace." Writer Katherine Monk's article, "From Nine to Five to the just-released Business of Strangers, how have career gals fared in the movie world?," concludes that not much has changed in the treatment of women in the workplace as seen through the film lens other than characters turning in their "feminine intellect for board-pleasing macho tactics" as she makes reference to films from His Girl Friday to Working Girl to Erin Brockovich. The full article is available here.
Dolly In Print
I'm told the Feb. 5 issue of Country Weekly has a couple of Dolly plugs. First, she's pictured with the magazine's gossip columnist, Hazel, in a story about Hazel's celebrity cookbook and then she and her classic song "Jolene" are profiled in the magazine's history section, honoring the 28th anniversary of the tune hitting No. 1 on Feb. 2. Thanks, Kent!
---
Jan. 22:
'McKlusky' Page Added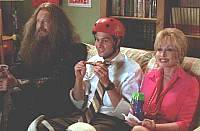 My press packet for Dolly's upcoming film Frank McKlusky, C.I. arrived Monday, and a page with photos and what little information is currently available has been added to Dollymania here (including a larger version of the image at left)! News and reviews of the film will be listed both here on the news page and on the McKlusky page as they become available. The Touchstone Pictures film is set for an April 26 release. Thanks, Jennifer! Image © Touchstone Pictures. All Rights Reserved. Used With Permission.
---
Jan. 21:
Steady In England
Little Sparrow remains steady for another week at No. 4 in its 49th week on the British country albums chart released Sunday. The CD peaked at No. 1 for eight weeks last year.
Another Dolly Buddha Release
I don't have a track listing yet, but Dollymania is pleased to be the first Dolly site to tell you that Buddha Records has scheduled a Feb. 19 release for a Dolly installment in its RCA Country Legends series. Over the last few years, the BMG-owned label has issued RCA Country Legends CDs of Eddy Arnold, Skeeter Davis, Chet Atkins, Flotd Cramer, Don Gibson, John Hartford, Waylon Jennings, Ronnie Milsap, Charley Pride, Jerry Reed, Hank Snow and Dottie West. About a third of these contain at least one previously unreleased track, and they all boast extensive liner notes and rare photos accompanying between 12 and 40 songs remastered from the original tracks. I'll keep you posted as soon as more information becomes available, but you may reserve a copy of the CD here.
A Plug
A story I stumbled across on gay.com asks entertainers a series of questions. The one listed over the weekend asked punk-pop band the Butchies a few, including what their current favorite CDs are. Lead vocalist Kaia Wilson responded Dolly's Little Sparrow. You may read their full interview here.
---
Jan. 18:
'Sparrow' Off Chart
After a post-Grammy nomination nudge in sales returned Dolly's Little Sparrow onto the Billboard country album chart dated for her 56th birthday on Saturday at No. 74, it falls back out of the top 75 in the chart dated Jan. 26, it was announced Thursday. The CD, which peaked at No. 12, has logged 37 weeks on the U.S. chart. Also on the Jan. 26 chart, the Songcatcher soundtrack, with the lovely Dolly duet "When Love Is New," falls one place to No. 66 for its 24th chart week; it had peaked at No. 42.
More Rare Dolly On CD
I happened to stumble onto another rare Dolly track this week now available on CD. In 1985, she provided harmony for Gail Davies' single "Unwed Fathers." The song, written by folk troubadour John Prine, peaked at No. 56 and came from Davies' RCA album Where Is A Woman To Go. The cut is included on a BMG compilation CD Ladies Of Country Music which BMG released in 2000 and is available on CD here. Note: Last night, I incorrectly said this cut appeared on Gail Davies' Greatest Hits because CDNow had the sound clip of the Dolly version linked to that album on their site. I have been corrected, however, that the actual version on that CD is a re-recording of the song without Dolly and that the Dolly version appears on this compilation CD instead. I apologize for the error. Thanks, Ashley!
Dolly Donuts
In observance of the new donut shop to open with Dolly's upgraded Dollywood museum in the Adventures In Imagination addition to the park this April, Dollywood is premiering a chocolate-dipped donut at the annual Chocolatefest to benefit the National Kidney Foundation of East Tennessee. This marks the sixth year the park has participated in the event, which is scheduled from 10 a.m. until 3 p.m. Saturday, Jan. 26, at the Knoxville Center. Tickets are $15 at the door, $10 in advance. The park's 2001 entry, Chocolate and Peanut Butter Baklava, won the Chef's Choice Award, and its 2000 entry, Dreamland Forest Cake, took the contest's top honors, the Judge's Choice Award.
---
Jan. 17:
'Frank McKlusky, C.I.' Film Update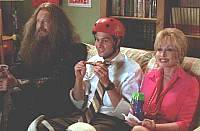 Dollymania is pleased to be the first to tell you that the release date for Dolly's upcoming film, Frank McKlusky, C.I., has been moved up a few days. Officials with Touchstone Pictures, which is distributing the film, confirmed to me this week that the release date will be April 26, not the April 30 date originally reported. Also, scouring the 'Net, I came across this publicity photo from the film. Still no news on the soundtrack, which is expected to contain at least one Dolly cut (of course, Dolly's producer Steve Buckingham confirmed here first in November that they had been in the studio recently recording possible tracks for the CD). Look for more information here as the release nears! Image © Touchstone Pictures. All Rights Reserved. Used With Permission. (Also, I apologize that the site hasn't been updated for a couple of days. MSN has been offline in Mississippi, so tonight was the first time I could upload the new information.)
'Sparrow' Gold in U.K.


A story posted this week by the Reuters News Service announced that Dolly's Little Sparrow has passed gold certification in Great Britain for sales in excess of 100,000 copies. As was reported on Dollymania in the early summer, the CD passed the silver mark of 60,000 albums several months ago. That CD played a large role in its European distributor, Sanctuary Records, posting record earnings of 82 million pounds ($119 million U.S.) in 2001, up 82 percent over the previous year. Similarly, the label's 60 percent rise in profits in 2000 was also credited largely to the success of their European release of Dolly's Grammy-winning The Grass Is Blue. Sparrow, which has sold about 175,000 copies in the U.S., peaked at No. 1 on the U.K. country albums chart, a position it held for eight weeks last year. The Grammy-nominated album is still currently in the top 10 overseas. (Britain, with a population between one-quarter and one-fifth the size of the United States, awards gold albums for one-fifth the copies required for that status in the U.S. and platinum albums for one-third the number here.)
Even Another Best Of Year List
Little Sparrow was ranked the No. 1 country album of the year by critic Jeremy Tepper in Tower Records' store publication, Pulse Magazine! Thanks, Sheena!
The Peoples' Dolly
Dolly got a mention over the weekend on the Peoples Choice Awards telecast. It was noted that she, Barbara Mandrell, Garth Brooks, Cher and Reba McEntire are all artists who have "legs" -- careers which have stretched over long periods of time and remained productive. Thanks, Mike! Also, Reba's win for Favorite Female Performer In A New Television Series brought reminders of Dolly, as country.com noted Monday that Reba joins Dolly and Barbara Mandrell as country artists who have won for television work. Reba told the web site: "I watched Dolly, I watched Barbara. Her Get to the Heart Tour, I think, I wore the Beta tape out. I am still such a fan of both of those ladies -- friends, too, I'm glad to say -- and they have influenced me tremendously, not only on hard work, but staying as they are inside. They're sweet ladies, and they're my heroes." Dolly has collected four Peoples Choice trophies, although none was for music. She won Favorite Actress In A Comedy Or Musical in 1981 for 9 to 5, Steel Magnolias won Favorite Dramatic Motion Picture in 1990, and Dolly took home both Favorite Female Performer In A New Television Series and Favorite All-Around Female Performer in 1988 (ironically weeks after ABC announced her variety series Dolly would not return for a second season).
Wanna Meet Stella?
The Ashville Citizen Times on Tuesday night posted a story about a new cookbook by Dolly's sister Stella and several book signings she has scheduled over the next week or two in Tennessee, Georgia and North Carolina. For more information, you may read their story here.
---
Jan. 14:
'Sparrow' Near Top In U.K.
Little Sparrow moves up three places to No. 4 for its 48th week on the British country albums chart released Sunday. The CD peaked at No. 1 for eight weeks last year.
Adieu To Christmas
Kenny and Dolly's Once Upon A Christmas dropped off the top 50 Canadian country albums chart released Friday, down from No. 30. In its nine-week chart run, the double-platinum 1984 CD had previously peaked at No. 6.
'Lucky' Radio Update
Radio survey group Gavin on Saturday updated its figures for airplay as of Jan. 11, and Dolly's duet with Hal Ketchum, "Two Of The Luck Ones" from his CD Lucky Man, remains just three spots away from entering their country top 50 with 227 spins, up from 222 for the previous reporting cycle. (Please call your local radio stations to request this amazing tune so we can get Dolly back on the singles charts!)
---
Jan. 11:
'Sparrow' Returns, 'Songcatcher' Up
Fresh off its two Grammy nominations and inclusion on several best of the year lists, Dolly's Little Sparrow re-enters the Billboard country albums chart dated Jan. 19 (her 56th birthday!) for a 37th week, coming in at No. 74, it was announced Thursday. The album peaked early last year at No. 12. The Songcatcher soundtrack, with the lovely Dolly duet "When Love Is New," moves up five places to No. 65 for its 23rd chart week; it had peaked at No. 42.
---
Jan. 9:
Grammy Coverage
I missed E!'s live coverage of the Grammy nominations last week, but I'm told Best Female Country Performance, for which Dolly is nominated for "Shine," was broadcast live, with Stevie Nicks reading the list of potential winners. Also, her nomination garnered mentions in the St. Petersburg Times and Rolling Stone Online as one of the "legends" receiving nominations this year. Thanks, Vince!
Dolly In Print
I'm told Dolly gets a couple of mentions in the February issue of Country Music Magazine, including a pick in the Best of The Year column! (The new issue wasn't in my local bookstores yet this week, so I haven't seen exactly what it says.) Thanks, Kent!
'Lucky' Airplay Update
Radio survey group Gavin on Monday updated its figures for airplay as of Jan. 4, and Dolly's duet with Hal Ketchum, "Two Of The Luck Ones" from his CD Lucky Man, moved up one place for the week to rest just three spots away from entering their country top 50 with 222 spins, up from 210 for the previous reporting cycle. (Please call your local radio stations to request this amazing tune so we can get Dolly back on the singles charts!)
Bid On Signature
NBC's Today Show Green Room signature book is on the auction block for charity at ebay. The book, with more than 500 signatures from the show's guests in 2001 including Dolly, *N'SYNC, Mayor Rudy Gulliani, Jennifer Lopez, Jeff Gordon and more, will raise money for Second Harvest. The auction (available here) is already past the $25,000 mark! Thanks, Stephany!
---
Jan. 7:
'Sparrow' Holding On In U.K.
Little Sparrow remains steady once again at No. 7 on this week's U.K. country albums chart released Sunday. In its 47th chart week overseas, the album peaked at No. 1 for eight weeks last year.
Sliding In Canada
Kenny and Dolly's Once Upon A Christmas continues its post-holiday fall on the Canadian country albums chart, down 11 places to No. 30 on the chart released Friday. In its ninth chart week, the CD had previously peaked at No. 6.
Grammy Press
As Dolly's two Grammy nominations were in what are today considered "minor" categories, they haven't got much coverage in the press. In fact, the only articles I could find which mentioned them over the weekend (other than a couple of complete lists of all nominees) appeared in Saturday's The Tennessean. The first (here), discussed the Grammy nominations' reflection of the public's "new hunger" for roots music, as evidenced by the 3 million-plus copies sold of the O Brother, Where Art Thou? soundtrack and "impressive sales" of bluegrass albums by Dolly, Alison Krauss and Nickel Creek. The second (here), discussed the lack of artists with huge radio airplay receiving nominations. CMT general manager Brian Philips argued that the nominations' focus on "nonmainstream" artists like Dolly, Sheryl Crow, Ryan Adams, Willie Nelson and Krauss shows "an unprecedented disconnect between country radio and the Grammys." Nancy Shapiro, vice-president of Nashville's branch of Grammy parent organization the Recording Academy, said the list of nominees is to be expected, as Grammy voters usually choose records for recognition based on their quality, "regardless of airplay, record sales or whether they're mainstream or not."
Grammy Tally
Every year around Grammy time, I get asked where Dolly stands on the list of female country performers who have won the most gramophone trophies, so I'll go ahead and offer an answer before they start coming in. Dolly ranks third with six wins: two for Best Female Country Vocal Performance (the album Here You Come Again in 1978 and the single "9 to 5" in 1981), one Best Country Song ("9 to 5"), one Best Country Performance By A Duo Or Group (Trio album, 1987), one Best Country Vocal Collaboration (the Trio's "After The Goldrush" single from Trio II, 2000) and one Best Bluegrass Album (The Grass Is Blue, 2001). Frequent Dolly collaborator Alison Krauss is first with 11 trophies. Trio pal Emmylou Harris is next with 10 (two of which are shared with Dolly), plus I also include Linda Ronstadt in second place since three of her 10 awards are for country categories -- two with Trio and one for Best Female Country Vocal Performance. At fourth are Mary Chapin Carpenter, The Judds, Anne Murray and Olivia Newton-John with five each, followed by Shania Twain and The Dixie Chicks with four each. Last week's nominations bring Dolly's career total to 38 in 12 categories (16 for female country, six for country duo/group, five for country vocal collaboration, two each for country song and bluegrass album, and one each for sacred music performance, pop female, album from a motion picture, pop duo/group, country album and -- two of the awards' most prestigious categories -- Album Of The Year and Song Of The Year.)
---
Jan. 4:
UPDATE: Grammy Nominations
Dollymania is proud to be the first Dolly site to inform you that Dolly earned two nominations this morning for the 44th Annual Grammy Awards with nods in the following categories: Best Female Country Performance and Best Bluegrass Album. This brings Dolly's total number of career nominations to 38, of which she has won six. For Female Performance, she faces Sheryl Crow's "Long Gone Lonesome Blues," Jamie O'Neal's "There Is No Arizona," Lucinda Williams' "Cold, Cold Heart" and Trisha Yearwood's "I Would've Loved You Anyway." I predict that O'Neal has a 50 percent chance of taking home the trophy, Dolly 30 percent, Yearwood 15 percent and Williams and Crow an outside chance. For Bluegrass Album, Little Sparrow faces frequent Dolly harmony singer Alison Krauss with New Favorite, Patty Loveless with Mountain Soul, Ricky Skaggs and Kentucky Thunder for History of The Future and Ralph Stanley and Friends for Clinch Mountain Sweethearts, which includes a Dolly duet. I predict Dolly has a 50 percent chance of winning this one, with Loveless next with a 30 percent chance, Krauss with 15 percent and Skaggs and Stanley with an outside chance. Of course, last year, Dolly won Best Bluegrass Album for The Grass Is Blue (and was nominated for Best Female Country Vocal Performance for "Travelin' Prayer"), and the previous year she won Best Country Vocal Collaboration for "After The Goldrush" from the now-gold Trio II. Awards will be handed out in Los Angeles on Feb. 27, with a live telecast on CBS.
More Classic Dolly On CD
Aussie label Raven Records, which released several of Dolly's gems for the first time on CD in October's Mission Chapel Memories (1971-1975), has done it again. This time, they have come out with Mary Kay Place's The Ahern Sessions, 1976-77, which has three rare Dolly appearances for the first time on CD. The CD combines two of Place's albums, Tonite! At The Capri Lounge: Loretta Haggers and Aimin' To Please. The first, originally released on CBS Records in 1976, features the actress singing in character as Loretta Haggers, whom she played on TV's Mary Hartman, Mary Hartman. Dolly joins in with Place and Herb Pedersen on "Good Ole Country Baptizin'," and she and Place perform "Coke and Chips" as well as Dolly's original "All I Can Do." Dolly pal Emmylou Harris shows up on three other cuts, and Anne Murray sings on two. The record originally peaked at No. 6 on the country albums chart and generated one top 10 hit, "Baby Boy." Aimin' To Please, the second album in the collection, went to No. 40. Order your copy here!
Another Best Of Year List
(I know this is a bit late, but I just came across it.) Iowa City Press Citizen music critic Jim Musser on Dec. 13 named Little Sparrow the 13th best CD of 2001, noting: "One of the first (and best) female singer-songwriters, Dolly Parton coasted artistically for the 15 or so years she spent as a multi-media star, but when she plugged back into the music scene in earnest a few years back, her spectacular talents were clearly intact. Bluegrass has made huge gains over the past decade, and the grassroots success of O Brother, Where Art Thou set a new high-water mark for the music's mass appeal, but Parton's ebullient applications to the genre with The Grass Is Blue and this gem broke some serious ground. All-world picking, swell tunes, the voice of an angel." Read his full list here.
CMT To Repeat Country Specials
CMT announced on Wednesday that it will re-broadcast the entire 13-part series Century of Country, which originally aired on TNN in 1999. (The network's press release for the series claimed it would "premiere a new installment each Saturday," meaning that this would be the first time each episode would air on CMT, not the first time each episode is airing anywhere.) Dolly pops up in several installments, including brief clips of Opry performances of "The Last Thing On My Mind," "My Blue Ridge Mountain Boy" and "I Will Always Love You" on the episode A Night At The Opry, which CMT will air Jan. 12; and a brief performance of "Mule Skinner Blues" from the late '70s with Bill Monroe in the first episode, which airs this weekend. However, the main Dolly focus is the 10th show, which airs at 9 p.m. March 9. This installment, called in the press release Hello, Dolly! Country Moves Into The 70s but originally titled The 70s: Country Crosses Over when it aired on TNN, devotes about a quarter of the hour-long show to Dolly, calling her "country's first superstar." The series will air each Saturday at 9 p.m. Eastern on CMT through March 30.
Did Ya Know?
Did you know that Dolly had been nominated for an Emmy Award? I didn't, and I have never seen it in any list of her awards and accomplishments, but while scouring the Net last night for Dolly news, I came across a mention of this on a Cher fan site. Sure enough, I confirmed that Dolly was nominated in 1978 for Outstanding Continuing Or Single Performance By A Supporting Actress In Variety Or Music for her appearance on ABC's Cher . . . Special. (The show's only other nomination was a technical Emmy for lighting, which it won.) Dolly had some pretty stiff competition for the trophy, with fellow nominees Bea Arthur for a guest appearance on Laugh In, Bernadette Peters for a guest shot on The Muppet Show and Saturday Night Live cast members Jane Curtin and Gilda Radner (who won) for their work on that series.
---