---
www.dollymania.net News February 2000
---

Feb. 28: Dolly has lent vocals to a CD released last week by Sugar Hill artist Bryan Sutton. In a review Sunday of his album Ready To Go, the Knoxville News-Sentinel gave the album an A- and wrote in part: "However, it's Dolly Parton who delivers the killer vocal number -- with only Sutton's spare acoustic guitar accompanying a rendition of Parton's own 'Smoky Mountain Memories.' It could've been the stand-out track on Parton's The Grass Is Blue album (on which Sutton appeared)." Order the CD here.
*Fred Bronson's Chart Beat Chat at Billboard Online noted Friday that if Faith Hill's "Breathe" follows Lonestar's "Amazing" to top the pop charts in coming weeks, it would mark the first time since 1981 a country act has replaced another country act at No. 1. When that happened, it was Eddie Rabbit's "I Love a Rainy Night," which followed Dolly's "9 to 5" atop the Billboard Hot 100. Faith is currently at No. 3.
* * * * *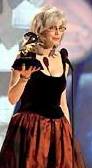 Feb. 25: Country.com on Thursday reported that in her acceptance speech for the Trio's Grammy for Best Country Vocal Collaboration Wednesday for "After the Goldrush," Emmylou Harris (shown at left accepting the award, AP photo) noted that Dolly suggested recording the song, something which excited all three, and that Linda Ronstadt had a major role in arranging it and added the glass harmonica to the accompaniment. She said the song's composer, Neil Young, enjoyed their version and didn't mind the lyrics change. "We asked permission to change the line about getting high because we were mothers, and we didn't want to put forward that sentiment," she said. (Order Trio II here!)
* A friend e-mailed a question yesterday on whether Dolly has the most Grammy Awards for a female country artist, so I did a little research on the subject. Dolly is third. The rankings are: If one counts only "country" categories – Emmylou Harris, eight; Alison Krauss, six; Dolly, Mary Chapin Carpenter and The Judds, five; Shania Twain and The Dixie Chicks, four. If country artists who won in other genres are counted, it is – Krauss and Linda Ronstadt, 10 (Krauss, six country, three bluegrass, one gospel; Ronstadt, three country, three Latin, three pop, one children's); Harris, nine (eight country, one folk); Dolly, Carpenter, The Judds, Anne Murray and Olivia Newton John, five (Murray, three country, one pop; Newton-John, one country, three pop); Twain and The Dixie Chicks, four.
* Well, Lonestar did it. In the March 4 Billboard charts, released Thursday, their song "Amazed" became the first country song to top the pop charts since Kenny Rogers and Dolly's "Islands in the Stream" in 1983. Faith Hill may make her first pop No. 1 in coming weeks, too, as "Breathe," which recently at six weeks broke Dolly's record for the second-longest time a female artist spent on the top of the country charts, moved up from No. 5 to No. 3 on the pop charts.
* * * * *

Feb. 24: The Trio reigns! Dolly, Linda Ronstadt and Emmylou Harris last night took home the Best Country Vocal Collaboration Grammy for their cover of Neil Young's "After the Goldrush" from the Trio II album! (If you don't have this great CD yet, click here!) This was Dolly's fifth Grammy but her first since 1987's Trio won Best Country Duo or Group (prior to creation of the Vocal Collaboration or Best Country Album categories). The award was presented as one of the 88 "pre-show" awards early Tuesday evening before the network broadcast. Although Dolly and Linda were both absent, Emmylou accepted the Grammy. Another trio, The Dixie Chicks, beat the Trio out for Best Country Album. Dolly's other Grammy Awards were Best Country Female Vocal Performance for the "Here You Come Again" album in 1978, Best Country Female Vocal Performance for "9 to 5" in 1981 and Best Country Song for "9 to 5" in 1981. She's been nominated 33 times.
* The other country and related genres awards handed out Wednesday night were: Female Vocal, "Man I Feel Like A Woman," Shania Twain; Male Vocal, "Choices," George Jones; Duo/Group w/Vocal, "Ready To Run," Dixie Chicks; Song, "Come On Over," Shania Twain; Instrumental Performance, "Bob's Breakdowns," Asleep At The Wheel featuring Tommy Allsup, Floyd Domino, Larry Franklin, Vince Gill and Steve Wariner; Gospel Album, Kennedy Center Homecoming, Bill and Gloria Gaither and Their Homecoming Friends; Bluegrass Album, Ancient Tones, Ricky Skaggs & Kentucky Thunder ; Traditional Folk Album, Press On, June Carter Cash; Contemporary Folk Album, Mule Variations, Tom Waits.
* * * * *
Feb. 23: The Ottawa Citizen reported Tuesday that Dolly's Christmas feature film, A Christmas Rap, may be canceled due to lack of snow in Canada, where it is to be shot. Because of weather delays, shooting may be postponed, the filmmaker said, and if the starting date pushes back beyond April 10, Dolly's schedule may force her to drop out, he explained. On a better note, he said she has submitted four original songs to use if the movie happens. For the full story, click here.
* Dollywood's website has added a page on Dolly News here, but right now the only item posted is a press release on the Oct. 7 Stars Over Mississippi concert here.
* And the Gibson Award for Best Country Guitarist, Female, on Tuesday went to Kim Richey. Dolly was nominated for the honor against Richey and Emmylou Harris.
* * * * *
Feb. 21: Dolly made it into Fred Bronson's "Chartbeat Chat" Friday on Billboard Online when Pat Kelly of Ontario asked about Feb. 17's Who Wants To Be A Millionaire? including the "fastest finger" question of which order the following songs made it to No. 1 on Billboard (listed here in the order the show said was correct): "Can't Buy Me Love," "Best Of My Love," "Love Shack" and "I Will Always Love You." Well, Kelly noted, and Bronson agreed, that first of all, "Love Shack" never made it to No. 1 on the pop chart (Billboard Hot 200) but did make it to the top spot of the Modern Rock chart and that "I Will Always Love You" made it to No. 1 on the country charts with Dolly's original version in 1974, prior to "Best of My Love."
* Country. com reported Friday that The Grass is Blue made another best of year list, coming in at No. 78 on the Village Voice's annual critics poll of the best CDs of the year (one of only nine country CDs listed).
* I came across an interesting article Sunday on a cop who will act in Dolly's upcoming holiday movie being filmed in Canada. You can read it here.
* Dolly's Pigeon Forge Dixie Stampede restaurant opened its new show Friday, with Dolly noting in a press release: "Each year, I can't wait to see what exciting and funny new things the Dixie Stampede has put into its show. This year, they've got these two 'brothers' from the North and South, and these characters will have you in stitches from laughing so hard. And you won't believe all the new 'colorful' tricks and formations those horses and their riders make while staying in tune and balancing streamers and such. You'll find yourself hollerin' and 'stampedin' through the whole show just like me!" For the full release, click here.
* * * * *
Feb. 17: It's now less than one week until the Grammy Awards on CBS Wednesday night, with the Trio nominated for Best Country Album and Best Country Vocal Collaboration! Wednesday's Washington Post opined on the lackluster pop nominees, with writer David Segal noting at one point while discussing nominees Sting, TLC and Ricky Martin: "Far more deserving work was produced in 1999 by Moby, Dolly Parton, Steve Earl, Fiona Apple and Beck, just to name a few."
* And Launch.com's Grammy predictions place The Dixie Chicks at best chances for taking home Best Country Album, with the Trio at second. However, the article made a grave error, saying all nominees in that category besides Dolly have won Grammies. She has four: Best Country Performance Female (1978 and 1981), Best Country Song (1981) and Best Country Performance, Duo or Group (1987).
* According to Country.com's Cruisin' Country on Tuesday, a Dolly interview is slated to appear in a documentary film currently in the works on songwriter Mae Axton, who penned hits such as "Heartbreak Hotel" and was the mother of singer and actor Hoyt Axton.
* Stephanie Allmon in a New York Times News Service article on Tuesday discussed "cinematherapy," the use of movies to help one cope with problems. As an example, she noted someone angry at his or her boss should watch 9 to 5.
* According to CDNow, The All Music Guide has added The Grass is Blue to its Best of Artist picks on Dolly. The list also includes Coat of Many Colors, Best of Dolly Parton (1975), 9 to 5 and Odd Jobs, Best Little Whorehouse in Texas, Greatest Hits (1982), Trio (1987), White Limozeen, Essential Vol. 1, Essential Vol. 2, Essential Porter & Dolly, Superhits (1996, RCA) and Hungry Again.
* Did you know Dolly is a golfing term? I didn't. In golf, a "Dolly Parton" is a putt on an especially hilly green.
* * * * *
Feb. 15: Walter Henry Hagan, the longtime special services manager of American Airlines at Dallas/Ft. Worth International Airport, died Sunday of cancer, according to a press release from the airline. He was 77. As head of the airline's VIP services at the airport, he counted among his many friends several of the entertainers who passed through its gates often, including Dolly, who chose his name to use as the main character in a song of the same title which she first performed at her Dollywood concert in 1994 for her live Heartsongs CD. In September, when the airport named its new Admiral's Club in his honor, Dolly told the Ft. Worth Star Telegram, "I wanted to take him down in history with me, so I wrote what I refer to as 'our song.' "
* * * * *
Feb. 12: According to the New York Daily News, The Big Apple's WKCR 89.9 FM on Thursday started its annual classic country fest, which features three and a half days of music. And guess with whom they chose to start this year: Dolly, of course. The special began with two hours of Dolly from noon until 2 p.m. Thursday. It runs through Sunday night, ending with six hours of Hank Williams Sr.
* * * * *
Feb. 11: CountryCool.com on Thursday reported that Dolly recorded vocals with Kathie Lee Gifford on two songs for Kathie Lee's upcoming CD. In addition to "Only My Pillow Knows," they report she also recorded "Circle Game." The album, Born To You, is anticipated for an April release.
* * * * *
Feb. 10: Steve Gardner with Sugar Hill Records reports he is traveling today to the Folk Alliance conference in Cleveland to promote a new single from The Grass Is Blue. "Silver Dagger" will be released as a single to folk radio, but it will not be commercially available. He noted, "As you know the song is traditional and Dolly wanted everyone to take notice of this. She's also going to be doing a very small handful of radio station phone interviews." Thanks!
* Early Wednesday morning, Dollymania passed 35,000 visitors. Thanks to all who've stopped by and everyone who keeps coming back!
* * * * *
Feb. 9: I've uploaded the article from last week's The Amory Advertiser, the local newspaper in the town where Dolly will be performing Oct. 7. To read it, click here.
* Cruisin' Country, the news portion of Country.com, on Tuesday also made note of the Dolly and Kathie Lee Gifford duet. I wonder if they'll perform it together in Amory.
* Also, I've compiled all of the reviews, best of the year lists and quotes on The Grass is Blue in a special section here.
* * * * *
Feb. 8: The Huntsville newspaper on Monday published a real interesting story on a local Dolly impersonator employed singing telegrams. To read it, click here.
* A list was released Monday of the 100 best love songs of the 20th century as compiled by Gregory Godek, author of 1001 Ways To Be Romantic, and "I Will Always Love You" came in at No. 10.
* * * * *
Feb. 7: Remember, you can still get your tickets to Dolly's Oct. 7 Amory, Miss., concert ($25 reserved seats, $15 general admission) by calling 1-877-677-8279. To read the full article on the event, scroll right and click on "Oct. 7 Mississippi Concert Announcement."
* I forgot to note on the most recent update that Dollywood got a plug of sorts on Wednesday night's Drew Carey Show on ABC. The peacock-faced character Mimi announced she and her new husband planned to take a "pilgrimage" to Dollywood for their honeymoon. When she got fired, she said they planned to move there and work at the park, but of course, something changed that plan.
* * * * *
Feb. 4: A major Dolly announcement came yesterday about what is expected to be one of only three concerts she will give this year. For the full Dollymania coverage, click here.
* * * * *
Feb. 2: The Trio is up for an Academy of Country Music Award, it was announced Tuesday. "After the Goldrush" is one of 10 songs in the running for the ACM's Vocal Event of the Year in the initial round of nominations. ACM members will have until Feb. 25 to cast votes in this round. The show airs May 3. (In 1988, the original Trio release won the ACM's Album of the Year Award.)
* More great press for The Grass is Blue. A poll of dozens of music critics around the nation by Sonicnet/Addicted to Noise released this week named the CD No. 93 of 1999. Two of the critics also put the album in their Top 10 lists of the year. David Cantwell of Amazon.com placed it at No. 3, and Bill Friskis-Warren of The Washington Post named it his No. 10 pick.
* Dollywood's April 15-16 opening weekend for its 15th season has been named one of the Top 20 events in the Southeast in April by the Southeast Tourism Society, it was announced this week. Dollywood has also confirmed Dolly's planned appearances for the opening that weekend of the Dreamland Forest and her April 14 "Friends of the Forest" parade in Pigeon Forge, but I have yet to receive any official word on the reports that she will not do a Dollywood Foundation concert this year. For the full press release on the Top 20 honor, click here.

* I know this has already been everywhere since I was unable to update yesterday, but Dollywood announced Monday that Dolly will be selling WDLY-FM/WSEV-AM. The FM station's call letters will change since it will no longer be affiliated with Dolly. For the full Dollywood press release, click here.
* My friend Justin tells me CMT featured Dolly in its Super Showcase marathon of Showcase Artists on Sunday, choosing to give Dolly the coveted final half-hour of the evening. Thanks!
* * * * *