---
www.dollymania.net News February 2011
---
Feb. 28:
TV Station: Website Calls For Movie Extras
Atlanta's Channel 11 News revealed in a story Sunday that a website had been launched purporting to seek extras for filming a scene for Dolly and Queen Latifah's Joyful Noise movie in the city a week from Monday. The March 7 filming will take place at the Atlanta Civic Center. The website, here, says more details will be posted soon but extras will be required to arrive at the venue by 10 a.m. that day and be in their seats by 11 a.m. with prize give-a-ways of trips, tickets and more provided to participants who watch the live performances by Dolly and Latifah. Those who know they are available may e-mail the site at JoyfulAudience@gmail.com for tickets. The TV report here notes that producers plan to scan the crowd for people who may be asked to appear in additional scenes.
Dolly ITV Interview To Air
Dolly is scheduled to appear Friday as a guest on the British morning news/talk show Daytime on U.K. network ITV. The show over the weekend announced that an interview with her by correspondent Steve Hargrave taped in Nashville will be broadcasted on the program that morning. The program airs from 6 a.m. until 9:25 a.m. Thanks, Tony! 
Oscar Memories
With The Academy Awards over the weekend, more than a few critics brought up Dolly's loss a few years back for the Best Song Oscar for "Travelin' Thru" to the Three 6 Mafia's rap "It's Hard Out Here For A Pimp" as one of the biggest upsets in the awards show's history, including MovieFone here (Thanks, Jeff!) and Australia's The Herald Sun here.
Possible Park Resort Designs Revealed
Might just be a plan that gets shelved and never sees the light of day, but thanks to Jeremy for digging up that Knoxville architectural firm Bullock Smith & Partners includes in its new portfolio of work a luxury resort and convention center designed for Dollywood to be surrounded by cabins. Dolly has made no secret that she would like to see a resort hotel on the park's property, and that was somewhat addressed with the addition last year of the Dollywood Vacations cabin rentals, although discussions on something bigger have reportedly continued. Check out the designs here.
Hospital Celebrates One Year
Thanks to Chuck for sending in a story from Sevier County, Tenn., newspaper The Mountain Press here about the local hospital's first anniversary, noting that they sent Dolly a birthday card with a picture of the first baby born in the Dolly Parton Birthing Center on her birthday this year.
---
Feb. 26:
Rogers Concert Special To Air March 8
Kenny Rogers' 50th anniversary television special with Dolly, Lionel Richie, Alison Krauss, Tim McGraw, Billy Currington, Wynonna, Darius Rucker and others that was filmed in Connecticut a year ago in April has found a home: cable music network Great American Country (GAC), it was announced this week. Thanks to Chuck for pointing me to a piece on AOL's The Boot country music blog here announcing the 8:30 p.m. Eastern March 8 premiere. Thanks as well to Bryce for informing me of a full-page photo of Kenny and Dolly in the new issue of People magazine also announcing the air date.
'I Am Strong' Slips On Chart
The Grascals' "I Am Strong" video with Dolly and the children of St. Jude's slips two spots to No. 19 in its third week on the Great American Country (GAC) Top 20 Countdown, it was revealed Friday. Cast your ballot for it next week here!
PBS Honors Library
Dolly's Imagination Library literacy program was singled out Thursday for special recognition by East Tennessee PBS, receiving the public television broadcaster's award for service to children in its second annual Be More Awards to recognize excellence in the local nonprofit sector, according to The Knoxville News Sentinel here.
---
Feb. 25:
Grascals Fall Country, Rise Bluegrass
The Grascals' Cracker Barrel release, Country Classics With A Bluegrass Spin, featuring three Dolly appearances, reigns again for a fifth week atop the bluegrass albums chart in the March 5 tally released Thursday, Billboard has revealed, inching up one spot to No. 1 in its sixth chart week. The collection tumbles eight places to No. 47 country for its sixth week there and falls back off the 50-position independent albums list, down from No. 47 in its fourth week there. Also on the bluegrass chart, Rhonda Vincent's Taken, with its own Dolly duet, gains two to No. 10 in its 22nd week. On the overall charts, multiple Grammy wins propel Lady Antebellum's Need You Now up three spots to recapture the No. 1 country position and up 13 digits to No. 4 pop in its 56th chart week, while Taylor Swift's Speak Now remains at No. 2 country and dips three to No. 15 pop in its 17th week. Up north, The Very Best Of Dolly Parton, Vol. 1 falls two to No. 50 Canadian country.
'Year' Continues To Get Good Press
With its big premiere as the closing film at Canada's prestigious Rendez-vous du Cinéma Québécois film festival on Saturday, The Year Dolly Parton Was My Mom is garnering much positive attention from the press. Hour speaks with the filmmakers with a great interview about the project and Dolly's involvement here, and another profile is available from The Montreal Gazette here.
Another 'Joyful Noise' Shooting Story
Check out the latest story on Dolly and Queen Latifah's Atlanta-area filming for Joyful Noise in Thursday's Neighborhood Newspapers here.
---
Feb. 24:
Images, Reports From Atlanta Area Filming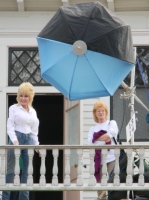 Special thanks to Theresa Lowry for sharing a couple of shots of Dolly in Newman, Ga., recently during the filming of her movie with Queen Latifah, Joyful Noise. You may view them here and here, including a larger version of the shot at left. In related developments, The Atlanta Journal Constitution reports that Courtney Vance plays the church minister in the picture with a story about the latest filming spots here and Project Q Atlanta notes here about the pair returning to Atlanta proper for shooting.
Second London Date Confirmed
A week after it was reported here, an official announcement came out Wednesday for Dolly's second London concert on the Better Day World Tour, with pre-sales for members of her Dollyite online fan community (via her her official record label website, DollyPartonMusic.net) that started Wednesday and continue until public ticket sales begin Friday morning. The Sept. 8 concert addition also made Stereboard here.
Another Mixed '9 To 5' Review
The Arizona Republic gives a mixed review to Dolly's 9 To 5: The Musical posted here Wednesday, while The State Press, the ASU student newspaper, gave it a positive review here.
---
Feb. 23:
Your Dolly Wears Combat Boots!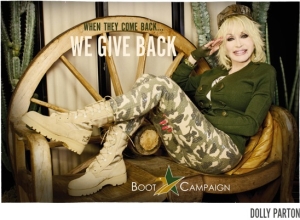 Promotional photos were released Tuesday of Dolly donning combat boots in support of The Boot Campaign, an effort to raise awareness and funding for veterans' charities. In a statement on the organization's website, Dolly noted: "So many people, regular folks and celebrities, send out love and sincere thanks to you for keeping us safe and fighting for our freedom.  Let me add to that loving list.  Thank you from the bottom of my country heart.  I will always love you," The announcement was covered by a handful of media outlets, most prominently on the Entertainment Blog at FOX News here.
Get 'Mom' Soundtrack Now
Tuesday saw the release of the soundtrack CD for the family drama The Year Dolly Parton Was My Mom featuring Dolly covers by artists Martha Wainwright, Coral Egan, The Wailin' Jennys, Nelly Furtado and Genevi've Toupin. The music is available on CD in Canada (although you may order it as an import in the U.S. from Amazon here). You may also download it from iTunes here, although on that version available in the U.S. the Nelly Furtado version of "The Seeker" is replaced with a version by Marie-Christine Depestre.
U.K. Mag Seeks Fan Questions
British music publication Q Magazine is seeking Dolly fan questions for an interview to run in an upcoming edition. Fans may post their questions on Twitter @QMagazine (hash tag #QDolly) or in the comments section of the magazine's website here, with winning questions that are used in the interview being worth £25. Fans may also submit the questions to Dolly's management via e-mail to dollyquestions@gmail.com, where they will be forwarded to the magazine.
'Joyful Noise' Update
Filming is continuing with Dolly on Joyful Noise, as The Rockdale Citizen warns locals of some street closures connected to the movie here.
Another '9 To 5' Interview
Country Stars Central recently sat down with 9 To 5: The Musical star Diana DeGarmo to chat about the touring production. Check out that interview here.
Lanes' Dolly Doc Gets Go-Ahead
Thanks to the Lanes, Gary and Larry, for calling your webmaster on Tuesday to alert me that they have received permission via Dolly's management for use of the 10 Dolly songs that are performed in their documentary From Hollywood to Dollywood, clearing the way for them to promote it to film festivals for a premiere. The twins were ecstatic that word came the week of their birthday, which falls on Thursday, the same night their episode of ABC's Winter Wipeout airs.
---
Feb. 22:
'Joyful Noise' Shoots Detailed On Facebook
Extras in the Dolly and Queen Latifah film Joyful Noise currently in production in Georgia have been posting details of various recent shoots on a Facebook page set up about the project. Check out what they have to say here. Thanks, Chuck!
---
Feb. 21:
'9 To 5' Is Off To Arizona
Dolly's 9 To 5: The Musical touring company completed its two-week St. Louis run on Sunday and next moves to the Phoenix, Ariz., area starting Tuesday night. Check out another interview with star Diana DeGarmo here, this one from The State Press.
'Law & Order' Star In Dolly's Film
Thanks to Jason for alerting me to a couple of recent stories on Dolly's Joyful Noise film with Queen Latifah. BV On Movies reports here that actor Jesse Martin, best known as one of the detectives on Law & Order and also from the original New York production and subsequent film version of Rent as Tom Collins, will portray Latifah's husband in the picture. Also, The Rockdale Citizen noted local production efforts here.
---
Feb. 19:
Dolly Helps Tenn. Film Industry



Dolly recently filmed a six-minute political promotional video in support of her home state's film industry encouraging state lawmakers to approve legislation to offer greater incentives to filmmakers looking at shooting in Tennessee. She opens the project with remarks and returns throughout between sets of film industry workers who tell their stories about the impact the business has on the state. She also notes several major films that could have filmed in the state but went elsewhere due to incentives, mostly in neighboring Georgia -- adding she is currently filming a movie in Georgia herself. The video was released by a state trade association, the Association for the Future of Film and Television, and is viewable in the media player above or by clicking here.

'Strong' Returns To GAC Countdown
"I Am Strong," the St. Jude's video by The Grascals with Dolly, re-enters the Great American Country (GAC) Top 20 Countdown  this week at No. 17. It had debuted two weeks ago at No. 19 but fell off the fan-voted chart last week. Cast your ballot for it next week here!
---
Feb. 18:
Second Show Added For London
Dolly may have added a second concert in London's O2 Arena, her official record label website, DollyPartonMusic.net, reports. Thanks to Cathy for alerting me that the website on Thursday finally updated its tour page from saying that no tour dates were scheduled at this time to now listing all of the shows that have been announced over the past few weeks for her Better Day World Tour. In addition, the page includes a second London show on Sept. 8. The extra concert is not yet listed on the websites of either tour promoter Live Nation UK, tour ticket retailer Ticketmaster UK or the O2 venue itself, so it is not yet known whether the extra date is correct. The page also includes icon links for ticket pre-sales, although none appeared to be activated for clicking, and icons for meet-and-greet passes, although they all showed no passes available for the dates that have been announced thus far. It is unknown whether the meet-and-greet contests will be offered for these specific dates or not, and the policies and procedures for this tour's meet-and-greet contest for members of the Dollyites online fan community have yet to be released. The site's management had not responded by press time to requests from this publication for clarification on the meet-and-greets or for when those rules for the new contests would be released.
More On 'Mom' Soundtrack
The Facebook page for the film The Year Dolly Parton Was My Mom announced Thursday that there will be a listening party for the movie's soundtrack CD in Canada on Tuesday. Thanks, Jason! You may reserve your copy as an import from Amazon.com here. It features Dolly's original "Love Is Like A Butterfly" recording as well as covers of "Do I Ever Cross Your Mind" by Martha Wainwright, "The Grass Is Blue" by Coral Egan, "Light Of A Clear Blue Morning" by The Wailing Jennys, "The Seeker" by Nelly Furtado and "Little Sparrow" by Genevi've Toupin in addition to seven pieces from the score.
Chart Updates
The Grascals' Cracker Barrel release, Country Classics With A Bluegrass Spin, with Dolly on three tracks, loses its top spot on the bluegrass chart in the Feb. 26 numbers released by Billboard on Thursday. After four weeks atop the genre's list, the title slips to No. 2 in its fifth week. On the country tally, the album inches down one to No. 39 in its fifth week, while it re-enters the 50-position independent labels albums chart at No. 47 for a fourth week. Also on the bluegrass chart, Rhonda Vincent's Taken, featuring a Dolly duet, rises three to No. 12 in its 21st week. On the overall charts, Jason Aldean's My Kind of Party holds steady at No. 1 country and falls two to No. 9 pop in its 15th week, while Taylor Swift's Speak Now remains at No. 2 country and drops four to No. 12 pop in its 16th week. Across the border, The Very Best Of Dolly Parton, Vol. 1 remains steady at No. 48 Canadian country.
Additional Pirates' Voyage Coverage
The transformation of Dolly's Myrtle Beach, S.C., Dixie Stampede into Dolly's Pirates' Voyage gained a lot of coverage in the local media over the past couple of days with stories from WMBF here, The Sun News here and here, WPDE here and South Carolina Now here.
Restaurant Gets Spotlight
The Georgia restaurant where Dolly and Queen Latifah will film a food fight scene for Joyful Noise next week is basking in the spotlight, according to a story from Atlanta's Channel 11 news here.
Dolly Sends Sympathetic Message
A Nashville-area seamstress who worked on Dolly costumes passed away recently at age 26 from cancer. The Tennessean reported here Thursday that Dolly sent a personal note to be read at Aly West's memorial service crediting her for sewing many of her dresses and saying: "Now you are shining and sparkling with the angels. I will always love you."
---
Feb. 16:
Dolly Releases Grammy Video



Dolly's management on Tuesday released her Grammy Lifetime Achievement Award acceptance speech video, which is viewable on YouTube in the media player above or by clicking here. In addition, Slate opined here that the moment from the Grammy Awards ceremony that best represented the spirit of Lady Gaga was when Dolly's award was noted and she was introduced with "three separate job descriptions": country singer, songwriter and superstar.

Pirates Prep Photo Released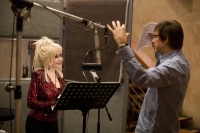 Dolly on Tuesday also released a behind-the-scenes image from her preparations for the new Dolly's Pirates' Voyage dinner theatre. The shot, at left (click on it for a larger view) shows her in the recording studio with composer Mark Brymer working on their new score for the show. The former Myrtle Beach, S.C., location for her Dixie Stampede equestrian-themed dinner theater is currently undergoing an $11 million renovation to become the new attraction, which will feature a 15-foot-deep indoor lagoon, full-sized pirate ships and water-based battles. It opens June 3. The image was released via Business Wire.
Movie Poster Comes Out
Thanks to Jason for alerting me that the makers of the Canadian film The Year Dolly Parton Was My Mom on Tuesday released and posted to their Facebook page the film's official poster, which incorporates the "Dolly" signature logo.
Another Movie Story
Stories continue to be released watching for developments in the Georgia filming of Dolly's next movie, Joyful Noise with Queen Latifah, such as the one here from Smyrna Patch.
'Better Day' Presale For Denmark
The Dollyites online fan club on Tuesday announced another European pre-sale to its members: her Aug. 25 Copenhagen, Denmark, show. The pre-sale begins Wednesday morning.
Another City Joins Library
Jefferson County, Ill., is getting Dolly's Imagination Library early childhood literacy program, TV station WSIL reported here Tuesday.
---
Feb. 15:
Grammy Tribute One Of Night's Best


The Norah Jones-Keith Urban-John Mayer performance of "Jolene" in tribute to Dolly representing this year's Lifetime Achievement Award winners was singled out by most critics as one of the best performances from Sunday's Grammy Awards. MSNBC's Brian Williams called it "excellent" here, The New York Times referred to it as "winsome" here, E! Online said it was "fantastic" here, Salon put it in its top 10 moments of the night here, Rolling Stone noted here that although it was "pretty great" it wasn't as good as The White Stripes' cover of the song, Pop Matters considered it one of the two greatest performances of the night with a "fiery, soulful" rendition here and The Oklahoman considered it "the most tender musical moment of the evening" here. Watch it in the media player above or by clicking here. And thanks to James for pointing me to Yahoo's inclusion of Dolly's 1977 outfit in the wackiest Grammy fashions of all time here.

New Glasgow Date Added
Dolly on Monday added a second concert in Glasgow, Scotland, which she'll play on Aug. 21. Tickets went on sale immediately Monday morning. In addition, her official record label website, DollyPartonMusic.net, sent an e-mail to her Dollyite online fan club members to inform them of pre-sales for her Dublin and Belfast concerts, which will offer seats to members on Tuesday prior to their Thursday public ticket sales. They also revealed Dollyite pre-sales for her two Swedish dates, although that e-mail went out after the pre-sale began Monday. The e-mail noted that U.S. and Australian tour dates "will be announced soon."

'Islands' In Top 10 All-Time Duets
Billboard magazine on Monday counted down the biggest hit duets of all time based on chart performance, and Kenny & Dolly's "Islands In The Stream" came in at No. 9. Read more here.

CMT Profiles 'IWALY'
Dolly's oft-told story of how she came to write "I Will Always Love You" about Porter Wagoner was posted again on CMT.com Monday here. The piece is taken from her interview for the tune's selection as the No. 1 greatest country love song of all time.

'9 To 5' Chat In Arizona
Dolly spoke with Arizona Central here about writing 9 To 5: The Musical, which heads to the state next week.
---
Feb. 14:
New Cardiff, Dublin, Belfast Concerts Added
Three additional European concerts on Dolly's Better Day World Tour were announced in recent days: a second engagement in Cardiff, Wales, where she'll stay an extra night on Sept. 4; Dublin, Ireland, which she'll play on Sept. 14; and Belfast, Northern Ireland, on Sept. 15. In addition, Ticketmaster partner site TicketWeb began offering "Hot Ticket" packages for each of her U.K. dates featuring a guaranteed seat in the first 15 rows, souvenir pen, tour program and souvenir laminate for £199 (about $320 U.S.) and VIP packages for London and Manchester (although if you click on the Manchester one, it says London, so that might be being offered in error) with complimentary drinks prior to the show, a three-course meal, a post-show party with cash bar, tour program and souvenir laminate for £299 (about $480 U.S.). Tickets went on sale Friday for the additional Cardiff date, although it had not been announced in time for Wednesday or Thursday's pre-sales. Tickets go on sale to the general public on Thursday for both her Dublin and Belfast engagements. O2 priority members get pre-sale access starting Wednesday morning for Dublin, but no pre-sale has yet to be revealed for the Belfast date, although The Belfast Telegraph reports here that this concert will conclude the European leg of her tour. Coverage of the Dublin concert is available from Hot Press here and State here.
Dolly's Lifetime Grammy Presented
Dolly was not there in person, but on Saturday she accepted her Lifetime Achievement Award from the Grammys via videotaped message. She noted that she had already won seven Grammy Awards and is continuing to record music, so she joked: "Just because I got the Lifetime Achievement Award doesn't mean I'm done. I hope to win at least seven more Grammys." Coverage of the event is available from Reuters wire service here and Sign On San Diego here. When her honor was recognized during the main Grammy Awards telecast on Sunday night, it was done so with a star-studded performance of her classic "Jolene" by Nora Jones, Keith Urban and Jon Mayer. Miranda Lambert's essay in observance of Dolly's honor is available from the awards' website here.
Chart Updates
The fourth week was not a charm for The Grascals' Cracker Barrel CD, Country Classics With A Bluegrass Spin, featuring Dolly on three songs. The band's video with Dolly for the single "I Am Strong" fell off the Great American Country (GAC) Top 20 Countdown chart on Friday, down from one week at No. 19. (Vote for it in next week's tally here!) On the Billboard charts that came out Thursday, the album fell off the 200-position pop and current albums charts, down from No. 160 and No. 144, respectively, and off the 50-position independent labels albums chart, down from No. 22. The project maintained the No. 1 bluegrass albums position for a fourth week and dipped nine spots to No. 38 country. Elsewhere on the bluegrass list, Rhonda Vincent's Taken, with its own Dolly collaboration, dropped one to No. 15 in its 20th week on the 15-position chart. On the overall charts, Jason Aldean's My Kind of Party rose one to No. 1 country spot and five to No. 7 pop in its 14th week, while Taylor Swift's Speak Now lost one to No. 2 country and No. 8 pop in its 15th week. Up north, The Very Best Of Dolly Parton, Vol. 1, from 2007, re-entered the Canadian country albums chart at No. 48.
'9 To 5' Still In St. Louie
Dolly's 9 To 5: The Musical begins its second of a two-week engagement in St. Louis, Mo., this week, and it continues to draw mixed reactions from critics. St. Louis Today gave it a very positive review here, while Washington University's Student Life found the dialogue and plot weak but the music energetic and acting strong here. Broadway World's St. Louis bureau found the show lacking in spots but conceded it was "funny and cute" and that the audience loved it. Read their review here.
Dolly Tops CMT Love Song List Again
Dolly's "I Will Always Love You" over the weekend retained its title as country's top love song of all time, as CMT counted down the genre's 40 best songs about the emotion. Her classic signature tune had also come in at No. 1 when the network offered its first top love songs countdown, that time with 100 entries, back in 2004.
Dolly's Surgeries A Topic Of Discussion
Dolly's history of going under the knife – and being honest about it – got a shout out last week from The Orange County Register, which spoke with plastic surgery experts and noted that the quality of the work she has had done is good and her personality even better, which explains why her great degree of cosmetic procedures seem to draw less criticism from the public than that of other stars, such as Joan Rivers. Read it here and be sure to check out the slide show of her through the years.
New Film Soundtrack Coming In A Week
The soundtrack to the film The Year Dolly Parton Was My Mom, featuring Dolly covers by Nelly Furtado, Martha Wainwright, the Wailing Jennys and others, hits stores in Canada on Tuesday, Feb. 22, and Amazon.com is showing it available as an import into the U.S. starting March 1. Reserve your copy here!
'Joyful Noise' Update From Georgia
Work on Dolly's film project with Queen Latifah, Joyful Noise, continues in Georgia, with The Marietta Daily Journal delving further into the ladies' stop at a local restaurant to practice a food fight scene here. The owner noted both of them were very nice, but only Dolly took the time to have her picture taken with members of the staff.
Dollywood Unveils Barnstormer
Dollywood took the media on a tour of its newest attraction, Barnstormer, which officially opens with the park's 2011 season opening in a month and a half. Check out coverage from WBIR here and The Knoxville News Sentinel here.
---
Feb. 10:
Wolf Trap Show Added, U.K. Coverage Continues



Word of another U.S. concert from Dolly's Better Day World Tour has slipped out. The Wolf Trap Foundation for the Performing Arts on Wednesday announced she is one of the performers playing Wolf Trap National Park's Filene Center in Vienna, Va., this summer. She's scheduled for a July 31 show at the facility, tickets for which go on sale March 12. Venue officials noted in the announcement that it's her first performance there since 1992. Learn more here. In other tour news, thanks to Jason for alerting me to London's O2 Arena having posted a commercial for Dolly's concert there on its YouTube channel. Watch it in the media player above or by clicking here. And coverage continued Wednesday of the British leg of the tour, with a piece from Glasswerk here and stories on local concerts from Wales Online for Cardiff here and What's On Stage for Bournemouth here.

'9 To 5' Updates From St. Louis
The opening night of Dolly's 9 To 5: The Musical in St. Louis on Tuesday brought reviews in the local press on Wednesday. The St. Louis Post Dispatch didn't like the show here, while theatre publication Review St. Louis loved it here. In related news, Your West Valley in Arizona spoke with cast member Diana DeGarmo in an interview here in advance of the show's Phoenix run Feb. 22-27.

Win Dollywod Passes
Singer-songwriter Addie Brownlee, who paid tribute to Dolly with a birthday concert "I Beg Your Parton" in New York last month, is continuing the celebration with a contest on her Facebook page to give away two season passes to Dollywood. Fans should post a photo of themselves on her Facebook page through Sunday with the words "I Beg Your Parton? I'm Going to Dollywood!" written somewhere in the picture. A winner will be announced on the Facebook page Monday.

Grammy Reminder
Your webmaster is heading out of town with limited Internet access for a couple of days. Consequently, the site's next update might not be until Sunday, so I wanted to remind everyone of the Grammy Awards that air on CBS Sunday night. Although the ceremony usually doesn't dedicate much to its Lifetime Achievement Award winners, they usually at least get a mention, and this year Dolly is one of them. She will receive the honor and be recognized during a private and non-televised ceremony on Saturday night in Los Angeles.
---
Feb. 9:
Pre-Sale Dates, Shows Added In Europe
A little more news came out Tuesday on the European leg of Dolly's 2011 Better Day World Tour, most notably involving ticket pre-sales, Scandinavian shows and that missing date. The previously-revealed but unconfirmed Sept. 6 engagement at the Bournemouth International Centre in Bournemouth, England, that had been reported on this website was missing from the official announcement of this segment of the tour on Monday, but when the performance dates were posted Tuesday on tour promoter Live Nation UK's website (which includes a promotional video for the tour), that concert was back on the list. Dolly's official record label website, DollyPartonMusic.net, which had also left the show out of its listing on Monday, also added it to their report as well on Tuesday in addition to newly announced dates in Copenhagen, Denmark, Aug. 25, Stockholm, Sweden, Aug. 27 and Gothenburg, Sweden, Aug. 28. Thanks to Joe from fan website Dolly Part'ners UK for alerting me to the announcement of pre-sales. Members of London's O2 Arena will be able to access pre-sale tickets starting at 9 a.m. Wednesday for the U.K. dates (Ticketmaster UK indicates that its members will have pre-sale access at that time to all British dates that have been announced, not just the O2). In addition, Live Nation UK subscribers will have access to pre-sale tickets starting at 9 a.m. Thursday. Tickets go on sale to the general public at 9 a.m. Friday. The original press release (minus the Bournemouth show) made eGigs here Tuesday, and individual stories about local shows made London's Docklands here, Newcastle's Chronicle here and Liverpool's Echo here.
---
Feb. 8:
More European Tour Dates Announced
Dolly's management on Monday officially announced several dates for the U.K. segment of her 2011 World Tour, confirming the previously-revealed engagements in Nottingham, Liverpool, Birmingham, Cardiff and Manchester. Missing from the list was the Sept. 6 night in Bournemouth, although the announcement noted that additional dates could be announced later. In addition, the SECC in Glasgow, Scotland, on Aug. 20, London's O2 Arena on Sep. 7, Newcastle's Metro Radio Arena on Sept. 10 and Sheffield's Motorpoint Arena on Sept. 12 were announced. Tickets for these shows all go on sale at 9 a.m. Friday, according to Digital Spy here, which also included the following quote from Dolly: "I had a great time when we were in Europe on the last Backwoods Barbie tour and I expect to have even more fun on the up and coming 'Better Day Tour'. I'm really looking forward to this and I can't wait to see all the fans again. We have a lot of fun things for everybody! Get ready 'cos here I come again!" It was also revealed that the Better Day CD that the tour will be supporting will feature a total of 12 songs. As was previously announced, the collection is expected for an early summer release and will also feature U.S. and Australian dates that are expected to be known soon.
Another DeGarmo Interview Posted
9 To 5: The Musical star Diana DeGarmo spoke with St. Louis LGBT publication Vital Voice here this week as the show comes to the city.
---
Feb. 7:
Grascals Video With Dolly Makes GAC Chart
"I Am Strong" by The Grascals with Dolly, the lead single from their Cracker Barrel-exclusive album Country Classics With A Bluegrass Spin, debuted Friday on the Top 20 Countdown on cable network Great American Country (GAC). The video, which in addition to the band and Dolly features patients from St. Jude's Children's Research Hospital in Memphis, Tenn., came in at No. 19 on the fan-voted countdown. Cast your ballot here for next week's list!
European Dates May Be Correct
I haven't personally confirmed this, but second-hand information suggests that the dates previously announced by Stereoboard and reported here for this fall as part of the British segment of Dolly's world tour that were later removed from that publication's website are likely correct. They appear to be tentative schedulings, so ticket sale dates won't be decided until they are finalized, but for now at least some if not all of those dates seem to be legitimate. Thanks!
Dolly Helps LGBT Charity Auction
Dolly has contributed an autographed poster from her O2 Arena concerts in London that became her concert release Dolly: Live From London, the CD/DVD of the show and her 2011 wall calendar for auction to benefit The True Colors Fund, a charity that entertainer Cyndi Lauper started to support gay, lesbian, bisexual and transgender equality and to combat the problem of gay youth homelessness due to children being kicked out of their parents' homes. Several dozen other celebrities also donated gift packs, meet-and-greets and voice mail message recordings including Ricky Martin, Rosie O'Donnell, Sarah Silverman, U2, David Gray and Lady Gaga. Check out the overall auction here and bid on Dolly's package here. The auction has valued Dolly's gifts at $350, but as of press time the current high bid was $125. The auction ends at 1:16 p.m. Eastern time Thursday.
'9 To 5' Heads To St. Louie
Dolly's 9 To 5: The Musical was to play its final Dayton show Sunday and then head down to St. Louis, Mo., for its Feb. 8-20 engagement there. A Dolly interview with The St. Louis Post Dispatch here helps kick off that city's promotion for the show. Included is much talk about her working on a musical based on her life and repeating her desire for Kristen Chenoweth to play her on stage, something Chenoweth has also publicly expressed an interest in doing.
'Gnomeo and Juliet' Note
The garden gnomes animated picture Gnomeo & Juliet, featuring a Dolly cameo, hits screens Friday, and the director spoke with The San Francisco Chronicle here about the project, including Dolly's "yee-has" in the studio.
Dolly Could Be On Kramer's CD
Could Dolly have recorded vocals for an upcoming country CD by One Tree Hill actress Jana Kramer? Appears that it could have happened. According to MTV here, the actress had tweeted several weeks ago that she had been signed to Warner Brothers Nashville and was recording her first song. It was followed by photos of her in the studio, including one with Dolly here. Although the tweet itself was quickly removed, the pictures stayed up, and MTV noted that now OK! magazine has confirmed the album, although the article makes no mention of why Dolly was in the studio with her or whether she appears on the project.
Dolly Tribute In NY
Prospect Heights, N.Y., bar Branded Saloon is hosting a series of appearances by local artist Viva DeConcini in tribute to her personal idol, Dolly, The Patch reports here. The first night was held last week with additional concerts at 9 p.m. this Monday and next Monday.
Latest Library Expansions Reported
Dolly's Imagination Library literacy program next week adds the Mt. Vernon, Ill., area to its service, according to The Register-News here. And up north in Alaska, the Upper Tanana area affiliate has expanded from two villages to eight, The Fairbanks Daily News-Miner reports here.
---
Feb. 4:
Grascals Start To Dip
The Grascals' Cracker Barrel exclusive, Country Classics With A Bluegrass Spin, with Dolly on three tracks, has started to slide in its third week on the charts, the Feb. 12 tallies issued Thursday by Billboard confirmed. The CD keeps the No. 1 bluegrass position but loses six to No. 29 country, seven to No. 22 independent albums, 61 to No. 160 all-genre pop chart and 49 to No. 144 on the "current" pop chart. Elsewhere on the bluegrass chart, Rhonda Vincent's Taken, featuring a Dolly collaboration, falls two to No. 14 in its 19th chart week. On the overall charts, Taylor Swift's Speak Now remains steady at No. 1 country and rises one to No. 7 pop in its 14th week, while Jason Aldean's My Kind of Party keeps the No. 2 country spot and inches up one to No. 12 pop in its 13th week.
CMT Puts 'IWALY' On Another List
Seven years ago, CMT counted down the 100 greatest love songs in country music history, and Dolly's classic "I Will Always Love You" clocked in at No. 1, leaving fans wondering if it will keep the top spot when the cable music network lists the top 40 love songs in a new countdown for Valentine's weekend. The two-hour special, which its promotional materials note will include "I Will Always Love You," premieres at 8 p.m. Eastern Feb. 12. Read more here.
U.K. Site Rescinds Tour Story
Thanks to Helen for alerting me that the British music blog Stereoboard on Thursday removed the story listing what it purported to be several dates for the U.K. portion of Dolly's tour this fall, which stated that tickets for the concerts would go on sale Friday. The page now provides a message saying "Unfortunately we have had to remove this article from the site." No reason for the removal was given, and it was not immediately known whether the dates that had previously been reported on the site are correct or not.
'Mom' Movie Launches Idol Site
In the upcoming Canadian film The Year Dolly Parton Was My Mom, being released there March 4, an adopted girl idolizes Dolly and convinces herself that the star is her birth mother. The film's promoters have now created a website encouraging people to write in with details of who is their personal idol and why. Entries will be voted on by the public, and the top vote-getters will be profiled in a special feature on the movie's DVD when it is released. Visit the site here. In addition, the film's trailer (which had previously been linked here from its Facebook page) has been released to YouTube and it viewable here.
---
Feb. 3:
Ice Can't Keep Dayton's '9 To 5' Down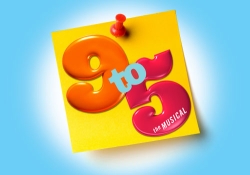 Half the audience stayed home due to an ice storm, and the theatre management worried that the power wouldn't last (the building's electricity was lost for a brief few seconds shortly after intermission started, and the lights managed to otherwise stay on), but "the show must go on," and it certainly did for Dayton, Ohio's opening night of Dolly's 9 To 5: The Musical. Although I've memorized the cast album times over, this marked my first viewing of the actual stage production (from the front row, no less), and I can say it was a thoroughly enjoyable evening of entertainment. Dolly's score is classic Dolly – catchy, clever, witty, and with her usual not-exactly-rhyming rhymes – and just as watching the emotion of Dolly sing her songs in concert adds so much more to the listener's experience, so it is watching this show on stage versus listening to the CD. I was unprepared for the emotional impact of the actresses' performances during "I Just Might" and was brought to tears. It happened again with "Backwoods Barbie." However, the evening's true highlights were the ultimate slapstick of "Heart to Hart" (kudos Kristine Zbornik for a hilarious performance throughout the evening, but especially this scene) and the stunning vocals of Mamie Paris when Judy finally finds her voice and wails at the end of "Get Out And Stay Out."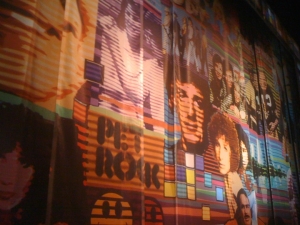 Paris's characterization of Judy was a pleasant surprise, imbuing her with much more innate comedy than Jane Fonda's original (her mannerisms and facial expressions reminded me of Saturday Night Live alum Amy Poehler). As Violet, Dee Hoty commanded the stage (and offered a much better set of pipes than Broadway cast member Allison Janney did on the CD). Diana DeGarmo's Dolly impersonation was charming but reminded me more of a blonde Betty Boop than Dolly. The lines drawn directly from the film worked best, while those written for just the stage version sometimes didn't seem to fit, and those that were significantly altered from the screenplay (such as just condensing the three small scenes of each lady leaving work early and getting an "Atta girl!" and the bar scene where Violet finds her joint in her purse into just one scene of the three running into each other at the elevator and passing Margaret in the hall for one "Atta girl!") might be okay for someone who hasn't seen the movie but for anyone familiar with it, the changes seem quite lacking. Even with its few flaws, the show presents an enjoyable escapist two hours of laughs, tears and song that thoroughly entertain.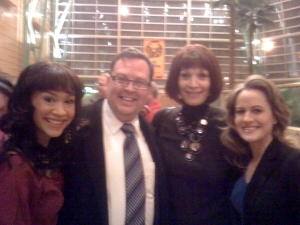 After the show, your webmaster got the chance to meet the three leading ladies at the cast party and spoke briefly with Dee Hoty, who portrays Violet. Asked what the experience of 9 To 5: The Musical has been like, she said: "It's been great. I've had a great time." Asked how Dolly's score differs from other Broadway composers, the three-time Tony nominee told Dollymania.net: "Well, it's different just 'cause it's different. She's a different composer and it's a different, you know, there's different arrangers. I've really enjoyed it. I mean it's not a country score, so I don't, it's like apples and oranges, you know. I've loved everything I've gotten to do, thankfully, so I'm really grateful to have had the chance to do this." The show continues in Dayton through Sunday (with "football widow" specials for Super Bowl Sunday) before proceeding to St. Louis Feb. 8-20. Image above of cast members with your webmaster, from left: Diana DeGarmo ("Doralee"), T. Duane Gordon, Dee Hoty ("Violet") and Mamie Paris ("Judy").
In related news, Dayton TV station WDTN promoted the show with a brief piece here, and St. Louis-area The Alton Telegraph interviewed St. Louisan and associate choreographer Marjorie Failoni (who went on in Dayton as Maria on Tuesday night) here.
Dolly Starts Shooting 'Joyful Noise'
Filming finally started Monday on Joyful Noise down in Atlanta, according to co-star Keke Palmer's website, where she noted it with a blog entry titled "Dolly Parton is so cool!" and a photo of the two together here. Thanks, Chuck!
Another Library Addition
Dolly's Imagination Library literacy program is expanding in Hawaii, according to Maui News, which reports here that children who live between Keanae and Kaupo may now sign up.
---
Feb. 2:
Dolly's First European 2011 Dates Revealed
Stereoboard on Tuesday announced the first dates in the European leg of Dolly's 2011 world tour in a piece here that says that additional U.K. dates are expected to be announced soon and that tickets for these shows go on sale Friday. The new dates are:
• Aug. 22, Nottingham Trent FM Arena, Nottingham, England
• Aug. 31, Liverpool Echo Arena, Liverpool, England
• Sept. 2, Birmingham LG Arena, Birmingham, England
• Sept. 3, Cardiff International Arena, Cardiff, Wales
• Sept. 6, Bournemouth International Centre, Bournemouth, England
• Sept. 11, Manchester Evening News, Manchester, England
The Liverpool and Bournemouth shows are new to Dolly for recent tours, but the other cities are repeat performances. Back in 2008, she played the same arenas in Nottingham, Cardiff and Manchester (selling out Nottingham and Cardiff) and a different arena in Birmingham. In 2007, she sold out in the same arenas in Birmingham, Cardiff and Manchester. She is expected to tour the U.S. in the summer, Europe in the early fall and then Australia in late fall to promote the summer release of her next CD, Better Day. Thus far, the only U.S. dates to be revealed are a pair in July at the Hollywood Bowl. None of her "official" websites or feeds have announced any tour dates.
Dayton Readies For '9 To 5'
Dolly's 9 To 5: The Musical press release made The Columbus Dispatch in Ohio Tuesday, noting the week-long engagement in Dayton (which, if the ice holds off tonight and we still have power tomorrow, your webmaster will be attending and reporting on in Wednesday night's news page update). Read the release here.
---
Feb. 1:
Janney Still Talks Of '9 To 5'
Broadway star of Dolly's 9 To 5: The Musical Allison Janney found the show to be "one of the hardest things I've ever done," according to a brief interview with After Elton.com here. She very much enjoyed it, though, and said one of the perks was she now gets a Christmas card from Dolly (which she loaned out to a couple of friends this past holiday season so they could impress others by making it look like Dolly sent them a card). The musical's touring company (sans Janney) kicks off its Dayton engagement Tuesday night, and look for news from that show from your webmaster, including details from the cast party afterward, unless our Midwest ice storm keeps me home :(
Paper: 'Mom' Movie Getting Buzz
The upcoming indie flick The Year Dolly Parton Was My Mom, hitting screens in Canada March 4, is getting "much buzz," The Montreal Gazette notes in its recap of soon-to-be-released local films here. The project, which features a great deal of new Dolly musical covers, focuses on a young girl who convinces herself that her birth mother is Dolly and sets out on an adventure to meet her.
---