---
www.dollymania.net News March 1999
---
March 29: BMG will release Dolly's Super Hits Vol. 2 on April 27. The track listing is: 1. Real Love, 2. The Bargain Store, 3. Starting Over Again, 4. Don't Call It Love, 5. It's All Wrong But It's All Right, 6. Coat Of Many Colors, 7. The Seeker, 8. I Really Got The Feeling, 9. Save The Last Dance For Me, 10. Old Flames Can't Hold A Candle To You. Pre-order it now here.
* * * * *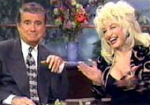 March 27: Dolly was again co-host on "Live! With Regis and Kathie Lee" Friday. In passing, she said she was accepting a humanitarian award this weekend from the American Veterans in Washington, D.C. She talked briefly about shooting the Trio video for "After the Goldrush" the night before with Linda and Emmylou. She also promoted her TNN special on April 1 and the opening of Dollywood.
* TNN finally aired Dolly's new episode of "Prime Time Country" Thursday night. For a recap, click here.
* A friend e-mailed me this article on Dolly's TNN special which appeared in his hometown paper, The Citizen Tribune in Morristown, Tenn., here.
* * * * *
March 25: Dolly is co-writing songs with Elton John to be included in his film company's first motion picture, she announced this morning on "Live! With Regis and Kathie Lee." Dolly was co-hosting the show and guesting with Emmylou and Linda to promote Trio II, and during the opening chat with Regis, she said she spent Wednesday night in a hotel room with Elton John, explaining that his film company, Rocket Productions in England, is to make its first movie soon, and they're "using some Dolly songs as source songs," so Elton and Dolly sat down last night in New York to write some songs together to include in the project: the Queen of Country and the Queen of England! For the recap of the Trio's appearance, see my Trio pages here.
* Our ladies were as divine as ever on "The Late Show With David Letterman" last night. For a recap, check my Trio page here.
* * * * *
March 24: I can't believe it! The strong sales of Trio II have spawned three singles and a video! The Nashville Business Journal reported this week that the Trio will record a video for "After the Goldrush" tomorrow in an old synagogue in New York and that Asylum Records will simultaneously release a single with each of the ladies singing lead: "After the Goldrush" with Dolly, "Do I Ever Cross Your Mind" with Emmylou and "Feels Like Home" with Linda. For the full story, see my Trio page here.
* * * * *
March 21: Dolly will have a cameo in an upcoming film, "Jackie's Back," by production and management team Doug Chapin and Barry Krost, The Advocate reports next week. The film stars Jennifer Lewis and also features cameos by Tom Hanks, Bette Midler, Liza Minnelli, Melissa Etheridge, RuPaul and others.
* * * * *
March 13: Dolly and her upcoming TNN special are featured in the March 23 issue of Country Weekly. For text of the story, plus a couple of bonuses I conjured up, click here.
* * * * *
March 3: Dolly on "The Howie Mandel Show" today recap, click here.
* Dolly was spectacular on "Donnie and Marie" yesterday! For recap, click here.
* * * * *