---
www.dollymania.net News March 2000
---

March 30: It was announced today that Dolly has agreed to host the 35th annual Academy of Country Music Awards, which will be broadcast live on CBS May 3 from the Universal Amphitheater in Los Angeles! Dolly, who has won five ACMs (1977 Entertainer of the Year, 1980 Female Vocalist, 1983 Duet and Single with Kenny Rogers and 1987 Album with Trio) is up for another this year with Top Vocal Event for the Grammy-winning "After the Goldrush" with Linda Ronstadt and Emmylou Harris from Trio II. The show hasn't had a host for the past two years, and the Associated Press reports awards spokesman Paul Shefrin explaining the change with: "Very few people have the ability to host this kind of show. There are very few Billy Crystals in the world. When we found out Dolly might want to do it, we decided to make the change." The last award show Dolly hosted was the 1988 Country Music Association Awards in Nashville.
* The transcript from the Q&A portion of Dolly's National Press Club address has been uploaded here.
* * * * *
March 28:
* I've finally got the first transcript installment of Dolly's address to the National Press Club last week uploaded here.
* * * * *
March 27: From Canada's JAM music site's Saturday review of Rhonda Vincent's Back Home Again CD: "First off, ANYONE who covers Dolly Parton's 'Jolene' has a fine musical head on their shoulders. The Geraldine Fibbers made it one of their greatest songs, along with a reclaimed-from-Reba Fancy, and Rhonda Vincent doing a bluegrass Dolly is simply totally cool." You may read the entire review here and order the CD here.
* This little nugget on Dolly's AAP award from Pigeon Forge's local newspaper here came from Chris at Chris' Dolly Pages. Thanks Chris!
* * * * *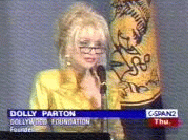 March 25: There's been a lot of press from Thursday's address to the National Press Club, with a widely-published brief Associated Press story on Dolly's address. Original stories on Friday were in, Nashville's The Tennessean here and the Knoxville News Sentinel here
* The Orlando Sentinel also on Friday published an article about Dolly's plans for a Dixie Stampede dinner theater there. You may read it here. Dollywood also has posted a press release on the venture which is available here, on the Australia Dixie Stampede which is in the works (here) and the restaurant's donation of $7 million toward the Dollywood Foundation's Imagination Library program (here).
* According to ICE magazine, Sonya Isaacs' self-titled debut album on Hollywood Records which features Dolly singing harmony will be released May 9.
* * * * *
March 23: Dolly was her usual bubbly, lively self in her address to the National Press Club today at its Newsmaker Luncheon in Washington, D.C. Look for a more detailed report on it here in coming days, but briefly — she discussed the Imagination Library program and announced through Dixie Stampede she just donated an additional $7 million to it; she talked of the importance of an education, noting her realization as a child of the impact reading can have through her mother's reading of the Bible, especially in her famous "Coat of Many Colors" story; and she told just about her entire battery of jokes she always tells about growing up and her body, all to the delightful roars of laughter from the media members present. She joked about how the kids liken her to Santa Claus and some even think she brings them the Imagination Library books herself and occasionally leave gifts for her at the mailbox. She sang the chorus from "Coat of Many Colors" and read the lyrics to a song she wrote for the Dollywood Foundation called "Try," singing the final verse. She noted the success of the foundation's programs, especially lowering Sevier County's drop-out rate from 30 percent down to 6 percent!
* Also during the speech, Dolly formally announced plans for the fourth Dixie Stampede in Australia and also announced her fifth Dixie Stampede in Orlando, Fla., right near Disney World, pending city approval. She repeated her plans for the TV movie Heaven's To Betsy for CBS this fall, saying she hopes to get someone like Gladys Knight and Patti Labelle to perform the two African-American singer roles in the film, and her upcoming re-make of Solid Gold Cadillac for one of Ted Turner's networks. She also mentioned she has several things in the works for feature films through her production company, Southern Light. Dolly also announced that she is working on an all-folk album as her next project, which will consist of traditional songs, mostly English, Scottish and Irish ballads which survive to this day in the Appalachians but also including folk music from other places around the country.
* And, as previously reported here, Dolly was honored yesterday with the Association of American Publishers Honor for her efforts with the Imagination Library. The Washington Post published an article on it today, accessible here.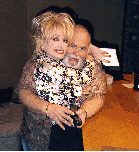 * Advance order your copy of Johnny Russell's April 18 release Actin' Naturally on OMS Records. Dolly performs a duet with Russell on "Making Plans," which he wrote and she previously recorded with Porter Wagoner and again with The Trio. They recorded the duet in December (photo of the two at left, courtesy OMS Records). Order your copy here!
* * * * *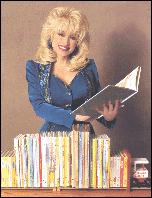 March 22: Dolly today was honored by the Association of American Publishers with its third annual AAP Honors award during the association's annual meeting in Washington, D.C. The award was established in 1997 to honor those outside the publishing industry who help focus the public's attention on American books and their importance to society. It's only other recipients have been National Public Radio and the CEO of C-SPAN. AAP officials said Dolly was chosen for the honor in recognition of her Imagination Library program through the Dollywood Foundation, which provides a free book every month to each preschooler in her native Sevier County, Tenn., and which is expanding nationwide. Pat Schroeder, President and CEO of the Association of American Publishers, said: "This is a woman who is really making a difference. The same love that makes her such an extraordinary performer is transforming the lives of kids in Tennessee, opening up a world of books for them. Soon pre-schoolers all over the country will have a chance to build their own 'Imagination Library.' What a gift!" The award was presented to Dolly by U.S. Secretary of Education Richard W. Riley. The first recipient of the award was Brian Lamb, CEO of C-SPAN, in 1998. In 1999, the honor went to NPR. AAP is the principal trade association of the U.S. book publishing industry.
* * * * *
March 16: Curb Records' website is reporting that Dolly has agreed to record a duet with Hal Ketchum on his upcoming album, his eighth CD to be released but seventh on Curb. No other information is available on the recording.
* * * * *
March 15: The Dollywood Publicity Office has confirmed Dolly will perform her Dollywood Foundation fundraiser concerts in December. The shows are scheduled for 7 p.m. Dec. 15 and 2 p.m. and 7 p.m. Dec. 16. No ticket prices or other information is available yet, but I will pass that along as soon as it is released. And remember, Dolly's only other scheduled concert appearance this year will be at the Stars Over Mississippi fundraiser in Amory. Tickets are still available for $25 reserved seating, $15 general admission, at 1-877-677-8279.
* The Grass is Blue shoots back up the Billboard country album chart in the March 18 edition, earning the weekly "Greatest Gainer" tag. In the first week of sales counted following her performances of "Silver Dagger" on David Letterman and Regis & Kathie Lee, Billboard reports an increase of 1,500 more units sold than the previous week, pushing the CD up from No. 71 to No. 38. It also made the Top Independent Albums chart at No. 28.
* * * * *
March 14: An Australian newspaper, The Edge, in Tuesday's editions reports that Dolly is planning her first Dixie Stampede restaurant outside the United States. The proposed complex in Gold Coast, Australia, would be in the public Neal Shannon Park and include a 12 story, 240 room hotel, the newspaper reports. In a letter to the city council, Dolly wrote that the project would be treated with "the same care and philosophical integrity that has made Dixie Stampede one of the world's most fun, audience participation-themed dinner and show attractions." All negotiations with other parties interested in using the property have been put on hold, it was reported, and a councilman noted that to consider using a public park for such a facility requires the project be "very special." For the full story, click here. The Dixie Stampede currently operates near Dollywood in Pigeon Forge, Tenn., and in Branson, Mo., and Myrtle Beach, S.C.
* CountryCool.com on Monday profiled the ACM nominees for Vocal Event of the Year, including the Trio for their Grammy-winning "After the Goldrush." To view the article, click here.
* * * * *
March 13: The Grass Is Blue is up for its first award, Best Bluegrass Album at the Association for Independent Music (AFIM) Awards, it was recently announced. The CD is up against Dudley Connell and Dan Rigsby's Meet Me By the Moonlight (like Grass, on Sugar Hill Records), Lynn Morris' You'll Never Be the Sun (Rounder Records), Mountain Heart's Mountain Heart (Doobie Shea Records) and Steve Earle and The Del McCoury Band's The Mountain (E-Squared). The awards, for albums released on independent labels, will be given at the AFIM's convention in Cleveland, Ohio, in May.
* The Silicon Valley weekly newspaper Metro on Friday offered a very favorable review for Bryan Sutton's Ready To Go CD, especially noting Dolly's new version of "Smoky Mountain Memories" which is included on the album. The review ended with: "Saving the punch for last: 'Memories of Smoky Mountain' is reason enough to pick this album up. The tune is sung by its composer, Dolly Parton, accompanied only by Sutton's acoustic guitar. The song shows the sweet-voiced lady at a near-shouting unadornedness – here she's breaking out of that Broadway-style theatricality that's her downfall as a singer. 'Memories of Smoky Mountain' is one of those moments that's wormwood and honey mixed." Order the CD here.
* Did you see Thursday night's Who Wants To Be A Millionaire?? Well, the $64,000 question was who wrote "I Will Always Love You" as recorded by Whitney Houston. The choices were Emmylou Harris, Dolly, Carole King and, if I remember correctly, Cynthia Well. The contestant said he thought Dolly wrote it for some reason and knew she had recorded a version of it, so he answered Dolly, which of course was right. Afterward, Regis noted, "She's a talented woman."
* And Faith Hill couldn't do it. In the March 18 Billboard Top 100, she falls from No. 3 to No. 4, and Destiny's Child takes the No. 1 spot away from Lonestar. Had Faith taken No. 1, it would have been the first time since Dolly's "9 to 5" and Eddie Rabbit's "I Love a Rainy Night" that one country artist succeeded another atop the pop singles chart. Lonestar already broke a long dry spell, since before "Amazed" topped the chart Kenny & Dolly's "Islands in the Stream" was the last country song to hit No. 1 there.
* Dolly got an interesting note in the "Commie Girl" column in last week's Orange County Weekly in an article titled "We love a parade: And Dolly Parton loves the gay folk." You may read it here, but be warned it does contain a few four-letter words. The article, about the recent vote in California to prohibit recognition of gay marriages, doesn't explain its inclusion of Dolly, but I would guess it comes from statements she has made supporting equal rights for gays and lesbians.
* Over the weekend, Dollymania welcomed its 40,000th visitor since I started keeping count a little more than a year ago. Thanks to all who've visited! Keep coming back!
* * * * *
March 9: Dolly has won another poll to replace Kathie Lee Gifford on Live! With Regis and Kathie Lee. CountryCool.com surveyed online readers this week using possible co-hosts from the country music genre, with the following results: Dolly, 38 percent; Naomi Judd, 22 percent; Reba McEntire, 21 percent; Jo Dee Mesina, 13 percent; K.T. Oslin, 6 percent.
* * * * *
March 6: Dolly soared to the top of the St. Louis Post-Dispatch poll over the weekend of who should replace Kathie Lee Gifford as Regis' co-host, taking in 68 percent of the vote. The others were Joy Philbin, 11 percent; Carol Burnette and Suzanne Somers, 6 percent; Marilu Henner, 5 percent; Bonnie Hunt, 2 percent. The Arizona Republic on Friday said its own informal polling placed Joy at first place, but some readers also supported Dolly.
* Sonya Isaacs' website on Hollywood Records features an audio clip of "Healing Hands," the song from Isaacs' upcoming CD for which Dolly provides harmony vocals. Also on the site, it recounts how the two came to record the song together: Isaacs was impressed that Dolly didn't just come over to sing with her because her friend Vince asked her to. Dolly requested a tape of the song ("Healing Hands") so she could hear Isaacs' voice before committing to the session. "She had to hear it, she had to see if she liked it and if she could sing it," Isaacs explains. "Dolly came in dressed to kill. She had on a little denim miniskirt and in full hair and makeup. [Dolly was in the house] and she was a blast. She went in and had already memorized the song and knew her part. She started at 10 o'clock and was finished by 11, the whole thing." Parton didn't tell Isaacs directly, but she was obviously impressed by her talent. "While Dolly was in the studio, her two assistants came in and they told me that on the way over Dolly had said to them, 'If Emmylou Harris and Linda Ronstadt had a daughter, she would sound just like Sonya!' Coming from Dolly Parton and being compared to those two artists, that was a huge compliment." The site may be accessed here.
* I haven't seen it yet, but I'm told that Dolly is featured in the March 21 issue of Country Weekly with a beautiful full-page photo in the Star Stats section, a note in the Catching Up section with Freddy Fender that she is planning a duet with him on his next CD and a note about the Dolly rose. Thanks, Robert!
* * * * *
March 3: Dolly is the scheduled speaker for the March 23 luncheon of the National Press Club, it was announced Thursday. The NPC has held the 12:30 p.m. luncheons in Washington, D.C., several times each month since 1932, usually featuring world political or economic leaders.
* * * * *
March 1 – UPDATE: The Academy of Country Music nominations came out tonight, and Dolly picked up one nod with Linda Ronstadt and Emmylou Harris for Vocal Event of The Year for "After the Goldrush" from Trio II. The show airs May 3 on CBS. The other nominees are "A Country Boy Can Survive (Y2K Version)," Chad Brock with Hank Williams Jr. and George Jones; "God Must Have Spent A Little More Time On You," Alabama and N'Sync; "My Kind Of Woman, My Kind Of Man," Vince Gill and Patty Loveless; and "When I Said I Do," Clint Black with Lisa Hartman Black. Vince and Patty beat Trio for the CMA version of this award, but Trio won the Grammy in that category last week. Dolly has five ACM Awards, including 1988's Album of The Year, the original Trio.
* A producer with the BBC contacted Dollymania this week inquiring about contacts with her managers and agents on possibly filming a documentary special to air on that network in England. I passed along the information to her, so hopefully you readers in Great Britain may have a show to watch on her in a few months!

March 1: Dolly was as bubbly and funny as ever on The Late Show With David Letterman Monday night (photo at left courtesy CBS Television). She pulled a note from her cleavage which was her own Top 1 list of the No. 1 reason everyone's glad to have Dave back on the air: without him, two-thirds of "CBS" is just "BS!" He congratulated her on the Trio's recent Grammy win. They chatted and joked around, and she performed beautifully "Silver Dagger," her new single from The Grass is Blue (Order here!). His usual frisky self, Dave asked her to go do something with him afterward, and she responded by asking how much he wanted to do and if his heart could take it. "Kill me! Kill me!" jokingly replied the host, recently back on the air after major heart surgery.
* Then on Live! With Regis and Kathie Lee Tuesday, she presented Regis with a bouquet of flowers, joking that she was trying to fill the post which Kathie Lee announced Tuesday she will leave this summer (Dolly has co-hosted in her absence several times). Although she got a little off the beat on "Silver Dagger" there and apologized to her band for messing up, she still brought thunderous applause from the audience.
* Why wasn't Dolly at the Grammy Awards? Well, on both shows this week, she explained that she had committed to attend a friend's baby shower that night and didn't realize that it conflicted with the awards. Rather than disappoint her friend, she opted out of the Grammy ceremonies. She confessed, though, that she didn't think the Trio would win Best Country Vocal Collaboration for "After the Goldrush," but said she was very pleased they did receive the trophy.
* Village Voice critic Robert Christgau on Wednesday releases his annual catch-up column, a review of numerous albums issued over the past year. He included The Grass is Blue in honorable mentions. However, he stuck Hungry Again in the "duds" bin. Boo on him!
* * * * *