---
www.dollymania.net News March 2008
---

March 31:
Dolly Makes L.A. Appearances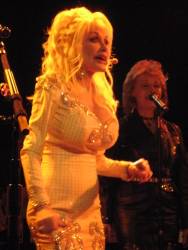 Dolly held her own amid the spectacles of Hollywood Friday, doing her PR stops in Los Angeles. First, she promoted the upcoming 9 To 5: The Musical premiere in the city this fall by appearing at a media event at House of Blues with the show's producers and cast, including Megan Hilty, who plays her "Doralee" role in the adaptation. She took to the stage to tell jokes and perform "9 To 5" and "Backwoods Barbie," which Hilty will sing in the show. Read recaps from Broadway World here (which includes video of her stage performance and an interview) and LAIST here. There are also some images from the evening available from Getty here and JAMD here. Thanks, Kim!
Then it was off to The Roxy, where she provided the crowd with an intimate, six-song set with her full band. Reports are that the looked and sounded awesome, keeping her legendary humor in the forefront, quipping about a backup singer's water breaking or her peeing on herself when she noticed a wet spot on the stage from accidentally kicking over a water bottle. When the speakers rumbled during one song, she jokingly asked if they were having an earthquake. She interacted with those at the foot of the stage, saying hi and giving them "high-fives," and when one fan asked for an autograph, she said she had to wait until she finished performing and then would sign for him. Celebrity guests in the crowd included blogger Perez Hilton and comedienne Kathy Griffin (Hilton also reported Songcatcher star Emmy Rossum and 9 To 5: The Musical star Alison Janney were in the house). Check out images (such as the one at left, courtesy Gary and Larry Lane) from the evening here. Special thanks to the several attendees who wrote in with their comments and the few who sent pictures! Her set list from the evening was as follows:

Better Get To Livin'

Backwoods Barbie

9 To 5

Jolene

I Will Always Love You

Jesus & Gravity
I'm told, though that it wasn't without problems, as there apparently was a miscommunication between Dolly's team and the event organizers, GoCountry 105 FM. Although the organizers were aware that Dolly had given tickets to a handful of contest winners through her Dolly-ites fan club, they were unaware that Dolly's staff had informed each that they could bring a guest. As a result, the organizers pulled them to the side while they researched the mix-up and admitted everyone else in line for the standing-room-only, general admission show, resulting in the Dolly-ite winners losing their places in line and being admitted last.
In related news:

While in L.A., Dolly did an interview with Entertainment Tonight's Kevin Frazier, with the piece to air on Monday's program. It is syndicated, so check local listings for stations and air times, but it airs at 7 p.m. Eastern/6 p.m. Central in most markets.

Hilty talks to Theatre Mania about her role in the musical and Dolly (saying she's "one of the most kind and down-to-earth people I've ever met -- even if she is a living legend") in an interview available here.

Rollin' On A Dollywood River
How Dollywood and Dollywood's Splash Country cope with water rides in a drought gets noticed in The Knoxville News Sentinel. Take a read here.
---
March 29:
Dolly To Rock The Roxy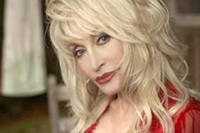 Dolly was all set to rock out Los Angeles Friday night, with her private club show at The Roxy celebrating the release of Backwoods Barbie and the first birthday of the city's country music radio station, Go Country 105. No details had come out as of the time of this update, but several readers were supposed to be in attendance, so I'd expect a few notes on the performance soon. Gossip guru Perez Hilton announced on his site he would be there, so he'll likely have some coverage, and word is that Megan Hilty, Doralee in 9 To 5: The Musical, was supposed to make an appearance as well.
Irish Chart Update
If she manages to hold out just two more weeks, Dolly will have made it a year on the Irish pop albums chart with The Very Best Of Dolly Parton, Vol. 1. The collection rises nine to No. 87 in its 50th week on the chart, it was announced Friday.
'She's A Good-Hearted Woman'
The angelic side of Dolly got another look Friday with a piece in The Utica Observer Dispatch in New York. The former facilities manager at the local theatre recalled when her concert in 1993 was postponed by a blizzard and the hotel where she had an entire floor to herself tried to kick out a Pee Wee hockey team, so she offered them the rooms on her floor and she slept on her bus instead. Read it here.
---
March 28:
'Barbie' Remains Steady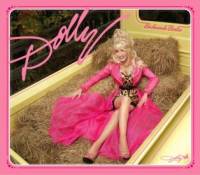 Likely benefiting from sales due to the formal announcement of her American Idol appearance next week, Dolly's Backwoods Barbie remains steady in the April 5 Billboard country albums chart released Thursday, its fifth week on that tally. On the pop charts, though, it sees a slight rise, gaining six spots to No. 85 pop and eight places to No. 91 comprehensive in its fourth week on both of those lists. Over on the independent labels albums chart, the collection inches down one to No. 10 in its fourth week. Up north, the album falls six to No. 20 Canadian country in its fourth week. As was reported here Monday night, the CD's second single, "Jesus & Gravity," debuts at No. 58 on the magazine's official country singles chart.
Other CDs Gain, Too


In chart developments on other projects, Dolly's 16 Biggest Hits climbs up another two digits to No. 45 country albums in its 24th chart week stateside while The Very Best Of Dolly Parton, Vol. 1 dips six to No. 40 Canadian country. I Will Always Love You: 17 Inspirational Love Songs From Today's Top Country Artists, with Dolly's title track, drops one to No. 75 U.S. country in its 10th week. Brad Paisley's Time Well Wasted, featuring Dolly on "When I Get Where I'm Going," rises one to No. 10 on the country catalog albums list. The self-titled debut from Taylor Swift gains one to No. 1 country in its 74th chart week and rises four to No. 8 pop with 57,000 copies sold, while Alan Jackson's Good Time falls one to No. 2 country and nine to No. 14 pop in its third week.
'Idol' Watch Continues
Dolly's American Idol appearances next Tuesday and Wednesday continue to draw press. Entertainment Weekly reports here that Chikezie, who was voted off this week, had planned a rock-soul take on "9 To 5" for her mentoring episode. The media Down Under is focusing on Aussie-born contestant Michael Johns and Dolly here. A general story on her appearance makes About.com here, and The Knoxville News-Sentinel's Terry Morrow gets a nationally-syndicated piece through Scripps News here about the show.
New Interviews Posted
Speaking of Terry, he has a great interview with her about her recent moves into cyberspace in The Knoxville News-Sentinel here (which happens to mention this website). Another promotional interviews related to the album come from Jam Base here, which praises her talent as a songwriter and entertainer, and she comments: "I don't take myself that serious but I take my work dead serious. This is what I do. This is my art, my gift. I'll never give it up."
New Reviews, Too
Meanwhile, the good reviews continue to come in on the collection. I'm told the new issue of Country Weekly out now gives it 3.5 stars, saying her return to mainstream country "proves that her appeal still eclipses genre considerations." Thanks, Lance! And The Tampa Tribune here mirrors that with three stars and commenting that while one might pick up the CD as a novelty or out of respect for her long career it's worth it for the music alone.
More Library Stories As Well
Thursday's Imagination Library round-up finds Dolly's international literacy program getting coverage from The Franklin County Citizen in Georgia here, The Oshkosh Northwestern in Wisconsin here and The Bluefield Daily Telegraph in West Virginia here.
---
March 27:
Meet-And-Greets Could Be Coming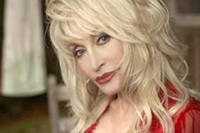 Although no details have been revealed yet, Dolly's official music website, DollyPartonMusic.net, on Wednesday added dates and times on the Meet & Greet section of its tour page. Each concert on the spring U.S. leg of her Backwoods Barbie World Tour has been assigned a 9 a.m. Central time and a date beginning with April 7 for the tour opener April 22 in Philadelphia through April 30 for her May 11 engagement in Dallas. Exactly what the dates and times mean has not been disclosed, but it appears they are most likely the times at which Dolly-ite fan club members will be able to register for chances to win backstage passes for her meet-and-greets during these concerts. When the fan club first launched in October, information was posted on the website which indicated that every member would receive one opportunity each year to meet Dolly, but it was quickly removed after the first day or so of fans joining. At the time, officials with Dolly's management said that the information has been posted in error because details of the meet-and-greet program had yet to be finalized, and a FAQ answer was posted on the site noting that members would have a chance to "win" a meet-and-greet pass. Over the ensuing five months, fans have asked again and again on the website's message boards about whether this would be offered, with the answer always being that it was still being organized. Look for more information here as it becomes available.
'Jesus' Chart Data Revealed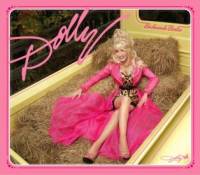 Billboard on Wednesday released a little more information on Dolly's chart debut for the second single from Backwoods Barbie, "Jesus & Gravity." For the week of airplay covering March 17 to March 23, the song logged 57 spins at the country radio stations which report for the magazine's chart. That resulted in an audience of 591,000 listeners, up a whopping 348,000 from the previous week.
One Fan Gets A Cool Video
Congratulations to Dollymania reader Arelis, who it was announced on Wednesday was the winner of Dolly's contest to personalize a greeting on a fan's MySpace page. Take a look at the video here!
Good Golly, Aunt Dolly
Some Dolly quotes about her newfound Hannah Montana popularity with pre-teens thanks to guest spots on the hit television show starring goddaughter Miley Cyrus made Great American Country (GAC) here, where she is the cable network's Artist of the Month.
---
March 26:
Philly Loves 'Barbie'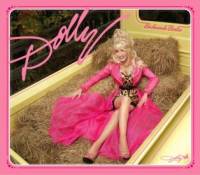 Another critic has fallen in love with Backwoods Barbie, as The Philadelphia Daily News on Tuesday gave the collection an "A-," calling it "darned good" and saying that even the cover tunes "are properly Dollywoodized." Read the full review here.
In related news:

Dolly's official music website, DollyPartonMusic.net, on Tuesday added her San Diego concert to its itinerary and announced that members of its Dolly-ites fan club will be able to purchase pre-sale tickets beginning Wednesday. As was reported here Monday night, Dolly will play the city's Humphrey's Concerts by the Bay on Aug. 1 with public ticket sales beginning Saturday.

Steven Lippman, aka Flip, posted on the DollyPartonMusic.net news page Tuesday that in addition to having directed the album's first music video, "Better Get To Livin'," he also wrapped filming over the weekend for its second video, "Jesus & Gravity." He didn't divulge many details but said it was filmed in New York City. The site reported that the new video will premiere in mid-to-late-April.

Check out what blog After Ellen has to say about the album and getting Dolly back on radio here. (The website even provides a link to the list of radio station request line phone numbers which The Dixie Chicks published to promote their most recent CD so that you can call and request Dolly.)

Honoring The Pen Of Dolly
Dolly's upcoming American Idol appearance and Sevierville's Mountain Soul Vocal Competition, which requires contestants to sing only Dolly-written songs, make The Seymour Herald this week with a piece posted here on Tuesday. Contestants may perform any song which Dolly composed except "I Will Always Love You." The official list of tunes is available from Dollymania here, and applications for the May competition are due April 11.

'ET' Fetes '9 To 5'
Counting down the top "Chick Flicks" of all time, Entertainment Tonight on Tuesday placed Dolly's acting debut, 9 To 5, at No. 4. Although featured prominently during the program, the segment used just interview clips that were a couple of years old and showed outtakes from the 25th anniversary DVD released two years ago.

Library On Tour
Dolly's Imagination Playhouse will take the musical adaptation of The Gruffalo, featuring music by Dolly, on a two-month tour to promote literacy, The Kingsport Times News in northeast Tennessee reported Tuesday here. The show will be performed at several locations in Tennessee and North Carolina.
---
March 25:
'Jesus' Hits No. 58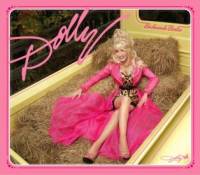 Dolly might soon be shouting, "Thank you, Jesus!," as the second single from Backwoods Barbie, "Jesus & Gravity," will debut at No. 58 when the 60-position April 5 country singles chart is released by Billboard later this week, the magazine has confirmed. The debut is primarily due to Dolly's doing telephone interviews with several radio stations in key markets earlier last week, a move which prompted the stations to start playing the song, but audiences must like the track and request it for momentum to grow and allow it to climb the charts. The CD's first single, "Better Get To Livin'," stalled at No. 48.
San Diego Added To Autumn Part Of Tour
Another California date for the fall leg of Dolly's 2008-2009 Backwoods Barbie World Tour has been revealed. San Diego's Humphrey's Concerts by the Bay announced Monday that Dolly will play there on Aug. 1. Tickets for all individual concerts in their 2008 season at the venue go on sale at 10 a.m. Saturday.
LA Tickets Offered For Dolly-ites
The show is just four days away, but if you didn't win tickets from LA radio station Go Country 105, the Dolly-ite fan club, operated through Dolly's official music website, DollyPartonMusic.net, began on Monday taking entries to win tickets to her CD release club show in Los Angeles on Friday. Entries will be accepted through 9 a.m. Wednesday, with 15 members being randomly selected to win a pair of tickets each. To enter, visit the Contests page in the Dolly-ites section of DollyPartonMusic.net.
Park Hits New Season In Stride
Opening day at Dollywood was covered this week in local newspaper The Mountain Press with a story here noting the 700 additional parking places added this season, the new walkway connecting Craftsman's Valley and Timber Canyon, the $5 million water ride River Battle and an expansion to the Eagle Mountain Sanctuary including a gallery for bird viewing.
Library Makes The News
Several communities' chapters of Dolly's international Imagination Library literacy program were profiled in papers across the country Monday. The most touching was the tale in The Everett Herald in Washington State here of Shelly Greer, who came home last year from a Rotary Club convention excited after learning about the program and planning to bring it to her area's children, only to be diagnosed almost immediately with cancer and pass away two months later. Her local community took up the cause in her memory and have launched the program there. Across the nation in Welch, W.V., McDowell County appears to have gotten every single child in the community who is eligible to sign up just 10 months after launch, according to The Bluefield Daily Telegraph here. The Gaffney Ledger in South Carolina reports here that the local chapter in their community is holding a 5K run and one-mile run to benefit their program. And a gala event in Morristown, Ind., will support their local chapter, says The Shelbyville News in a story here. The program, active in hundreds of communities in the U.S., Canada, England and now Scotland, provides one free, age-appropriate, hardcover book every month to every child birth to age 5 whose parents sign up in a participating community, regardless of income. Books are selected by a blue ribbon panel of education and child development experts. Dolly's foundation pays all administrative costs through its centralized operations in Tennessee, and local sponsors pay the actual cost of book purchase and shipping, approximately $30 per child annually.
---
March 24:
More Glowing Reviews For 'Barbie'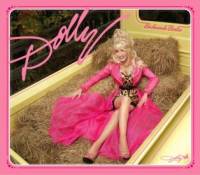 The San Francisco Gate over the weekend offered Dolly's Backwoods Barbie with its highest level of praise, "wild applause," which on its music critic scale is a perfect score. The critic laments that country radio likely will ignore the project, but it "stands tall amid the processed drums and plastic vocals of most of today's Nashville product." Read the full review here. On the other side of the country, The Pittsburgh Tribune-Review had similar praise, saying her "Southern charm and wit, and the bouncy energy and enthusiasm that goes with it, shine beautifully" on the album. Giving it three-and-a-half out of four stars, the critic says one listen will convince people to see her concert in the city next month. Read that review here. Meanwhile, the Associated Press story linked from here Friday night made its rounds all over newspaper and magazine websites over the weekend, providing even more coverage for the CD.
Comcast Adding RFD-TV
Fans of classic Dolly in some markets can rejoice, as America's largest cable system will soon begin testing RFD-TV before audiences. The Tennessean reported here that Comcast customers in the Nashville area will be the first to get it, starting March 31, to be followed by test runs on the cable line-ups in Pennsylvania, Maryland, Delaware, Virginia, Florida, Oregon and Washington. Hopefully, additional markets will get it in the future if it brings in viewers in these early regions. The network, previously available only on satellite television, airs repeats of the old Porter Wagoner Show, on which Dolly was a regular cast member from 1967 through 1974, and an interview program hosted by Nashville legend Ralph Emery. In addition, the revived Crook & Chase country music interview program is one of its newest additions. Emery led the campaign to get it added to Nashville's cable system, which included soliciting letters of support from several industry bigwigs, including Dolly herself.
Latest Library Happenings
Dolly's international Imagination Library literacy program got some ink over the weekend, too. The Post Standard in Syracuse, N.Y., profiled its local Cayuga County chapter here, while The Gadsden Times in Alabama covered an upcoming fund-raiser for the project there here.
---
March 22:
GAC Countdown Showcases Dolly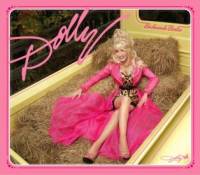 Dolly had her say Friday on the Top 20 Country Countdown on cable network Great American Country (GAC), which interviewed her during the program. She promoted the new CD, discussed her excitement at it making it so high on the charts and how she came to record "Jesus & Gravity," for which she said she was shooting a video this week. Also covered were the upcoming tour (which she revealed will feature five tracks from the new album), her upcoming Broadway musical, appearing on an upcoming episiode of American Idol (on which she'll sing "Jesus & Gravity") and the Imagination Library, among other subjects. Check out a preview story from the channel here. The show repeats over the next few days, and her interview airs in two segments right before the week's No. 3 video.
In other news:

The disc and upcoming tour get mentions, as do her favorite TV shows, in The Minneapolis Star-Tribune here.

"Barbie with business savy" is how the Associated Press is describing her when discussing her recent enterprises, including the new record label and the new album. Take a read from The Washington Times here.

Down In Ireland
The Very Best Of Dolly Parton, Vol. 1 could soon fall back off the Irish pop albums chart, it was revealed Friday. For the week, the CD tumbles 43 spots to No. 96 in its 49th week on the Emerald Isle's tally.

Dollywood Images
Dollywood officially opened for its 2008 season on Friday, after a couple of days of season passholder previews. (Of course, Dolly won't be there until April 11 and 12 for her celebrations this year.) In addition to the $5 million River Battle Ride, connector road and return of Thunder Road, there are a few other surprises in store. Thanks to Jason Worley for sending in several shots of the park's new expansions this year. Take a tour starting here!

'Someone To Watch Over Me'
A shot of Dolly will keep an eye on a British councilman, The Camden New Journal noted Friday in a story about his choice of prominently displaying an autographed picture with the singer from her recent visit to the country. Read it here.
---
March 21:
Dolly Drops To No. 13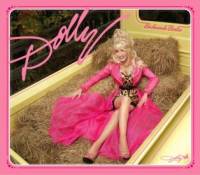 As was expected, Dolly fell out of the top 10 country albums Thursday when the March 29 Billboard charts were released. Backwoods Barbie slips four places to No. 13 in its fourth week on the country albums tally. Over on the pop side, it drops 47 spots to No. 91 in its third week. In other charts, it falls off the 25-position Internet sales chart, down from No. 23 in its third week, inches down one to No. 9 indie in its third week there, and tumbles 53 digits to No. 99 comprehensive in its third week. Up north, the collection loses three to No. 14 country in its third week.
In Other Chart Developments


Elsewhere in Billboard, the compilation 16 Biggest Hits by Dolly regains two to No. 47 country albums in its 23rd chart week. A different collection, The Very Best Of Dolly Parton, Vol. 1, rises four to No. 34 Canadian country. I Will Always Love You: 17 Inspirational Love Songs From Today's Top Country Artists, featuring Dolly's signature title track, nears the end of its chart run, falling 14 to No. 74 U.S. country in its ninth week. Brad Paisley's Time Well Wasted, which includes the Dolly duet "When I Get Where I'm Going," remains steady at No. 11 on the country catalog albums list. Alan Jackson's Good Time holds on to the No. 1 country spot in its second week but dips four to No. 5 pop, while Taylor Swift remains No. 2 country in its 73rd chart week but loses three to No. 12 pop.
Win Concert Tickets
Dolly's official music website, DollyPartonMusic.net, this week added a Contests section for her Dolly-ites fan club members and first up is a chance for two free tickets to one of her April concerts on the 2008-2009 Backwoods Barbie World Tour. (The page also references a contest to be in Dolly's upcoming video for "Jesus & Gravity" but states that the winner has already been selected, eve though I don't believe the contest was ever posted on the site to take entries from which to choose a winner.)
Dolly On GAC
Great American Country (GAC) Artist of the Month Dolly gets interviewed on the cable channel's Top 20 Country Countdown this week, the network revealed. Host Nan Kelley talks with her in Nashville about the new CD, her upcoming Broadway musical and the upcoming tour. The episode premieres at 8 p.m. Eastern Friday with repeats Saturday, Sunday and Monday.
'Better' In Italy
It's not a real official chart and only uses a handful of radio stations to report airplay to it, but the European CMA charts show Dolly's "Better Get To Livin'" debuting this week at No. 1 on the Italian country singles tally.
---
March 20:
'Idol' Officially Announces Dolly's Role


Although they had been originally scheduled to formally announce her upcoming appearance last week and she let the word slip out months ago, American Idol officially disclosed on Wednesday night's program that Dolly will be one of this season's mentors on the FOX mega-hit. The season's other mentors are Sir Andrew Lloyd Webber, Mariah Carey and Neil Diamond. USA Today's official Idol blog here immediately opined that Dolly will be the only one of the four who will provide an entertaining program, predicting that the other three will result in "dismal" performances by the contestants. And Knoxville News-Sentinel television columnist Terry Morrow offers his vision for what Dolly tunes the singers should perform here.
More Good Words On 'Barbie'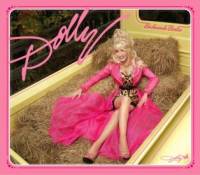 The Houston Press this week offers praise for Dolly's Backwoods Barbie, saying she is "beyond legendary" and that the project at worst is "mere fun" and at best "it's a keen insight into the heart of a country-music icon." Read the full review here. And Philadelphia Weekly provides similar words, noting that her music is "campy, catchy and endearingly sincere" and that the CD "competes with the best of the current Wal-Mart country" (the reviewer's term for mainstream country music). Read that one here.
In related news:

XM Satellite customers will get a chance to hear Dolly chat with Marty Stuart on Stuart's American Odyssey program Friday.

Thanks to Lauren and Dave for letting me know that other calls Dolly made this week to radio stations to promote the album were Raleigh, N.C., station WQDR 92.7 FM on Monday and Philadelphia powerhouse 92.5 XTU on Tuesday morning.

Library Expansions Earn Coverage
Dolly's Imagination Library literacy program is coming to Columbia, Mo., and local officials made the big announcement to the media, garnering coverage from The Columbia Missourian here, Columbia Tribune here and TV station KOMU here. The program's expansion in Nova Scotia, Canada, received some coverage from Halifax's Chronicle Herald here.
---
March 19:
Dolly Does Radio Rounds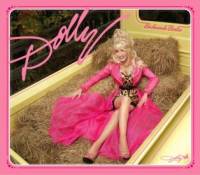 Dolly was making her way around the dial Monday and Tuesday, calling in to radio stations across the country to promote Backwoods Barbie and the new single, "Jesus & Gravity." Monday heard call-ins to Chicago's U.S. 99 Country, among others. Listen to their interview with her here. With LA's Go Country 105 (which, alas, hasn't posted it online), she recounted how her back has mended and she's feeling great and ready to go. She said she and her band have been rehearsing for the upcoming tour and are all set to put on their show. Thanks, Mike! And Tuesday morning, she called into Charlotte, N.C.'s WSOC, which has the interview posted in two parts here (check out what she has to say about how many presidents she's met and the choices for the next one she could meet). Thanks, Solomon!
In related news:

The album's first single, "Better Get To Livin'," this week fell off the PowerSource magazine Christian country singles chart, down last week's peak at No. 13 in its sixth week on the tally.

And just the third bad review I've seen of the CD was released Tuesday (interestingly, they've all come from Canadian newspapers). This one, from The Calgary Herald, called the project a "disappointment," saying it is ruined by "overly glossy, poppy production." Read it here.

The album didn't make Hits Daily Double's chart this week, indicating that it will not be in the top 50 pop albums this week due to selling fewer copies in its third week than the No. 50 CD, which moved just over 12,700. The top 50 included eight country titles, so she should be lower than No. 8 and quite possibly out of the country top 10 when the full charts are revealed Thursday. It probably sold around 10,000 copies for its third week, which would put its three-week total since its release in the U.S. at about 53,000 copies.

International Books Get Noticed
Dolly's Imagination Library literacy program was back in the news Tuesday, but not for its U.S. projects. The program's expansion into Scotland garnered coverage from the BBC here and Galloway Gazette here, while one of Canada's new chapters made Nova Scotia's Nova News Now here.
---
March 18:
N.Y. Show Added To Tour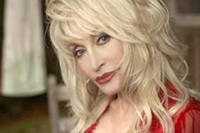 Dolly has unexpectedly added another stop to the spring U.S. leg of her 2008-2009 Backwoods Barbie World Tour, it was revealed Monday. New to the itinerary is an April 26 concert at the Broome County Veterans Memorial Arena in Binghamton, N.Y. Tickets go on pre-sale for Dolly-ite members at 10 a.m. local time Wednesday via Ticketmaster, with the pre-sale ending at 10 p.m. Friday. Seats become available for the public at noon Saturday.
Another 'Barbie' Review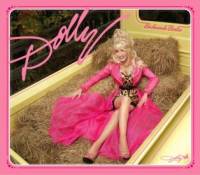 Up north, Toronto's National Post in Canada on Monday offered its review of Backwoods Barbie, calling the collection "much like Parton's entire career: a little bit heartfelt, a little bit hokey and completely Dolly." Read the full review here.
---
March 17:
LA Station Doing Irish Trip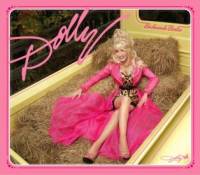 SoCal fans better get to callin'! Thanks to Mike for tipping me off that LA mega station Go Country 105 FM is sending a couple of fans to Northern Ireland to see Dolly this summer. Go Country 105, which is also hosting her Backwoods Barbie CD release party as the station's first birthday party on March 28, will give the lucky winners airfare to Belfast, hotel, tickets to the show, cash and admission to a Dolly meet-and-greet. Those in the area will be able to listen to the station for the request to call in to enter the contest, but members of its Go Country club will be able to find out what hours to listen. Learn more here.
In other news about the album:

Dolly called in to talk to the DJs on Detroit's 106.7 FM The Fox, discussing the CD, the tour, the upcoming Porter Wagoner tribute at Dollywood and more. It was noted that her children's book, I Am A Rainbow, is now scheduled for a June 2008 release, and she reiterated that she was only joking when she said that her famous chest had caused the back problems which delayed the start of the tour (she said she pulled her lower back, not her upper or mid-back, "and I know my butt's not THAT big!") The entire interview is available for online streaming here. Thanks, Aaron!

Speaking of which, although it's been more than a month since the back injury announcement and its consequential tour postponement, Country Weekly makes mention of it in the new issue out today, blaming the delay on her breasts and taking the opportunity to cite several of her greatest quips about her famous bosom.

The CD got plugged in a brief story and 11 Questions with Dolly in AOL's Spinner magazine posted online late Friday. Read the article, in which she pleads for country radio to play her once more, here and the Q&A here.

Thanks to Richard for pointing out that it's featured in this weekend's Target ad again, but this time with a price drop to $7.98 for those wanting a bargain.

Park Preview
Dollywood opens to the public in just four days, and the annual Festival of Nations earned a profile in The Chattanooga Times Free Press over the weekend. Take a read here.

Library Gets Scottish Brogue
The first Scottish community to join Dolly's Imagination Library international literacy program is, appropriately enough, Wigtown. The Scotsman made that astute observation over the weekend in announcing the program's expansion into the country in the Machars area of Galloway, which includes Wigtown, Newton Stewart and Whithorn. It is hoped that Dolly will be able to make a stop in town when she tours Europe this summer. The story is available here.
---
March 15:
Latest Word On 'Barbie'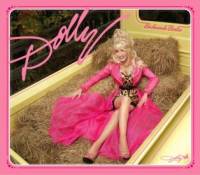 Another reviewer is praising Dolly's Backwoods Barbie with The Washington Blade singling out the title track, "Shinola" and "Cologne" as stand-out cuts and the two singles, "Better Get To Livin'" and "Jesus & Gravity," as the best tracks on the CD, noting about the latter that Dolly "can take material that would be sappy and bubbly in lesser hands, and make it not only palatable, but endearing." Read the full review here. In related news, "Livin'" gains three this week to No. 13 on the PowerSource magazine Christian country singles chart in its sixth week there.
Morrow On Opening Weekend, 'Idol'
Terry Morrow of The Knoxville News Sentinel this week makes a big deal over Dolly's Grand Opening appearance at Dollywood not falling on the park's actual opening. However, her annual first appearance at the park has not coincided with its actual opening day since 2004. Beginning in 2005, the actual public opening has been pushed back earlier and earlier into March, while her appearances have remained the first or second weekend of April, so the timing is nothing new. The park opens this year on March 21, and Dolly visits April 11 and 12. Read his column here. Also, while it isn't available online, I understand his column Thursday confirmed Dolly will appear on American Idol this year as a mentor, working with the contestants the last week of March, guidance which will be used for the April 1 show, before performing on the results program on April 2. According to several media reports, mentors were supposed to be officially announced on air during Wednesday night's show this week, but they were not, so the "real" announcement still has yet to be made. Dolly had stated in a couple of interviews late last year that she had agreed to serve as a mentor this season, and her official website, DollyParton.com, had listed the news in the site's meta tags, allowing it to show up in the site description on search engines for several months now, although no further mentions of it came thereafter. Fans have openly wondered since the postponement of her February and March concert dates due to a back injury whether the doctor's orders to rest would sideline her from the Idol mentoring spot, so it now appears she'll still appear on the program.
Rising On The Emerald Isle
The Very Best Of Dolly Parton, Vol. 1 climbs back up four spots to No. 53 in its 48th week on the Irish pop albums chart, it was revealed Friday.
Share Your Dolly Pics!
As part of Dolly's time as Great American Country's (GAC) Artist of the Month, the network is asking fans to submit their original photos of Dolly for its website's Ultimate Fan Gallery. Post your pics here!
More Library News
Fairbanks, Alaska, is gearing up to try and bring Dolly's Imagination Library literacy program to town. Read more from the Fairbanks Daily News-Miner here.
---
March 14:
'Barbie' Still In Top 10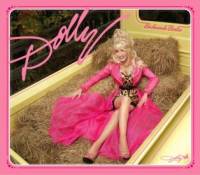 Although sales figures reported by Hits Daily Double indicated she would be around No. 7 country and No. 38 pop for the week, the handful of retailers who report to Billboard but not to Hits made the difference for a couple of other albums to drop Dolly a little further down the chart, the magazine revealed Thursday in the March 22 numbers. In its third week on the country side, Backwoods Barbie earns a second week in the top 10, but it falls seven spots to No. 9. In its second week on the pop tally, the CD tumbles 27 spots to No. 44. On the other lists, it falls off the 25-position digital album sales chart for legal downloads (retailers like iTunes) after one week at No. 14, dips six to No. 8 for its second week on the independent albums chart, slides five to No. 23 in its third week for the Internet sales chart and drops 28 places to No. 46 comprehensive albums. In Canada, it makes it to No. 11 on the country albums list, making its debut in the top 50 (which is the reported list). It actually showed up on the chart the previous week due to street date violations across the border, but it was just at No. 81, and generally only the top 50 spots are released. It just barely missed the Canadian pop 100 this week, though, as the No. 10 country CD was No. 100 pop.
On The Other Charts


In other chart news, Dolly's 16 Biggest Hits falls four this week to No. 49 country albums in its 22nd chart week, according to the March 22 Billboard charts. Up north, The Very Best Of Dolly Parton, Vol. 1 loses seven to No. 38 Canadian country. I Will Always Love You: 17 Inspirational Love Songs From Today's Top Country Artists, with Dolly's on its title track, inches down four more to No. 60 U.S. country in its eighth week. Brad Paisley's Time Well Wasted, with "When I Get Where I'm Going," moves up one to No. 11 on the country catalog albums list. With 119,000 units moved in its first week, Alan Jackson's Good Time debuts at No. 1 country and pop, while Taylor Swift knocks Dolly out of the No. 2 spot by falling one from the top spot with her self-titled debut collection in its 72nd chart week, gaiing three to No. 9 pop.
Dolly On 4-H Compilation


The 4-H Club this week announced that March 25 will see the release of Clover Country, a compilation CD to benefit the organization featuring country stars who are former 4-H members. Faith Hill, Johnny Cash, Alabama, Vince Gill, Sugarland and more contribute previously released tracks to the collection, as does Dolly, whose "My Tennessee Mountain Home" is her selection. Reserve your copy here.
Library Latest
Dolly's Imagination Library literacy program is coming to Pictou Landing, Nova Scotia, Canada, The Pictou County Nova Scotia News reported Thursday. Read about the expansion here. News wasn't so positive out of Marion County, Ark., where the Baxter Bulletin reported here that their local program is suspending operations due to lack of local funding.
---
March 13:
More Critics Discuss 'Barbie'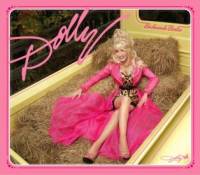 Dolly's Backwoods Barbie continues to turn critics' heads with its artistry. On Wednesday, The Hartford Courant offered a very positive review, noting that the collection "showcases her vitality and versatility." While the reviewer notes that "Drives Me Crazy" isn't "exactly her forte," he concludes that the disc proves she "remains one of the best combinations of personality and technique music has to offer." Read the complete review here. Knoxville's Metro Pulse this week also weighs in on the album, offering here that while the first half of the CD wasn't necessarily to the critic's taste, overall it is "a satisfyingly big-sounding album" and that the second half finds Dolly "sounding more convincing, more like herself. And that's all we wanted."
'A Heart Beneath The Boobs'
Alabama's Sand Mountain Reporter this week offers one of the most touching and poetic Dolly stories I've ever seen, as the former Mayor of Dollywood, who since retiring has written as a columnist for the newspaper, recounts his observations of Dolly the kind-hearted star making every kid feel like he or she is the only person in the room when she meets with terminally ill children each year as part of Make A Wish. Take a read here.
Collins Tribute Pushed To Summer
Touring website Pollstar this week puts a time frame and title on the upcoming Judy Collins tribute collection which Collins herself produced and is releasing on her own label. As you may recall, Dolly recorded "The Fisherman's Song" for the collection. The website states that the album will be called Born To The Breed and will hit stores this summer. It had originally been planned for a spring release. Others on the CD will include Rufus Wainwright, Joan Baez, Arlo Guthrie and more.
Party On, Dolly
Thanks to Stan for tipping me off to his recent Dolly Rama party in New York, which he threw in lieu of her original Radio City Music Hall concert date that was postponed until May. Catch a recap of his shindig here.  
---
March 12:
'Barbie' Should Be No. 7 This Week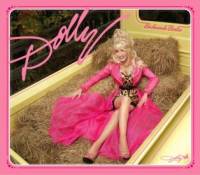 Dolly should stay in the top 10 country albums and top 40 pop charts with Backwoods Barbie for the second week after its release, early sales data show. Final figures from Hits Daily Double, which counts up nearly all of the retailers' sales that are also used to calculate the weekly Billboard charts, on Tuesday showed Dolly dropped 41 percent for second week sales to 15,681. This resulted in a fall on its chart from No. 18 pop to No. 39 and from No. 2 country to No. 7. The space between her CD, sixth place The Eagles and eighth place Sugarland is just a couple hundred copies each way, so it is possible when the final few retailers who don't report to Hits are included, she could be anywhere from No. 6 to No. 8 country on Thursday's official Billboard tally, but a No. 7 finish is the most likely result. Likewise, on the pop charts, her sales should put her at No. 38, but given the close differences between the albums there, it could really be anywhere between around No. 36 and No. 42. Her sales for the second week, though, are still impressive. These days, most new release CDs see a decline of between 60 percent and 80 percent for their second week (the previous week's top two debuts, Janet Jackson and Erykah Badu, for example, each saw their second week sales drop 71 percent, while the third-best debut last week, Webbie, fell 59 percent), so Dolly's decrease of just 41 percent is very good. As happened last week, and was noted here last night as a possibility, Dolly's sales shot up with the final few retailers who reported last for the Hits numbers, as she remained out of the top 50 pop list and top 10 country when about 75 percent of sales were reported as of early Tuesday afternoon, reappearing only when those last 25 percent reported in. Responding to last week's No. 17 pop debut and No. 2 country position, Dolly on Tuesday said she would have liked to have topped the chart, but the sales were still very pleasing for her. In a prepared statement, she commented: "Boy, am I a happy girl!  Thanks for the second chance for the backwoods Barbie, you're a doll! I like being #1 but am excited about all the great numbers on the new CD."
More On '9 To 5' Show
Center Theatre Group in Los Angeles has announced that its 2007-08 season ticket subscribers will have the first opportunity to purchase tickets for the 2008-09 season, which will include the world premiere of Dolly's 9 To 5: The Musical. They should begin receiving information this month for season ticket purchases. After season ticket sales are completed, single tickets to the show will be made available to the public in early summer 2008. The show, with an entire new score by Dolly, will run at the Group's Ahmanson Theatre in LA Sept. 3 through Oct. 19 in advance of an expected 2009 move to New York's Broadway. Read more here.
---
March 11:
Seats Will Be Available For Porter Tribute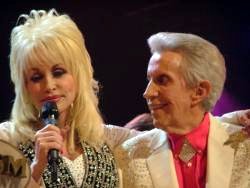 A little more information came out on Monday regarding Dolly's planned tribute to the late Porter Wagoner, her former mentor and longtime duet partner, during the opening weekend festivities at Dollywood next month. CMT.com columnist Hazel Smith revealed in her weekly column here that Dolly intends to deck her band out in the Wagonmaster costumes that Porter's band used to wear and that she will bring Don Warden, Porter's former steel guitar master and Dolly's longtime road manager, back to the stage to perform with them. And to answer the many e-mails which have been sent to the site since word of the tribute plans broke a few days ago, I can tell you that a park rep confirmed to Dollymania that the event, which I understand will include some music but not be a full concert, will have a limited number of seats available to the public on a first come basis, as has been the case for most of Dolly's major staged appearances at the park in recent years. In addition, he confirmed that the rose ceremony in Porter's memory to take place that weekend is not expected to be open to the public due to space limitations. Although the park actually opens to the public on March 21 (and the new $5 million River Battle ride should be operating at that time), Dolly always visits around the second weekend in April for the annual "Grand Opening" celebration, which this year falls April 11-12. Typically, she makes media appearances at the park on Friday that are not open to the public, followed by her annual 6 p.m. parade through Pigeon Forge. On Saturday, she usually makes several public appearances at the park, including a parade (weather permitting) which finds her in exotic costume. Image of Porter & Dolly at the Grand Ole Opry in May 2007 is copyright © T. Duane Gordon/Dollymania.net. May not be reproduced without prior written consent.
'Barbie' Not High In Preliminary Sales Numbers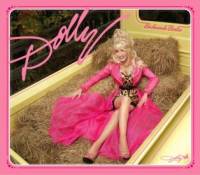 Early sales data available Monday night don't show Dolly remaining in the top 10 country or top 50 pop albums, but of course that could easily change as more stores report in their totals. With about two-thirds of stores reporting sales Monday night, Hits Daily Double shows no Backwoods Barbie among their top 50 sellers, of which 10 country titles are on the list. However, as was shown last week with the massive leap her sales showed when the last third of stores reported to the service, the majority of her sales came from those late-reporters, so she could easily re-appear when the final tally is released Tuesday.

Thanks to the several site readers Down Under who wrote to confirm that the CD has yet to be issued in Australia. In addition, reports from British readers are that very, very few retailers in the U.K. are stocking the album at all, and it has received almost no promotion overseas. I would expect that to change, though, when she heads across the pond this summer for the European leg of her Backwoods Barbie World Tour 2008-2009.

There won't be any Dolly on the country singles chart when it comes out later this week, Billboard confirmed Monday. Backwoods Barbie's first single, "Better Get To Livin'," fell out of the 60-position tally last week and did not get enough airplay in the past week to return. And its second single, "Jesus & Gravity," so far has yet to catch on at country radio, so it hasn't earned enough airplay to debut yet. On the PowerSource magazine weekly Christian country singles list, though, "Better Get To Livin'" remains steady at No. 16 in its fifth week on that chart.

Another Idol Wants To Meet Dolly
What is it with American Idol contestants and Dolly? Of course, Kellie Pickler long professed her idolization of Dolly, finally getting to meet her several months ago. Now, Carrie Underwood has added her name to the list of Dolly adulators, saying she is the one artist she is dying to meet. Read more in an interview with The Sacramento Bee here.
---
March 10:
Philly Praise, No U.K. Debut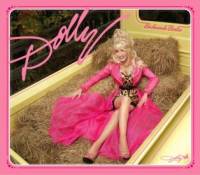 Backwoods Barbie received another three-star review over the weekend, with a critic from The Philadelphia Inquirer saying here that she backs up the title track's pledge that she runs "true and deep" with the songs on this collection. He notes that she doesn't "gussy" up the tunes too much but that the best tracks are "unabashedly hard country." In other album news, the CD didn't sell enough copies in the U.K. to make the British top 75 albums charts, and it also didn't debut in the top 20 Australian country chart, although I'm not sure if it was actually released Down Under.
Paying Honor In Song
Check out a couple of new musical tributes to Dolly. Country Mountain Masters has released an instrumental CD available here of a dozen Dolly classics set in an acoustic, mountain arrangement. And singer Michael Jason Frost has done "Jesus, Elvis and Dolly," a song which transforms her into an angel giving him a tour of Heaven. Hear it on his MySpace page here.
---
March 8:
Dolly Does L.A.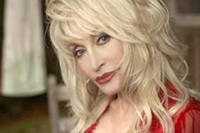 The first fall date in the continuing 2008-2009 Backwoods Barbie World Tour has been revealed: Aug. 3 at The Greek Theatre in Los Angeles. Additional dates throughout the U.S. and Canada are expected. This one is being offered for advance tickets through the Premiere Marquee Club through March 25, but membership requires reserving tickets for multiple concerts at this venue and/or the city's Gibson Amphitheatre. Public ticket sales, or Dolly-ite advance tickets, have yet to be announced (and the show is so far off that I doubt they'll be available for quite some time or that any other fall dates will be announced for several weeks, if not months).
More Critics Enjoy 'Barbie'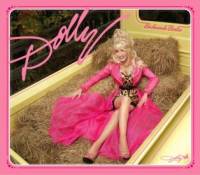 Dolly's new No. 2 country hit album Backwoods Barbie continues to turn critics' heads. Friday's Los Angeles Times here gives it two-and-a-half stars, singling out the title track, "Better Get To Livin'," "Tracks Of My Tears," "Shinola" and "Cologne" as excellent selections. Although it says the quality isn't as high as the artistic value of her recent bluegrass-inspired works, enough of the songs are worthwhile to confirm Dolly "is one of the greatest country writers and singers of the last half century to make it worth hearing." The Wichita Falls Times Record News gives it a "B" here, saying it's "as good an album as any she's ever done" but lamenting that it still is highly unlikely it will get enough attention from today's country radio to make a difference in her career. And London's The Telegraph throws in its two cents here, saying Dolly's "country-girl heart beats true as ever" even on the over-the-top pop production numbers.
Irish Chart Update
The compilation The Very Best Of Dolly Parton, Vol. 1 regains eight places to No. 57 in its 47th week on the Irish pop albums chart, it was revealed Friday.
Couple More 'New' CDs Out
Thanks to Solomon for alerting me to a couple of additional Dolly budget CDs released in recent weeks by SonyBMG Special Marketing. Although it was re-issued last year overseas as a 2-on-1 set with Great Balls Of Fire, 1980's Dolly, Dolly, Dolly is now available in the U.S. as a sole CD complete with the original cover artwork. Get yours here! In addition, the label has released another compilation CD, again containing many of those same old songs that keep showing up again and again (but also including one or two that haven't been on that many collections, although they are already available on CD). This one is titled Love Songs, although it's different from the disc of the same name the label put out a couple of years ago. It's available here.
---
March 7:
'Barbie' Lands On Other Charts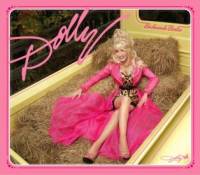 Billboard on Thursday officially released its March 15 charts, and as was previously reported here, Dolly's Backwoods Barbie debuted at No. 17 pop with 27,000 copies sold in its first week and shot up 46 points to No. 2 country in its second week, of course earning that chart's "Greatest Gainer" distinction for the greatest leap on the tally. (As was reported at the time, it had debuted on the country chart a week early due to street date violations, when retailers sell copies before the album's actual release date.) In addition, the collection is the "Hot Shot Debut" for the highest-debuting disc on the independent labels albums chart, coming in at No. 2 in its first week there, and is No. 18 for comprehensive album sales. Over on the Internet sales chart, it dips two to No. 18 in its second chart week there, while on the digital albums chart (for download purchases from retailers such as iTunes and Amazon MP3), it debuted at No. 14. The disc was released a week later in Canada, so its chart debut there should come next week. Across the pond in the U.K., the album was apparently delayed by about two days getting sent to most stores (no reason has been given for the delay), so copies were not sold by the deadline to allow it to have debuted in this week's charts but it should show up in this coming Sunday's tally. In related news, check out a new review of the disc from Blogcritics here, which says simply it's "a real good album."
Porter Tributes Planned At Dollywood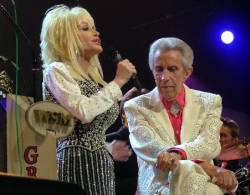 Dolly will dedicate much of Dollywood's April 11-12 annual "grand opening" weekend to the memory of mentor Porter Wagoner, she told Knoxville radio station WIVK and The Knoxville News Sentinel this week. The weekend will include several commemorative events in honor of Wagoner, who died in October. According to the newspaper, these will include a "musical tribute" to him and a rose planting ceremony (the park plants a Dolly Parton rose plant for each of her musical friends who passes away) in addition to a permanent display at her Chasing Rainbows museum. Read more here. (And revisit the Dollymania permanent tribute to Wagoner in a special section accessible here.) Photo of Porter & Dolly at the Grand Ole Opry in May 2007 is copyright © T. Duane Gordon/Dollymania.net. May not be reproduced without prior written consent.
More Chart Updates


In other chart news, Dolly's 16 Biggest Hits slips one digit this week to No. 45 country albums in its 21st chart week, according to the March 15 Billboard charts. As was reported Wednesday night, the single "Better Get To Livin'" falls off the 60-position country singles tally, down from No. 60 in its 16th week. Across the border, The Very Best Of Dolly Parton, Vol. 1 rises three to No. 31 Canadian country. I Will Always Love You: 17 Inspirational Love Songs From Today's Top Country Artists, featuring Dolly's signature tune as its title song, falls three to No. 56 U.S. country in its seventh week. Brad Paisley's Time Well Wasted, with "When I Get Where I'm Going," rises three to No. 12 on the country catalog albums list but falls out of the top 50 Canadian country albums, down from No. 44. With about 32,000 copies sold in its 71st week, Taylor Swift's self-titled debut CD rises one to regain the No. 1 country spot but dips two to No. 12 pop, while Dolly, of course, takes the No. 2 country place.
---
March 6:
'Barbie' Best Dolly Pop Debut Ever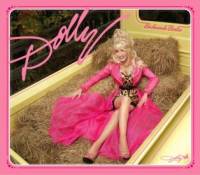 Dolly's new CD, Backwoods Barbie, will give her the highest pop albums chart debut of her career, Billboard revealed Wednesday. The collection will come in at No. 17 pop and No. 2 country in the official March 15 charts with a total of 27,000 copies sold, the magazine said. Although she's had three titles reach higher spots on the pop side (1987's Trio at No. 6, 1980's 9 To 5 And Odd Jobs at No. 11 and 1993's Slow Dancing With The Moon at No. 16), each of those albums debuted at a lower place on the charts and worked its way up. (At the time, it was common for albums to debut lower and climb the charts, but that is rare nowadays, as albums usually debut at their peak positions today.) It also marked her highest week of sales since the Honky Tonk Angels project with Loretta Lynn and Tammy Wynette moved about 40,000 units during the holiday week of sales in December 1993 and her best position on the country chart since Eagle When She Flies went to No. 1 in 1991. If this collection doesn't move higher in coming weeks to grab the pole position, it will be her sole album to peak at No. 2 country and will be her seventh-highest charting album after the six that have hit No. 1 in her career.
In related news: