---
www.dollymania.net News April 2000
---

April 27: Dolly's Canadian holiday film A Christmas Rap is apparently filming, or at least that's what Lily Tomlin said was why Dolly was absent from American Movie Classics/Romance Classics' 20th anniversary screening of 9 to 5 in New York on Tuesday. In a segment on Entertainment Tonight Wednesday, Tomlin and co-stars Jane Fonda and Dabney Coleman said the only bad thing about the night was Dolly's absence, which Tomlin said was due to her filming in Canada. (The film had been postponed and threatened not to film at all due to lack of snow in our neighbor to the north.) And although Fonda said she has no plans to take up film acting again, Tomlin said her biggest wish is for Fonda to find a project to produce which would reunite the three ladies on screen again. In the Christmas comedy, Dolly runs an orphanage which takes in a former convict as a worker.
* From an Associated Press article which moved on the wire on Monday previewing next week's Academy of Country Music Awards with host Dolly: ". . . 'We take pride in bringing a little bit of Hollywood to country music,' said ACM producer RAC Clark, son of 'American Bandstand' legend Dick Clark. 'And Dolly has that connection to Hollywood.' . . . Parton noted, 'I'll just try to keep things moving, and if I've got something fun to say, something clever or something meaningful, hopefully I'll be able to do that and make it all seem like it's going faster.' . . . Parton, who will perform her bluegrass version of Billy Joel's 'Travelin' Prayer,' promises to bring spontaneity to a show that has done without a host for the past two years. 'I have to stick to the cards as far as knowing who the guests are and what they're going to do,' she said. 'But you know me well enough to know that I can't stick to nothing.'"
* MSNBC's gossip column on Wednesday trashed Kathie Lee Gifford's original song, "Only My Pillow Knows,"her duet with Dolly from Kathie Lee's upcoming CD, Born For You. A source at the Dove Awards, where the duo premiered the song, told MSNBC that Kathie Lee's statement that God has been her comforter and her "pillow" resulted in barely suppressed giggles throughout the crowd as they began the tune. "She sang it with Dolly Parton," said the attendee. "It was horrible. Even Dolly couldn't save it."
* * * * *
April 25: Academy of Country Music Awards host Dolly will participate in a tribute to the late Tammy Wynette during the CBS broadcast of the show on May 3, it was announced Monday. Wynette, who died in 1998 at age 55, will be the first posthumous recipient of the ACM's Pioneer Award, the Associated Press reports. Joining Dolly in the tribute will be Trisha Yearwood, The Judds, Patty Loveless and Martina McBride. A close friend of Dolly's, Wynette's last Top 10 album (and only one since 1976) was 1993's Honky Tonk Angels with Dolly and Loretta Lynn, which was certified gold and hit No. 6. After that, her final success was 1995's reunion CD with ex-husband George Jones, One, which reached No. 12.
* This interesting nugget came from Monday's New York Post. Authorities in Manhattan have arrested Edward Weslock, believed to be one of the nation's worst deadbeat ex-husbands. Weslock disappeared in 1995, leaving his wife penniless and working $8 an hour at a bakery. At the time of his capture, he owed $1.5 million in back alimony. He was apprehended at Kennedy International Airport, about to board a flight to the French Riviera with a young woman. The Dolly connection? The couple were neighbors to Dolly's Fifth Avenue apartment in New York, and Dolly let the jilted Leslie Weslock use her telephone after her own had been disconnected for her inability to pay the bill. For the full story, click here.
* * * * *
April 24: The new web site for Stars Over Mississippi, the benefit concert in Amory which Dolly will headline Oct. 7, is up and running! To visit it, click on the banner at the top of this page. Tickets are still available; call the toll-free number for yours now!
* * * * *
April 21: The Philadelphia Inquirer Tuesday included a brief article on Dolly's upcoming events. Among the tidbits: she's writing music for Heavens To Betsy, which will film this summer and air this fall on CBS (possibly during sweeps week); and she expects sometime to record Trio III with Linda and Emmylou. Read the entire story here.
* On her new CD, God and The FBI, Janis Ian has recorded her tribute to the women she believes are the most legendary country singers — Dolly, Patsy Cline, Kitty Wells and Emmylou Harris. It's titled "Boots Like Emmy Lou's."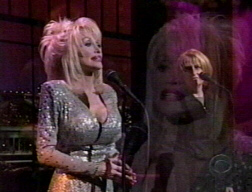 * My friend Kenny submitted this pic he took from the TV of the repeat of Dolly's performance on David Letterman. Pretty neat! Thanks, Kenny!
* And Dolly performed with Kathie Lee Gifford Thursday night on the Dove Awards their duet "Only My Pillow Knows" from Kathie Lee's upcoming CD. The pair were featured on Entertainment Tonight Thursday rehearsing the song. The full Dove Awards broadcast is syndicated. Click here to see when it will be shown in your area. Click here to order Kathie Lee's CD, to be released May 2.
* Late Wednesday night, Dollymania passed 45,000 visitors! Thanks to all who've visited and everyone who comes back! And remember to cast your vote for Dollymania, the only five-star Dolly site on the Internet, at StarPages by clicking on the graphic below.

* * * * *
* Check out Knoxville News-Sentinel's guide to Dollywood's 15th season here.
* * * * *
April 15: It's opening day at Dollywood! And the Knoxville News-Sentinel has coverage with a great preview article in Friday's paper here.
* The Detroit News on Friday published a review of The Grass Is Blue by A.J. Flick of The Tucson Citizen, which read: "Good golly, Miss Dolly, how could this be the first bluegrass album you've ever recorded? If anyone ever had a right to perform bluegrass, it surely would be Parton, whose hardscrabble early life has been documented in her songs. For this project, Parton is surrounded by pals and bluegrass virtuosos, including producer Steve Buckingham, Jerry Douglas on dobro, Sam Bush on mandolin and backing vocals by Alison Krauss, Patty Loveless and Rhonda Vincent, among others. Parton mixes five original tunes along with well-loved standards including Shorty Medlocke's 'Train, Train' and a version of 'Travelin' Prayer' that would make its composer, Billy Joel, proud." He gave it three stars, or the "worthwhile" category, only one less than the newspaper's top rating of four stars. Order it here!
* * * * *
April 14: Dolly has been named the Top International Independent Label Artist at the annual British Country Music Awards this week, Countrycool.com announced Thursday. Her critically-acclaimed bluegrass CD The Grass is Blue, released through the independent label Sugar Hill Records and Dolly's own Blue Eye Records and currently in its 23rd week on the U.S. country chart and No. 1 on the U.S. bluegrass chart, spent 18 weeks in the U.K. Top 20 country album charts, peaking at No. 8. Other winners in the international categories were the Dixie Chicks for Best Group/Duo and Best Album, Reba for Best Female Vocalist, George Jones for Best Male Vocalist, Brad Paisley for Rising Star of The Year, Alison Krauss & Union Station for Best Bluegrass Group and Patsy Cline for the Country Legend Award. The Grass is Blue, which was released too late for consideration in this year's Grammy Awards, is also nominated for Best Bluegrass Album at the Association for Independent Music Awards in May. Order it here! Thanks, Justin!
* * * * *
April 13: The Detroit News on Tuesday weighed in with its own picks of America's top divas in recognition of VH1's annual all-female concert, putting Dolly on the list! In one section it noted: "Divas, from Diana Ross to Dolly Parton, possess an intangible quality, like the explosion that occurs when talent and temperament collide." You can read the story (and offer your feedback) here.
* * * * *
April 11: Dolly's AAP appearance got a mention in Saturday's Washington Post. Check it out here.
* Once again, Dolly is nominated for the Golden Voice Awards, an awards show recognizing the legends of country music to take place June 12 at the Opryland Hotel. She is up against Roy Clark, Skeeter Davis, Ferlin Husky and Mel Tillis for all-time entertainer and is also nominated with Porter Wagoner for best group.
* * * * *
April 8: Although there is a lot of public support for her to do so, don't look for Dolly to replace Kathie Lee Gifford on Live! With Regis and Kathie Lee. She told the Associated Press this week that even though she's enjoyed substituting as Regis' co-host she doesn't think she has what it takes to replace Kathie Lee full time and would get "bored" with the job. However, she added that she would still like to host a children's television show.
* Dolly plans to perform "Travelin' Prayer" from her bluegrass CD The Grass is Blue when she hosts the Academy of Country Music Awards next month, according to a story on Country.com Friday about her recording promotional spots for the program. The article also said she has had three new dresses made especially for the show and that she is considering recording a second bluegrass album before she does the folk album she is currently planning. To read the full article, click here.
* * * * *
April 7: I finally finished transcribing Dolly's address to the Association of American Publishers. Read it here.
* * * * *
April 6: The Association of American Publishers noted the following in its March monthly report: "Flashing the sassy charm that has become her trademark, Dolly Parton accepted the AAP Honors and spoke touchingly about her own childhood and about the serious purpose behind her Imagination Library program: to give kids a better start in life through the gift of books. AAP's gift of $5,000 to the Imagination Library , presented by Education Secretary Richard Riley, was matched by the Country Music Association with a check presented by Rich Murray of CMA. Noting that with funding help from businesses and individuals, Imagination Library programs are now springing up in other parts of the country, Ms. Parton used the occasion to announce her own commitment of an additional $7 million to help take the program to other communities."
* * * * *
April 3: I'm told Dolly is in the April/May issue of Country Music Magazine, which includes a photo of her at her Country Music Hall of Fame medallion ceremony. The magazine also has a review of Rhonda Vincent's Back Home Again, calling her"Jolene" cover "haunting." (Order your copy here.) Thanks, Sheena!
* * * * *