---
www.dollymania.net News April 2001
---

April 25-30:
Dolly Library Gets A Plug
Catherine Darnell, a columnist for Nashville's The Tennessean, recently offered a wonderful column praising Dolly's Imagination Library, the program operated out of her Dollywood Foundation which provides one free book per month for every child in Sevier Country from birth to age 5 to promote literacy. The column focuses on Dolly's hope to take the program statewide in her native Tennessee, asking local businesses to assist in the program. She's even prepared a video to promote the library, noting: ''My dream has been for every child to have a library of books. The Imagination Library is designed to help children dream more, learn more, care more, be more . . . Reading to preschool children is one of the most important things we can do for them and their futures." To learn more about the program, contact Tennessee coordinator Dana Moore at dpil@bellsouth.net. Read the full column here. (And I'm pleased to announce that The Greater Jackson Foundation, central Mississippi's community foundation, has awarded $6,000 in grants to the Canton/Madison County Public Library here to create a branch of the Imagination Library here! For more information about The Greater Jackson Foundation, click here.)
Dolly 'Fests' Up
This weekend is the world-famous bluegrass hoe-down known as MerleFest, with Dolly as one of the headliners scheduled to take the stage on Saturday (April 28). The 14th annual event, held in Wilkesboro, N.C., to benefit the local Wilkes Community College, was founded by Doc Watson in memory of his son, Merle, with whom he recorded 20 albums and won two Grammy Awards in the 1970s. Other stars at the festival, which starts Thursday and runs through Sunday, are Earl Scruggs, David Grisman, Mary Chapin Carpenter, Sam Bush, Ricky Skaggs, Rhonda Vincent, Nickel Creek and Bela Fleck. Be sure to visit the News page next week for a full re-cap. Frequent site contributor Debbie Poole has been granted press credentials as the official Dollymania correspondent for the festival (thanks, Debbie!), but anyone who attends is invited to submit photos and news for use on Dollymania. (Check out the official MerelFest Website here.)
---
April 24:
May 8 Not 'Lucky'
Apparently, the release of Hal Ketchum's upcoming CD Lucky Man, which features a Dolly duet on the Sherrie Austin-written song "The Lucky Ones," has been delayed by Curb Records. CDNow and CDUniverse have both removed the CD from their listings, Amazon.com says no release date has been given, and Tower Records notes that the CD is "on hold." I checked the Curb Records site, and all it says is the CD is due out "soon." It is not listed in their current week's update of CD releases through June. The album was originally scheduled for release on May 8, the same day as the Songcatcher soundtrack. Dollymania will keep you posted when any new information becomes available.
Dolly Sales Brisk
One of my sources out there, or as I like to call them, "spies," obtained for me the Soundscan sales figures which were used for the April 28 edition of the Billboard album charts, in which Little Sparrow and The Grass Is Blue are No. 30 and No. 74, respectively, on the Country Albums Chart. For the week, Sparrow sold 4,472 copies, down 322 from the previous week. Since its release in January, it has sold 107,942 units in the U.S. Blue, on the other hand, sold 1,323 copies for the week, down 100 from the previous week, for a grand total of 137,130 since its release 18 months ago. And remember, your average bluegrass album sells only 10,000 or 20,000 copies, so as many reviewers have pointed out, Dolly's sales are the bluegrass equivalent to multi-platinum NSYNC or Brittany Spears sales. Thanks!
Playin' With A 'Pro'
In a "20 Questions" interview with Country.com, Nickel Creek mandolinist Chris Thile was asked about playing on Dolly's Little Sparrow and how that has helped his career. He replied: "It's been wonderful playing with Dolly. She is such an amazing performer. I feel like I take a class in performing every time I do anything with her. Being on national TV with her is such a great learning experience. You sit and you watch what she does. If I'm ever in those kinds of positions, I would hope to conduct myself and be as lovable and entertaining as she is. She's amazing. Being in the studio with her too – to be there while a real pro does her thing. Any of her scratch vocal tracks could have been used on the album. She's just amazing that way. It's really inspiring. She takes performing just as seriously as recording. To make it all really important, she's great at that." The full Nickel Creek interview is available here.
Splish, Splash
Dollywood announced Monday that several Olympic champion swimmers will be on hand with Dolly for the May 19 grand opening of her new water park, Dolly's Splash Country, in Pigeon Forge, Tenn. Olympian swimmers from the 2000 Olympics to take part include Brooke Bennett, Jason Lezak, Mark Ruiz and Ed Moses. "Who better to show that Dolly's Splash Country is good old American fun than a group of champions like these," Dolly said. Bennett is a three-time gold medalist, Moses won the gold and silver, Lezak was on the gold-winning 400-meter individual medley team, and Ruiz is a 16-time U.S. National Champion. "You don't need to be an Olympian or professional swimmer to have fun at Dolly's Splash Country," Dolly said, "those folks just prove if you dream and want to do something badly enough you can take a fun hobby like swimming or in my case, singing, and reach your dreams." Also joining Dolly as a special guest for the opening will be John Torres of Long Island, N.Y., winner of her national "Name the Waterpark" contest.
MIA Part IV
I'm told that Seattle-area Dolly fans also missed her stint on Austin City Limits. The show was scheduled for April 14, according to television listings, but instead, the episode featuring Phish aired. Toby Keith was scheduled for April 21, and his show did air that night. The fan who alerted me to this said he hasn't received a response yet from his local PBS affiliate of why they didn't broadcast Dolly. Thanks, Ren!
---
April 23:
'Sparrow' Still Flying On U.K. Chart
Little Sparrow remains in the top 10 on the British country albums chart, according to its April 15 edition (although for some reason the chart is a week behind and the April 15 positions are dated April 22). In its 12th chart week, the CD falls one spot to No. 4. It peaked at No. 1 on their chart for eight weeks.
'Sparrow' A Hit On Indie Radio
According to the publication 3rd Coast Magazine, which compiles the Freeform American Roots Chart from "freeform" radio DJs (those who aren't bound by playlists) on public, college and community stations around the country, Little Sparrow is No. 23 for March airing. That's down from where the album has been. It was No. 4 for February and debuted at No. 1 for the month of January!
A Powerful CD
REVIEW – I listened to an advance copy of the Songcatcher soundtrack CD over the weekend and can tell you this is one authentic, powerful collection. Of course, for me, the highlight of the CD is the achingly beautiful Dolly-composed "When Love Is New," which is very much in line with the mountain-style ballads of her two most recent albums. It also clocks in as the longest song on the album at just over five minutes. Performed as a duet with Emmy Rossum, the song fits in perfectly in this collection, the remainder of songs in which are all traditional tunes, mostly ancient melodies from the British Isles. You'll notice a few other Dolly comparisons here, as three of the songs ("Barbara Allen," "Wayfaing Stranger" and "Mary of the Wild Moor") appeared on her Heartsongs live CD. Also, "Fair and Tender Ladies," which was the inspiration for the title cut of Little Sparrow, is given a tremendous telling by Rosanne Cash. Other terrific cuts are Trio pal Emmylou Harris' haunting version of "Barbara Allen," Deanna Carter's "The Cuckoo Bird," Sara Evans' "Mary of the Wild Moor," and the gorgeous "Wind and Rain" as performed by Gillian Welch, David Rawlings and David Steele. But the song which comes closest in beauty and delivery to Dolly's on the CD is Maria McKee's powerful rendition of "Wayfaring Stranger." This is one CD to play over and over and never tire of, although it's mood is certainly dark. The soundtrack will hit stores May 8, and the film is due out this summer. To order the CD, click here. You may also wish to visit the soundtrack site at Vanguard Records here or the film's official site here (although the latter site is not up and running yet).
Dolly In Print
Dolly got a good bit of press in the weekend papers. First, she appears in two articles in Sunday's New York Times. In the first, writer Anthony DeCurtis raves about a handful of country artists who "still display a country heart." Included, he talks about Dolly and her "immense talents as a songwriter and singer." Further, he praises both the Grammy-winning The Grass Is Blue and her most recent CD, Little Sparrow, noting about the latter, it "ventures beyond bluegrass into the folkloric darkness of the title song, with its witches, ghosts and demons, as well as into the breezy wit of Cole Porter's 'I Get a Kick Out of You' and the prayerfulness of Collective Soul's 'Shine.' Ms. Parton wins over these songs from such varied sources with all the charm of a down-home hostess making both country cousins and city slickers comfortable at a barn dance. Before long, all superficial distinctions disappear, and her peerless voice and superb band are all that matter." Read his article here.
Secondly, she makes an appearance in an Alex Halberstadt story on former Baltimore sound technician Leon Kagarise, who in the late '60s amassed what is today considered one of the largest and most important collection of recordings of unreleased live country performances in America. He was allowed to record the shows directly from the stage, making them near studio quality. Included are several audio recordings of old television shows which have a greater sound quality than any other recordings existing of them. Among the trove, episodes of The Porter Wagoner Show. The writer notes: "Among the rare pleasures found on the tapes are the dozens of televised performances by the young Dolly Parton, who began her career as a regular performer on The Porter Wagoner Show, as well as hundreds of unreleased appearances by Loretta Lynn, Jim Reeves, Buck Owens and many others." We may hear these recordings released eventually, as the story noted several record labels have expressed interest in distributing them. The full story is here.
Finally The Seattle Times gives Dolly a mention in an article on legendary guitarist Bill Frisell, who says the core of music is to break traditional boundaries. As an example, he cites Dolly's regae recording of "Knockin' On Heaven's Door" with South African group Ladysmith Black Mambazo. "I mean, that's what makes music so great," he says, "a country girl performing Dylan with an African band!" He made similar comments in a New York Daily News article last month. The full article is here. (And you can pick up a copy of this great recording here!)
MIA Part III
Woody tells me that the PBS affiliates in the Cleveland and Akron, Ohio, areas didn't air Dolly episode of Austin City Limits either. Thanks, Woody!
It's Back!
After a few days' absence, StarPages is back up and running. Please cast your votes for Dollymania here. Thanks! (Also, Dollymania recently passed 10,000 votes at AboutDollyParton.com's link votes site. You may cast your ballot for that list here.)
---
April 20:
Hanging Around For A Few More Weeks
Little Sparrow continues its slow descent on the country albums chart, dropping three places in the April 28 numbers released by Billboard on Thursday. On the independent albums chart, however, the CD stays steady at No. 18. It is in its 12th week on both charts. The Grass Is Blue marks its 35th week on the country albums chart, falling nine spots to No. 74. In related news, Sherrie Austin's cover of the Dolly classic "Jolene" re-enters at No. 55 on the country singles chart. (The song had spent one week at No. 59 before falling off the chart last week.) Her CD Followin' a Feeling remains at No. 47 on the country albums chart.
But It's No. 1 Here
The London-based magazine Country Music People puts Little Sparrow at No. 1 of its Specialist Dealer albums chart for the second month in a row, after knocking Shania Twain off No. 1 a couple of months ago. I don't fully understand the chart, but it apparently is a survey of country DJs over there. It is also No. 1 on their CIN chart (whatever that is). The current issue, dated for April, also features a two-and-a-half page article on Dolly and the new CD and a review of the Jolene/My Tennessee Mountain Home reissue, giving it five out of five stars and naming it the Spotlight Album. Thanks, Sheena!
Sneak A Peak At 'Songcatcher'


Vanguard Records, sister label to Dolly distributor Sugar Hill, has added a section to its Web site for the May 8 release of the Songcatcher soundtrack, which features the Dolly composition "When Love Is New" as a duet by Dolly with Emmy Rossum. The site also includes the full lyrics to the song and a sound clip which proves how beautiful of a recording it is. To view the site, click here. (To reserve your copy of the CD, click here.)
Everybody Loves Dolly
Film hunk Benicio DelToro gives his props to Dolly in the April issue of Talk magazine. When asked what CD he most recently listened to, he responds Dolly's The Grass Is Blue. "It's fantastic!" he declares. "Her voice is so truthful!" Thanks, Manuel!
MIA Part II
LA isn't the only one suffering from a Dolly Austin City Limits deficit, I'm told. Of the four public broadcasting stations serving greater New York City, only two of them have aired the show, and there are apparently no plans for the other two to broadcast the episode. One of them, WNET, doesn't even air Austin City Limits at all. And Geoff in Orlando tells me the show didn't air there either. Thanks, Greg and Geoff!
Dolly 'Makes' The Song
A recent review of the Sweet November soundtrack on the online publication fm Sound says Dolly's duet with Paula Cole on "Heart Door" is the highlight of the CD. Reviewer Robert Bach says while the two of them sound like they would be an odd pairing, the combination works beautifully. He writes that it is Dolly's "harmonies that make the song what it is – they add an edge, a fullness to the song that otherwise wouldn't be present. And the two voices compliment each other perfectly." He also includes a quote from Cole, in which she gushes over Dolly. "The coolest thing about this song is that Dolly Parton sings the backup vocals," she says. "Dolly Parton has been a personal hero for me for many years now.... and let me tell you; I'm even more impressed after meeting her. This song is a little landmark for me." The article also includes a sound clip of the song if you've yet to hear it. To read the article, click here. To get a copy of the CD, click here.
'You Are The Weakest Link. Goodbye!'
A contestant on Wednesday night's episode of The Weakest Link on NBC missed an amazingly easy $2,500 question. Stan was asked, "What is the name of Dolly Parton's Smoky Mountain theme park?" He paused for a few seconds and stammered, "Dollyville." Although he wasn't voted off in that round, he was kicked off the show shortly thereafter.
---
April 19:
MIA
Dollymania reader Greg from Los Angeles informs me that Dolly's episode of Austin City Limits earlier this month was pre-empted there, and that officials with the local PBS affiliate, KCET, have told him they currently have no plans to air the show. So all of you in the LA, which would be a very large market in which the show could promote Little Sparrow, call KCET and let them know you want to see Dolly! Thanks, Greg!
Get 'Em Reading!
I'm told that the Association of American Publishers and Literacy Council advertisement to promote literacy featuring a large photo of Dolly reading to children is included in the May issue of Martha Stewart Living. Thanks, Stephen!
What A Wonderful Gift
The Decatur Daily on Sunday published a heartwarming story Sunday about a high school band whose members raised the money to send a 70-year-old terminal cancer patient from their Alabama hometown on her dream vacation to Dollywood, even though they had never before met the ill lady. The article is available here.
Reba Reportedly Takes Dolly Role
TV Guide Online reported Wednesday that Reba has signed on to executive produce and star in a telefilm version of "Annie Get Your Gun," expected to air on CBS in February 2002. As previously reported here, Dolly has for years held an option to produce and star in the film and had said earlier this year she hoped to make the movie once Reba's run in the show on Broadway had ended.
'Advocating' Dollymania
Eric Mueller, the Internet reviewer for national gay and lesbian bi-weekly newsmagazine The Advocate, chooses Dollymania as his "Hot Web Site" for the Digital Queries column in magazine's special May 8 music issue. He notes: "Dollymania is the ultimate compilation of facts, figures and charts about Dolly Parton. Short of a visit to Dollywood, you'll never be more immersed in Dollyness." He cites as evidence the site's online store, list of all songs Dolly has ever recorded (by title or year), galleries, collectors' section, Letters To The Webmaster, pen pal section and fan photo section. "The only thing lacking at Dollymania is restraint," he said. Thanks, Eric! (The article should be available on the magazine's Web site in a week or two. The link is the online version of the column is here.)
---
April 18:
Isn't That Special!


My copy of the first DVD release of Dolly's feature film debut in 1980's 9 to 5 arrived today, and it's wonderful! The new release has several special features, including the first time the film has been available in widescreen format, the first time it has been available in SurroundSound, the original theatrical trailer, a handful of still photos (mostly of Dolly) from the production of the picture, audio in English or French, subtitles in English or Spanish, plus digital picture and sound quality of DVD and scene selection! If you don't have your copy, which made its way to stores on Tuesday, click here to order it!
'Catch' This Song!



Jennifer at Sugar Hill passed along a little more information on Dolly's track for the May 8 release of the Songcatcher soundtrack. As previously reported on Dollymania, Dolly contributes a new original composition to the soundtrack, the song "When Love Is New," which serves as the film's love theme and plays over the closing credits. Jennifer tells me the song is performed as a duet by Dolly and Emmy Rossum. It will be released by Sugar Hill sister label Vanguard. Reserve your copy here! Thanks, Jennifer!

Legal Battle May Delay Film
The Tennessean reported Tuesday that the IMAX film chronicling the history of country music and including appearances by Dolly and about 40 other performers is now embroiled in a lawsuit brought by the filmmakers against Gaylord Entertainment, which commissioned the film. The company claims Gaylord has left them with $1 million in unpaid bills for the production. The newspaper noted that it is not yet known whether the suit will delay the planned summer national release of the film. You may read the full story here.
---
April 16:
British Charts?
Unfortunately, I cannot report to you this week how Little Sparrow fares on the U.K. country album chart. My usual source for this information apparently neglected to update their country chart this week. Last week, the CD fell to No. 3 after an impressive eight-week stay at No. 1.
'Workin' 9 to 5'


Remember, the 9 to 5 DVD version will be in stores Tuesday. If you've ordered yours from CDNow (reserve a copy here), keep an eye on your mailbox because I've been informed they shipped most of their advance order copies on Friday!
Found Treasure
I recently came across a rare Dolly recording I had until now not been aware existed. A few weeks ago, I ordered a 45 of Bill Phillips performing "Friends Tell Friends," a song written by Dolly and her Uncle Bill Owens. Phillips was the guy who was first to record her classic "Put It Off Until Tomorrow" in 1966, when Monument was still trying to market Dolly as a pop singer. That song had Dolly singing uncredited harmony, which launched her country career. Well, imagine my delight when I finally got around to listening to "Friends Tell Friends" over the weekend and hearing yet another uncredited harmony appearance by the songwriter herself!
---
April 13:
Still Holding On
Little Sparrow is still holding on in the Billboard country album chart, where it slides two places to No. 27 in the April 21 edition, released Thursday. On the independent label albums chart, it drops three spots to No. 18. It has spent 11 weeks on both charts. On a brighter note, The Grass Is Blue re-enters at No. 65 after a week's absence from the country albums chart to mark its 34th week on the chart. In related news, Sherrie Austin's cover of "Jolene" falls off the country singles charts after only one week, peaking at No. 59, and her CD containing the song, Followin' a Feeling,is down one spot to No. 47 in its third week on the country albums chart.
Yet More Opening Weekend Shots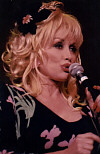 Chris Dossenbach sent in some wonderful additional photos from Dollywood's opening weekend. You may view them here. These are among the best I've seen yet! Thanks, Chris!
Diva Night Live
Although I missed it, I'm told there was a horrible Dolly impersonation during the Saturday Night Live cast's portion of VH1's Divas Live concert this week. The SNLers did a parody of the Grammy Awards, complete with a Dolly and Eminem duet, but I'm told it was pretty bad. Thanks, Mike!
---
April 12:
Looks Like The Statue Of Liberty


The photos from Dollywood's opening weekend from generous Dollymania readers keep coming in! Greg K. sent in the shot at left (click on it for a larger version), which he said reminded him of Lady Liberty (or maybe Dolly's 1976 Country Music magazine cover dressed as the Statue of Liberty?). And Ken Wallis sent in a few more shots, which are available here. Thanks, Greg and Brenda!
More Coverage
I'm told that Dolly is featured in the new issue of Country Music magazine. There is a photo of her at her recent New York CD signing and a review of Little Sparrow which gives it four-and-a-half out of five stars! Thanks, Sheena!
Disappointed Even Though They Won
The official Grammy Website (here) noted in a story Wednesday that Donald Fagan of Album of the Year winners Steely Dan noted that as they were collecting their many trophies at this year's Grammy Awards he was distracted. "I was thinking how different Dolly Parton is from all other human beings," he said, adding that he wished he would have had the chance to meet her at the show. "We didn't even meet Dolly Parton," Fagen said, crestfallen. "The best I can say is that I got to say hello to Faith Hill."
---
April 10:
Bringing The World To The Smokies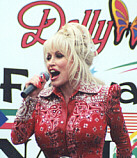 Dollymania reader Brenda Willis sent over some great shots of Dolly, such as the one at left, from Dollywood's opening weekend festivities. Take a look at all of them here! Thanks, Brenda!
Frequent Dollymania contributor Debbie Poole also kindly offers a wonderful layout of photos from the weekend and her own recap of events, which you may access here. Thanks, Debbie!
Dolly Will Keep Her Clothes On, Thank You Very Much
After reading on Dollymania about the rumor that she may take over the role of Mrs. Robinson in the London stage version of The Graduate (which includes an infamous nude scene), Dolly said she wishes to set the record straight for our readers. Dolly tells me that she doesn't recall ever being asked about the show when she was in London during her media tour to promote Little Sparrow and doesn't know where the rumor originated. She added that while she loves the play, she would never consider performing the role if it called for nudity. The rumor was first reported on March 14 by MSNBC columnist Jeanette Walls, who wrote that Dolly had expressed interest in playing the part and included a quote reportedly attributed to Dolly in the London Express that she would love to perform as Mrs. Robinson. The MSNBC column was referenced in the March 16 Dollymania news update, and the rumor was again passed along to the public on March 18 by Chicago Sun Times columnist Michael Sneed. It just goes to show, never believe everything that you read.
Yet Another Life For 'I Will Always Love You'
Rhythm and blues singer Sherry McGhee will give her take on Dolly's classic composition "I Will Always Love You" in an upcoming cover album titled Rhythm & Spirit: Love Can Build a Bridge, Billboard Online reported Monday. The CD, an R&B inspirational compilation of new recordings, will be released next week (April 17) on the BMG-distributed 7N Music label. Other tunes of note included are Jennifer Holliday's version of The Judds' "Love Can Build a Bridge," Vivian Reed's cover of Celine Dion's "Because You Love Me" and Ashford and Simpson's take on "From a Distance," a song made most famous by Bette Midler but originally recorded beautifully by country singer Nanci Griffith. You may reserve your copy of the CD here.
---
April 9:
Hooray For Dollywood!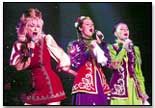 Dollywood opened its 16th season over the weekend, and the Knoxville News-Sentinel had a great story about the Festival of Nations and why Dolly brought it to the park (here). The park also expects to welcome its 30 millionth visitor this season, the story noted. At left, Dolly sings "9 to 5" with a visiting troupe of Russian performers.
Dolly Abdicates U.K. Throne
After an amazing eight-week reign at No. 1 of the British country album chart, Little Sparrow falls this week to No. 3 in its 11th week on the chart overseas. LeAnn Rimes' I Need You debuts in the top spot for its first week of release in the U.K., and Shania Twain's Come On Over, which has been at No. 1 for most of the past couple of years over there, remains at No. 2.
---
April 6:
Yet Another Role On The Big Screen
Your faithful Webmaster is back from a trip out of town, and here's a recap of the Dolly news from when I was gone. First, The Hollywood Reporter on Monday reported that Dolly has agreed to take a role in the Disney comedy Frank McKlusky, C.I., a feature film by director Arlene Sanford and producer Robert Simonds. In the film, to start production later this month, comedian Dave Sheridan portrays the title character, an insurance claims adjustor whose unorthodox style stems from his overbearing mother, played by Dolly. The trade paper also reported that Randy Quaid is in negotiations to star as Dolly's husband, a daredevil who remains at home comatose due to a stunt gone awry. After its initial publication, the story was picked up by numerous other media outlets on Tuesday and Wednesday, including Billboard Online and The Associated Press.
'Sparrow' Hangs In There
Little Sparrow remains for a 10th week on the April 14 country album chart from Billboard, it was announced Thursday, but it falls off the pop charts. The CD, which has reached as high as country No. 12 and pop No. 97, falls five places on the country album chart to No. 25 and is no longer on the pop Top 200 album chart, where it had been No. 177 the previous week. The CD also remains on the independent albums chart, dropping four spots to No. 15 (it had peaked at No. 3). The Grass Is Blue, which re-appeared on the chart following the success of Sparrow, also drops off the country album chart, down from No. 75 after its 33rd chart week. Also disappearing is the Sweet November soundtrack, featuring the Dolly and Paula Cole number "Heart Door," after seven weeks on the pop album chart. It had peaked at No. 66.
Mixed UK Chart Results
Sunday's British album charts released Sunday brought Dolly some good news and bad news. First the good news: Little Sparrow entered a prosperous eighth week at No. 1 of the country album charts. Now the bad news, the CD fell off both the pop chart, down from No. 70, and the independent album chart, down from No. 14. For the past five weeks, Sparrow and Dolly's RCA/BMG compilation CD Gold – The Hits Collection were the only two country albums on the UK pop chart, but the compilation album also fell out of the chart's top 75 CDs counted. Also over the weekend, Sparrow fell off the Canadian country album charts, down from No. 48.
But The Songwriter Is Going Strong
Sherrie Austin is making some waves with her cover of the Dolly classic "Jolene." The first single from her new CD, Followin' a Feeling, the song debuts on the April 14 Billboard country singles chart at No. 59, while the album falls three spots in its second week on the country album chart to No. 46.
It's Almost Time
Dollywood opens for its 16th season on Saturday, including Dolly's opening weekend parade and festivities with the park's Festival of Nations. A great article previewing the festival appeared in Sunday's Knoxville News-Sentinel here confirms Dolly plans to perform with some of the international guests during the weekend.
Digital Dolly
Jennifer at Sugar Hill Records tells me Amazon.com is featuring a download of "Marry Me" from Little Sparrow here. Thanks, Jennifer!
And The Winner Is . . .
Dolly's "A Tender Lie" won this week's "Pick It Or Flick It" contest on the nationally-syndicated radio show After Midnite. Thanks to all of you who called in your votes! (P.S. I'm also told the song has been getting a fair amount of airplay on country radio in San Francisco as well!)
Get Those Tickets Now
If you want to get tickets for Dolly's Dec. 14-15 Christmas concerts at Dollywood, you'd better hurry, as they're reportedly down to only a few left. All $75 and $50 tickets were sold to gold season pass holders prior to the opening of orders for the general public, leaving only $35 seats. Tickets are available at 1-865-428-9488.
LeAnn Takes Dolly's Place
It was also announced this week that LeAnn Rimes will host the Academy of Country Music Awards on May 9. As you may recall, Dolly (who did a spectacular job as host of last year's awards) was scheduled to return for this year's show but had a change of plans.
Congrats
Congratulations to fellow fan site Dolly.net, which on Thursday became the first page in more than two years to usurp Dollymania's place as the No. 1-rated Dolly site as voted by Internet visitors to StarPages.net. Dollymania had been the No. 1 voted site from a few weeks after its launch in late 1998 through Wednesday of this week, and Dolly.net had remained several places behind for all of that time until it began to jump up the list over about the past month. Congratulations, again. (To vote for Dollymania, click here.)
---
March 31-April 5:
Help Dolly!
Jennifer at Sugar Hill asked me to pass this along to you. It's how we can help Dolly get some radio airplay, but you cannot make the request until the show is broadcast.
Dear Dolly Fan,
During the week of April 2nd the nationally syndicated country radio show, After Midnite, will be testing Dolly's single "Tender Lie." It will be on a segment they call "Pick It or Flick It". Here's how it works. Blair Garner, the host, plays "A Tender Lie" once only giving the title of the song and not the name of the artist. For the next 20 minutes listeners call into After Midnite to either pick it or flick it. If the song is picked (more than 50 percent positive) they play the song a second time. If it gets picked up on the nationally syndicated show it could certainly help Dolly. To find the station in your area that carries After Midnite, click onto www.aftermidnite.com/stations.htm and then click on "stations" and then click on your state. Please mark on your calendar that this will be taking place the week of April 2nd. This is the most important show of it's kind and can be used to break a record wide open on some of the largest country stations nationwide.
Jennifer Hoyt
Thanks, Jennifer!
'Go West, Young Dolly'
That's the subhead given to a mention in Eric Harrison's column Friday in the Arkansas Democrat-Gazette. He notes: "Variety reports that Dolly Parton is in line to play Mae West in an ABC miniseries. It's a natural choice: Even assuming Anna Nicole Smith could actually act, who else is there?" The full article is here.
The Only Thing In Common With Daddy
The Las Vegas Review-Journal also carried a mention of Dolly in its issue Friday, covering the alternative rock band Collective Soul, which had the original hit on "Shine." Band member Dean Roland said he'd been a Dolly fan for years before she covered his song on Little Sparrow. "That's the one thing I have in common with my (father, a Baptist preacher in Jackson, Ga.). He has a crush on Dolly," Dean Roland said. "I didn't even know she was doing it. I knew she had a CD out, and I went (to a record store) and put the headphones on and freaked out." The full story on them is here.
A Brief Hiatus
There will be no updates to Dollymania April 1-5, as Webmaster Duane will be out of town. This Week In Dolly History at left has been updated for the week of April 1. I apologize for any inconvenience in your getting your Dolly news during this time, but look for what I'm sure will be a very lengthy update when I get back! I would, however, appreciate if you would continue to visit to vote for Dollymania at StarPages and the AboutDollyParton.com links page, and I invite you to take this time to browse the other portions of the site. Thanks!
---