---
www.dollymania.net News April 2013
---
April 29:
'Very Best' Gains A Bit Down Under
The Very Best Of Dolly Parton, Volume 1 rises four more places this week Down Under to No. 27 in its 268th week on the top 40 Australian country albums chart.
---
April 27:
George Jones, Dolly's 'Favorite Singer,' Dies At Age 81
"The Possum," legendary country music singer George Jones, died Friday at a Nashville hospital where he had been since admission on April 18 for fever and blood pressure problems. He was 81. Entertainers the world over immediately began public mourning, including Dolly, who released a statement via her various social media outlets saying: "My heart is absolutely broken. George Jones was my all time favorite singer and one of my favorite people in the world. My heart goes out to Nancy and the rest of his family." Jones had announced last year that he would retire from the music business in 2013 and had been part-way through his farewell concert tour when he became ill and was hospitalized. He had also planned one final album, which published reports noted was to feature several original songs that Dolly had written specifically for the project, including possibly some duets, but it has not been announced whether he had recorded any of the tracks prior to his death. Dolly had a long history with Jones. Besides interacting in Music City throughout their respective careers at various functions, they recorded a duet of "Rockin' Years" in 1988 but Columbia Records decided not to release it, instead having Dolly re-record it with Ricky Van Shelton in 1992 before release (the original duet was finally released in 2008 on Jones' Burn Your Playhouse Down). They recorded a quartet with Emmylou Harris and Trisha Yearwood on "Where Grass Won't Grow" for Jones' 1994 collection The Bradley Barn Sessions. In 2005, they recorded and released as a single and music video "The Blues Man" from Jones' CD Hits I Missed And One I Didn't and he appeared in the "Opry gang" chorus on the title track to Dolly's album Those Were The Days.
'Steel Magnolia' Stars Recall Mistreatment
Dolly's classic film Steel Magnolias was highlighted and screened in Hollywood Wednesday as part of the American Film Institute's "Night At The Movies" series, which prompted several stories Friday of recollections from the evening's guests representing the film, Shirley MacLaine and Sally Field. Both recalled how harshly director Herbert Ross treated young star Julia Roberts and how MacLaine and Dolly would stand up to him and come to her defense. They also noted how he also picked on Dolly, suggesting she take acting lessons, to which Field told interviewers this week: "You don't say that to Dolly Parton! Dolly Parton is absolutely the funniest, wittiest and filthiest, and she will cut you to ribbons." Read more from TV3 here and Yahoo here.
Dolly's Chestnut Support Recognized
USA Weekend this week profiles Dolly in its "Cause Celeb" column, focusing on stars' charitable work. The piece touts her support for her Uncle Bill Owens' work with the American Chestnut Foundation. See it here.
Irish Chart Update
In Ireland, I Will Always Love You: The Best of Whitney Houston, with her version of Dolly's title song, falls back off the top 100 Irish pop albums chart, down from No. 92.
---
April 26:
Anka 'Duets' Project Featuring Dolly Track Slips On Charts
Paul Anka's new CD, Duets, with Dolly vocals on the track "Do I Love You (Yes, In Every Way)," looses some ground in its second chart week, the May 4 Billboard numbers released Thursday showed. The set slips 53 places to No. 148 pop albums, 40 spots to No. 129 current albums and two digits to No. 8 Canadian pop. As was reported here Wednesday night, the Cracker Barrel exclusive An Evening With . . . Dolly re-enters the top 40 music DVD chart at No. 40 for a 36th chart week, while her Joyful Noise soundtrack dips two to No. 42 in its 67th week on the gospel albums list. I Will Always Love You: The Best of Whitney Houston, featuring the late singer's version of Dolly's title track, holds steady at No. 42 R&B/hip-hop albums in its 23rd week. Overall, Blake Shelton's Based On a True Story advances one to No. 1 country and holds steady at No. 4 pop with 42,000 units moved in its fourth week, while The Band Perry's Pioneer rises two to No. 2 country and holds steady at No. 6 pop with 37,000 copies sold in its third week.
---
April 25:
'Evening' Headed Back To Music DVD Chart This Week
Although it's been gone from the chart for a couple of months, SoundScan data reveal that the Cracker Barrel release An Evening With . . . Dolly will renter the 40-position May 4 Billboard music DVD sales chart to be released on Thursday at No. 40. The set sold 188 copies last week to bring its cumulative total since release to 56,699. The numbers also show that her Joyful Noise Soundtrack was the week's 80th best-selling soundtrack and 42nd best-selling gospel CD with 335 copies, pushing its cumulative total to 134,070 units since release.
Developer Sued For Dolly Painting Proceeds
A Dolly painting has factored into a lawsuit involving Bank of America. The mega-lender claims Atlanta developer Barry Real Esate defaulted on over $4.5 million in loans and is seeking repayment from its founder, Hal Barry, and his development partner, Chris Schoen, who sold his Andy Warhol portrait of Dolly in May at Christie's Auction House to net $550,000 last May. (See the lot item online here. Interestingly, another one of Warhol's Dolly portraits went for considerably more money, $914,500, in auction at Sotheby's that same month and is now part of the Crystal Bridges Museum of American Art in Arkansas.) Schoen sold five additional paintings from his collection of 10 pieces of art to net $2.6 million, from which $1.7 million was paid to the bank. The bank is seeking the $900,000 balance remaining from the sales plus the four remaining paintings in his collection. Read more from The Atlanta Business Journal here.
'Bachelorette' Never Received Her Dolly Photo
Bachelorette star Emily Maynard never received her keepsake photograph with Dolly from her idol's appearance on the program when she took her date to Dollywood last season, Gather.com reports here. After complaining on Twitter, she is getting help from producers, who promise to track down the image and get it to her.
'Idol' Cast-Off Janelle Still Thankful To Dolly
What did American Idol hopeful Janelle Arthur think of Dolly's letter of encouragement after singing one of her hits? "I am feeling very thankful," she told Billboard. "The fact that she reached out to me and that she took the time to do that and tell me she was honored I did her song and the fact that she wanted to say something to me about that really meant the world." She also said she'd love to collaborate with Dolly and explained why she chose to sing "Dumb Blonde" on the show. Read more here.
---
April 24:
'CSI' Star Wants Dolly Guest Spot On Show
Elizabeth Harnois, star of the CBS series CSI: Crime Scene Investigation, wants her old pal Dolly to stop by the show for a guest spot next season. She told BANG Showbiz that her dream guest star is Dolly. She even has a storyline in mind for her to play herself in the show's Las Vegas setting with a concert at one of the casinos. Harnois has a past connection to Dolly. In 1994, CBS had ordered six episodes of a new Dolly sitcom titled Heavens To Besty as a mid-season replacement but never aired the show. Harnois, who was about 15 at the time, played Angeline, a young girl befriended by Dolly's character. She said she worked with Dolly on the unaired series for about six months and recalled: "'She's somebody who, for as successful as she is, she is one of the most humble, wonderful people I've ever met. Everybody on the show is a fan of hers, and I really want to make it happen!" Read more from TV 3 here.
---
April 23:
Dollywood: No More Meet-And-Greets For May Event
After initially indicating that the park planned to make 25 additional meet-and-greet spots available this week, Dollywood on Monday announced no further meet-and-greets would be offered for next month's opening of Dollywood Splash Country's RiverRush water coaster and Dollywood's My People show. As was previously reported here, at around 10 a.m. Friday the park sent out an e-mail blast that included a small note toward the bottom to check its Facebook page for details on a Dolly meet-and-greet auction. Three hours later, the "VVIP" packages to benefit the Share It Forward Foundation were announced on the Facebook page and went live on eBay. Within half an hour, all 25 meet-and-greet packages sold out using the "Buy It Now" option at $500 each. A few fans took to Facebook afterward to complain that they felt the advanced notice for the sales was lacking, and the park responded Friday evening by posting: "Whew...the 25 listed Dolly Parton VVIP Meet & Greet spots were completely gone within 28 minutes of being posted. Because of the overwhelming response, we are working on adding 25 additional VVIP spots next week for the May 10 grand opening of Dollywood's Splash Country's RiverRush - Tennessee's first and only water coaster. Stay Tuned..." However, just after 6 p.m. Monday, the park reversed course and posted to Facebook: "Out of fairness to the winning bidders we have decided to not offer an additional auction for the RiverRush/My People VVIP Event. Thanks to everyone for your enthusiasm, generosity and support of this very worthy cause. Have a wonderful evening." For comparison, although the charity auction for last year's opening of the Wild Eagle coaster to benefit the American Eagle Foundation was officially announced via the park's Facebook page the same day the auction went live, the park teased it via Dollymania.net three days in advance alerting fans to watch for a major Dolly contest announcement early the following week. In 2007, the Imagination Library auction for the opening of Mystery Mine was announced via press release the day before the auction went live. In other park news, Knoxville television station WBIR on Monday chose the 1986 opening of the park as its "Straight from the Heart Moment" of the day. Watch the video in the media player below or by visiting the station's website here.

---
April 22:
'Very Best' Rises Down Under On Chart
The Very Best Of Dolly Parton, Volume 1 gains three spots Down Under this week to No. 31 in its 267th week on the top 40 Australian country albums chart.
Latest '9 To 5' News From Overseas, U.S.
Dolly's 9 To 5: The Musical continues its trek across the U.K. on tour, and Mearns Leader notes here local star Amy Lennox's return home as the production hits Aberdeen, while Derbyshire Times profiles Tom Hargreaves, who plays Doralee's husband Dewayne, here. In the States, Arizona Broadway Theatre's production opens Friday and runs through May 19, Your West Valley reported here, and your webmaster over the weekend took in a production at La Comedia dinner theatre in Springboro, Ohio, where it runs through next Sunday. Highly recommended if you're in the area!
---
April 20:
Dolly Meet-And-Greets Go In Minutes, More Coming
Dollywood on Friday sold 25 meet-and-greet photos with Dolly for the debut of the new RiverRush water coaster opening next month at Dollywood's Splash Country, with 25 more planned soon. The sale occurred with very little advanced notice and although scheduled to remain open for two weeks closed in mere minutes when all available packages were sold. News of the impending sales came shortly after 10 a.m. in an e-mail to the park's mailing list advising that an auction for the packages would be offered from Friday of this week through May 3 and directing recipients to the park's Facebook page. A notice was posted on the park's Facebook page at 1 p.m., the same time the auction went live on eBay. All 25 available passes were sold for $500 each using the "Buy It Now" option on the auction website in 28 minutes. Following complaints from fans who said they had not opened the e-mail until after all packages were gone, the park announced a few hours later Friday evening that it would soon post details on when they would be offering 25 more packages for sale. The $12,500 proceeds from the charity auction benefited the nonprofit Share It Forward Foundation, an employee hardship assistance fund for workers at Herschend Family Entertainment, Dolly's partners in her Dollywood properties. The fund provides grants to employees at Herschend's various businesses who face catastrophic losses such as house fires, face challenges as single parents, require assistance for meeting their children's needs or need educational scholarships. Winners of the packages will watch up close on May 10 as Dolly opens the new Splash Country ride and then will each take an individual photo with Dolly "behind-the-scenes" followed by a VIP reception in The Cascades area of the park. Then they will head to Dollywood and stand "front and center" to watch Dolly cut the ribbon of the new Dreamsong Theatre in the former location of the Imagination Cinema before going inside for a preview hosted by Dolly herself of the venue's new My People show featuring her family members. (Dolly's annual Pigeon Forge "Homecoming" Parade follows that evening.) Splash Country opens to the public the next day, May 11.
Janelle Sent Home From 'Idol' After Dolly Song
American Idol contestant Janelle Arthur was sent home from the contest Thursday night after judges the night before had been unimpressed with her cover of Dolly's "Dumb Blonde." Dolly herself sent the singer a handwritten message that was read by host Ryan Seacrest on the program: "Hey Janelle. Don't you feel a bit bad that you didn't get great reviews on your performance of 'Dumb Blonde.' We know we're NOT dumb, and we know we're NOT blonde! You're very talented and very special, I am very proud of you. Good luck tonight. I will always love you, Dolly." Coverage of her elimination is available from The Knoxville News-Sentinel here and Britain's Daily Mail here as well as a story in The Californian focusing on her connection to Dolly here.
Houston Back On Irish Chart
In Ireland, I Will Always Love You: The Best of Whitney Houston, featuring her cover of Dolly's title song, re-enters the top 100 Irish pop albums chart at No. 92.
---
April 19:
Anka Duet Project Makes Top 100 Albums
Paul Anka's new CD, Duets, which features a Dolly collaboration on the song "Do I Love You (Yes, In Every Way)," sold 4,816 copies in its first week of release, SoundScan numbers showed Thursday. That figure allows it to debut at No. 95 pop albums, No. 89 current albums on the April 27 Billboard charts. The project starts high in Canada, making it to No. 6 pop up north. Elsewhere on the charts, Dolly's Joyful Noise soundtrack slides nine spots to No. 40 in its 66th week on the gospel albums tally. I Will Always Love You: The Best of Whitney Houston, with her cover of Dolly's title track, loses five to No. 42 R&B/hip-hop albums in its 22nd week. Overall, Brad Paisley's Wheelhouse debuts at No. 1 country and No. 2 pop with 100,000 units moved, while Blake Shelton's Based On a True Story holds steady at No. 2 country, No. 4 pop with 61,000 copies sold in its third week.
Dance Project Back On, Or Was DJ Joking?
Could Dolly's unreleased dance album be getting ready? Or was this producer/DJ making a joke? ATFC, the moniker for Aydin Hasirci, tweeted on Thursday that he was "currently recording a disco album with Dolly Parton." Check out the tweet below.

Actress: Dolly To Visit '9 To 5' In U.K.
Dolly should be in the U.K. at some point to surprise audiences of the British tour of her 9 To 5: The Musical, one of the stars told The Star this week. Natalie Casey, who plays Judy in the production, says the cast has received video messages from her but that they've been told that at some point during the tour she'll visit in person. Read the story here.
Video: Dolly Gets Birthday Guitar
Back in January, a West Virginia guitar craftsman made an instrument for Dolly thanks to arrangements from her wigmaster Cheryl Riddle, and video of her receiving the gift was posted to YouTube on Wednesday. Check it out here or in the media player below.

---
April 18:
'Idol' Contestant Janelle Takes On 'Dumb Blonde'
Wednesday night's American Idol on FOX featured the dual challenges of "divas" and songs from the contestants' birth years. Country hopeful Janelle Arthur, a former Dollywood performer, chose Vince Gill's "When I Call Your Name" as her birth year song and Dolly as her diva, selecting her first country chart single, 1967's No. 24 minor hit "Dumb Blonde," as her selection to sing on the show. MTV reported her saying here about the tune: "It's an older song of hers and I knew there would be a risk with doing a song that's not as well known. Even for Dolly fans I think that's a stretch for them too. It was the right choice because I have my own arrangement of it and I've done something with it to make it to make it more current, more relevant." Taste Of Country noted here that the judges weren't impressed, with Keith Urban saying the song wasn't "way up in the Dolly Parton songbook" (it was written by Curly Putman) and Nicki Minaj predicting she would be sent home Thursday for her lackluster performance.
---
April 17:
Terry Morrow, Dolly's 'Favorite Reporter,' Dies At 52
Knoxville News Sentinel entertainment reporter and columnist Terry Morrow died Tuesday from complications of pancreatic cancer, his newspaper reported. He was 52. The writer covered Dollywood since its inception, first at The Mountain Press in Sevierville and later with the News Sentinel. He was in the press pool at nearly every Dolly appearance in the area, often finding himself the target of her good-natured humor and snagging a one-on-one private interview at most of her visits to the park. Dolly told the paper here Tuesday: "Terry Morrow was my favorite reporter He had kept up with me and Dollywood for nearly 30 years. He had a great heart and the courage of a warrior. He handled his last battle like he did his reporting -- with all his might. I loved Terry and I believed he loved me."
'Dream More' Gets Another Review
The Spectrum, the student newspaper at North Dakota State University, on Tuesday reviewed Dolly's book, Dream More. Check it out here.
Vietnam Vets Honored In Pigeon Forge
Pigeon Forge, Tenn., is honoring Vietnam veterans with a three-day celebration this week that kicked off Monday night with a special tribute at Dolly's Dixie Stampede dinner theatre. Learn more from Knoxville television station WBIR here.
---
April 15:
Overseas Chart Updates
The Very Best Of Dolly Parton, Volume 1 slips nine places Down Under this week to No. 34 in its 266th week on the top 40 Australian country albums chart. In Ireland, I Will Always Love You: The Best of Whitney Houston, with the late singer's version of Dolly's title song, falls back off the top 100 Irish pop albums chart, down from No. 86.
Download Dolly's Ron Davies Track
For those who prefer their music digitally or just want one song, the distributors behind the project Unsung Hero: A Tribute To The Music of Ron Davies, which came out three weeks ago and features a Dolly performance of his song "It's Too Late," have in the past few days finally made the album available for download. Get the full album from Amazon here or download Dolly's track alone here. Thanks, Matt!
Dolly Helps Out On Underwood Track
This news is a little old, so apologies the site didn't report it immediately. About a month ago, an official, authorized remix of the Carrie Underwood song "Two Black Cadillacs" was shipped to country radio by Sony Music. The new version, mixed by Nashville DJ Dee Jay Silver, mashes the Underwood single with Dolly's original "Jolene." Listen to it via YouTube here or in the media player below.

---
April 12:
'Evening,' 'Joyful' Sales Updates, Chart Movements
Although still outside the top 40 official music DVD chart, the Cracker Barrel release An Evening With . . . Dolly sold 187 copies the previous week to be the 48th best-selling music DVD of the week and bringing its cumulative sales total to 56,340, SoundScan revealed this week. Her Joyful Noise soundtrack sold 447 units for the week, bringing its cumulative total to 133,415 and making it the 64th best-selling soundtrack of the week. Those sales numbers allow the CD to slide six spaces to No. 31 in its 65th week on the gospel albums chart, the April 20 Billboard tallies released Thursday showed. I Will Always Love You: The Best of Whitney Houston, featuring the late singer's version of Dolly's title track, holds steady at No. 37 R&B/hip-hop albums in its 21st week. Overall, The Band Perry's Pioneer debuts at No. 1 country and No. 2 pop with 129,000 copies sold, while Blake Shelton's Based On a True Story slips one to No. 2 country, No. 4 pop with 82,000 units moved in its second week.
Dolly's Marketing Creates A Fan
Business 2 Community analyzed Dolly's branding with a piece here posted Thursday.
Virginia City Finds Trouble Paying For Dolly's Books
Bristol, Va., is having trouble funding Dolly's Imagination Library literacy program, WCYB reported here Thursday.
---
April 11:
Kenny Rogers Makes Country Music Hall Of Fame
Congratulations to frequent Dolly duet partner Kenny Rogers, who was named the 2013 "modern era" inductee in the Country Music Hall of Fame on Wednesday. Also being inducted as a "veterans era artist" is Bobby Bare and as "non-performer" is songwriter "Cowboy" Jack Clement. In a press release announcing the honor, CMA CEO Steve Moore said: "The highest musical honor achievable for a Country Music artist or industry leader is to be inducted into the Country Music Hall of Fame, and these are all outstanding and highly deserving individuals. 'Cowboy' has been responsible for producing many of the iconic songs in Country Music. Bobby pioneered the Country concept album and was one of the first artists to take the format to Europe. And Kenny's crossover success throughout a lengthy career introduced Country Music to a much wider audience." Their addition brings the Hall of Fame membership to 121, including Dolly, who was inducted in 1999 – and it was Kenny who did the honors of introducing her that evening. In the release, Rogers responded to the news with: "When I was young, my dad said, 'Son, you have to think big to accomplish small' and the Country Music Hall of Fame was as big as it gets. He wanted that for me. So every record I've ever made, every concert I've performed, and every song I've written was done for the single purpose of achieving that goal. I'm sure you can imagine how special it is and how exciting it was when Steve Moore called me with the news of my acceptance. It's not the end of my journey, but it is certainly the high point, no matter what else I accomplish. From the bottom of my heart, I want to thank all the members who voted for me and all the friends who encouraged and believed in me, and my dad, for his vision of success." Kenny and Dolly's first commercial duet, "Islands In The Stream," was a pop and country No. 1 hit, making it the biggest-selling song of the year for 1983 in all music genres, following it up with several additional duets recorded over the next 30 years, with their latest collaboration, "You Can't Make Old Friends," slated for release on Rogers' next CD expected later this year. Dolly also has a connection with fellow inductee Clement, who wrote "Just Someone I Used To Know," a top 5 country single for her with Porter Wagoner, which in 1969 resulted in the first of her record-setting 45 career Grammy nominations. Check out coverage of the announcement from USA Today here and Billboard here.
Kelly & Michael Love Dolly Interviews
Live! With Kelly And Michael co-hosts Kelly Ripa and Michael Strahan made The Hollywood Reporter's "35 Most Powerful People In Media" this week and were asked for their show favorites. Ripa said in their profile here that Dolly is her favorite guest, noting "I laugh every time I watch" an episode with her in it. Asked for their favorite interview, Strahan said in the behind-the-scenes story and video here that it's Dolly, noting her answer to the question what is the first thing she does in the morning she replied get up, put her clothes on and go home.
---
April 9:
'Evening' DVD Passes 56,000 Copies Sold
New SoundScan data accessed on Monday showed that the Cracker Barrel release An Evening With . . . Dolly last week passed the 56,000-unit mark. The collection was the 45th best-selling music DVD of the week, up two spots from the previous week, with 218 copies sold, bringing its cumulative total since release to 56,153.
---
April 8:
Final Dollywood Pictures Posted
The final photo gallery in your official Dollymania.net coverage of Dolly's appearances last month for Dollywood's season opening have been added to that section of the website here. If you'd like to submit your photos from the weekend for publication on the site, e-mail them here!
Aussie, Irish Chart Updates
The Very Best Of Dolly Parton, Volume 1 shoots up nine spots Down Under this week to No. 23 in its 265th week on the top 40 Australian country albums chart. Across the globe, I Will Always Love You: The Best of Whitney Houston, featuring her cover of Dolly's title song, slips 29 places to No. 86 on the top 100 Irish pop albums chart.
Vandy Program Teaches Of Dolly's Contributions
A group of fellows from Vanderbilt University in Nashville traveled to the eastern end of the state this weekend to learn about the area's history, culminating in a visit to Dollywood to have some fun while learning at the same time about the cultural, economic and philanthropic impact of its namesake, Dolly. Knoxville television station Local 8 reported here that the group was part of the Hubert H. Humphrey Fellowship Program, which works with educational leaders from developing countries and emerging democracies around the world.
---
April 5:
U.S. Chart Updates
As the SoundScan numbers reported here Wednesday night indicated, Dolly's Joyful Noise soundtrack shoots up nine digits this week on the gospel albums chart to sit at No. 25 in its 64th week on the tally, the April 13 Billboard charts released Thursday confirmed. I Will Always Love You: The Best of Whitney Houston, with the her cover of Dolly's title track, rises two to No. 37 R&B/hip-hop albums in its 20th week. Overall, Blake Shelton's Based On a True Story debuts at No. 1 country, No. 3 pop with 199,000 units sold, while Alan Jackson's Precious Memories: Volume II debuts at No. 2 country and No. 5 pop with 55,000 copies moved.
Anka Talks Of Process To Get Dolly On CD
Paul Anka spoke of how he approached Dolly for his upcoming duets album, Duets, which hits stores Tuesday, in an interview posted Thursday by Canadian publication Macleans. He said here that unlike an unnamed artist (Tony Bennett), he doesn't take established artists, give them songs in styles they aren't used to and then tell them what to sing and how to sing it. Instead, he said, you work with an artist in an area where you are mutually comfortable, explaining: "If you like Dolly Parton, you create a song that has all of the right vibes for her, and you talk about it; you send it to her; you map out, 'Here's where you can sing; do what you want.' And they come through."
'9 To 5' Hits The 50th State
Dolly's 9 To 5: The Musical is a hit in Hawai'i, The University of Hawai'i Kaleo reports on its engagement at the Diamond Head Theatre with a review here.
Aussie Play Focuses On Dolly Fan
Down Under, a play centering on an obsessed Dolly fan is running through April 14 as part of a comedy festival. Hope Is The Saddest focuses on Hope, a Dolly fan hopelessly in love with gay friend Theo and who cites her song lyrics "like a devoted Christian quoting from the Bible," according to a review from Australia's The Herald Sun here.
---
April 4:
New Dollywood Galleries Added
We're nearing the end of your official Dollymania.net coverage of Dolly's recent appearances to open Dollywood for the season. Two more galleries have been added to that section of the site tonight here, with probably one more to come in the next day or two.
Get Straight No Chaser CD From Amazon
Amazon on Wednesday began accepting orders for the May 7 release of the new Straight No Chaser album Under The Influence. As was previously reported here, the set includes Dolly guest vocals on the a capella group's cover of her classic "Jolene." Get your copy here!
'Joyful Noise' Sales Update Released
SoundScan data revealed Wednesday that Dolly's Joyful Noise soundtrack sold 551 copies last week to raise its cumulative total since release to 132,968. It was the 59th best-selling soundtrack of the week and 25th best-selling gospel album of the week.
Columnist: 'Badass' Dolly
Check out this great column from The Houston Press on "10 More Reasons Dolly Parton Is Badass" here.
---
April 2:
Night Of 1,000 Dollys Slated For May 11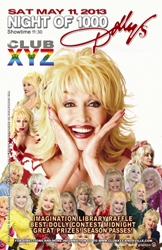 Details are starting to emerge from the annual Night of 1,000 Dollys party in Knoxville, which takes place at gay night spot Club XYZ on May 11 while fans are in town for Dolly's Homecoming Parade through Pigeon Forge on May 10. The unofficial event isn't sanctioned directly by Dolly, Dollywood or her staff, although one year she did send a video greeting to the night's revelers. The party will include a raffle of a Dollywood season pass to benefit Dolly's Imagination Library literacy project along with two tickets to hostess Raz's upcoming show this summer at Tennessee Theatre, Attack Of The 50-Foot Drag Queen, the first time a drag queen has headlined her own show at the venue. The winner of the night's Dolly Look-A-Like Contest will also win a Dollywood season pass. Last year's event raised $600 for the Imagination Library. Check out this year's poster at left. Click on it for a larger view.
New Dollywood Galleries Posted
New images from Dolly's recent stop at Dollywood to open the park for the season have been added to that section of the website here. More to come!
E-mails On Dolly's Republican Turn-Down Released
More details emerged on Monday regarding Dolly's turning down a request to perform a concert last summer for the Republican National Convention, including e-mails from event organizers outlining their discussions about the invitation to Dolly. The Atlantic Wire expanded on the story here, uncovering that Gloria Estefan was offered $750,000 and Pitbull $250,000. The story didn't find what amount was offered to Dolly and it notes that The Indigo Girls and Melissa Etheridge were also invited – but the context of the e-mails appears to indicate that that wasn't a serious comment but rather a lesbian joke aimed at one of the staff members who was in the e-mail group discussing Dolly's possible appearance. As it was noted here Sunday night The Washington Examiner first reported, the story came to light thanks to e-mails filed as exhibits in a lawsuit by a Republican fundraising group responsible for the entertainment during the convention against the talent booker hired to put the concerts together. The Atlantic Wire posted the e-mails themselves to Google Docs here. The Dolly conversation is as follows:
Subject: Sunny Sweeney/Dolly Parton
Date: Jan. 24, 2012
Pete Meachum (fundraiser): To cover on our conference call on Monday.
Robert Jennings (talent booker): We can't do that show on Monday unless Kelly Clarkson says no. The offer has already been put in and it cant be withdrawn.
Pete: Right on. I'm good with that.
Subject: Dolly
Date: Feb. 7, 2012
Robert: looks promising
Pete: Elizabeth is keeping her fake boobs crossed.
Elizabeth Verrill (event planner): Beyond excited.
Pete: Everyone is excited but Julie who'd rather have Melissa Etheridge or the Indigo Girls.
Pete: Tell them we will have her pulled in by a mule team like Madonna if that makes a difference.
Julie Conway (another event planner): Don't start a fight you can't finish.
Pete: We might as well have fun with it.
Robert: Dolly trumps them by miles. She may need a jet. Poss?
Pete: Completely a possibility. If it puts us to yes, I will find one.
Julie: Pete was trying to be funny . . . yes . . . can always find a jet.
Pete: Our chairman owns a jet. We will find a jet.
Robert: The hard part might be finding a landing slot in Tampa that week.
Pete: Elizabeth would build a runway if she says yes.
Elizabeth: Doesn't the DeVos family own a few jets.
(no subject)
Date: Feb. 10, 2012
Pete: Anything about Dolly? I have a firm commitment on a jet from our Chmn.
Subject:Dolly
Date: Feb. 16, 2012
Robert: Just got an email from the agent asking for my contact info. Not sure what that means but I think we might be in the ballpark with Dolly. I'll let you know ASAP.
Julie: Awesome.
Pete: Offer more money if we need to.
Robert: I think we are in good shape where we are on the money.
Subject: See what it would take to get gaga instead of Dolly
Date: April 21, 2012
Robert: Dolly is a firm no unfortunately. GaGa would be over a million not to mention her love of Obama. Are you still drunk?
Pete: Ask Gaga. Make her say no.
Robert: OK. How much should I offer?
Pete: 3,000 x 3,000 = 9 million
1 million
Robert: OK. What would the event be? What do I tell them it is?
Pete: Monday night. Honoring women in who run for public office.
Robert: OK
Pete: Also, tell them 150,000 will go towards a domestic violence shelter. It's a long shot, but I'll see if I can.
---
April 1:
Newspaper: Dolly Told Republicans No To Concert
Dolly declined an offer to perform last summer at the Republican National Convention that nominated Mitt Romney in his unsuccessful bid for president, according to a lawsuit that Republican fundraisers filed against the vendor hired to schedule the concerts, The Washington Examiner reported here. Journey accepted $500,000 to play a concert outside the Convention, and Lynryd Skynryd accepted $350,000 for a concert that was cancelled due to weather. Kid Rock and several other acts also performed during the convention. The lawsuit contends that offers made to Dolly, Lady Gaga and rapper Pitbull were turned down. It notes that Gaga was offered the highest amount of all potential acts, $1 million plus a $150,000 donation to a domestic violence charity, but the newspaper report does not indicate how much was offered to Dolly or Pitbull. An e-mail it cited from the fundraiser's director of development suggests that the offer was made to Gaga as their first alternative after Dolly said no. "See what it would take to get Gaga instead of Dolly," he wrote to the head of the event company. Dolly has been notorious for her evasive answers to political questions, opting to define her beliefs as "more patriotic than political" and neither conservative nor liberal.
Dollywood Coverage Continues With New Pics
Your official Dollymania.net coverage of Dolly at the recent Dollywood season opening continues once again with a new photo gallery added to that section of the website here. More to come!
Library Postal Dispute May See End Soon
It looks like the dispute between Dolly's Imagination Library literacy project and the U.S. Postal Service may be coming to an end thanks to intervention by a U.S. Congressman and Senator. Memphis station WREG reports that upon learning of the problems Sen. Lamar Alexander (R-Tenn.) and Rep. Steve Cohen (D-Tenn.) met with the U.S. Postmaster General. Alexander's office told the station that as a result of the meeting, the Postal Service will cease destroying undeliverable books until it can work out a deal with the program on a price to return the books. Read more here. Dolly's program, active in about 1,600 communities across the U.S., Canada, Great Britain and Australia, mails one free, age-appropriate, expert-selected book every month from birth to age 5 to the homes of registered children in participating communities, meaning it mails about 8 million books through the U.S. Postal Service each year. If a child's family moves and neglects to inform the local program, the book is marked as undeliverable by the local Post Office. Previously, local postmasters were allowed to use their own discretion in returning the books, and nearly all chose to do so free of charge, usually under a postal regulation that allows for items of value that are undeliverable to be donated to a local charitable organization instead of being destroyed. Receiving each undeliverable book allowed the local coordinators to attempt to contact the family for the new address and, if that was not successful, to delete the child from their system so that future undeliverable books were not mailed to that address and waste local sponsors' charitable gifts that pay for the local book delivery. Since generally local volunteers visited their local post offices in person to collect the returned books, there was no actual cost to the Postal Service for the delivery other than the minute or two it would take a staff member to go get the box of undeliverable books and hand it to the volunteer. However, in recent weeks, several postmasters ceased returning the books, citing a directive from the national office that if the local programs want the books returned they must pay first class postage plus a first class return postage on every undeliverable book that is returned to them instead of the current lower nonprofit bulk rate for outgoing mail and no cost for the return. As a result, local post offices began destroying the undeliverable books, creating an additional expense to either have them shipped to a remote facility for shredding or the staff time to shred them on site and dispose of the resulting refuse. So far, the only media reports I've seen of this occurring have been in about five different areas in Tennessee, where the program is statewide, but it may also be occurring elsewhere.
'Very Best' Rises A Little On Aussie Tally
The Very Best Of Dolly Parton, Volume 1 gains six places Down Under this week to No. 32 in its 264th week on the top 40 Australian country albums chart.
Wal-Mart Teller Makes Opry Smash Debut
Apologies for the delay, but I hadn't come across any coverage of this until this weekend. The Winnipeg Free Press reports here that Internet sensation singing Wal-Mart teller Kayla Stone received a standing ovation at the Saturday, March 23, Grand Ole Opry, where she performed Loretta Lynn's "Coal Miner's Daughter" and Dolly's "Coat Of Many Colors." As was previously reported here, a Facebook video of her a capella version of Dolly's classic autobiographical song went viral, resulting in national media appearances for the young woman and an invitation to perform on the Opry.
---