---
www.dollymania.net News April 2014
---
April 29:
Watch QVC Concert Online, Listen To CD On NPR
Shopping channel QVC on Monday posted Dolly's concert to its website page for selling advance orders for her album Blue Smoke. Watch it here. In addition, thanks to Greg for pointing me to a couple of galleries from the concert available here and here. In related news, NPR offered a very positive review of the album here Monday complete with streaming audio of the entire CD. And Entertainment Tonight Canada posted video promoting the CD here.
Parades, Dolly Exhibit, Fan Dinner, Drag Night This Weekend
The big Dolly Homecoming weekend is almost upon us. In addition to her appearances during the day on Friday and Saturday at Dollywood (including park tours scheduled for 4:30 p.m. Friday and 3 p.m. Saturday) and her 6 p.m. Pigeon Forge parade on Friday, there are plenty of opportunities for fans to have fun. It was announced Monday that her sister Freida's Parton Family Wedding Chapel and Antiques wll be hosting "The Dolly Collection Exhibit" from Patric Parkey and Harrell Gabehart featuring Dolly's former bedroom suite from the park along with several outfits and accoutrement from her career. Admission is $15 plus tax for a 30-minute tour and it opens at 5:30 p.m. Saturday (tours on Saturday are limited to 10 at a time, so reservations are suggested). Learn more from their Facebook page here. In addition, don't forget that the fourth annual Dolly fan dinner takes place following the parade Friday at Bistro 109. Reservations made be made at 865-453-8899. Last but not least, night owls will want to head to Club XYZ in Knoxville Saturday night for the fifth annual Night Of 1,000 Dollys with its 11:30 p.m. drag show.
A.V. Club's Dolly Tribute Avalable
The promised episode of A.V. Club's Pioneering web series focusing on Dolly was posted Monday. Watch Those Darlins pay homage to Dolly with "Jolene" and stories here.
Win Prizes From Stampede For Mother's Day
Dolly's Dixie Stampede dinner theatre in Pigeon Forge is hosting a photo contest for the Greatest Mom Ever. Enter your picture through May 4 and votes will be taken May 5-11 with the winner getting a Pigeon Forge vacation package. Learn more here.
Memphis Library Gives Out 20 Million Books
Congratulations to Shelby County, Tenn., where Memphis is located, for giving out 20 million of Dolly's Imagination Library books! Gov. and Mrs. Bill Haslam this week presented the 20 millionth book. Shelby County has the international program's largest chapter in the world and more than one out of every four books mailed since Dolly started the program in 1995 have gone to children in that one county. Read more here.
---
April 28:
Twitter, QVC Become Dolly's Domains Sunday Night
Dolly continued the publicity blitz for her upcoming Blue Smoke CD with her first-ever live Twitter chat (check it out here) and hour-long live concert on shopping channel QVC which resulted in pre-sales of 18,000 copies of the disc. Across the pond, a brief interview ran in Ireland's Belfast Telegraph here and a lengthier, somewhat rambling interview hit London's Mail On Sunday in which she spoke of her upbringing, the lack of warmth she has gotten from Bob Dylan the couple of times she met him ("I think I have offended him somehow by the way I looked or the way I was. I love his music but he's a weird buckaroo."), that she wouldn't rule out performing with Robert Plant or Jack White at the British Glastonbury festival, that she still has several guns in her home and wouldn't hesitate to shoot someone who walked in on her at home, and as she has said several times she supports gay marriage (noting "'I do have a lot of gays in my family now, but some will never come out"). Read the full article here.
Overseas Charts Updated
Dolly's Blue Smoke slips three this week on the Australian country albums chart to No. 17 in its 12th week Down Under. Her The Very Best Of Dolly Parton, Volume 1 holds steady at No. 16 country in its 327th week in the Australian country top 40 and The Essential Dolly Parton inches down one to No. 28 for a 73rd week on the top 40 country tally. In the U.K., Emmylou Harris's Original Album Series, Volume 2 (featuring one track with Dolly harmony and two tracks with Trio harmony by Dolly and Ronstadt) holds steady at No. 1 in its 33rd week in the British country compilations chart, while her Original Album Series, Volume 1, released in 2011, gains one to No. 5 in its 32nd week back on the same tally with two Dolly covers, one track with Dolly harmony and one track with Trio harmony, while Ronstadt's own Original Album Series (also from 2011 and featuring one Dolly cover and one track with Dolly harmony) falls five to No. 19.
---
April 26:
New Dolly Interview Posted, Concert Airing Reminder



A great Dolly interview with Bloomberg's Taking Stock aired on Friday covering almost every topic imaginable that relates to her career as she promotes her upcoming CD. Watch it here or in the media player above. In related news, Dolly's live QVC concert to promote her album Blue Smoke hits airwaves at 7 p.m. Eastern on Sunday. The Tennessean this week gave away two tickets to the exclusive taping this weekend. See the story here.

Dollywood Parade Times Revealed For Next Weekend
It's almost Dolly Homecoming Time, and Dolly will be making "surprise" appearances at Dollywood both Friday, May 2, and Saturday, May 3, and the times have been revealed for her usual park tours for the weekend. So in addition to her 6 p.m. Friday parade through Pigeon Forge, her weather-permitting park tours are scheduled for 4:30 p.m. Friday and 3 p.m. Saturday that weekend.

Dolly Dropped From Ann Richards Doc For HBO Airing
HBO on Monday will broadcast a political documentary that left Dolly and Willie Nelson on the cutting room floor. The Houston Chronicle reports that the cable network acquired the rights to the documentary Ann Richards' Texas that made the rounds at film festivals the past two years featuring several interviews with the late Texas governor's friends, including the two singers but re-did the film before broadcast and re-named it All About Ann: Governor Richards of the Lone Star State. "I thought we could treat the topic more seriously," said filmmaker Sheila Nevins. "We wanted to be more reverential and honest and bring the film to another level, which we did." So gone were Dolly and Willie, and added in were interviews with Bill Clinton, Michael Dukakis, Dan Rather and others that were taped for the original movie but didn't make the first cut. They also added a few new interviews that had not been part of the original such as one with Liz Smith, making the fun and funny original project into a more serious documentary. Read more about the transition here.
---
April 25:
Sydney Shows Grossed $1.4 Million
Another Dolly concert from Down Under made the Billboard Box Score chart when the May 3 numbers came out on Thursday. Her Feb. 18 and 19 engagement at the Qantas Credit Union Arena in Sydney, Australia, ranked No. 17 for the week's list with a gross of $1.4 million from selling 92 percent of the 13,390 tickets available for the two shows. In other chart news, pal Linda Ronstadt's Duets CD, with her 1977 top 10 single with Dolly on "I Never Will Marry," slips 40 places in its second week to No. 72 pop, 36 spots to No. 68 current albums and three digits to No. 7 Internet sales.
Tweet Your Questions For Dolly To Answer Sunday
Dolly will be the next participant in the "Legends On Twitter" series when she hosts her first-ever Twitter Q&A live Sunday at 5 p.m. Eastern, it was announced Thursday. Fans will be able to submit questions in advance here or by tweeting using the hashtag #AskDolly. The live Q&A will be immediately before her QVC concert on Sunday to promote her upcoming album. In related news, Pride Source has a review of Dolly's Blue Smoke, saying here that "stylistically, Blue Smoke isn't consistent, but it is consistently Dolly - and who's gonna mind that?" The publication gives the CD a "B." And Spectator gives a couple of paragraphs to review her recent BBC Radio 2 special Dolly's Jukebox to promote the album here.
Dolly Parade Approaches In One Week
We're now just one week away from Dolly's annual Homecoming Parade through Pigeon Forge, Tenn., and The Chattanoogan reports that this year's theme is firefighting, in acknowledgement of Dollywood's new FireChaser Express roller coaster. Traveling behind Dolly's FireChaser Express float will be the city Fire Department's new 100-foot ladder truck. The parade, kicking off at 6 p.m. at traffic light 6, concludes at traffic light 3. Read more here.
Miley Gets Dolly Defense In 'Time'
Time magazine this week released its "100 Most Influential People" list, and Dolly guest-wrote a column on goddaughter Miley Cyrus for the series. Read it here. In the piece, she notes: "So I'm hoping that now she can relax and show people how talented she really is. 'Cause the girl can write. The girl can sing. The girl is smart. And she doesn't have to be so drastic. But I will respect her choices. I did it my way, so why can't she do it her way?"
NPH Takes 'Hedgwig' Inspiration From Dolly
Neil Patrick Harris is getting some Dolly inspiration for his Broadway role as the lead in Hedgwig And The Angry Inch. He explained to Vulture that he has a Dolly poster to go on his dressing room wall. "It's just amazing. I don't even know where it's from, but it has this country-western background and it's early Dolly drag-tastic. And it's gonna be next to a big Ramones bumper sticker. So I'm trying to mix pretty lady with punk rock, and it's going to grow and change as the show goes on." Read the interview here.
Professor Documents 'Pilgrimage To Dollywood' In Book
You don't necessarily expect a British professor of classics at the University of California to trek across Tennessee for the love of all things Dolly, but that's what's documented in the upcoming book Pilgrimage to Dollywood, coming out May 30 from the University of Chicago Press by Helen Morales. The British journal Times Higher Education calls it "part quirky travelogue, part study of celebrity culture, part autobiography." The book follows the professor, her partner and their daughter to Elvis's Graceland, Loretta Lynn's ranch, the Country Music Hall of Fame and Grand Ole Opry, Great Smoky Mountains National Park and, finally, Dolly's theme park and her annual Pigeon Forge homecoming parade, talking to fans along the way. Pre-order your copy of the book here!
Diaz's New Film Inspired By '9 To 5'
Cameron Diaz loves that her new movie, The Other Woman, is getting compared to Dolly's 9 To 5, explaining to Movie Fanatic here: "Nine to Five is actually one of my favorite movies. I watched it a thousand times as a child. That was something that I loved about this movie -- was the same thing -- where it was three women who would never have come together for any other reason except they had this one thing in common, which was this common cause. That's really a feeling that I wanted this movie to have. It was a huge influence."
Travel Recommendations To Get Into Dolly Mood
The Celebrity Café has a neat little feature of "Five Ideas To Understand Who Dolly Parton Is While Visiting Her Hometown." Check them out here.
---
April 24:
State Orders Post Office To Stop Shredding Books
The State of Tennessee is picking a fight with the U.S. Postal Service over the shredding of undeliverable Dolly Imagination Library books. The state House and Senate both unanimously passed a resolution prohibiting post offices from shredding the books when delivered to incorrect addresses, which is USPS policy. Gov.Bill Haslam on Tuesday signed the law, which requires the books be donated to pre-kindergarten or similar programs. The Postal Service has come under fire over the past couple of years for refusing to return undeliverable books in Dolly's early childhood literacy program to local sponsors unless they pay return postage (which usually costs more than the books themselves). The order came from Washington as Congress clamped down on any potential "waste" in the overbudget agency, causing the discovery that most postmasters nationwide were returning the books for free as a community service, resulting in a nationwide order that they cease the practice and begin destroying any underliverable books. As the Postal Service is a federal agency, it is unclear whether the state law will be enforceable. Read more here.
Dolly's BBC Radio Special Airs
The Dolly's Jukebox program featuring interviews, songs and Dolly's selections of some of her favorite music by other singers aired Monday on BBC Radio 2 to promote her upcoming European tour and Blue Smoke CD. Take a listen in the BBC Player here or program page here. In related news, a review of the album, saying it is "Dolly Parton at the top of her game," made The Seattle Post-Intelligencer here Wednesday.
'Jolene' Appears On 'American Idol'
Dolly's "Jolene" was to make another appearance on FOX's American Idol on Wednesday in which the top six contestants had to sing one country number and one rock number. The song was to be performed by Jessica Meuse, according to Zeibiz here.
---
April 23:
'Blue Smoke' Chat Continues With Yahoo
Dolly continues her track-by-track discussion of her upcoming Blue Smoke CD with Yahoo this week, viewable here. This week's selections include "Home," which was released digitally as the album's second single on Tuesday and is available from Amazon.com here. (Those who pre-ordered the CD off iTunes should have received a notice that it was automatically downloaded to their devices.)
---
April 22:
QVC Live CD Looks To Be London Retreads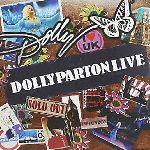 QVC has added cover art and a track listing for Dolly's live bonus CD that accompanies the shopping channel's version of her upcoming Blue Smoke release. The five-song concert CD bundled with the new studio release will contain "Two Doors Down," "Jolene," "9 To 5," "Here You Come Again" and "I Will Always Love You," but it appears they may be previously released versions. Although the product detail does not give any specifics of the source material for the CD, the cover art, at left, is essentially the same as her 2009 CD/DVD Live From London, complete with the "I heart London" bumper sticker and "I heart UK" button, suggesting that these are songs from that release, which had already been re-issued for Cracker Barrel under the title An Evening With . . . Dolly in 2012. In addition, the store shows the playtime for the set at 17:52, which is almost identical to the 17:54 that these songs ran on the original 2009 album.
CMT Covers Dolly Appearance From Friday
CMT.com on Monday covered Dolly's weekend appearance at her sister Stella's women's leadership conference in Nashville. Read their coverage here.
Dolly's New Coaster Makes National List
Dollywood's new FireChaser Express roller coaster made CNN's list of the year's "most insane new roller coasters" in the U.S. Check out the story courtesy of Fox 5 Vegas here.
---
April 21:
Win Autographed Vinyl 'Blue Smoke' From QVC
In anticipation of Dolly's Blue Smoke and next Sunday's concert on QVC to promote the CD, the network is holding a contest for two signed vinyl copies of the album by sharing your love story of "I Will Always Love You" and naming someone to whom you would like to dedicate the song. Enter by telling your story in the comments section here. In related news, USA Today picked up a story from The Tennessean on Dolly and her upcoming album here as well as a piece on her "bling artists" here. She gave a fairly personal interview to The London Mirror here in which she addresses several tabloid stories about her implants leaking or her boobs causing crippling back pain (they aren't, and "I've always had big t**s even before my implants. I've just had them fixed and lifted, that's all."), that her boobs were insured (she was joking and someone took it seriously), that her marriage is open (it is in all aspects except sexually), that she and Judy Ogle are lesbian lovers ("It doesn't upset me but it upsets and embarrasses Judy and her family. I say to her which would you prefer – being called an old maid or a lesbian? She says lesbian every time!") and more. And British tabloid The Sun sensationalized an interview in which she mentioned that goddaughter Miley Cyrus had told her she needed to "murder" her Hannah Montana character to be accepted as an adult performer and that she worried about some of her more outrageous behavior that it might offend some fans, explaining: "I'm hoping that she holds it in the road and doesn't do so many things that are that bizarre. I don't think the crowd would be so forgiving again if she did anything else that was really offensive. I don't want it to overshadow her talent." The full article is available to subscribers only, but excerpts made several reports in other publications including The Daily Mail here.
Dolly Performs For Sister's Conference
Dolly headlined her sister Stella Parton's Red Tent Conference for women's leadership Friday night in Nashville, performing live as she accompanied herself on her guitar to songs including "PMS Blues" (check out a YouTube video here), "Try" (YouTube video here), "Eagle When She Flies" (YouTube video here) and a special song she and Stella wrote for the event and performed with one of their other sisters, Rachel, "More Power To You" (YouTube video here).
U.S., Aussie, U.K. Charts Updated
Linda Ronstadt's Duets compilation, featuring her 1977 top 10 single with Dolly on "I Never Will Marry," debuted Thursday on the April 26 Billboard pop albums chart at No. 32, her highest position since her album Cry Like A Rainstorm, Howl Like The Wind featuring several Aaron Neville duets broke the top 10 in 1990. The compilation also reached No. 32 current albums and No. 4 Internet sales. Overseas, Dolly's Blue Smoke falls out of the top 10 country albums Down Under for the first time in its 11 week chart history. The album dips five places to No. 14 on the Australian country albums chart, while The Very Best Of Dolly Parton, Volume 1 falls five to No. 16 country in its 326th week in the Australian country top 40 and The Essential Dolly Parton slides three to No. 27 for a 72nd week on the top 40 country tally. In the U.K., Emmylou Harris's Original Album Series, Volume 2 (featuring one track with Dolly harmony and two tracks with Trio harmony by Dolly and Ronstadt) rebounds one to No. 1 in its 32nd week in the British country compilations chart, while her Original Album Series, Volume 1, released in 2011, inches up one to No. 6 in its 31st week back on the same tally with two Dolly covers, one track with Dolly harmony and one track with Trio harmony, while Ronstadt's own Original Album Series (also from 2011 and featuring one Dolly cover and one track with Dolly harmony) gains two to No. 14.
Rocker Pays Dolly's Restaurant Tab
The Detroit Free Press reports that Dolly and several friends were in a new restaurant and tried everything on the menu, but when the bill came they learned that fellow entertainer Jack White had paid it for her party. Read more here.
---
April 18:
'Home' Music Video Coming Soon From Dolly
Dolly on Thursday filmed a music video in Nashville for her next Blue Smoke single, "Home." The download single is released on Tuesday, but the release date for the video has not been announced. The Tennessean posted exclusive behind-the-scenes photos from the video shoot here. In related news, Taste Of Country and The Boot have started a contest to win a signed copy of the seven-inch blue vinyl single of "Home" and "Blue Smoke" (a Record Store Day exclusive release coming out Saturday) by re-tweeting their contest tweet. Learn more here.
---
April 17:
Dolly Chats About Album With Yahoo
Yahoo is releasing weekly videos of Dolly talking about each track on her upcoming Blue Smoke CD. The first four came out here on Wednesday. The site promises more each week until the album's May 13 release. In related news, The Huffington Post had a brief interview with Dolly here on the project.
Rather Interview Released On iTunes For Sale
Dolly's interview with Dan Rather on AXS's The Big Interview is available for download for $3 from iTunes here.
Teen Newcomer Says How She Got Dolly On CD
How did newcomer Mary Sarah get Dolly on her album? It was produced by Dolly's producer Kent Wells, who is also the teen singer's manager, so he got her to be the first to participate in her duets project with country legends, she told Billboard magazine in an interview here. Her CD Bridges hits U.S. stores on May 13.
---
April 16:
Get Autographed 'Blue Smoke' From Wal-Mart.com
Dolly has announced that fans who pre-order the Wal-Mart version of her upcoming CD, Blue Smoke, not only receive the store's four exclusive bonus tracks but also a signed CD booklet. The album is available here. In related news, The Boot is taking a poll for next month's most anticipated album and as of press time, Dolly was in third place behind Brantley Gilbert and Hunter Hayes but ahead of Rascal Flatts, Radney Foster and Chatham County Line. Vote here. Dolly had a conference call with some reporters and Something Else Reviews noted that she expounded on how she came to her gospel reworking of the Bon Jovi hit "Lay Your Hands On Me." They explained here that she called Jon Bon Jovi and asked permission, then co-writer Richie Sambora, and then the three got together and planned the version she recorded. Finally, don't forget that she performs at her sister's Red Tent Conference in Nashville Friday night and a limited edition blue vinyl single for "Blue Smoke" and "Home" comes out for Record Store Day Saturday, followed by the digital single release of "Home" on Tuesday of next week.
A.V. Club To Spotlight Dolly In New Series
A.V. Club and Honda have teamed up to form a new weekly web show called Pioneering that will focus on groundbreaking American musicians, including Dolly. The eight-part series features singer-songwriter Eef Barzelay driving cross-country in a Civic Coupe exploring the launching points for music's most iconic artists while current-day artists perform their own versions of the pioneering artists' songs. The show will profile Bruce Springsteen in Ashbury Park, The Ramones and A Tribe Called Quest in New York City, Dolly in Nashville, The Stooges in Detroit, Nirvana in Seattle, Gram Parsons in Los Angeles and The Grateful Dead in San Francisco. A new episode runs each Monday through May 26 here.
---
April 14:
'Blue Smoke' Remains In Top 10 Down Under
Dolly's Blue Smoke remains in the top 10 country albums Down Under in its 10th week since release, it was revealed over the weekend. The album loses two to No. 9 on the Australian country albums chart, while The Very Best Of Dolly Parton, Volume 1 dips three to No. 11 country in its 325th week in the Australian country top 40 and falls off the top 50 catalog albums chart, down from No. 44 in its 41st week, and The Essential Dolly Parton gains eight to No. 24 for a 71st week on the top 40 country tally. In Ireland, the Dolly compilation A Life In Music: Ultimate Collection and The Real Dolly Parton both fall off the top 100 Irish pop albums chart, down from No. 82 and No. 87 respectively. In the U.K., Emmylou Harris's Original Album Series, Volume 1, released in 2011, falls two to No. 7 on the British country compilations chart in its 30th week back on the tally with two Dolly covers, one track with Dolly harmony and one track with Trio harmony, her Original Album Series, Volume 2 (featuring one track with Dolly harmony and two tracks with Trio harmony by Dolly and Linda Ronstadt) advances four to No. 2 in its 31st week on the same chart and Ronstadt's own Original Album Series (also from 2011 and featuring one Dolly cover and one track with Dolly harmony) rises two to No. 16.
Ronstadt Induction Means Trio Mentions
Linda Ronstadt was inducted last week into the Rock And Roll Hall Of Fame, prompting a few Dolly mentions. Fellow Trio member Emmylou Harris told The Village Voice here prior to the ceremony that her friendship with Ronstadt was based off of their mutual love for Dolly, and in his speech officially inducting her into the Hall of Fame, Eagles member Glenn Frey (the band had been put together by Ronstadt as her touring band and studio backing band prior to their becoming rock legends on their own) dedicated one paragraph of his 12-paragraph speech to the Trio: "For the longest time, she wanted to sing and record with two dear friends, Emmylou Harris and Dolly Parton. They called their partnership 'Trio,' and they made two gorgeous records together. When the first Trio album was released, it was certified platinum, it won a Grammy and a CMA." His full speech text is available from Ultimate Classic Rock here.
---
April 11:
Dolly Doing QVC Concert, Including Live Companion CD
Dolly will appear on QVC for an hour-long live concert April 27 and include an exclusive five-track live bonus CD with the shopping channel's version of her upcoming album Blue Smoke, she announced Thursday. Dolly Parton: Q Sessions Live From Nashville will air at 7 p.m. Eastern that Sunday evening with songs from the album plus several of her greatest hits live before a studio audience in Music City, the network revealed. No further details were given regarding the QVC-exclusive companion CD Dolly Live, so it is unknown whether its five tunes are newly recorded live songs, tracks from her unreleased Better Day World Tour concert album recorded in Australia in 2011, previously released recordings from her 2008 tour that were packaged into the 2009 CD/DVD Live From London and 2012 Cracker Barrel re-issue under the title An Evening With . . . Dolly or previously released live recordings that were included 2007 newspaper insert promotional CD Singer, Songwriter and Legendary Performer Dolly Parton that was distributed in England. The QVC bundle will be available for pre-order starting April 24 online or by phone for approximately $20.25.
Dolly Turns Down Second 'Playboy' Cover
Dolly has a Q&A interview in Adweek magazine here in which she notes that Playboy magazine recently invited her to appear on their cover again (something she did in 1978) but she declined because she did not feel it would be appropriate given her philanthropic focus on children's issues.
Concert: Dolly Playing Glastonbury Thanks To Rolling Stones
It took The Rolling Stones to get Dolly to play England's Glastonbury Festival, its organizer says. She was impressed by the band's selection last year as the "legend" slot headliner for the music fest and finally gave in to the festival's annual request that she appear in that slot herself. "We have been trying her people for years," Michael Eavis told This Is The West Country here. "She said - they said, on her behalf - that she didn't like playing to big crowds. But she was persuaded in the end after seeing the Rolling Stones play; and with the status of U2, Coldplay."
Dolly Remembers Bobby Denton At Tribute
Dolly called in this week to a radio tribute in memory of longtime Knoxville broadcaster Bobby Denton, according to WATE telling listeners: "He was always great to help new artists and help people. He was very very helpful to me in my early years. People felt very warm and connected to him, because he was just a personable human being." Read more here.
---
April 10:
'Home' Comes April 22, Bonus Tracks For Wal-Mart Only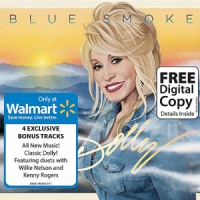 "Home" is slated to be released April 22 as the second single from Dolly's upcoming Blue Smoke album, it has been revealed. The single will be available from all music download retailers, including Amazon.com here. In related news, cover art for the album posted at walmart.com, visible at left, contains a sticker indicating that the four bonus tracks previously announced here will be a Wal-Mart exclusive not available in other stores. As was previously reported here, the bonus tracks for the May 13 U.S. release are "Get Up, Get On, Get Out," "Olive Branch," "Angels In The Midst" and her previously-announced re-recording of "Early Morning Breeze."
Dolly Radio Special Coming From BBC
A two-hour Dolly special hosted by journalist Paul Sexton and taped with Dolly in Nashville will air on BBC Radio 2 at 8 p.m. Monday, April 21, it has been announced. The show, Dolly's Jukebox, sees Dolly play and discuss her favorite songs in various genres as she is interviewed.
Meet Freida, Win Dolly-Signed Stuff At Fan Dinner
Dolly's sister, Freida, who is now running Parton Family Wedding Chapel and Antiques, announced Wednesday that she will be the special guest for the 4th annual Dolly Fan Dinner in Sevierville after Dolly's May 2 parade. She will also be selecting at the dinner three winners for autographed items Dolly sent for the dinner: one of her personal purses, her 1994 autobiography and an 8x10 photograph. Winners need not be present to win. To enter for "Freida's Fabulous Freebies," send an e-mail to freidasfreebies@gmail.com with your name, address, phone number and e-mail address through noon Eastern May 1. Limit one entry per person. Forms may also be completed at the May 2 dinner at Bistro109, although the restaurant will not admit anyone under 18 so underaged entrants must enter via e-mail in advance. Reservations for the dinner may be made at 865-453-8899.
Billboard Upset Dolly Not In Rock Hall
Billboard.com on Wednesday used Dolly's photo as one of three images to illustrate the 10 biggest controversies of the Rock And Roll Hall Of Fame. She was included in their No. 10, "The Ongoing Snubs," because she is among the major artists who have never been nominated for induction along with The Smiths, Stevie Ray Vaughn, Barry White, Meatloaf, Patsy Cline, INXS, Janet Jackson, Iron Maiden, The Eurythmics, Rick James and Peter, Paul and Mary, among others. Read the full list here.
Sevierville Song Contest Deadline Extended
Organizers of the Mountain Soul Vocal Competition in Sevierville, Tenn., have extended the entry deadline for the world's only annual singing contest dedicated to songs written by Dolly, The Mountain Press reported here. Contestants should verify Dolly's authorship of the song on the list from Dollymania.net here. The new deadline for the May 17 contest is April 16. Click here for more information.
Knoxville Institution Bobby Denton Passes Away
Longtime University of Tennessee football announcer Bobby Denton, former general manager of Knoxville radio station WIVK, has passed away. When Dolly was in high school, the two dated, and after she moved to Nashville he used his radio position to help her career. Read more from The Tennessean here.
---
April 8:
Concert, Lecture Tickets Available For Next Week
Stella Parton's Red Tent Women's Conference on Monday announced that next week's event is now selling $75 Friday-only tickets for Dolly's keynote address and the concert featuring Dolly, Stella and special guests for those not wishing to purchase $400 tickets for the full weekend conference. Single night tickets for the April 18 event are available here. In addition, the 15 eBay auctions for the night's concert and lecture plus meet-and-greet photos with Stella and Dolly end at 6 p.m. Eastern Tuesday here.
Create Spotify Playlist For Prize Entry
Entries began on Monday for a Spotify contest to create a playlist of your 10 favorite Dolly songs, including her current single "Blue Smoke," and get a chance at a weekly Blue Smoke prize package plus having your list featured on Dolly's Facebook page. Enter here.
---
April 7:
DVD Of Classic Dolly Appearances Released
Classic Country DVD, a video release company that uses old television footage for DVDs of country music, has just put out a Dolly collection. The $10 DVD features 26 solo Dolly performances from 1967 to 1977, nearly all from The Porter Wagoner Show, as well as 15 Porter duets from his program. Classic Country DVD also has released several volumes of complete episodes of The Porter Wagoner Show and this DVD features most, but not all, of the Dolly performances that those previously-released DVDs contained plus no duplicate performances of songs she sang multiple times on those earlier DVDs except for two "Coat of Many Colors" performances. The solo songs featured are: "Dumb Blonde," "Fuel To The Flame," "I'll Oilwells Love You," "Your Old Handy Man," "Mama, Say A Special Prayer For Me," "Don't Let It Trouble Your Mind," "The Bridge," "Daddy," "He's A Go-Getter," "Joshua," "Just Because I'm A Woman," "Coat Of Many Colors" (two performances), "Tennessee Mountain Home," "Traveling Man," "I Can't Stop Loving You," "Bubbling Over," "Love With Me," "Gypsy, Joe and Me," "I Will Always Love You," "Jolene," "Love Is Like A Butterfly," "Early Morning Breeze," "Higher And Higher," "It's All Wrong, But It's All Right," "Applejack." The duets are: "Holding On To Nothing," "Jeanie's Afraid Of The Dark," "Milwaukee, Here We Come," "Malena," "The Right Combination," "Ten Four, Over And Out," "The Last Thing On My Mind," "Just Someone I Used To Know," "Run That By Me One More Time," "We Found It," "Lost Forever In Your Kiss," "Her And The Car And The Mobile Home," "The Pain Of Loving You," "Love Means The Most," "Daddy Was An Old Time Preacher Man." Order your copy of Dolly: A Collection of Hits And Duets here.
Overseas Chart Updates Detailed
Dolly's Blue Smoke slips back a little this week on the Australian country albums chart, dipping three to No. 7 in its ninth week, while The Very Best Of Dolly Parton, Volume 1 holds steady at No. 8 country in its 324th week in the Australian top 40 and falls six to No. 44 in its 41st week on the catalog albums chart there, and The Essential Dolly Parton re-enters the top 40 country albums tally down under at No. 32 for a 70th chart week. In Ireland, the Dolly compilation A Life In Music: Ultimate Collection advances one on the top 100 Irish pop albums chart to No. 82 and The Real Dolly Parton re-enters at No. 87. In the U.K., Emmylou Harris's Original Album Series, Volume 1, released in 2011, holds steady at No. 5 on the British country compilations chart in its 29th week back on the tally with two Dolly covers, one track with Dolly harmony and one track with Trio harmony, her Original Album Series, Volume 2 (featuring one track with Dolly harmony and two tracks with Trio harmony by Dolly and Linda Ronstadt) holds at No. 6 in its 30th week on the same chart and Ronstadt's own Original Album Series (also from 2011 and featuring one Dolly cover and one track with Dolly harmony) rises two to No. 18.
Order 'Blue Smoke' MP3 Album From Amazon
Amazon.com is now taking advanced orders for the MP3 version of Dolly's Blue Smoke CD on May 13. Reserve your copy as an MP3 download here and remember it is also available on CD here and vinyl here.
Meet-And-Greet Auction Ends Tuesday
Don't forget that the auctions to attend Stella Parton's April 18 Red Tent Conference for women, enjoy Dolly's keynote address, take in a concert featuring the two sisters with special guests and get a meet-and-greet photo with Dolly and Stella conclude on Tuesday. As of press time Sunday night, bids on the 15 individual tickets ranged from one at $400 to several $500s and a couple as high as $710 (the $400 bid was not at the minimum yet). Place your bids here!
Reporter Tells What It's Like Interviewing Dolly
A cute behind-the-scenes story of a brief group interview with Dolly from her recent press appearances made The Mountain Press over the weekend. Read it here.
Dolly Pic Illustrates Letterman Retirement
David Letterman announced last week he was stepping down from his late night hosting duties sometime next year, and The Boston Herald used a photo with one of his favorite repeating guests, Dolly, to illustrate his career. Check it out here.
Parton Family Wedding Chapel And Antiques Profiled
Dolly's sister Freida Parton recently opened an antique store and wedding chapel in their home county. The Knoxville News-Sentinel reported on the store here, but it is available to subscribers only. Check out the Parton Family Wedding Chapel and Antiques' Facebook page here.
Cincinnati Gay Men's Chorus Celebrates Dolly
The Cincinnati Men's Chorus on Saturday and Sunday night played to sold out crowds with their Hello Dolly show consisting of all-new settings of classic Dolly songs and tunes written by Hello Dolly composer Jerry Herman styled by several gay men's chorus arrangers from both the Cincinnati area and the East Coast. Highlights of the nearly two-hour presentation featured stunning reimaginations of "Jolene" and a completely a capella "Travelin' Thru" complete with vocal sound effects to replicate the African-inspired accompaniment of Dolly's Oscar-nominated original song as well as an especially moving "Light Of A Clear Blue Morning," performed days after a prominent pro-marriage equality ruling from U.S. federal court just a few blocks from the stage. A moment of humor came in the form of several masculine drag Dollys when the chorus performed a number from Herman's drag musical La Cage Aux Folles. Other Dolly songs from the show, some of which were performed on their own and some of which were mashed up with Herman songs from his various musicals, included "Coat Of Many Colors," "Love Is Like A Butterfly," "Tennessee Mountain Home," "Why'd You Come In Here Lookin' Like That?," "9 To 5," "Let Love Grow," "Backwoods Barbie," "I Will Always Love You" and "Better Get To Living."
---
April 4:
'Trio' Vinyl Release Pushed Back One Month
Warner Brothers Records has announced the release date for the 180-gram vinyl edition of 1987's Trio album by Dolly, Linda Ronstadt and Emmylou Harris has been delayed to June 10. It had originally been planned for a May 13 release, the same day as her Blue Smoke CD in the U.S. (also available that day in vinyl here), the Porter & Dolly boxed set Just Between You And Me: Complete Recordings 1967-76 and the U.S. release for Mary Sarah's Bridges with Dolly on "Jolene." Pre-order the Trio album on vinyl here . In other release news, I'm told that those who advanced ordered the children's book Who Is Dolly Parton? from Amazon began receiving their copies on Wednesday, its release date.
Radio Program Celebrates 'Jolene' Covers
Folkadelphia, a folk music radio program on Philadelphia's XPN, chose Dolly's "Jolene" as this week's focus folk song, with the host noting he never thought they'd get to a song as recent as 1973 so soon but that the tune has almost become a traditional song because of its universality. The program played covers by Olivia Newton-John, Me First and the Gimmie Gimmies, Matraca Berg and Susanna and the Magical Orchestra. The first three versions are played starting about 20 minutes into the hour-long program, while the fourth is the last song played. Listen here.
Louis Owens Services Scheduled
Arrangements have been made for Dolly's Uncle Louis Owens, who as it was reported here Wednesday night, passed away that morning. The Knoxville News Sentinel covered the death on Thursday here, including a statement from Dolly: "What a sad day to lose my uncle Louis Owens. He was an inspiration to me my whole life. He gave me my first guitar - a baby Martin - when I was seven years old. He ran my publishing company and played in my band for many years. He also played with the Kinfolks at Dollywood but retired a few years ago. I love him and will miss him greatly." An obituary is available from Atchley Funeral Home here. Services will be held Sunday.
---
April 3:
Dan Rather Interviews Dolly For AXS



A Dolly interview with Dan Rather described in a press release as "candid" and "honest and open" will run at 8 p.m. Eastern Monday, April 14, on cable network AXS TV's The Big Interview program with a repeat scheduled for May 12. The hour-long interview, filmed recently in her Chasing Rainbows Museum at Dollywood, covers her life, her businesses, her charity work, film and television career and music. A preview clip is available on YouTube here or in the media player above.

In Memoriam: Dolly's Uncle Louis Owens
Thoughts and prayers go out to Dolly's family on the loss of her uncle, Louis Owens. Family members said her mother's brother died Tuesday at the age of 80. His passing leaves just uncles Bill Owens and Alden Owens, the youngest of her mother's seven siblings, living. A performer himself, Louis co-wrote with Dolly her songs "When Possession Gets Too Strong" from 1970's Fairest Of Them All and "Curse Of The Wild Weed Flower" from her 1971 Two Of A Kind duet album with Porter Wagoner. He also wrote their duet "Before Our Weakness Gets Too Strong" from 1970's Once More. When a teen-age Dolly made her first appearance on The Grand Ole Opry, it was uncles Bill and Louis, along with Louis's wife, Colleen, who drove her to Nashville. He also appeared in her 1984 film Rhinestone as a member of the Wild Possums Band. He was the father to Richie Owens – a musician in his own right who produced Dolly's 1998 CD Hungry Again – and Jeff Owens. Funeral arrangements were not known as of press time Wednesday night.
---
April 2:
Stella, Dolly Meet-And-Greet Auctions Offered
Stella Parton's Red Tent Women's Conference in Nashville has released 15 tickets to the event for auction on eBay including center seats in the first three rows for the April 18 keynote address by Dolly, concert featuring Dolly and sister Stella and a meet-and-greet photo with the two siblings that evening. Each auction is for one ticket, and the reserve price for each one is somewhere between $300 and $500. The auctions end the afternoon of Tuesday, April 8. Representatives say that although the weekend is a women's conference, men are welcome for the festivities. Place bids here.
Ronstadt Skipping Hall Of Fame Ceremony
Dolly pal Linda Ronstadt will not be attending next week's induction into the Rock & Roll Hall of Fame, she tells Billboard here, explaining her health is the main reason keeping her away although she doesn't seek out recognition and awards. In addition, she noted that although she can no longer sing due to Parkinson's disease, she hopes to continue curating archival releases, specifically mentioning wanting to put together something such as an album of songs she's recorded with other female artists such as Dolly and Emmylou Harris. In related news, The Cleveland Plain Dealer profiled fellow inductee Cat Stevens/Yusuf Islam, one of Dolly's favorite singers, noting that he plans to attend if he can get a visa to enter the U.S. and explaining he was in transit to meet Dolly in 2004 when he was barred from entering the country due to being placed on a terrorist watch list. Read his interview here.
---
April 1:
Dollywood Opening Weekend Video Available



The Dollymania News Video of Dolly's appearances at Dollywood's opening weekend has been posted to YouTube and is viewable here or in the media player above. In related news, her annual Make A Wish breakfasts each year are usually not publicized much, but the story of a little girl who met her over the weekend made The Lexington Dispatch here this week.

Dolly's Library Adds N.C., Fla. Communities
Dolly's Imagination Library continues to expand, with affiliates launching in Polk County, N.C., The Tryon Daily Bulletin reported here, and Daytona Beach, Fla., The News-Journal reported here.
---