---
www.dollymania.net News May 2000
---

May 22: Dolly's businesswoman sense (or "cents") got a note in Sunday's season finale of FOX's King of The Hill. At Fan Fair, Peggy accused Randy Travis of stealing one of her songs, to which he replied: "If I had a dime for every song a fan sent me, I'd be Dolly Parton rich!" (With an entertainment empire which includes Dollywood, The Dixie Stampedes, Blue Eye Records, several music publishing companies and several TV and film production companies, Dolly's net worth has been estimated by experts to be between $200 million and $400 million, making her the wealthiest country music entertainer and one of the wealthiest female entertainers in the U.S., surpassed only by Oprah, Mary Tyler Moore and Barbara Streisand.)
* The Springfield (Mo.) News Leader had its own local spin on Dolly's Imagination Library expansion into Missouri. To read their story from Friday, click here. Thanks, Sheena!
* I'm not sure what he says about her in the show, but the San Francisco Chronicle reports that "Eric Idle Exploits Monty Python," the actor's new touring stage show consisting mostly of his routines with the legendary comic troupe, includes Dolly in its list of comedic targets. (Idle promises the show has something to offend everybody.)
* * * * *
May 19: As expected Thursday, Dolly announced the expansion of the Dollywood Foundation's Imagination Library into the Branson, Mo., area. To read the St. Louis Post Dispatch's story on it, click here.
* Bluegrass Unlimited finally posted its review of The Grass is Blue from its May issue online. The review notes: "From the exceptionally creative reworking of rock star Billy Joel's 'Travelin' Prayer' into a bluegrass rave-up that opens the album to her mountain dew-eyed vocal delivery on such standards as 'Cash On The Barrelhead' and 'I'm Gonna Sleep With One Eye Open,' Dolly and producer Steve Buckingham successfully hew close to bluegrass music's rough and rocky road while showcasing her remarkable voice. . . Having a musician with the stature and popular appeal of Dolly Parton record a bluegrass album not only should bring many new fans to the music, it also gives loyal fans a wonderful album with a fresh voice to enjoy. Welcome to our world, Miss Parton, and we sure hope you'll stay around." To read the full review, click here. If you haven't bought this spectacular CD, click here!
* Dolly's second DVD is coming out July 25! Steel Magnolias, one of the best films of her career, will be released on DVD. Reportedly, the re-issue will be the first-ever widescreen version of the film and include deleted scenes! Advance order it here!
* * * * *
May 17: The Associated Press reports Dolly has scheduled a press conference for 1 p.m. Thursday at the Branson, Mo., Dixie Stampede to announce a "plan to benefit families and children of Taney and Stone counties." No word yet on exactly what it is, but it is likely an expansion of the Dollywood Foundation's Imagination Library into Missouri.
* Dolly has a mention in the May 20 issue of Billboard. In Fred Bronson's Chart Beat section, he discusses Faith Hill's recent climb to No. 1 on the country singles charts with "The Way You Love Me" is her eighth. He adds: If you're wondering which female artist has the most country No. 1 hits — Dolly Parton, with 24. (Although he doesn't mention it, she also has the most charted country singles for a female artist at 97, from 1967 through 1998.)
* * * * *
May 16: CountryCool.com on Monday posted an article on Dolly's upcoming Oct. 7 concert in Amory, Miss. To read it, click here. To order your tickets for the show, which are still available, call 1-800-677-8279. For more information on the show, which is a fundraiser for a scholarship program, click on the banner at the top of this page.
* * * * *
May 15: The current Country Weekly ranked Dolly at No. 22 in the 25 Sexiest Country Stars. They wrote, "Dolly's a multi talented performer who pulls off the impossible capturing sexual allure and angelic purity in the same well endowed public persona. There's nothing '9 to 5' about her sex appeal; it's timeless." Mississippi's Faith Hill was No. 1, Shania No. 2 and George Strait No. 3. Trio pal Emmylou Harris came in at No. 24 and former duet partner Kenny Rogers at No. 20. In addition to the latter two, the only other artist around Dolly's age on the list was Kris Kristofferson at No. 18. Thanks, Tricia!
* The Calgary Sun reports the duet Hal Ketchum is recording with Dolly for his next album is a song written by Aussie Sherrie Austin, who had a hit last year with "Never Been Kissed." Thanks, Justin!
* Knight Ridder News Service sent out an article this weekend on Dolly, mainly just a review of a couple of her projects in the works now and a note about Dollywood's new attractions. Nothing new. To read it as published Sunday in The Oklahoman, click here.
* The Boston Globe reports that when Grammy-winning singer Paula Cole on Thursday accepted the city's Exceptional Woman Award, she thanked Dolly, Tina Turner and her mother for being her role models. Cole often closes her concerts with a cover of "Jolene."
* And Whitney Houston's Greatest Hits collection coming out tomorrow reportedly includes two versions of her massive pop hit cover of Dolly's "I Will Always Love You." Order your copy here.
* * * * *
May 10: Congratulations to Dolly on her second award for the colossal The Grass Is Blue! Over the weekend, the CD took home Best Bluegrass Album at the Association for Independent Music (AFIM) Awards annual conference in Cleveland, Ohio. The CD was up against Dudley Connell and Dan Rigsby's Meet Me By the Moonlight (Sugar Hill), Lynn Morris' You'll Never Be the Sun (Rounder), Mountain Heart's Mountain Heart (Doobie Shea) and Steve Earle and The Del McCoury Band's The Mountain (E-Squared). Last month, the success of the CD earned Dolly the Top International Independent Label Artist at the British Country Music Association Awards. The album, which is expected to become Sugar Hill's biggest seller ever, was featured in many reviewers 10 Best CDs of 1999 of any genre. If you don't have this awesome CD, released on Sugar Hill and Dolly's own Blue Eye Records, click here. Unfortunately, the CD falls back off Billboard this week. (Sugar Hill had another winner at the ceremonies, Doyle Lawson and Quicksilver for Best Southern Bluegrass/Gospel Album, Winding Through Life.)
* Rolling Stone online last week gave its highest ACM praise for the hostess, noting: But the biggest star of the night was undoubtedly Dolly Parton. In addition to her two sterling performances (a number from her recent bluegrass album The Grass Is Blue and an-all star version of "Stand By Your Man" with the Judds, Martina McBride and Patty Loveless, delivered as a tribute to Pioneer Award winner Tammy Wynette), the buxom icon proved a winningly charismatic host to the end. "Those Dixie Chicks...I hope they don't get an attitude like I did when I hit it big," she said after the trio collected the first award of the evening. "I used to demand only brand name pork rinds in my dressing room."
* * * * *
May 8: According to The Tennessean's Brad Schmidt on Friday, the Academy of Country Music Awards producers were so pleased with Dolly's hosting duties last week, they are in negotiations to bring her back to the show next year! They compared her to Vince Gill's perennial hosting the CMAs and acknowledged she did so well that they'll likely have to pay her big bucks to come back! To read his article, click here.
* And while on the ACMs, a press release Friday from dick clark productions, which produces the show each year, said more than 30 million people tuned in to last week's broadcast, giving CBS its first Wednesday ratings win in three months. The total was up 3 percent, or nearly 1 million people, from last year. Read the release here.
* Launch.com posted an article last week in which the Dixie Chicks noted that their biggest thrill of the awards show was the chance to actually meet and talk with Dolly. They said they thought she was an excellent host and that meeting her was more exciting than either of the awards they won that night. To read the story, click here.
* Did you know there was a punk rock version of "9 to 5?" I didn't until I stumbled upon a mention of it. It was done in 1996 by the Swedish punk band Millencolin and is available on an import at here.
* Dolly got a question in this weekend's USA Weekend newspaper insert's celebrity Q&A section. A reader asked what she's been up to. Of course, they mentioned her ACM hosting job, that she has several films in planning stages, a bluegrass album and is expanding her Reading Library. For the full answer, click here.
* * * * *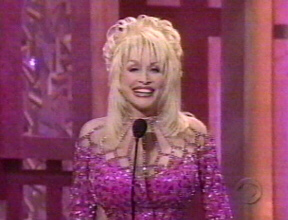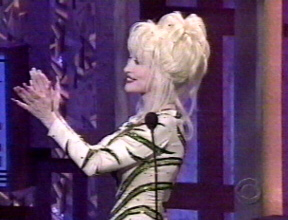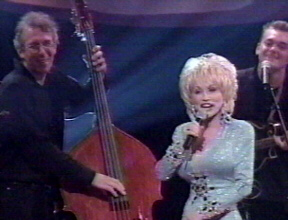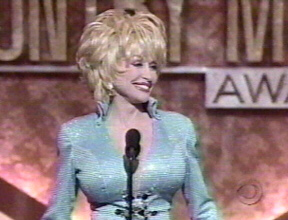 May 5: Thanks Kenny for these great stills of Dolly at Wednesday night's Academy of Country Music Awards!
* * * * *
May 4: Dolly was as catty as ever hosting the 35th Annual Academy of Country Music Awards Wednesday night from Los Angeles, throwing out her signature one-liners and zingers aimed at her fellow entertainers. She, Martina McBride, The Judds and Patty Loveless performed a stellar rendition of "Stand By Your Man," with Dolly singing lead, in a tribute to Pioneer Award winner Tammy Wynette. She also sang an electrifying version of "Travelin' Prayer" from The Grass is Blue (even though she got a little lost on the words a couple of times). Although she and Linda and Emmylou didn't win Vocal Event of The Year (that went to Clint and Lisa Hartman Black for "I Do"), the audience applauded more loudly for her nomination than the others in that category. Dolly presented the final award of the evening, Entertainer of The Year, but winner Shania Twain was out of the country. Dolly accepted it on her behalf, adding, "Maybe I can take it to her and then I'll get to meet her!" (When Shania won the same award at the CMAs last year, she said Dolly was her idol and she wanted to meet her. Unfortunately, Dolly had already left the ceremonies.) The big winners of the night were husband-and-wife Faith Hill and Tim McGraw. Together, they took home three "hats": Best Video (Faith's "Breathe), Male Vocalist and Female Vocalist. Other multi-award winners were The Dixie Chicks (Best Album and Best Duo/Group) and Lonestar (Best Song and Best Single for "Amazed"). Also honored were New Male Vocalist Brad Paisley, New Female Vocalist Jessica Andrews and New Duo/Group Montgomery Gentry. One other interesting note, though. Even Dolly got it wrong about Jo Dee Messina, saying she was the first female artist to have three consecutive multi-week No. 1 hits on the Billboard country charts. Dolly herself actually did this first with "Here You Come Again" (five weeks, 1977-78), "It's All Wrong But It's All Right" (two weeks, 1978) and "Heartbreaker" (three weeks, 1978).
* Dolly's plans for a Dixie Stampede theme restaurant in Orlando, Fla., hit a snag this week when the county council said they believe the establishment would be good for the area — just not in the location that had been chosen. On a split vote, the council denied a zoning petition for the site. No word yet on whether they will seek a new site. For the Orlando Sentinel's full story, click here.
* Marilu Henner will not be among the celebrities appearing at Stars Over Mississippi, the fundraiser concert which Dolly will headline in Amory on Oct. 7, it was announced Wednesday. Henner will instead be performing the lead in Annie Get Your Gun on Broadway, ironically the role producers initially wanted Dolly for until she turned them down. To order your tickets, call the 1-800 number on the banner at the top of this page!
* I'm told Dolly has a one-page article in the current issue of Country Song magazine titled "A Five Minute Interview With Dolly Parton." Thanks, Sheena!
* * * * *
May 3: Tonight's the big night! Dolly hosts the Academy of Country Music Awards. The Trio is up for Vocal Event of The Year for their Grammy-winning cover of Neil Young's "After the Goldrush," but Country.com predicts they won't win because the ladies are too far from "mainstream" for ACM voters. A poll on CountryCool.com agrees, placing them last of the five nominees.
* Dolly has four songs in the Top 20 on the bluegrass charts this month, according to Bluegrass Unlimited! See what they are in the charts section on the left column of this page! (Also, Rhonda Vincent's cover of Dolly's classic "Jolene" is No. 30 on that chart.) Thanks, Tony!
* Someone e-mailed me what is reportedly BMG Australia's track listing for the May 15 release of The Legendary Dolly Parton there: DISC 1 - Coat Of Many Colours, In The Good Old Days (When Times Were Bad), Higher And Higher, Touch Your Woman, We Used To, My Tennessee Mountain Home, Love Is Like A Butterfly, All I Can Do, Jolene, I Will Always Love You, Here You Come Again, It's All Wrong But It's All Right, Elusive Butterfly, Real Love, But You Know I Love You, Just Because I'm A Woman, One Of Those Days. DISC 2 - 9 To 5, Old Flames (Can't Hold A Candle To You), Baby I'm Burning, Sweet Summer Lovin', The Bargain Store, Think About Love, The Seeker, Don't Call It Love, Save The Last Dance For Me, You're The Only One, Heartbreak Express, Single Women, Potential New Boyfriend, Two Doors Down, Islands In The Stream, Starting Over Again, We Had It All. DISC 3 - Great Balls Of Fire, Almost In Love, To Daddy, She Don't Love You (Like I Love You), Traveling Man (1973), Heartbreaker, I Really Got The Feeling, The Last Thing On My Mind, Tie Our Love (In A Double Knot), Do I Ever Cross Your Mind, I Really Don't Want To Know, We'll Sing In The Sunshine, Mule Skinner Blues, Downtown, Light Of A Clear Blue Morning, Joshua. Thanks!
* * * * *
May 1: Our local newspaper, The Clarion Ledger, had a great story Sunday on Dolly's Oct. 7 Amory, Miss., concert, complete with the details that she visited the town just before the event was announced. (Of course, that information was first reported on Dollymania in a Feb. 4 article here.) To read The Clarion Ledger's story, click here. The article notes that Dolly plans to perform for at least an hour in a show consisting of some of her big hits, bluegrass numbers and gospel tunes. She will headline the concert with more than a dozen other acts. It is hosted by Whoopie Goldberg, Kathie Lee Gifford and Brooke Shields. To order your tickets, call the 1-800 number on the banner at the top of this page!
* Dolly got a three minute segment Saturday on TNN's Opry Backstage, I'm told. It was a clip on her duet with Kathie Lee Gifford on Kathie Lee's new CD, Born For You, which will be released Tuesday. Thanks, Robert! Order your copy of the CD here!
* * * * *