---
www.dollymania.net News June 2001
---

June 29:
'Sparrow' Inches Up, 'Songcatcher' debuts
Little Sparrow slides up three places to No. 50 in its 22nd week on the July 7 Billboard country albums chart released Thursday, but the CD falls off the independent albums chart, down from No. 46 after 19 weeks. Also, the critically-acclaimed Songcatcher soundtrack, which features the amazing Dolly and Emmy Rossum duet "When Love Is New," finally debuts on the country albums chart more than a month after it was originally released. That CD comes in at No. 57.
More Mae News
Australian newspaper The Age on Friday offered a great article about Dolly's upcoming Mae West bio for television, with writer Alan Veitch predicting that if her performance is as convincing as her imitation of West was when she announced the project earlier this month in Nashville, Dolly could well be up for an Emmy Award. He notes that this could be the first time that Dolly plays a real character in a film, rather than a character based at least partly on her own personality, which he said could mean "we'll be seeing a test of Parton's talents never exposed before." Another surprise in the article was the tid-bit that Dolly's announcement proved wrong rumors that Material Girl Madonna was expecting to star in a movie based on West's life. He said filming should start within weeks, with an air date likely to be set for early 2002 both in the U.S. and Down Under. Although it was a fairly good article, it got a couple of facts wrong. First, it claimed that Dolly's husband of 35 years, Carl Dean, is her manager – he is not and has never been. Secondly, it argued: "Parton has won numerous awards for her country music singing and songwriting, but has never even been nominated for any of her several acting roles." True, Dolly has never been nominated for an Emmy, and her sole personal Oscar nomination was for Best Song ("9 to 5"), and her only other claim to an Oscar win is that her production company received Best Documentary for Common Threads: Stories of the AIDS Quilt, but her acting has been heralded by nominations at the Golden Globes, America's second-leading film awards program. Her Golden Globe nominations are three for 9 to 5 (first released on DVD two months ago!) in 1981 (Best Actress in a Musical or Comedy, Best New Film Star, Best Song) and one for The Best Little Whorehouse in Texas in 1983 (Best Actress in a Musical or Comedy), although she didn't win either. Coincidentally, the other performer mentioned in the article, Madonna, has likewise never received acting recognition from the Oscars, but she won Best Actress at the Golden Globes for Evita. Read the full article here.
Sept. 25 Is The 'Lucky' Date
Lucky Man, Hal Ketchum's upcoming CD which features a duet with Dolly on the Sherrie Austin composition "Two of The Lucky Ones," will finally hit stores Sept. 25, it was announced this week. As Dollymania was the first anywhere to report, the CD had been planned for a May 8 release, but Ketchum's label, Curb Records, withdrew those plans just two weeks before it was to hit the streets. Reserve your copy here!
---
June 28:
Make That A Threepeat!
Dolly's "Shine" will remain a Hot Shot video on CMT for a third week in a row, it was announced Wednesday. Remember, go daily and cast your vote for Dolly on CMT's Most Wanted Live here and Great American Country's Top 15 Countdown here!
While We're Talking About GAC
Last week, Dollymania reader Ken Wallis got on GAC's Country Request Live and requested "Shine." He also asked host Dallas Turner to mention Dollymania on the air and thank us for doing such a great job and leading them to GAC, which she did live! Thanks, Ken, for the plug, and thanks, Dallas! To get your requests in to the program, go here!
'People' Watching
Reba's fan club sent out its e-mail newsletter this week, noting that a backstage photo of Dolly and Reba at Annie Get Your Gun is scheduled to appear in the July 2 issue of People magazine. Commenting on Reba's performance in the show, Dolly said, "I have never enjoyed it is as much as I did with her." Thanks, Mike!
'O Sisters, Thou Art Glorious!'
That's what Des Moines Register music reviewer Kyle Munson had to say in Wednesday's paper when commenting on the wonderful Songcatcher soundtrack (get your copy here if you don't have it yet!). "Name a woman who's helping to define the vanguard of country music today, and she's here," he noted, adding that Dolly's duet with Emmy Rossum on "When Love Is New" is "one of the album's highlights . . . Thumbs up, way up!" Read the full review here. (The film opens in most markets Friday.)
Just A Reminder


Remember, Dolly's Lifetime original film Blue Valley Songbird comes out on DVD and VHS Tuesday. Reserve your copy here!
---
June 25:
Still Steady
Little Sparrow remains steady for yet another week on the British charts, holding at No. 7 on the U.K. country albums chart, where it is in its 22nd chart week. (Their country charts somehow skipped a week a couple of months back, so they've been a week behind for the longest time. This week, they caught back up.) The CD peaked overseas at No. 1 country for eight weeks and No. 30 pop.
Two Of A Kind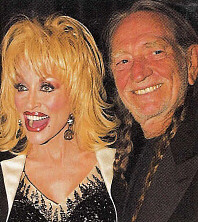 "This beats the heck out of standing on a hill above the barn with the chickens, writing a new song," Dolly is quoted beneath this photo in the current issue of U.S. Weekly alongside friend Willie Nelson. The two were both inducted earlier this month into the national Songwriters Hall of Fame, and the photo was taken at the event. The cutline for the picture also noted that Emmylou Harris treated the 700 guests at the ceremony in New York to the Dolly-written "To Daddy," although it didn't explain that Emmylou had a No. 3 country hit single of the song in 1976. Thanks, Mike!
Report: Dolly Not Doing Broadway
News site Broadwayonline.com reported last week that Dolly apparently has no plans to take over Reba's role of Annie Oakley in the hit revival of Annie Get Your Gun. As you may recall, producers reportedly first tried to sign Dolly for the role before offering it to Reba, and the New York Post reported about a week ago that Broadway insiders said Dolly was expected to take over the show. The Broadwayonline.com story noted: "Country-music legend Dolly Parton showed up as a guest last week at the Marquis Theatre on Broadway, leading to rampant speculation (quite untrue, according to an Annie Get Your Gun official) that she might eventually take over the role of Annie Oakley herself. The truth was actually more prosaic. Like songwriter Paul Williams, country broadcast Ralph Emery and Universal chief Doug Morris, Parton took in the Broadway show to lend support to her country-music colleague and to find out for herself exactly what Broadway has been raving about." Thanks, Mike!
A Star Mike
I've been told that there is a small museum in front of the Grant Ole Opry building which features a true Dolly gem. The museum, which has free admission, features a photo of Porter and Dolly and the actual microphone on which the duo recorded many of their hits at RCA. Thanks, Solomon!
Remember To Vote
You're probably tired of reading this, but once again I'd like to take the time to ask you to vote for "Shine" daily. The video remains in heavy rotation on both GAC and CMT (where it is one of the network's Hot Shot videos for a second week). Let's make it No. 1 on both channels! Vote for it on CMT here and for GAC's Top 15 chart here!
Splashing News
The Asheville Citizen Times on Sunday had a nice little article on Dolly's Splash Country. You may read it here.
I Wonder What It Could Be
According to Hollywood.com, Dolly gets a "special thanks" note in the credits to the upcoming film Hedwig and the Angry Inch, the film adaptation of a critically-acclaimed off-Broadway musical about a rock singer with a botched sex change operation. The film opens in limited release July 20. Usually, such "special thanks" are given if an artist's song is used in the film, so I suppose we'll have to wait and see what Dolly material may have made its way into the production.
---
June 19:
Gaining Ground
Little Sparrow may have stayed steady at No. 53 for its 21st week on the Billboard country albums chart's June 30 edition released Thursday, but it moved up on the independent albums chart, re-entering at No. 46 for a 20th week after dropping out of that chart's top 50 albums last week.
Vote Now!
Remember to vote for "Shine" daily. Although the video remains in heavy rotation on both GAC and CMT (where it was one of the past week's four Hot Shot videos and has again been selected as a Hot Shot video for the coming week), it fell out of the top five on CMT's Most Wanted Live countdown on Tuesday but has remained in the top 10 since premiering last week. Let's make it No. 1! Vote for it on CMT here and for GAC's Top 15 chart here! And it finished up the week on the Internet poll for GAC's Fast Forward program with about 60 percent of voters giving it the gold! About 8 percent went for the silver or bronze, compared to about five percent gold, 8 percent silver and 20 percent bronze for its competitor, O.J. Hanssen's "What's It Gonna Take." Congratulations, Dolly!
Thanks For The Plug!
I recently discovered that Dollymania was featured last month on Cowboys In Cyberspace, one of the leading authorities on country music Down Under. The media outlet offers three-pronged coverage: it is Australia's leading country music links website with montly updates, a monthly newspaper column in Capital News and a radio program on 98.9 FM in Brisbane. The column proclaimed an "info-packed fan site is the aptly named Dollymania, where you can learn, amongst many other things, that when Jamie O'Neal was a youngster, her family's show opened for Dolly, who took the time to encourage her along her path to Country Music success." Thanks for the mention!
---
June 19:
Keep Voting For Dolly!
Dolly's "Shine" scooted up two spots in the CMT Most Wanted Live countdown on Monday, coming in at No. 3. Let's keep her moving to No. 1! Remember to vote daily here! Also, Great American Country (GAC) on Monday added the video to their voting list for their weekly Top 15 Countdown, so go vote daily for it here and in the GAC Fast Forward poll here!
'Songcatcher' Continues To Get Press
The film Songcatcher gets another plug this week, this time from the July 3 issue of The Advocate, which features an interview with film star and Dolly duet partner Emmy Rossum. At the end of the interview, Rossum, 15, a trained opera performer, notes: "I just went to Nashville and recorded this duet Dolly Parton wrote for us [for the Songcatcher soundtrack ]. It's called 'When Love Is New,' a conversation between a mother and a daughter. I would sing it for you, but I'm totally sung out!" Q: What's it like to work with Dolly Parton? A: "She's the sweetest person, and she has the best sense of humor – self-deprecating. We actually had a competition for who had the bigger hair!" Q: [Laughs] She won, right? A: "Mine's real. [Both laugh.] So I don't know who won." The duet the two perform is amazing, as are all of the other cuts on the album. Get your copy here if you don't have it yet! (The film opened Friday in New York and should be in nationwide in a few weeks.)
Multimedia Dolly
The Grand Ole Opry's website has added a shockwave jukebox featuring performances by the Opry's biggest stars. It includes Dolly singing "Night Train To Memphis" from the Opry's 75th anniversary special which she co-hosted last year. (But you have to download the appropriate software to access it.) Check it out here.
A Style All Her Own
Wanna see a Dolly dress? Well, according to the Palm Beach Post, Brooks & Dunn's Neon Circus and Wild West Show tour includes a "celebrity attire" tent, which features a flourescent pink Dolly dress.
---
June 18:
Hanging On Overseas
Little Sparrow remains steady at No. 7 in the June 17 U.K. country albums chart. In Great Britain, the CD has gone silver (more than 60,000 copies sold) and is nearing the gold mark (more than 100,000 copies sold). It has sold about 130,000 units in the U.S.
Smile!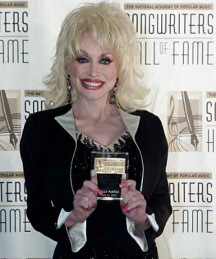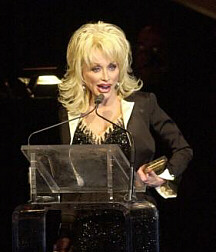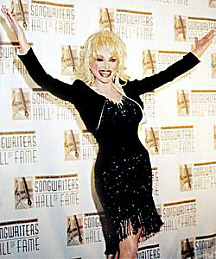 Here are some additional photos from Dolly's induction into the national Songwriters Hall of Fame in New York Thursday night.

Broadway Baby
Legendary country songwriter Don Schlitz noted in a New York Times article Sunday about the end of Reba's critically-acclaimed run in Annie Get Your Gun on Broadway that Dolly was the only other country star he could name with the "all-around show business skills" to make it on New York's Great White Way. (As was previously reported here, the gossip column of the New York Post said that insiders expect Dolly may take over Reba's role later this year.) You may read the entire Times story here (but remember, you must register with their website to access stories).

Maybe Next Time
Although she was nominated, Dolly didn't win the top award, Golden Voice Entertainer, at the Third Annual Golden Voice Awards honoring the legends of country music last week. It was announced during a ceremony on the General Jackson showboat in Nashville Thursday night that Mel Tillis won the award. The other nominees were Bill Anderson, Roy Clark and Charlie Pride. Dolly has yet to win one of the awards, although she was nominated in the same category last year (called at the time "Best All-Time Entertainer") as well as Best Vocal Group (with Porter Wagoner). And this year, Porter received the trophy for career achievement.

Keep Moving It Up
Dolly's new video for "Shine" moved up one spot on CMT's Most Wanted Live chart Friday to No. 5. Remember to keep voting for it so we can make it No. 1! To vote for the video on the show, click here. To vote in the weekly poll for Great American Country's (GAC) Fast Forward, click here. And even though GAC doesn't have the video up yet for voting in its Top 15 poll, you can "write in" it as one of your vote choices here.
---
June 15:
'Pressing' Matters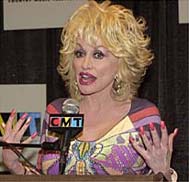 Dolly showed up all over the place Thursday after Wednesday's press conference at the CMT studios. Stories from the event included her confirmation that she will indeed play Mae West in a television film about the late star. She noted that the movie will begin shooting in the fall, hopefully for a spring broadcast. Reuters reporter Pat Harris said Dolly did a "drop-dead" impersonation of West. It's not surprising, as Dolly said she has been hard at work to copy West's voice. "I'm not gonna do Mae West with a southern accent," she joked. She also said the environment of San Bernardino mountains surrounding the Disney film she is currently shooting in Los Angeles, Frank McCluskey, C.I., has inspired more than 15 new songs, ranging from country to mountain to pop to Irish. She said she wrote four specifically for the film and expects at least two to make it onto the soundtrack. And during her on-air appearance on CMT, she again said she intends to do a handful of concert dates to promote Sparrow in coming months. (I'll update you as soon as I learn anything else on this!) For some stories on the press conference, check out country.com's story here and the Reuters story here.
An 'Emmy'-duction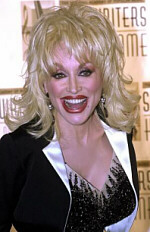 According to Country.com and Sonicnet, Dolly pal and Trio partner Emmylou Harris performed the introduction for Dolly for her induction Thursday night into the National Academy of Popular Music/Songwriters Hall of Fame. At left is an Associated Press photo of Dolly entering the ceremonies at New York's Sheraton Hotel and Towers. Also being inducted were Willie Nelson, Diane Warren and Paul Williams, with special awards given to Billy Joel, Dionne Warwick and Gloria and Emilio Estefan
Dolly Get Your Gun
The New York Post column Page Six gave an unconfirmed report Thursday that Broadway insiders say Dolly could take over the role of Annie Oakley in the Marquis Theater's hit revival of Annie Get Your Gun, which has brought Reba rave reviews. Reba, who was chosen after Dolly reportedly first turned down the role, will be replaced by Crystal Bernard June 22.
U.S. Chart Update
Little Sparrow drops 15 places in the June 23 edition of the Billboard country albums chart released Thursday, down to No. 53 in its 20th chart week. The CD also falls off the independent albums chart, down from No. 39.
Do Your Duty, Vote!
Thanks to Dollymania readers and other loyal fans, Dolly's new video for "Shine," which premiered Wednesday on CMT's Most Wanted Live, debuted on that show's vote-based chart Thursday at No. 6! Now, remember to go back and vote each day for the video here. Also, go vote for it in the Great American Country (GAC) Fast Forward poll here, where it was leading as of Thursday evening. The video premiered on that program on GAC Thursday night. Thanks to everyone who let me know its debut position on CMT!
She Was There In Spirit
Even though she wasn't there in person, Dolly got a few mentions at the TNN/Country Weekly Awards Wednesday night. Co-host Terry Bradshaw pulled out a huge bra and joked it was Dolly's training bra to be displayed at the Country Music Hall of Fame. He said it would go for a fortune on ebay and that Dolly was the only country artist who left Tennessee and took the mountains with her. Dolly also showed up four or five times in the tribute clips to lifetime achievement award winner and "I Will Always Love You" duo partner Vince Gill, including a clip of her and Randy Travis presenting him with an award. Thanks, Mike!
---
June 14:
'Shine'-ing Success
Dolly and her new video for "Shine" premiered on CMT's Most Wanted Live Wednesday, and I'm told it is "awesome!" (My cable system carries Great American Country instead, so I have to wait until Thursday night to see the video.) Remember to go vote once a day at CMT's site here for the video. If you missed the show, it repeats at 1 a.m. and 11 a.m. Thursday morning. For those with GAC, the video will premiere on that network's Fast Forward program at 9:30 p.m. Thursday (with repeats at 10:30 a.m. and 6:30 p.m. Friday, 12:30 a.m. and 3:30 p.m. Saturday, and 8:30 a.m and 7:30 p.m. Sunday). To show your support at GAC, you'll need to vote at their site here. And remember to call in and request it at your local radio stations. Let's make this one a hit!
Another Honor
As was originally reported here in February, Dolly on Thursday will be inducted into the National Academy of Popular Music/Songwriters Hall of Fame in a dinner ceremony to be held at the Sheraton Hotel and Towers in New York. Also joining this elite organization this year are Willie Nelson, Diane Warren and Paul Williams, with special awards given to Billy Joel and Gloria and Emilio Estefan. The composer of more than 3,000 songs, Dolly, of course, was inducted into the Country Music Hall of Fame in 1999 and Nashville Songwriters Association, International, Songwriters Hall of Fame in 1986. Dolly is scheduled to attend the ceremonies.
More 'Songcatcher' Press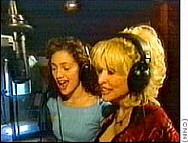 CNN's Showbiz program on Wednesday selected Songcatcher star Emmy Rossum as its Star of Tomorrow for that segment of the program. It included footage of Dolly and Rossum recording Dolly's original "When Love Is New" for the film's soundtrack (photo at left). In the interview, an electronic version of which is available here, Rossum was asked about the song and explained: "Yeah, somehow Dolly saw Songcatcher after the producers asked her if she might be interested in doing a song on the soundtrack and she said, 'Wow, I'd really like to write a duet for me and this girl who's in the movie to sing.' She flew me out there, and we recorded it, and it's like a mother/daughter duet about a girl who wants to run off and get married." The soundtrack also features many great old songs given new life by the likes of Emmylou Harris, Sara Evans and Rosanne Cash and is available here.
---
June 13:
Busy, Busy, Busy


Dolly was featured over the weekend in the London Times Sunday magazine in a regular column titled "A Day In The Life." It consisted of an entertaining interview with Dolly about her daily routine, including the fact that she's up by 3 a.m. most mornings! She also talks about why she loves wigs, how she loves to cook, her habits on the road and, of course, songwriting. At its conclusion, she proclaims: "I'll never retire -- never had that thought. I don't ever want to not be busy. I hope to die in the middle of something I'm loving, right on stage, in the middle of a song I love or a show." To read Lauren St. John's great interview, click here.
Goin' To GAC!
Dollymania is pleased to be the first to inform you of the "Shine" premiere on the other major country music video channel, Great American Country (GAC). The video will be shown for the first time on that network on its weekly new music program Fast Forward Thursday at 9:30 p.m. If you miss it, the show repeats at 10:30 a.m. and 6:30 p.m. Friday, 12:30 a.m. and 3:30 p.m. Saturday, and 8:30 a.m and 7:30 p.m. Sunday. As with CMT, you will need to go vote for the video after its premiere. The link for voting is here. And this note from The Tennessean over the weekend: Although the average country video budget has shot up to about $90,000 each, Dolly's "Shine" cost "well-below the average," according to its director.
And Don't Forget To Vote At CMT, Too!
Also please remember to go vote for the video after it premieres on CMT's Most Wanted Live Wednesday at 6 p.m. Vote at CMT here, although you must first register as a CMT member to do so. CMT also announced late Tuesday that "Shine" is one of this week's four "Hot Shot" videos, a designation given to the best of that week. Also honored with this title are Faith Hill's "There You'll Be," Keith Urban's "Where The Blacktop Ends" and Toby Keith's "I'm Just Talking About Tonight."
Even More 'Shine' News
Jennifer at Sugar Hill Records tells me "Shine" has been shipped to country radio, but no add date has been requested (that's the date that labels ask radio stations to begin playing the song). So call in to your local station and request it! She added that it depends how well the video does on CMT for whether the label will promote it to sister-network VH1, which has in recent years aired a lot of country queens Shania and Faith. Thanks, Jennifer!
---
June 11:
Staying Strong Overseas
In its 19th chart week in the U.K., Little Sparrow stays steady at No. 7 in the chart released Sunday. The CD, which is near the U.K. gold level of 100,000 units sold there, peaked at No. 1 on the country chart for eight weeks and reached No. 30 pop.
Eagle Suit Dropped
FOX News reported Friday that the country/rock group The Eagles has dropped a lawsuit against Dollywood-based American Eagle Foundation. The suit alleged the non-profit organization, which has received previous financial support by band lead singer Don Henley, infringed on the band's name and image by selling music and videos (some of which included appearances by Dolly) to raise funds and the use of the Internet domain name eagles.org and its toll-free number, 1-800-2-EAGLES. Attorneys for the band said the case, filed in 1998 and for which the trial was expected to begin today, was dropped because witnesses for the plaintiffs were unavailable for testimony, as the band is currently on tour in Europe. The foundation works with injured or orphaned eagles, releasing some into the wild after caring for them and housing at its sanctuary at Dollywood those which cannot be released, although neither the park nor Dolly had ever been named as a party to the suit. Read the full story here.
'Big Mon' Coming Back
Country.com reported Friday that Ricky Skaggs has reached an agreement with Universal Music Group member Lyric Street Records to distribute albums from his two personal labels, Skaggs Family Records and Ceili Music. The first release under the new partnership will be 2000's Bill Monroe tribute CD Big Mon, which features Dolly's performance of "Cry, Cry Darlin'." No word yet on a release date.
'O, Sister Where Art Thou?'
Andrew Gilstrap of the site PopMatters on Sunday released a glowing review of the Songcatcher soundtrack, noting that Dolly's duet with Emmy Rossum on "When Love Is New" is "a sublime conversation between mother and daughter on the changing nature of love. It's naivete (Rossum's starry-eyed daughter) versus experience (Parton's world-beaten mother), and while you know the daughter's not going to listen, Parton's admission that 'what first was heaven soon turned to hell' leaves a chill." Read the full review here, and get your copy of the CD here.
Where's Dolly
I was alerted that last week when VH1's morning show played the video of Ewan McGregor and Nicole Kidman's "Elephant Love Medley" from the Moulin Rouge soundtrack, the news clip accompanying the song noted its inclusion of the "I Will Always Love You" chorus, saying the song was made popular by Whitney Houston but alas made no mention of the song's composer, Dolly. Thanks, Chris!
'Shine' On
And remember, this week is the big premiere of Dolly's video for "Shine" on CMT's Most Wanted Live. Dolly will hold a press conference at CMT's studios prior to the show on Wednesday, then she will appear live to premiere the video on the 6 p.m. (Eastern) show. If you miss it, it will repeat at 1 a.m. and 11 a.m. Thursday. Once the video has aired, you will need to go here to cast your vote for Dolly. And remember, Dollymania was the first media outlet anywhere to report the date and time of Dolly's appearance!
Back On Top
A sincere thank you to all of the Dollymania visitors who helped return the site to the No. 1 spot in the vote-ranked links page at AboutDollyParton.com! When the page premiered in February, Dollymania and another fan site traded places at No. 1 and No. 2 daily for the first several weeks before Dollymania slipped to No. 2 for a while. In recent days, we moved back to No. 1. Judging by the numbers, about a third of my daily visitors regularly vote in the poll. Please cast your votes here. Thanks! In related news, Starpages.net., which also links celebrity fan sites by votes and has been down for the past couple of weeks, was back up and running as of Sunday. I would like to thank all of you who voted for Dollymania over the past few months, propelling it to the prestigious six-star/Gold Award site status! You may cast your vote at StarPages here. Thanks, again!
---
June 8:
Settin' The Pace
Dolly gets the Billboard "Pacesetter" honor in the June 16 country albums chart released Thursday for the 17-point jump which Little Sparrow makes to No. 38 for its 19th chart week. The CD also re-enters the independent albums chart after a week's absence, coming in at No. 39 for its 18th week there. Also on the country albums chart, Sherrie Austin's Followin' A Feeling, which features her cover of Dolly's "Jolene," drops nine places to No. 73 in its ninth chart week.
---
June 7:
Movin' On Up
Even though it is slowly falling down the U.S. country albums chart, Little Sparrow continues to scoot up the bluegrass albums chart, according to June positions released Wednesday by Bluegrass Unlimited. The CD climbs two places to No. 3 for the month in the national chart; it debuted in April at No. 9. The soundtrack to O, Brother Where Art Thou? remains at No. 1, and the Bill Monroe tribute album Big Mon, which features Dolly performing "Cry, Cry Darlin'," remains at No. 2.
Cover Girl
The CD also puts Dolly on the cover of this month's country version of Columbia House's music subscription service newsletter. The cover headline reads: "Dolly Parton: Back To The Beautiful Basics," and inside it raves that the CD is "an inspired, stripped-down shot of American roots music . . . a career album for the legendary artist."
The Hag Loves Her
In the current issue of Country Weekly, Merle Haggard says: "I think Dolly Parton is probably the neatest lady I know of that I'm not married to or was never married to. We traveled for a year on the road together in 1974-1975. If she hadn't been married and I hadn't been married, we probably would have hooked up and robbed banks or something. But we really did hit it off. I dont think we ever had a bad moment." (In his recent autobiography, Haggard confessed his unrequited love for Dolly, for whom he wrote his hit "Always Wanting You." Dolly joked soon after it was published that if she had known of his infatuation, she would have made it worth his while.) Thanks, Mike!
Going To Broadway
The current monthly newsletter of the Reba fan club notes that Dolly is scheduled to attend a show this month of her hit Broadway musical Annie Get Your Gun. (You may remember it has previously been reported here that Dolly has for years wanted to produce and star in a television film of the musical, but Reba's rave reviews in the show have convinced CBS to put Reba on the small screen version.) Thanks, Mike!
---
June 5:
Silver 'Sparrow'
Dolly's critically-acclaimed Little Sparrow has reached a milestone overseas, recently passing Britain's silver mark for more than 60,000 copies sold and is nearing the gold level, according to reports. With roughly one-fifth the population of the U.S., album sales in the U.K. are much lower than here. Hence, they award a silver album at 60,000, gold at 100,000 and platinum at 300,000 (compared to the 500,000 gold mark in the U.S. and 1 million platinum mark here). According to the London Evening Standard, the sales for her current CD overall in Europe are double any of her previous albums there. (No exact figure was given for continent-wide sales, just Great Britain only.) News site Ananova, on the other hand, reports that the CD is nearing the 100,000-unit gold status and that Sanctuary Records, which has distributed the CD in Europe and also released The Grass Is Blue overseas, expects to acquire the rights to release Dolly's next album there as well, although no details of what her next album will be have been announced yet. These numbers are in addition to the more than 126,000 it has sold in the U.S. The label, interestingly enough, is best known for releasing material by heavy metal artists such as Megadeth. While the CD has only reached No. 12 country and No. 97 pop in its 18 chart weeks in the U.S., it rested at No. 1 of the U.K. country charts for eight weeks earlier this year and made it to No. 30 pop there, currently in its 18th chart week. Read the full London Evening Standard story here and the Ananova story here. (These figures mean roughly one out of every 650 people in the U.K. have purchased Sparrow, compared to about one out of every 2,200 Americans.)
---
June 4:
Slight Slip Overseas
Little Sparrow falls one spot in the U.K. this week but remains in the top 10 on the country albums chart overseas. It clocks in at No. 7 for its 18th chart week there. It had peaked at No. 1 for eight weeks and No. 30 pop (compared to its U.S. peak of No. 12 country, No. 97 pop).
---
June 2:
'Shine' To Premiere June 13
As was reported yesterday on Dollymania, Dolly's new video for "Shine" will premiere on CMT's Most Wanted Live featuring a personal appearance by Dolly herself. Well, since then, Jennifer at Sugar Hill has confirmed the air date for the premiere will be June 13, at 6 p.m. Eastern. Once the video has aired, everyone needs to go here and vote for it! She also tells me Dolly will do a press conference at CMT prior to the show. Thanks, Jennifer!
Win It
She also tells me Hob.com is giving away an autographed Dolly Gibson guitar. Go here to enter. (You do have to be a member of House of Blues.com to enter, but membership is free.)
Tops In Her Field
I know this is a bit late, but Great American Country (GAC) selected Dolly as the top country star of the 20th century. I happened across it recently while surfing their site. The list was produced by music consultants, programmers and experts analyzing jukebox and radio airplay charts, sales figures and audience research data. The listings were compiled to represent the impact on country music by both the artist and the song chosen to represent him or her. Dolly actually made two appearances on the chart, "Top 100 Country Hits and Stars Of The 20th Century." First, she and Porter came in at No. 75, as represented by their hit "Just Someone I Used To Know." Dolly, however, reigned supreme at No. 1 with "I Will Always Love You," making her (at least in the eyes of the experts who compiled the chart) the most important artist and "I Will Always Love You" the most important song in all of the country genre for the past 100 years! You may view the entire list here.
---
June 1:
'Shine' On
Jennifer at Sugar Hill Records confirms that Dolly herself will appear soon on CMT's Most Wanted Live program to premiere her new video for "Shine," although no date has been set yet for the video to first air or for the single to go to radio. (And when it does, everyone needs to call in and request it. Let's give Dolly another No. 1!) She also updated for Dollymania the U.S. sales figures for Dolly's last two albums, since I've had several people asking about them. Little Sparrow is now at 126,140, while The Grass Is Blue comes in at 143,227. Thanks, Jennifer!
Another Drop On The Charts
Little Sparrow slips another eight spots to No. 55 on the June 9 country albums chart released by Billboard on Thursday. It is in its 18th week on the chart. It also falls off the independent albums chart, down from last week's No. 39. In related news, Sherrie Austin's Followin' a Feeling, which features her cover of Dolly's "Jolene," re-enters the country albums chart at No. 64 for its eighth chart week.
Declaration Of Independents
An article in Thursday's Dallas Morning News celebrated the popularity of independent record labels in country music, specifically noting Dolly's recent successes. It calls Little Sparrow a "critical and commercial triumph" and says that independent labels tend to emphasize art, not commercial success. In a cataloging of the biggest little labels in the biz, 23-year-old Sugar Hill gets nods for its "one-two sales punch" of Sparrow and Nickel Creek's self-titled hit as well as Dolly's Grammy for The Grass Is Blue. Read the full article here.
'Give Me Down To There Hair'
The Daily Record over in England published a note Thursday about Dolly's upcoming film Frank McKlusky, C.I., saying that in the '90s Dolly could be sure she'd have the biggest hair in any of her pictures, but her character's son played by Dave Sheridan had her beat with a "wild and wooly" style during one shoot this week. (I'm also told a photo of him standing next to Dolly and wearing one of his big-hair disguises from the film is in one of the supermarket tabloids this week.)
Gotta Have Permission
Dolly also got a mention in a Kansas City Star article on the film Moulin Rouge. The director was quoted saying he met with both Elton John and Dolly and other songwriters whose materials are included in the film to get their permission. "Most of these artists were thrilled to see their work being used this way," he said. (The chorus of "I Will Always Love You" is performed in a medley by Nicole Kidman and Ewan McGregor in the film and on the soundtrack, which may be ordered here.) Read the full article here.
---