Alanna Nash (country music critic and author of the 1978 biography Dolly) writes for Amazon.com that the CD carries a subtext of "the perpetual struggle between right and wrong, temptation and redemption, and heaven and hell." She calls "These Old Bones" "a fascinating piece of backwoods lore" and "Raven Dove" "powerful." About Dolly re-working "Stairway To Heaven" into a gospel tune, she writes: "If the thought of that brings a smile to your face, just wait: one spin through it, and you'll be down on your knees."

Atlanta Update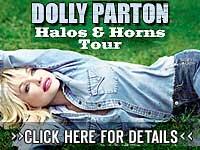 It appears that there are once again a few tickets left for Dolly's July 25 concert in Atlanta. As was reported here previously, Ticketmaster showed no tickets available when checked several times on Saturday and Sunday. It still showed no tickets available when visited several times on Monday. However, I'm told that a fan was able to order tickets on Tuesday (he had to check their site four or five times before finally receiving the response that any were still available), and I myself got the "not available" message twice on Wednesday and that tickets were available two other times the same day. This indicates that either Ticketmaster has been experiencing computer problems with that venue, additional seats were released for the show, or only a handful have remained available this week. With the way Ticketmaster's ticketing system works, if a person is considering buying tickets for a show, they are held for him or her for up to five minutes. During this time, no one else may view or attempt to purchase those tickets. Given the frequency that the "no tickets are available" message has appeared recently, it is very likely that only a small number of tickets (perhaps as few as a couple dozen) remain available, and when two or three people are looking at the site to possibly buy them, it will tell anyone else who inquires that there are none available. Once those individuals decide not to purchase tickets, they once again become available. In a related matter, House of Blues on Wednesday updated their Dolly page to show that the July 15 show in Washington, D.C., is sold out, a fact which Tickets.com confirmed on Saturday (and was reported here Sunday evening). Get tickets to her remaining shows here!
Mention In Nashville
Nashville's The Tennessean on Wednesday offered a look at several bluegrass compilation albums, and while none contained Dolly cuts, writer Craig Havighurst gave her a nod in the story. When discussing a CD of bluegrass covers of old rock hits, he criticized that album as a bit weak in spots and that the songs in essence are "just putting off listening to the real thing." In the next sentence, he advises readers: "Get Dolly Parton's new album with a bluegrassy 'Stairway to Heaven' first." Read his full article here.
---
June 26:
Dolly's Cover Is 'Only Way' To Listen To 'Stairway'
Posted on CNN's Money section Tuesday evening: Brian O'Keefe pens, "Dear Dolly, can you hear the wind blow? If Dolly Parton feels the need to find her 'Stairway' on the whispering wind, then it's okay by me. It definitely does not feel like a jump the shark moment. An interesting, acoustic bluegrass version of the song by a country music star is about the only way I could personally imagine listening to 'Stairway to Heaven' all the way through at this point . . . Besides, Dolly's already demonstrated an ability to make '70s hits her own . . ." Read the full note at the end of the Money article here.
Dolly Album Gets Many CMT Votes


The CMT.com question of the day on Tuesday was which upcoming CD are you most likely to buy: Dolly's Halos & Horns, Andy Griggs' Freedom, Darryl Worley's I Miss My Friend or Toby Keith's Unleashed. Around lunchtime, Keith led with 50 percent of the vote, but Dolly showed a strong second place with 30 percent. Worley pulled in 15, follwed by Griggs with just 5. By early evening, Keith had increased to 64 percent, followed by Dolly at 19, Worley at 12 and Griggs still at 5. By late Tuesday night, Keith had 60 percent, Dolly 17, Worley 15 and Griggs 8. And speaking of CMT, the network's website shows Dolly as the guest for Most Wanted Live on Saturday, July 20, just before her Grand Ole Opry appearance. The show airs on CMT at 7 p.m. Eastern and Pacific, followed at 8 p.m. by the Opry.
'If Only' Posted
Sugar Hill Records on Monday posted a clip from "If Only" in its seventh weekly installment of Halos & Horns here (and remember House of Blues has clips from the entire album on their site here).
Dolly Film Club In Vegas
I stumbled across an interesting website Tuesday, the "Dolly Parton Film Festival Las Vegas." This is a group of fans who meet to screen and discuss Dolly movies, and they're working to bring the Imagination Library to their county in Nevada. Visit their site here.
---
June 24:
D.C., Atlanta Sold Out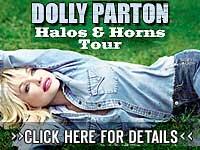 Dolly's tour seats are going fast! By Saturday evening, Ticketmaster and Tickets.com reported no tickets being available online for either her July 15 show in Washington, D.C., or her July 25 show in Atlanta, indicating that they have joined New York, Los Angeles and Nashville as being sold out. Hurry and get your tickets for the other shows here while you can!
'Sparrow' Down Two


Dolly's Little Sparrow drops two notches on the British country albums chart released Sunday, coming in at No. 10 in its 69th week. The Grammy-winning CD peaked at No. 1 for eight weeks last year and reached gold status overseas.
Next Clip
Sugar Hill Records should soon add its seventh weekly preview installment from Halos & Horns here (but House of Blues has clips from the entire album on their site here, where you can also enter through July 26 to win the trip to Las Vegas to see Dolly live on Aug. 10)! In addition, you can download the entire first single, "Dagger Through The Heart," in Liquid Audio here.
---
June 22:
'Graham Norton' U.S. Premiere Announced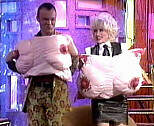 American viewers will get their first peek at Dolly's much-talked-about first appearance on the British series So . . . Graham Norton next month when the episode from early last year premieres stateside on the BBC America cable network next month. The show airs at 11 p.m. July 1, 2 a.m. July 2, 11 p.m. July 12 and 2 a.m. July 13. The show's second guest is Alan Halsall. No word yet on when the network will broadcast the pair's hilarious Christmas special Graham Goes To Dollywood.
Hear 'Stairway' In N.C.
The Back Porch Music show on Chapel Hill, N.C., public radio station WUNC 91.5 FM will broadcast Dolly's amazing version of "Stairway to Heaven" from Halos & Horns this weekend, according to its schedule. The song is listed as the ninth one to be played in the show's 9 p.m. hour on Saturday. So if you're in that area, be sure to tune in!
And Hear The Entire Album Early
Amazon.com has posted a notice that it is offering an exclusive preview of the new CD, which hits stores July 9. Anyone who advance orders it from their site will be allowed to access streaming audio of the album in its entirety.
Mentions In The Press
Dave Marsh's column in this week's Counter Point political online magazine notes the CDs he is currently enjoying and playing in heavy rotation in his office. His current No. 7 pick: Halos & Horns!
More Mentions
The Washington Post entertainment page this week began promoting Dolly's July 15 concert there by posting a link to its review last year of Little Sparrow with the quote: "Country and bluegrass legend Dolly Parton plays a rare club show, at the 9:30 July 15. Wouldn't you rather hear Dolly sing 'Jolene' than the White Stripes?"
Even More Mentions!
CNN on Thursday posted a story by Entertainment Weekly writer Jessica Shaw critiquing the FOX program American Idol. Noting contestant Kelli Grover's performance of "Whitney Houston's 'I Will Always Love You,'" Shaw retorted: "Small note to Kelli should she ever audition using that song again: Dolly Parton sang the original, not Whitney Houston, so if you're gonna give props, don't forget the woman who started it all." Read her full story here.
A New Album
According to several music store websites, a new Dolly compilation album titled Best Of The Best will hit stores on Tuesday. No word on what the CD might contain, and only one store listed a record label which is supposedly releasing it, Federal Records. (King Records a few years back released a Porter and Dolly compilation with the same title, though). More information will be passed along if I come across it.
---
June 20:
Video For 'Dagger' Filmed
Sugar Hill Records confirmed Wednesday that Dolly last Friday shot a video in Nashville for "Dagger Through The Heart," which will be the first single from Halos & Horns instead of the previously reported "I'm Gone." The video is expected to premiere on cable music networks in mid-July. Also, instead of shipping CDs of just the single to radio stations, copies of the entire album will be going out to disc jockeys around the nation. I'll try to let you know when they're sent so you may start calling in your requests! Thanks, Rob!
Behind-The-Console With Dolly
Knoxville alternative weekly MetroPulse features a story this week on one of the studio engineers on Halos & Horns, Scottie Hoaglan. The article notes one of the others in the studio saying that Dolly "was thrilled with the recording, and she loved Scottie. She always referred to him as 'you skinny little hippie.'" Read the full article here.
Tribute To The Lady
According to ICE magazine, newcomer Elizabeth Cook has a new CD titled Hey Y'all coming out on Warner Brothers on Aug. 20 featuring a song titled "Dolly," a lament about the music industry written specifically about Dolly and, apparently, radio's reluctance to play her music. Thanks, Sam!
She Even Charms Goats!
An article in last weekend's New York Times magazine discussed making spider silk in goats' milk, offering this description of the goat habitat: "We wander into one of the inhabited bunkers, where dozens of mop-haired Angoras jump to attention. Then they come trundling over to us en masse, licking our hands and cocking their heads inquisitively. I remark that the country music playing on the loudspeakers is rather loud. Is that Dolly Parton? 'Oh, they love Dolly Parton,' Ballma says. 'Country music has the steadiest beat. It keeps them calm and happy. Heavy metal, though, gets them agitated.'" Thanks, Bryan!
Helping Others
Martina McBride's auction on Sunday to benefit the YWCA brought in $62,000, CMT.com reported earlier this week. The auction items included an autographed dulcimer from Dolly. (And speaking of benefit auctions, several Dolly items will be on the block at CMT.com beginning July 2 to benefit the Mary Bryon Foundation, which works to support the victims of domestic violence. Dolly contributions will include signed copies of Jolene, Coat of Many Colors and Best of Dolly Parton as well as an autographed acoustic guitar. Visit CMT's upcoming auction site here for more information. Bids will be accepted through July 14, and others providing items include Hank Williams Jr., Willie Nelson, Travis Tritt and George Jones.)
---
June 18:
More Appearances Announced
Sugar Hill Records on Monday confirmed that Dolly is set to appear on NBC's The Tonight Show With Jay Leno on Thursday, Aug. 8, and to make an in-store CD signing appearance in New York at Virgin Megastore Times Square from 4 p.m. until 6 p.m. on the day when Halos & Horns hits store shelves, Tuesday, July 9. (Astute readers may have noticed that date and location posted on the Dollymania page for the album and tour -- here -- a couple of weeks ago as the expected in-store appearance.)
The Next Preview


The label on Monday also added a clip of the album's "Dagger Through The Heart" in as its sixth weekly preview installment here (but House of Blues has clips from the entire album on their site here, where you can also enter to win the trip to Las Vegas to see Dolly live on Aug. 10)!
---
June 17:
'Sparrow' Down One


Dolly's Little Sparrow moves down one place on the British country albums chart released Sunday, coming in at No. 8 in its 68th week. The Grammy-winning CD peaked at No. 1 for eight weeks last year and reached gold status overseas.
Wanna Dulcimer?
According to Brad Scmidt's celebrity column in Saturday's The Tennessean, Dolly donated a dulcimer for Martina McBride's annual Fan Fair charity auction, which was held in Nashville on Sunday. All proceeds benefit the YWCA of Middle Tennessee.
Sugar Hill Updates
Sugar Hill recently added a page to their site for Halos & Horns, although not much was up as of this weekend. You may visit it here, and remember, the label will post its sixth installment of the weekly song preview for the album anytime now here.
---
June 15:
Nashville Sells Out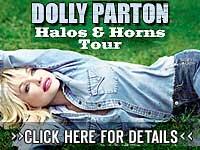 Dolly's July 21 concert at Nashville's historic Ryman Auditorium quickly sold out after tickets went on sale Friday morning, joining the New York and Los Angeles shows as having no tickets available. No one can seem to agree on the time it took to sell out, however. A Nashville radio station reported it took just half an hour, while the Ryman's official website claims two hours, and a couple of fans who contacted me trying to find tickets said Ticketmaster sold out as of 45 or 50 minutes after they went on sale. In related news, remember that tickets for her tour's final show, Aug. 31 in Kansas City, go on sale at noon Saturday. House of Blues also posted the entry information for their contest to win a trip to see Dolly's Aug. 10 Las Vegas show on their tour site Friday afternoon (click here)!
Cover Girl
I'm told that Dolly and Dottie Rambo have gotten lots of press in the past week or two over their gospel duet expected to be out this fall. They are on the cover of TEN and the Tennessee Star Journal and have been featured in Nashville Lifestyles, Power Source and U.S. Gospel News. Thanks!
A 'Flash' Of Dolly
I came across an interesting story in Friday's Peoria Journal Star about a Dolly concert several years ago. Read it here.
---
June 14:
Contest On, Final Dates On Sale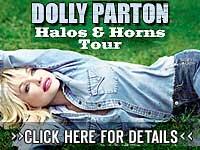 Get your entries in for House of Blues' contest to win a trip to Vegas to see Dolly live on Aug. 10. They should be posting information on how to enter on their site here shortly. Entries will be accepted from Friday through July 26. And remember, tickets go on sale at 10 a.m. Friday for Dolly's July 21 Nashville concert and at noon Saturday for her Aug. 31 Kansas City show. And tickets remain on sale for all other dates in the tour except for the sold out shows in New York and Los Angeles.
Dolly On CMT
Dolly made a taped appearance on Wednesday's CMT Flameworthy Video Awards (my cable system doesn't carry CMT, so I'm relating this to you second-hand). In a skit of host Kathy Najimy claiming to be the fourth Dixie Chick, an "investigative reporting" team discovered she was actually a stalker who had claimed to be part of several stars' lives, even pretending to be Molly Jo Parton, Dolly's long-lost sister. The clip presented a Dolly interview about the incident. Also featured as "stalker victims" were Melissa Etheridge, Gene Simmons and others. Thanks, Justin!
More Travel Channel News
The Mountain Press this week ran a story about the Travel Channel's trek to Dollywood and Dolly's Splash Country this week filming for an episode of Travel Secrets, a behind-the-scenes look at tourist locations around the world. The show will cover everything from how rides are constructed to a look inside Dolly's dressing room. There will also be interviews with Dolly recorded at this year's opening weekend in April, according to the story. You may read it here.
---
June 13:
Martina Takes Flameworthy Prize
Martina McBride's "Blessed" beat out Dolly's "Shine" for Female Flameworthy Video of The Year at CMT's ceremonies Wednesday night. Kenny Chesney's "Young" took the night's top prize, Flameworthy Video of The Year. Martina was up against Dolly, Sara Evans' "Saints and Angels," Faith Hill's "There You'll Be," and Jo Dee Messina's "Bring On The Rain." Although she didn't win, Dolly got a mention in pre-award coverage on CMT.com in a profile of the event's host, Kathy Najimy. "Consider her work as an outspoken feminist, and as a visible advocate for gay rights and PETA (People for the Ethical Treatment of Animals), and it's no wonder that Najimy, 45, is drawn to personalities with strong, distinct voices. That goes for country music, too. 'I love Dolly Parton, and everything she does is great," Najimy says. "She has a great sense of strength and humor, so I really love that. I love how successful she's been, being what she chose to be and not ever changing that." Read their full story here.
Orlando Paper Salutes Dolly
In an editorial in Wednesday's Orlando Sentinel, the newspaper lauded Dolly's decision to proceed with her fourth Dixie Stampede equestrian dinner theater, set to open there in May. In the article, titled: "The revival of Dolly's racing-pig show exudes confidence," the paper noted that the development shows that tourism is on the rebound in the Magic Kingdom area, but not because of the tourists that Dolly's restaurant will bring. "It's the fact that Ms. Parton had enough confidence in the region to give the go-ahead to build the Dixie Stampede Dinner and Show in Orlando," the paper said in congratulating her on the decision. Read the full editorial here.
Kenny's Pics
Kenny Rogers' selection of black-and-white portraits of some of country's legends, including Dolly, opened at the Country Music Hall of Fame Tuesday night to recognize his second book of photography, This Is My Country. They will remain on display until Dec. 31.
---
June 12:
Better Hurry For Tickets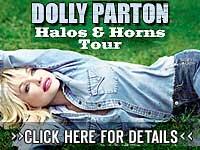 As of Tuesday evening, Ticketmaster was no longer accepting sales requests for Dolly's July 10 show in New York City, suggesting that this show sold out earlier in the day, although I haven't received official word from House of Blues that this is correct. (Live Daily on Tuesday evening reported that the show was sold out in a brief on Dolly's tour here.) As was previously reported here, Ticketmaster has not been accepting orders for the Aug. 7 Hollywood show since Sunday, suggesting that this date has also sold out. Tickets, however, were still available as of Tuesday evening for the concert in Washington on July 15 through tickets.com and the rest of the shows through Ticketmaster: Atlanta on July 25, New Orleans on July 29, Dallas on Aug. 3, Las Vegas on Aug. 10, Denver on Aug. 13, Chicago on Aug. 17, Lowell on Aug. 21 and St. Louis on Aug. 28. Tickets go on sale at 10 a.m. Friday for her July 21 date in Nashville and noon Saturday for the tour's final show, Aug. 31 in Kansas City.
More Stampede Coverage
Dolly's new Dixie Stampede coming next year to Orlando, Fla., made that city's Sentinel newspaper on Tuesday. Read their story here.
Will Dolly Win?
We'll learn later tonight whether Dolly takes home a CMT Flameworthy Video Award (the latest incarnation of the Music City News Awards, then TNN/Music City News Awards, then TNN/Country Weekly Awards). Dolly's video for the Grammy-winning single "Shine" is up for Flameworthy Female Video Of The Year against Sara Evans' "Saints and Angels," Faith Hill's "There You'll Be," Martina McBride's "Blessed" and Jo Dee Messina's "Bring On The Rain."
---
June 11:
More Previews
Sugar Hill on Monday posted the fifth song in its preview of Halos & Horns, the cut "Not For Me." Visit their page for the album here. Also on Monday, House of Blues posted clips of all 14 songs on the CD on their page for Dolly's summer tour here. (And be sure to check out the Dollymania page for the project here!)
Orlando Gets Stampede In May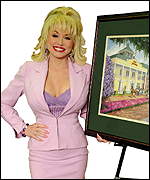 Dollywood on Monday announced that Dolly's fourth Dixie Stampede, to be located in Orlando, Fla., will open between Disney World and Universal Orlando on May 23. "We're excited to finally be underway with this project. In just about a year, millions of families visiting Orlando area will see a show they'll never forget. Our goal is to make us THE MOST FUN PLACE TO EAT IN ORLANDO," Dolly said in a press release. "Our mission at Dixie Stampede is to greatly exceed our guest expectations by doing the unexpected. Orlando is the home of world-class entertainment, and I think as my Dixie Stampede show changes from season to season each new spectacular act will astound visitors to Orlando and residents alike."The $28 million project had been delayed following the downturn in the tourism economy following last year's terrorist attacks and had been previously delayed when local zoning officials expressed concern over traffic at an earlier location. "We're delighted to have Dolly and her Dixie Stampede join Orlando's great line-up of attractions. Tourism in Orlando continues to improve and we expect this to continue through the summer. We're looking forward to May, 2003 when Dolly will be here to officially open Dolly Parton's Dixie Stampede," said Bill Peeper, president of the Orlando/Orange County Convention and Visitors Bureau, Inc. Other outlets of the equestrian dinner theater operate adjacent to Dollywood in Pigeon Forge, Tenn., as well as Branson, Mo., and Myrtle Beach, S.C. The BBC posted a story on its site here.
Dollywood In The 'Times'
A New York Times article over the weekend about celebrity investments made mention of Dolly and her East Tennessee theme park. The look at some business ventures of the famous included such items as Orpah's production company and Michael Jordan's restaurant (with no mention of Dolly's production companies or Dixie Stampedes), but Dolly led the theme park and resort portion. The article said: "Dollywood, the Pigeon Forge, Tenn., amusement park in which Dolly Parton has invested tens of millions of dollars, now generates estimated annual revenues of $84 million. Clint Eastwood bought a historic resort in Carmel, Calif.; Kevin Costner bought a South Dakota casino and plans to build a golf resort nearby." Read the full story here (but you must first register for free with the newspaper to access its online stories). Thanks, Bryan!
Call Her 'The Queen'
A recent issue of US magazine featured several celebrities impersonating Elvis. Among them, they showed Dolly in the "King's" regalia at the Dollywood opening a few years back. (The article led with Cher's VH1 Divas Live appearance from last month.) Thanks, Hartman!
---
June 10:
'Sparrow' Still Rising


Dolly's Little Sparrow inches up one spot on the British country albums chart released Sunday, coming in at No. 7 in its 67th week. The Grammy-winning CD peaked at No. 1 for eight weeks last year and reached gold status overseas.
Get Your Tickets!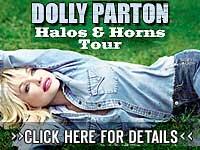 If you haven't purchased tickets yet for Dolly's summer tour, you'd better hurry. As of Sunday evening, Ticketmaster was no longer taking orders for the show at Hollywood's House of Blues, indicating that the Aug. 7 show may be sold out already. As of that time, tickets were still available for all other venues, except for Nashville (which go on sale to the public June 14) and Kansas City (which, after the pre-sales last week, won't go on sale to the general public until June 15). Click here to place your order!
More White Stripes Mentions
Detroit rock duo the White Stripes continue to get great press, usually mentioning their male-sung cover of Dolly's classic "Jolene." In Saturday's The Oregonian, it was noted: "Watch how Jack White wails Dolly Parton's beautiful don't-take-my-man epic 'Jolene' and check out the way tiny Meg White seriously pounds her drums. They love Dolly Parton, and Jack feels her pain. If you saw him last year at Berbati's, a vulnerable but tough man-child lamenting 'Jolene,' you saw the rock performance of that year." Read their full story here.
---
June 8:
Writer: 'Halos' Is 'Damn' Good


Salt Lake Tribune columnist Dan Nailen on Friday said that he LOVES Halos & Horns. In one paragraph in his column, he said the CD "is actually a fine listen all the way through" but the song he plays over and over again is her cover of Led Zeppelin's "Stairway to Heaven." He writes: "Not only do you get banjos picking through Jimmy Page's classic guitar parts; Parton's pipes actually take on Robert Plant's patented wail and hold up through 6 1/2 minutes. Damn!" Read his full column here. (And visit the Dollymania "Halos" page here!) Plus, while the CD doesn't hit stores for another month and a day, it's already in the top 700 best-sellers at Amazon.com due to advance orders!
Dollywood To Get Airtime
The Knoxville News-Sentinel on Thursday said the a crew from the Travel Channel has been at Dollywood all week shooting for a special on the park set to air next year. They also added that the cable network's Secrets series has been at neighboring Dolly's Splash Country water park for an episode of that show as well. Read the story here.
Even More Press
And speaking of Dollywood, the park gets a mention in ABC News' continuing summer travel series on Friday, with a paragraph detailing its summer offerings. Read it here.
Get Your Tickets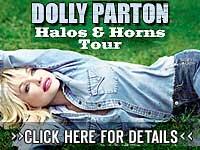 If you haven't purchased your tickets yet for Dolly's summer tour, you can still get some. Although tickets were on sale Wednesday to AOL members and Thursday and Friday (through 10 p.m. local time) for fans using the Dolly fan sites partner link here, they go on sale at 10 a.m. local time Saturday to the general public. All shows are included except for her Aug. 10 stop in Las Vegas, which has been on sale for two weeks, and the July 21 concert at Nashville's Ryman Auditorium, which goes on sale June 14. Brent Hyams, a spokesman for the Ryman, tells me that tickets will go on sale that day both through Ticketmaster and the Ryman box office (615-255-9600 or ryman.com). He added that he didn't know why the venue chose not to participate in the pre-sales, saying that it was just a decision made by the theater's management. He added: "The Ryman Auditorium is very happy to welcome Grand Ole Opry Member, Dolly Parton, back home to the 'Mother Church' for this concert. We haven't been able to host an actual concert of hers for many years, so this is going to be a very big night for us."
---
June 7:
Get Your Tickets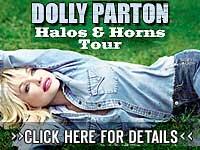 House of Blues members and Dolly fans using the partner links from her fan pages like Dollymania began at 10 a.m. Thursday snapping up tickets for her summer 2002 tour. If you haven't gotten yours yet, you may click here to place an order until 10 p.m. your local time on Friday. Tickets go on sale to the general public through Ticketmaster at 10 a.m. Saturday.
'Billboard' Picks Up On Tour
Dolly's Halos & Horns tour made the Billboard website Thursday afternoon, with the posting of a story based on Wednesday's press release. Read it here.
Britain Talks Of 'Stairway'
Two British news sites on Thursday posted stories on Dolly's cover of Led Zeppelin's "Stairway To Heaven" on Halos & Horns, which hits stores in the U.S. on July 9 and in Europe July 8. Both stories were based on Dolly's cut-by-cut commentary (available here) which was released to the press more than two weeks ago. Sky News' story is available here, and the one from Dot Music is available here. (And visit the Dollymania page for the album here.)
Dollywood Additions
Dollywood on Thursday issued a press release about its new show, Backstage Pass, a tribute to the legends of country music which replaced Dolly's Paradise Road show in the Celebrity Theater. Dolly said, "From the beginning numbers to 'Who Will Fill Their Shoes' the show provides memories and video anecdotes from my friends and my heroes in Country Music. Every time I see it I see something new that makes me laugh or touches my heart. We had a great time putting it all together and I think people are really going to enjoy it. I wanted to give something back to my friends and the performers I have admired over the years. With nearly 80 songs in one hour there's a mix of music from every era and every big star." The show features anecdotes and stories from several performers, including Oak Ridge Boys, Larry Gatlin, Little Jimmy Dickens, Jeannie Sealy and Dolly herself. The show, which is performed daily, debuted May 25. Also on Thursday, the park issued a release for its series of bluegrass concerts this summer, which kicks off with the Red White & Bluegrass Blast June 14-16 with The Del McCoury Band, The Gibson Brothers, Mountain Heart, The Seldom Scene, Lonesome River Band and Blue Highway. Others performing throughout the summer include Russ & Becky Jeffers, The Chapmans, The Larkin Family, The Stevens Family, The Sitze Family, Wildfire, Carolina Road, Suzzanne and Jim Hale, The Birdsong Family, One Riot One Ranger, The Duffin Family, 1st Impression, Fragment, New Ground, Valerie Smith and Liberty Pike, Russ & Becky Jeffers, 2nd Edition and The Jeanette Williams Band.
---
June 5:
Tour Press Release Released
Sugar Hill and House of Blues on Wednesday issued the official press release for Dolly's tour and its corresponding ticket pre-sales. Read the press release here. (And remember, AOL members were able to pre-purchase tickets on Wednesday, and all others who use the Dollymania House Of Blues partner page here may purchase tickets beginning at 10 a.m. your local time on Thursday, with the exception of the Nashville show. Tickets to the non-Nashville dates go on sale to the general public on Saturday.)
More Press
Information from the press release made it into news service UPI's country round-up on Wedneday, earning it a spot in a few newspapers' online sites. Read UPI's report here.
Tillis Set Date Changed
Brad Schmidt's celebrity column in Wednesday's The Tennessean noted a different date for Pam Tillis' tribute set to her father, It's All Relative. The CD, which will be released by Sony Nashville and feature vocals by several Nashville artists including Dolly, was to be released on Aug. 27, country.com reported. Schmidt on Wednesday wrote that it will instead come out on Sept. 3.
---
June 5:
Dolly In Nashville Paper
Dolly's July 21 concert at the Ryman in Nashville made Brad Schmidt's celebrity column in Tuesday's The Tennessean. He noted that Dolly wanted to play the Ryman, "So, hey, she is freakin' Dolly, so she can do what she wants!" He also said that surveys show that Dolly is No. 2 on fans' want-list to play the original home of the Grand Ole Opry (James Taylor is No. 1, he reported). He said tickets will be $50.50 and $37.50 and go on sale June 14. (Although House of Blues reports that the ticket date is actually June 15, as this is the only show for which one cannot order the pre-sale tickets on Wednesday for AOL members and Thursday for all others by clicking here.) Read his full article here.
Rare Dolly Found
I just came across another rare Dolly appearance that I wanted to pass along. Back in 1972 a dozen or so RCA artists got together to record a tribute to legendary guitarman and label president Chet Atkins titled "Chet's Tune" by "Some Of Chet's Friends." Each artist sings two or three lines in the song, and one of those singing the praises of the Certified Guitar Player is Dolly herself!
---
June 4:
Midnight Update: Tour Dates Added, Pre-Sale Info
House of Blues has confirmed several additional concert dates for Dolly's tour this summer and announced that all tickets will go on sale to the general public on Saturday. However, AOL members and Dolly fans will have the chance to purchase tickets in advance later this week (see below), information which was embargoed from public release until midnight. House of Blues is promoting the tour as a chance to see Dolly in an "intimate club setting," and an official press release is expected sometime on Wednesday.
New Dates