In related news, Dolly Records has announced that the music video for lead single "Together You And I" will debut Tuesday. No word on whether it will premiere on CMT or GAC, although since she will appear on GAC's On The Streets Tuesday, my bet is the video will premiere there. CMT also announced over the weekend that Dolly's interview on the project she taped last week will air on Saturday's CMT Insider. Finally, she also promoted the project, and discussed the one year anniversary of friend Michael Jackson's death, in an interview with Yahoo's OMG celebrity blog here.

Dolly's CMA Fest Stop Profiled
Check out a nice little profile of Dolly's CMA Music Fest appearances, including clips from her performance at Marty Stuart's Late Night Jam, courtesy Nashville Country Club on YouTube here.

Library Expands In Indiana
Putnam County, Ind., has signed up for Dolly's Imagination Library literacy program, The Banner Graphic reported here on Monday.
---
June 27:
Next Dollywood Galleries Posted
Your official Dollymania.net coverage of Dolly's KidsFest appearances at Dollywood continues tonight with new galleries added to that section of the site here.
U.K. Paper Talks About Dolly
Britain's The Guardian newspaper Friday published a critical analysis of Dolly's genius as an artist. Check out what their reviewer had to say, which he summed up as "ultimately what I love about Dolly Parton is that while she looks like a cartoon she is in fact a brilliant chronicler and champion of the working class," here.
'9 To 5' Readies Canadian Show
With the touring company of Dolly's 9 To 5: The Musical heading to Toronto, Canada, on Wednesday, The Hamilton Spectator over the weekend offered an interview with star Diana DeGarmo here.
Jewish Library Replicates Dolly's Method
Did you know Dolly inspired a Jewish-based literacy program? The New York Times on Friday profiled The PJ Library, a collection of Jewish books sent to children in their homes which was based on Dolly's Imagination Library literacy program. Read it here. 
Aussie Chart Update
The 2007 foreign compilation album The Very Best Of Dolly Parton, Volume 1 dips another two spots this week on the Australian country albums top 20 to come in at No. 16.
---
June 24:
New KidsFest Photos Posted
The next photos of Dolly from her KidsFest opening at Dollywood last week are now available in that section of the site here.
'Better Day' Gets Good Grade
With Dolly's Better Day just days away, Friday's edition of Entertainment Weekly features the CD at the top spot of the week's "Must List" and gives it an "A-" in its review here, calling the positive songs a "brilliant strategy, with some equally brilliant vocal performances."
CMT Digital Profile Of Dolly Coming
Dolly will be the first country artist profiled in MTV Music Group's revised "Posted" digital platform, the network's senior vice president told Mashable here. The revamped medium will launch its second year in July featuring expanded fan interaction including "The Posted Fan Club," where followers will be able to upload their photos, videos and other content related to the artist of the month while also participating in live chats with the artist. With rotating artists from MTV, VH1 and CMT in that order, Dolly will likely be featured for the month of September. "You might not think Dolly would be into social, but she has very engaged fans," said Chris Ficarra, SVP of integrated marketing for MTV Music Group Digital.
Georgia Concert Date Announced
The date for Dolly's fall concert at Georgia's Wild Adventures theme park has been revealed. The park on Thursday announced the 7 p.m. Oct. 14 show. Tickets, $20 each (plus park admission), go on sale to season passholders on Friday, followed by sales to the general public starting July 4. Read the press release here.
Dolly Chats With Toronto Paper
Dolly gave a great little interview with The Toronto Star this week in advance of her 9 To 5: The Musical heading across the border for a week and a half engagement in Toronto. Read it here. In addition, Kansas City Infozine offered a glowing review of the show, which continues in that city through Sunday. Read it here.
Check Out Some Australian Interviews
Thanks to Tony for finding a couple of recent Dolly interviews Down Under around the announcement of the Australian leg of her Better Day World Tour. Check them out from A Current Affair here and Today here.
Warhol Exhibit Opens In Music City
The previously-announced Andy Warhol exhibit at Nashville's Frist Center that includes one of his Dolly portraits, Warhol Live: Music and Dance in Andy Warhol's Work, opens Friday and continues through Sept. 11. Check out a preview from The Tennessean here.
U.S. Chart Update
The Grascals' Country Classics With A Bluegrass Spin, with three Dolly guest spots, inches up one to No. 13 its 23rd week on the bluegrass albums chart, the July 2 Billboard numbers revealed. Elsewhere on the charts, Jason Aldean's My Kind of Party gains one to recapture the No. 1 country spot and rises two to No. 5 pop in its 33rd chart week, while Brad Paisley's This Is Country Music gains one to No. 2 country and loses one to No. 9 pop in its fourth chart week.
Wyoming Library Launches Contest
Dolly's Southwest Wyoming affiliate of her Imagination Library is offering local parents the opportunity to participate in a photo contest. Learn more from Little Chicago Review here.
---
June 23:
'Better Day' Samples, Guest Vocalist Info Released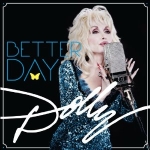 With Dolly's new Better Day CD just days away from hitting stores, much more information on the project is coming to light. Audio samples of the album's tracks have been posted to CD Universe here and Canada's Rhino Records here. In addition, Barnes & Noble posted liner note information here which notes the project features guest vocals from many Dolly friends including Alison Krauss, Emmylou Harris, the Isaacs (Sonya and Becky) and Vincent & Dailey (Darrin and Jamie). In addition, it showed that Dolly pal Mac Davis co-wrote at least one of the tracks with her. Thanks, Tony and Francis!
More Braille Imagination Library Coverage
Dolly's announcement Friday of adding Braille and audio books to her Imagination Library literacy program earned mentions this week from Knoxville television station WBIR here and Kentucky Public Radio here. In related news, Washington County, Tenn., recently celebrated distribution of its 200,000th book in the program, Tricities.com reported here.
'9 To 5' Makes News In Kansas City
The touring company of Dolly's 9 To 5: The Musical earned a mixed but mostly good review from The Kansas City Star here Wednesday, and Playbill has several promotional videos for the city from the cast here.
---
June 22:
Dolly On Leno Soon, 2012 Tour Coming
Dolly will guest on The Tonight Show With Jay Leno on July 22 to perform her single "Together You And I," her publicist announced on Tuesday. In a press release, she noted the song was chosen as the first single from next Tuesday's release Better Day "because everyone seems to love it. It's got a beautiful melody; it is a very positive sounding song and I love positive love songs. I am kind of like a hopeless romantic, I believe that love can just last forever, or at least that it should!  Sometimes forever is not as long as we'd like to believe, but it's like 'Together you and I can stop the rain and make the sun shine' and just make it all happen as long as we're together.  So it can be a love song or it can be just about love in general. Just human love and love around the world." In recapping upcoming dates for the Better Day World Tour, the press release did not reference the previously-disclosed intention to schedule a second U.S. leg of the tour in October, instead noting that additional U.S. and Canadian dates would be coming in 2012.
Dollywood Giving Away Concert Tickets
Dollywood's official Facebook page on Tuesday announced it would give away two tickets to Dolly's July 17 Knoxville concert which will kick off her Better Day World Tour. Details of how to win will be posted to Facebook at 10 a.m. Wednesday.
More Pics Posted
Speaking of Dollywood, the next set of shots from Dolly's appearance at the park on Friday to open KidsFest have been added to that section of the site here. Much more to come!
Another Plea For Dolly At Glastonbury
Dolly, the Rolling Stones and Led Zeppelin are the dream acts the founders of Britain's huge Glastonbury music festival long to book for future years, they said in a video posted to NME here Tuesday. Dolly is often a rumored headliner for the festival, although she has yet to play it.
Dolly Tweets GAC Pics
Looks like Dolly will be on next Tuesday's episode of On The Streets on cable network Great American Country (GAC). Her official Twitter feed on Tuesday posted photos of her with the show's host, Suzanne Alexander, in the studio here as well as the network's Top 20 Countdown host Nan Kelley here (her upcoming appearance on the July 1 episode of the countdown had already been announced).
'Not A Witch' Tweets Dolly
Failed senatorial candidate Christine O'Donnell, who became infamous for having said on national television many years ago that she had dabbled in witchcraft, which forced the Tea Party darling to release a campaign commercial which proclaimed, "I am not a witch," is tweeting Dolly. Her posting Tuesday of a Dolly quote to her Twitter feed, "You'll never do a whole lot unless you're brave enough to try," garnered the attention of USA Today here.
'The Voice' Chooses Dolly Again
For the second week, Dolly the songwriter was highlighted on the talent competition "The Voice," this time with contestant Casey Weston taking on "I Will Always Love You." Watch it on YouTube here. Vicci Martinez took on "Jolene" last week.
---
June 21:
More Pictures, Sounds From Dollywood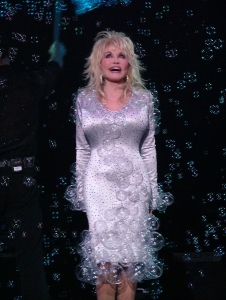 Your official Dollymania.net coverage of Dolly's appearance at Dollywood on Friday to open KidsFest continues tonight with the first photo galleries of her stop at the park in addition to the audio files of her appearances. Check them out in that new section of the website here. Also, Dolly wasn't the only special guest there last week, as editors and publishers from the Tennessee Press Association and Kentucky Press Association also held a meeting at the park, which included a visit from Dolly herself on Friday. Check out an Associated Press photo from USA Today here. More pictures and a video report to come! Image is copyright © 2011 T. Duane Gordon/Dollymania.net. May not be reproduced or redistributed without prior written consent.
Opry, Cracker Barrel Issue Dolly Tracks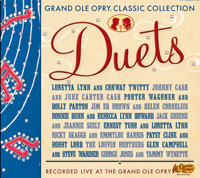 The Grand Ole Opry and Cracker Barrel restaurants on Monday released a couple of classic live Dolly performances on CD for the first time as four new co-branded albums came out in the stores and on their websites. Grand Ole Opry Classic Collection: Duets features one of the first Opry performances of Porter Wagoner and Dolly with their first recorded duet, "The Last Thing On My Mind," and Grand Ole Opry Classic Collection: Classic Hits includes her singing "Love Is Like A Butterfly." Those two and a third disc, Grand Ole Opry Classic Collection: Outlaws (which doesn't include Dolly), consist entirely of live performances from the Opry stage in Nashville. A fourth collection, Grand Ole Opry Presents Our Kind Of Country, features more recent artists with previously-released studio recordings. Read more from the Opry press release here.
'H2D' Songs, Fund-Raising Effort Announced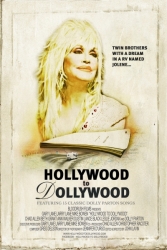 Gary and Larry Lane from the fan documentary Hollywood to Dollywood have added their project to the fund-raising website Kickstarter. Before the website addition, they had earned enough funds to pay for exhibition rights to show the movie at film festivals for one year, but they need to raise $20,000 more for color correction and song rights to release the project onto DVD. They also tell me they have received Dolly's official approval for the box and poster art at left. The movie follows their adventure traveling from Los Angeles to Pigeon Forge to present Dolly with a screenplay they had written and a birdhouse built to resemble her childhood home (similar birdhouses are for sale at bowenbirdhouses.com). They're also announcing tonight via Dollymania.net the 15 songs Dolly had previously approved for use in the project:
Full Circle
---
June 20:
Dolly Starts KidsFest At Dollywood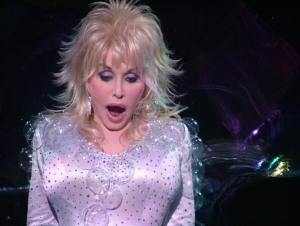 Dolly was literally "Bubbling Over" as she opened the 2011 KidsFest at Dollywood on Friday. Following a buzzing private appearance for the press and attendees at the Imagination Library's biennial Homecomin' conference donning a "Ladybug Girl"-inspired outfit, she wore bubbles on her clothes to pop in at the spectacular Gazillion Bubbles Show, even allowing herself to be temporarily encased in a bubble on stage (her reaction to that is at left). She also took a park tour in her Dewitt antique car.
For the first appearance, she followed the premiere of the park's production of Ladybug Girl and the Bug Squad as part of the Imagination Playhouse, her musical adaptations of stories from her Imagination Library literacy program, which this year also added a musical of the book Otis. She and Dollywood Foundation President David Dotson announced the addition of Braille and audio books for the visually impaired to the program in partnership with the American Printing House for the Blind in Louisville, Ky., gifting Braille copies of The Little Engine That Could and Dolly's own I Am A Rainbow to visually-impaired child Cameron Burkett. "I misunderstood, 'cause I was gonna keep this for myself!" she joked with the girl as she gave her the books.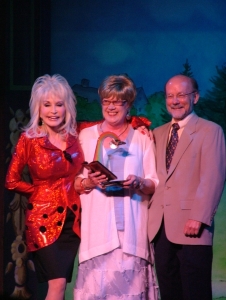 They also presented the National State Teachers of the Year Organization's Dolly Parton Chasing Rainbows Award to Marge West, a teacher from Colorado who coincidentally was also visually impaired. In thanking Dolly for the honor, she recounted how she continued to teach as an eye disorder took her sight and explained she uses the folk song "The Itsy Bitsy Spider" in her classroom to teach the lesson of overcoming adversity. After West led the crowd in singing the song, Dolly said she had never thought of that as its message before and would never think of it the same way again. Also at the event, the Junior League of Knoxville announced that Dolly had been named their first honorary Junior League member and that a $25,000 annual literacy grant in her name will be awarded through a competitive application process each year.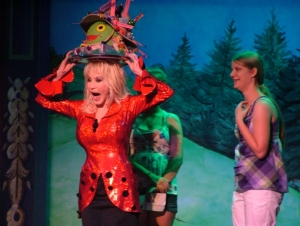 The ceremony concluded with student representatives from a service learning project that was held in partnership with the Homecomin' conference presented Dolly with a proclamation from the state legislature and a hat they made for her (her amused reaction to which brought many laughs – and even more when she neglected to remove the plate and ball "head" that were holding the hat before she took a photo with it "over" her head).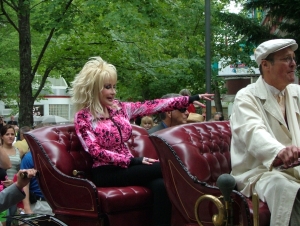 In a brief media Q&A session, she was asked about who her favorite teacher was (Archie Ray McMahon, one of her first teachers in a one-room schoolhouse), what it means to have the Junior League grant named after her ("it makes you feel like you've done something good" and if having her name on it helps them raise money to help children, she's happy to support it), and her message to gifted children who may be misunderstood like she was when she stole some chalk as a child to draw and got in trouble ("Well, I'd say, don't steal the chalk," she joked to laughter, saying it taught her a lesson and adding: "It's very important that we let children dream, that we listen to their dreams and plans, and we encourage them and don't make fun and make light of their dreams."). A child asked what inspired her to create Dollywood ("people like you!"), and your webmaster wrapped it up asking about her upcoming CD, Better Day, and its associated tour ("It's all a bunch of positive, uplifting songs, which I felt we needed at this time, and I wrote all of the songs on the CD. And we are going to be starting our tour off on July 17 in Knoxville, and all of the money goes to the Imagination Library.")
Other coverage is available from Knoxville's Volunteer TV here or in the media player below, a brief from Knoxville's WBIR here and blog Examiner.com here. Images are copyright © 2011 T. Duane Gordon/Dollymania.net. May not be reproduced or redistributed without prior written consent. Click on them for a larger view.

Willie And Dolly Together Again
Dolly and Willie Nelson have recorded a new duet of the country classic "Salty Dog" for the soundtrack of the film Our Idiot Brother, according to a Nelson interview with the Knoxville News-Sentinel here. The Paul Rudd comedy is in theatres Aug. 26.
Dolly Joins French Singer On CD
Dolly recently also recorded a duet of her song "True Blue" with French singer Isabelle Boulay. The track will appear on Boulay's Quebec-recorded CD, Les Grands Espaces ("The Big Country"), which will be released in French Canada in early November and then a couple of weeks later in France, according to the French edition of Canadian news site Canoe here.
Aussie Chart Update
The 2007 foreign compilation disc The Very Best Of Dolly Parton, Volume 1 sticks around another week on the Australian country albums top 20, slipping four to No. 14, it was revealed.
Another '9 To 5' Interview Posted
Dolly recently chatted with The Kansas City Star about her 9 To 5: The Musical, the first national tour of which opens in the city on Tuesday, concluding on Sunday. Read the interview here.
Dolly To Guest On GAC
Cable channel Great American Country (GAC) has announced Dolly will be the special guest for its weekly Top 20 Countdown on Independence Day weekend this year. The show premieres at 8 p.m. Eastern Friday, July 1, with repeats on July 2 and 3. Given that her new album, Better Day, will have just hit stores a few days earlier, perhaps we'll see the premiere for the music video to its lead single, "Together You And I." In related news, rival channel CMT noted on its website over the weekend here the CD as one of the summer's dozen anticipated releases, adding that she'll be doing "a round of promotional appearances" between its release at the end of this month and the kick-off of her world tour in mid-July, although the GAC stop is the first of those appearances to be announced.
---
June 16:
Grascals Slide Again On Charts
The Grascals' Country Classics With A Bluegrass Spin, featuring Dolly on three tracks, falls four places to No. 14 its 22nd week on the bluegrass albums chart, the June 25 Billboard numbers showed. Elsewhere on the tallies, the self-titled solo debut from Ronnie Dunn debuts at No. 1 country and No. 5 pop, while Jason Aldean's My Kind of Party remains steady at No. 2 country and gains one to No. 7 pop in its 32nd week.
Zipline Operator Sues Dollywood
If you're at Dollywood on Friday to see Dolly at the KidsFest opening, you won't be able to zip around above the park. The zip line through the park has been closed since late May, when a tree struck and damaged a zip line while it was closed due to a storm. The ride's operators, Skyline Eco-Adventures, have filed a $1 million lawsuit against the park claiming that construction of its new ride caused the tree to fall, but a park spokesperson said the storm knocked the tree down, not the construction. Read more from The Knoxville News Sentinel here.
'9 To 5' Gets Press In Tulsa
A very positive review of Dolly's 9 To 5: The Musical was published Thursday in Tulsa World here. The show continues through Sunday in the city before moving to Kansas City.
---
June 16:
'Jolene' Performed On 'The Voice'
Dolly's songwriting prowess was on display Tuesday night on national television, as The Voice contestant Vicci Martinez took on her classic "Jolene." Watch the performance here.
Dolly In Aussie 'Telegraph'
Another Dolly interview Down Under made Australia's The Daily Telegraph Wednesday here.
Imagination Library Homecomin' Hits Pigeon Forge
Hundreds of community leaders from the U.S., Canada and U.K. involved in Dolly Parton's Imagination Library have converged this week in Pigeon Forge, Tenn., to dream more, learn more, care more and be more at the biennial Homecomin' conference supporting the entertainer's early childhood literacy program. Sessions on Wednesday and Thursday focus on topics that include best practices, research, service club partnerships, United Way involvement, social media usage, communication and child development. Representatives from local Imagination Library affiliates also share their successes, strategize over their struggles and celebrate the program that sends a book a month to more than 650,000 children under the age of 5.
---
June 15:
'Tour Collection' To Be Re-Issued
Sony U.K. has announced plans to re-issue its 80-track, four-CD The Tour Collection, which originally came out to celebrate Dolly's 2008 British tour. When was first released, the package contained several tracks that were being put on CD for the first time. The discs are themed "Love," "Covers," "Mountain Memories" and "Duets." The re-issue hits stores overseas on July 26 in advance of her European leg of the Better Day World Tour starting in August. Reserve your copy as an Amazon import here!
Dolly On Saturday's 'Insider'
CMT announced on Tuesday that this weekend's CMT Insider will review last week's CMA Fest ("Fan Fair"), including Dolly's appearances. The episode premieres at 1:30 p.m. Saturday with an 11 a.m. Sunday repeat.
---
June 14:
'Better Day' Pre-Sale Packages Launched
Dolly Records on Monday announced and began taking orders for three pre-sale packages of Dolly's June 28 release, Better Day. Available through her official online store here, a $35 package (plus shipping and handling) includes the CD, a limited edition album t-shirt, commemorative tour laminate and MP3 download of lead single "Together You And I." Add another $20 and the "premium" package includes Dolly's handwritten lyrics to "Together You And I" reproduced on a 12x12 poster for a $55 total. Go up to $100 for one of the 300 "deluxe" versions which add an autographed copy of the limited edition vinyl album release of Better Day plus a free copy of the Dolly: Live From London CD/DVD. (They remained available as of press time Monday night.) Orders submitted by June 20 will ship the week of June 27, so you should have it around the release date, with the exception of the vinyl albums, which won't ship until Aug. 22.
Library Doc Airing Up North
The Canadian documentary on Dolly's Imagination Library, The Book Lady, airs Tuesday night at 9 p.m. Eastern on Bravo! Canada, and in related news, Dolly gave an interview with FOX News posted here Monday about the importance of giving back and how she created the literacy program.
Off To Dollywood!
Your webmaster is heading out of town to Pigeon Forge on a trip that includes covering Dolly's appearances at Friday's opening of the annual KidsFest at Dollywood, so if updates are sporadic over the next few days, please understand. And if you're heading down, be sure to catch Dolly in several appearances around the park on Friday, concluding with a 4:15 p.m. park tour in her antique car, weather permitting, running from Heartsongs Theatre to Showstreet Palace. She is not scheduled to be on the park Saturday. Also at the park on Friday will be Ladybug Girl series authors David Soman and Jacky Davis and Otis writer and illustrator Loren Long. This year's new additions to the Imagination Playhouse live musical stage show series are Ladybug Girl and Otis, and the authors will be on hand to autograph their books. Long's signing will follow the noon and 12:30 p.m. performances at Heartsongs Theatre, while Soman and Davis will sign after the 1:30 p.m. show. Also opening for the festival are The Gazillion Bubbles Show, Recycled Rhythm and the return of Cloudy with a Chance of Meatballs 4D ride.
---
June 13:
Dolly Greets Fans In Music City
Dolly was in Nashville this weekend participating in CMA Music Fest, formerly Fan Fair. She greeted 40 winning fans on Saturday in honor of the event's 40th anniversary, although several media reports incorrectly called the meet-and-greet photo session an autograph session, including USA Today here. Her arrival at the photo session was captured in Nashville Country Club's video report available on YouTube here. And footage of her performances at Wednesday night's Late Night Jam (which Angry Country reported here raised $30,000 for MusiCares and the Imagination Library) have also been posted to the video sharing site: "Put It Off Until Tomorrow" here, "The Pain Of Loving You" here and "I Will Always Love You" here. AOL's The Boot also covered the event here. (As a bonus, here are a couple of videos from her recent Pirates Voyage opening that Chuck also found and sent along here and here.)
'Very Best' Back On Chart Down Under
With sales spurred by numerous remote media appearances to promote the announcement of her upcoming tour Down Under, The Very Best Of Dolly Parton, Volume 1 re-enters the Australian country albums top 20 chart this week at No. 10, it was announced Monday there (Sunday night U.S. time).
'9 To 5' Goes To Oklahoma
The first national tour of Dolly's 9 To 5: The Musical heads to Tulsa, Okla., on Tuesday, garnering two pieces in Tulsa World: an interview with book writer Patricia Resnick here and star Diana DeGarmo here. It ends its run in the city next Sunday before moving on to Kansas City.
Dolly's Hospital Up For Award
"Dolly's hospital," Sevierville's LeConte Medical Center, which houses the Dolly Parton Center for Women's Services and Dolly Parton Birthing Unit, is among 50 finalists for the national honor of "Top 20 Most Beautiful Hospitals." You may cast a vote for it here through next Sunday.
---
June 10:
Dolly Enchants At Start Of CMA Fest
The CMA Fest's unofficial kick-off occurred Wednesday night with Marty Stuart's 10th annual Late Night Jam in the Ryman Auditorium, headlined by Dolly and benefiting MusiCares and her own Imagination Library literacy program. I'm told Dolly sang "Jolene," "Coat of Many Colors," an abbreviated version of "I Will Always Love You," "The Pain of Loving You" as a duet with Stuart, "Put It Off Until Tomorrow" and "9 to 5," as well as held a question-and-answer session led by Stuart. She was on stage for about half an hour out of the three-hour program. Other guests included Mel Tillis, Connie Smith, the Quebe Sisters Band, Doug Kershaw, Duane Eddy and Ricky Skaggs. Check out a series of photos from audience member Dustin Barksdale here and a brief from CMT.com here.
U.S. Chart Update
The Grascals' Country Classics With A Bluegrass Spin, with three Dolly guest appearances, slips one to No. 10 its 21st week on the bluegrass albums chart, Billboard's announced in the June 18 lists Thursday. Brad Paisley's This Is Country Music holds the No. 1 country spot and falls four to No. 6 pop in its second week, while Jason Aldean's My Kind of Party remains steady at No. 2 country and rises one to No. 8 pop in its 31st week.
More From Myrtle Beach
 The Myrtle Beach Sun News on Thursday posted another story about Dolly's new Pirates Voyage dinner theatre. Check it out here.
---
June 9:
Georgia Theme Park Show Planned
What is likely the first fall show on the second American leg of Dolly's Better Day World Tour was revealed on Wednesday with the announcement by theme park Wild Adventures in Valdosta, Ga., that Dolly will play a special concert there "later this year" in celebration of the park's 15th anniversary. More information on the shows, including the exact date or dates and how many concerts will take place, is to be revealed in July. Presumably, the show will be part of the anticipated slate of U.S. dates in October that are to be sandwiched between her August-September European leg and November Australian leg of the tour, which kicks off July 17 in Knoxville with its first American leg. Season passholders at the park will get first crack at seats, which will later be offered to the general public. In a statement, Dolly noted: "I may own my own theme park, but Wild Adventures is such a great venue, I just wanted to include it on my world tour. Besides, I have some great fans in south Georgia and north Florida!" Wild Adventures is a sister park to Dollywood, being owned and operated by Dolly's partners, Herschend Family Entertainment. Read more from The Valdosta Daily Times here and TV station WCTV here.
Dolly Doc Noted In 'Playbill'
The premiere of Hollywood To Dollywood at next month's Outfest in Los Angeles garnered notice from Playbill in a piece here Wednesday, which also noted that the festival's Under the Stars outdoor film series at The John Anson Ford Amphitheatre will kick off this year with Dolly's film version of The Best Little Whorehouse In Texas.
'9 To 5' Stars Promote In Oklahoma
NewsOK.com on Wednesday posted an interview with Diana DeGarmo and Mamie Parris, stars of Dolly's 9 To 5: The Musical promoting the show, which is in Oklahoma City through Sunday. Watch it here.
Dolly Track Tops In N.J.
Thanks to Dave for alerting me that Atlantic City, N.J., country music station 107.3 has seen Dolly's "Together You And I" capture the top spot in its every-other-night new song "Cat Fight" for five consecutive contests, meaning it has held the position for 10 days!
---
June 8:
'H2D' Doc Headed To Festivals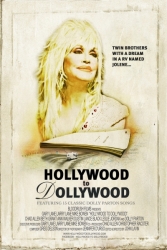 The Lane Twins' Dolly-themed documentary Hollywood To Dollywood has scheduled its world premiere and several additional film festival showings, the guys announced Tuesday. The film, which follows their cross-country journey in an RV named "Jolene" to get a screenplay in Dolly's hands while exploring the world of Dolly fans, features appearances by Leslie Jordan, Chad Allen, Beth Grant, Dustin Lance Black, Ann Walker and even Dolly herself plus 15 of her songs. The film premieres July 16 at 11:30 a.m. at the Los Angeles LGBT film festival Outfest. It will also be shown at Philadelphia's Q-Fest in July, the North Carolina Gay and Lesbian Film Festival and FilmOUT San Diego, both in August, and the American Documentary Film Festival in Palm Springs in March 2012. A website has been set up here, and a trailer is available for viewing here or in the media player below. Check out the full press release announcing the film festivals here.

Dolly Records Nixes Autograph Reports
Dolly's management on Tuesday issued a statement that appeared to say that the Country Music Association erred Monday in its press release announcing Dolly was holding a contest-driven autograph session in the Fan Fair Exhibition Hall on Saturday during the CMA Music Fest. From the statement, it appears that the CMA miscommunicated the details of the meet-and-greet contest that her management had also announced on Monday, calling it instead a contest for an autograph session without giving any details for how to enter or when winners would be chosen, which made it appear that it was a second, separate event in addition to the meet-and-greet contest. The new statement indicates there is no separate autograph session planned, nor will she sign autographs during the meet-and-greet session. Instead, the meet-and-greet winners will be selected beforehand and receive a photo op with Dolly as well as a gift bag containing a signed photo and additional merchandise. Entries for the contest must be received no later than 10 a.m. Central time Wednesday, with the winners chosen and notified via e-mal before noon Wednesday. To enter, send an e-mail with your first and last name and the subject line CMA FEST to info@dollypartonmusic.net. You must be able to visit Nashville on Saturday for the meet-and-greet to enter.
New Ride Construction Photos Available
Thanks to Dollymania.net correspondent Jason Worley for shooting some pics from the early construction on the newest ride at Dollywood, to be announced in September during Knoxville's Boomfest Labor Day weekend fireworks show. Look at the photos here and see if you can guess what it is! Thanks!
More Dolly Radio Interviews
Dolly did some more Aussie interviews broadcast this week on the Australian radio networks to promote her upcoming tour there. Give one a listen here from ABC and one here from 3AW. Thanks, Tabby!
---
June 7:
Dolly Does Fan Fair Autographs, Meet-And-Greet
For the first time in nearly 35 years, Dolly will sign autographs this weekend for Fan Fair in Nashville, it was announced Monday. She will also host a fan meet-and-greet during the annual festival in Music City. According to an e-mail sent by her record label's website to its mailing list, an unspecified number of winners will be randomly selected to each meet Dolly with one friend and get a gift bag and two pictures (which will be taken by her photographer and later made available to the winners for online download). To enter, e-mail your first and last name with the subject line CMA FEST to info@dollypartonmusic.net by 10 a.m. Central Wednesday. Winners will be informed via e-mail by noon Wednesday and given details on when to gather for the Saturday meeting and the rules. In addition, the CMA on Monday also announced she'll be doing a noon autograph session Saturday in the Fan Fair Exhibit Hall. They noted in a press release that she chose to do so to "do something special for the fans in celebration of the 40th anniversary of Fan Fair." The release referred to those who will get autographs as "a limited number of lucky winners" but didn't offer details on how to enter, so it was unclear whether they were referring to the meet-and-greet contest or if there will be a separate autograph session for a second set of winners. The CMA press release is available here and a brief about the autograph session was posted on CMT.com here. As was previously reported, Dolly kicks things off Wednesday night headlining Marty Stuart's Late Night Jam, the unofficial start of the CMA Music Fest. That concert benefits MusiCares and Dolly's Imagination Library literacy program, and tickets remain available via Ticketmaster (several rows of balcony seats remain for sale, and first and second row seats are being offered on an auction basis through the site). Her record label will also host a booth for her merchandise in the Fan Fair Hall during the festival.
---
June 6:
New Photos, Stories From Myrtle Beach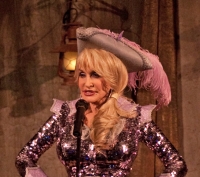 Coverage continued over the weekend of Dolly's opening of her new Pirates Voyage dinner theatre in Myrtle Beach, S.C. A slew of new photos from Dollymania.net correspondent Harrell Gabehart have been added to that section of the site here, including the image at right. The city's The Sun News offered a comprehensive story on the premiere here (which noted the state legislature declared Friday Dolly Parton Day statewide), a Dolly interview here and photo galleries here and here.
Publicity Begins On Aussie Tour
Dolly also over the weekend made some remote interview rounds Down Under, promoting the announcement of her long-anticipated tour dates in Australia. A telephone interview ran in the Sunday editions of several major newspapers throughout the country and is available from The Herald Sun here. She also phoned in a radio interview for Monday's 612 Breakfast Show on ABC, which they posted a couple of days early here. In it, she described the show as having four or five songs from the new CD mixed in with all of her big hits. She also noted there is no opening act, and the concert will feature an intermission. She repeated plans for a second American leg of the tour in October before she heads to Australia, although she also seemed to indicate that additional dates Down Under could be scheduled into December.
Dolly Calls Fans To CMA Fest
Dolly over the weekend released another video blog installment, this time encouraging fans to visit next week's CMA Music Fest, formerly Fan Fair. Watch it on YouTube here or in the media player below.

---
June 4:
Pirate Dolly Hosts Theatre's First Night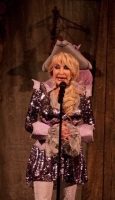 Dolly was in Myrtle Beach, S.C., Friday to open her new Pirates Voyage dinner theatre, and your first look at Dolly from the actual venue opening ceremony is available in a couple of Dollymania.net galleries from correspondent Harrell Gabehart here, including the image at left. More to come! Check out an interview from local TV station WMBF here or in the media player below as well as interviews taped at the event with Knoxville's Volunteer TV here and Myrtle Beach stations WWAY here and Carolina Live here. An Associated Press story is available from The Knoxville News Sentinel here.
---
June 3:
Nine Concerts Revealed Down Under
Although we're still awaiting the announcement of the second American leg of Dolly's Better Day World Tour for October, promoters Down Under on Thursday night U.S. time (Friday morning local time) revealed her itinerary for the Australian leg of the tour. The dates there will see her perform nine concerts in six cities: starting with one each in Perth, Adelaide and Sydney before a series of two-night engagements each in Hunter Valley, Melbourne and Brisbane. Tickets for the Hunter Valley show are currently on sale from the resort. For the other shows, a Dollyite pre-sale is scheduled Friday, June 10, through Sunday, June 12. Tickets, which will be available via Ticktek, go on pre-sale for Visa cardholders (with free Dollyite membership included in the ticket price) on Tuesday, June 14, with public ticket sales starting Monday, June 20. The Australian segment of the tour is as follows:
• Nov. 8, Burswood Dome, Perth
• Nov. 12, Adelaide Entertainment Centre, Adelaide
• Nov. 15, Acer Arena, Sydney
• Nov. 19, Hope Estate Winery, Hunter Valley
• Nov. 20, Hope Estate Winery, Hunter Valley
• Nov. 22, Rod Laver Arena, Melbourne
• Nov. 23, Rod Laver Arena, Melbourne
• Nov. 25, Brisbane Entertainment Centre, Brisbane
• Nov. 26, Brisbane Entertainment Centre, Brisban
New Dolly Video Blog Posted
Dolly's management on Thursday posted to YouTube her latest video blog installment, this time briefly musing on Tennessee summers and the arrival of buzzing cicadas. Watch it here.
'9 To 5' Gets Another Good Review
Another positive review of Dolly's 9 To 5: The Musical made the papers on Thursday, this time The Pittsburgh Post-Gazette, which said here that it works and has "a perky and pretty" score by Dolly.
More Dollywood Shots Available
Another set of reader-submitted galleries from Dolly's most recent Dollywood appearances has been added to that section of the site here. Thanks, Kelly!
Dolly's Single Wins Radio Contest
Thanks to Dave for telling me that Dolly's "Together You And I" this week has won two consecutive nights on Atlantic City, N.J., radio station 107.3's "Cat Fight," where two new songs compete against each other every other night.
U.S. Chart Updates
The Grascals' Country Classics With A Bluegrass Spin, featuring Dolly on three tracks, gains four to No. 9 its 20th week on the bluegrass albums tally, Billboard's numbers released Thursday for June 11 showed. Rhonda Vincent's Taken, with Dolly on a track, falls back off the 15-position bluegrass albums list, down from No. 15 in its 28th week the previous week. Brad Paisley's This Is Country Music debuts at No. 1 country and No. 2 pop, while Jason Aldean's My Kind of Party slips one to No. 2 country and five to No. 9 pop in its 30th week.
---
June 2:
'9 To 5' Hits Pittsburgh
Dolly's 9 To 5: The Musical has moved to Pittsburgh, Pa., opening in the city Tuesday night. A review from The Pittsburgh Tribune Review is available here. Also, check out a video interview with star Diana DeGarmo when the touring company was in Texas here.
New Dollywood Profile Available
The Ashville Citizen-Times has a new profile of nearby Dollywood available here.
Pirates Website Launches
In advance of Friday's opening, the new website for Dolly's Pirates Voyage dinner theatre in Myrtle Beach, S.C., premiered Wednesday night. Check it out here. Dolly is scheduled to be on hand Friday to kick off the new show, which replaced her Dixie Stampede in the city. Also check out a picture here of the venue's exterior courtesy Dollymania.net correspondent Harrel Gabehart. Thanks!
---