Bonus: I Am A Rainbow Book read by Dolly

Dolly Helps British Animal Shelter
The Shepton Mallet Journal overseas reports that Dolly is helping a fundraising campaign by animal shelter Happy Landings to raise money for new kennels. She contributed a signed photo and merchandise to the shelter which last year accepted a lost dog that had been found at the Glastonbury Music Festival, named in her honor, and she had offered to adopt. Read more here.

Teacher Award Photo Released
Dolly's publicist this week released the photo taken in May of her presenting the 2015 Chasing Rainbows Award to Dyane Smokorowski, instructional technology coach for Andover Public Schools in Andover, Kan. The honor goes to a former state Teacher of the Year who has overcome great obstacles to have a positive impact on children. About the honor, Smokorowski said: "It is difficult to admit that my personal struggles actually prepared me to be a stronger person today. I wanted to be someone who could inspire others to reach beyond their environments, beyond their extremities, and to do as I have always done—to dream big!"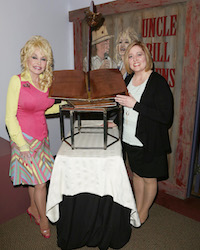 ---
June 22:
Music City Show Sells Out Within 25 Minutes
Tickets went on sale to the public Saturday for Dolly's July 31 benefit concert at Nashville's Ryman Auditorium and sold out in 24 minutes, according to event organizers The Dustin J. Wells Foundation as posted on the founder's Facebook page. Fans posted to Facebook that while most were unable to obtain tickets due to the large number of people online at the same time attempting to buy seats, some who tried again and again were able to secure tickets as late as 20 minutes after the sale began. In a press release afterward, Dolly's management claimed the period ranked "among the fastest in Ryman Auditorium history" for a concert at the famed venue to sell out. Dolly said in the release: "I think back to all the people who encouraged me and helped me on my way up, and if I can help some young person make music, then I absolutely want to do that. Music is important to me and my family, and I'm grateful that so many people wanted to come see the show that it sold out so quickly." The Tennessean used some hyperbole to claim the concert sold out "in seconds" but later changed the length of time to "record time" instead here.
'Blue Smoke' Sticks Around At No. 1 On U.K. Tally
Dolly's Blue Smoke holds on to the No. 1 spot on the British country compilation albums chart for a 54th consecutive week atop the charts that came out Sunday. Also on the U.K. country compilations tally, Emmylou Harris's Original Album Series, Volume 1 (with two Dolly covers, one track with Dolly harmony and one track with Trio harmony) holds steady at No. 9 and her Original Album Series, Volume 2 (featuring one track with Dolly harmony and two tracks with Trio harmony by Dolly and Linda Ronstadt) loses one to No. 17.
Danielle Steel Loves Dolly
Romance novelist Danielle Steel is a Dolly fan, The Tennessean reports here, adding the author said: "I met her several years ago, and was absolutely bowled over by her, how smart, funny, down to earth and absolutely wonderful she is. She's an amazing woman, and I love her songs and the lyrics she writes and sings."
---
June 20:
Pre-Sale Sells Out, Public Seats On Sale Saturday
The portion of the Ryman Auditorium set aside for pre-sales for Dolly's July 31 benefit concert sold out within about an hour of becoming available Friday morning. The remainder of the venue's seats go on sale to the public at 10 a.m. Central time (11 a.m. Eastern) Saturday via Ryman.com. In anticipation of the sale, The Tennessean celebrated Dolly here with the five top reasons they love her.
Dolly's Website Shares Daddy's Dinner Bucket Story
Dolly's official website, DollyParton.com, on Friday debuted a new section called "Front Porch Stories," where tales from Dolly's life will be told. In honor of Father's Day, the first story focused on her father's dinner bucket. Brother Randy sang the "Dinner Bucket Song" Dolly wrote about the lunch box and provided the box for photos. In the story, available here, Dolly said: "Our sweet Daddy worked so hard for all of us.  At night we used to take turns rubbing Daddy's cracked, hard-working hands with corn silk lotion and we soaked and washed his tired old feet.  My sister Willadeene sweetly (and jokingly) dried them with her long beautiful hair. If Jesus could wash the feet of his disciples, at least we could do it for Daddy.  If you're lucky enough to have great parents, it's truly one of God's greatest gifts. Happy Father's Day to all the good daddy's out there…and to the bad ones, too. Maybe they weren't lucky enough to have a Daddy as good as mine." Happy Father's Day, all!
Dolly Featured In Women Who Changed Lives Book
The Guardian British newspaper noted Dolly is among the women profiled in the upcoming anthology Here She Comes Now: Women In Music Who Have Changed Our Lives, coming out Aug. 11. See the story here and order your copy of the book here.
In Memoriam: Cynthia Hurd
Dolly's Imagination Library on Friday paid tribute via its Facebook page to one of the victims of this week's Charleston, S.C., shooting: Cynthia Hurd, who managed a branch of the county's public library system and worked with Dolly's literacy program in South Carolina. See the tribute here.
---
June 19:
Benefit Tickets On Pre-Sale Friday, Regular Sale Saturday
The Dustin Wells Foundation on Thursday revealed ticket details for Dolly's July 31 Gift of Music Benefit concert at the Ryman Auditorium that had been first announced on Tuesday. A limited number of VIP seats were sold out within just a few hours of being announced on Thursday at $1,000 each featuring a Dolly meet-and-greet, valet parking, a signed poster, dinner and premium seating. Regular seats go on pre-sale at 10 a.m. Central time Friday (you had to be a customer of the dental clinic of the foundation's founder on his customer e-mail list to receive the pre-sale code), and the remaining seats will go on sale to the general public at 10 a.m. Central time Saturday. Tickets, $85 and $55 with a limit of four seats per person, will be sold via Ryman.com. In a press release, Dolly said: "The 'Gift of Music' is something that runs deep within my kin folks. I love and cherish The Ryman and I am really excited to perform there to help raise money for the Dustin Wells Foundation. This goes to help many young kids that are part of the W.O. Smith School of Music. Through all of us working together we can make a difference in helping a child feel the magic in making music." The press release incorrectly states this is Dolly's first full Nashville concert in 12 years. (Actually, her most recent full public concert in Nashville was 13 years ago when her Halos & Horns Tour visited The Ryman – a fact noted by Rolling Stone in its coverage of the announcement here, and her most recent full private concert in Music City was a "friends and family" preview concert at Belmont College nine years ago to test the set list in preparation for the handful of U.S. dates she performed in 2006 and 2007 and her 2007 European tour.) Other coverage included The Tennessean here, WSMV here and The Nashville Business Journal here.
Cracker Barrel DVD Back On Charts
After being off the charts for several months, the Cracker Barrel exclusive CD/DVD set An Evening With Dolly . . . Live re-enters the top 40 music DVD sales, Billboard's June 27 charts released Thursday showed. The set earned a 50th week on the tally to re-enter at No. 22.
---
June 17:
July 31 Nashville Benefit Concert Announced
The Dustin J. Wells Foundation on Monday announced that Dolly will be the performer for this year's Gift of Music Benefit Concert, which supports Nashville's W.O. Smith Music School. Ticket information for the July 31 concert, to be held at Nashville's Ryman Auditorium, has not been released yet. Her show will be another performance of her "Pure And Simple" acoustic set that she'll perform in a series of four sold out concerts a week later at Dollywood as a benefit for her Imagination Library charity. Check out the announcement from a Facebook page for the Nashville Center for Aesthetic Dentistry, which is associated with the Foundation's founders here. Dolly had previously played the annual benefit concert in 2009 as one of several performers including Ronnie Dunn and Kellie Pickler.
Fan Chenoweth Shares Dolly Picture
Major Dolly fan Kristen Chenoweth on Tuesday sent out a picture from her dressing room at the Library of Congress' theatre before a performance, gushing over the fact that a picture of Dolly in the same theatre adorned her wall. Check out her Facebook posting here.
Bluegrass Band Loved Dollywood Performances
Wonder what it's like to play Dollywood's BBQ & Bluegrass Festival? Band Due South tells you in an interview with The Thomaston Times here.
Alaska's Library Faces Financial Trouble
Alaska's affiliates of Dolly's Imagination Library literacy project are in trouble due to state funding cuts, The News Miner reports here.
---
June 16:
Dolly No. 3-Selling U.K. Female Artist Last Year
Dolly was the third-biggest-selling female solo artist in the U.K. last year, the British Phonographic Industry (BPI) revealed in its Music Market 2015 report released Monday. She was behind only Taylor Swift and the woman who was the only one to sell over 500,000 CDs in Britain last year, Paloma Faith. As was previously reported here, her Blue Smoke moved about 355,000 copies in the final six months of last year, making it the year's 13th-biggest-selling CD in that country. Sales of her other albums following her massively-successful headlining gig at last year's Glastonbury Festival likely pushed her overall total to between 400,000 and 450,000 in the U.K. Read the press release here.
---
June 15:
Dolly Steady In U.K., Back Off Down Under
Dolly's Blue Smoke this week enters its second year in the No. 1 spot on the British country compilation albums chart, logging a 53rd consecutive week atop the charts that came out Sunday. The U.K. country compilations tally also sees Emmylou Harris's Original Album Series, Volume 1 (with two Dolly covers, one track with Dolly harmony and one track with Trio harmony) slip one to No. 9, her Original Album Series, Volume 2 (featuring one track with Dolly harmony and two tracks with Trio harmony by Dolly and Linda Ronstadt) fall five to No. 16 and Ronstadt's own Original Album Series (featuring one Dolly cover and one track with Dolly harmony) drop off the top 20, down from No. 19. Down Under, The Very Best Of Dolly Parton falls back off the Australian top 40 country albums chart, down from No. 38 for a 351st week.
USA Today: Henley Album Should Be Out This Fall
Coverage of Don Henley's country album continued over the weekend, and although most stories just recapped what had already appeared about the CD's preview party, USA Today added a new tidbit that when Dolly came into the studio she told Henley that the key was too high, so she'd have to rare back and get it. Two takes later, he recalled, "she had rared back and got it." The piece also noted that it should be released in the fall. Read more here.
---
June 13:
Dolly Acquires Second Pigeon Forge Dinner Theatre
Dolly on Friday announced that she had acquired Pigeon Forge, Tenn., dinner theatre Lumberjack Feud Dinner Show. The venue becomes part of Dolly's World Choice Investments LLC, which manages her Dixie Stampede dinner theatres in Branson, Mo., and Pigeon Forge as well as her Pirate's Voyage dinner theatre in Myrtle Beach, S.C. The purchase was effective immediately, although the theater will be leased back to its current operators for the remainder of the current season before a revamping by Dolly's company for the 2016 season. In a press release, World Choice President Jim Rule explained: "We plan to make major renovations to the facility and add significant family fun action and comedy elements for the 2016 season." Dolly added in the release: "Since its opening in June 2011, Lumberjack Feud has been well accepted by the guests. We believe it has a great future here and I'm excited to get started! This will be a fun, creative project for all of us as we continue to develop Pigeon Forge into a world class family destination. As Jim said, we plan to develop a new, exciting version of the Lumberjack show and unveil it next spring. It will include major updates, changes and enhancements that I feel will greatly exceed guest expectations." The release also noted that the purchase is "expanding Parton's entertainment offering in Pigeon Forge and setting the stage for future growth," which suggests the company may begin placing Lumberjack Feud theaters in other cities in the future. Coverage included Knoxville TV stations WATE here and Local 8 News here.
Henley Duet Heard At Nashville Preview
Critics this week finally got to hear Dolly's duet with Don Henley that the pair recorded four years ago and had been originally reported here at that time. Henley has been working on his country album, Cass Country, for five years and has finally completed it. The track is a cover of the Louvin Brothers classic "When I Stop Dreaming." Rolling Stone reported here that Dolly "almost steals the show" as a highlight of the CD, while Billboard noted here that her collaboration received "the biggest reception" from critics and that Henley told them she recalled during the recording that she used to sing it with Porter Wagoner. (She only recorded it once previously, with Emmylou Harris on Harris' 1977 album Luxury Liner.) Capitol Records will release the CD, although the final release date has yet to be announced.
Delta's 'Sky' Magazine Features Article By Dolly
Thanks to Jonathan for alerting me to a Dolly article in Delta's current issue of its in-flight Sky magazine. The piece by Dolly is about the Great Smoky Mountains Parkway and surrounding area in Tennessee.
USA Today Announces Best Music Destinations
USA Today has released its list of the world's 10 best music destinations, ranking Dollywood at No. 6. See the full list, which named Graceland No. 1, here and see a story from Knoxville's Local 8 News here.
---
June 11:
Miley Sings '9 To 5' With Zit Cream On Her Face
Dolly goddaughter Miley Cyrus on Tuesday night played around singing along to "9 To 5" while wearing acne cream, filmed herself, and posted the footage to Instagram. Check it out in coverage from E! Online here and Billboard here.
Keith Urban Dons Dolly Duds For CMT Awards
Major Dolly fanatic Keith Urban on Wednesday pulled out a new custom-made Dolly t-shirt for his performance at the CMT Awards. Check it out below.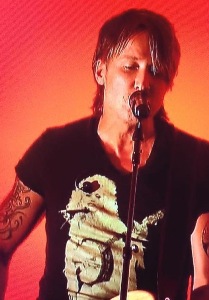 ---
June 9:
New Linda Ronstadt DVD Features Dolly Collaborations
A new DVD titled Linda Ronstadt & Friends is slated to come out on Tuesday with special appearances by Dolly. The track listing includes "Applejack" with Dolly and "After The Goldrush" and "To Know Him Is To Love Him," both listed as with Emmylou Harris, so it's likely that the "Applejack" is with Dolly and Harris from their appearance on Dolly's 1970s variety show and the other two titles are Trio performances from various television appearances to support their two albums together in 1987 and 1999. The other performances listed are "Don't Know Much" with Aaron Neville, "I Never Will Marry" and "A Mile In My Shoes" both with Johnny Cash, "Somewhere Out There" with James Ingram, "I've Got A Crush On You" with Nelson Riddle," "Back In The USA" with Chuck Berry, "Different Drum" and "On" both with The Stone Poneys, and "Desperado," "It's So Easy" and "Tracks Of My Tears." Get your copy here! Thanks, Tony!
Dollywood Preps For Great American Summer Launch
Dollywood's Great American Summer returns on Saturday with special entertainment, longer operating hours and nightly fireworks. In a press release, Dolly noted: "There's nothing quite like those warm summer nights right here in the middle of the Great Smoky Mountains. I still remember lying in the grass and watching the stars dance across the sky, and we'd chase those ol' lightnin' bugs all night long through the hills where we grew up. I'm so glad we're able to give families more time to stay up late during my Great American Summer so they can enjoy everything that is so special about spending time together under the stars." The park is open 10 a.m. to 10 p.m. daily during the festival, which features Dolly's Nights Of Many Colors fireworks extravaganza at 9:30 p.m. (this year with popular music from the past 30 years to celebrate the park's 30th anniversary), The Gazillion Bubbles Show (which moves to the larger DP's Celebrity Theatre this season), the debut of Old Bear And His Cub and Betty Bunny Didn't Do It at the Imagination Playhouse (plus the return of The Little Engine That Could), the new Live At The Back Porch music show and the new roving "Pick-Up Patrol" dance party throughout the park and "Lite The Nite" dance party at Wilderness Pass just before the fireworks, The festival concludes Aug. 2.
---
June 8:
'Blue Smoke' Tops U.K. Country Compilations Tally For One Year
With one solid year on the chart overseas, Dolly's Blue Smoke this week holds the No. 1 spot on the British country compilation albums chart for a 52nd consecutive week with the release of Sunday's charts. The U.K. country compilations tally also sees Emmylou Harris's Original Album Series, Volume 1 (with two Dolly covers, one track with Dolly harmony and one track with Trio harmony) gain one to No. 8 while her Original Album Series, Volume 2 (featuring one track with Dolly harmony and two tracks with Trio harmony by Dolly and Linda Ronstadt) rise five to No. 11 and Ronstadt's own Original Album Series (featuring one Dolly cover and one track with Dolly harmony) inch up one to No. 19. Down Under, The Very Best Of Dolly Parton re-enters the Australian top 40 country albums chart, at No. 38 for a 351st week.
---
June 6:
YouTube Analyzes Video Viewing Stats
YouTube's new Music Insight analytics tool shows who listens to whom where, and the BBC found here Dolly as the anomaly. All country music superstars the network searched using the tool had almost all of their top cities for online streaming in the U.S. only (with Houston, Chicago and Dallas as most of them's top three cities) except Dolly, whose popularity overseas far exceeds her streams in her home country. The tool here shows about 52 million streams for her over the past nine months, and while the U.S. is her No. 1 overall country, one has to go all the way down to No. 9 in individual cities to find one in America. For individual nations, the top 10 were the U.S. at 8.7 million views, U.K. at 6.7 million, The Netherlands at 2.2 million, Romania at 1.9 million, Canada at 1.8 million, Brazil at 1.6 million, France at 1.2 million, Poland at 1.2 million, The Philippines at 1 million and Mexico at 1 million. Her top 10 cities were: