---
www.dollymania.net News July 2003
---

July 31:
'Real Love' On DVD In Asia
Dolly's 1985 Real Love HBO concert special with Kenny Rogers has been issued on DVD in Korea, a reader alerted me. Copies have shown up for sale on ebay, but as they are supposedly coded for Region 3, you probably have to get a region-less DVD player to watch it, although it should play on most computer DVD-ROMs. However, this reader said it played fine on his regular DVD player. Thanks, Brian!
Helping A Newcomer
Dolly is to write another new song for another artist, the Australian magazine Undercover reported Wednesday. Catherine Britt, a new country star Down Under whose career has been championed recently by Elton John, recently traveled to America after John's talking-up of her talent snagged her meetings with U.S. record execs. While here, she met Dolly, who promised to write a new song for the young lady's next CD. Read the full story here.
Shania Talks Up Dolly
Shania Twain told the Associated Press in an article this week that recording Dolly's classic "Coat Of Many Colors," especially with Dolly providing harmonies, for the upcoming Just Because I'm A Woman: Songs Of Dolly Parton tribute album is pretty important to her. "It's been one of the biggest thrills of my life," she said. Read the story in the Miami Herald here.
Amazonian Delay
Amazon.com has pushed back its availability date a few days for the U.K. import of Dolly's Ultimate Dolly Parton, featuring a new remix of "Early Morning Breeze" as a bonus track. It is now scheduled to be available in the U.S. from the retailer on Aug. 5. Reserve your copy here.
---
July 30:
Tribute Sneak-Peek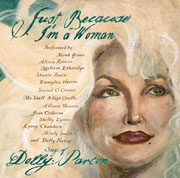 Sugar Hill Records on Tuesday issued the first glimpse at the cover art for the Oct. 14 tribute CD, Just Because I'm A Woman: Songs Of Dolly Parton (shown at left), and announced that the label will be providing Internet previews of different cuts from the album each week. First up this week is Alison Krauss' spectacular, very laid-back, bluesy/bluegrass rendition of "9 To 5." Take a listen to the full song here. And look for more postings there in coming weeks of more artists' contributions to the project. Thanks, Rob!
'Designing' Dolly
Dolly's appearance on Designing Women got a few nods as one of the cast's favorite episodes of all time in the Lifetime reunion special for the series Monday night. Meshach Taylor (Anthony) said it was his favorite show because the producers wrote the old woman character, played wonderfully by Bea Richards, based on talks they had with his own grandmother when she visited the set for her 106th birthday. Jean Smart (Charlene) said it was one of her two favorite episodes because of Dolly. "And Dolly Parton, oh my God, she was just adorable," Smart recalled just before they showed a photo of Dolly with the cast and show's creator. "I mean, there I was with almost no make-up, and I'm out to here and I have on flat slippers and a big bathrobe and I'm doing a scene with Dolly Parton, who's this big around and has on 50 pounds of hair and four-inch jewel-encrusted high-heels and a waist like this, and she still hits me about right here," she said, holding her hand up to her shoulder. They then showed the touching end of the dream sequence between the two actresses. Dolly was also shown in a montage at the end of the special escorting Richards down the hallway to heaven as one of the best moments of the show's six-season run.
In Memoriam
The Knoxville News-Sentinel on Tuesday offered some local memories of Bob Hope, one of America's greatest entertainers of all time, who passed away at the age of 100 Sunday night. In it, it was noted that Bob appeared at Dollywood's season opening festivities on April 28, 1991, with Dolly to celebrate the new Wings Of America Theatre at the park's Eagle Mountain Sanctuary. Dolly, who had known Hope for years and was often a featured topic in his comedic monologues, appeared on his network television specials in 1988 and 1992. Read the paper's story here.
---
July 29:
Dolly Impacted 'DW' Star
Dolly got a couple of mentions in an article Monday on the Designing Women reunion special on Lifetime Monday night. In reminiscing about the 1986-1993 series, Jean Smart, who played the character of Charlene, told the Associated Press that her favorite moment from the show came with Dolly's guest appearance as her Guardian Movie Star. "My character has a baby on the show, and I'd actually had my baby a month before. I was still pretty heavy but they padded me to make me still look real pregnant so that my baby could be born on New Year's night," she said. "Dolly was so much fun and so adorable and I could not get over how tiny she is . . . I was wearing flat slippers and a big bathrobe and almost no makeup and I looked like a whale and here was this size zero gorgeous little creature who's in 4-inch jewel-encrusted high heels and about a 17-inch Scarlett O'Hara waist and all this hair she still came up to my shoulder barely, I think." Of course, Dolly's 1989 appearance on the show won her one of the first annual fan-voted TV Land Awards earlier this year, receiving it in the category of Most Memorable Female Guest Star In A Comedy As Herself. Read the full story here.
---
July 28:
'Ultimate' Scores Impressive UK Debut, Order Now


The European release of the BMG compilation CD Ultimate Dolly Parton, featuring the same 20 songs as the U.S. general-release version plus a bonus dance remix of "Early Morning Breeze" by pop duo Bent, last week apparently sparked massive sales in Great Britain, as the CD debuts at No. 17 on the British pop charts, it was announced Sunday. Although I have been unable to find a "country" albums tabulation in England for quite some time, it is the top-ranking country album on the charts overseas, which would give it the No. 1 country album spot as well. By contrast, the U.S. release of the record peaked at just No. 20 country and No. 130 pop. For comparison, none of her recent albums has charted this high overseas: Halos & Horns made it to No. 1 country for 10 weeks but just No. 37 pop, while Little Sparrow stayed to No. 1 country for eight weeks but reached just No. 30 pop. In related news, Amazon.com will begin making the British version of the CD available in the U.S. as an import starting July 31. Reserve your copy here!
---
July 26:
'I'm Gone' Still Going Up


Dolly's video for "I'm Gone" from Halos & Horns moves up one more spot this week to No. 13 on the CMT Top 20 Video Countdown, the network announced Thursday night. The video is in its fifth week on the chart. (Remember to help get Dolly played more! Request the video on CMT's MWL here and Great American Country's countdown here!)
Another Pic, Producer's Notes Out
Sugar Hill Records on Friday released a third great, new Dolly promotional photo for the superstar-studded tribute album Just Because I'm A Woman: Songs Of Dolly Parton, set for an Oct. 14 release. The label also this week issued executive producer Steve Buckingham's cut-by-cut commentary on the project. One item of particular interest from his notes is the new style in which Dolly has chosen to record the title cut. He explained: "Since Dolly had originally recorded it with a country feel, she wanted something different this time around. We settled on a classic R&B direction reminiscent of Muscle Shoals and Memphis…with some of the legendary musicians that defined the sound of that era." The new picture is posted on the section of Dollymania dedicated to the CD, located here, and a link is also provided there to Steve's full notes.
Read 'CW' Story Online
Country Weekly on Friday posted its Dolly interview from the Aug. 5 issue on its Web site as this week's main online feature story. Read it here.
'Banjoman' Backstory Told
In an interview with the Charlotte Observer published Friday, singer-songwriter Arlo Guthrie discusses the tribute album to banjo great Derroll Adams, Banjoman, released in Europe last year and currently available in the U.S. only through Guthrie's Web site, Arlo.net. He explained that Dolly's involvement was due to the insistence of the honoree himself. Guthrie recalled: "Derroll was adamant that there should be one woman on this thing. I said, 'Who do you want to be on it?' He said, 'Dolly Parton.' And I said, 'Derroll, she's never heard of you.' So I wrote her and she was so great and agreed to sing a song." A relative unknown in the U.S., Adams was one of Europe's most renowned banjo masters. He died in 2000. For the tribute album, Dolly and Guthrie recorded the Carter Family classic "Dixie Darling." Read the full story here.
Using Her Assets
Dolly gets a mention in an article in Friday's San Diego Union-Tribune. The story focuses on actress Kathy Najimy's role as Mae West in the San Diego production of the show Dirty Blonde. Although it doesn't note that Dolly will be playing her in an upcoming ABC tele-pic, the paper decided to offer a "Mae West Guide to getting famous," with examples taken from the careers of Madonna, Bette Midler, Queen Latifah and Dolly, about whom they write: "Behind the sweet voice, the sequined outfits and the mass of blond hair is a woman who knows how to get attention. She may play coy, but Parton knows exactly where your eyes are looking." Read the full story here.
---
July 25:
'Halos' Falls Off Chart


After a full year on the bluegrass albums chart, Dolly's Halos & Horns falls off that 15-position tally in the Aug. 2 numbers, down from No. 14 the previous week, Billboard announced Thursday. The CD had spent 52 weeks on the chart, peaking at No. 2. Ultimate Dolly Parton inches down five more spots to No. 44 on country albums chart in its seventh chart week. The Sweet Home Alabama soundtrack, with Dolly's "Marry Me," inches down one to No. 23 on the soundtrack albums chart in its 39th chart week. The two top positions on the country chart are captured by new releases: Brooks & Dunn's Red Dirt Road debuts at No. 1 country, No. 4 pop, while Pat Green's Wave On Wave debuts at No. 2 country, No. 10 pop.
Paper: Dolly Song For PETA Commercial
A story in Thursday's Orange County Weekly says a Dolly song will be used in an upcoming television commercial for the People for the Ethical Treatment of Animals (PETA). According to the article, the spot is being produced by Klasky Csupo, which also makes the Rugrats cartoon, and features images of actress Kathy Najimy rushing home. The Dolly song which plays suggests that she's in a rush to return home to her lover, but when she gets there, the audience sees it was her pet dog to whom she was running, aiming to remind children that animals have feelings, too. The story does not identify which Dolly song will be featured in the commercial. You may read the full article here.
A Correction
As astute reader alerted me this week to an error from the July 7 news update. It turns out that the title song of Willie Nelson and Ray Price's new duet album Run That By Me One More Time is not a cover of the classic Porter & Dolly duet written by Dolly. I had not actually heard the CD myself at the time, and the report here was based on a statement in a review of the CD in a national magazine which specifically included the note that the song was originally a hit for Porter & Dolly. Apparently, the reviewer assumed it was the Porter & Dolly song because it had the same name and was written by Porter Wagoner, but it turns out it's a different tune. Sorry for any confusion. Thanks, Mike!
Dottie Discount
If you're going to be at Dollywood anytime soon, have a Gold Season Pass and want to save a few dollars on the Dottie Rambo CD Stand By The River and its Dolly duet, I'm told that the CD is for sale at the Southern Gospel Hall of Fame on the grounds of Dollywood, and their gift shop does provide the 20 percent discount for Gold Pass members. It is not currently stocked by the park's main gift shop, the Butterfly Emporium, but the title is expected to be added there later in the year. Or, if you want to go ahead and get it now, copies are available from Amazon.com here. Thanks!
---
July 23:
Dolly: I've Lost Many Close Friends To AIDS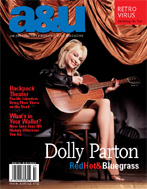 A&U magazine, a New York-based non-profit publication focusing on those living with HIV and AIDS, features Dolly as its cover story for July, the story's author asked Dollymania to pass along. The article, which is available on the magazine's Web site here, offers a candid, insightful and inspirational view of Dolly, her career, her great philanthropic endeavors and the impact AIDS has had on her life. She tells writer B. Andrew Plant: "I have lost many dear friends from (AIDS)…both gay and heterosexual. That's when I really began to understand and get involved in the fight." The profile discusses the work her production company Sandollar headed to publicize the AIDS Memorial Quilt, including its first theatrical production, the Academy Award-winning documentary Common Threads, as well as her twice-a-year breakfasts she hosts for terminally ill children and adults at Dollywood in conjunction with the Make-A-Wish Foundation, many of which include individuals with AIDS, and personal contributions to AIDS charities. She also offers her opinion of why country music has been more reluctant than other art forms to address the AIDS issue. Read the full article here, and the magazine is available nationwide at newsstands and AIDS service organizations. Thanks, Drew!
Thank God She's A 'Country Weekly' Girl
Dolly also pops up several times in the Aug. 5 issue of Country Weekly magazine, which came out on Tuesday. A photo of her and co-stars from 9 To 5 taken with the dolls auctioned off at the film's Retro Premiere last month to benefit Jane Fonda's Georgia Campaign For Adolescent Pregnancy Prevention appears in the issue, as does another repeat of the rumor (refuted as a hoax by Entertainment Tonight several years ago) that she has insured her breasts for $600,000. She also gets a mention in a brief review of the book Respect: Women And Popular Music, published last year. But magazine's centerpiece for Dolly fans is a two-page article (plus a full-page photo from Ultimate Dolly Parton) by Nancy Brooks from Dollywood's season opening back in April (perhaps this is the story which was supposed to appear in the final issue of Country Music magazine but didn't). In it, Dolly discusses the current world situation and its impact back at home, her desire to record a new pop album, the pending video shoot for "These Old Bones" and the long-delayed ABC tele-bio on Mae West, plus a note that she doesn't want any network to do one of those full-length documentaries on her because she doesn't want the overexposure resulting from those shows repeating again and again. Get your copy on newsstands now.
Top 200 Recap
Dolly got her couple of minutes on VH1's 200 Greatest Pop Culture Icons Monday night, coming in at No. 189. Each segment on a star was titled by one of his or her famous quotes, and Dolly's was "It costs a lot to look this cheap." Several brief video clips were shown of Dolly from The Porter Wagoner Show and her Real Love concert as well as a few seconds of visuals from the videos for "Salt In My Tears," "Honky Tonk Songs," "Romeo," "Eagle When She Flies" and "Straight Talk." As "Here You Come Again" played, the narrator explained, "She's a remarkable country singer and a captivating performer." Then Porter was shown telling the audience of his TV show, "Dolly's not only a great singer but she's a fine songwriter, too." The narrator returned, "But for Dolly Parton, that pair of facts will always fall second fiddle to another more memorable pair," as it showed a close-up of her famous bosom. A clip of her 1978 CMA win for Entertainer of The Year was then shown when she had to cover the front of her dress up with a fur coat because she had "busted" out of it. Shania Twain observed: "Dolly Parton is just the perfect icon. There isn't a person in the world who doesn't know who Dolly Parton is." She was shown singing the chorus to "I Will Always Love You," followed by a brief telling of her rural beginnings while showing classic photographs. Henry Winkler, who played "The Fonz" on Happy Days and made his directorial debut with Dolly's Smoky Mountain Christmas in 1986, said: "Her songs live forever. She's just one of a kind." Her entry into film was covered with a couple of quick scenes from 9 To 5, and a ride and parade shot from Dollywood were incorporated to prove she's so famous she has her own theme park. Then the Sesame Street muppet Polly Darton was shown, and it closed with her 1970s variety show closing: "But above all of this, I wish you love," and with a wink, "Goodnight." The episode repeats at 5 p.m. Wednesday, 3 p.m. Thursday and 1 p.m. Friday.
Win A Trip To Dollywood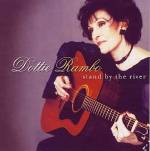 To commemorate the release of her new CD Stand By The River and the Dolly duet on the title track, Dottie Rambo Ministries is giving away a trip to Dollywood. The winner will receive two nights' hotel accommodations, tickets for two to attend Dollywood's Octoberfest and a Dottie gift pack valued at $500. To enter, visit Dottie's Web site here and click on "Solid Gospel Dollywood Contest For Stand By The River!" And to get your copy of the new CD, which was released Tuesday, click here!
European Gospel Chart Update
And on the August European Christian Country Chart from The Netherlands, Dolly's "Hello God" from Halos & Horns jumps up 27 spots to No. 3 in just its second month on their chart. Unfortunately, her Dottie Rambo duet on "Stand By The River" falls off the 100-position chart, down from No. 20 last month. That song had peaked at No. 12 and spent a total of six months on the foreign chart.
---
July 22:
Bluegrass Chart Updated


Billboard on Monday finally updated the bluegrass albums chart, and Dolly's Halos & Horns falls one spot on the July 26 tally to No. 14 in its 52nd chart week. The CD, which has spent a full year on the chart, peaked at No. 2.
VH1 List Revealed
VH1 on Monday revealed the full list of its 200 Greatest Pop Culture Icons, and Dolly ranks at No. 189. If you're reading this update prior to its premiere, the episode airs at 9 p.m. Eastern on Monday. It will repeat on VH1 at midnight, 11 a.m. and 7 p.m. Tuesday; 5 p.m. Wednesday; 3 p.m. Thursday and 1 p.m. Friday. Other celebrities with Dolly connections include Steel Magnolias co-stars Julia Roberts at No. 23 and Sally Field at No. 149, Rhinestone co-star Sylvester Stallone at No. 115, 9 To 5 co-star Jane Fonda at No. 123 and Best Little Whorehouse In Texas co-star Burt Reynolds at No. 164. Cher, with whom Dolly did a television special in 1978 which earned her an Emmy nomination, comes in at No. 41, while Carol Burnett, with whom Dolly also recorded a TV special in 1979, was No. 70. The Bee Gees, who wrote her hit duet with Kenny Rogers "Islands In The Stream," were No. 45. And a few other connections: country legend and Dolly friend Johnny Cash ranked at No. 88, frequent Dolly interviewer Barbara Walters came in at No. 89, country-pop diva Shania Twain (who counts Dolly as her ultimate idol) is No. 98, Whitney Houston (whose cover of Dolly's "I Will Always Love You" topped the pop charts for a record 14 weeks) is No. 116, pal and fellow country artist Garth Brooks makes the list at No. 150, former talk show host Rosie O'Donnell (who opened for Dolly on tour in the 1990s) is No. 185, and TV guru Regis Philbin (whose show Dolly has co-hosted on several occasions) is No. 191. The top 10 is Michael Jackson, Princess Diana, Michael Jordan, Madonna, Marilyn Monroe, Tom Cruise, Lucille Ball, Elvis Presley, Superman, and Oprah Winfrey at No. 1. Dolly's appearance even garnered a mention in Terry Morrow's column Monday in the Knoxville News-Sentinel here. Read the full list, and take a look at cartoons of each of the 200 honorees, at VH1's Web site by clicking on the banner below.


Comedians Slam Dolly's Outfit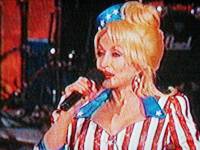 Dolly's A Capitol Fourth outfit made this week's US magazine's Fashion Police column, where comedians offer their one-liners on a star's choice of clothing. Of course, Dolly prides herself in being considered "unfashionable," so I'm sure she'll get a kick out of these:

Dan Renzi (MTV's Battle Of The Sexes): "Somehow, I don't think this is what Betsy Ross has in mind."

Jeff Ahren (Comedian): "Red, white and boobs."

Matt Weinhold (Comedian): "The things you do these days not to get frisked at the airport."

Nellie Sciutto (actress/comedian): "Betty Boop's great-great grandmother."

Heather McDonald (comedian): "She also wore this on the USO tour of '57."

Buck Wolf (correspondant for abcnews.com): "The woman Uncle Sam won't talk about."

Dottie/Dolly Press Release Issued
Dottie Rambo Ministries on Monday issued a press release on her new CD, Stand By The River, which hits stores Tuesday with a Christian country chart No. 1 Dolly duet on the title track. In the release, Dolly notes: "I'm very happy to be a part of any number one song and especially one with Dottie Rambo makes it twice as sweet." Read the full release here.

Some New Pics
Eppo Eefting, a reader from The Netherlands, sent in a few pics of Dolly from her stop in his nation last October for the TV Show. View them here. Thanks, Eppo!
---
July 21:
Wow Meow!
An interview with Nashville Sounds mascot Ozzie the cougar included a reference to Dolly in Sunday's The Tennessean. Asked for the three sexiest "felines" alive, it replied: "1. Cat Woman. MEOW! Better than a saucer of milk. 2. Dolly Parton. MEOW! MEOW! 3. Lee Ann Womack. Sings like a bird, and I LOVE THOSE BIRDS!" Read the story here.
'Whorehouse' Real Story
The Houston Chronicle on Saturday printed an interesting article detailing the true story of the infamous Chicken Ranch, the bordello which inspired the hit Broadway musical and subsequent film starring Dolly, The Best Little Whorehouse In Texas, which opened in cinemas 21 years ago this week and remained fairly accurate in the tale of the infamous house of ill repute. Read it here.
Get Those Credit Cards Ready!


For our readers in the U.K., remember that the 21-cut version of Ultimate Dolly Parton, which includes the bonus track "Early Morning Breeze" remixed by Bent, hits stores on Monday! Also, for U.S. readers, remember that Dottie Rambo's new gospel disc Stand By The River, featuring a No. 1 Dolly duet on the title track, hits stores stateside on Tuesday.
---
July 19:
'I'm Gone' Slowly Climbing Chart


Dolly's video for "I'm Gone" from Halos & Horns moves up two more spots this week to No. 14 on the CMT Top 20 Video Countdown, the network announced Thursday night. The video is in its fourth week on the chart. (Remember to help get Dolly played more! Request the video on CMT's MWL here and Great American Country's countdown here!)
Stella 'Stands By' Dottie
Dolly's sister, Stella Parton, got a copy of Dottie Rambo's new CD Stand By The River, which comes out Tuesday and features a duet with Dolly on the title track, and she loves it. She says: "I listened to the new Dottie Rambo CD yesterday and remembered why I have been a fan for so long. This project was truly worth waiting for. Dottie is singing great, the production is fabulous, and as always, the songs are masterful. The only thing missing from this CD is that I'm not on it...I will always be the biggest Dottie Rambo fan. Just listening to it made me want to leave here shoutin'!" Order your copy here! Thanks!
Another Honor For Dolly
And I have not seen this published anywhere before, but I just learned that Dolly accepted yet another honor for her Imagination Library literacy program earlier this year. She was selected by the Parents As Teachers National Center for its 2003 Child And Family Advocacy Award. She accepted the honor via videotape at the organization's Born To Learn™ Conference in April. In a statement on the awards, the organization's president, Sue Stepleton, said: "Supplementing our parent education and child development information with a monthly supply of age-appropriate books is an outstanding commitment by the Dollywood Foundation. We commend Dolly's commitment to children and families." Thanks, Tony!
Catch Dolly On TV!
Remember, for those whose cable systems carry the Starz2 network, they are scheduled to air Dolly's most recent comedy, Frank McKlusky, C.I. daily at 2:35 a.m., 10:35 a.m. and 6:35 p.m. Eastern all week starting on Saturday and ending next Friday.
Interact With VH1
VH1's 200 Greatest Pop Culture Icons premieres at 9 p.m. Eastern on Monday, the network asked me to remind everyone. Click on the link to look at the site they've set up for the week-long series, which features an alphabetical list of all 200 icons and games, including a memory challenge pairing stars with items symbolizing them (I'll give you two guesses what they chose for Dolly). A poll is also scheduled to be up soon asking for viewer votes on those included on the list, the results of which will be announced during the show. In addition, VHI was also asking about Dolly on its regular daily poll on Friday. The question was: "Dolly Parton is being saluted by Norah Jones and Shania Twain on a new tribute disc. Which of her tunes is your fave?" As of Friday night, the "9 To 5" and "Jolene" were running neck-and-neck with 39 percent and 38 percent of the vote each, respectively, while the other choice, "Islands In The Stream," was a close third with 23 percent. Vote in that poll here!
---
July 18:
U.S. Chart Updates, Well, Some Of Them


Ultimate Dolly Parton inches down three spots to No. 39 on the July 26 country albums chart in its sixth chart week, Billboard announced Thursday. The bluegrass albums chart was not updated as of Thursday evening, so the new position of Dolly's Halos & Horns cannot be reported at the time of this update. However, assuming the disc remains on the 15-position tally, it will be celebrating the end of one full year on the chart in its 52nd week. The album was at No. 13 last week. Ray Benson's Beyond Time, which features a Dolly duet on "Leave That Cowboy Alone," falls off the 25-position jazz albums chart after just two weeks. It had peaked last week at No. 19. The Sweet Home Alabama soundtrack, with Dolly's "Marry Me," remains steady at No. 22 on the soundtrack albums chart in its 38th chart week. Trace Adkins' Greatest Hits Collection Vol. 1 debuts at No. 1 country and No. 9 pop, while Lonestar's From Here To There: Greatest Hits remains at No. 2 country and No. 20 pop in its sixth week. Last week's No. 1 debut, Nashville Star winner Buddy Jewel's self-titled CD, falls three places to No. 4 country and plummets 19 spots to No. 32 pop. Unfortunately, The Larkins' awesome new self-titled CD didn't sell enough copies in its first week to debut on the country albums chart. The disc contains a spectacular cover of Dolly's "Steady As The Rain" complete with Dolly providing harmony.
Gone In Canada
Ultimate Dolly Parton falls off the July 17 Canadian country albums chart after just five weeks, dropping from the top 50 positions down from No. 28 last week. The CD peaked at No. 16 up north.
Gospel Chart Updates
The July issue of PowerSource is out, and here are Dolly's standings for the month: "Stand By The River" with Dottie Rambo drops four spots to No. 81 on the Christian country chart and loses 25 on the Southern gospel chart to reach No. 77. The song, from Dottie's CD Stand By The River to be released on Tuesday, had previously peaked at No. 1 Christian country. "Halos And Horns" and "Hello God" from Halos & Horns drop off the 30-position bluegrass singles chart, down from No. 26 and No. 21, respectively, last month. Dolly's "Hello God," which had peaked at No. 2 on the Christian country singles chart, loses eight places to No. 43 on that chart for July. The magazine also gives Dolly a couple of mentions and a photo in an article on Porter Wagoner's medallion ceremony in May recognizing his induction into the Country Music Hall of Fame last year. Dolly was present at the event, speaking to the audience and singing both with Porter and on her own.
Catch Dolly 'Secrets'
If you're reading this report prior to 9 p.m. Eastern on Thursday night and missed the great Travel Channel Secrets: Dollywood episode on the Travel Channel, it repeats at that time and at midnight Friday morning.
Dolly Apparently In 181-200
VH1's Rock On TV listings suggest that Dolly is in the first episode of the network's week-long 200 Greatest Pop Culture Icons countdown series. It states she, Beavis & Butt-Head, Bob Marley, Guns N' Roses and Queen Latifa are among the artists profiled between No. 181 and No. 200. The series kicks off at 9 p.m. Monday on the cable network.
---
July 17:
Dolly Slang?
Could cultural knowledge of Dollywood be turning the park's name into a slang term? Well, maybe so in some circles. I'm told that Tuesday night's premiere of the new reality series Queen Eye For The Straight Guy, the show on the Bravo cable network that takes five gay fashion and culture experts and has them give a complete home and body make-over for a straight man, the show's first client was placed in a spray-on tanning booth after one of the fashion gurus criticized his arm-only tan. But instead of calling it a "farmer's tan," he said they wanted to give him "a Hollywood tan" to replace his "Dollywood tan." Thanks, Jaron!
More Tribute Mentions
Yahoo on Wednesday posted a brief on the upcoming Dolly tribute CD, Just Because I'm A Woman: The Songs Of Dolly Parton. Read it here. And Billboard updated its story here on the disc Wednesday to correct its previous errors after being contacted by your webmaster. The Dollymania page on the collection is available here.
Dance With Dolly
On the way home from work Wednesday, I was listening to NPR's All Things Considered, and a story aired profiling Palestinian weddings in the West Bank and Israel. The reporter was describing the wedding party festivities, explaining how the men and women dance separately. I was surprised when said, "The men rise for traditional tunes, the women for Dolly Parton." Playing in the background at the party was Dolly's duet with Julio Iglasias, "When You Tell Me That You Love Me," from his 1994 album Crazy. (And I find it amusing that the transcript of the story notes: "SOUNDBITE OF MUSIC Ms. DOLLY PARTON and Unidentified Harmony Vocalist: (Singing) And baby, every time you touch me, I become a hero.)" Read the transcript here.
---
July 16:
More On Disney Project
Thanks to a reader for pointing me to a little more information on the 2005 Disney animated feature starring Dolly. Although published reports have cited its title as My Peoples, Elgin's People and Angel And Her No Good Sister, the Internet Movie Database page for the film here uses the original My Peoples title. The site lists as cast members Diedrich Bader as Herbert Hollingshead, Charles Durning as Old Man Mcgee, Hal Holbrook as Abe Lincoln, Dolly as Angel, Lou Rawls as Blues Man, Jean Smart as Arvilla Tugthistle, Mike Snider as Good o' Boy, Lily Tomlin as Ms. Spinster and Travis Tritt as Elgin Harper. The site says the movie will it focus on Holbrook's Lincoln, which is a puppet created from a push broom. Thanks, John!
Where's Dolly?
Perhaps the editors were a little rushed or a bit depressed when putting together the final issue of Country Music magazine, which ends its 31-year run with its August/September issue now on newsstands, but a Dolly profile was apparently left out of the farewell edition. The cover, which Martina McBride's face graces, advertises 10 feature stories inside, including one described as "Dolly Parton: Grounded, and still soaring." Unfortunately, the article does not appear in the issue (all nine other stories referenced on the cover do, however). Still, Dolly does manage a few mentions. She gets three paragraphs in a four-page story by Alanna Nash on female singers who "broke the glass ceiling" in country music, part of a 12-page spread on women in the genre. She also earns one paragraph in Hazel Smith's gossip column, touting the $15,000 Dolly Parton Scholarships which the Dollywood Foundation began awarding last year to all four high schools in Sevier County, Tenn., and the film For The Love Of Dolly, currently in post-production, is mentioned in a brief on upcoming country music documentaries. Maybe we'll be lucky and the magazine's editors will include Dolly's story in an upcoming issue of its sister publication, Country Weekly, which is to soon replace Country Music in subscribers' mailboxes.
In Print Elsewhere
Dolly also makes a couple of other print appearances on newsstands now. I'm told there's a shot of her singing with Kathie Lee Gifford from the 2000 Dove Awards in Contemporary Christian Music (CCM) Magazine. Thanks, Bob! And there's an interview and photos in the current issue of Black + White (May 2003), an Australian publication -- don't confuse it with B&W: Black And White, an American photography magazine which features Fidel Castro on its current cover. Thanks, Sue!
Tribute Story Reprinted
The Billboard story from Monday on the Dolly tribute album was reprinted on Tuesday by Reuters news service, making appearances on the Reuters site here and MSNBC here (although it contains the same errors as the original Billboard piece cited in the July 15 news update below).
Get Kenny's CD
Amazon.com has added a link to pre-order Kenny Rogers' upcoming disc Back To The Well, on which he has said he plans to include his new Dolly duet, "Undercover." Reserve your copy of the Aug. 12 release here!
More Remastered Dolly
And Britain's Sanctuary Records, which releases Dolly's Sugar Hill albums in Europe, is promising a newly remastered version of Dolly's classic 1970 No. 3 hit cover of Jimmy Rodgers' "Mule Skinner Blues (Blue Yodel No. 8)." It is set to appear on the CD Best Of Bluegrass, to be released Aug. 5. Get your copy here!
New Pics Posted
The final installment of photos from Dollywood's KidsFest opening festivities have been posted to a new gallery on that section of the site here. The festival continues at the park through Aug. 10. And while I was at it, I came across a roll of film I had yet to develop from opening weekend this year (although none of the pictures contains Dolly) added in a gallery here.
---
July 15:
Tribute Disc Getting Noticed
Stories about the Dolly tribute CD Just Because I'm A Woman are making the rounds. An Associated Press brief was posted to their wire around noon on Monday, immediately being posted to dozens of television news Web sites (read it on my favorite local station's site here), and the online version of Billboard posted a story on the album late Monday afternoon here (although it includes a few factual errors: that Dolly's recording debut was Dolly Parton Sings on RCA in 1963 -- that album's original title was Hits Made Famous By Country Queens and it was on Somerset Records; also, her actual recording debut was "Puppy Love" on Goldband Records in 1957). Visit the Dollymania page on the project here.
Settlement Gets Ink As Well
Also, a couple of mentions of the lawsuit settlement by Dollywood and the Kingsport (Tenn.) Area Chamber of Commerce over KidsFest made the Knoxville News-Sentinel briefs here and an Associated Press brief reported on Knoxville station WBIR here on Monday. As was reported here Sunday night, settlement details are expected to be released sometime this week.
'Ultimate' UK Release Delayed A Week


BMG has pushed back the release of Ultimate Dolly Parton in Europe one week. The disc, which is the 20-song version plus the bonus cut of "Early Morning Breeze" featuring B.J. Cole and remixed by Bent, will hit stores in the U.K. next Monday instead of this week. This version will be available from many retailers there, including HMV. Thanks, Paul!
'River' Release Reminder


Just a reminder that next week will also see the release of the long-anticipated first studio album in nearly two decades by gospel legend Dottie Rambo, Stand By The River, which features the No. 1 duet with Dolly on the title song. I received an advance copy of the disc on Monday and can tell you it's chock full of very moving good ole Southern gospel and country-flavored contemporary gospel tunes. In the liner notes, Dolly says: "What a great joy, thrill and honor it was to work with Dottie in the studio on 'Stand By The River.' The Spirit sure was jumping that day. I'm very proud of this. I hope everybody will get a blessing out of it and will enjoy it as much as we enjoyed doing it." Dottie responds with: "Dolly Parton -- You are so special. Your heart is as big as that beautiful smile. Thank you for singing 'Stand By The River' with me and thank you for being my friend." Reserve your copy of the July 22 release here!
---
July 14:
Paper: Dollywood Lawsuit Settled
The Kingsport (Tenn.) Area Chamber of Commerce and Dollywood have reached a settlement agreement regarding the Chamber's copyright infringement lawsuit over the park's former name for its children's festival, the Kingsport Times News reported on Saturday. According to the story, the parties are expected to release a joint press release this week detailing the terms of the settlement. The Chamber had contacted the theme park in February to express concern over Kidz FunFest, the name for its first annual children's event, which opened June 20 and runs through Aug. 10. The Chamber contended that the name was too similar to its annual Fun Fest concert series, which will start on Friday and end on July 26. Although a copyright search conducted by the park discovered several other "Fun Fest" events across the country, Dollywood voluntarily ceased usage of the FunFest name immediately after the Chamber contact, changing the event's moniker in February to KidsFest, redesigning its logo and reprinting all promotional materials to reflect the new name. Still, the Chamber alleged that the park had ignored its request and continued to use the Kidz FunFest name after February and filed the lawsuit in U.S. District Court in May, three months after Dollywood appears to have stopped using the name. Read the story here. Thanks, Debbie!
Magazine: No Carville, New Name For Disney Pic
The current issue of Entertainment Weekly mentions the upcoming Disney cartoon involving Dolly, I'm told. The article, on upcoming animation projects, says the film's title is now Angel And Her No Good Sister, adding that "Disney's bluegrass project mixes CG with 2-D work." It also states that although early reports said James Carville would voice a character, Disney now says he is no longer involved in the project and will only confirm that Dolly stars in it and that it's set for a 2005 release. Thanks, Geoffrey! Previous reports, repeated here over the past couple of years, have said the film's title would be My Peoples, and later Elgin's People, and that Dolly was playing the character of an angel, later a ragdoll named Angel. Those reports have also stated that in addition to Dolly and Carville, others providing voices were to include Lily Tomlin and Travis Tritt, and that the picture is set in Appalachia with inanimate objects (such as pins, buttons and brooms) as the characters. Previous reports have also said that Ricky Skaggs is in charge of the bluegrass soundtrack for the project.
Kenny: Duet Likely For Fall CD
Kenny Rogers told The Wichita Eagle in an article published Sunday that he intends to include his new duet with Dolly on the song she wrote called "Undercover" on his next album, titled Back To The Well and set to come out in September. He had planned an earlier release for the disc, which will also include duets with Tim McGraw and Alison Krauss, but he postponed it to record the Dolly duet. Read the story here. As was reported here and elsewhere, the pair announced the duet at Jane Fonda's charity event for the Georgia Campaign Against Adolescent Pregnancy in Atlanta last month.
Larkins Talk Up Dolly At Show
I'm told that The Larkins appeared in York, Penn., Wednesday night in the Sounds Of Summer concert series, playing a "fabulous" 90-minute show. The sister duo made several mentions of Dolly and Dollywood during their set. The ladies have performed for many years with their parents at the park and released their first duo album last week, The Larkins, the first single from which features Dolly harmonies on a cover of her "Steady As The Rain." Thanks, Lemar!
Chicks Comments Make Paper
Dolly's comments on Larry King Live about the Dixie Chicks controversy made Brad Schmidt's Celebrities column in Sunday's The Tennessean. Read the column here (his transcript of the quotes are a few words off from what was actually said, but you may read the actual verbatim quote on the July 4 news update by scrolling down).
Dolly Interview Reviewed
Monday's The Dominion Post down in New Zealand will offer an interesting commentary on a Dolly interview which ran there over the weekend. Read it here.
---
July 12:
More Tribute Album Info Available
The press package for Just Because I'm A Woman: Songs Of Dolly Parton is out from Sugar Hill Records, and here are a few surprises contained therein:

Rather than record a new song, Emmylou Harris has contributed her 1978 recording of Dolly's "To Daddy" from Quarter Moon In A 10 Cent Town for the collection. The song reached No. 3 country when it was first released.

In addition to her re-recording of the CD's title track, Dolly provides harmony with Alison Krauss, Dan Tyminski and the rest of Union Station for Shania Twain's cover of "Coat Of Many Colors."

Cheryl White, of The Whites, sings harmony on Krauss' "9 To 5."

Alison Moorer and Mindy Smith join Dolly for harmony on the title cut, which Dolly herself co-produced with the project's executive producer, longtime friend Steve Buckingham.

Dollymania is pleased to be the first to bring you the complete liner notes, quotes from the artists involved, and two wonderful new Dolly publicity shots associated with the album. All of this is located on a new page dedicated to the project here!

Official: Dolly Helping Bluegrass
And these ladies aren't the only ones singing Dolly's praises. Dan Hays, executive director of the International Bluegrass Music Association (IBMA), told The Tennessean in an article Friday on the group's move of its headquarters from Kentucky to Nashville that Dolly is largely responsible for the current popularity of the genre. ''Dolly's influence and ability to take the music to new audiences is helping to open the door (for lesser-known artists)," he said. ''There's lots of doors opening at retail and more and more albums being sold.'' Dolly released her phenomenal The Grass Is Blue about a year before O Brother, Where Art Thou broke bluegrass back into the mainstream. The CD won her a Grammy and Association For Independent Music (AIM) Award for Best Bluegrass Album as well as the IBMA's own award for Album Of The Year. Its bluegrass and folk follow-up, 2001's Little Sparrow, took home a Grammy for Best Female Country Vocal Performance and the AIM for Best Bluegrass Album. Read The Tennessean story here.

In Print
The July/August issue of Women Who Rock which includes their review of Ultimate Dolly Parton noted here last week is now on newsstands nationwide, I'm told. Thanks, Veronica!

And Another Note
According to the New York Daily News on Friday, Dolly was recently spotted taking in a performance of Aida on Broadway starring Toni Braxton, of whom Dolly has professed in the past being a fan. Read the note here.

Larkins Disc Amazing
I just finished listening all the way through to The Larkins' new CD for the first time since Shaunna Larkin let me hear a pre-mixed version back in April, and the close harmonies, emotions and wonderful sounds still blow me away! The CD, which was released on Audium Records on Tuesday, features Dolly harmonies on a cover of her "Steady As The Rain," for which a video should soon premiere on the cable networks. Get your copy here!
---
July 11:
U.S. Chart Updates


Ultimate Dolly Parton inches down four spots to No. 36 on the July 19 country albums chart in its fifth chart week, Billboard announced Thursday. The two-disc version of the album, which is sold exclusively online by Music Space.com, falls off the 75-position tally after charting separately for one week at No. 74. Dolly's Halos & Horns gains one on the bluegrass albums chart to reach No. 13 in its 51st chart week. Ray Benson's Beyond Time, which features a Dolly duet on "Leave That Cowboy Alone," moves up six spots on the Top Jazz Albums chart to No. 19 in its second week. The Sweet Home Alabama soundtrack, with Dolly's "Marry Me," drops one to No. 22 on the soundtrack albums chart in its 38th chart week. The self-titled CD by Nashville Star winner Buddy Jewel sold 52,000 copies in its first week to debut at No. 1 country and No. 13 pop, while Lonestar's From Here To There: Greatest Hits falls one to No. 2 country but is up one to No. 20 pop in its fifth week.
Up In Canada
Ultimate Dolly Parton regains three places on the July 10 Canadian country albums chart, coming in at No. 28 in its fifth week there.
'I'm Gone' Moves Up
The video for Dolly's "I'm Gone" from Halos & Horns moves up one more spot to No. 16 in its third week on the CMT Top 20 Countdown, the network announced Thursday night.
Library Gets Push In Lansing
The Lansing State Journal in Michigan published a story on Wednesday promoting Dolly's Imagination Library in Eaton County. Although several thousand children in the county are eligible to participate, only 60 have signed up in the past few months, so officials are trying to get the word out to parents about the program. The program there is sponsored by the local United Way. Dolly's Imagination Library, operating in more than 200 communities across 31 states, provides one free book per month from birth to age 5 for any child whose parents sign up in a participating community. Read the story here.
Wonderful King Interview To Air Again
In case you missed it the first time, CNN has announced that the very in-depth Larry King Live interview with Dolly from last week will repeat at 9 p.m. Eastern on Saturday as well as midnight and 3 a.m. Sunday morning. Scroll down to the July 4 news entry to read of the many things she discussed in the interview and some of her snappy comments.
Zoo Eagle Update
Officials at the National Zoo in Washington, D.C., said Wednesday that they believe a wild red fox, not a bobcat as had earlier been speculated, on Independence Day killed what used to be the facility's only bald eagle. The bird was housed separately from the two flightless bald eagles for which Dolly had been on hand just days earlier to donate from Dollywood and the American Eagle Foundation. Read an update here.
---
July 9:
Dolly In 200 Top Cultural Icons
Dolly is to be featured in VH1's 200 Greatest Pop Culture Icons, the network has announced. Those included on the list are as varied as President Clinton, Kermit The Frog, Johnny Cash, Jackie Gleason, Queen Latifa, Regis Philbin, Chris Rock, William Shatner, The Simpsons, Andy Warhol and Beavis and Butt-head. The five-night, 10-part series kicks off at 9 p.m. on July 21, and what I've heard about it suggests that Dolly most likely will appear in the first installment. The series also features original illustrations of the stars by famous caricaturist Robert Risko. In addition to Dolly and Johnny, the only other country acts I've seen as to be included on the tally are Shania Twain and Garth Brooks, plus sometimes-country-performer Elvis Presley.
Thank You
Although only a handful of people voted in it, I'm told that a poll this week on the Yahoo club Dolly Parton World asked readers to select their favorite Dolly sites, and Dollymania won with two-thirds of the vote. Thanks!
---
July 8:
CMT Gives 'Our Country' Backstory
CMT's weekly Hot Talk feature on Monday offered some explanation for changes in the plot line for the IMAX film Our Country, why the Dixie Chicks, Tim McGraw and Riders In The Sky weren't in the final version, plus Dolly's famed quote on the film shortly after she filmed her spot singing a portion of "Turn, Turn, Turn": "I'm already bigger than life, but in this movie, I'm going to be bigger than a cow." The story also notes, as has been previously reported here, that the film will open in Kansas City (City Extreme Screen at Union Station), Mo., Aug. 29; Myrtle Beach (IMAX Discovery Theatre at Broadway At The Beach), S.C., in September; Dallas (Cinemark IMAX) on Sept. 26; and Colorado Springs, Colo., in October. (No word on why these dates are different from the July release in these cities which Gaylord had initially announced a month or so ago.) As was reported here previously, the film premiered in May at a film convention in Los Angeles and has played throughout June and July at the Desert IMAX Theatre near Palm Springs, Calif. The 40-minute film got its Nashville premiere about two weeks ago and is currently playing only at Regal IMAX Opry Mills there and in Palm Springs. Read the full CMT story here.
Get Larkins' CD This Week


Remember that Shaunna and Kristina Larkin have their debut self-titled duo CD coming out on Tuesday, featuring a cover version of Dolly's "Steady As The Rain" with harmonies by Dolly herself. The slow-tempo version of the song sounds great, and it will serve as the album's first single. Look for a video (also featuring Dolly) soon. Reserve your copy of the CD here!
---
July 7:
Killed Eagle Not Dolly's
One of the National Zoo's bald eagles has died, but it was not one of the two donated by Dollywood, according to reports. The eagle, which was able to fly, was housed in a separate area of the zoo from the two from Dollywood. According to The Washington Post, it appeared that an outside predator, such as a large wild cat, had burrowed into the bird's enclosure Thursday night and attacked it. The eagle died on Friday. Dolly was at the zoo on Wednesday to donate two eagles to the zoo which cannot fly. They had been injured in the wild and nursed back to health at the eagle refuge at Dollywood.
Willie And Ray Cover Dolly
Country legends Willie Nelson and Ray Price have teamed up for a new duet album released earlier this month, and its title cut is a cover of the classic Porter & Dolly duet "Run That By Me One More Time," which was written by Dolly herself more than 30 years ago. Get your copy of the new CD here! (CORRECTION: The national magazine review on which this story was based was incorrect. This is NOT a cover of the Porter & Dolly duet.)
Get Larkins' CD This Week
Remember that Shaunna and Kristina Larkin have their debut self-titled duo CD coming out on Tuesday, featuring a cover version of Dolly's "Steady As The Rain" with harmonies by Dolly herself. The slow-tempo version of the song sounds great, and it will serve as the album's first single. Look for a video (also featuring Dolly) soon. Reserve your copy of the CD here! (The ladies have also posted a couple of great new shots of them with Dolly on their Web site here and here!)
Dolly Praise
Jeannie Seeley spent five or 10 minutes of her warm-up show for the Grand Old Opry on Saturday talking about Dolly and how much of a hero she is to the country music legend. She spoke of how great Dolly was on the Independence Day concert Friday and her interview with Larry King on Thursday. She said she loved how Dolly didn't leave country music when she branched out into the pop field in the 1970s, instead doing exactly what she said she was doing by taking country everywhere she goes to act as a great ambassador for the genre. She added that she will be singing later this year for several weeks at Dollywood and loved the park's new dog kennel, Doggywood, which opened last year. She told the crowd that her dog was so impressed with the addition that he "wrote" a fan letter to Dolly himself.
Thanks To Our Readers
Janene in South Wales asked me to pass along her appreciation to the Dollymania readers who helped her locate a videotape for her mother recently. She had posted a listing on the Collectors' Connection portion of the site seeking a U.K.-formatted version of Kenny & Dolly: Real Love as a gift for her mother's birthday this week, as she had lost her only copy of the concert special. "I still can't believe how many replies I had and how many people were willing to help me," she said. I'm just glad we were able to help out another fan. Thanks to everyone who contacted her!
---
July 5:
Fourth Concert Stunning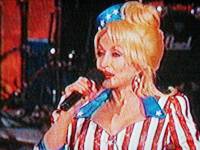 Dolly looked stunning in her 1940s-inspired red, white and blue outfit complete with pillbox hat on Friday night's A Capitol Fourth concert special on PBS. Although her voice was hoarse, she still sounded great as she performed "9 To 5," "Light Of A Clear Blue Morning" and "When Johnny Comes Marching Home" (complete with additional lyrics on "Janie" to honor women in the armed forces).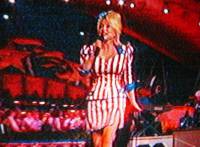 Several times, she saluted the men and women of America's military both home and overseas and thanked them for their service to our country. Of course, she joked around for the crowd as well, telling the soldiers that she has her own two secret weapons, then pointing at her breasts and calling them "shock and awe" before adding that if any goody-goody out there had a problem with that, it was "tough Shiite on a shingle!" After her set and the fireworks, she and the entire cast returned for "A Grand Old Flag."
Rehearsal Notes
I'm told that Dolly was also hoarse during Thursday night's rehearsal for the concert. A fan who attended said that night she wore the red, white and blue dress from her Oprah appearance several years ago and that the crowd which had assembled for rehearsals was definitely there to see Dolly, judging by their screams and applause for her. She apologized for her voice, saying, "They had me talking all week." She also said that she had held her head over a tub of hot water and some kind of vapors before she came out and that helped to loosen up her vocal cords. In introducing "Light Of A Clear Blue Morning," she talked about Sept. 11 and the current war and how it reminded her of an old song she wrote, a dialogue which she changed for the broadcast version. Also, apparently because of her voice, she did not appear in the finale on rehearsal night. Thanks, Mike!
At The Big House
The Associated Press on Friday posted a shot on the wire of Dolly at the White House earlier in the day. View it here.
Moving Up On CMT
Dolly's video for "I'm Gone" from Halos & Horns moved up two spots to No. 17 Thursday night in its second week on CMT's top 20 countdown.
---
July 4:
King Interview Awesome
Kudos to Larry King for providing one of the most comprehensive and insightful Dolly interviews ever on his program Thursday night on CNN. Dolly spoke, of course, of her headlining the Independence Day concert in Washington on Friday, Dollywood's donation of two eagles to the National Zoo this week and her upcoming patriotic and gospel album For God And Country, but she delved into several other topics and offered several of her trademark zingers. With interview segments interspersed between clips of great classic Dolly footage, they covered the usual subject matter of her life, career, family, Dollywood, the Imagination Library, the tabloids, and more.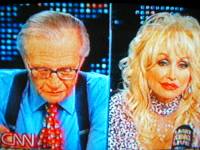 In addition, she offered the following items of interest in her first appearance on the show in nine years:

Her tour, likely to be held next year to promote the album, will be a larger-scale event. She described it as her first big tour in several years, which would indicate it should come to more cities and larger venues than last summer's tour.

She said she just learned that while ABC is now satisfied with the script for her Mae West bio-pic, the network is not planning to air it until sometime in 2004, which means shooting will not begin this summer, as had been originally planned if it were to air in the fall.

She said that "Undercover," the duet she and Kenny Rogers will be recording next week for his next album, is a song she wrote. She sang a couple of lines from the tune and recited several others, calling it a playful and fun song reminiscent of "Afternoon Delight."

She announced two additional cuts for For God And Country, the gospel numbers "Peace In The Valley" and "Whispering Hope." About religious music, she said: "Nothing's greater to me, nothing's more fun and more fulfilling to sing than those great gospel tunes."

She said the October release of the tribute album to her by Sugar Hill Records "makes me feel good, but old!" She added that plans are to hopefully record a television special for broadcast in conjunction with the CD's release.

And on a sad note, she publicly stated for the first time that her mother, who recently was released from the hospital after suffering a mild stroke, has been diagnosed with Alzheimer's disease. She has good days and bad days, Dolly said.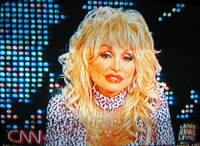 And some of her more interesting comments included the following:

On the recent Dixie Chicks controversy, she explained: "I have to say that in defense of them, they are great girls. They are great artists. And I'm sure they never meant the harm that has, that has come from all this. . . . Natalie (Maines) is kind of like me. She opens her mouth sometimes before her brain kicks in. . . . I really think it's time to be American and kind of forgive them because that's our American thing to do. And let's just move on from that because I just really think that it was just more of a mistake and I feel, I feel like they feel worse about it than anybody, if I may be so bold as to say so."

On her legion of gay fans, she joshed, "Well, they want my dress and my earrings! They want my hair, my make up!" She continued: "Actually, I think that the gay crowd is drawn to me because they, they love my honesty, hopefully, my outgoingness. I think they , they appreciate the fact that it's OK to be who you are even if some say you are a freak. I think they appreciate that. And they like the music, too. But I think they do like all the glitter and the shine."

On the tabloids, she noted: "If I ain't done it, hell, I'm capable of it!" However, when Larry brought up the story which alleged an affair with a 15-year-old, she said she didn't want to get into the details of the story because she does know those involved, but added, "It's a big bunch of poo-poo."

On the lawsuit over her mother's estate reported last year by the Knoxville News-Sentinel, she said the paper had distorted the truth over the story and that there was no major rivalry among the siblings over their mother.

She mentioned her recent trip to Atlanta to support Jane Fonda's fundraiser event with the cast of 9 To 5 and said that while they were there, Jane mentioned some movie folks are still trying to come up with a reunion project for the three actresses to do together. She joked they'd better hurry up before it's "the good, the bad and the ugly."

On her plastic surgery, she noted that she doesn't get too much done at once because, "I don't want to look like, you know, tighter than a banjo head!"

On her famous bosom, she said: "I am so tiny that my boobs just look so much bigger than they are. They're really just about 39 inches across, but they do look like I pump 'em up with a bicycle pump!"

On her role in country music, she said, "I'd like to think of myself as a goodwill ambassador to country music worldwide."

On performing on stage for the crowds, she noted: "I try to make it a love fest when I go out there."
If you missed the interview, it will repeat at midnight and 3 a.m. Eastern on Friday.
Dollymania is pleased to have provided Larry with some of the Dolly facts and figures used in the broadcast.

Could It Be Dolly Opera?
A reader informs me he recently saw an interview with opera legend Luciano Pavarotti in which the singer said he is putting together a duet album with American singers and that he and Dolly recorded a version of her classic "Do I Ever Cross Your Mind" last month. Thanks, Buck!

TV Recap, CD Delayed
Dolly made other rounds on Thursday as well, appearing on Good Day Live on FOX and CNN's Headline News via satellite from Washington to promote Friday night's A Capitol Fourth concert from Washington. On both programs, she announced that her patriotic album, For God And Country, will be released in early 2004 instead of the earlier-planned September 2003. On the FOX program, she wore a red dress with white stripes and talked about the video for "I'm Gone," her age and her look (saying, "Cartoons don't age!"), the upcoming album and tour, and the concert. She added that she'll be wearing a 1940s-style outfit during the concert. On Headline News, the interview was plagued with audio problems, but she again talked about the album and the concert. Before commercials, clips were shown from "I'm Gone," and they also talked about Dollywood's donation of two bald eagles to the National Zoo and showed footage from that ceremony on Wednesday. As has previously been reported here and elsewhere, Dolly on both shows said her set list for the concert, which should be about 15 minutes of the show, would consist of "9 To 5" and two cuts from the upcoming album, a new version of "Light Of A Clear Blue Morning" and "When Johnny Comes Marching Home Again." Thanks, Chad, Lynette and Jonathan! And you can view a couple of great Associated Press shots of Dolly wearing camouflage fatigues while singing during the concert rehearsal here. The concert airs live at 8 p.m. Eastern Friday on PBS and NPR. Gates open at the U.S. Capitol grounds for the free show at 2:30 p.m. A crowd of half a million is expected.

Double 'Ultimate' Dollies On Chart


Ultimate Dolly Parton inches down four spots to No. 32 country in the July 12 tally for its fourth chart week, but the two-disc version of the album sold exclusively online by Music Space.com debuts at No. 74, Billboard announced Thursday. Dolly's Halos & Horns remains steady on the bluegrass albums chart at No. 14 in its 50th chart week. The Sweet Home Alabama soundtrack, with Dolly's "Marry Me," remains steady at No. 21 on the soundtrack albums chart in its 37th chart week. Lonestar's From Here To There: Greatest Hits inches up one to regain the No. 1 country album spot in its fourth week and loses two to No. 21 pop while George Strait's Honkytonkville falls one to No. 2 country in its third chart week and drops nine places to No. 23 pop.
Canada Chart Update
Ultimate Dolly Parton falls 11 places on the July 3 Canadian country albums, coming in at No. 31 in its fourth week there.
Lovin' That Dolly
Reese Witherspoon's Dolly karaoke got another mention Thursday, this time in a CBS story here.
---
July 3:
Praising Eagles, Accepting Honor
After a week of being virtually ignored by the media, Dolly's appearance at the National Zoo in Washington, D.C., was all over the place on Wednesday. She was there that morning to open the zoo's new bald eagle exhibit, which features two injured birds nursed back to health at the American Eagle Foundation's sanctuary at Dollywood, and to accept a special U.S. Fish and Wildlife Service Partnership Award in recognition for her support for bald eagle conservation. Immediately after the 10 a.m. ceremony, the Wildlife Service posted a press release on the event here, which quotes Dolly as saying: "Bald eagles have symbolized our country's freedom and heritage for more than 220 years. We are excited and proud that Dollywood and the American Eagle Foundation are donating these two majestic birds to the National Zoo and are playing a special role in dedicating this new eagle exhibit celebrating America's National Wildlife Refuge System." On Wednesday, both the Washington Times and Washington Post ran stories on the festivities which were to take place that morning (read the Times article here and the Post one here), and CBS news did a story accessible here. On Wednesday afternoon, the Associated Press posted a story on the event to its wire, saying Dolly donned a patriotic mini-dress covered in American flags and said: "We're very involved with saving the bald eagle, because it's very important. It is our national bird." Read it here. Scripps Howard News Service also released a story Wednesday afternoon here, which quoted Dolly as joking: "I used to think bald eagles were ones with their head feathers combed forward." Sam, a 24-year-old female eagle in the exhibit, was injured by a gunshot wound in Alaska. Tioga, a 5-year-old male in the exhibit, was injured in a fall from his nest in Pennsylvania. Neither bird can now fly. Since 1990, Dollywood has been the main corporate sponsor for the American Eagle Foundation. Its sanctuary at the park contains 35 eagles, the largest collection of non-releasable bald eagles in the world. In that time, the organization has raised dozens of infant eagles born at the park and released them into the wild of nearby forests. Also over the past 13 years, Dollywood has contributed cash and facilities totaling $3 million for the Foundation. Both AP and Reuters photos of Dolly from the event are available on Yahoo here. Surprisingly, there was almost no coverage of the ceremony until the morning it was to take place. Dollymania first reported of the event a week ago, and the only other reports prior to Wednesday to my knowledge were a Knoxville News-Sentinel story on Monday and a mention that same day on the Dolly fan site Voice Of An Angel.
Set Those VCRs


Dolly filmed her interview for Larry King Live on Wednesday, so don't forget to tune in and see it on CNN Thursday night at 9 p.m. Eastern. If you miss it the first time, repeats are scheduled for midnight and 3 a.m. Friday. Also, don't forget to see Dolly headline the 2003 A Capitol Fourth Independence Day concert airing live on PBS and NPR at 8 p.m. Friday night from the West Lawn of the U.S. Capitol in Washington. She was scheduled to participate in cast rehearsals for the show Wednesday night and on Thursday. She has said she will perform "When Johnny Comes Marching Home" and "Light Of A Clear Blue Morning," both from her patriotic and inspirational CD For God And Country due for a September release, as well as her hit "9 To 5" during the show. Remember, gates open for the free concert at 2:30 p.m. Friday, and the lawn usually fills to capacity very shortly thereafter. (Also, I'm told that Thursday night's 7:45 p.m. until 10 p.m. dress rehearsal is expected to be open to the public, should you wish to attend.)
Movin' On Up!
Dollywood inches up one spot in the list of most popular U.S. parks, CNN reported this week. The Pigeon Forge, Tenn., theme park co-owned and operated by Dolly near her birthplace is now the 24th most visited amusement park in the nation, according to a report the cable news network released on Tuesday based on 2002 attendance figures compiled by Amuseument Business. Last year, the park ranked 25th in the country. It receives nearly 3 million visitors annually, second only to the Great Smoky Mountains National Park as the most visited attraction in Tennessee. In the U.S., Disney World's Magic Kingdom near Orlando is No. 1, and Disneyland in California is No. 2. Silver Dollar City in Branson, Mo., owned by Dolly's partners in Dollywood, ranked 28th. Read the full list here.
The Thunder Will Roll
Speaking of the park, its Web site this week added a page on Thunderhead™, the new wooden roller coaster to debut in April 2004. Dollymania published the first report on the coaster a week ago. Read more about it, and see some artists' renderings, here.
Dolly As Icon
MSNBC on Wednesday evening posted a very interesting article contrasting Dolly and home décor mogul Martha Stewart as the American icons who personify the two ends of the feminine spectrum. Writer Eric Olsen comments: "Parton is Southern-belle warmth, highlighted curves, makeup and wigs, and she never is seen otherwise. She plays with her garish, hyper-glamorous image and lets you know she's in on the joke with a wink and a wiggle — and her twangy soprano always seems eager to please. Stewart is a cool — some would say cold — domestic queen, angular and stylish but sensible and muted, always outfitted precisely, whether for replanting the herb garden or sampling early summer merlot al fresco. She speaks in a droll restrained contralto, and never seems to have considered the possibility she might disappoint someone other than herself." He also notes that Dolly's career is in a major upswing, while Stewart will soon head to court after being indicted for alleged securities fraud and obstruction of justice. Read the full story here.
Maybe She Should Be On The Tribute CD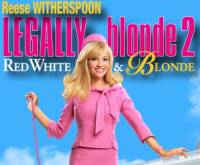 Legally Blonde 2 star Reese Witerspoon has often called Dolly her ultimate idol, and she's apparently not afraid to belt out some of the legend's tunes. Wednesday's New York Newsday recounted the tale of how Witherspoon organized a karaoke night for the cast and crew during its filming and started things off by singing a medley of Dolly songs. Read the story here.
Dolly For President!
Although Dolly has said she has no intentions of ever seeking political office and a grassroots campaign last year failed to convince her to run for governor of Tennessee, a USA Today columnist says Dolly is one of the few celebrities who could count on her ballot in an election. In an article lampooning possible bids for office by actor Arnold Schwarzenegger and talk show host Jerry Springer (himself a former Cincinnati mayor and one-time Ohio Democratic gubernatorial nominee), writer Whitney Matheson offered candidates she felt would make good politicians. About Dolly, she wrote: "Over the past four decades, the woman has proven to be mighty popular, a quick thinker (love those snappy comebacks in 9 to 5) and innovator (how about that Dollywood? Better yet, how about those Kenny Rogers duets?). Come on, Dolly – what do you have to lose? Hit the campaign trail, and I'll follow." Matheson said she'd also vote for James Earl Jones, Jeff Bridges, Stephen King or Betty White. Read her article here, and she is also inviting e-mails of who readers would support here.
Rock On!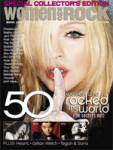 The July/August issue of Women Who Rock magazine will feature a review of the recent compilation CD Ultimate Dolly Parton, officials with the publication tell Dollymania. An excerpt from the review reads: "They don't get much bigger than . . . Dolly." The issue, which will feature Madonna on the cover (see image at left), should be on newsstands shortly. Thanks, Veronica!
More Appearances
I'm told that Dolly did not appear on Monday's Good Day Live out of Los Angeles, but the show is running new ads saying she will appear sometime during this week (one reader suspects she'll appear on Thursday morning). She's also set to appear on CNN Headline News around noon on Thursday, according to commercials. Thanks, Jonathan!
More Pics
Harrell sent a few additional shots of Dolly from the recent KidsFest festivities. They've been added to Gallery 6 on that section of the site here. Thanks!
---
July 1:
D.C. Concert Details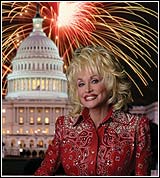 PBS has updated its A Capitol Fourth main page to reflect this year's artists, including Dolly (as late as last week, the page had bios on last year's performers). View it here. Also, The Washington Post has released some details anyone attending should know about the 8 p.m. Friday free concert on the West Lawn of the U.S. Capitol in Washington to air live on PBS. Gates will open at 2:30 p.m. Concertgoers will be checked by magnetic wands at two entry points: Pennsylvania and Maryland avenues at First Street NW and SW. Capitol Police will hand-search all bags, purses and coolers. The west steps of the Capitol will be closed. Once Capitol Police determine the lawn is full, all entrances will be closed and no one else allowed in. The paper says if weather is nice, the lawn could fill as early as 3 p.m. Restrooms are located on the lawn near Constitution and Independence avenues outside of the secure area, so a special hand-stamp will be required for re-entry. Several streets near the Capitol will be closed beginning at 4 p.m. July 2 and continuing through July 4. Attendees are encouraged to bring water and use public transportation, as parking is limited. Nearby Metro stations are Union Station Red Line and Capitol South Orange/Blue lines. In the event of severe weather, the concert will take place on Saturday. Rehearsals, with tight security, are scheduled during the day on Wednesday and Thursday (The cast will rehearse between 8 p.m. and 10 p.m. Wednesday. Dolly will be rehearsing from 3:15 until 4:15 Thursday, and there will be a full-cast rehearsal from 7:45 p.m until 10 p.m.).
Louvin Tribute Drops Sept. 30
Country Now reported on Monday that Universal South has announced a Sept. 30 release date for the tribute CD Livin', Lovin', Losin': Songs Of The Louvin Brothers, which will include a Dolly performance. Other artists on tap for the album are Vince Gill, Terri Clark, Joe Nichols, Rhonda Vincent, Alison Krauss, James Taylor, Johnny Cash and Merle Haggard. Rolling Stone on Monday night posted a story on the album, saying Dolly and Sonya Isaacs have recorded "The Angels Rejoiced" for the CD. Read the story here.
Eagle Story
The Knoxville News-Sentinel on Monday offered a story on the two bald eagles nursed to health by the American Eagle Foundation at Dollywood which will be on exhibit at the National Zoo in Washington, D.C., starting on Wednesday. Although the story mentions that Dolly is scheduled to be on hand for the ceremonies to open the exhibit, it does not note that she will be presented during the ceremony with an award in recognition of Dollywood's eagle conservation efforts. This is the first story on the event I've seen published (other than the Dollymania report posted here Thursday night) since the issuance of a media advisory by the U.S. Fish and Wildlife Service last week announcing the opening. Read the story here.
More Dolly On The Horizon?
Could RCA parent company BMG be readying more Dolly from the vault for release on CD? Well, an article in Monday's USA Today about a follow-up to the smash Elvis Presley collection released last year hints at it. In the story, Joe DiMuro, a BMG executive heading up the project, said the label might consider giving the same treatment to other artists in the BMG vaults, including Dolly, Jefferson Airplane, John Denver, Hall & Oats and Lou Reed. Read the full story here.
---