---
www.dollymania.net News July 2007
---

July 31:
Dolly Track On New Compilation
Dolly lands a track on another Sugar Hill Records compilation, it has been announced. "I'm Gonna Sleep With One Eye Open," which she recorded for the first album she offered for the label, 1999's The Grass Is Blue, will appear on Absolutely Bluegrass Vol. 1, hitting stores Aug. 14. As perhaps the disc's most famous participant, Dolly's name appears first on the cover art listing the artists whose works are contained in the collection. Get your copy here!
---
July 30:
Porter & Dolly Hit Right Notes On New Song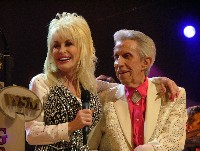 The legendary duo Porter & Dolly hasn't lost its magic, a new recording confirms. Their new version of the hymn "Drifting Too Far From The Shore" reinforces their legacy as one of the top professional couplings in music history. It is easily the best track on Porter Wagoner's new compilation, Best of Grand Old Gospel 2008, from Gusto/TeeVee Records. Officials at the label describe the disc as "in the process" of being released, which apparently indicates it is hitting different markets at different times. Although several online retailers have added the project with an Aug. 21 release date, two readers confirmed its present availability over the past week in independent music store chains in both Nashville and Pigeon Forge, Tenn. The 22-song set features mostly previously released tunes, including all 12 tracks from his most recent gospel collection for the label, which originally came out just a few weeks ago, and even his "Mother Church of Country Music" group-sing tribute to the Grand Ole Opry from about 15 years ago on which Dolly is a featured singer for a couple of lines. While they have performed together many times since their reconciliation 20 years ago and recorded a handful of guest appearances together on various songs (such as "Mother Church"), "Shore" marks their first full-fledged duet in 27 years, and in recent interviews he revealed that he expects a full album of new duets will be recorded within a year. Shortly after this song was recorded over a year ago, Wagoner told Dollymania: "It's always wonderful to sing with Dolly. Our voices blend together like family." The new track proves they've still got it. Reserve your copy here! Image at left of the duo at The Grand Ole Opry in May for Wagoner's 50th Opry anniversary special is copyright © 2007 T. Duane Gordon/Dollymania.net. May not be reproduced without prior written consent.
Holding On Down Under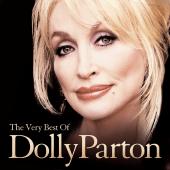 Dolly's very successful foreign greatest hits collection, The Very Best Of Dolly Parton, Vol. 1, holds on Down Under this week, it was announced Sunday. The CD remains steady at No. 15 on the Australian country albums chart.
Dolly On Another Greatest Songs List


Three Dolly tracks made the top 100 country songs of all time as opined by the music critics for Ft. Worth's Star Telegram this weekend. "Coat Of Many Colors" made it at No. 18, about which they said: "This homespun country tale of a loving but impoverished childhood introduced fans to Parton's warmth and storytelling capabilities." Her standard "I Will Always Love You" was No. 43 with "Parton's at her best on sweet, sad ballads like this one." And "When I Get Where I'm Going" with Brad Paisley made No. 52, about which they noted: "Pint-size genius Paisley is usually at his best when he's poking fun at something, but on this 2005 duet with Dolly Parton, a song about dying proves he can do much more than make you laugh. Who's got a tissue?" The full list, which featured Johnny Cash's "Ring Of Fire" at No. 1 and Patsy Cline at No. 2 with "Sweet Dreams," is available here. "Coat" also made a list in Sunday's Columbus Dispatch as one of the 20 country songs everyone should know, with their note: "One of country music's virtues is that many songs tell a story. Here, the brilliant singer-songwriter weaves faith and family into a feisty anthem." Read their list here.
'Whorehouse' Reporter Dies
Marvin Zindler, the KTRK television news public affairs reporter in Houston who took on the Chicken Ranch brothel in 1973, resulting in its closure, died Sunday. He was 85. The flamboyant reporter, who continued to work for the station until his death, was immortalized as the character Melvin P. Thorpe in the Broadway musical about the institution, and the play eventually became Dolly's second film, The Best Little Whorehouse In Texas. Read about his passing from The Houston Chronicle here.
Reviewer Loves Randy Theatre Opening
If the review in the weekend's Roanoke Rapids Daily Herald is any indication, Dolly's brother Randy Parton brought the house down Thursday night at the inaugural performance in his new Randy Parton Theatre. Although Dolly wasn't there in person, the reviewer noted that Randy performed a duet with her pre-recorded vocals and told many stories of growing up with her in the Smoky Mountains. He also had other family moments, including a performance by daughter Heidi Lou, pre-recordings of two other sisters and a recording of a story by their late mother, Avie Lee Parton. Read the full review here.
---
July 28:
'Very Best' Holding On In Éire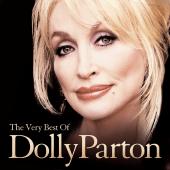 Dolly's smash European compilation album, The Very Best Of Dolly Parton, barely moves this week on the Irish pop albums chart, slipping just three spots to No. 76 in its 21st week on the tally on the Emerald Isle.
These Dollys In Scotland Aren't Sheep
Some of Andy Warhol's Dolly portraits have been hung in the National Gallery Complex in Edinburgh, Scotland, for the museum's exhibit of the artist's work, which opens to the public on Aug. 4. See a shot of an attendant in front of two of the works from Reuters here.
'EW' Names Dolly Cover In Best Songs
Dolly's original was named by CMT as the greatest country love song of all time, and Whitney Houston's cover was picked by VH1 as the greatest pop love song of all time, but Entertainment Weekly puts the remake of "I Will Always Love You" just at No. 6 in its countdown that was recently released of the 25 best love songs ever, saying here: "Boom! goes the drum, followed by a split second of silence. Then, out of thin air: 'And I-I-I-I-I...' Some prefer Dolly Parton's subtler original, but Houston imbued the song with so much drama and chilling technique — and scored such a massive hit — that hers has become definitive." The magazine chose The Beach Boys' "God Only Knows" as No. 1.
Local Library Issues Cookbook
Dolly put out her own cookbook, Dolly's Dixie Fixin's, to raise money for her Imagination Library literacy program nationwide last year, and now an individual chapter is following suit. The Charlotte Observer reports that Mitchell County's Imagination Library Cookbook has come out in the North Carolina community with 258 time-saving recipes as a fund-raiser for the chapter there. To learn more, click here.
---
July 27:
Reba Ties Dolly Record, Again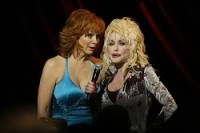 Because of the original American Idol, Reba McEntire this week once again ties her own personal idol for a career record. "Because Of You," the Kelly Clarkson collaboration from McEntire's forthcoming duets album, gains two to No. 10 on the Aug. 4 Billboard country singles chart, the magazine announced Thursday, bringing her total top 10 career singles to 55, a tie with Dolly for the most on the country chart for a female artist. McEntire reacted with joy to the news, telling Nashville's The Tennessean here: "Anytime I can be tied with Dolly for anything makes me very happy. I have always and continue to be her biggest fan." Dolly has held the record since 1988, when she tied with pal Loretta Lynn when "Wildflowers" with Linda Ronstadt and Emmylou Harris reached No. 6 to become her 51st top 10. She passed Lynn the next year when "Why'd You Come In Here Lookin' Like That" went to No. 1, expanding her lead to 54 top 10s by 1991. The record stood on its own until 2005, when McEntire tied it by scoring her 54th top 10, "He Gets That From Me," which made it to No. 7 that year. Dolly passed her last year with her No. 1 Brad Paisley duet, "When I Get Where I'm Going." If McEntire's new duet goes all the way to No. 1, she'll still be two chart-toppers away from tying Dolly's female record 25 No. 1 country singles (Dolly has held that record since tying with Tammy Wynette for 20 No. 1s in 1985 and passed her with 21 in 1987; McEntire tied Wynette for the No. 2 spot in 1996). Read Billboard chart expert Fred Bronson's take on the development here. Image of Dolly with Reba at the "CMT Giants" concert taping by Frank Micelotta and courtesy CMT. Used with permission.
In Other Chart News


That album with Dolly's most recent top 10, and No. 1, hit, Brad Paisley's Time Well Wasted, slips two spots to No. 23 on the Aug. 4 Billboard country albums chart, the magazine revealed Thursday. In its 101st chart week, the CD with "When I Get Where I'm Going" loses 13 to No. 151 pop and No. 175 comprehensive but rises four to No. 33 Canadian country. Martina McBride's Timeless, featuring her Dolly duet, "I Still Miss Someone," rises 11 to No. 62 in its 92nd week and Kenny Rogers's 21 Number Ones, with "Islands In The Stream," inches down one to No. 68 country in its 79th week. Rhonda Vincent's All American Bluegrass Girl, which includes Dolly on "Heartbreaker's Alibi," re-enters the 15-position bluegrass albums list at No. 8 in its 54th chart week. Teddy Thompson's Upfront & Down Low, which has his cover of Dolly's "My Blue Tears," debuts at No. 49 country. After 39 weeks on the chart, Taylor Swift's self-titled debut album moves up one to take the No. 1 country spot, also rising six to No. 15 pop, while Paisley's current release, 5th Gear, loses one to No. 2 country and three to No. 17 pop in its fifth week.
Another Kellie-Dolly Comparison
A few folks, including the head of Dolly's former record label and one of American Idol's judges, have compared the show's former contestant Kellie Pickler to Dolly, and now someone else who has worked with both Dolly and Pickler has echoed those sentiments. Brad Paisley, who duetted with Dolly last year and on whose current tour Pickler is one of the opening acts, told The Charlotte Observer (as reported by GAC here) that Pickler is "the closest thing to Dolly Parton I've seen in a long time, in a charming sense."
Randy Opens His Theatre
Dolly's brother Randy officially opened his Randy Parton Theatre Thursday as part of the new Carolina Crossroads entertainment district in Roanoke Rapids, N.C. Read a story about the project from The Raleigh News & Observer here.
---
July 26:
Report: '9 To 5' To Play Another City Before NY
Dolly's musical adaptation of 9 To 5 could be coming to a city near you. The theatre expert on AOL's GLBT blog, Queer Sighted, recently reported on the industry-only previews held of the show the other week and commented that producers plan to "take the show out of town" in early 2008 prior to its late 2008 Broadway premiere. It's a fairly common practice, especially for shows expected to be major hits, to play them in a test-run in another major city (often Chicago or Los Angeles) before they officially open on Broadway. The article also notes that each of the three fantasies (Judy's shooting the boss, Doralee's hog tying him and Violet's malevolent Snow White) are set to song-and-dance sequences and confirms Dolly's much-talked-about song "Backwoods Barbie" makes the cut (other songs mentioned by name are the title tune, which opens the show, as well as one called "Around Here" for Violet and "Get Out And Stay Out" for Judy). Read more here.
Porter Rocks With White Stripes
Alt rockers The White Stripes had a little Dolly influence on their Madison Square Garden show in New York Tuesday night. In addition to Jack White's usual cover of Dolly's "Jolene," the evening featured opening act Porter Wagoner, her longtime duet partner. Read The Hollywood Reporter's review here.
---
July 25:
Radio Plays Carter Duet, Oct. Release Planned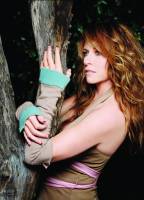 They didn't have room to spell out the full title on her preliminary mix of her upcoming album, so the song is printed as "Love Is Like A Butt," Deana Carter joked Tuesday morning when she premiered the track "Love Is Like A Butterfly" with Dolly from her upcoming album The Chain on Los Angeles-area radio station KKGO 105.1 FM. The singer, who arrived at the studio late after getting lost in LA traffic and calling in to talk with the DJs over the phone, said Dolly was a treat in the studio, asking for her direction on how she wanted her to perform the track. "I was just, I was frozen," she said, describing her reaction to Dolly's request that she tell her what to do with her own song, adding that Dolly spent an hour and a half in the studio with her working to match her own vocals, which surprised her since she said most stars of her stature would only spend about five minutes to lay down a one-take vocal track and leave. Carter allowed the station to play both "Butterfly" and a duet of "Help Me Make It Through The Night" with its composer, Kris Kristofferson. The Dolly duet features the pair exchanging lines, with Dolly in a more breathy and wavy voice than usual, which sounds like her attempt to match Carter's unique timbre. And the song's instrumentation is also a slight departure from the original, featuring intricate guitar work that is a little more akin to her other hits of the period ("Jolene" and "The Bargain Store") than the original lilt of "Love Is Like A Butterfly." The track is at its most beautiful when the two perform together in close harmony. Carter said the album, which she produced for Vanguard Records, should be out in October. As was previously noted, the CD is a tribute to her father, guitarist Fred Carter, and features his daughter's versions of hits on which he originally played. Image at left by Randee St. Nicholas is courtesy Vanguard Records. Used with permission.
More Praise For Thompson Cover


Teddy Thompson's Upfront & Down Low gets four stars in the new Paste magazine review posted online this week. The publication singles out his "delicately sad rendition" of Dolly's classic "My Blue Tears," noting that his version "does its writer proud (to the point of echoing her vocal inflections)." The reviewer, however, thought his take on some of the collection's other "woe is me" tunes was a bit over the top. Read the full review here.
---
July 24:
Carter Previews CD On LA Radio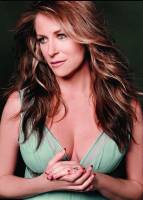 She hasn't revealed whether one of the tracks she'll preview is "Love Is Like A Butterfly" or not, but Deana Carter plans to share one or two songs from her upcoming release The Chain Tuesday morning on Los Angeles-area radio station KKGO 105.1 FM. She announced Monday evening that she'd be on the program around 9 a.m. Pacific (noon Eastern). The program streams online here. As has been previously reported, Carter has recorded the song with Dolly for the album, which is a tribute project in honor of her father, session guitarist Fred Carter, on which she offers her take on hits which originally featured his guitar playing. Last I heard, the CD was expected for a release in September. (Check out a great photo of Dolly and Carter as the lead image on Carter's MySpace page here!) Image at left by Randee St. Nicholas is courtesy Vanguard Records. Used with permission.
Discussing Iconic Dolly, Tammy Faye
Dolly gets a mention in Slate.com's analysis of how former televangelist Tammy Faye Messner became a gay icon in the years prior to her death last week from cancer. Take a read here.
Classic Covers In NYC
Those in New York this weekend may want to take in Southern Comfort, a revue of classic country by Tom Andersen, Scott Coulter and Tim DiPasqua at the Metropolitan Room. Among the songwriters honored on the bill is Dolly. The New York Daily News chooses it as one of the week's best entertainment options here.
---
July 23:
Down A Bit Down Under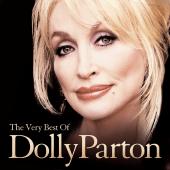 After rebounding to log one more week in the Aussie top 10, the wildly successful foreign compilation CD The Very Best Of Dolly Parton, Vol. 1 drops back out of the upper tier this week, it was revealed Sunday. The disc tumbles six spots to No. 15 on the Australian country albums chart.
---
July 21:
Paper: Audience Loved '9 To 5' Preview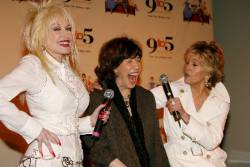 If the buzz building around it is any indication, Dolly's Broadway musical adaptation of her hit film 9 To 5 could be the biggest thing to hit The Great White Way in years. The New York Post on Friday offered "insider" comments on just how good the show appeared to be in an industry-only workshop reading that recently took place. The paper says one attendee noted that the songs are "signature Dolly songs that also work as musical theater songs . . . The show feels like a real Broadway musical, not one of those movies like 'The Wedding Singer' where you just shove the songs into the screenplay." It added that Dolly was in the back of the theatre for the show, singing along with the actresses who were on stage and "charming the pants off theater owners, who are eager to book a show that looks like a winner." Read the full article here. Image of Dolly with her original co-stars, Lily Tomlin and Jane Fonda, at last year's launch of the 25th anniversary DVD of the film is copyright © Fox Home Entertainment. Used with permission. Additional shots from the party are available here.
Up On Irish Tally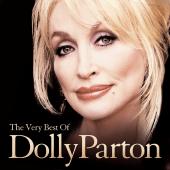 Although it looked like it might fall out of the top 100 this week, Dolly's smash hit compilation CD in Europe, The Very Best Of Dolly Parton, makes some gains on the Emerald Isle, rising 21 spots to No. 73 on the Irish pop albums chart, it was announced Friday. It marks the album's 20th week on the tally in Ireland after having fallen off of all of the other albums charts across the continent, where it made the top 10 in most nations following her sold out European tour in March.
Pickler Praises Parton
American Idol alum Kellie Pickler continues her public adoration of her personal idol, Dolly, in a couple of new interviews out this week. She tells The Charlotte Observer that when RCA chief Joe Galante arranged a surprise meeting with Dolly a few months back, he created the most memorable moment of her entire life. "Gosh, thinking that Dolly Parton took time out of her day just to make my day was so refreshing," she said. "She made my life, not just my day, she made my life." Read the interview here. And in Entertainment Weekly, she gushes that Galante's comment that he sees a bit of Dolly in her was the greatest compliment she has ever received "because I've always been the biggest Dolly Parton fan. She's my definition of an American idol. When I was little, one of my best friends from home gave me this nickname Picklebutt — oh, I hated my last name with a passion — but now I'm like, Thank you, Lord, that my last name starts with a P, because when I go into Best Buy, I'm right beside Dolly Parton on the shelf! That's the greatest thing ever." Read that interview here.
---
July 20:
Dolly's Park Visitors To Get 'River' Rage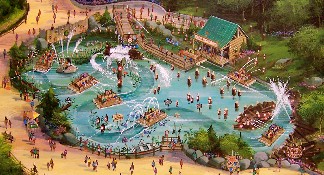 You will definitively get wet on Dollywood's new addition next year. Strike that. You will get soaked, drenched and saturated on the $5 million River Battle water adventure ride which will open for the Pigeon Forge, Tenn., park's 2008 season. The ride features nine rafts, seating eight passengers each, which will wind through a 500-foot-long "river" channel. Each rider gets a soaker gun, which may be used to shoot fellow riders on other rafts as well as more than 100 targets along the route, including large-scale talking beavers, skunks, otters, bears and other animals. Along the river's banks, passersby will also have access to land-based soaker guns to aim at the riders, but beware: the riders' guns will also reach those walking by on the bank as well. In a press release, Dolly said: "When I was a kid, me and my brothers and sisters used to sneak away and start up a river battle of our own, but I never dreamed that kind of childhood fun would end up creating a great ride like my new River Battle." The new ride expands the Timber Canyon area just beyond last year's $17 million Mystery Mine steel coaster addition, and a new 750-foot walkway will connect the new ride to the park's older Craftsman's Valley section, a project which will require the moving of 8,500 truckloads of mountain dirt. Read coverage of the announcement from Knoxville TV station WATE here and an Associated Press brief from Memphis station WMC here. Click on the image at left for a larger artist's rendering of the ride. Image courtesy Dollywood.
Paisley Pulls 100 Weeks On Chart


The CD which features Dolly's most recent No.1 hit has reached a rare feat, marking its 100th week on the Billboard country albums chart. Brad Paisley's Time Well Wasted, and its hit Dolly duet "When I Get Where I'm Going," passes the century week in the magazine's July 28 numbers released Thursday, gaining two spots to No. 21 country but falling seven to No. 138 pop and 13 to No. 162 comprehensive. The disc dips three to No. 37 Canadian country. Martina McBride's Timeless, with the Dolly collaboration "I Still Miss Someone," falls five to No. 73 in its 91st week and Kenny Rogers's 21 Number Ones, featuring "Islands In The Stream," remains steady at No. 67 country in its 78th week. Rhonda Vincent's All American Bluegrass Girl, with Dolly harmonies on "Heartbreaker's Alibi," falls back off the 15-position bluegrass albums list, down from No. 11 the previous week, its 53rd. Paisley's most recent effort, 5th Gear, remains steady at No. 1 country but loses seven to No. 14 pop in its fourth week, while the self-titled Taylor Swift gains one to No. 2 country and loses three to No. 21 pop in its 38th week.
Doh! Animated Dolly Hits DVDs Next Month


Thanks to Al for reminding me that Dolly's 1999 appearance on The Simpsons will be included in the show's 10th season DVD set, which comes out Aug. 7. It had previously been released on a four-episode DVD in 2004 titled The Simpsons Gone Wild. Get the full season here!
Foster Hosts Hall Talk


Fred Foster, the producer and music executive who gave Dolly her first big break, will discuss his life in the music business this weekend at the Country Music Hall of Fame in Nashville. He signed her to his Combine Music publishing house and independent Monument Records, where she met her first successes as a songwriter and recording artist from 1965 through 1967 (see her first full-length album, Monument's Hello I'm Dolly, at left). Museum senior historian John Rumble will interview him beginning at 2 p.m. Saturday at the Hall's Ford Theatre for "Mr. Record Man: A Conversation with Fred Foster." The program is free to Museum members and included in regular Museum admission for non-members. Read a short story on Foster from Thursday's The Tennessean here.
---
July 19:
Paper: Dolly's 'Stairway' Rocks


Although the readers of a pop culture magazine recently named it the third-worst cover of all time, critics at one of New York's top newspapers this week chose Dolly's "Stairway To Heaven" from 2002's Halos & Horns as possibly the best cover song of all time. The newspaper on Wednesday offered its list of the 100 best covers ever recorded, and although they claimed they were presented in no particular order, I suspect there was a reason behind listing Dolly's bluegrass-and-gospel-inspired take on the Led Zeppelin classic at No. 1 and leading off the story with a photo of her in concert. The critics said here: "Queen of country rescues song from amateur guitar players everywhere with a soulful rendition that'll have you in tears." But that wasn't the only Dolly appearance on the chart. She popped up twice more as a songwriter with No. 55 cover of her "Jolene" by The White Stripes and No. 59 cover of "I Will Always Love You" by Whitney Houston. Others on the list included Janis Joplin's take on Kris Kristofferson's "Me and Bobby McGee," Aretha Frankin's hit "Respect," Linda Ronstadt's version of "You're No Good" and even another "Stairway To Heaven," this one at No. 98 by Rodrigo y Gabriela, about which the paper stated: "The Mexican-born, Dublin-based string duo give a little flamenco; a nice after-drink for Dolly's version." Thanks, Kevin! (By the way, on the worst-ever list last month from Retro Crush, the magazine put Eric Clapton's acoustic cover of his previous hit "Layla" at No. 1, followed by Puff Daddy's version of The Police's "Every Breath You Take." Quite a few more of the 100 "best" covers on the newspaper's list were also on the magazine's 100 "worst" list, including Houston's cover of Dolly's signature song at No. 77.)
And Another Cover
My copy of Teddy Thompson's Upfront & Down Low arrived today and I can tell you it's full of wonderful, old-style country music from the genre's Nashville Sound days of the '60s and early '70s, but of course the top track on the collection is his cover of Dolly's "My Blue Tears," backed with lush orchestra strings arranged by Rufus Wainwright. (Catch some interviews with Thompson from NPR here.) Get your copy of the disc here!
'CW' Posts Parton Plug
It's several days after the issue hit stores in most markets, but the website for Country Weekly magazine on Wednesday posted its plug on Dolly's cover story in the current issue. See the promo here.
Library Latest
Dolly's Imagination Library literacy program continues to move folks in Michigan, where The Battle Creek Enquirer profiles its efforts in Albion here, and The Gladwin County Record promotes a fund-raiser for it in that community here.
---
July 18:
Dolly Covers Herself On New Disc


A new version of Dolly's "River of Happiness" by Dolly herself appears on a gospel album which hit stores Tuesday with very little fanfare. The Sparrow Records release I'll Fly Away: Country Hymns and Songs of Faith features Dolly's new recording of the song, which originally appeared on 1974's Jolene. Others on the collection include Nickel Creek's Sara Watkins and Vince Gill on "It Is Well With My Soul," Watkins with "He Leadeth Me," and Marty Stuart with "Get Right Church." Get your copy here!
---
July 16:
'Very Best' Still Gaining Down Under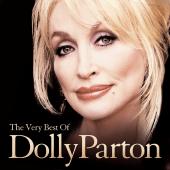 Dolly's hit overseas compilation CD, The Very Best Of Dolly Parton, Vol. 1, continues its rise back up the Australian country albums chart this week, it was announced Sunday, inching up another one digit to No. 9 for the week Down Under.
Another 'My Blue Tears' Coming
There's another Dolly cover on its way this week. Teddy Thompson, son of British folk legends Richard and Linda Thompson, does her "My Blue Tears" on his upcoming release, Upfront & Down Low, hitting stores on Tuesday. The collection of country covers also features "Walking The Floor Over You," "She Thinks I Still Care" and "The Worst Is Yet To Come," among others. Guest performers on the disc include Tift Merrit, Brian Fulk, Iris DeMent, Jenni Muldaur and one of his best pals, Rufus Wainwright. Entertainment Weekly over the weekend gave the album an "A-" here, calling his version of Dolly's tune "languidly gorgeous." The New York Daily News over the weekend also profiled the project here. But her song isn't the only Dolly connection: mom Linda earned a Grammy nomination for composing the Trio Top 3 single "Telling Me Lies," and Thompson is currently touring with "Jolene" cover artist Mindy Smith. Reserve your copy here.
---
July 14:
'Very Best' Near Bottom In Ireland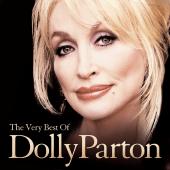 Dolly's hit European compilation album The Very Best Of Dolly Parton will likely soon fall off the Irish top 100 pop albums tally, it was revealed in the new numbers released Friday. The CD loses 14 spots to No. 94 in its 19th chart week.
Dolly Not CMT's Next 'Giant'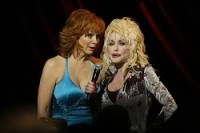 Dolly won't be taking the title of CMT's next Giant, the cable network announced Friday. Instead, Hank Williams Jr. will be honored with the title this year and the star-studded concert of other singers performing his hits to air in November. Dolly performed last year on the premiere episode of the series, that year honoring pal Reba McEntire. However, McEntire made public her opinion that she believed Dolly should have been the network's choice for its inaugural honor instead of her. Image of Dolly with Reba at the concert special taping by Frank Micelotta and courtesy CMT. Used with permission.
'Love' Hits Mile-High City
For The Love Of Dolly, the documentary about some of Dolly's most dedicated fans, is currently showing for a full week in Denver. The film, which opened at the Denver Film Society's cinematheque Starz FilmCenter on Friday, has multiple screenings daily through next Thursday as part of the Society's Cinema Q series.
---
July 13:
Dolly Graces 'Country Weekly' Cover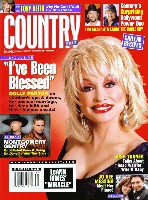 You were first told here three weeks ago that it was coming, and now four decades of Dolly fill the July 30 issue of Country Weekly, making its way to newsstands nationwide over the next several days. Her legendary career is profiled in a seven-page cover story chock full of photos (mostly recent ones), great quotes from her past and new quotes about her life from an interview for the magazine. It provides a wonderful tribute to her, though the only "new" news in the story is that she was still in the studio recording as late as three weeks ago when she was in Nashville for her Academy of Country Music Pioneer Award ceremony (presumably for Backwoods Barbie, which suggests the album still has yet to be completed) and that she wouldn't comment on whether or not she'll be touring this fall. Many of the same stories from her life are recycled (why she has no children, her depression in the mid-1980s, her elusive husband Carl Dean, that she hopes to someday do a children's television show from Dollywood, etc.) and the already-reported news of working on the 9 To 5 Broadway musical and upcoming children's book I Am A Rainbow are noted as well. The issue is already available in some cities and should be stocked in most areas of the country by Monday.
Dolly Thanks Postal Service
Thousands of postal employees across the country logged onto their computers Thursday to see Dolly's smiling face as she provided the lead story for the day's USPS News Link, the official online newsletter of the U.S. Postal Service. She is shown here with Sevierville, Tenn., letter carrier Regina Seaton at Dollywood's KidsFest last month to express her appreciation to USPS for helping her Imagination Library deliver nearly 10 million books to children across the country. The program, started in her native Sevier County, Tenn., in 1996, gave out its 1 millionth book in December 2003 and before the end of this year will have passed 10 million. "For every single kid who gets that book, it's a very special treat," Dolly said. "Each time a child gets a book in the mailbox and says 'read it to me,' postal employees can take pride in the fact that they helped create that special moment for that young child." Thanks, Harold!
New Compilation On Its Way
There's yet another Dolly compilation ready to hit stores next month, it has been revealed. Dolly will get an installment in the current Sony series 16 Biggest Hits. Hers, to be released Aug. 7, will use most of the same songs that have appeared on CD after CD (although technically they're not her 16 "biggest" hits because she's had 25 No. 1 singles and only half of the 16 on this collection hit the pole position). The track listing is as follows:

Here You Come Again

9 To 5

Jolene

Islands In The Stream (with Kenny Rogers)

I Will Always Love You

Coat Of Many Colors

The Seeker

Two Doors Down

Single Women

All I Can Do

Heartbreak Express

Don't Call It Love

Love Is Like A Butterfly

Rockin' Years (with Ricky Van Shelton)

Why'd You Come In Here Lookin' Like That

Romeo (with Billy Ray Cyrus/Tanya Tucker/Mary Chapin Carpenter/Kathy Mattea/Pam Tillis)

U.S. Chart Updates


Brad Paisley holds his own at No. 23 country in the July 21 Billboard charts out Thursday with Time Well Wasted, which features his award-winning duet with Dolly, "When I Get Where I'm Going." The disc dips seven to No. 131 pop, 13 to No. 149 comprehensive and one to No. 34 Canadian country in its 99th chart week. Martina McBride's Timeless, featuring Dolly on "I Still Miss Someone," remains steady at No. 68 in its 90th week and Kenny Rogers's 21 Number Ones, with "Islands In The Stream," remains steady at No. 67 country in its 77th week. Rhonda Vincent's All American Bluegrass Girl, including Dolly on "Heartbreaker's Alibi," inches down one to No. 11 on the bluegrass albums chart in its 53rd week. Paisley's current 5th Gear holds on at No. 1 country but falls two to No. 7 pop in its third week with 59,000 units sold, while Toby Keith's Big Dog Daddy remains at No. 2 country and loses three to No. 16 pop in its fourth week.
---
July 12:
Hear '77 NY Concert Online
A classic concert of vintage Dolly is now available for listening online in streaming audio. Concert Vault has posted Dolly's May 13, 1977, show at New York's Bottom Line. The final of her three-night gig at the famed venue, the concert was recorded by the club for its Live From The Bottom Line radio series. The website offers many other artists' concerts for listening and several for purchase as downloads, but this is their only Dolly entry and it is not currently available for downloading. Take a listen here! The 56-minute set features the following 17 songs:

Higher And Higher

All I Can Do

Jolene

There's No Place Like Home (one instrumental verse of Dolly playing the dulcimer)

My Tennessee Mountain Home

Do I Ever Cross Your Mind

Coat Of Many Colors

Applejack

Light Of A Clear Blue Morning

I Will Always Love You

Getting In My Way

Me And Little Andy

How Does It Feel

Holdin' On To You

The Seeker

You Are (followed by the spoken word verse of "I Will Always Love You")

Love Is Like A Butterfly

'Next Best Dolly' Sent Home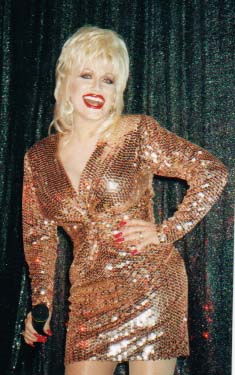 Dolly look-a-like Sandy Anderson was sent home Wednesday night on ABC's The Next Best Thing after having made it to the semi-finals of the $100,000 celebrity impersonator contest. Anderson, who has appeared with Dolly herself in the past including at Dollywood a decade ago for her "Legends Out of Vegas" show, bears a striking resemblance to Dolly, can mimic many of her movements and can even speak similarly to her, but her singing voice doesn't really sound like her at all. She spoke a little and sang "Here You Come Again" on the program. The judges liked her and all said great things about her after her performance, but she didn't make it as one of the five they sent on to the finals. Coincidentally, the show also featured Kenny Chesney impersonator Dennis Murphy, who lives in Dolly's hometown of Sevierville and performs as the drummer for the Kingdom Heirs, the resident gospel group at Dollywood. Read about him from The Knoxville News-Sentinel here. He also didn't make it to the finals. Thanks to the several readers who watch the show and wrote in on Wednesday to tell me the identity of the Dolly impersonator. I thought that was likely who she was, since I knew she had been on an earlier episode which I missed, but I also was aware they had featured several "Dollys," so I didn't know if she was the one who made it through or not. Anderson was featured recently on a Discovery Health show about impersonators who got plastic surgery to look even more like the stars they portray. The photo of her at left is from 2001 at DJ Wes' official "Little Sparrow" CD release party in Los Angeles, complete with a look-a-like contest which Anderson won, but she looked even more like Dolly on the television show this week! See more images from the "Sparrow" party here.
---
July 11:
The Sincerest Form Of Flattery
Dolly fans may want to tune in at 8 p.m. Eastern on ABC Wednesday night for the next installment of The Next Best Thing. Competing in this week's round of 14 semi-finalists seeking to advance to the final round in the $100,000 celebrity impersonation competition is one who looks to be a very good "Dolly." (At least from the commercials -- I admit I missed her qualifying episode, so I don't know how good of a performer she is, but she does bear a striking resemblance in the few seconds I've seen her in the promo.)
Under The Covers
Fat Wreck Chords on Tuesday announced that punk band Me First & The Gimme Gimmes, who covered country tunes including Dolly's "Jolene" on their most recent disc, Love Their Country, will be releasing five limited-edition vinyl singles (square-shaped, nonetheless) from the album in coming months. First up with be "Jolene" with the flip-side cut being their unreleased cover of Dolly's "I Will Always Love You." The discs will be sold exclusively through the label's website here.
---
July 10:
Hallmark Offers Dolly On A Card
Wish someone a happy birthday with Dolly! Hallmark Cards recently introduced its new "Pop Goes The Culture" series of merchandise, which features different quotes from celebrities, films, television programs and other pop culture icons. For the greeting cards, the company released 81 different products, including at least one citing Dolly. The bright yellow card reads in blue and pink letters, "My weaknesses have always been food & men . . . in that order. - Dolly Parton" Open it, and the message inside offers: "Go on, indulge your weaknesses . . . in any order you want. happy birthday." The card retails for $2.49 at Hallmark outlets nationwide. (Visit Hallmark's website here for a sampling of products in the line. Dolly's card is the yellow one you see in the photo of three cards representing the ones available.)
NY Tribute Planned
If you're in the New York area, you may want to head out to Tiki lounge Otto's Shrunken Head (538 East 14th Street) Wednesday night for a Dolly tribute show. "Cornhole Country," the bar's weekly celebration of country music with drag queens, karaoke and DJs, this week focuses solely on Dolly with an evening they're calling "DollyWould." Burlesque star Miss Saturn hosts with guests Bunny Love, Tigger, Sequinette, poet-Meghan Hickey and performance artist Laura Stinger. The show begins at 10 p.m., followed by an hour of Dolly music from the DJ at 11:30 and "Dolly Go Go" all night long. Thanks, Brandon!
Library Notes
The Rotary Club in Albion, Mich., recently chose to learn about the local impact of Dolly's international Imagination Library literacy program, according to a story this week in The Battle Creek Enquirer here.
---
July 9:
Dolly On The Food Network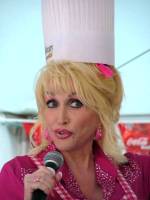 There were a few Dolly appearances on The Food Network's Amusement Park Eats program which premiered over the weekend. It was filmed at the opening of last year's Bluegrass & BBQ Festival at Dollywood, and the show mentioned her cookbook which she promoted with her appearance there, showed her on stage greeting the crowd and getting her apron put on her, as well as singing "I Will Always Love You" on stage later that day. But the main focus was on the food. The park's BBQ expert was interviewed, as was the man behind its famous potato curls and the woman who makes its huge apple pies. Park guests also praised the food. The show repeats on The Food Network at 4 p.m. Eastern next Saturday and 6 p.m. Sunday. Image at left of Dolly at the BBQ Fest in September is © copyright 2006 T. Duane Gordon/Dollymania.net. May not be reproduced without prior written consent.
Up Down Under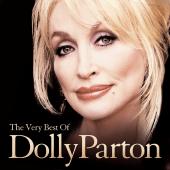 After several weeks of dropping on the charts, the compilation collection The Very Best Of Dolly Parton, Vol. 1 gains two this week to re-enter the top 10 on the Australian country albums tally at No. 10, it was announced Sunday.
'Jolene' In The News
A couple of mentions of Dolly's classic Jolene popped up over the weekend. The first is a three-and-a-half-star review of the re-issued and expanded CD of the album from The Music Box here, and the other is a mother who wrote in to the "Family Life" section of London newspaper The Guardian here to describe how she uses the album's title song to teach her daughter of the pitfalls of love. Thanks, Cathy!
'Country Stars' Stuff
My friend Christian at Country Stars Central, whose site includes a great deal of Dolly content, asked me to let everyone know he will be doing interviews in coming weeks with Dolly friends Dottie Rambo and Pam Tillis and will also have several stars' autographed photos to give away in this month's contests.
---
July 7:
Live Nation U.K. Shows Made $9 Million
The English, Scotch and Welsh dates on Dolly's European tour earlier this year grossed more than $9 million, according to receipts published this week by the BoxScore report in Billboard magazine. Live Nation, the promoter for those concerts in March, thus far is the only promoter from her European tour to report its figures publicly as far as I've seen (since each tour promoter makes a decision on his or her own whether to submit the numbers to Billboard). All of the shows on the list sold out and totaled an audience of 73,636 fans and collected gross ticket sales of $9,118,601 before expenses. These shows comprised just nine of the European tour's 20 total concerts. For comparison, the gross from just this 45 percent of the tour greatly exceeded the $6 million brought in by 39 shows and an audience of 140,000 for her 2004 "Hello I'm Dolly" Tour in the U.S. and Canada. Thanks to Richard for alerting me that the figures had been reported to the magazine! The shows reported this week were:

Wembley Arena, London, England, March 19 and 25, 21,143 tickets, $2,916,710

The Evening News Arena, Manchester, England, March 20, 13,526 tickets, $1,577,015

Haflam FM Arena, Sheffield, England, March 24, 11,222 tickets, $1,322,562

NEC, Birmingham, England, March 28, 10,666 tickets, $1,258,942

Metro Radio Arena, Newcastle, England, March 21, 9,405 tickets, $1,101,079

The International Arena, Cardiff, Wales, March 27, 4,785 tickets, $601,186

Clyde Hall, Glasgow, Scotland, March 23, 2,889 tickets, $341,107

'CW' Touts Dolly Honor, Opry Appearance
There are a couple of Dolly shots in the new issue of Country Weekly on newsstands now. First, the magazine dedicates a full page to Porter Wagoner's recent tribute show on The Grand Ole Opry, complete with one photo of him with former duet partner Dolly and Patty Loveless, whom the duo mentored during her teen years. In addition, there's a photo celebrating Dolly's recent receipt of the Johnny Mercer Award, the national Songwriters Hall of Fame's highest honor, which the publication even plugs on its front cover. In related news, Wagoner is this month's cover story for alt-country publication No Depression, with a very lengthy overview of his life and career which includes a sizeable discussion of his time working with Dolly and their friendship of recent years, including his story on her decision to give him back his songwriting catalog. (For those who haven't heard it before, he had gotten behind on tax payments and was in need of cash, so he asked Dolly if she would buy his publishing rights. She did to help him out. A few years later, he had made enough money to buy them back and told her, but she decided to give them back to him free of charge. He says that is a prime example of her character.)

'Very Best' Falls In Éire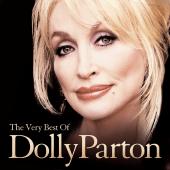 In its 18th week on the Irish pop albums chart, Dolly's massively successful European compilation CD The Very Best Of Dolly Parton is nearing the bottom of the tally. The album drops 10 more spots to No. 80 this week, it was revealed Friday.
Sugar Hill Site Revamped
After a few weeks' absence as the label's new redesigned website remained partially under construction, Dolly's artist "mini-site" was back up and running Friday here from Sugar Hill Records.
TV Reminder
Don't forget to catch Dollywood (and, possibly, Dolly herself -- they haven't said yet if she's on it or not) on Food Network Saturday with the 9 p.m. premiere of Amusement Park Eats, which filmed a segment at last year's Bluegrass & BBQ Fest opening at the park in September.
---
July 6:
Dolly-Related Projects Down On Charts


The album which contains Dolly's most recent No.1 hit, "When I Get Where I'm Going" with Brad Paisley, slides once again on the charts this week, it was announced Thursday. Paisley's Time Well Wasted falls five to No. 23 country on the July 14 Billboard country albums tally in its 98th week, also losing 19 to No. 124 pop, 25 to No. 136 comprehensive and four to No. 33 Canadian country. Martina McBride's Timeless, with Dolly on "I Still Miss Someone," inches up one to No. 68 in its 89th week. Kenny Rogers's 21 Number Ones, featuring "Islands In The Stream," dips one to No. 67 country in its 76th week. Rhonda Vincent's All American Bluegrass Girl, which includes the Dolly collaboration "Heartbreaker's Alibi," tumbles four to No. 10 on the 15-position bluegrass albums chart in its 52nd week. Paisley's latest, 5th Gear, holds steady at No. 1 country but falls two to No. 5 pop in its second week, while Toby Keith's Big Dog Daddy remains at No. 2 country and loses nine to No. 13 pop in its third week.
Mine Chosen As World's Top New Ride
The annual poll of registered members in industry leading website ThemeParkInsider has named Mystery Mine at Dollywood 2007's best theme park addition, according to a story from The Knoxville News-Sentinel here. In related news, it was announced Thursday that Herschend Family Entertainment, Dolly's partners in The Dollywood Company (the parent company that owns Dollywood and is the largest shareholder in Dixie Stampede), has reached a five-year agreement with Big Idea, Inc., the folks behind VeggieTales, to develop additional entertainment involving the series' star vegetables at all of the properties owned or operated by Herschend, including Dollywood.
'CW': Dolly 19th Most Beautiful
The readers of Country Weekly magazine voted Dolly the 19th most beautiful woman in country music, it was announced this week. The top five were Kellie Picker at No. 5, Shania Twain, Reba McEntire, Faith Hill and No. 1 Carrie Underwood. She may be low on the list, but her inclusion is noteworthy. The top 20's average age is just 35, and Dolly is the only woman on it in her 60s (pal McEntire is the only one in her 50s, while Twain and Martina McBride are the only ones in their 40s).
Latest Library Coverage
Learn about the efforts for Dolly's international Imagination Library literacy program in Livingston, Mich., from The Livingston Daily Press & Argus here and fund-raising projects for it in Newport, Tenn., from The Newport Plain Talk here.
---
July 5:
'Very Best' Gone In Norway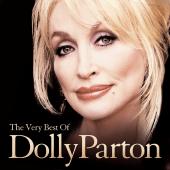 After 16 weeks on the chart, the hit European compilation CD The Very Best Of Dolly Parton falls off the top 40 pop albums in Norway this week, it was revealed Wednesday. The set, which had peaked at No. 3 pop and was the only country album in the top 40, had been at No. 18 last week.
---
July 4:
Dolly On TV This Fourth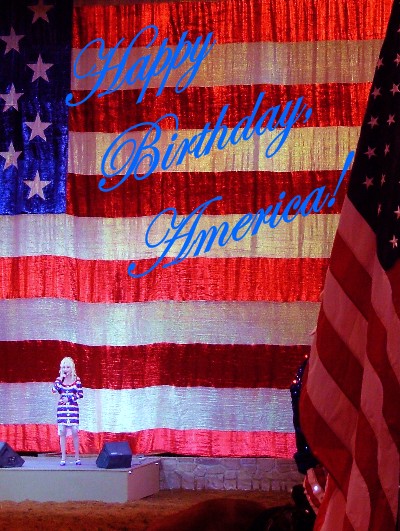 For those of us enjoying the day off for the holiday, there's plenty of Dolly on the tele to keep you entertained. The Disney Channel is scheduled to repeat last year's appearance on Hannah Montana at 6 p.m. Eastern. LOGO will repeat the fan documentary For The Love Of Dolly at 9:30 p.m. (about which a review this week on Gay Wired said: "First, it's one of the most bizarre ideas for a reality show ever. Second, it's embarrassingly fun to watch."), and catch her on The Biography Channel's Biography: Mavericks, Honky Tonk Angels about the women of country music at 11 p.m. (Click on the thumbnail at left to see the 4th of July special image that was shown for the holiday on the site's front page.)
Dogs Get $200+ From Dolly Photo
Dolly's autographed photo brought in $232.50 for the anti-chaining dog charity Dogs Deserve Better when the bidding ended Tuesday. (Congratulations to the winner, who I'm told is a Dollymania reader!) Out of the auction's 18 items, the only ones which raised more money than Dolly's picture were an autographed photo from Johnny Depp and autographed collars from dogs owned by Robin Williams and "Mutts" comic strip creator Patrick McDonnell.
Hawaii Library Profiled
Honolulu's Star Bulletin on Tuesday noted Dolly's Imagination Library literacy program's Hawaii chapter, now available in Kalihi, Maui County and Big Island. Read more here.
---
July 3:
Carter, Dolly Do 'Butterfly'
Readers of the site have known for a while that "Strawberry Wine" singer Deana Carter and Dolly recently recorded a duet together. Well, the song's identity has been revealed. Carter announced on a Knoxville radio program in May that she had been in the studio with Dolly working on her next CD. In an interview this week with the Springfield News Leader in Missouri, Carter explained that the project is a tribute to her father, guitarist Fred Carter, where she has recorded several of the hit songs on which he originally played guitar, including many with the original artists who sang the tunes first. Included on the set will be a duet with Dolly on her classic "Love Is Like A Butterfly." Other guests include Kris Kristofferson (on his "Help Me Make It Through The Night") and Willie Nelson. Read the full story here.
Daniels Releases CD Details
But that's not the only Dolly duet news. You may recall it noted back in October that Charlie Daniels revealed he was in the midst of recording a new duets album which will feature a Dolly guest appearance. Billboard on Monday reported for the first time that he hopes to have the disc in stores this fall and that it will be on his own Blue Hat Records label. No title has been selected yet for the collection, which will also include Brad Paisley, Gretchen Wilson, Brooks & Dunn and Vince Gill, among others. Read more here.
---
July 2:
Sophomore 'Very Best' Not On Chart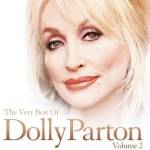 Without the tour and massive TV campaign that propelled The Very Best Of Dolly Parton, Vol. 1 to become her first-ever top 10 British pop album back in March, the follow-up fell much shorter. The Very Best Of Dolly Parton, Vol. 2, which was released overseas last Monday, did not even crack the top 75 albums chart in the U.K. for its first week, it was revealed on Sunday, and it has not shown up on any other nation's charts either. The first installment was a major success, going all the way to No. 8 pop in Britain and making the top two or top three on the pop charts in several other countries across Europe. Meanwhile, Vol. 1 loses seven spots to No. 12 country in Australia and tumbles 15 to No. 70 pop in Ireland.
'Sexty-One' Dolly On MSN List
Thanks to several readers who over the weekend alerted me to a piece on the main MSN homepage listing its experts' choices for the 16 sexiest celebrities over the age of 50, a countdown in which Dolly ranked No. 6 behind swimmer Mark Spitz (57), TV hostess Meredith Vieira (53), martial arts actor Chow Yun-Fat (52), actress Helen Mirren (61) and No. 1 choice, actor Denzel Washington (52). Others on the list included Jordan's Queen Noor (55), dancer Mikhail Baryshnikov (59) and actor Patrick Stewart (66). See what they had to say about everyone here.
'EW' Loves 'Hannah'
Entertainment Weekly over the weekend gave the recent release Hannah Montana: Pop Star Profile a respectable grade of "B+," calling the series "good tween TV, plain and simple" and singling out Dolly's appearance in the episode included on the DVD as "hilarious," "believable" and one which "young and old alive will enjoy." Read the full review here.
Dolly Helps Dogs
Want an autographed Dolly picture? Well, she's donated one to help out canine charity Dogs Deserve Better, which aims to end the practice of pet owners chaining up dogs for their entire lives. Dolly's photo is currently up for auction on eBay here with bidding ending on Tuesday. Thanks, Linda!
---